Music fans love to compile and consume lists. Lists are rolled out regularly by publications as diverse as Rolling Stone to Rip It Up, from Metro magazine to UK's underground music bible Wire. The Wire's regular Inner Sleeve column, where musicians are asked to write about a favourite sleeve is a fine example of the symbiotic nature of musicians' consumption and production of audio objects – everyone is a fan at heart.
This isn't a 10 greatest NZ sleeves list, more a subjective sampling taken mostly from my own record collection. These are pieces that inspire or energise me in some way. It's worth noting that the perception of the sleeve is deeply enmeshed with the listening experience of the music itself, and when working properly, the synergy between the two form a powerfully cohesive whole. Many of these designs are here because of their inseparability from the sounds contained within.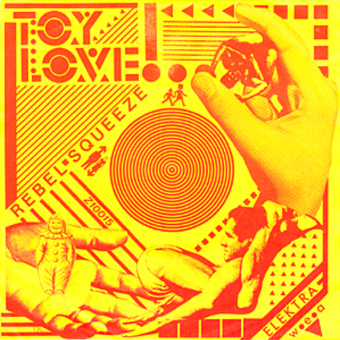 1. Toy Love
'Rebel'/'Squeeze'
Terence Hogan's sleeve for Toy Love's 1979 single sits well alongside UK punk contemporaries such as Jamie Reid's work with the Sex Pistols, or Linder's work with Buzzcocks. All three take cues from the early 20th Century avant-garde collage work of the Dada and Surrealist eras. This simple one colour collage printed in red and yellow is literally rammed to the edges of the package in a riot of line art. I was just a little too young to be onto this at release and had to pay some extra wedge to have a copy in more recent years. My favourite NZ 7-inch sleeve design.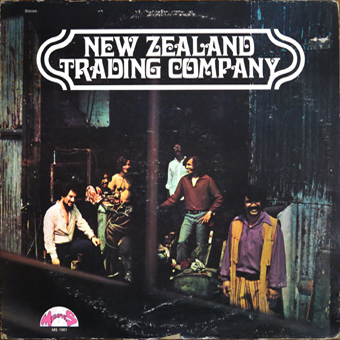 2. New Zealand Trading Company
Sometimes the name of an album is enough to stop you in your tracks. I knew nothing of this band when I found this album digging in a second hand record store in New York years ago. I purchased it for the cover alone. But the mystery was in the grooves: What were a group of Māori and Pākehā musicians I'd never heard of doing recording an album of honeyed, multi-vocal psychedelic rock in Memphis in 1970? After some online digging I discovered they were a late incarnation of the Māori Hi Quins, one of our 1960s showbands who made their way to the USA. This record is an amazing psych rock artifact, including songs delivered in te reo Māori such as 'Ruo Moko' (sic) ­– a tune about the god of volcanoes and earthquakes. Bassist Thomas Kini settled in the USA, recording as a session player with a list of luminaries including Minnie Ripperton, Donny Hathaway, Stevie Wonder, Herbie Hancock and George Benson. He died in Chicago in 2004. This was a show-stopping cover to encounter when crate digging on the other side of the globe and it is an amazing one-off album.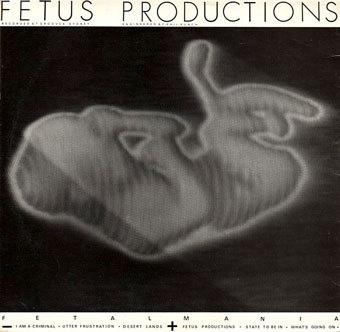 3. Fetus Productions
Fetalmania
Both visually and aurally the output of Fetus Productions was way ahead of its time for a New Zealand audience. Video grabs of babies in the womb can be seen as slightly sinister or just plain beautiful in a way that broadcasts that this music straddles both industrial and pop. 'What's Going On' is an overlooked masterpiece that seamlessly references Marvin Gaye and John Lennon while ranging through post-punk loud and quiet dynamics in a shimmering production that sounds as fresh as the design looks 30 years after its release. Design detailing such as the use of plus and minus symbols rather than A and B sides imply a more arcane set of reference points outside of pop while underscoring an in depth engagement with technology. It's so good that I'm illustrating this record with the fetal back cover of the sleeve.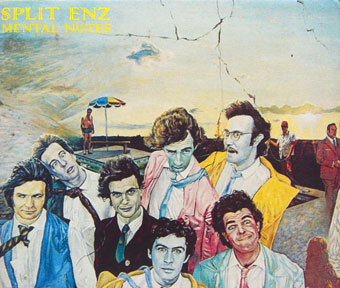 4. Split Enz
Mental Notes
The cover to Split Enz'1975 debut album is a painting by band member Phil Judd. It resides in the collection of Te Papa Tongarewa, our national museum, and rightly so. The off kilter colour and composition of the image has a surreal quality and theatricality that speaks perfectly of the music contained herein. Early Split Enz were an art school melange of influences from folk, vaudeville, and psychedelia. Their influence can be considered in a visual context almost as much as a musical one. For a pre-teenage boy growing up in small town New Zealand, seeing Split Enz on TV was a glimpse of wider possibilities, which leads me to record number five.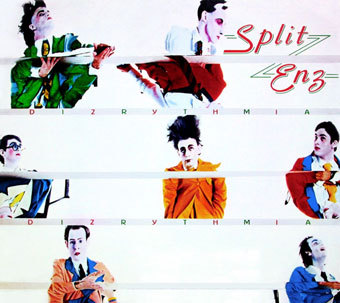 5. Split Enz
Dizrhythmia
If Phil Judd gets a nod then surely Noel Crombie needs one also. As the band's costumier, hairstylist, spoon player and sometime sleeve designer, Noel is one of the most influential visual stylists in NZ popular culture. The shifting, sliding imagery of Dizrhythmia is a pre-Photoshop masterpiece and showcases the strands of Crombie's output that were such a huge part of the Enz. His hairstyling alone is worth the entry. I often wonder if he was the band choreographer as well – the jerky dance moves of the band in their early videos and onstage added yet another element to their unique performances. In another place and time Noel and company could have been doing their thing at the Bauhaus with Oskar Schlemmer.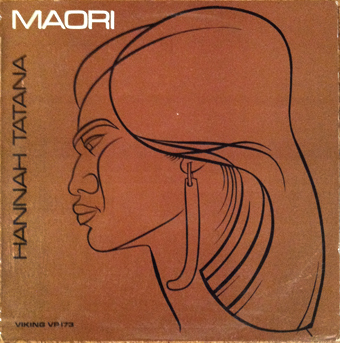 6. Hannah Tatana
Maori
I came across this gem in my friend Guy Treadgold's vinyl collection recently. Guy has one of the most diverse and deep record collections of anyone I've met, including a wonderful selection of Māori records. This 1966 album on the Viking label is a series of waiata sung by Hannah Tatana accompanied by her brother on guitar. The image was drawn by the artist E. Mervyn Taylor (1906-1964). Taylor is celebrated for his woodblock engravings of Māori myths and NZ flora and fauna. As with all of Taylor's art, the line work is immaculate and in this piece the economy of line produces a stunning portrait that lifts the sleeve out of its pop context, framing these waiata as an indigenous art form. The simplicity of colour and type adds to the overall design. This is one I need to track down for my own collection.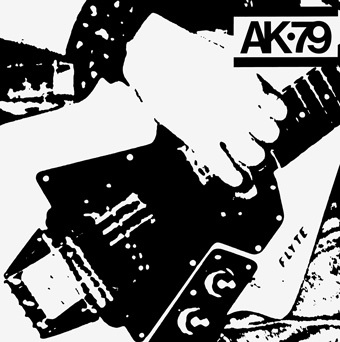 7. AK79
The design for the AK79 compilation of second wave Auckland punk is as straight ahead as the music. It's a brash line art rendering of a photo by Bryan Staff and design duties are once again handled by Terence Hogan. Within this apparent simplicity it's worth noting the detailing: The tight cropping, the crushed letter spacing in the typography with the two letters and numerals separated by a sole bullet point tucked into the negative space. And the 'logo' underscored with a thick black slab of a line. A punk classic.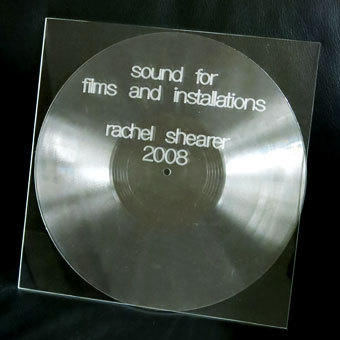 8. Rachel Shearer
Sound for Film and Installations
This piece is as much a sculptural work as it is a record "sleeve" – but it shows the degree to which the packaging can become a seamless part of a recorded artifact. This record was produced in 2008, in an edition of only two copies by Auckland sound artist Rachel Shearer. The record is a lathe cut clear acrylic disc with an accompanying square sheet of the same material with the title engraved into it. Absolutely reductive and as ephemeral (yet substantial) as Shearer's sound work. This was gifted to me by the artist and is the most coveted record in my collection. Conceptually brilliant and visually lovely, this is every bit as good as Public Image Limited's Metal Box – and much harder to find.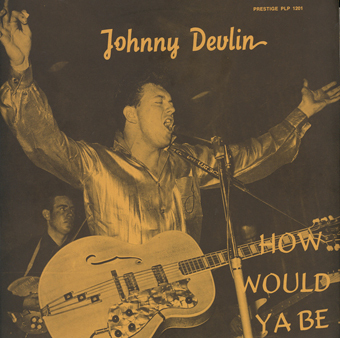 9. Johnny Devlin
How Would Ya Be
Johnny was our Elvis so I've got to include him in this. Fittingly, I first saw this record at KD Wasley's Elvis Presley Memorial Record Room in Hawera a decade or so back. KD is a gent and I recommend a visit to anyone interested in music if you happen to be driving through South Taranaki. The Elvis Room is the greatest repurposing of a garage, and one immortalised by acclaimed NZ photographer Laurence Aberhart. The record itself is almost punk due to being a bootleg as well as in its combination of technical simplicity and bad typography. Printed black only onto dirty yellow paper stock, coupled with Johnny's gesture and the shiny shirt looking like gold on the tinted paper – this is mint. Not even the bad typography can kill this cover. Some up and coming local rockers should do a Clash style homage to this.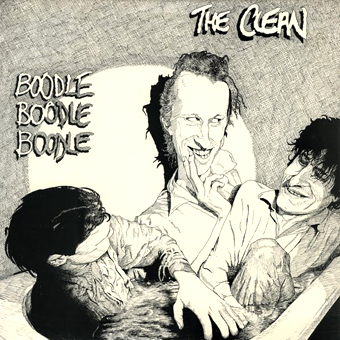 10. The Clean
Boodle Boodle Boodle
Which Chris Knox cover to choose? The first Clean EP comes with a bravura illustration by Knox of the trio in a bathtub, nodding nicely to the band's name. The drawing captures the members in a way that is both realistic and cartoonish. This was the first NZ record I owned and contains the masterpiece 'Point That Thing Somewhere Else'. Knox could do little wrong from the late 70s onwards as a one-man industry in music, video, illustration and journalism. His video for Tall Dwarfs' 'Nothing's Going To Happen' is for me the finest music video ever made in New Zealand and stands tall as an example of experimental filmmaking in its own right, but maybe that's for another list.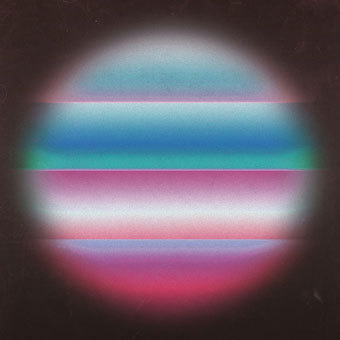 11. Mara TK ­
Taniwhunk EP
Like amplifiers, all music Top 10 lists should go to 11. Here's proof that the NZ music scene is alive and well in the global village – a recently released 12-inch gem from Electric Wire Hustle's Mara TK. The amorphous smear of a globe-like form on the front cover offers a subtle analogy to its layered vocal and electronic atmospheres. The rear side echoes the front with a spare circular outline enclosing discreet typographic elements that float within. It's a lovely piece of work by London-based designer John Gilsenan. The record boasts remixes by dance floor legends Kenny Dixon Jnr. and Simbad. This is a very healthy sign of things to come for New Zealand on wax.
–
Philip Kelly is the Art Director, Identity Designer and a key member of the creative team that brings you AudioCulture. He can be found here.