This Top 10 places the spotlight on great New Zealand songs that have resulted from a combined effort between independently well-known acts. There are many more of course, but this is a personal list.
--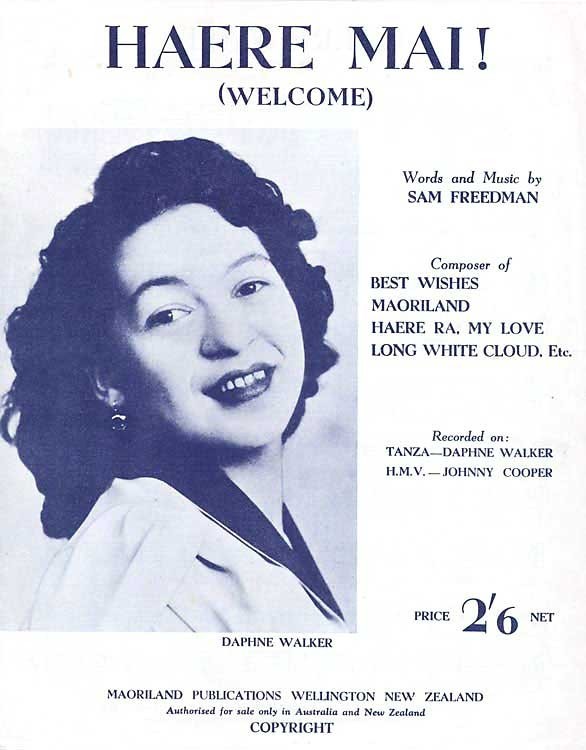 Haere Mai! (Everything is Kapai)
Daphne Walker with Bill Wolfgramm and the Islanders (1955)
The wonderful steel guitar playing of Bill Sevesi saw him recently inducted into the NZ Music Hall of Fame, but his Tongan countryman Bill Wolfgramm was equally popular in the 1950s. His reputation was enhanced by regular appearances on radio and this work brought him in contact with Daphne Walker, who had first come to public attention through winning a talent contest at the Manchester Unity Hall on Victoria St, Auckland. She later claimed not to enjoy singing onstage, but certainly kept busy in the studio with over a hundred releases to her name. 'Haere Mai!' was written by Sam Freedman from Wellington and was a massive hit, selling over 40,000 copies. The songwriting might seem kitsch at first glance, but Walker's sweetly natural voice sells each line - seemingly inviting the listener to enjoy a glorious summer's day in Aotearoa. Not even the use in an ad campaign by Qantas in 2000 could detract from the track's joyful nature.
Randolph's Going Home
Shayne Carter and Peter Jefferies (1986)
This track was the first piece written by Shayne Carter after the untimely death of Wayne Elsey, his former bandmate in the Doublehappys. The pair were returning home from a gig by train and in a moment of bravado, Elsey was running between carriages and leaned out, only to be instantly killed. This tune marks the moment when Carter's music moved beyond punky energy to take on the more brooding approach that was a signature of his next group, Straitjacket Fits. The mood of the track is perfectly matched by the drumming of Peter Jefferies, who produced the recording. A few years earlier, he made his own switch from the full-fledged noise assault of his first group, Nocturnal Projections, to the more spacious pieces created by This Kind of Punishment. The result is a track that begins with an ominous emptiness behind its pounding drums and soon begins to howl, with Carter's voice and guitar opening up in a distorted requiem to his lost friend.
Slice of Heaven
Dave Dobbyn and Herbs (1986)
Throughout the first verse this song, from the Footrot Flats soundtrack, sounds like any of Dave Dobbyn's perfectly produced hits of the 80s, but then the multiple harmonised voices of Herbs suddenly arrive to lift the chorus into the stratosphere. If that isn't enough, halfway through the song the listener is bombarded with a wordless killer hook that Dobbyn has been keeping in reserve and which the guys from Herbs deliver with aplomb – "Da da da, dom-dom, da da da" etc. With the music video doubling as the trailer for the movie adaptation of Murray Ball's much-loved cartoon strip, the exposure helped the success of the single, but it was taut piece of pop songwriting from the start and deservedly hit No.1 on both sides of the Tasman.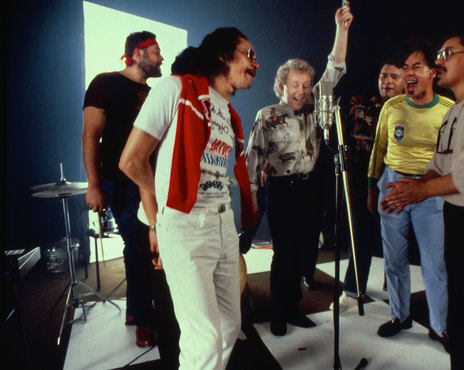 Money Worries
MC OJ and the Rhythm Slave featuring Mikey Havoc (1991)
This song might not ordinarily make it onto a list of top New Zealand songs, but you've got to give it to MC OJ and Rhythm Slave – it certainly was a canny idea to get Mikey Havoc from local glam rock group Push Push to perform the chorus hook. The operatic scream that Havoc delivers in the chorus takes the song somewhere else entirely. These days Mark James (Rhythm Slave) is integral to the Fat Freddy's Drop touring machine, Otis Frizzell (MC OJ) is a successful artist and the entrepreneur behind the Taco Truck, and Havoc is a regular on Hauraki FM, so it's fun to look back at when they were just a trio of teenagers making some very of-the-time fashion choices.
Chains
DLT Featuring Che Fu (1996)
One of the first tracks to come to mind, given it launched the solo careers of the two of the most important artists of the era. Darryl Thompson (DLT) had formerly been the turntablist for Upper Hutt Posse, but – funnily enough – started producing beats when he came together with Mark James and Otis Frizzell to form Joint Force (under the tutelage of talented engineer, Angus McNaughton, who also worked on this track). At one point, Joint Force were touring the country in support of Supergroove and soon found that one of the band's singers, Che Ness, was hanging out with them rather than his own group. DLT went on to produce one of the first local albums to list the beatmaker as the main act and he called on Che for the first single. Their shared interest in the politics of the Pacific saw Che aiming his slick flows at French nuclear testing ("There's a picture of me in the dictionary under 'French Fry'") but he eased the vibe of the song with some incredibly soulful singing in the chorus. The beat remains one of the most unique and instantly recognisable to come out of local hip hop; a crackly drumbeat that sounds like it's being played on the most distorted turntable, with a strange honking noise laid over the top that provides an oddly funky counterpoint. Weirdly perfect.
Saxy Beast
Soane and Dick "Majik" Johnson (featuring Nathan Haines) (2002)
Both Soane and Dick Johnson had been getting dance floors moving for over a decade by the time they came together to do a track, so they went straight to essentials – a rhythm track with lots of percussion and a very groovy baseline (which comes in after a minute, so there's plenty of time to mix the track in before it arrives). Soane had previously been a bouncer at The Box/Cause Celebre and knew Nathan Haines from the very start of his career (both had toured the world as members of OMC's live band). At the time this track was recorded, Haines had gone on to become a key figure on the UK dance scene so he just lets rip with a three-minute solo that forms the heart of the song. The end result? An endlessly propulsive dance track that blasted into the UK club charts.
Not Many (Remix)
Scribe, Con-Psy (aka David Dallas) and Savage (2004)
Hip hop artists thrive on collaboration and it's rare to find an album in this genre that doesn't either have multiple rappers or multiple producers. This track is a prime example of how having a bit of competition on a track can lead a rapper to pull out his best work. The original of this track had all the basic elements in place – the ominous three-note keyboard line and bone snapping beat by P-Money; the ridiculously catchy chorus; the casual ad-libs by Scribe. But as soon as Savage comes in on the first verse of the remix, the tension of the track lifts. Con Psy follows up with some of the fastest, smoothest flow to come out of a local rapper's lips ("give me a track to spray on, I'll make your writtens look thick, like you lost your pen and wrote with a crayon"). In response, Scribe delivers a verse that puts the original album version to shame – a fast-paced show of attitude and humour that captures him at the height of his powers.
Brother
Smashproof and Gin (2009)
Smashproof might feature one of NZ's best rap lyricists in Sidney Diamond, but on this track it's his bandmate, Deach, that lays down the line that felt most poignant at the time: "Take away a kid's life just because he tagged." He was incensed by the case of Bruce Emery, who chased a 15-year-old boy who was tagging his fence for 360 metres, then stabbed him with a kitchen knife, instantly killing him. If you're an act from South Auckland and you want to release a single that touches on a subject like that, then getting a pākehā girl from the North Shore to front the track isn't a bad idea. Nonetheless, Gin's unique high-but-gritty delivery does provide a nice contrast to Deach's deep soulful singing. The song struck a chord with the public and went to No.1, while Emery served 11 months before being released to home detention.
Hurtling Through
Tiny Ruins and Hamish Kilgour (2015)
Tiny Ruins (Hollie Fullbrook) joins forces with a member of The Clean for the second time in her career (she also sang on 'Lazy Boy' by Robert Scott). The songwriting collaboration in this case was more one-sided, with Tiny Ruins writing all the lyrics and melodies herself. However she has admitted in interviews that she believes that all the songs on their EP wouldn't have been written without Hamish Kilgour giving her encouragement to work in a much faster and more fluid fashion than usual. Hamish's use of odd percussive instruments also creates an atmosphere around the track that pushes the Tiny Ruins sound in a new direction, showing that collaboration can be a subtle affair but no less effective for it.
Blue Smoke
Neil Finn and Jim Carter (2015)
I had hoped this current list might have more songs from the pre-1980s, but many of the potential songs weren't available online: 'The Ballad of Robbie Muldoon' by Brendan Dugan and Gray Bartlett from 1975 would've been a definite inclusion otherwise. Therefore, it seems fitting to even up the chronology by including this nice little rendition of 'Blue Smoke' from last year. It features Neil Finn with 95-year-old Jim Carter, who played on the original recording back in 1948. If you have any interest in the subject, you should really read Chris Bourke's profile of Carter, which makes the clip below all the more heartwarming to watch.