Historically, hip hop has been more closely related to funk than any other genre of music. However, the 1990s brought a wave of jazz hip hop that has remained everpresent and, in the second decade of the new millennium, it seemed gain a new popularity. Here are 10 tracks that show how New Zealand artists have attempted to fuse jazz and hip hop, often finding sizable overseas audiences as a result.
--
Lady-J – Nathan Haines feat Sani Sagala (aka Dei Hamo) (1994)
The acid jazz scene arrived in Auckland in the early 90s, at least partly thanks to the opening of Simon Grigg and Tom Sampson's High Street club, Cause Celebre (attached to their other club, Box). Punters could take a break from heavy-hitting dance music and hear something a little laidback. The Haines brothers – saxophonist Nathan and guitarist Joel – formed Freebass (a group led by Ben and Steve Harrop) to play this new style of music. By 1992, jazz-influenced hip hop acts such as US3 and Digable Planets were having big hits in the states, so for Freebass to feature rappers in their live sets was a no-brainer. Fortunately the South Auckland R&B group Fuemana were also regulars at Cause Celebre, which meant that there was an easy connection to the Urban Pacifika acts, who were represented by the breakthrough Proud compilation in early 1994. Among them was Pacifikan Descendents, a group fronted by Sani Sagala. Through this connection he began performing live with the Haines brothers.
Nathan Haines eventually went solo and produced his own album, Shift Left (1994), which showcased a young Pauly Fuemana (OMC) and Hame aka Hamish Clarke (who went on to be a key member of Breaks Co-Op and Beats'n'Pieces, which later featured Scribe). However, the biggest single on Shift Left was 'Lady J' and it set Sagala up for a successful solo career as Dei Hamo and launched Haines's remarkable career, which included a decade at the forefront of the UK club scene.
Impressions – Urban Disturbance (1994)
Another pair of MCs who performed live with Freebass were Zane Lowe and Oli Green from Urban Disturbance (they even recorded a song together). As Lowe gained in confidence as a producer, he picked up on the currents of jazz hip hop in the air and folded these into his beats. Later on, Lowe showed that there was a bombastic side to his production when he worked on Dam Native's first album, but generally, it was the more downbeat side of hip hop that attracted him, eventually leading to the two successful Beats Co-Op albums.
These days Zane Lowe presents shows for Apple Music (after long runs with MTV in the UK and as a radio presenter for BBC1); on 'Impressions' in 1994 he was just a young MC rhyming over sax samples and heavy beats to share his "impressions made on Ponsonby streets".
Ain't Nothing – Solaa feat Scribe (2005)
Isaac Aesili achieved his first success at an early age, winning best young trumpeter at the Tauranga Jazz Festival in 1995. He then became a fixture on the Christchurch scene with his group Solaa (formed in 1997) and through his local connections managed to get another of the city's prodigal sons, Scribe, on this striking single (released originally on a sampler 12", before becoming the opener on Solaa's album, Steps In Time, 2006). It starts out like a straightforward hip hop number, but soon you hear a few complex chords being laid down and some short licks of trumpet, which leave you in no doubt of Aesili's jazz upbringing.
Optimist – Opensouls (2006)
In the mid-2000s, Auckland nightclub Khuja Lounge managed to create a scene that was somewhat reminiscent of the one at Cause Celebre a decade earlier, with DJs and live musicians working together to create a scene around fusing hip hop, jazz, and funk. The Opensouls were at the forefront of this movement. The group started a few years earlier when Jeremy Toy was studying music at Auckland University and he met Elam student Julien Dyne, who happened to share his love of jazz (Dyne's father is well-known for his double-bass playing within the local scene, and while in Canada played with hard bop legend Sonny Stitt). Toy and Dyne started out by playing jazz and jazz-fusion, before forming Opensouls to bring elements of funk and R&B. By the time of their first album, they had a formidable set of musicians contributing to their sound including Isaac Aesili (Solaa), Chip Matthews (The New Loungehead, Che Fu), and Joe Lindsay (Fat Freddy's Drop).
The Opensouls track, 'Optimist,' gives us a sense of the group's ability to smoothly move between styles, starting out with a downbeat groove and a jazzy horn line, before adding the soulful vocals of Tyra Hammond, then finally boosting the beat for a couple of rapped verses by Bjorn Petersen. Keep an ear out also for the solo by Stephanie Brown, aka LIPS.
Jazzybizz – Solephonic aka Manuel Bundy (2007)
Manuel Bundy was the first DJ to have a residency in Auckland playing hip hop records (at Shortland Bar from 1990-93). As a result, his taste was a massive influence on the scene that followed and his move across to Cause Celebre meant he arrived at a perfect time to take part in the scene there. Over the following two decades, he provided beats and scratching for many jazz/hip hop acts, including Urban Disturbance, Nathan Haines, Solaa, Relaxomatic Project, and The New Loungehead (as well as touring the world as DJ for OMC). His debut EP was put out by Sugarlicks in 2007 and the opening number showed that all his time hanging out with jazz musicians had rubbed off.
City of Atlantis – Myele Manzanza (2012)
Victoria University's Jazz Performance programme has produced a plethora of amazing musicians over the years, many of whom became the backbone of the dub scene in Wellington. Their work also crosses paths with hip hop, though not always in such an obvious way. Take a band like Fat Freddy's Dub, which has a trio of horn players who came out of jazz school (Toby Laing, Joe Lindsay, and early member Warren Maxwell), who play over beats put together on a sampler in a hip hop style.
Myele Manzanza was another Wellington jazz school graduate, who played drums around the city with acts such as Olmecha Supreme, Deva Mahal, and Recloose. Yet, his most notable early work was as a member of Electric Wire Hustle, perhaps explaining some of that group's jazz elements (which continue even now that the group is basically a solo project for singer/guitarist Mara TK, working in collaboration with producer Benny Tones). Throughout all his work, Manzanza's childhood love of hip hop is also clear, since the beats are always at the forefront of his music. One of his most popular tracks as a jazz-band leader is 'City of Atlantis', which combines rapping from Philadelphia's Charlie K with the beautiful voice of Ladi6 (the live version below instead features Nia Andrews).
Basketball Court – Home Brew (2012)
You might expect that Home Brew would incorporate some aspects of jazz, given lead rapper Tom Scott is the son of bassist Peter Scott, who played in the Jews Brothers and Bluespeak (led by Greg Johnson, Bluespeak were Cause Celebre regulars). What's more, jazz grooves are also a central to the work of Home Brew's beat-maker extraordinaire, Haz Beats, who developed this interest after scouring the internet for the funkiest grooves and coming across little known jazz fusion albums from the 70s. This style also informs the music he creates for his current group, Team Dynamite.
When Home Brew came to do their self-titled debut album in 2012, they brought on board a range of talented musicians to recreate the loops they had been working with (rather than having to pay for original samples). It must've worked, since their debut hit No.1 on the local charts. They also began playing live with musicians for some gigs and this version of the group is captured well on this video of 'Basketball Court' for the NZ Herald's Sundae Sessions.
The Mission – Mark de Clive-Lowe (2014)
Mark de Clive-Lowe's position on this chronological list is a bit misleading since his first album came out back in 1996. He moved to the UK soon after, where he became a key player in the broken-beat movement (a style of dance music that picked up on both acid jazz and '70s jazz fusion, as well as funk and percussive world music). Nonetheless, he did keep a connection with the local music scene, releasing his Nuvonesia album, Island of Nuvonesia (2000) through New Zealand label Kog Transmissions. The album shows central place of hip hop in his music, with scratching/samples provided by Manuel Bundy and singing/raps provided by Imon Star, another act who isn't shy about bringing jazz into his work.
These days, Mark de Clive-Lowe is based in Los Angeles, but on his recent track 'The Mission' he shows that he hasn't forgotten his roots, with the verse by LA rapper John Robinson giving a colourful rundown of de Clive-Lowe's history in the worldwide music scene.
Gravity – @peace (2015)
Tom Scott from Home Brew is also known for his work with the more experimental hip hop act @peace. One of the other key members of the group is Hayden "Dandruff" Dicky from the jazz hip hop crew, Side Steps Quintet: an outfit that Dicky formed after he finished studying saxophone at music school and became intent on fusing the two styles of music. The title of @peace's album, @Peace and the Plutonian Noise Symphony (2015), sounds like a lost space-funk-jazz album from the '70s and there are certainly moments where you could be forgiven for thinking you're listening to Dr Tree (1975). To get a sense of the varying styles of @peace, check out the change in feel when the chorus arrives on the track 'Gravity' – with the beat suddenly getting oddly hectic and Scott doing an admirable job of keeping up.
Strong Woman – Raiza Biza (2017)
In recent years, it feels like the influence of jazz on rap music is on the rise once more, with jazz bassist Thundercat playing on Kendrick Lamar's critically acclaimed album, To Pimp A Butterfly (2015) and jazz influences appearing on work by Anderson .Paak and Solange. At the same time back in New Zealand, we've seen the emergence of similarly inspired local acts such as Nikolai (an R&B singer and producer who often incorporates jazz samples) and Siobhan Leilani (a bassist who studied at Auckland University's music school before starting her own career as a band leader, rapper and singer). These acts are still developing, so not much of their work is available online – though do check out Nikolai's 'Chess' and Leilani's 'Herstory' to get a flavour of their work.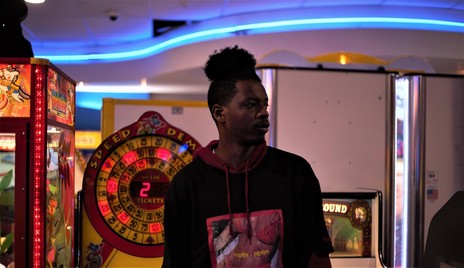 Let's instead finish with Raiza Biza, a rapper from Hamilton who has shown throughout his career that he has no problem rapping over slower, more moody backing tracks. So it wasn't too much of a surprise to find him pulling together an EP with moody piano samples ('Get By') and some sweet sax lines ('Wassup'). However, it's the backing music provided by the producer Villette (aka Villette Dasha) for 'Strong Woman' that pulled Raiza Biza most firmly into jazz hip hop. Villette sang in jazz choirs in her hometown of Hamilton, before enrolling in the electronic music production course at Tai Poutini Polytechnic. She puts this experience together on 'Strong Woman' with some nice chord voicings played on a Fender Rhodes and some funky percussion, matched by Raiza's sharp rapping and sweet vocals by Mukuka. The icing on the cake was bringing in Australian rapper REMI for a remix, since this version of the track now has nearly 500k streams on Spotify.
--