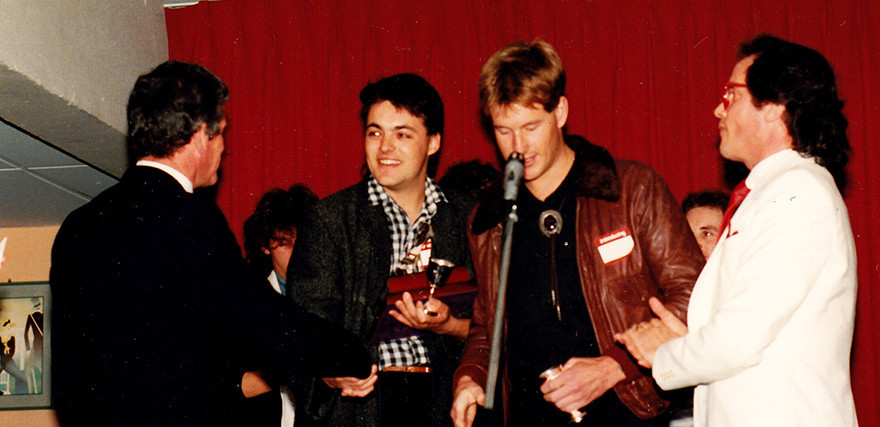 How do you pick 10 songs from our land's rich and eclectic musical history? It's a big ask. For some reason the first one that popped into my head was 'Nerve Endings in Powerlines' by New Plymouth's Nocturnal Projections. The Nocturnals brought "new music" alive, providing the storming country hall soundtrack to me and my music obsessed friends growing up in the backwater that was Taranaki in 1979-80. They're still evocative of that time and place for me. Thinking about that, I decided to focus on some key songs that were important as school led onto my journey south to Dunedin, where I had the chance to help create a band and embark on my own musical adventure. – Nick Sampson
--
Spellbound – Split Enz
Magical. Other worldly. That's how 'Spellbound' sounded to these ears in 1978, and still does. The song proper doesn't even start until one minute and 50 seconds in. It's so different to the massive pop song masters Split Enz later became. And so Phil Judd. Off the debut album Mental Notes (with the classic Judd-painted cover portrait) it bleeds that beautiful, slightly odd Judd touch, with the kind of musical changes and unique vocal he's still applying to his music. Parties in teenage New Plymouth resounded to Led Zep, The Doors, Jimi Hendrix, and mid 70s rock. This and other early Ends/Enz songs were true diamonds in the mainstream. "Chances are ... " indeed.
Short Haired Rock and Roll – The Terrorways
My friends and I dived headfirst into punk, Two Tone and the new wave bands that followed. I devoured the pages of Rip It Up. It was a lifeline. Proof there was exciting new music happening on these islands too. The AK79 compilation confirmed it. School holiday pilgrimages were made to the big smoke. We were too young to go to the Windsor Castle (one of the scene's key venues) but we did get to The Island of Real where I remember being literally blown away by a very loud Sheerlux. While we never saw the bands on AK79 live, songs like The Terrorways' 'Short Haired Rock and Roll' were blasted out under Maunga Taranaki. It sounded so damn raw and exciting.
Certain Sound – The Swingers
Phil Judd again, this time with The Swingers, also off AK79. It wasn't as punky as most tracks, but it sounded wonderfully weird, melodic and new. That amazing voice, harmonising with himself in a strangely high, semi-strangled register. The unique sound of his jangled, overdriven Rickenbacker six string. Bones Hillman's wandering bass and Buster Stiggs' drums holding it together. The chord and melodic changes, simple but genius. In retrospect it all hints at 'Counting The Beat', which would come later as such a massive Australasian hit. But this a more intense and interesting song, and a direct time machine back to the fresh excitement of that time.
Nerve Ends in Power Lines – Nocturnal Projections
In New Plymouth we got our own band. Nocturnal Projections played secret gigs. We followed them round in "old over-powered under-braked cars", as my father called them. Holdens, Zephyrs and Valiants. Kids from different schools connecting, trying to look punkish in sneakers and old 1960s suit jackets found in the back of our dads' wardrobes. The Nocturnals appeared fully formed, belting out Pistols and Ramones anthems, along with their own songs. Country halls were transformed with black polythene backdrops and a big Union Jack. Peter Jefferies was the charismatic front man, his brother Graeme playing a wood grain Flying V Gibson guitar (he still does). Brett Jones prowled around on a low-slung Rickenbacker bass and Gordon Rutherford hammered the drums. I bought their cassette. 'Nerve Ends in Power Lines' was a standout and remains a highlight. Peter and Graeme later became part of Flying Nun in This Kind of Punishment and The Cakekitchen.
Till I Die – Screaming Meemees
We heard about the Meemees long before they came to New Plymouth. I bought the singles and thought they looked super cool in Rip It Up. It seemed unbelievable a bunch of kids from another Catholic boys' school (Rosmini in Auckland) could hit No.1 as they did with 'See Me Go', which had 'Till I Die' on the flip side. I loved the follow-up, 'Sunday Boys' featuring Mike O'Neill's great guitar sound, but 'Till I Die' was my favourite. With a great video featuring another Union Jack backdrop, red military jackets, winklepickers and the tight, coloured jerseys that were briefly in vogue (also a feature of the Newmatics). My buddies and I were trapped at Francis Douglas College for Boys. A rugby and ag school, it was a musical desert, but we did have to sing the "modern" hymns that were a fad at the time. One was 'They Will Know We Are Christians By Our Love', sometimes called 'We are One in the Spirit'. We spotted the Meemees had lifted its melody for 'Till I Die' immediately. When they did venture our way 10 carloads of "Waitaras" (some of whom I knew from working at the freezing works) stormed into the packed Bell Block Hotel and kicked off the biggest bar brawl I've ever witnessed. With a look of horror across his face Mike O'Neill deflected flying bottles with his precious guitar as the band scarpered stage left.
Square One – The Newmatics
I fell in love with the Newmatics. Another Auckland band we weren't able to see live. Again, I followed them in Rip It Up and bought the singles. There was an occasional clip on Radio With Pictures. They had horns. Wow. I'd grown up playing brass but was yet to discover the history of horn-adorned soul and rock 'n' roll. It added a whole new dimension. I thrashed their songs. 'Doobie Doo Boy' was a favourite but the later 'Square One' stood out, so well arranged and crafted. With Mark Clare's unique, authoritative vocal, chanting "team" BVs, funky bass, Sid's angular rhythm guitar ... and the horns. Full of starts, stops and changes, somehow it seemed very British. Seeing them play Otago's 1981 Orientation on the Screaming Blam-matic Roadshow (with the Meemees and Blam Blam Blam) was a highlight. Setting the scene for the epiphany that came with Searching for the Young Soul Rebels, Dexy's Midnight Runners' horn-fuelled debut album, which sowed the seeds for the Netherworld Dancing Toys.
Joed Out – The Verlaines
Dunedin. Within two weeks of arriving I'd accidentally stumbled into a Clean or a Stones rehearsal (memory plays tricks) in a school hall. Then seen both bands, The Chills, Sneaky Feelings and The Verlaines at Otago orientation shows. It was quite an introduction, and such a different vibe. A whole self-contained scene it seemed. Yet they were all so different. And even more so to what was happening up north. This loose collection of groups seemed to embody the intangible atmosphere of the new city I'd landed in at short notice (a last-minute decision to head to university). There are so many classic songs from that era, but I still hear 'Joed Out' on the turntable in my head. Starting with the lyric "It's 10 o'clock in the afternoon, you better come by here soon, or I'll go out of my mind, the winter's been unkind ... " (genius) and floating on a mood that still paints vivid images of that important and transformational time and place.
Billy Two – The Clean
I bought The Clean's first single 'Tally Ho' at EMI on George Street, Dunedin, the day it came out. But the Boodle Boodle Boodle EP changed everything. No one sounded like The Clean in 1981. Opening track 'Billy Two' seemed to encapsulate the very heartbeat of what was happening in Dunedin, even if Doug Hood and Chris Knox had recorded it on their 4-track in a derelict hall on Bond Street in Auckland. Thrashing acoustic guitars with occasional backwards electric sections. The immediately recognisable sound of Robert Scott's driving bass and Hamish Kilgour's drumming. David Kilgour's nasal, hook-laden vocal. I often think of a bright, sunny Saturday morning when a friend and I walked around the student area visiting friends. On days like that the grey city shone with a distinct light. As we wandered from house-to-house windows were open. People were sitting with coffees chatting and laughing on front steps and verandas. 'Billy Two' came flying out of no less than three flats on one block. It sounded like an optimistic, new soundtrack for the time.
Working for a Living – The Hulamen
Late 1982 and the horn-driven NDTs were off with a roar. We'd discovered soul music. Also that the 'Geno' of Dexy's fame was about Geno Washington and his Ram Jam band. I had a song of his ('She Shot a Hole in My Soul') on an old UK Stars of 68 compilation bought at a school gala day as a kid. It became a stomping crowd pleaser. Meanwhile the Newmatics had folded, replaced by the Miltown Stowaways, featuring most of the band, still with sax and trumpet. Crucially, late in the year, The Hulamen released Beer and Skittles including the wonderful 'Working for a Living'. Great playing, a cool social comment lyric wrapped in a big melody, slickly produced, with big warm sounding horns (and groovy cover art). A killer song then, it still is. A true earworm. It turned out these guys came from Wellington and had been recorded by someone called Nigel Stone, as Bill Lake's horn-adorned Pelicans would later be. Wellington had soul. Who'd have thought. Played by people who made records that sounded great in a different way to the Flying Nun releases, but still vitally Kiwi. I noted that for the future and played this record within an inch of its life.
Husband House – Sneaky Feelings
Music that embodies time and place ... when it comes to "Dunedin atmosphere" songs this still hits the bullseye. I clearly remember hearing it for the first time at our bass player's mother's house at 97 London Street, looking across the city and harbour, to the peninsular and the ocean beyond. (Let's assume it was a stormy grey Dunedin day for good measure.) I'd always liked the Sneakys but this was something else, a big step up. A simple repeating guitar figure, a dreamy melody dripping in Beatlesque references and "do do dos", strings, a floating French horn part and a perfect guitar break to enhance the mood even further. A lyric including "The season's old, and the leaves have turned to gold, and the wind blows cold from the south, I'm not sure what I wanted from you, but I think it's time we found out". I'm back in autumnal Dunedin whenever I hear this. Sneaky Feelings were sometimes criticised by Dunedin/Flying Nun zealots for being too "something". I was never sure what that something was, other than they cared about how their records sounded. They were a unique band with songs that could both excite and pull melancholy heartstrings. This is one of them, and it's a classic.
--
Nick Sampson is a founding member of the Netherworld Dancing Toys and writer of some of their best-loved songs including the career-defining 'For Today', co-written with bandmate Malcolm Black. Staying in the charts for 14 weeks, 'For Today' became a No.3 hit in August 1985 and was named winner of the 1985 APRA Silver Scroll songwriting award. Their album Painted Years also hit the Top 10, achieving gold record status, and the band won Single of the Year, Most Popular Song, Album of the Year and Group of the Year at the 1985 New Zealand Music Awards. 'For Today' is part of New Zealand's musical landscape – in 2001 it was included in the APRA 'Nature's Best' list of Top 100 New Zealand Songs of All Time.