When we were first asked to contribute to this series, we thought, "Hey, this'll be fun". We had no idea just how difficult it would be, for three reasons. First, we have lived most of this century in London and have not been exposed to a great deal of New Zealand music in that time, so we're looking mainly at music recorded before the year 2000. This brings us to problem number two – our choices must be available on Spotify or YouTube, neither of which existed back then. More than half of our first ten choices proved to be unavailable on those platforms, as were many of our second, third or fourth, etc. The third problem we faced was that there are two of us – despite writing and performing together for over 40 years, we found it hard to agree on which songs that fit all the criteria should be on the list. Eventually we came up with these 10 songs, in no particular order, and Sam made notes.
'Can't Get Back' – The Windy City Strugglers
This one was easy – we have both loved this song since we first heard it all those years ago. It's hard to go wrong with a song written by Arthur Baysting and Bill Lake, two of our favourite New Zealand songwriters, and sung here by the inimitable Rick Bryant, our old bandmate from the early 1980s and a friend from then on. The lyrics are economical but not without an element of mystery, set over a timeless American roots melody. Sadly, Arthur and Rick passed away within a couple of days of each other toward the end of last year.
'Anzac Day' – Glen Moffatt
It was a toss-up between this and 'Somewhere in New Zealand Tonight' from Glen Moffatt's album of the same name, which I was fortunate enough to engineer at Montage Studio, alongside producer Stuart Pearce. It perfectly captures the otherworldliness of both the morning after the night before and the tragic parts our older generations had been forced to play, delivered with a fine balance of despair and rage. Hard to believe that it was recorded 25 years ago – I remember it like it was last month. Among Glen's originals were some covers of other New Zealand songs, including this next one.
'Slippin' Away' – Max Merritt & the Meteors
There's timeless and there's timeless: this is timeless. Something about this melody from 1975 harks back to the earlier days of pop music, and combined with the evocative and economical lyrics, it's a bit of a masterpiece. I can almost imagine what Max Merritt must have felt when he wrote this – although I know nothing about the history of the song's inception. Sometimes when a song comes to you it's part mystery, part miracle – you just wonder how it got there. I can't help but feel that if this song had been written in the US it would have become well known and sung throughout the world to this day.
'Haere Mai' – Bill Wolfgramm & His Islanders featuring Daphne Walker
A slice of Kiwiana from 1955. This song was a part of daily life when I was growing up in Glen Innes, in Auckland. This was the days of radio – before television, even before most people where I lived had record players. Way before Spotify – but you can find it there just the same. It was written by Sam Freedman, the Wellingtonian son of Jewish immigrants, but to me it feels like it had always been there. I'm not sure why it had an impact on me – maybe because it included te reo, which wasn't common on radio in those days. Something that said New Zealand amongst everything else from somewhere else. But I do know I was amazed when my mum told me that Bill Wolfgramm was from around the road – someone from our area could be on the wireless!
'From Good to Wrong' – Mahinaarangi Tocker
This is from Mahinaarangi Tocker's 2005 album The Mongrel In Me but we could easily have chosen anything she wrote. She was a friend of ours, and one of the most talented people we have met – her songs are wonderful on so many levels and she could sing like an angel. I wanted to include a song called 'Rolling Over' from her 1997 album Te Ripo which I engineered alongside producer Shona Laing, but it's not on Spotify ... Mahina was in the studio playing electric piano and singing, Shona and I were in the control room. As Mahina sang this beautiful song, tears were streaming down her face. By the end of the song we were all crying unashamedly – it is something I will never forget.
'French Letter' – Herbs
Like Mahinaarangi, we could have chosen any of a number of songs by Herbs, and a fair bit of debate went into this decision. In the end, we went with this song from 1982, written by Toni Fonoti, because it's a perfect example of a serious message disguised as a sugar-coated confection – a pop Trojan horse. From Maurice Jones's faux-French accordion intro and the seductive opening line "Can you see yourself, under a coconut tree", evoking a mythological Tahitian paradise, it slowly evolves into a strident call of "quittez la pacifique!" This struck a chord with us, having been veterans of the fight for a nuclear-free Pacific – we played so many benefit concerts in those days we once received a call from a woman who asked, "Are you the band that plays for free?"
'Calf Club Day' – The Topp Twins
Also at so many of those benefit concerts were our good friends Linda and Jools, now Dames and a true New Zealand institution, and rightly so. But as they have become known more and more for their comedic skills and ability to write light-hearted songs that make us laugh, I feel that it's easy to forget just how good their song craft really is. 'Calf Club Day' is a perfect example of this. Perhaps not all Kiwis appreciate the importance of calf club or its lamb equivalents to rural children, but as someone who spent some of my younger years working on farms this song resonated with me from the moment I heard it. It has a yearning nostalgic feel, as Jools looks back to their early days on the farm, that perfectly captures those moments a smell or sound triggers memories of childhood joys.
'Poi E' – Pātea Maori Club
How could anyone not like this? Forget coronavirus, this is really infectious (I am writing this during lockdown, so it had to make its presence felt somewhere). Written by the esteemed Māori composer Ngoi Pēwhairangi and the larger-than-life Dalvanius Prime, this 1984 single performed by The Pātea Māori Club is a masterpiece of cross-cultural synthesis. A poi song overlaid on a hip-hop track courtesy of arranger Stuart Pearce (producer of No.2 on this list) it has become part of the fabric of Aotearoa. The fact that it has charted in three separate decades speaks for itself.
'Tears' – The Crocodiles
Another song written by Arthur Baysting, this time with singer/guitarist/artist/director Fane Flaws. This 1980 release only went to No.17 on the New Zealand charts but, in my head at least, it was a much bigger hit than that. It's one of those songs that seems to have become part of the national psyche – it stays around while other hits of the same era have faded into the mists of time. While sounding very reminiscent of The Beatles, particularly the bassline, it retains a certain roots element – if you added horns it could almost be a soul number. Perhaps that feeling is reinforced by the soulful vocal of Jenny Morris, who nails it perfectly.
'I Can Change' – Windy City Strugglers
Back to the start – we had to include another Bill Lake song. Bill is probably the most underrated songwriter in New Zealand, definitely in our opinion. We could have chosen any number of other songs he's written but there's something about this one that is typical of many of his songs – the quirky humour, the funky guitar playing and the clever lyrics – "I can be most anything that you care to name, in fact it's quite an effort for me to stay the same, I can change". Or it could have been 'Shuffleitis' from the Pelicans, or 'Why Would a Woman?' or maybe 'The Way of the World'. When you add all the great songs Bill has written solo to all the great songs he's written with Arthur, that's a lot of great songs.
--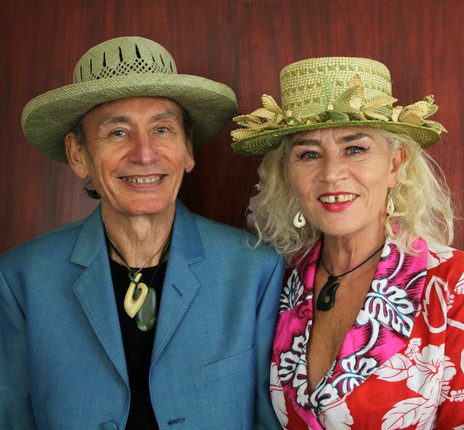 Sam Ford and Trudi Green were Ponsonby stalwarts from the 1970s to late 1990s, with bands such as Sam Ford's Veranda Band, The Neighbours, Trudi and the Exceptions, and Soulahula. In 1999 they moved to London, where as Soulahula they gigged and recorded an album, before returning to Auckland in 2015. In March 2020 they released a new album, Sweet Sweet Love (Choice)