John McCready could be the tough judge on one of those TV talent shows. He's a tough businessman and remains a music man; he was all over Spotify from day one. Although McCready has recently spent as many years in TV or radio as he did in music, he was a key figure in the formative years of the local music industry – from the mid-1960s to the mid-1980s.
In the 1960s at the Wellington-based Philips Records, he signed a local roster and distributed selected artists from the Auckland indie Zodiac label (The La De Da's etc). In the 1970s he started the TV-advertised Solid Gold Hits series, signed Shona Laing and accepted UK music executive positions, then returned to NZ to co-found indie distributor RTC in 1977 and open the first NZ office for CBS Records in 1978. While the office furniture was new, he signed and had success with Sharon O'Neill and Jon Stevens.
Getting Started at Philips
When John McCready left school in 1957, he had a reputation for being "very aggressive in sport" but not suited to academic pursuits. He saw an advert in the newspaper – "A Career In The Record Business" – and he got an interview. McCready was shocked when Philips Electrical Industries of NZ Ltd. gave him the job. The music-mad teen would run the company 13 years later.
He gained experience in the warehouse and in the office work and was sent on training courses such as "time management." McCready applied to work with A&R boss Keith Anderson and eventually was transferred to his department. When Anderson moved to Australia to do A&R, McCready got his job.
At Philips, the music business had to develop in a harsh regulatory environment. All companies had to have import licences to bring specific products into New Zealand and NZ assembled cars and NZ brand guitars and amps were the norm.
Although Philips had entered the New Zealand record market as early as 1951, McCready described the company as being "big in shavers" when he started there in 1957. "The record division was just a little add-on. Philips Electrical had a quite big customs department, so they handled all our importing paperwork for us. As the company got bigger and got more sales, you could afford to manufacture in New Zealand."
Traditionally the record business was dominated by His Master's Voice (NZ) Limited, with its chain of electrical appliance stores that usually only stocked HMV record releases. In a 1994 interview with Bryan Staff, McCready estimated that HMV had 90% of the market in the late 1950s. In the 1960s competition emerged with Philips, Pye, RCA, Festival and New Zealand owned indies challenging HMV's dominance at radio and retail. Non-aligned musical instrument stores started selling records and "record bars" started appearing in department stores.
HMV's power was not purely due to its near-monopoly size. The company had the good stuff – a phenomenal repertoire of British hitmakers such as The Beatles, Cliff Richard, Cilla Black and The Hollies and they even had some of the most radio-friendly US music such as The Beach Boys and the Motown label. HMV was also the leader in recording New Zealand music and a Wellington-based label like Philips had to use an HMV studio to record local music. At radio, the national broadcaster NZBC started the 1960s with a similar monopoly and very few pop music shows. The record buyer at the NZBC was always swimming up-to-his-neck in Hollies (etc.) singles issued by EMI's prolific singles-man / singles-mad A&R man Bruce Ward.
HMV had their own pressing plant, while Philips pressed at Wellington's other pressing plant, Green & Hall. "We eventually bought the Green & Hall factory in the mid-70s, when Graeme Broughton, took over after I left the company," said McCready.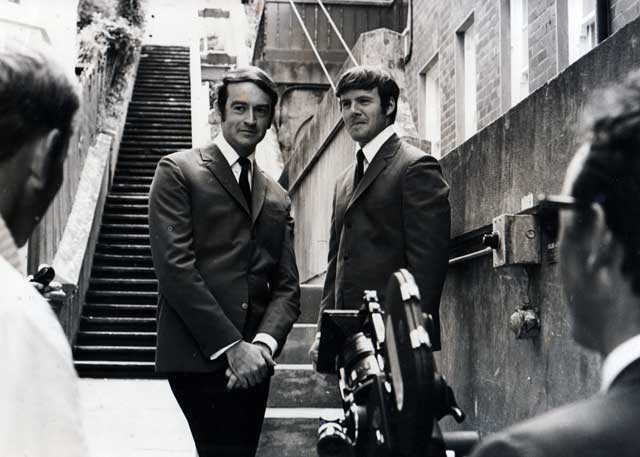 Market Share
In the 1960s John McCready quickly moved into an A&R role that was firstly the selection of what foreign repertoire was to be released in New Zealand but the A&R role also intertwined with looking for opportunities to gain market share. In 1962, Philips started the Philips Record Club to increase turnover and to effectively act as a retailer – selling direct to the public – with no middleman. In the late 1960s, McCready moved into budget albums with the Music For Leisure label that nodded to the EMI UK budget label name Music For Pleasure. As Philips registered the name "Music For Leisure" in New Zealand, HMV were unable to use their UK label name "Music For Pleasure" in New Zealand. The recording of local repertoire was another way that Philips could chip away at the HMV market dominance.
The basic core of the foreign Philips labels were on the Coronet label, the Australasian re-branding of the large US label CBS owned Columbia, and Polydor out of the UK. The early Columbia releases appeared down under on the Coronet label as the rights to the name Columbia were held outside the US by EMI, HMV's parent. The big sellers on Coronet were My Fair Lady and South Pacific. These two records were such a big part of the early Philips catalogue that over 50 years later McCready noted: "I still recall the catalogue numbers from my days working in the warehouse, My Fair Lady was KLL 1620 and West Side Story KLL 1700."
McCready expanded the label base by adding the jazz label Vanguard (formerly with Viking Records) and early releases on Chris Blackwell's Island Records. "Island advertised for a distributor, so I wrote away and picked up Island Records for New Zealand," said McCready.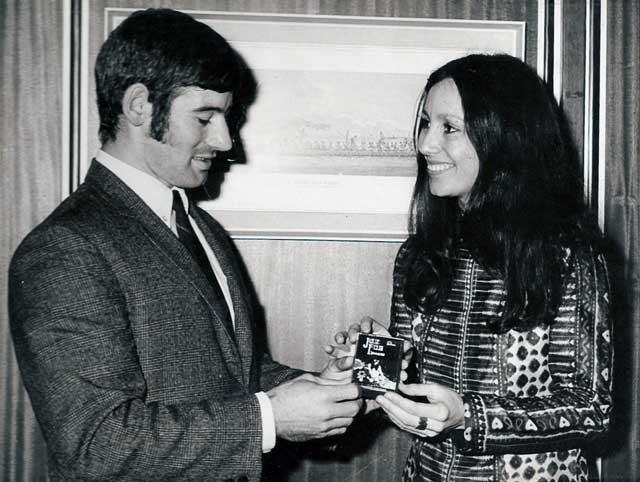 Tourists
The record company life included hosting musicians and managers when international concert tours arrived on our shores. When Millie Small toured with Gene Pitney in February 1965, McCready went to Auckland to meet her manager Chris Blackwell at the motel at the top of Parnell Rise where the tour was staying. Blackwell had a reel-to-reel tape of his new release, The Spencer Davis Group, featuring teenage Stevie Winwood on vocals and keyboards. Blackwell wanted to play the tape to McCready, so they went to Stebbing Studio in Ponsonby for a listening session.
On one of Gene Pitney's many tours, McCready organised a record signing at the Lambton Quay, DIC Department Store (next to Kirkcaldie's). The singer was mobbed and had little choice but to sign records for hours.
When they got back in the limo after the in-store, Pitney asked, "Who the fuck organised that, John?"
"Well, I did," McCready replied.
"Good One!" said Pitney when McCready did not avoid taking responsibility.
Local A&R
People use the phrase "the tyranny of distance" to reflect on the remote location of New Zealand and Australia, yet nearly every move John McCready made as a music executive was noted in the USA music industry magazine Billboard. The magazine was a diary for the English-speaking music world.
Billboard (28 August 1965) noted: "Streamlining motions have been made at Philips by making John McCready A&R man for the popular field and Chris Thompson is the same in the classical realm. Both will handle promotion and co-ordination." Although not described as a "Marketing Manager" in this 1965 report, "promotion and co-ordination" is in essence marketing.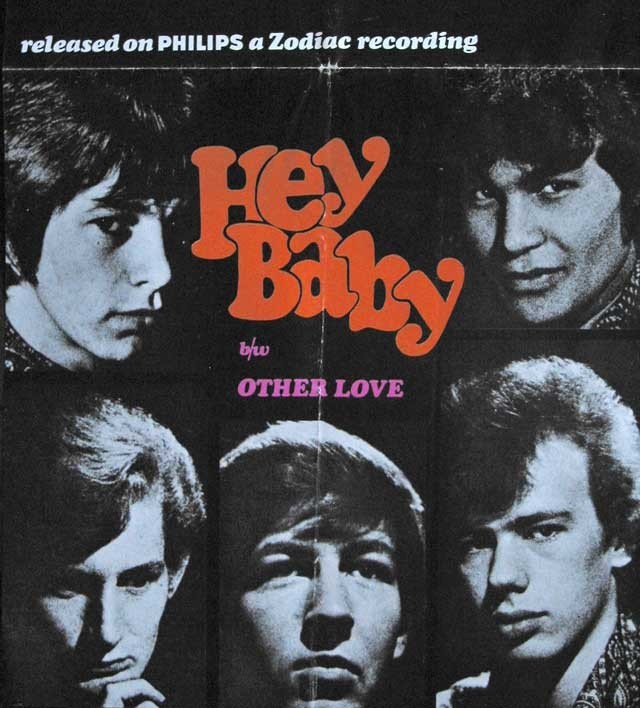 In 1965 McCready produced singles by Herma Keil at the Stebbing studio in Saratoga St, Auckland but he wanted to delegate that role and he saw the opportunity to work with Eldred Stebbing by distributing his Zodiac label via Philips Records. If John McCready heard an overlooked foreign track that he thought was a hit, he would pass it on to Eldred Stebbing. One such song was 'Rain And Tears' (Aphrodite's Child) that was recorded by Zodiac and became a big hit The Hi-Revving Tongues. McCready found one song, 'This Empty Place' for Larry's Rebels but their manager Russell Clark promptly started his own label, Impact, and the group left Philips.
McCready's enthusiasm for Larry's Rebels is reflected in a letter he wrote on 12 October 1965 to Larry Morris. "I think your group has a very good chance of really hitting it big in this country, from our point of view we certainly appreciate the way the group has been getting out and promoting themselves."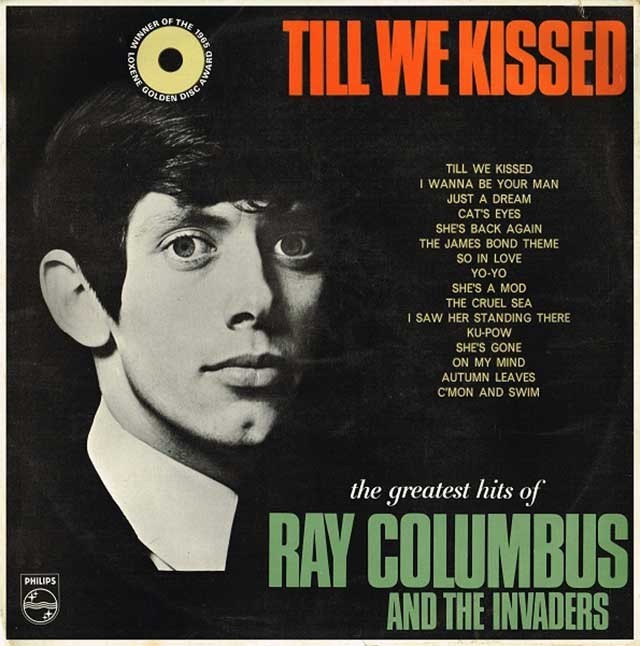 Stebbing had never done a best of Ray Columbus and The Invaders album until McCready suggested the release and promised a healthy royalty cheque by issuing the 1966 album as a Philips Record Club exclusive release.
"Following the departure of the former general manager of the Philips Record Division, Graeme Broughton, his assistant Willie Morton has assumed the chair and former A&R man John McCready has stepped up to sales management." (Billboard, March 23 1968)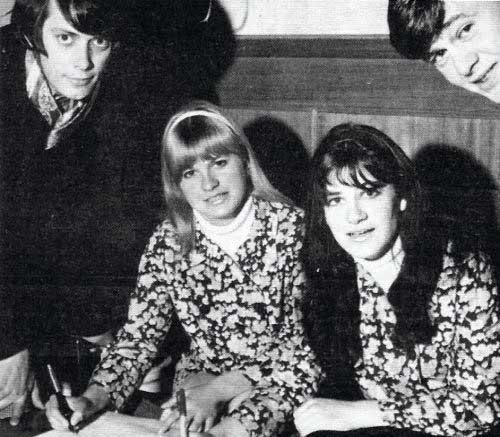 John McCready appointed Robin Robinson as "Pop A&R man" – a role that Robinson said was "part of the sales department". Robinson would record talent in Wellington and release them on the Polydor label. In Wellington's Groove magazine (11 November 1968), Robinson is pictured signing The Chicks with their personal manager Ray Columbus. The caption read, "Their first release for Philips will be an album made up of songs they sung on C'Mon plus other top pop tunes. This very commercial album will be released soon."
In November 1968, the Polydor roster included The Shevelles with the hit 'Beat The Clock', Ray Columbus, The Chicks, Vicky and Dicky, The Ernie Rouse Trad Band and Folkus Five.
In 1968 Robinson also produced Philips Records' Anything Goes Show in Auckland with Ray Columbus as DJ, for broadcast on the private radio station, Radio I. This novel Philips marketing initiative, Robinson said, "was now one of the top rated shows in Auckland and we're even looking at the possibility of going national with it."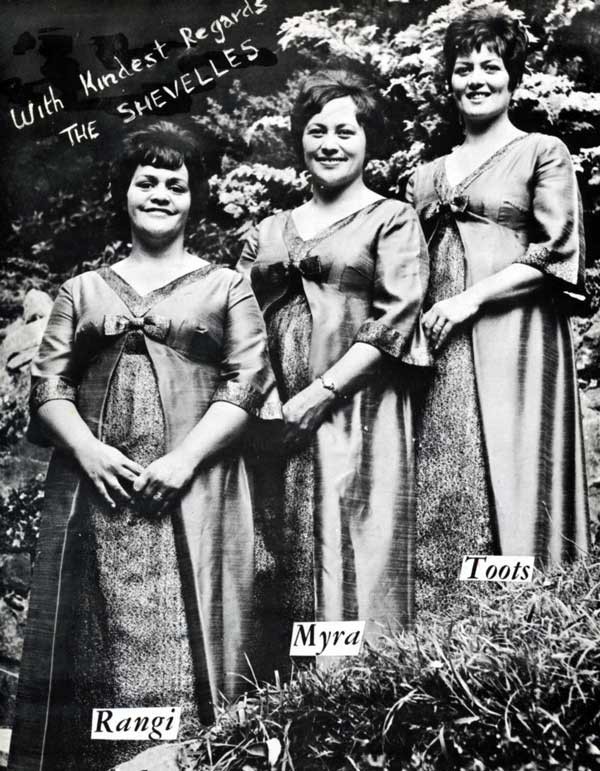 In a Groove (February 1969) magazine interview, Robin Robinson spoke of the company's policy of growing New Zealand repertoire, "Until recently we've been in the local field through Zodiac Records in Auckland. Mr Stebbing in the past has done all our local work for us. Starting from about midway through 1968 I have been independently signing up artists for the Polydor label. Two of the three records I produced and entered for the Loxene Gold Disc Award got into the Top Ten and this was something that gave me a big kick."
The finalists that Robinson recorded in Wellington were The Shevelles with 'Beat The Clock' and Ray Columbus with 'Happy In A Sad Kind Of Way'. While Robinson did A&R for pop, the young Terry Condon did A&R for local rock bands such as Taylor, Farmyard, Dedikation and The Rumour.
McCready signed Ray Columbus to do the 1969 album Hit Tracks, an album that only contained two of the singer's original compositions. After The Chicks split, McCready signed Suzanne Donaldson as a solo artist.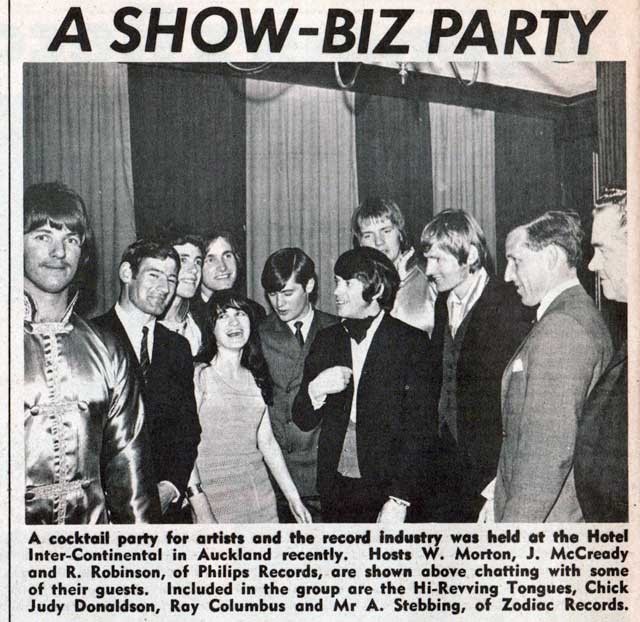 Larry Morris returned as a solo artist with two singles for the Polydor label: 'Smile' (1970) produced by Larry himself, and 'It Is Written' (1971) produced by Phonogram A&R man Terry Condon and arranged by Bruce Lynch. McCready recalled in 2016, "Terry Condon was meeting Larry and he phoned me and said he thought he was being watched by people in a car outside. I told him to leave the meeting, as it made me feel uncomfortable. Shortly after, Larry was arrested. I was a big fan of his talent."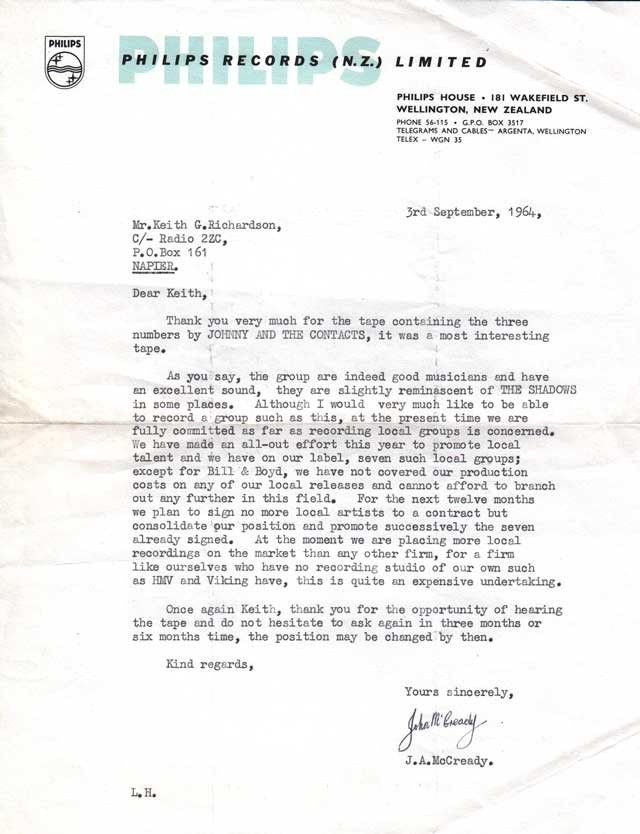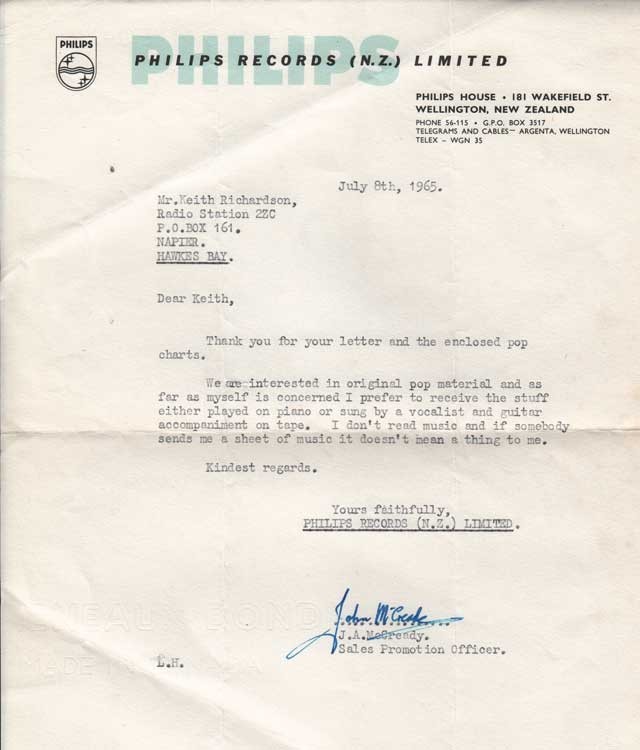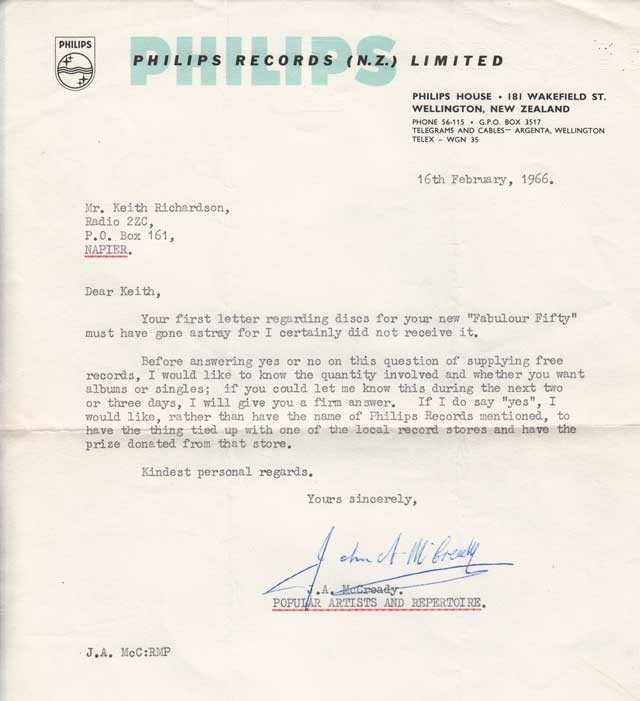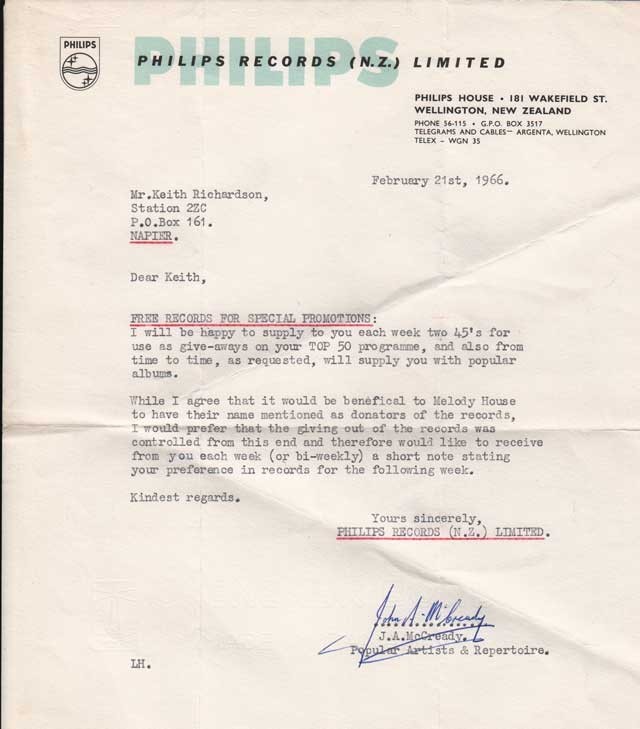 Changing Times
The music scene was changing with the Monterey Pop Festival (1967) and one of the labels Philips distributed, CBS, released a cheap retail compilation worldwide in 1968 called The Rock Machine Turns You On, a release that has been described as "the first bargain priced sampler album." Philips in New Zealand entered the spirit of the new era with a free alternative newspaper style flyer to promote the release. Artists on the compile included known names like Bob Dylan, The Zombies and The Byrds and emerging artists Leonard Cohen and Roy Harper alongside more heady representatives of the counter-culture such as Moby Grape, Spirit, The Electric Flag, The Peanut Butter Conspiracy and Elmer Gantry's Velvet Opera.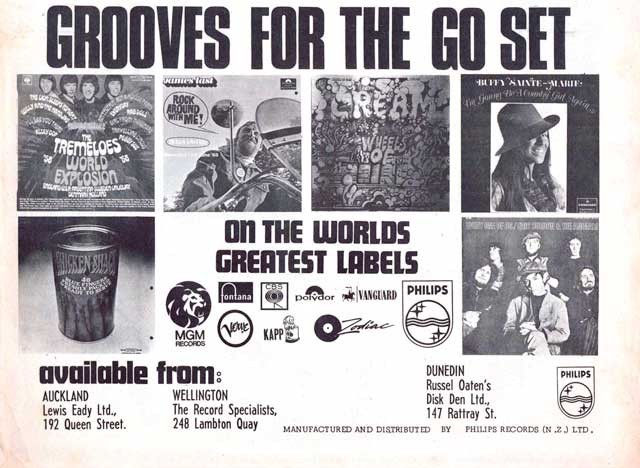 The times were a changin' in music styles but the biggest change in the new decade was to be in the marketing of music. As marketing manager, McCready observed the emergence of the TV-based marketing company K-Tel and he wanted Philips to be the first real record company to establish a TV advertised hits compilation. McCready did the maths and with what was then a very large TV advertising spend of $30,000 he was confident that the scary breakeven point of 30,000 units was achievable and the company would then be printing money. With many albums only selling hundreds of units and only rare releases like My Fair Lady exceeding 50,000 units, McCready's boss and mentor Willie Morton would not agree to risk $30,000 on a TV campaign.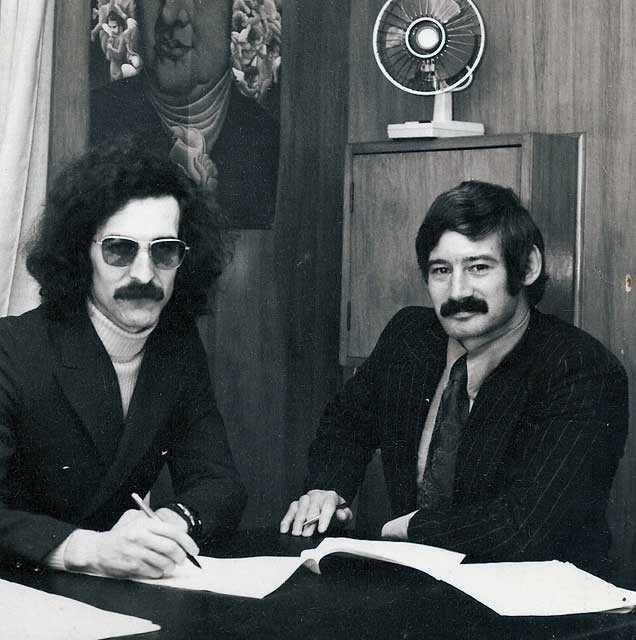 20 Solid Gold Hits
In 1970 when Morton was promoted to be Manager of the Philips Consumer Products Division and McCready was made Manager of Philips Records in New Zealand, now renamed as PolyGram Records NZ Ltd. to reflect its part in the global PolyGram combine, a joint-venture between the German Siemens group, who owned Polydor, and Philips of Holland, he was in a position to take the risk on big-league TV marketing and crucially, to be the first in the NZ market to do so.
McCready, working with his creative collaborators – Dale and Craig Wrightson's January Productions – and his own marketing manager Brian Pitts, launched the 20 Solid Gold Hits series in 1972. The first volume sold 90,000 units and some later albums in the series sold over 120,000 units, making the record division of Philips the most profitable part of the company in New Zealand.
A risk taker, McCready as MD wanted to expand the local artist roster. When Chris Bourn, the producer of the high-rating Sunday Night TV1 talent quest Studio One sent a tape of contestant Shona Laing to McCready, he knew he had to sign the 15-year-old singer. The now legendary song '1905' was not sent to Philips by Bourne. When Laing did an audition for McCready – she added '1905' to her choice of songs, as an after thought – he knew that final song she performed was the hit.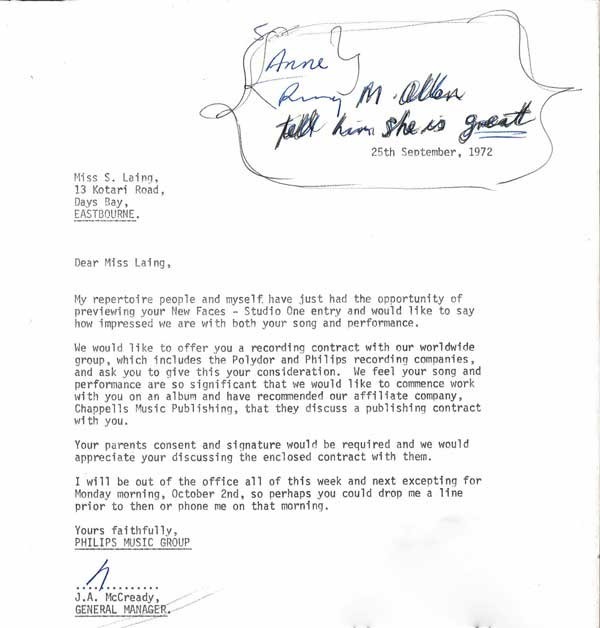 In 1972 Laing recorded the album Whispering Afraid, produced by Dale Wrightson at the HMV studio in Wakefield Street, Wellington. The album and the three singles were hits: '1905', 'Show Your Love' and 'Masquerade'.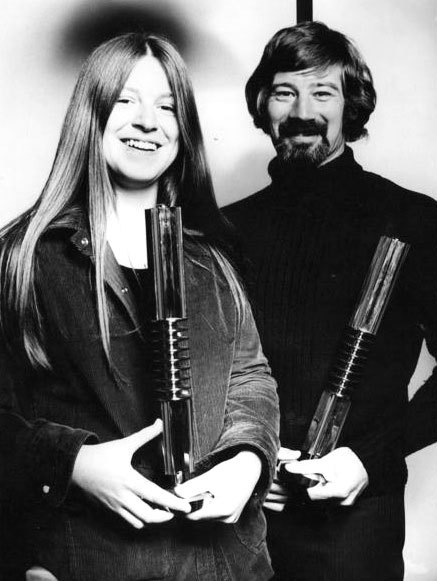 In 1972, the NZ PolyGram record company name changed to Phonogram, but when McCready was offered a job at Polydor UK, he was instructed that he would have to work at Phonogram UK, he could not move to Polydor.
McCready told NZ Musician (Feb/Mar 2015): "The CEO of Polydor UK, John Fruin, was impressed with my success with 20 Solid Gold Hits and Music For Leisure Ltd and offered me a job as Polydor's Marketing Director. However, head office wanted me to go to sister company Phonogram UK."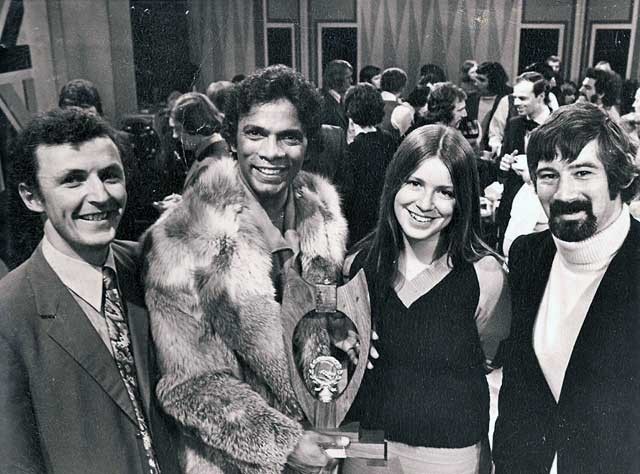 In 1957 the record division was a tiny part of Philips in New Zealand but by the time McCready left the corporate, the record division was the company's most profitable activity and HMV's dominance of the market was history. At the end of 1973, McCready moved to London to work for Phonogram UK.
--
Read John McCready part 2 here