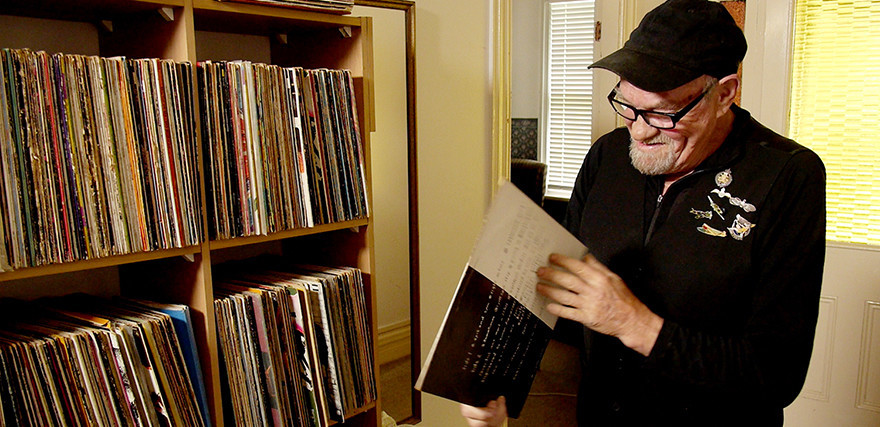 I can't quite recall when I first met Barry Jenkin but I can pinpoint when the actual friendship started – mid-1978 at the "Spats house" on St George's Bay Rd, Parnell, during rehearsals for Robman & Brian Up The Bloody Gluepot, which starred two of Barry's fellow broadcasters from Radio Hauraki, Ian Watkin and Derek Payne. The fun and adventures started that night.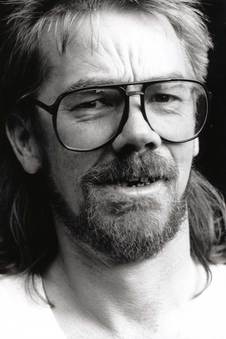 In the days following Barry's death, social media has included hundreds of posts from his many grateful fans, and there's further evidence of his longstanding as an influencer with the Facebook page Barry Jenkin Saved My Life (1500 members and growing). When it started out 10 years ago, Barry and I had a chuckle about it. "But," he said, with that devilish glint, "I've been a cult figure ever since I started in radio at 2ZA (Palmerston North). There was a Barry Jenkin Appreciation Society in Dannevirke! True, they met once a month in a telephone box in the main street."
In the early-mid-1980s Barry was again a regular fixture around Palmerston North, teamed with John Haynes and me to produce specialised radio and audio programmes, more than 100 hours in total, mostly radio, broadcast nationwide, but also including clients like the Department of Education and New Zealand On Air. We also conducted regular radio workshops. It was always fun.
It was the age of the contra-deal: airfares, accommodation, restaurants, all grist for the mill, and even after Barry shifted to Sydney we were able to fly him in. Barry and I would stay at the Sherwood Motor Inn, generally two-three nights at a time, waiting for John Haynes, the real Trojan in this yarn, to finish his regular gig as 2XS production manager. With only one production studio, it would oft be 9-10pm before we got started, finishing at 3-4am (spare a thought for Haynesy with a day job to follow). Barry named us Dixy's Midnight Slummers. Sadly, I'm the sole survivor – John Haynes died in 2005.
Barry Jenkin was a thrill-seeker: motorbike rider, small aircraft pilot, mosh pit enthusiast, generally great company, occasionally grumpy but, hey, that rumbling laugh would get you every time. It will always be one of the great pleasures of my life to have had you as a mate, Barry Jenkin.
Hei maumaharatanga ki te tino hoa … – John Dix
Bryan Staff
I met Barry at breakfast in a private hotel off Majoribanks Street, Wellington, in October 1969. We had both been accepted for the NZBC's announcer training school, Barry was from Auckland and I came from Christchurch. He was the first friend I made in the North Island. We both passed, Barry was sent to Palmerston North, me to Rotorua. I stayed with him when I went down to the Students Arts Festival and saw Daddy Cool.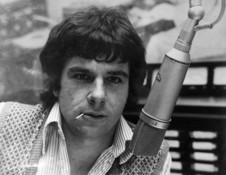 We saw a lot more of each other when we both started working in Auckland, Barry at Hauraki, me at 1ZM. We also shared many record company lunches and launches and in 1979 publicist Darryl Sambell included us in a press trip to Sydney for interviews with David Bowie. Barry began presenting a new TV show called Radio With Pictures and flew to Wellington weekly, which he found a hassle.
Barry went to Australia in the mid-80s and I moved into writing. I wrote several pieces on him for magazines over the years and visited him when he moved to Waiheke Island. He moved to Thames after that, and I lost track although we spoke on the phone a lot. A friend sorely missed.
David Gapes
Along with Blackie, Barry was the biggest star in New Zealand radio in the late 70s and early 80s. A true rock'n'roll hero. I miss them both – more than I can say.
Dave McCombs
When Barry started at Hauraki, his influence was immediate. You'd hear people talking in pubs and on the street about his show and his music. And we had some big names back then. Blackie and Fred Botica in the morning, Muzza in the afternoon and Barry at night – the place was jumping.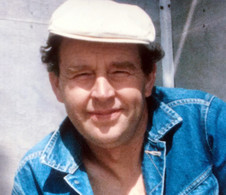 He was always a character – one night Barry, Karen the receptionist and I were alone in the station, when Barry nipped out for a quick smoke while a record was playing. Karen accidentally locked him out and I heard a distant pounding (we were on the fourth floor). I ran down to let him in, a frantic trip up in the lift and he dashed for the studio, just making it as the needle reached the last note of the track. He crashed into the seat, hit the mic switch and rumbled, "This is the Doctor" as he started another tune, letting out a huge sigh of relief followed by the classic line, "They always warned me that stuff was dangerous."
Phil Gifford
In the mid-1970s Barry used to have a Sunday night show on Radio Hauraki. I loved it. There was no format, and he'd have guests in the studio who played and talked about their favourite records.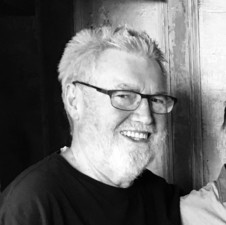 At the time I was writing about music for the Auckland Star, and we knew each other from friendly chats at various press conferences. When Barry asked me if I'd like to be a Sunday guest with him, I leapt at the chance.
We agreed the theme would be the pioneers of rock and roll, the people I'd loved a kid in the 1950s. So I loaded a cardboard carton with vinyl albums and singles by Chuck Berry, Jerry Lee Lewis, Little Richard, Bo Diddley, Fats Domino, Gene Vincent, Johnny Devlin, and Elvis.
What I remember so clearly was Barry's genuine interest in the music, and how surprised I was when he told me the music of his childhood – we were about the same age – was classical. Some of the old rock and roll was new to his ears.
He was fascinated to discover that on their first album the Rolling Stones had covered Chuck Berry ('Carol') and Bo Diddley ('Mona'). An hour flew by.
Barry was blessed with the perfect gravel-toned voice for rock radio. Add in a quick wit and a gift for a catchy phrase, and it's little wonder he was such a successful broadcaster.
But what he showed in Hauraki's Caltex House studio all those years ago was the X factor that elevated him into the broadcasting pantheon. He wasn't just playing music. He loved it.
Murray Cammick
I first met Barry Jenkin when I photographed him for the fourth issue of Rip It Up magazine (September 1977). Barry didn't attend the many daytime press events for visiting acts, he was a creature of the night. I could drop by during his evening show with the new Rip It Up magazine, hot off the press. It was just like the scene in American Graffiti when Curt (Richard Dreyfuss) visited their local radio idol, Wolfman Jack, another classic after-dark radio voice. Barry evolved in 1977 from his love of Steely Dan's Aja to the Tom Petty and Elvis Costello debut albums (gateway drugs) to the hard stuff of the punk and post-punk where he set up camp for evermore.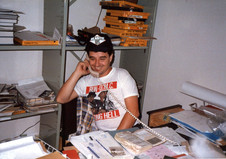 When Barry was in Sydney we'd meet up through mutual expat-Kiwi friends Wendy Boyes-Hunter and Laurence Boswell, who toured Flying Nun acts in Australia. In February 1990 Wendy was doing PR on promoter Roger Grierson's Buzzcocks tour with Mike Joyce (ex-Smiths) on drums. Sydney was having a vulgar heatwave and at soundcheck Joyce had sussed out the air-conditioning in the sweltering Sylvania Hotel and taken hotel pillows to the gig to place around his drum kit in case he collapsed in the heat.
I stood near the door of this horror venue, my clothes sticking to me while Barry was somewhere in the melee. Was Joyce speeding up the Buzzcocks? Is that possible? The gig ended and Barry emerged from the circus, looking like a dripping, drowned rat, his clothes soaked and hanging from his limbs. Gross, but he was grinning from ear to ear. That big friendly smile of a man who enjoyed life is how I remember Barry.
Terence Hogan
I'm not sure when I first made contact with Barry, maybe I just rang him up at the station during the early years of his late-night show at Radio Hauraki. In those days Barry mostly featured what might now be called classic rock, with lots of album tracks including Stones, Led Zeppelin, Neil Young, Roxy Music, and occasionally reaching back for a bit of Doors and others. Not to mention the reggae cuts and of course Little Feat and Steely Dan, who were near the top of Barry's play stack for a long time, and few shows went by without at least one or both getting a spin.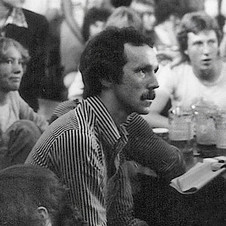 A little later in the decade while working at WEA Records I overheard my boss Tim Murdoch recounting a vigorous discussion he'd had with Barry at the station that day: "And Barry Jenkin says that he broke Little Feat in New Zealand!" said Tim, indignantly. The truth is that he probably had. Record stores did report a demand for otherwise niche records following a bit of airplay from Dr Rock.
I sat in with Barry on-air a few times, after agreeing on some loose theme and turning up in the dark with an armful of LPs at Hauraki's door by the petrol station. Barry was always keen to hear something new or different, and was open to playing most things if he trusted you, up to a point. He might draw the line if he wasn't sure a record was a good fit, or not to his taste, so we just moved on, there was plenty more music. Anyway, his no-pop filter was porous enough in certain circumstances. I remember his delight at some heavy Amon Düül II I'd brought in one night, but I thought The Stories track I'd lined up as a change of mood might be pushing it, but he was okay with that too.
And in one marathon session we played tracks from every Beach Boys and BB-related album we could find, in roughly chronological order, sustained by paper cups of dodgy "chicken soup" from the machine down the hall. That was my favourite on-air experience, and I owe it to Barry's generosity of spirit and his disregard for the norms of commercial radio.
When Barry's playlist got a shake-up with the arrival of UK and US punk/new wave, he also supported the new New Zealand music that he believed in. During my involvement with Bryan Staff's AK79 compilation and with Toy Love, Barry was eager to play records, and videos on his TV gig, as soon as they became available. He was always looking for music to get excited about and sharing that excitement with others.
I left New Zealand in 1981 and didn't see Barry again until we had a brief chat at an awards show in 2012. He was the same affable and candid guy that I'd remembered, and I'm saddened by his passing.
Mark Everton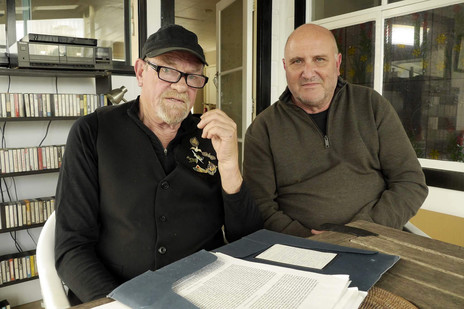 Barry was dogmatic and opinionated when it came to music, and why not? He knew he was in a privileged position when it came to being able to play whatever he liked on the radio, and he took it very seriously indeed. From his earlier days at 1ZM playing album-orientated rock, onto Radio Hauraki where he ran smack-bang into punk, new wave and post punk and opened a whole generation's ears to a vibrant alternative, to Radio With Pictures on TV ("appointment viewing" if ever there was), then onto the ZM All Nighter where things got very noisy indeed, Barry marched to the beat of his own drum without fear, favour or anything remotely like compromise. To me, one moment sums his attitude up. I once went boasting to Barry that I had 25,000 songs on my iPod – "25 thousand songs Barry," I cried. "Yeah," he said deadpan, "how many are any bloody good?"
Simon Grigg
Long before punk arrived on our shores, Barry was the legendary go-to on our airwaves for new and interesting music. He's renowned for things like Steely Dan and Little Feat but his tastes went far further, usually championing interesting things that nobody else played but New Zealanders seemed to have an affinity for. Lou Reed's less commercial works were heard on Barry's shows, as were the New York Dolls and John Cale. He also had a passion for the UK's so-called pub rock bands of the mid-70s, like Brinsley Schwartz and Graham Parker.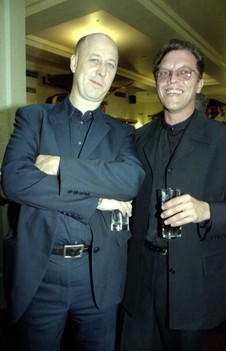 Thus, it made sense to take our new music to Barry, the new wave and the punk. It never occurred to us that he wouldn't be open to it.
Punk came slowly to New Zealand and few records were released in the early years, but by mid-1977 we, as the small group of like-minded Aucklanders calling ourselves the Suburban Reptiles, had a handful of imports and decided to take them to Dr Rock. My best guess is it was July or August 1977.
Jim Salter, Billy Planet, Buster Stiggs and myself jumped into my red Mini, records in hand, and drove to Caltex House unannounced. We managed to draw the Doctor down to the side door at Hauraki and, intrigued at our handful of punk 45s, he let us in. Gracious and very open-minded about it, he sat us in front of a microphone and introduced us, Buster saying in a low growl, "Good evening, citizens." Barry flicked the switch off with some annoyance and said, "I didn't let you in to take the piss." Buster assured him it was meant as a sign of respect and Barry relaxed into the next 40 minutes or so, playing The Damned, Sex Pistols and others, but the one he liked most was 'Less Than Zero', Elvis Costello's debut single, opening up a lifetime of Elvis fandom for Barry.
A postscript: I moved to the UK in 1983 while Barry was still at ZM. He approached me to source records for him, which I did, and I was paid for it. I was paid £5 per 45 and it was up to me how I got them – obviously, a knock on the door at the record companies did the trick and I worked out decent relationships with the indie labels. It actually provided me with a decent financial lifeline. Thank you, Barry Jenkin. Sadly, Barry lost his job at ZM a year after this started but ZM decided it would continue, although I suspect most went directly into a cupboard thereafter. Few that followed the Doctor on commercial radio had the desire, excellent taste or pure musical instinct to push those boundaries, as he did for us all.
Clare Elliot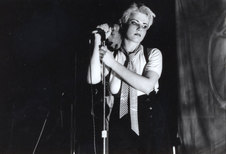 One thing I distinctly remember about Dr Rock was being bemused that someone from the "older generation" could be so wildly enthusiastic about our brattish antics and underdeveloped sound, but he did. He was tireless in his support and became a friend, quite the party animal but a complete darling and we will always be grateful for his enormous positive influence in the Suburban Reptiles' and The Scavengers' ascent. So sorry to hear that he has departed. Happy Trails, Doc! Love, Zero xxxx
Chris Bourke
In late 1976 I watched the first episode of Radio With Pictures and immediately it became essential viewing. A few months later, they introduced a host I'd never heard of, trapped as I was in Lower Hutt unable to pick up Radio Hauraki or 1ZM. He had the ultimate rock radio voice, an all-knowing persona, exuding cool despite the goatee. The show quickly changed with the zeitgeist, from that much-played live version of 'Hotel California' to Elvis Costello and The Boomtown Rats.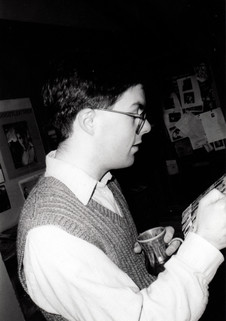 It was the transition phase; a few young men around town who had been cultivating long locks were suddenly seen with buzz cuts.
Barry could slip an insider's anecdote in between videos. Maybe it was after playing 'Miss You' that he mentioned the time that Keith Richards, Nicky Hopkins and Bobby Keys visited Tommy Adderley's Auckland club Granpa's, and got up for a jam. Barry gave a sly grin and said, "I just dropped that in to make you jealous."
Quite soon those moments were consigned to history, eclipsed by The Buzzcocks and The Clash. And clips by New Zealand artists crept in: 'New Wave Goodbye' by Spats in 1978, 'Squeeze' by Toy Love, which I witnessed being mimed in front of a white screen in Avalon's cavernous studio (there was no sign of Barry, but I remember Keith Quinn's double-take when the band lined up in the cafeteria). A few months later I was staying deep in the Ruahine Ranges with a farm labourer, for whom RWP was like church, and that night Barry regretfully reported the demise of Th' Dudes.
I didn't sight Barry till early 1983 when I went to The Gluepot for the first time, and – among all these other people I'd only read about in Rip It Up – he was standing against the wall, greeting allcomers warmly. In 2000 I met him, courtesy of our mutual friend Bryan Staff. And he couldn't have been more courteous, over a beer in his kitchen. I'd started freelancing for RNZ and I think Bryan may have wanted to encourage him to make some documentaries. He asked what I was getting paid and when I told him, he laughed that chesty, hearty gravel-voiced laugh. "You won't get rich on that!" He was more interested in the microlight plane in the garage.
Career opportunities weren't Barry's thing, but his curiosity and passion changed the lives of countless teenagers stranded in the suburbs.
Doug Hood
The first time I met Barry Jenkin was one night when I doubled Chris Knox on a push bike from The Enemy house in Williamson Ave to the ZM studios downtown. We had a recently recorded Enemy tape for him to play. Chris pushed the button and Barry came down to meet us. We were friends thereafter.
Rikki Morris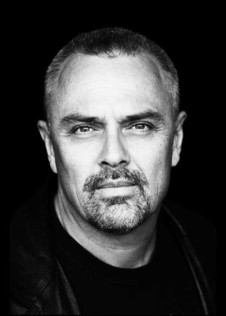 I didn't know Barry that well but we met a few times and the thing about Barry was I felt like he was my best mate. He was everybody's mate! Certainly, all my music-loving friends thought the world of him. Back in the late 70s he opened the door to a plethora of unheard musical gems.
Without Barry I'd never have been turned on to the Pistols, The Jam, The Stranglers, Joy Division, The Reptiles, the Scavs and about a thousand other absolutely essential bands and artists. He stuck his neck out and waved the flag for punk and new wave, and fuck the consequences.
He was a vital supporter of Kiwi music at a time when local radio and TV turned their noses up at anyone that wasn't singing "safe" (ie, boring) overseas hits with banal lyrics and predictable melodies. Fuck that shit! Here's the latest release by The Buzzcocks! Thank you, Barry. You will never be forgotten.
Harry Russell
I am angry, I am ill and I'm as ugly as sin
My irritability keeps me alive and kicking
I know the meaning of life, it doesn't help me a bit
I know beauty and I know a good thing when I see it
These lyrics, from Magazine's 'Song from Under the Floorboards', are ingrained in my head when I think about Barry Jenkin. He knew beauty and he knew a good thing when he saw it and, what's more, he taught us about it.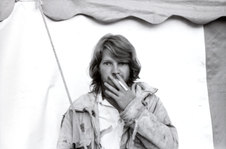 The quest for knowledge is a never-ending cycle, but every once in a while someone pops up and turns you on to something you never thought existed. In the sea of mediocrity that was New Zealand radio in the late 70s, Barry Jenkin came along and loudly and proudly said "Fuck Off," taking us all with him on a journey out of Hotel Californialand and into being the White Man at the Hammersmith Palais.
The most important thing Barry taught me was to always seek out something musically outside the norm and turn other people on to it. We are forever putting our hands down sewers hoping to come up with a diamond ring. Barry came up with that diamond ring and he shared it with all of us.
Garth Cartwright
I never met Barry – but he was a big part of my tweens and early adolescence, religiously watching RWP and listening to his Hauraki show. Both provided plenty of fodder for playground discussions the following day. Indeed, the first record I heard him play that totally blew me away was 'Teenage Kicks' by The Undertones. "Did you hear that?" I asked all my pals the next morning. RIP Barry, you did it your way and we appreciated you for doing so!
Nigel Russell
I first met Barry as a spotty 18-year-old when we used to call his Hauraki show with requests. I then graduated to sitting in on the shows and became mates. My brother Harry and I used to import the latest releases from months-old NMEs and take them in to bend his ears with. I met Lee Brilleaux and Gypo Mayo from Dr Feelgood there one night when they dropped in for an interview.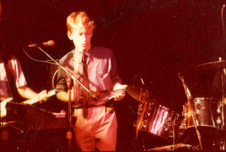 As a qualified pilot, he would also fly the beach patrol for Radio Hauraki on the weekend. One Saturday morning he picked me up on the Honda CB 200, and proceeded crack the ton on the Manurewa straights heading for Ardmore where we picked up a Cessna. We spending the morning buzzing seagulls and performing. We were back in town in time to catch The Scavengers' afternoon slot at The Windsor Castle.
His support for my later musical efforts in The Spelling Mistakes and Danse Macabre was solid and unwavering. The Spelling Mistakes 'Feels So Good' was recorded as part of a Battle of the Bands prize at the Windsor; Barry was one of the judges. He also sat in on the recording sessions and got a credit on the record.
His love of flying and aviation also helped on a tour to Christchurch with Harry's band Herco Pilots, and Alms for Children. Danse Macabre travelled to Christchurch in our van with all the gear, Alms travelled by night train, and the Hercos – as befitted their name – were flown to Christchurch by Barry in a Cessna!
Thanks for the music and the memories, and go well Barry, you were one of a kind.
Liz Barry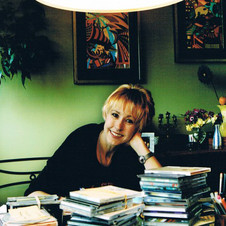 I was an impressionable young copywriter when my PD at 1XX said I should meet his mate, Barry Jenkin. The year was 1980. We drove all night to Auckland and ended up smoking joints with BJ through the wee small hours at ZM. The desk was littered with empty Steinies and ashtrays, but here was this radio legend – with a smile on his face playing the music I loved and introducing me to new stuff and telling great stories. His music taste was impeccable. The following year I was at 2ZM Wellington. The All Nighter show with Barry was great listening. So proud I met this music legend. My time with him was brief but unforgettable. He was the epitome of cool!
Lisa Van Der Aarde
I first became aware of Barry Jenkin during the late 70s. I was still at school and even at the early age of 14 I knew I liked "alternative" music over commercial, way more interesting! At home we were allowed to watch Radio With Pictures on Sundays with Barry hosting – what a voice!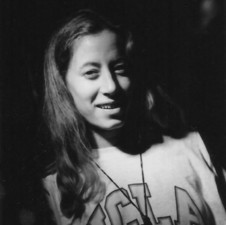 He meant every word and didn't chat needlessly, I thought. I remember Cheap Trick, Scavengers, Iggy Pop making an impact on these ears, so many. I would write down the names of songs and artists that I liked because after school I would be at the record stores digging in the bins. At night during the week, I would listen to Barry's radio show (Hauraki) under the covers because it was a school night. XTC, Stranglers, Devo, Public Image Ltd.
During this time Barry would become our (my family) next door neighbour at Glenside Crescent, a cool apartment building off Symonds Street. I would shyly say hi, he was always a gent. A few years later, I joined Campus Radio/ bFM as a DJ. I was doing the Friday drive show and for a time Barry would host the next time slot, 7pm-10pm. It was so exciting for all us staff and, I'm sure, the listeners to have him back on the airwaves again! There were always fans waiting for him at bFM when he arrived. I would always say a shy hello and thank him for everything. RIP Barry, thanks for showing us the way.
Andrew McLennan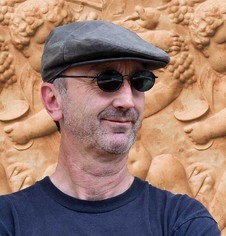 I love the line in Tennyson's poem 'Ulysses', "I am a part of all I have met." It helps me make sense of life. I have met Barry Jenkin. Sunny days on Cotton Socks. 32 feet with monster outboards – two settings, Stop and 45 knots. Speed to Spot X. No fish? No prob. Speed to Spot XX. Barry behind the wheel. Unforgettable times. John Doe and Barry on the Honda 500. Accosted by a carload of undercover coppers on Wood Street. Charged with some nonsense. Later in the inevitable and ridiculous court hearing, John would tell his Honour, "The coppers adopted kung fu poses and acted in a simian-like aggressive manner." The judge, barely able to contain himself at this image threw the case out and chastised the cops. The Gyrocopter of Randolph Street. Never fully completed. We all quietly thought that was for the best. Passionate arguing over rock trivia. Barry never backed down. He never talked badly of anyone. He was fearless. So many good times. So many stories. Joy flights in the Warbirds DC3 for my birthday. Arranging dinner for me the night my dad died. Generous to a fault, kind, loud, passionate funny, warm, loving. Always a fellow well met. That laugh. I have met Barry Jenkin RIP, wonderful man.
Russell Brown
When I landed in Auckland at the beginning of 1983, I knew Barry as the host of the TV show I'd watched every Sunday and radio shows I'd only read about. It didn't take long to get to know him as a mate. Barry was open, friendly and kind enough to praise the work of a young writer.
I'd find myself, often in the company of Harry Ratbag, yarning to him at the Queen's Ferry or at one of his flats, where he'd invariably pour a drink and put on a record: "Here's a Slits track that Lou Reed loved when I played it to him." I was also one of those who flew Air Barry, even if it was just a return trip to the Barrier.
I reconnected with Barry years later, when John Peel visited New Zealand in 2002. We were walking towards The King's Arms, me, Peel and Barry and their wives, when Barry proposed we take a detour to his flat, a scene of previous shenanigans. We got there and he pulled up a roller door to to reveal ... the microlight. Barry had bought the thing to stay airborne after a failed medical had lost him his pilot's licence.
While Barry stood there proudly, Peel gazed in something like horror and uttered two words. "Death trap." But it wasn't the plane that got him in the end. And the passion for flying, like many other things Barry did, was, more than anything, evidence of a lust for life.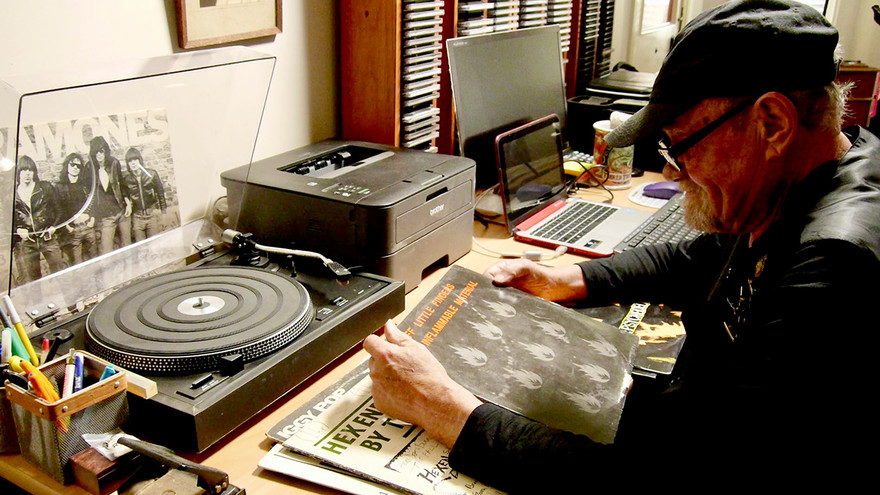 --
John Dix is the author of Stranded in Paradise
Bryan Staff is a writer, broadcaster, and founder of Ripper Records
David Gapes is a co-founder of Radio Hauraki
Dave McCombs, a former radio news reporter, is a freelance writer
Phil Gifford is a music writer, sports writer, and broadcaster
Murray Cammick is the co-founder and editor of Rip It Up, a photographer, writer, and record company owner
Terence Hogan, formerly with WEA, is a Melbourne-based graphic designer and writer
Mark Everton is a radio producer and TV director
Simon Grigg is a band manager, record label owner, and founder of AudioCulture
Clare Elliot is a singer, formerly Zero with The Suburban Reptiles
Chris Bourke is content director of AudioCulture
Doug Hood is a sound engineer and concert promoter
Rikki Morris is a musician
Harry Russell is a musician formerly known as Harry Ratbag (Herco Pilots)
Garth Cartwright is a UK-based music journalist and author
Nigel Russell is a musician (Spelling Mistakes, Danse Macabre, Car Crash Set)
Liz Barry is a broadcaster, and former host of RNZ National's Home Grown.
Lisa Van Der Aarde is a band manager and broadcaster
Andrew McLennan is a musician (Pop Mechanix, The Swingers)
Russell Brown is a writer and broadcaster