Over his career Tommy Adderley was engaged in several pioneering ventures. In the 1970s he and Dave Henderson leased space in the old Bluestone building in Auckland where they ran Granny's. But two years on Adderley wanted to run something for people in the entertainment industry; a venue that stayed open late.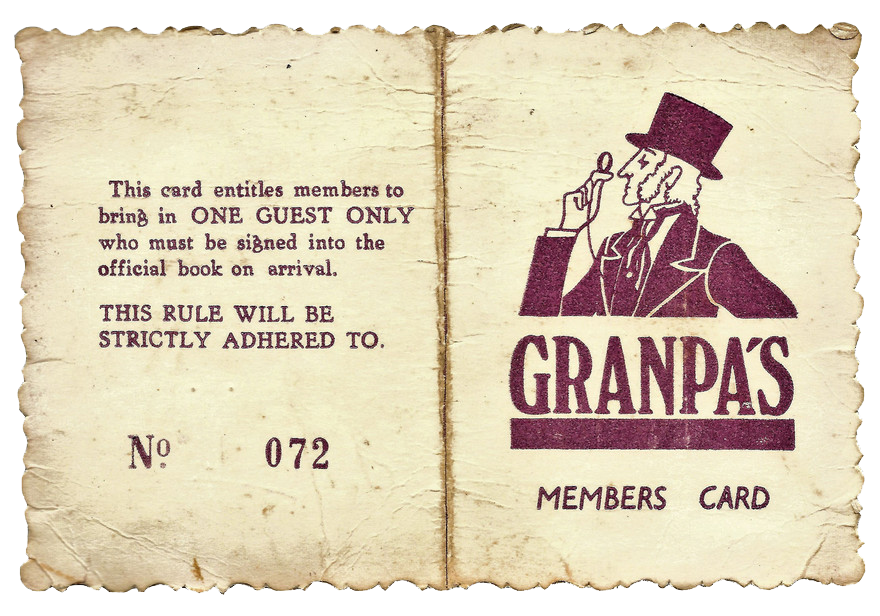 Pam Adderley: "The thing that got us into clubs ... I'd seen the Colony jam-packed from 10pm to 2am."
The wages at the venue where Adderley had been playing around the time the 1960s became the 70s weren't great and the venue was due to close for the Christmas period. Pam had been in business for herself so she suggested to him they ask if they could run it over that period, so they could make some money for themselves.
Adderley: "Late 1969 I met the Greer Brothers: Frank and Maurice. They wanted to do this club over the Cook St Market. They said you should come in here as resident."

That was when Adderley formed Headband. They played at Hatchets (over the Cook St Market) but there were complaints about noise. A noise control officer with his noise meter would turn up every night they played, saying the music was disturbing the pensioners in the flats in Greys Ave. The complaints were wearing Tommy down.
Saviour Dave Henderson (ex-professional wrestling champion and later Auckland Māori Rugby League player) approached him, announcing he had the lease on the old Bluestone building and asking if Adderley wanted to go into partnership with him. This stone building tucked away in Durham Lane had a rich past. At some stage it was a jail. At another stage it was the police barracks and stables and at yet another it was a sausage factory.
So by mid-1971, they were in partnership. The initial deal was that Henderson put up the money and Adderley brought the band to the new venue. In its more recent past the space had been a music venue. Since the mid 1960s the space had – in order – housed the Top 20 (where Hugh Lynn was compere), the Bo Peep (where Human Instinct often performed), Radio Hauraki's 1480 Village, before Headband moved there and it was renamed Granny's. (In 1978 the venue became pioneering punk club Zwines.)
Pam: "It was a great building except everything was red." They enlisted redecoration assistance from the Greer brothers. Pam: "I borrowed $10,000 off my mother. I wanted that old gaslight look; that old English look."
Granny's was all about music. "I played there with Headband for two years, packing the place," said Adderley. It was the place where a lot of bands including Mandrake, Ragnarok, Karma, Dragon, Rockinghorse, Space Waltz and Beech got to hone their skills in a full to over-flowing venue. The support band played first then Headband came on. Experienced musicians such as The Mike Walker Group and The Bob Paris Band also played at Granny's.
It was the first Headband line-up – the successful band which lasted about 18 months – that played at Granny's: Billy Kristian (bass), Ron Craig (lead), Jimmy Hill (drums), Dick Hopp (electric violin and flute) and Adderley (vocals and harmonica). Headband played there three nights each week: Thursday, Friday and Saturday. Adderley paid the others a wage.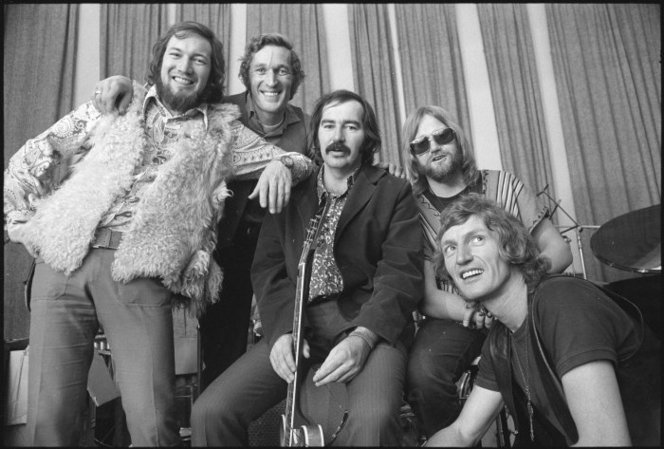 Ron Craig: "It was a funny joint to play because it was long and we played across the narrow side, but you sorta got used to that. The crowds were always great. Everyone there was having a good time. They used to queue up round the corner to get in."
Murray McNabb had answered an ad in the paper for a keyboard player in a working band. The band was the country rock group Together, run by Chris McNair. They got a job at Granny's, playing alternate sets with Headband; hour on, hour off three of the nights each week that they (Chris McNair's Together) played at Granny's.
McNabb: "We used to work in the pub six nights a week from 6pm to 9.40pm. And we used to pack up our gear and run. I mean run ... up the road from the Occidental (in Queen Street). Race up and round the corner to Granny's and set up quickly.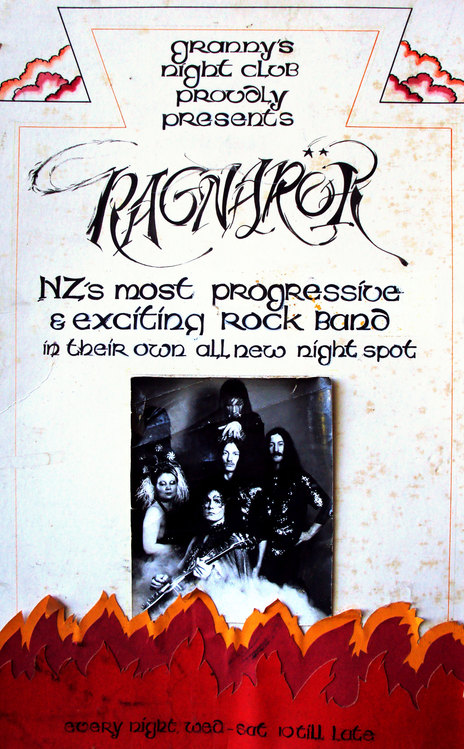 "I remember the first night we went up there and there was a queue starting virtually from the corner of the lane going up to this joint that we were going to be working at. We did six nights a week at the pub then five of those nights we worked at Granny's from 10pm till 5am. Or 4am.
"So you go in (to Granny's) and it's bloody hot and it's packed to the gunnels in the weekend. It's pretty smoky. By the time we got playing at 10pm, the place was jumping. There was plenty of booze going on. We were still buying it from Happy Jack in those days – the guy who used to drive round with booze in the boot of his car." Granny's patrons could buy grog from him out in the lane.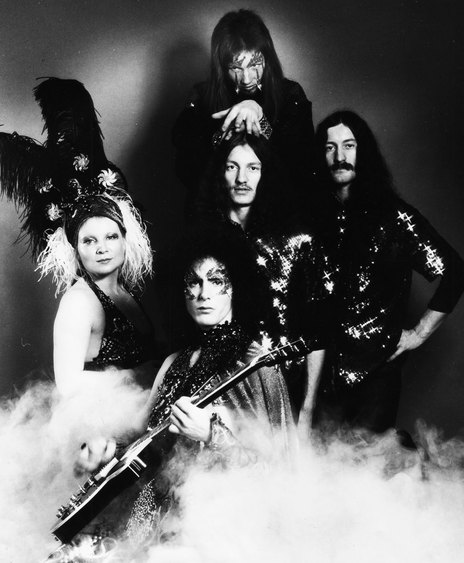 McNabb noted Together didn't compete with Headband. Together played country rock and most of the guys in that band were younger.
McNabb: "Of course Headband was the top act. It was pretty amazing how the guys managed to bring quite a lot of jazz to the music and give it to the people without them knowing what was happening to them. They [the people] got force fed quite a lot of improvisation ... and with the atmosphere, they found they liked it."
Patrons needed to adhere to the strict dress codes to get into Granny's or it meant a drive back out to the suburbs to get the right pair of shoes before returning to the city and actually getting in.
The food available to buy was adventurous for the era. On offer were things like open sandwiches, roast beef or beef curry. The drinks available were not any more daring than Coke or Fanta. But for those with a sweet tooth the apple pie was popular.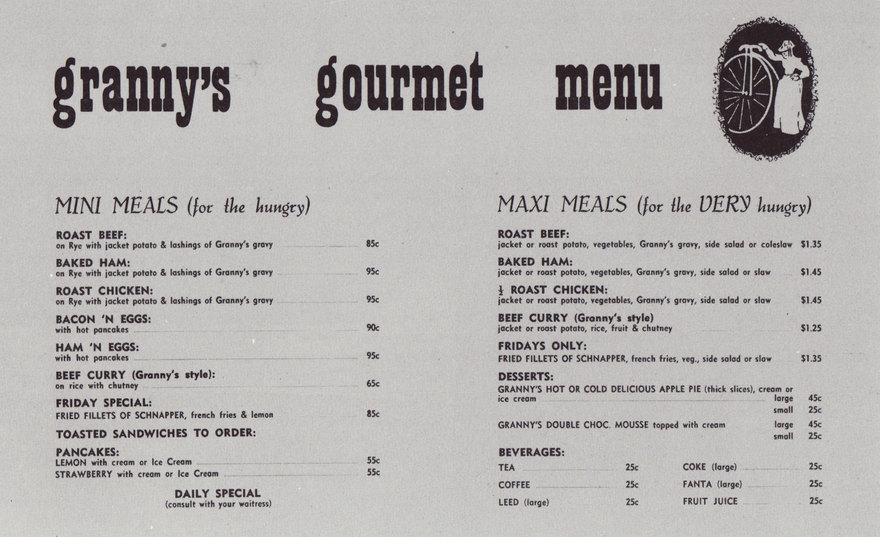 Craig: "Tommy always reckoned there was a ghost in Granny's but it was the old jail. I'm sure Tommy was locking up one night and he came screaming out the front door ... He was scared stiff. I'm sure they found the old trapdoor."
The bandroom at Granny's was tiny. Kristian described it as "a funny little room as big as your closet" before moving on to tell this tale: "I walked in with a drink, and there was Tommy, Dick and Dick's friend ... and Dick said 'Oh, Billy, you've met my friend. This is Harry.'" So yes, that night ...
Above Granny's there was a vacant space that could be used as an additional venue. What Adderley and his partner Pam (who had changed her surname to Adderley by deed poll) and Henderson (and his wife Marie) wanted to do was to develop a venue that catered to an older crowd that Granny's didn't target. They wanted this to be somewhere for people in the entertainment industry; somewhere they could go after they had finished work. Craig: "He was trying to give Auckland a civilised nightclub. And he did."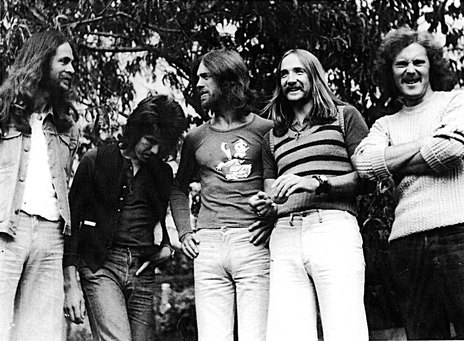 Hill: "They had a go. Another person would say, I won't do this. It's too hard. But Ackerman – that's what he decided to do." Adderley was, as Hill further noted, "trying to drag the country into the 20th century."
So two years after starting Granny's the four partners leased the upstairs space and developed an entertainers' club. Granpa's was never open to the public; only to members. Each member could bring one guest only. Almost all members were in the entertainment industry, though a few lucky friends were offered membership.
Pam: "I've still got the original granny's and granpa's portraits that inspired us to call it Granny's and Granpa's."
The interior was beautifully renovated by the Greer brothers. The long bar sat to the left of the entrance as you went in and beautifully carpeted stairs took patrons up to the next level. I remember sitting on those stairs some Sunday nights watching movies. Tommy was a huge movie fan. One of the early benefits for members was the establishment of Sunday night as movie night. Those nights the doors opened at 7pm and the movie began at 8.15pm.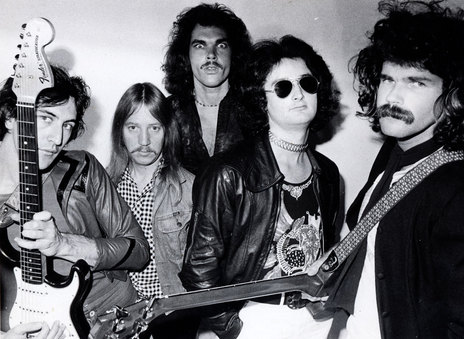 In that era Barry Everard was managing Columbia Warner. Quite often Adderley rang him on a Sunday morning, saying, "Mate, I'm a bit stuck for tonight. Can I have a look through your vault?" These were pre-video days when what they watched at the club was on 16mm film. The two of them would go down to the vault. Everard: "He would wander round for an hour or so, select a few movies then off he'd go. He was a friend and I admired what he was trying to do at Granpa's."
Blackie (Kevin Black): "If you were working till midnight on radio as I often did in the early 70s, there was no place where people could meet you after work.
"It was one of the greatest clubs – I think because of Tommy's philosophy. You felt that in the club you were there to have a good time, enjoy live music, have a drink and meet people from the industry ... I just loved it."
But there was always a problem with how booze could be sold to members. Legally they were only allowed to sell soft drinks. Over the life of the club they tried a locker system and a ticket system like sports clubs used. There were rules. Guests needed to be signed in. Members were responsible for buying their guest's drink tickets. Henderson ran a tight ship and for a time things hummed along nicely.
They sold snacks like pizza, Olde English Pork Pies and later in the life of the club added monster prawn cocktails to the list.
Adderley and Pam produced a newsletter that informed members about nights when they were visited by high-profile overseas musicians, progress towards getting their liquor licence and information about movies to be screened that month. The newsletter told members they could use the sauna (and shower) at the club and that towels were provided. Members were reminded to carry their membership cards when going to the club and the summer newsletters asked for members interested in playing cricket to contact Adderley so they could form a Granpa's team to play on Sundays.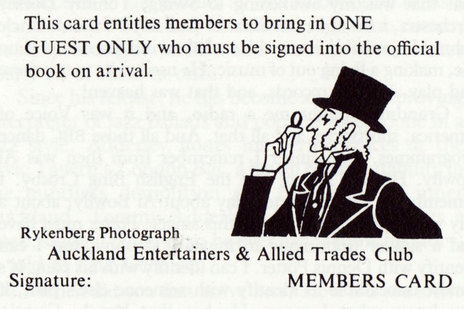 At one stage when they used to sell halves, they kept some of the booze in the oven at Granny's, which continued to run downstairs. Upstairs Granpa's had music too and always had a resident band. Mandrake, Karma, Salty Dogg, Kristian-Walker-Hamlet and Hill were a few who were in residency during its lifespan.
Nights at the club were filled with spontaneous fun; not necessarily recalled in detail the next day. Adderley noted "all the visiting bands used to call in."
An early newsletter reported: "In the last few weeks, we've played host to Keith Richard and Charlie Watts, Bobby Keys, Jim Price and Nicky Hopkins, who wandered into the club about midnight after their show and proceeded to join Mandrake on stage and played and sang till about 5am. It was one hell of a good night."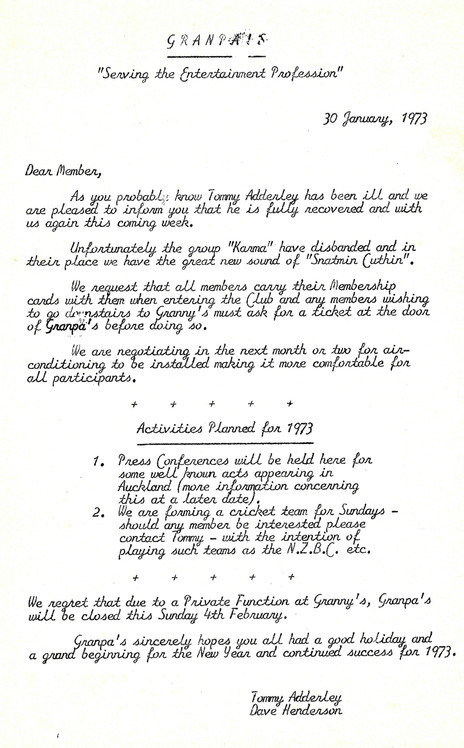 Hill: "That's the sort of club it was. It was the only one in town. You could go there for some privacy and be able to drink."
Kristian: "Granpa's was a unique place. It was always a good place for entertainers to go because they could feel at home."
Mike Walker: "Half of John Mayall's band came in. There were so many people who came in in those days, like Robert Plant. They didn't play. Any band that came to town used to go to Granpa's."
For overseas musicians who came to town Adderley was the "main man in the parish," said Blackie. Over the life of the club Muddy Waters went with his band. John Mayall went, as did Elton John, Lulu, Deep Purple, Santana, the Moody Blues, the Joe Cocker band, Ossa Bissa (aka Osibisa), Led Zeppelin, Three Dog Night, Guess Who, Sweet, ELO, Leon Russell and the Shelter People, members of the James Last Band and many more. In fact John Mayall visited several times, once with the entire band and Walker was lucky enough to jam with him.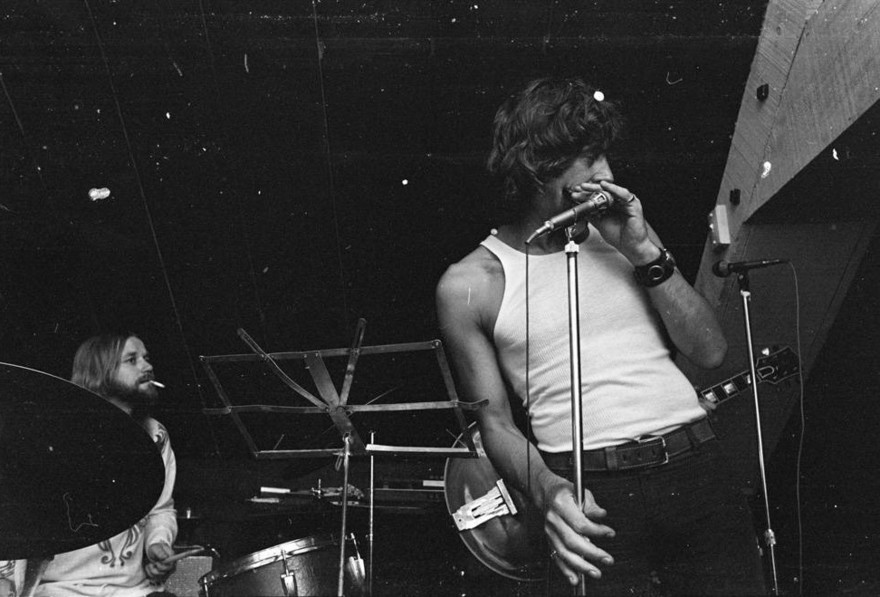 The club was open to members from 9.30pm till late (4am or 5am) Wednesday to Saturday and from 7pm – 2am Sundays. On film nights drinks were available before, after and between reels. Granpa's was also used for press receptions for visiting overseas acts. The one for Muddy Waters was held there.
Club management were somewhat exposed to the long arm of the law. Adderley: "They worked for years trying to get somebody in there." And an undercover police sergeant did get in and bought drinks tickets on three occasions; portions of which were exchanged for drinks. The case went to court. The sergeant told the court that "a high standard of music was being played at the club, which was well decorated and supervised, and all the patrons were orderly and well behaved." (Auckland Star: date unknown)
At one stage there were even complaints from the breweries because Granpa's management wanted to stay open late.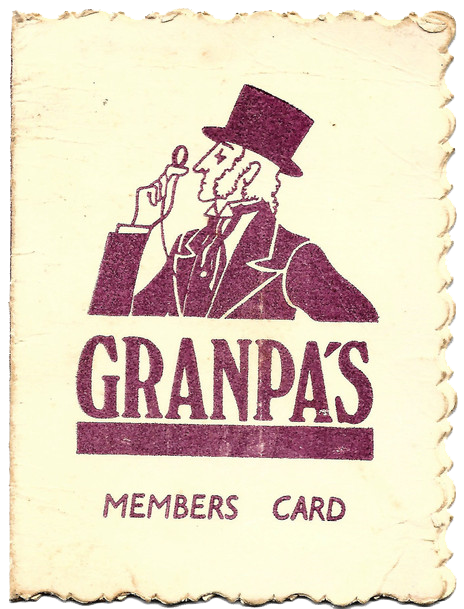 In 1973 Adderley rang Hill asking if he wanted to get the band together again to record an album. Dick was the third member to join from the original line-up. Keyboard-man Len Whittle and bassist Neil Edwards wore the remaining two hats in the re-formed Headband. Adderley was not especially focused on this band. He had other things on his mind.
Early December 1973, Granpa's were in the headlines once again. The partners had appeared in court over their illegal grog supply, though the police reported this time they were merely acting on a complaint.
On 11 December 1973, at the Magistrates Court in Auckland Adderley and Henderson – along with counsel Roger McLaren, who was a club member – presented their submissions for a late-night charter-club liquor licence before the Royal Commission on Liquor. As they celebrated their first year of operating, the December 1973 club newsletter informed members that the Commission appeared sympathetic to their plea for a licence. That month they tightened their club rules further, requiring members to sign for their drink tickets when these were purchased.
In July 1974, the partners did close the doors briefly to reflect and re-group after they had been fined once more for the illegal sale of liquor. That month they had appeared before Mr P M Browne SM, of whom Adderley said: "The magistrate commended the club and we hope what he said will be a pointer to the need for a change in the law." (Sunday Herald: July 28, 1974)
Pam noted that to have a liquor licence they were informed they had to have 3500 square feet. They did have this total but as two venues.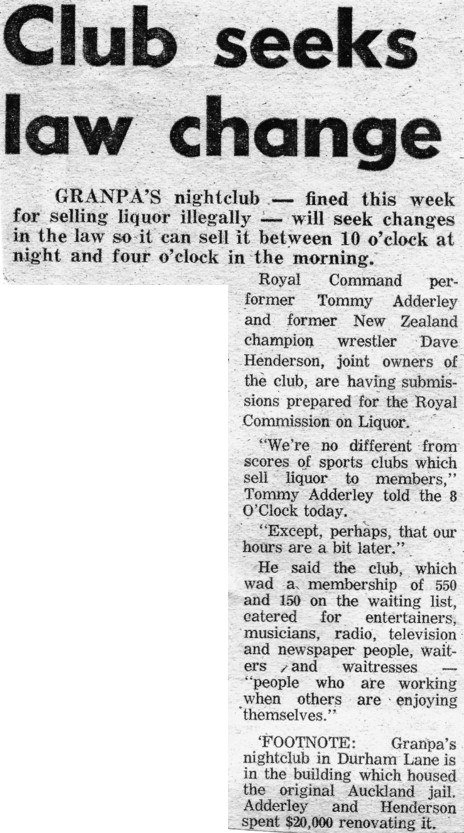 From 1975 supplying booze to Granpa's members became harder. Yet sports clubs continued to operate using the same ticket system that allowed their members to buy drinks.
At the end of October 1975, the newsletter announced the club had become an incorporated society to be known as the Auckland Entertainers & Allied Trades Club (formerly Granpa's). This allowed them to operate as a fully incorporated society. They could then begin to plan alterations allowing the two floors to be linked. The grand plan was to have a restaurant, disco and full bar downstairs and to leave the upstairs area (Granpa's) pretty much as it was.
The busts continued. Hill: "I was there one time they all came busting in. We just packed up and went home and they cleared everything out. It was all pretty amicable. 'We're busting you Tommy.' And he'd hand the stuff over and away they'd go. There was never any rough stuff."
By February 1976 things for Granpa's were looking very dire indeed. The liquor laws still had not changed and the four partners who had paid numerous fines (and paid when staff were fined too) weren't sure how much longer they could hang on. The Sale of Liquor Amendment (No.2) was due to go through its committee stages that month. But following that hearing, it still had to be approved by Parliament. And to sell booze legally to club members the partners needed their liquor licence.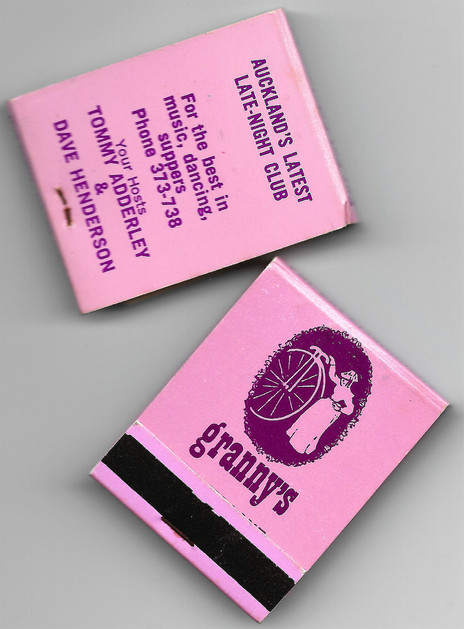 In May 1976 Allied Trades Inc (formerly Granpa's) was raided again. Adderley and Henderson (along with four members of their staff) were charged on May 12, 1976. In the report in that evening's Auckland Star the magistrate Mr J H Hall SM was quoted saying "while he accepted that the club ran a 'pioneering' and 'trailblazing' operation, the course taken was not the way to go about it. The club was clearly Adderley's brainchild ... Despite warnings from the police that activities of the club were illegal, he had continued them."
Following this an extraordinary club meeting was called. The 200 members who assembled were informed that the club could no longer serve alcohol. The inference was that they would have to go back to the good old days of buying alcohol from car boots. Then Adderley sold a bottle of brandy to an undercover cop: a supposed legitimate club member who had been at the extraordinary meeting.
The last raid did it. So – as the authorities had won – the partners closed the doors for the final time.
--
Read more: The Bluestone Store, from the Top 20 to Zwines