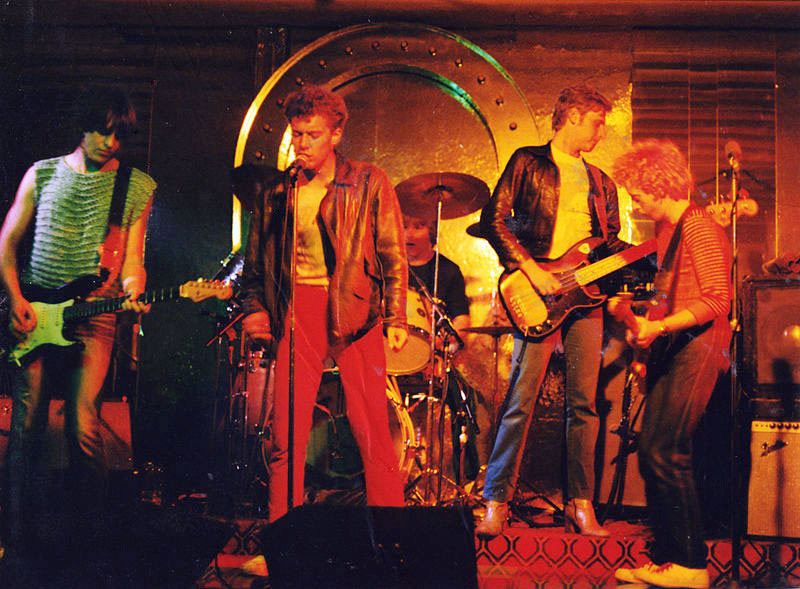 The New Zealand music industry, by and large, has traditionally chugged away on the smell of an oily rag. Granted, the occasional act has felt the full force of major label backing, but for the most part it has been a case of calling in favours or roping in volunteers when it comes to recording an album or making a video clip.
NZ On Air eased the burden a little with the latter in 1991 when it introduced a music video funding scheme, where it granted $5000 per clip, initially intended to be matched by the recipient's record label. The amount was arrived upon when NZ On Air manager Brendan Smyth asked Pagan Records' Trevor Reekie for the most and the least he had doled out on a music video, to which he responded $10,000 and $10.
The figure generally covered the technical aspects of video production, but artists still had to call on their mates if they planned anything remotely elaborate or involving a cast beyond the band. Sometimes those mates were members of other bands or were otherwise prominent in the public eye – as this list reveals.
For the sake of this exercise, we've largely concentrated on cameos by non-musicians, which consequently sees the inclusion of rugby legends, TV presenters and newsreaders, comedians and writers, soap actors, music industry execs, a local body politician, a movie star, and an expert in a dying field.
Worth checking out at your leisure for cameos by well-known New Zealand musicians are videos for Monte Video's 'Shoop Shoop Diddy Wop Cumma Cumma Wang Dang' and 'Sheba (She Sha She Shoo)', The Crocodiles' 'Telephone Lover' and 'Hello Girl', Tim Finn's 'Fraction Too Much Friction', The Verlaines' 'Death And The Maiden' and Moana and The Moahunters' 'AEIOU', the first NZ On Air-funded clip.
Our list of 10 New Zealand music video cameos includes several full-on ensemble productions and a couple of clips that are more starring roles than cameos, but the videos are just too well-crafted to ignore.
--
Expert In A Dying Field – The Beths (2022)
New Zealand music's jack-of-all-trades Larry Killip had already mastered the first two Beths albums and assisted guitarist Jonathan Pearce in repairing tape echoes and re-ribboning microphones before the band hit on the idea of using his home and himself for the 'Expert In A Dying Field' video, directed by Frances Carter.
"Jonathan loves his retro gear, and my house is full of it," Killip told AudioCulture. "I was asked if I minded the upheaval that might ensue, but to be honest I was chuffed about it all. I had collected a lot of gear and showing it off might legitimise my crazy hoarding habit. I do remember I was told not to tidy the place up too much; they liked it just how it was with gear here, there and everywhere."
Among the treasures you can see the in-repair Jansen 7/40 amplifier chassis that Killip bought when he was 17, a former bandmate's Minimoog, which Killip has been caring for since the 70s, and a plethora of old microphones – plus his Buzzy Bees collection. At the shoot's conclusion, singer Liz Stokes grabbed Killip's vacuum cleaner and undertook a big clean-up. Killip got another moment in the spotlight in October 2023 when he accepted the APRA Silver Scroll for 'Expert In A Dying Field' on The Beths' behalf, as they were in the United States.
Wandering Eye – Fat Freddy's Drop (2005)
Fat Freddy's Drop's debut album Based On A True Story was blowing up to such an extent the band was in the position to self-fund the video for 'Wandering Eye'. Director and MC Mark "Slave" Williams pitched the idea to a few sponsors like Wattie's and Phoenix Organics, whose presence would fit the everyday fish'n'chip shop setting.
The cameos come thick and fast from friends of Williams and the band, including actors Miriama McDowell, Eryn Wilson, Taungaroa Emile and Danielle Cormack, who Williams had known since high school. Musicians Ladi6 and Julien Dyne had contributed to Based On A True Story so were no-brainers to make an appearance; Carol Hirschfeld and John Campbell came straight from reading the TV3 news.
"Originally, I'd just asked Carol, but John caught wind of it and decided he was coming along too," Williams said. "I couldn't have been happier about it! They were great."
Shot over two days, the video was awarded Best Music Video at the 2006 New Zealand Music Awards, where Based On A True Story received the gong for Highest Selling NZ Album and Fat Freddy's Drop received the People's Choice Award.
U Can't Resist Us – King Kapisi (2003)
The music video for King Kapisi's 'U Can't Resist Us' is straight out of the pages of Footrot Flats and features cameos from All Blacks superstars Michael Jones and Va'aiga Tuigamala, and inaugural Samoan Rugby World Cup captain Peter Fatialofa.
"I was a big fan of theirs and basically just called them up and said, 'Bro, can you come and be in my video?' They're three of the most well-known Samoans in the world and they came along and supported a Samoan rapper," Kapisi said. "That's one thing about them, is regardless of where you are, they just wanna go and support other Samoans."
Directed by Chris Graham, the clip finds King Kapisi in full Footrot Flats mode. "I really liked Wal Footrot when I was growing up. I was just doing my Wal Footrot impersonation. I used to have a couple of books of that, and I read it consistently. I read it in my bedroom all the time with the Asterix and Obelix and Tintins. Those were my jams and I read them all the time."
Besides Che Fu, who lends his vocal cords to the track, there are also cameos from Naked Samoan Oscar Kightley, broadcaster Nathan Rarere, MC Imon Starr, Graham himself and a hell of a lot of sheep!
Mamma – Hollie Smith (2010)
The brief from Hollie Smith for the video to her song 'Mamma' was, "I wanna get all my mates in it." It was then up to Preston and Faye McNeil to go away and write a scenario that would accommodate a cast of thousands.
"We'd worked with Hollie before and we all knew one another, so it was quite a familiar group of people," director Preston McNeil remembered. "So, it wasn't really like having to go out and ask, it was more like, 'I wanna have all my mates in my music video.'"
An essential inclusion for Smith was that of C4 music host Helena McAlpine, who was battling breast cancer and would ultimately succumb to the disease in 2015. Others to appear included actors Danielle Cormack, Pana Hema-Taylor, Shavaughn Ruakere and Oliver Driver, and TV and radio host Nick Dwyer.
"It was just a really fun shoot because everyone was friends," McNeil said. "It was a real nice, low-key atmosphere where we all just got on really well. It was two-and-a-half days with a bit of prep in there; they were long days, but we had fun." In true Kiwi DIY fashion, McNeil's mother did the catering, learning along the way what a vegan was.
Can't Spell Rhythm – Dave and The Dynamos (1984)
Made for Ready To Roll, 'Can't Spell Rhythm' was directed by musician-turned-TV-producer Simon Morris (formerly of Tamburlaine and The Heartbreakers) and took advantage of his book of TVNZ contacts. "In RTR terms it was a bit of a mega-blockbuster," Morris recalled.
Gliding On stars Ross Jolly and Ray Henwood appear, as Isaac Newton and Albert Einstein respectively, alongside Fair Go reporter Philip Alpers' William Shakespeare. Among the additional musician extras are ex-Heartbreakers Steve Robinson and Danny Shaw and session guitarist Rob Winch.
The only extra enlisted by the band was bass player Kevin Findlater's brother-in-law, former All Blacks flanker Graham Williams, who played the role of the doorman. Williams was also the "ten-ton digger" from Dave and The Dynamos' previous clip for their hit 'Life Begins At 40'.
"All the cast, including the break-dancer, the band members – apart from Kevin Findlater and Bernie Reber, who were the other two Dynamos – and the actors and extras were hired by television," frontman Dave Luther recalled of 'Can't Spell Rhythm'. "I knew a few of the band members and one or two of the extras but not many."
There Is No Depression In New Zealand – Blam Blam Blam (1981)
The stock cameos of Auckland mayor Sir Dove-Myer Robinson, entertainer Max Cryer and presenter Glyn Tucker in 'There Is No Depression In New Zealand' were an improbable by-product of Blam Blam Blam's admiration for a New Zealand film that bore the warning "contains punk cult material."
"Well, obviously Don [McGlashan] had a thing about front lawns and by association their maintenance and upkeep via the petrol lawnmower," guitarist Mark Bell said. "I think it may have started when Angel Mine was released, as that film has some pretty hardcore lawnmowing scenes. We were friends with Derek Ward, the lead actor, and I think it all rubbed off on us somehow."
Directed by Andrew Shaw, the clip was filmed at TVNZ's Shortland Street studios and interspersed with TVNZ stock footage, including the brief shots of Robinson, Cryer and Tucker that may have even come from a Morrison lawnmowers commercial.
White Trash – Steriogram (2001)
With a Westie anthem such as 'White Trash', novice director Adam Jones wondered what it would take to get the ultimate Westie, comedian Ewen Gilmour, in the video. Someone in Steriogram knew someone who knew Gilmour and next minute he'd agreed to take part for a box of beer!
"The things that convinced him were a dozen beers, he got the girl and to drive off in the Cortina, and we were shooting in a wrecking yard in West Auckland," Jones recalled. "He showed up and we were all kind of a little bit nervous. It was the first music video I ever directed, so I'm nobody, and the band were totally unknown, and we didn't want to waste his time because he was this famous dude in a video with a bunch of nobodies."
Most of the crew were straight off the recently cancelled Xena: Warrior Princess TV series. The clip was filmed at the Advanced for Ford & Holden wrecking yard in Avondale, owned by the Wrennall family who the band knew through church. Shortly after the shooting of 'White Trash' and Tyson Kennedy's move to the front of the stage, Jared Wrennall joined the band on drums. He now runs the yard.
Bliss – Th' Dudes (1980)
For their final single 'Bliss', Th' Dudes and director Tony Holden decided to film the clip at their Cricketers Arms gig in Wellington. Punters turned up 'Bliss'-fully unaware they would be enshrined in a snapshot of 1980 fashion and pub culture for all eternity.
One such punter was Brendan Smyth, then managing the music portfolio of the Queen Elizabeth II Arts Council. Making his appearance at 3:39, Smyth's big hair is very much of the time, but his dance moves have been practised by men, including myself, in nightclubs, pubs and country halls all over New Zealand from time immemorial.
Smyth moved on from the Arts Council in the late 1980s to NZ On Air, managing their radio arm; a task that involved getting more New Zealand music on the radio, especially commercial radio. He retired in 2016, having played a cruicial part in the inception of AudioCulture.
Right On – OMC (1996)
The follow-up to global hit 'How Bizarre', 'Right On' features a busload of volunteers and a cameo from OMC's record label owner Simon Grigg as a brick-cellphone-wielding businessman at a Parnell Rise bus stop. Among a multitude of accomplishments in the New Zealand music scene, Grigg would later establish AudioCulture.
Directed by Rob McLaughlin – with a budget of $15,000 – the celebratory clip was storyboarded by Pauly Fuemana and refined with Grigg's help. A Polynesian Elvis character (Elivisi) was included at the insistence of Fuemana as a nod to Presley's looming presence in Polynesian culture.
When 'Right On' was released in Australia, the video was nonsensically re-edited to include scenes from the Guy Pearce-Claudia Karvan comedy movie Dating The Enemy, in which it appeared. Despite the protestations of most involved, this version was also used when the song was released in Europe.
Greenstone – Emma Paki (1995)
The internet is rife with all manner of fan theories, and now I'd like to put forward this one. What if the video for Emma Paki's 'Greenstone' was a sequel to the 1994 hit movie Once Were Warriors? Sound like a beer billboard? Yeah right.
Humour me. Having recovered from the injuries inflicted by Jake the Muss and then doing time for his part in Grace Heke's demise, Uncle Bully, played by Cliff Curtis, reappears in 'Greenstone', sleeping in his car and struggling with life on the outside. He walks off his job, gets in a scuffle on K Road and eventually finds redemption in the country. Tu meke?
Curtis was reluctant to take the part of evil Uncle Bully in Once Were Warriors until he visited his marae and sought advice from his kuia. She told him that on the marae there were always jobs that nobody wanted to do but if you did the best possible job then people would not remember the job itself but how well you had done it. One would imagine no such reluctance to being involved in the lavish 'Greenstone', directed by Kerry Brown, that was released just three months after Once Were Warriors.
--