On Record Store Day in 2013, a long-overdue reissue of an album first released in 1975 by the Auckland band Waves finally hit record stores and online sites. When the self-titled album was originally issued it was embraced with considerable affection. It peaked at No.6 on the New Zealand album charts and the band were working on new material for their second album when industry machinations thwarted the band, resulting in Waves calling it a day in 1977.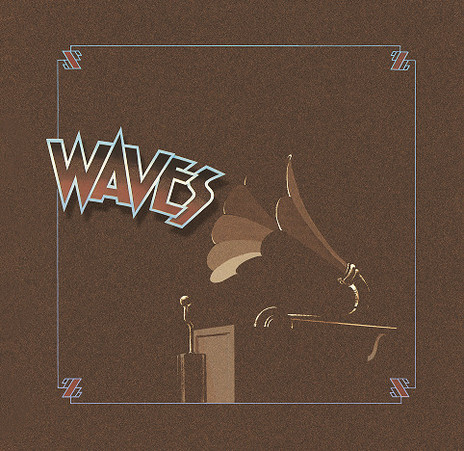 Music writer Graham Reid wrote that Waves' "quietly considered sound stood at odds with the prevailing winds of harder rock" (eg, Dragon, Hello Sailor) but that they were fondly remembered by many people.
Consequently, the Waves debut album never completely faded away despite being deleted for decades. It was one of those albums that consistently fetched high prices in specialist record stores and on collector sites.
Waves were an acoustic band that evolved from a trio called Rosewood, which included Geoff Chunn, Graeme Gash and Kevin Wildman. Gash and Wildman met when they were both students of art and design at Auckland Technical Institute (now AUT). Not only were these two guys blessed with artistic design skills, they were also exceptional guitarists, singers and songwriters who could harmonise together like brothers.
Rosewood played small acoustic shows and the 1973 Great Ngāruawāhia Music Festival before disbanding when Chunn left in April 1973 to join Split Enz.
In an RNZ interview conducted with the band in 2013, Kevin Wildman talked about his memory of how the band got together. "I met Graeme at AUT doing a graphic design course. I was obviously interested in music so when I ran into Graeme, he was playing guitar and I sat in and harmonised with him and we immediately blended. We used to spend our time sitting in the stairwell at break time practising and realised that we had something going on there."
Graeme Gash: "At what is now the Auckland University of Technology I met Kevin Wildman. We studied art and design together, honing our love of the visual and the aural simultaneously. During breaks we would sit in the multi-storey stairwell and sing harmonies, where the reverb was cathedral-esque and our aspirations had room to expand." (NZ Musician, 2013)
Gash and Wildman both went out and purchased Martin D-35 guitars from Lewis Eady's.
Given the challenges of finding a "brother in harmony" and blending voices, these stairwell sessions proved to be a fortuitous and productive beginning for the band. Gash and Wildman both went out and purchased Martin D-35 guitars from Lewis Eady's.
Gash: "Saving our hard-earned dollars until we had enough to walk out the door with a Martin was somewhat titillating, to put it mildly. Six hundred bucks, from memory. In 1974. Still made in America back then. They were, in those days, the Rolls Royce of acoustics."
They soon attracted another like-minded guitarist, singer-composer David Marshall, a school friend with Laurie Bell who would become Waves' manager. (Bell was tragically killed by a drunk driver in November 1985 while on tour with the Commodores.)
David Marshall: "I was working with other musicians and bands back when I was 17 or 18 and Laurie would organise rehearsal space. I was flatting with him in Newmarket and he mentioned Graeme and Kevin and said, 'I think you should meet these two guys.' I really liked their singing together. It was a unique sound. At the time I was writing more unusual stuff, different tunings and basically stuff I taught myself, but we managed to get a good sound with the three of us, and then we added Michael Matthew on bass."
Gash: "One day David Marshall crashed our jam; we were gobsmacked. He was great. We snapped him up. Michael Matthew was hanging out with a bunch of musos we knew, and we cajoled him into accompanying us on the bushwalk to Glory. (NZ Musician, 2013)
Gash: "Eventually David, Michael and I ended up living together in a villa on Jervois Road so we could peer out the window at Stebbing Recording Studios. Kevin was a Southside boy; his roots ran deep, so he just visited."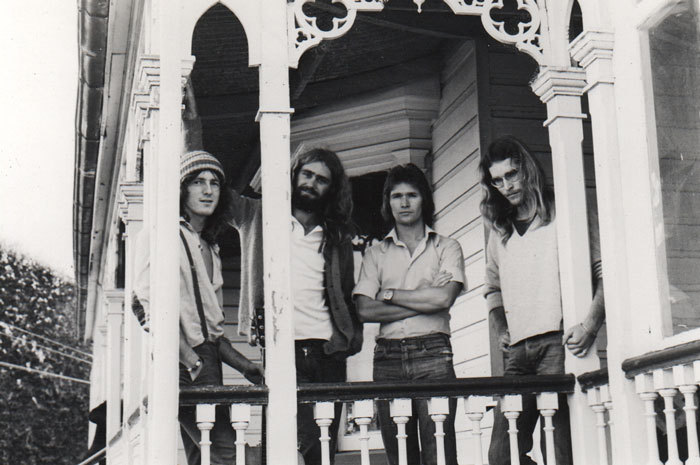 As Gash wrote in the cover notes to the reissued Waves album in 2013: "The softly spoken Michael Matthew looked like Jesus. He played bass, and one day, in very Jesus-like fashion, he was just there. Now he isn't, unkindly taken by meningitis. Michael played as only a bass player can with no drummer to work off: by the seat of his pants. While some of us laboured occasionally under youthful delusions of grandeur, Michael always kept his head. Being a bass player, he had a tendency to disassemble and then reassemble things. This included his bass and, at times, the band itself."
David Marshall: "I then flatted with Graeme in Jervois Road opposite where Stebbing studio is and three or four times a week people would visit and we would have a three or four hour practice singing any new stuff we had … it was a great time." (RNZ)
It's often said that if one wants to follow the trail of creativity, one should follow the trail of cheap real estate. The Waves centre of operations was an eight-bedroom colonial villa on Jervois Road.
Ponsonby in the early 70s was a vibrant, multi-cultural and cheap place to live and was something of a musical hub that produced the bands Dragon and Hello Sailor … the Waves guys used to live next to Mandrax Mansion (where both Dragon and Sailor lived) separated by a picket fence that pretty much disappeared one paling at a time over winter.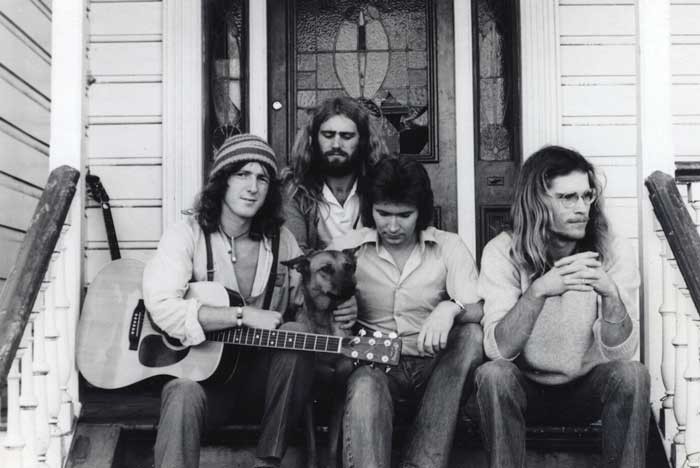 Gash: "Other musicians would drop by all the time, and there was a great osmosis going on between a number of music-oriented houses around the place. That was how we met our second bass player, Michael Mason."
Split Enz was emerging around the same time, spearheading a growing feeling that composing homemade music was where it was at – and that hadn't always been the case. Covers were more often than not a working band's staple repertoire.
Waves' repertoire of original material grew as the band started playing live, especially at the Radio Hauraki Buck-A-Head concerts.
The band avoided the pub circuit, explained Gash: "[We] wanted something to drink to, not think to. So, we needed venues where the intricacies of our music would be heard. Not precious, just realistic."
Consequently they played concerts, folk clubs and schools and, as Kevin Wildman said, "… an awful lot of practice."
A typical summer holiday for Waves would be spent in the rehearsal room when everybody else was at the beach. The result was a slim but growing repertoire of quality original songs.
Despite the band being blessed with more than one great songwriter, there was never a selection process as such.
Gash: "David has always written a great lyric. Me, not so much, although I was always a voracious reader. Mind you, I've done a lot of work on it, and these days, my lyrics are pretty damn good. I believe it's wise not to overcook your words. It's how to make a statement, paint a picture that's eloquent without trying to be overly clever. That can be a fine line. You have to try and put your heart on your sleeve without leaving a syrupy stain on the fabric – it can be so hard to get out." (NZ Musician, 2013)
"Back in the day, someone would show up and go, 'Hey look what I did' and everyone else would go, 'Ah, that's quite nice' and add their magic. The determining factor in the selection of the song set list was that after a few months 'only the hardiest songs were still standing.'"
Gash describes the division of labor that evolved within the band: "Three writers, very little crossover. David played guitar like we all wanted to. Kevin sang like we all wanted to. Michael Matthew and then (later) Michael Mason took care of the low notes, invariably in brilliant fashion. Rex Carter used to hit stuff with remarkable fluidity and finesse. I bossed everyone around, made us practise until our fingers were bloody and our tonsils shredded. I know, sounds insufferable – some things never change. I also did album covers, poster art, things like that. David and I had a bit of a dual-guitar thing going, which was nice." (NZ Musician, 2013)
Gash: "There was [in this era] the beginnings of an upswell, an excitement around bands that, we as a nation could call our own; Kiwis writing songs for Kiwis … and thanks to people like the late Roger Jarrett, the inspirational editor of Hot Licks magazine and an enthusiastic champion of New Zealand music, that interest began to find a focus.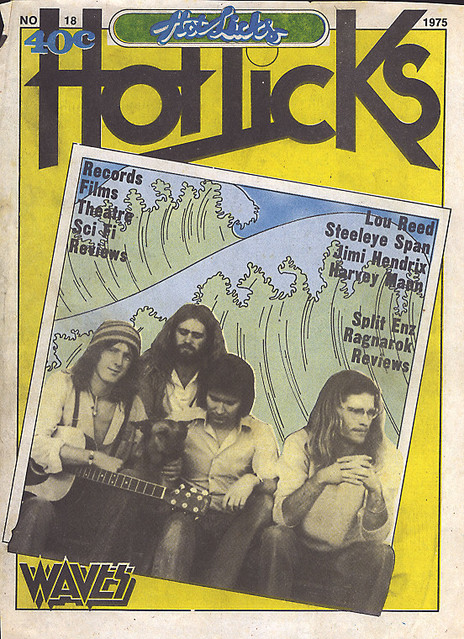 It was Jarrett who introduced Waves to the owners of Direction Records – Kerry Thomas and the late Guy Morris. Thomas and Morris had an infrastructure that included a retail chain of record stores and also had an affiliation with Hot Licks magazine, the predecessor of Rip It Up.
Waves' live presence may have been deliberately selective but there was growing word of mouth for the band as a result of airplay on Radio Hauraki and select shows that shined a spotlight on their harmonies and sound. After Jarrett introduced the band to Thomas and Morris, an album deal was proposed.
Gash (from the liner notes of the reissued Waves album): "Kerry and Guy wanted to establish their own independent record label, and there we were, in the right place at the right time. We could not have hoped for a better fit."
There was a contract but, as Gash said, "I notice they never signed it. It was more a handshake deal put together by Kerry Thomas which was pretty much a 'let's put the record out and see how we go'."
Waves began a five-day recording session for their debut album at Stebbing Studios.
The band had enormous trust and respect for Kerry Thomas. He was putting his money into a project that none of the existing record labels would consider. Kind of ironic given that the Laurel Canyon sound represented by bands like Crosby Stills and Nash, Joni Mitchell, Neil Young, Jackson Browne, James Taylor, Linda Ronstadt, America, and the Eagles was selling in big numbers.
Waves began a five-day recording session for their debut album at Stebbing Studios. Gash (from the album liner notes): "Suddenly we were living the dream. On the 7th of July 1975 we got up and carried our gear across the road and through the front door of Stebbing's. 8.30 in the morning, red of eye and pale of face. The surreal feeling of that moment still lives within me."
Gash recalls: "Before walking through the front door of Stebbing's, we'd prepared, done a lot of practice and a lot of live work with the material, so we knew it back to front. Let's face it, we'd been living across the road getting ourselves ready for this moment for about a year."
The album was recorded with engineer Phil Yule and top producer Peter Dawkins, who passed away in 2014.
In the 1980s Yule went on to engineer some iconic albums with bands including Herbs and several Flying Nun acts. Dawkins's hugely successful strike rate began at HMV (NZ) Ltd in 1969, producing 'St Paul' for Shane, and 'Nature' for the Fourmyula; he would soon produce many hits with Dragon in Australia.
Kerry Thomas set up the arrangements for the recording and Dawkins flew in – the band was ready for him.
Gash (liner notes): "Although we had recorded ourselves endlessly, we were complete novices when it came to the real thing. Our engineer was Phil Yule; a nicer, more accommodating man you could not hope to meet. Peter, though, was a little intimidating. School was in session. With only five days to do the whole thing, we had to accustom ourselves very quickly to overdubbing our vocals with headphones on; it was an alien experience."
Dawkins only rejected one song, 'Touchdown', by David Marshall.
Sound engineer Phil Yule: "This great album was recorded in five days, mixed by Peter Dawkins in two and then remixed by me in three. It was one of the best weeks of my life. I was a mad Crosby, Stills and Nash fan, so to get a project like Waves was right up my alley, and to get to work with the legendary Peter Dawkins was a dream come true. The band had confidence in my ability I think because I had just been awarded Engineer of the Year for recording John Hanlon's album Higher Trails.
"Dawkins' production style was very straightforward; one part creative, one-part boss. Twelve songs in five days is a big ask, so he had to keep the recording sessions moving along. If things got a bit bogged down, he would get slightly impatient. He was used to working in the top studios of Sydney and so expected a high level of professionalism from both the musicians and me, the engineer. We all had to work hard to keep up with him.
"He understood the recording and mixing process. He knew the sound that he wanted, and he knew what he needed to do to make a great record. He instructed me to record the group's acoustic guitars flat with no equalisation or processing. So, the sound on the record is simply the boys playing their big Martin guitars through some great Neumann mics.
"Waves thought they were going to record the songs live but this wouldn't have given Peter enough separation between instruments and voices thus limiting the choices a producer needs when it comes to mixing. That was a compromise the band had to accept but it did take them by surprise, and I think it threw them for a bit.
"So we set up the three guitarists in a triangle and recorded them live to Stebbing's 16-track tape machine with the occasional drop-in if there was a mistake. After getting a good take Peter would double-track the guitars which gave him options when mixing. He just turned up the double-tracked guitars when he wanted a different texture or to add more power in the mix.
"The vocals were a bit tricky as the band didn't have studio experience and weren't used to wearing headphones. Once again, I set them up in a triangle and then put a small speaker in the middle. This meant they could hear the backing track through the speaker and hear each other acoustically with no headphones. Like the guitars, the vocals were recorded live with their exquisite harmonies being double tracked.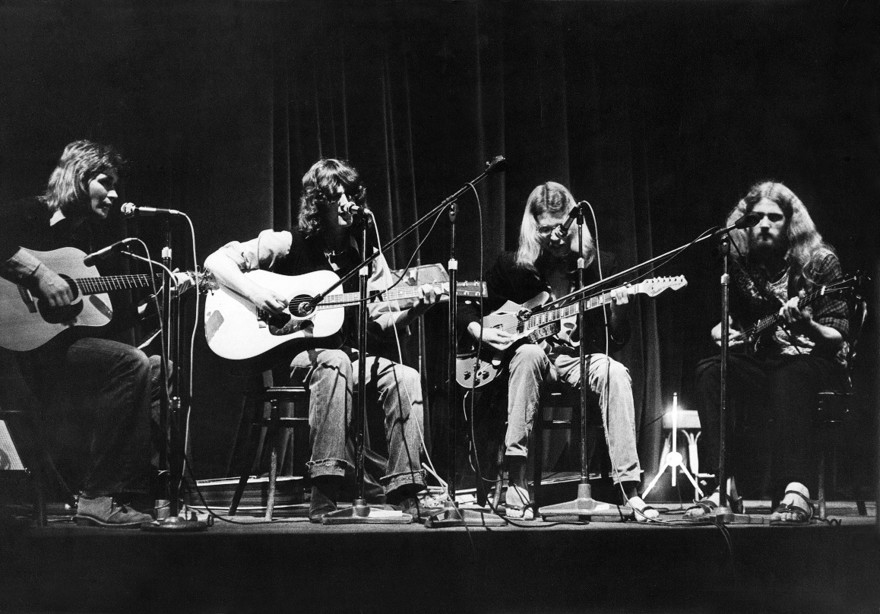 Gash: "Dawkins had five days, and he marshalled us through the procedures in a most efficient fashion. That was his job, and he did it well. He was tough though: one of our friends wasn't cutting it quickly enough with his solo, and Peter made me go into the studio and fire him on the spot. We freely availed ourselves of notable contributors. Some – Mike Chunn, Mike Caen, Roy Mason – were personal friends; others – Vic Williams, Murray Grindlay, Mike Harvey, Paul Lee – were introduced to us in the studio."
Phil Yule: "Dawkins was impressed by the A-list musicians that played on the album. Mike Harvey on piano, Vic Williams on drums, Murray Grindlay on blues harp, Mike Chunn on bass and Mike Caen on electric guitar. They all cut their tracks pretty quickly. The standout overdub of the whole album though, was Graeme Gash's spanner slide guitar on 'Dolphin Song'."
With tracking and recording completed, the band's expectations were high. At the end of the week, Dawkins flew back to Sydney with the multi-track tapes to mix them.
Gash: "No doubt, in his world, this was standard procedure. However, what it did was disengage us from the process. When the mixes came back to Auckland, we didn't understand them. They were not the way we heard ourselves."
The band voiced their concerns and proposed to their label that they remix the album at Stebbing's with engineer Phil Yule.
Gash: "It was very wet (excess reverb) and it was a Dawkins mix if you look at his previous roster of artists that he's worked with. They were in a very different place from where we were and the whole thing had happened really quickly and it's no discredit to Dawkins, we just had a different view of ourselves than he had of us. I think he just walked through the door when we met and made a spot call on what we were … Dawkins sent the mixed tapes back and we listened to them in the studio with Phil Yule and it wasn't how we wanted to sound … to Kerry Thomas's absolute credit, cos he had hired Dawkins at some expense, flown him over to New Zealand and then we said we wanted to remix the album, and he did! He backed us and I can't think of many occasions in this business where that would happen. So, we went back into the studio with Phil Yule and remixed the album. We kept two of Dawkins's mixes. 'Arrow' and 'Water Lady'. I think if they had explained the process of how it all worked and one of us had gone to Sydney for the mix, that would have helped. We just didn't sound like we wanted to sound. We were used to practising a few feet away from each other. Very intimate and close sounding. These mixes sounded cavernous." (RNZ interview)
Phil Yule: "A few weeks later the Dawkins mixes were done and sent back for checking. We all got together at Stebbing's and listened in the control room. There was high anticipation and a buzz in the air. But the night slowly got quieter and quieter as the playback continued. I didn't realise just how unhappy the band was until a few days later when they came back to Stebbing's and listened again, this time on a variety of speakers. The consensus was too trebly and too much reverb. It was a big decision for them but I was honoured that they chose me to remix the whole album except for two songs that they were happy with. I think we had three days. For the remixes I concentrated on getting back to the natural warmth of the original recordings."
Finally, Waves the album was released in October 1975. The singles 'The Dolphin Song' followed by 'Arrow' and 'At The Beach' helped propel the album to No.6 on the album charts. It reputedly became one of the best-selling albums by a New Zealand artist of the 1970s.
Gash (liner notes): "There followed an intense period of publicity and performances, and in this respect, Direction could not have served us better. Keeping a band together in New Zealand for an extended period, though, was never an easy thing, and so it proved with Waves. Michael Matthew moved on. Having up to that point pulled in an assortment of drummers for various performances, we decided it was time we had a permanent rhythm section. Our Jervois Road palace was just one of a number of musician-infested houses across Auckland. Another such house was in Asquith Avenue in Mt Albert. There, along with electronics ace and Split Enz drummer Paul Crowther lived Michael Mason, an accomplished bass player with extensive and varied musical tastes. Intelligent and astute, he also had the correct name, as almost every bassist we had ever worked with up to that point had been a Michael. There was sufficient cross-pollination between the houses for Michael and I to get to know each other, and within a short time we had established a personal and musical rapport.
"The drummer that stuck was North Shore boy Rex Carter. His style was as fluid and easy-going as his personality. His grin was a mile wide. Although just beginning his musical career, he was a unanimous choice. In our recently acquired loft at the bottom of town we proceeded to work up a whole new set of songs, putting them down on tape as we went."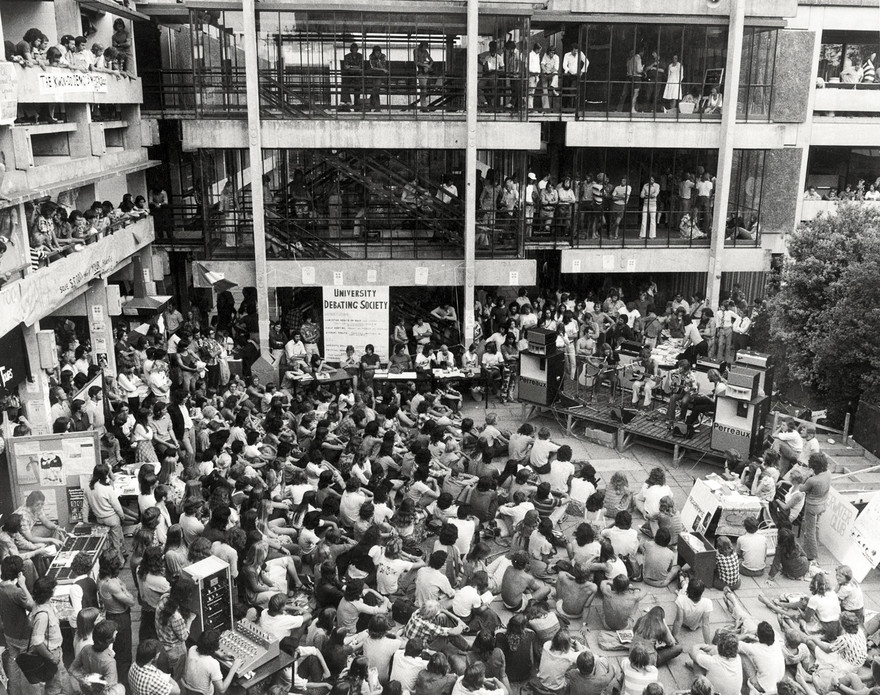 Gash describes the local scene back in 1975 when Waves released their debut album. In August Split Enz had released their debut album Mental Notes to a rapturous response:
"There was a building excitement, an air of anticipation, like we were all going to feel quite proud, quite soon. Split Enz had embedded themselves into the national psyche, or at least the leading edge of it. Hot Licks was championing a lot of local work. Radio stations like Hauraki were into doing their bit for the locals as well. Hauraki were great in those days; they used to do Buck-a-Head concerts. Big venue, one dollar for two bands; can you believe it? No wonder we all went out of business. Occasionally we'd headline our own shows and charge something more realistic, like $1.50. Somewhere between 1974 and 1975 we did a double-bill Buck-a-Head with Split Enz at the Mercury, another with Tole Puddle at His Majesty's Theatre. These were great platforms for us. Our own concerts included His Majesty's with Chris Thompson in support, and the Mercury with Geoff Chunn."
Little Feat's Lowell George agreed to produce a follow-up album.
Waves never stopped developing. After releasing the debut album, they immediately started writing new material for a follow-up. At that time, they had some interaction with Lowell George when Little Feat toured Aotearoa in July 1976.
Gash (liner notes): "Little Feat came to town, and I gate-crashed the hotel where they were holding their press conference, went up to Lowell George's table, looked him in the eye and asked him to produce our next album. It was probably the scariest thing I'd ever done. Lowell was gracious. He took a cassette of five of our new songs away with him and Little Feat flew out to Australia. We thought that was the end of it, until he rang from Melbourne a few days later to say there were three potential charters on that tape and yes, he would come back to work with us."
However, trouble was afoot. Their label, Direction Records, went into receivership.
Gash: "It wasn't until later that Direction folded. I think they overextended y'know … record store chain, record label, publishing arm and somewhere along the line, unbeknownst to us, it all got too much for them. Then one day Direction had suddenly gone into liquidation. That's your money guys. Sorry."
The day that the Direction empire, including their enterprising independent label, came crashing down, every dollar Waves had ever earned from the record went to the banks. Nonetheless, the band's lasting impression remains that Direction was honorable and treated them well. In some respects, losing their label was more painful than losing their royalties.
Gash (liner notes): "Everything has its time, and this was theirs, but as a pioneering independent label they (Direction) can be justifiably proud of their contribution to New Zealand's musical story."
Despite this huge setback the band decided to carry on. What followed was a chain of events that led to the recording of the second album.
--
Read Waves: an oral history part 2