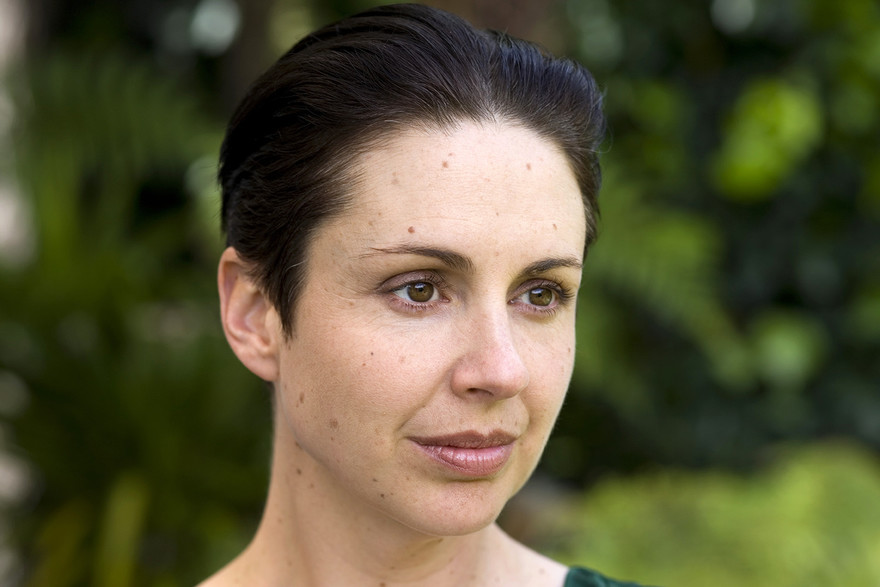 In 2014, composer Victoria Kelly won the APRA Silver Scroll for Best Original Music for a Feature Film, for Field Punishment No.1.
It was nice for her to be on that podium at last; she had 10 previous nominations at various film and television awards, and was busy backstage or looking on as the Scrolls' music director from 2003 to 2007, the last two years with Joost Langeveld.
As far back as the 1994 short film La Vie en Rose by Anna Reeves – with her music for string quartet, saxophone, and guitar – Kelly has been composing soundtracks.
That first outing was an unusual piece and the film was just five minutes long, but when Kelly saw the recorded music matched with images she had an epiphany. "My whole world changed in that moment in time," she told Lisa Meridan-Skipp for Music in New Zealand in its Summer 2000-2001 issue. "I loved that experience, the feeling you've stumbled across something wonderful and you don't know what you did to deserve it, or what you did to earn it.
"You feel like your entire success is an absolute fluke, but by the same token you're caught up in this wonderful thing."
And the soundtrack magic just kept happening. Victoria Kelly has become one of this country's most prolific, musically adaptable, and successful composers of soundtracks and incidental music for film and television.
But her career had an unpromising start; the school she went to had no music department.
Victoria Kelly began writing her own music as a teenager at Iona College in Hawke's Bay despite the lack of opportunities the school offered. Kelly was learning oboe. "My parents said, 'if you must learn an instrument then learn something not many people play' and it was French horn or oboe."
Encouraged by the new deputy head Glenys Kempshall, who did everything to facilitate and help her career – they are still in touch – Kelly played in the Hastings Youth Orchestra and in 1990 aged 17 she went to the University of Auckland to start a performance degree in oboe and play in the esteemed Karlheinz Company. But she became disenchanted with oboe and the few career opportunities it offered.
In 1993 Kelly gained first equal in the university's composition prize, completing her BMus. Then, after graduating in composition and enrolling for her masters, the opportunity of writing for La Vie en Rose came her way in 1994.
There was now no turning back: she was so thrilled by the process and outcome and fascinated by the idea of sound and image together. "A beautiful idea to put music to other things", she told Meridan-Skipp, "rather than just coming up with it by yourself in isolation."
When the opportunity to write for a feature film The Ugly, by director Scott Reynolds, came up in 1996, Kelly jumped at it, although she admits, "I really knew nothing about how to write for film, it was a baptism by fire but it made me want to learn more and a couple of international courses were recommended."
So, after winning a TVNZ Young Achievers Award – and with a Professional Development Grant from Creative New Zealand in 1996 – she went to the University of Southern California.
In a class of just 20, she studied for an Advanced Certificate in Scoring for Motion Pictures and Television. Among her teachers were award-winning composers Elmer Bernstein and Leonard Rosenman. It was an old school discipline of putting dots on the page to create a score, no whizz-bang technology. But her classical skills stood her in good stead. It was an intense year which she mostly enjoyed, "and I could have stayed easily but didn't want to".
A bad experience showed her the ruthless side of the film industry. She and another student were taken on as ghost writers to work between the composer and director on a film, but another student – who hadn't been chosen – inveigled his way into attention and surreptitiously took over, not inviting her to important meetings. When she confronted him, he made it clear he was going to look after Number One, that was just how it was.
"I didn't like that attitude and that's not why I'm a composer. And I just love New Zealand. It was spiritually lonely there and I wanted to be part of what was happening in New Zealand. There is more creative opportunity in abundance here, but not financial opportunity," she says, laughing. "But you could have a creative identity."
Her career took off when she returned home. The list of her soundtrack and screen work is impressive: Scott Reynolds' Heaven in 1998, Vanessa Alexander's Majik and Rose the following year; the first series of the television production Being Eve in 2000; Fracture in 2003 and on through her NZ Screen Award-winning work on Maddigan's Quest (2005), Jonathan King's comedy-horror Black Sheep (2007), Under the Mountain and The Lovely Bones (both 2009), The Almighty Johnsons in 2011 ...
Plus, collaborating with screenwriter Fran Walsh, actor-musician Billy Boyd (Peregrine Took in Peter Jackson's The Lord of the Rings trilogy) and composer Stephen Gallagher on the song 'The Last Goodbye' which closed Jackson's Hobbit trilogy.
Kelly recalls on her website: "I began working on the arrangement and, soon after, Billy came up to Auckland where we spent a day with some wonderful musicians at Roundhead studios – mandolin and percussion player Nigel Gavin and violinist Justine Cormack – laying down ideas and putting together demos.
"A couple of weeks later – after travel back and forth between Auckland and Wellington – I finally found myself in the midst of the most extraordinary recording session of my life.
"I was at Park Road Post in Wellington in the company of Fran Walsh, Peter Jackson, Stephen Gallagher, Billy Boyd, [engineers] Peter Cobbin and Kirsty Whalley, remotely recording the London Symphony Orchestra who were in Abbey Road, while [composer] Howard Shore listened in via Skype from New York.
"Eight new bars of music were added during the session, which – in a testament to the technological world we live in – involved me frantically ruling manuscript lines onto the back of used bits of A4 paper lying around the studio, scribbling out the additional music, taking a photograph of it on my phone, texting it to the orchestra contractor in London, who sent it to the Abbey Road printer – and had it on the stands being recorded by the orchestra 10 minutes after I'd pressed send."
In the pop world she is known for her work writing and arranging strings for the likes of Neil Finn (the Dizzy Heights and Out of Silence albums), SJD (Sweetheart), Tami Neilson (Kingmaker) and Finn Andrews for The Veils' And Out of the Void Came Love album. She has worked with Anika Moa, Don McGlashan, Strawpeople, Shapeshifter, Greg Johnson, and TrueBliss, among many others.
Despite a full personal life – she has children, her husband Ashley Brown is cellist in the NZ Trio – Kelly turns up and delivers. "And I'm very lucky, I'm interested in lots of [musical] things."
She also becomes engrossed in what she is working on. In 2006 – while heavily pregnant – and writing for Jonathan King's Black Sheep soundtrack, she told the NZ Herald, "I'm like a zombie. I'll walk out of my bedroom into my office in my dressing-gown, stay there for 12 hours then stagger to the fridge for something to eat. I have to spend a week learning how to have conversations again."