After wading through countless pages of NME coverage of The Datsuns, I am prepared to stand by my post-two wines prophetic statistic that the Datsuns' NME coverage will exceed the total column-inches in NME on all other New Zealand acts combined, throughout the history of the human race. A few Datsuns gigs in London, in 2002, had a powerful impact.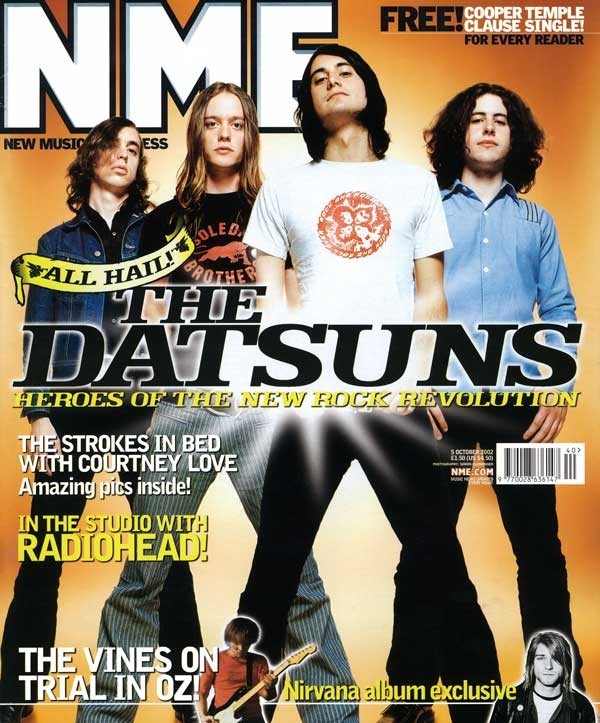 The Datsuns' story started in Cambridge in the Waikato when Dolf de Borst and Phil Somervell were secondary school students and known as Trinket. RipItUp writer John Russell reviewed their performance at the Smokefree Rockquest final at Auckland's St James Theatre, 19 September 1997: "Cambridge band Trinket lived up to their name with a jangly set of fuzzy pop. A tribute to Different Strokes star Gary Coleman, entitled 'Talkin' 'bout Willis', raised the big dumb rock quotient nicely and Gordon Gano would've been proud to have penned the Femmes-like closer, 'After School'. Trinket did not win on the night but John Russell thought the judging sucked.
The next appearance in RipItUp (December 1999) by a Datsun was Dolf de Borst as bassist-for-hire in Trucker, reviewed at their 5 November 1999 EP release at "The Hilly" (Hillcrest), Hamilton. Steve Newall wrote: "Dolf De Borst's fingers began bleeding early into the set but didn't dampen the evening as he continued to jump over and jump on everything in sight (as he tends to do) until the end."
Richard Wain raved about Trucker in February 2000 issue of RipItUp: "Could the future of rock music come out of Hamilton? Hell, why not. Trucker's debut album ROCKS."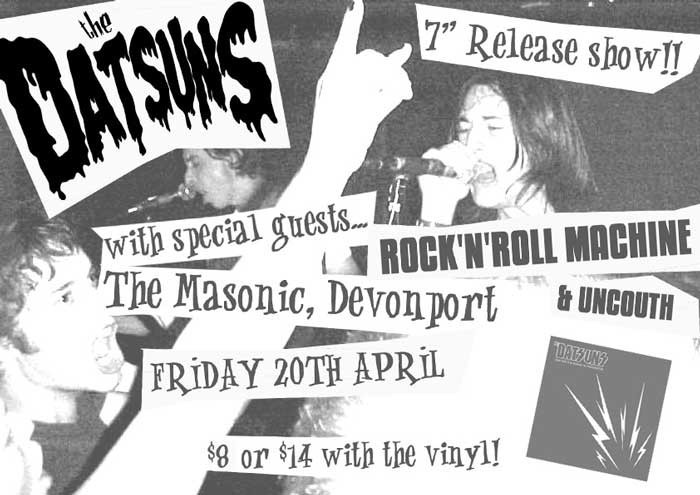 In October 1995 Auckland band Nothing At All! released their self-titled debut album. "We loved it and it was on repeat constantly and then when we saw them play for the first time, at the Frankton Railway Hall, we were totally blown away," recalls Dolf. "Super wild show!" When we were about sixteen, Trinket opened up for Nothing At All! in Tauranga at a place called the Rainbow. They were great, we were not."
Phil Somervell made it on to the big stage ahead of the rest of the guys, when Green Day played Logan Campbell Centre on 15 February 1996. They invited a young guitarist on stage to play with them and Phil got up and "he ripped", said Nothing At All! manager John Baker.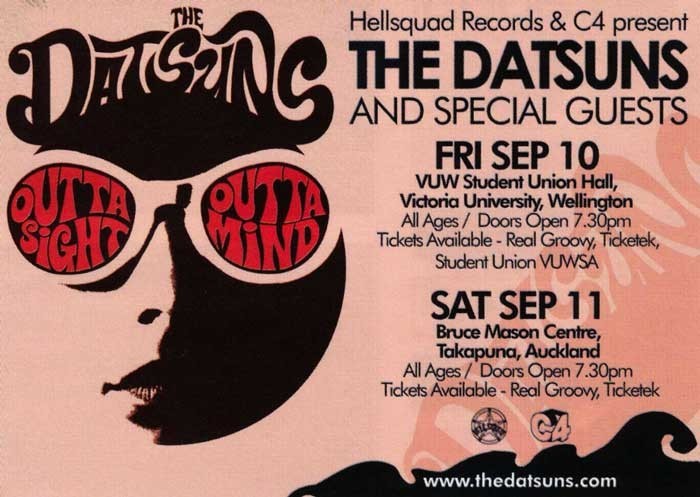 In 1997 guitarist Christian Livingstone joined Trinket. In October 1998 they opened for a band they admired greatly, The Hellacopters, in Hamilton. A friendship developed and The Datsuns would regularly tour with the Swedish band in the new millennium.
Reflecting on the 1998 Hellacopters tour, Matt Hyde of Beastwars wrote, "A lot of people talk about when The White Stripes played here the first time but, to me, The Hellacopters was the one. I think they left a blueprint for a lot of bands." (Volume 1 November 2011)
The Datsuns opened for a lot of touring bands that played Hamilton.
The Datsuns opened for a lot of touring bands that played Hamilton. "The Hellacopters impressed me the most by a long shot, and inspired our band endlessly," says Phil. "We were doing something similar from opposite sides of the world around 1998 and 1999 and at that time in our lives to see a band that you don't often hear on the radio or see on the TV, touring all over the world releasing 7-inches and producing albums off their own backs was very inspiring."
In 2000 the band changed their name to The Datsuns and recorded 'Super Gyration' after hours at Waikato Polytech with soundman Scott Newth. John Baker encouraged them to get their recording pressed on vinyl at Corduroy in Melbourne. "About six months later we got 500 singles back and had the requisite release party at Ward Lane in Hamilton," said Dolf. "It cost $10 to get in, including the record. Some people even complained that it was expensive. Idiots. We sold half of them that night, which wasn't bad as the place only held 100 people comfortably." (RipItUp Oct/ Nov 2009)
Tom Dalton, who was Activities Manager at the Waikato University Students Association, had booked the Datsuns for Orientation gigs. He started working with them and became their manager.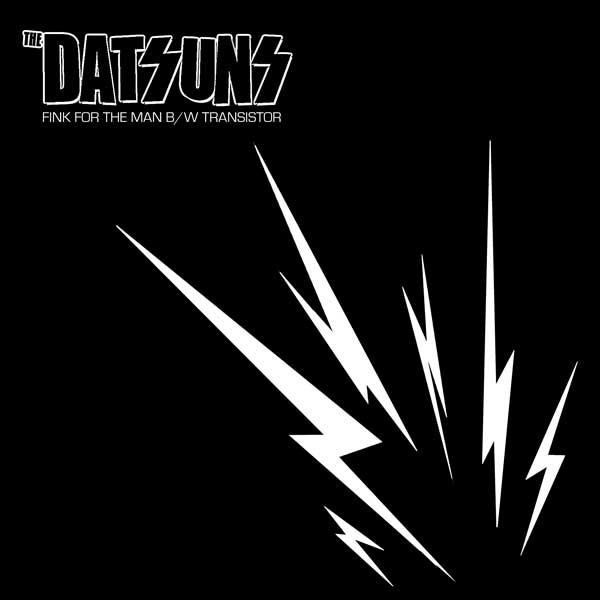 The Datsuns opened for Canadian indie rock band The Smugglers, in Hamilton at Ward Lane on 24 May 2000. John Baker recalls a member of The Smugglers "seeing The Datsuns blow the venue apart ­and saying to him – 'You want us to follow that'?"
In 2000, John Baker asked The Datsuns to open for White Stripes in Hamilton on the White Stripes' opening gig (1 November) on their first international tour. It was a Wednesday night and there were about 80 payers at the Mainstreet Rhythm & Blues Bar. The Datsuns impressed Jack White and he enjoyed his first overseas trip so much that he asked John Baker to be the White Stripes' tour manager.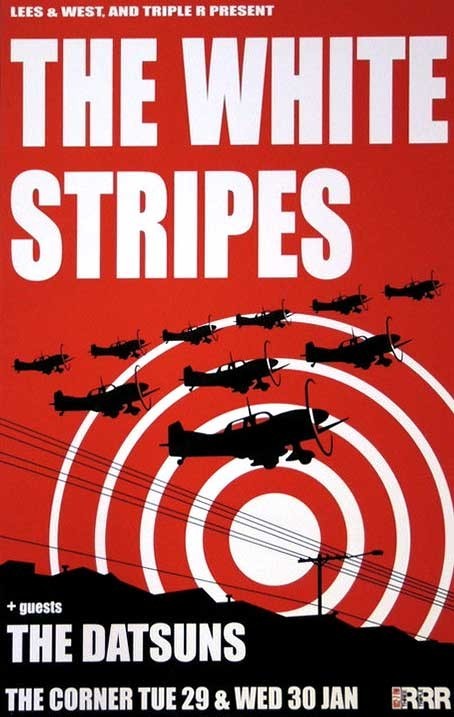 While The Datsuns' profile had been slowly building, Dolf de Borst completed a BA degree in philosophy at Waikato University and Christian Livingstone nearly completed his degree. With opportunities limited in New Zealand, the band headed for Melbourne in December 2000 to play gigs.
The sales of 'Super Gyration' helped to fund the 2001 purple vinyl 7-inch pressing of 'Fink For The Man' b/w 'Transistor' on their own indie label Hellsquad. This single was released to coincide with a May tour of Australia. In the June/ July 2001 RipItUp, Christian said, "We're halfway through the album, which we'll put out on CD as well as vinyl. At the level we're at, there's nothing a record label could do for us that we can't do ourselves."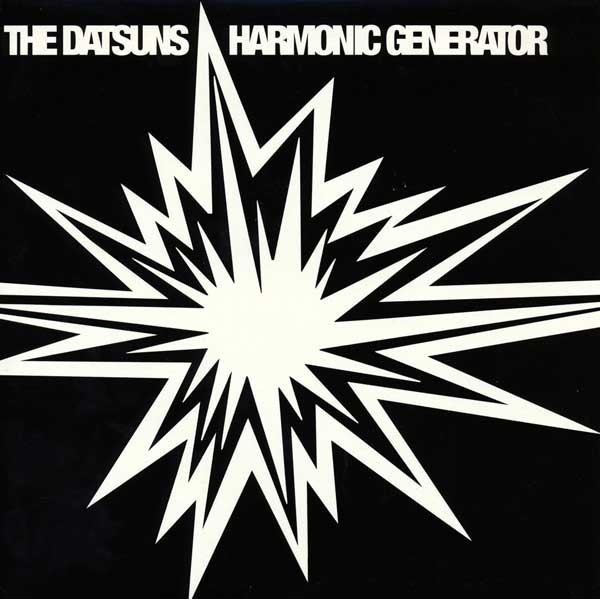 Even in this first RipItUp interview in 2001, there's a very intelligent, self-mythologising in the band's hype. Christian told the magazine, "Phil doesn't practise with the band, he just crashes in [at shows] with his guitar and just leaves like an elusive animal. It's the mystique element of rock."
In December 2001, the band toured Australia to coincide with the release of their vinyl 7-inch single, 'Lady' b/w 'MF From Hell'.
2002
In January 2002, The White Stripes played the Big Day Out tour. Jack White asked his tour manager John Baker, "How about we get that band that opened for us at the first NZ show?" The Datsuns joined The White Stripes on their four Australian side shows – 22 January at The Great Northern, Byron Bay; 24 January at The Metro, Sydney; 29 and 30 January at The Corner, Melbourne.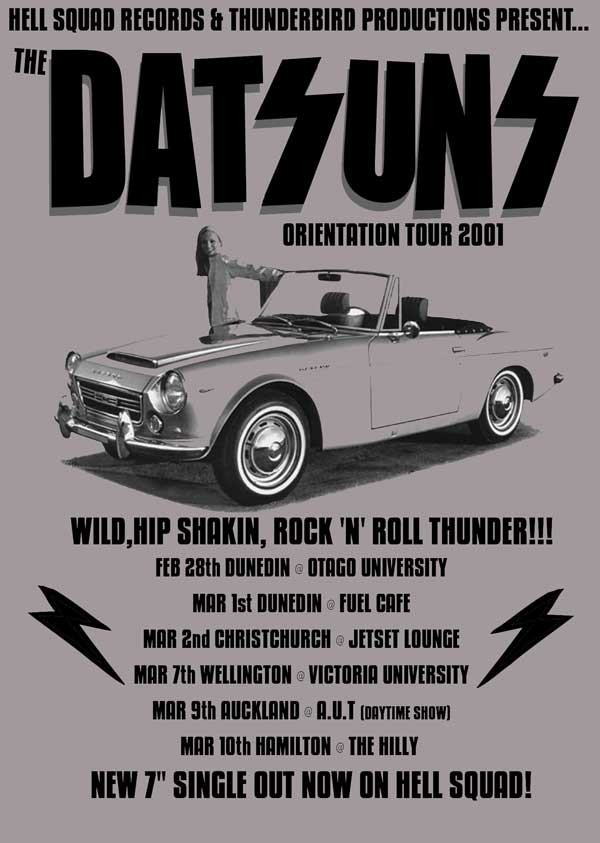 The Datsuns played the 2002 South by Southwest (SXSW) Music Festival (13 to 15 March) in Austin, Texas. The band took out a bank loan to get there. Also playing SXSW were Neil Finn and The D4. Playing a music convention with 1,000 other bands is not for everybody but The Datsuns made key connections in Austin. "SXSW is a massive media and industry clusterfuck," said Dolf, "but it can also be really fun if you understand that from the beginning. The times we've done it we've always made room to go and see as many shows as we can. There's also a lot of crap so do your homework."
The Datsuns may do hi-grade rock star moves on stage but off stage they are down to earth, amiable and masters of the art of networking. "A friend of ours, Simon Keeler, who worked for Cargo Records UK, encouraged us to send John Peel some music directly," said Dolf. "So we handwrote him a letter – 'Dear Mr Peel ... blah blah blah' – added our two 7-inch singles and wrapped it all in cardboard and flyers from our various shows."
The BBC legend liked what he heard and invited the group to record their first Peel Session. "After our first USA dates we had a Peel session booked and few other shows in the UK," recalls Dolf.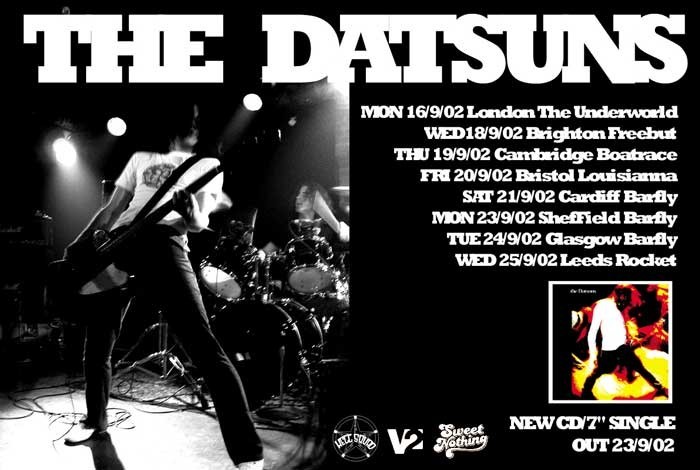 After SXSW, The Datsuns then did a 10-gig club tour with USA band Mooney Suzuki including Dallas, Cleveland, Boston, Brooklyn and Hoboken. They then joined The White Stripes tour. "I remember them arriving in Detroit in this small car packed to the gunnels with them and their gear," said John Baker.
The Datsuns were travelling with Tom Dalton as tour manager and driver. They played four dates with The White Stripes: 2 April Baltimore, 3 April Boston, 4 April Providence and 5 April New York's Bowery Ballroom. Next stop was London.
"We had nowhere to stay in London. We met writer Alex Hannaford in Austin through mutual friends. He was covering SXSW for the Independent newspaper in London and he offered his floor. I'm not sure if he was totally serious but a few weeks later he got a call from us from Heathrow, saying that we had arrived. He was very gracious and accommodating and we were so grateful. The six of us slept on his floor for weeks."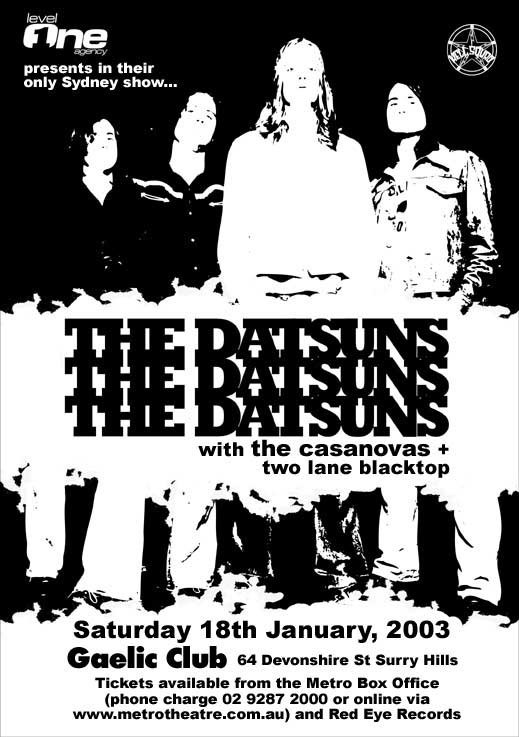 As New Zealand celebrated NZ Music Month in May 2002, all the action seemed to be taking place in London. The Datsuns and The D4 were creating quite a buzz with their live shows. The Datsuns were not yet signed to a record label, but they already had great live reviews and had done a John Peel Session.
The Datsuns played The Verge, Camden on 29 April 2002. At the time, John Mulvey described the music industry's fawning presence on dotmusic.com: "Oh Lord, here we go again. The Datsuns are four stick-thin, long-haired, fresh-faced, sinful-souled boys from Cambridge, New Zealand, and the latest genius rock 'n' roll band to swarm on London in this astonishing year for music. That's the rumour, anyway. And as stage time approaches, the atmosphere in The Verge is, even by 2002's standards, faintly insane. Everyone in possession of a chequebook in the British music industry is clustered round the front of the stage, drooling. One major label boss has just flown in from New York on Concorde to check out the action."
The gig was so full, the head of Sony Records couldn't get into the club.
Only weeks after the arriving in London, The Datsuns were playing to the heart of the UK music industry. They were not playing to a horde of antipodeans on OE and they were about to meet John Peel. "I would be surprised if there were any New Zealand people at those early shows," said guitarist Christian Livingstone.
John Peel session
The first recording took place at BBC Maida Vale Studios and was broadcast on 1 May 2002. The seven songs broadcast were 'Fink For The Man', 'Lady', 'Harmonic Generator', 'Super Gyration', 'Freeze Sucker', 'Transistor' and 'Good Night Now'.
"We did this session before we had any kind of record deal and before we decided to stay in London to record the debut," said Dolf. "We had a small crowd of new friends with us in the studio, from Detroit and London, and we basically played for them and John Peel more than we thought of it as a recording. Christian was prancing around on top of the Hammond organ and we did all our usual antics, which probably didn't translate to radio so well. It was a very good time though."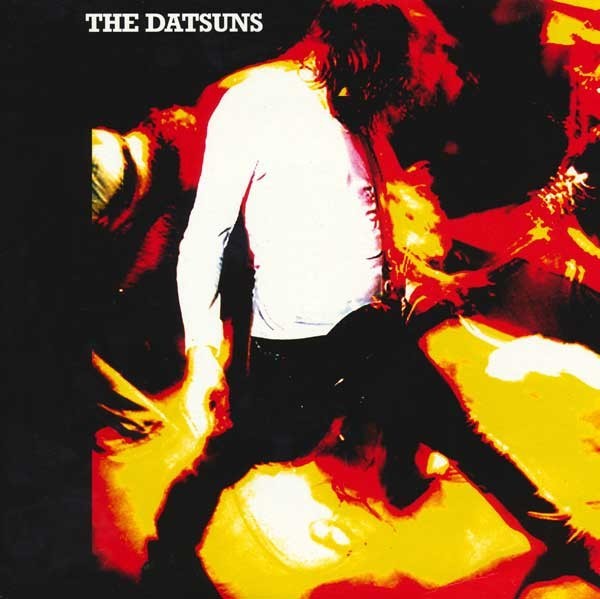 Simon Askew, who produced their debut Peel Session, wrote: "They were just incredible. They were all over the place – playing upstairs, hanging off the balcony, jumping on top of speakers, jumping on top of the Hammond organ we'd set up. Plenty of guitar solos with their heads right back, the works. And it didn't matter that it was for a session. There's not many bands that put that much effort into a performance. Afterwards they were collapsed on the floor, completely knackered, because everything was focused on that hour performance, like how a footballer trains all week for those 90 minutes on the pitch on Saturday. Absolutely stunning."
Although Phil has met a lot of big name musicians in recent years, he views meeting the radio legend as a special moment. "John Peel, at Maida Vaile Studio, recording a session for the BBC. At the time we were like 'Man! Who hasn't done a Peel Session all of us had our faves, from T-Rex to Led Zeppelin, Jimi Hendrix, The Who etc. That was a real moment."
Dolf spoke to AudioCulture about getting noticed and signed in London. "We liked to think we were more savvy than we were but the level of naivety in this band was high. It was endearing in a way. In the British scene and especially then – it was about playing a game with the media – in terms of ticking boxes. Being young is good, good-looking is good, having the sound of this week is good. A lot of people try and cultivate that and chase it but we were lucky enough to be in the right place at the right time – we bumbled into it – in a way. People mistake some of the stuff we did as being calculated and they mistake some of the stuff we did as being naïve or ignorant ­– when sometimes it was the other way round."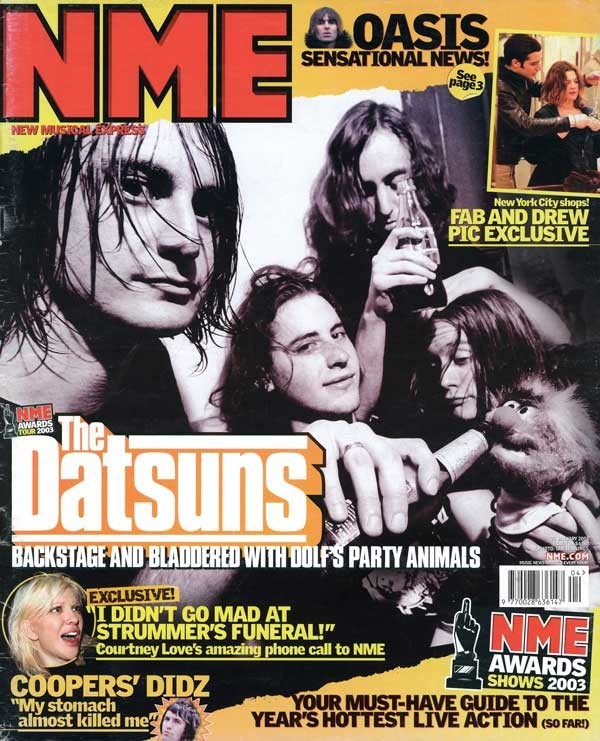 "The UK had a certain environment we were entirely naïve of," recalls Dolf. "It was quite normal, we found out later, that some bands would change their sound, clothes and haircuts depending on what the NME or whoever were talking about that week. Some of the first magazines to write about us were fashion orientated, like ID and the The Face. We happened to make music that made a good soundtrack to haircuts and belts for that year. So our image, which we never talked about at all between us, was seen by some as a cynical attempt to jump on what was hip at the time."
"I'm not trying to bag on the whole UK music scene at all but there was an element to it – once we were aware of – that we became very uncomfortable with. One time we were asked to pose for a magazine cover in a way we weren't happy about and our publicist was grinding her teeth, freaking out about it because it would cost us favour with the editor and her job."
Journalist Alex Hannaford became highly qualified to write about The Datsuns, as they were sleeping on his floor. He had a vested interest in seeing them succeed as fast as possible. Hannaford wrote in the Independent (appeared in NZ Herald 6 May 2006), "The Datsuns managed to persuade a host of record labels in Britain to foot their hotel bills and they ensured that all meetings coincide with breakfast, lunch or dinner."
The band were not impressed by the Atlantic Records USA A&R man who flew over on the Concorde, although they did appreciate the expensive meal and their being given Led Zeppelin box sets that were brought to the restaurant table on a large platter covered with banana leaves.
I spoke to the band's manager Tom Dalton in 2003 about choosing to sign to V2 Records: "It wasn't easy. I spent two or three weeks meeting nearly every label there is. Personalities came into it, who we felt we could work with."
"V2 were just one of ten labels that were trying to sign us," recalls Dolf. "We ended up signing with V2 in North America too, but that was a separate deal. We didn't want to sign to a major. V2 were the biggest independent because they had Richard Branson's money behind them. They were the nicest people that we met. They had resources and we could have a good conversation with them. Maybe in retrospect I wouldn't have signed with them."
Prior to The Datsuns signing, V2's growing pains had been documented in Billboard with headings like "V2 Reshapes And Downsizes" (22 December 2001). In 2000 the ambitious upstart label closed its Australasian office (Billboard 25 March 2000) only two years after its launch in 1996. The White Stripes had achieved their breakthrough success on V2 North America but they were signed to the large indie XL Recordings for the UK.
The Datsuns' first UK single 'In Love' entered the UK Sales Chart at No.25 (5 October 2002). Christian phoned his mother back in Cambridge, New Zealand to tell her the amazing news, "Mum, our single went in at No.25!" She replied, "That's nice, maybe you'll do better next time." (RipItUp Dec 2003/ Jan 2004). The single remained on the chart one more week, at No.70.
The high chart debut of the single meant that the group played live on the powerful TV chart show Top Of The Pops. The group's debut album was released in the United Kingdom on 7 October 2002. The album reached No.17 (19 October 2002) on the UK charts and No.1 on the New Zealand album sales charts. The album stayed on the UK chart for four weeks, moving from 17 to 37 to 63 to 86.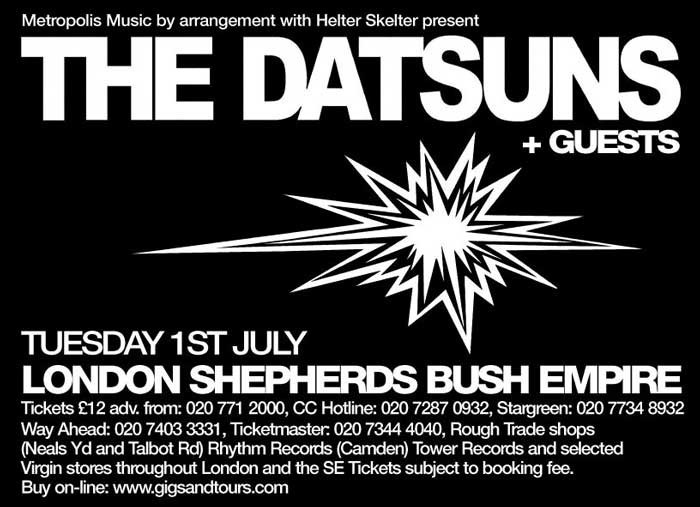 The band's debut album was recorded in various studios: "We did half of it in England with our friend Liam Watson, who runs an only-analogue 8-track studio, Toe Rag," said Dolf. "He did the White Stripes Elephant record. We did a couple with Nick Abbot at York Street and there were a couple of songs we recorded in Hamilton with our live engineer Scott Newth. We were really not into re-recording songs and the singles had been out. People had heard those. I remember when Weta and Shihad re-recorded their singles – you get used to the original. We did re-record one track, 'Harmonic Generator'."
The Datsuns' vinyl dreams came true when the debut album was released in a gatefold vinyl LP cover, with a classic cover image by Wellington photographer Ian "Blink" Jorgensen.
On the cover of the NME
In 1972 Dr. Hook sang about getting their picture on 'The Cover Of The Rolling Stone' but by the 1980s the only cover any New Zealand musician would aspire to be on was the cover of the NME. On 17 September they did a photo session with photographer Simon Clemenger at the Lemonade Factory, Battersea, London. The Datsuns achieved the impossible dream, they were on the cover of the NME on 5 October 2002 with an excellent photo, shot by Clemenger. The photo was so strong NME would later publish it as one the 10 images selected for their pull-out glossy booklet NME "Photos of the Year 2003".
The Vines and a map of Australia appear on the cover of NME (12 October 2002) with an "Antipodean Rock" feature inside including The D4 and Pacifier (Shihad) but the glossy paper pin-up in the middle of the magazine had The Libertines on one side and The Datsuns on the other side.
Dolf learnt to live with the word retro: "In the UK, there's always that thinking where rock music is lame, low-brow, retro but if someone does makes a really 80s synth pop record, that's not retro, that's futuristic."
Dolf De Datsun scored a daunting No.3 on the NME "Cool List 2002" behind Fabrizio Moretti of The Strokes and Jack White at No.1. The NME (2 November 2002) described Dolf as "Knicker-wettingly good-looking, lithe like a young sapling, and crowned with a mane of arrow-straight jet-black hair, Dolf de Datsun sets a new standard in cool." The magazine also praises his voice ("like a cloned off-spring of a twisted experiment between Bon Scott, Robert Plant and Steven Tyler") and that he doesn't his real name (Rudolf de Borst).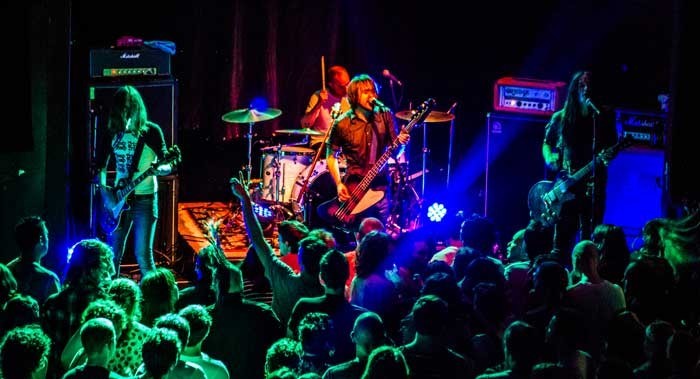 A second John Peel Session was recorded in front of live audience at the Boat Club in Nottingham prior to the band's New Zealand tour. The 12-song show was broadcast on 29 October 2002. Seven of the songs in the second Peel Session were not played on their first session, including 'MF From Hell'.
In October 2002 The Datsuns returned to NZ (via New York) to play shows in Dunedin, Christchurch, Wellington and Auckland on 12 October. Their debut album was released in Australia and New Zealand on 16 October – the first release on the new In-Fidelity Recordings label owned by Australians Bruce Milne (ex Au Go Go label) and Steven Stavrakis (ex Waterfront Records). The group completed a pre-release USA tour on 16 November in San Francisco.
Later with Jools
In the last week of November The Datsuns taped the TV show Later With Jools Holland (Series 20, Episode 8) with a line-up that included The Foo Fighters, Coldplay, Robbie Williams and Baba Maal. The programme was aired 6 December 2002. The Datsuns' performance of 'Harmonic Generator' appeared on the show's 30-track May 2003 DVD compilation Later … Louder.
The December issue of Q magazine selected their debut album as one of the "50 Best Albums of 2002" – headed "Cartoon Kiwis revive best bits of '70s Rock." The band could not have wished for a better summary review from Q: "A comic strip world of denim, leather, implausibly long hair and good times. The Datsuns debut was a riot. Its ingredients – AC/DC, Van Halen, Deep Purple, The Ramones – might have been 25 years old but they were reconfigured to produce a strand of punk metal boogie that was distinctive, explosive and impossible to resist. And there is no Hoxton irony here: they really, really mean it."
Their song 'MF From Hell' is one of 18 tracks on the CD that came free with the December 2002 issue of Q magazine. In Japan, the album was rush released on 4 December to counter the imports from Europe. Before heading home for Xmas, The Datsuns did a three-week European tour (19 shows) opening for The Hellacopters ending in Denmark on 19 December 2002.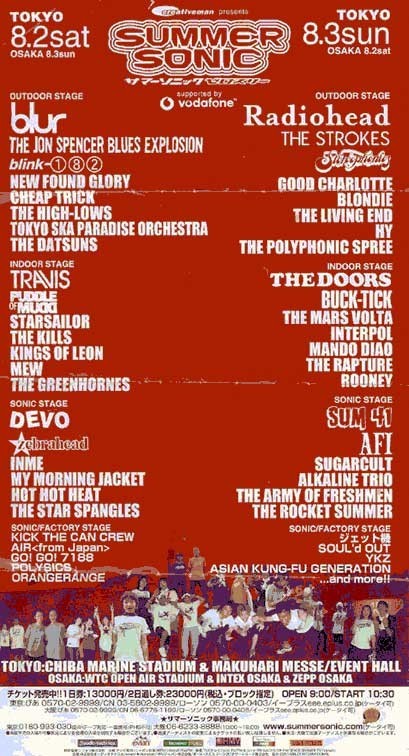 Late in 2002, The Datsuns signed to V2 for North America, after initially only signing to V2 for the UK and Europe. The USA label was a separate entity and was headed by Andy Gershon who had managed the Smashing Pumpkins. The label reportedly signed the band for a two-album deal.
Branson talked up V2 and The Datsuns (Hits Magazine, 5 November 2002): "At V2, The White Stripes are doing great. We just signed a band called the Datsuns who we expect to do as well as The White Stripes. V2 is a very good, credible record company. There aren't many good independent record companies like it left."
2003
The year started for NME with a celebration of their own central role in the new rock revolution, as recognised by the Wall Street Journal and The Guardian. The NME referred to the "NME-LED INVASION" making a silly comparison with the British Invasion of the 1960s and listing positive USA reviews for an incongruous group of artists including Coldplay, The Datsuns, The Music and The Vines. The story praised the talent-spotting powers of their departing journalist James Coleman.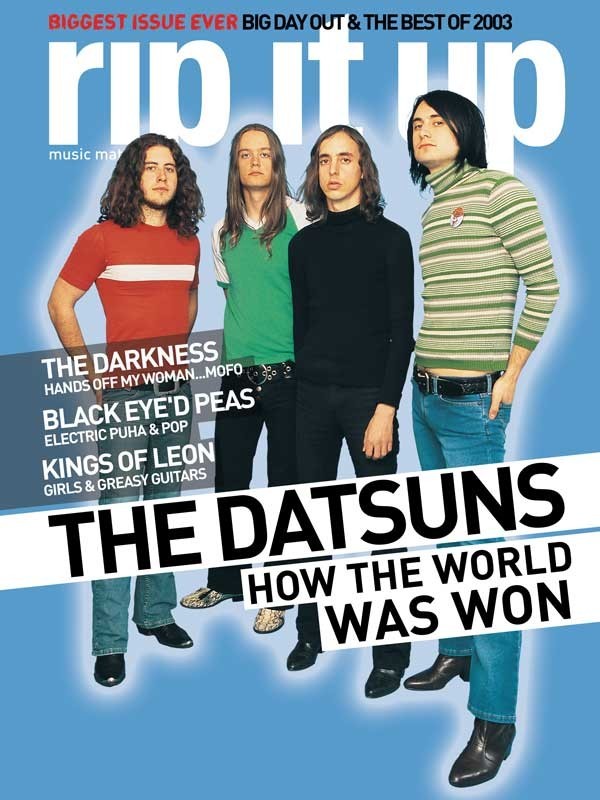 In The Guardian (22 October 2015), former NME Editor Conor McNicholas recalls the 2002 to 2003 era when he briefly halted the magazine's ever declining readership figures: "We owned the fucking scene. We were the only place who knew what the Libertines meant. We owned the conversation around guitar music."
"NME, it's still like – 'we want to cultivate this band and we want to own it' – it's like a tabloid," said Dolf. "It's all about the history of NME – people grow up and want to write like their heroes. It's like a parody of itself."
Love them live: a full page illustrated live review in NME (4 January 2003) found The Datsuns in Italy with the heading: "Sexy Motherf**krs, Hard high and sweaty – Milan gets a large dose of rock 'n' roll Viagra – Datsuns style." Needless to say it was a positive review, one of many that would follow, that made limited sense with phrases such as, "What is it good for? The Datsuns are raw sex. Chopped liver, wearing suspenders, on Viagra. How can you not like The Datsuns?" The author Steven Wells also writes, "And eventually, even suspicious, seen-it-all before Milan succumbs inevitably, because it is hard to keep a straight face while your brains are being sucked out through your cock/c*** (delete as appropriate)."
In the same issue was "NME's A-Z of 2003" and "A" was for Ayers Rock. The magazine explained that "2002 was the year the the Ayers Rock Revolution roared into life, The Vines, The Datsuns and D4 all proved that there was a riotous and vibrant rock and roll culture alive and well in the Antipodes." (4 January 2003)
Back in the South Pacific, The Datsuns crossed the Tasman to play gigs in Sydney (18 January) and Melbourne (19 January) with Wellington's next big thing – Two Lane Black Top – the group that had Pip Brown, aka Ladyhawke, on guitar, during her Angus Young phase.
The Datsuns had their second NME cover with the 25 January 2003 issue, coinciding with their playing the NME Awards Tour with Interpol, the Polyphonic Spree and the Thrills. The first concert was Dublin on 24 January, then Glasgow 26 January. In between those two dates The Datsuns were the main support for Supergrass at the Wembley Arena, 24 January.
The NME Awards Tour then did 10 dates in England plus one university gig in Cardiff, Wales. The final sold-out date was London on 9 February at the Astoria. On the NME tour, The Datsuns were pictured backstage with John Paul Jones of Led Zeppelin.
At the NME Awards The Datsuns won the reader-voted Best Live Band. In NME (22 February 2003) he said, "We're really happy we won this award as it means more to us than any other award, because that's what we're about – being a live band." That year The Libertines won Best New Band and The Vines won Best Single with 'Get Free'.
The Datsuns recorded a second appearance on the BBC TV show Top Of The Pops for 'Harmonic Generator' but as the single did not enter the charts high enough, the performance was not screened. The single entered the chart at No.33 (22 February 2003), staying on the chart one more week at No.66. However, backstage at Top Of The Pops the band were presented with silver records for 60,000 sales of their self-titled debut album in the UK. By mid-2016 this album was only a few hundred units below gold status in the UK, 100,000 units.
En route to SXSW in Austin, Texas, The Datsuns visited New York to be musical guests on the Conan O'Brien late night chat show on 11 March 11 2003.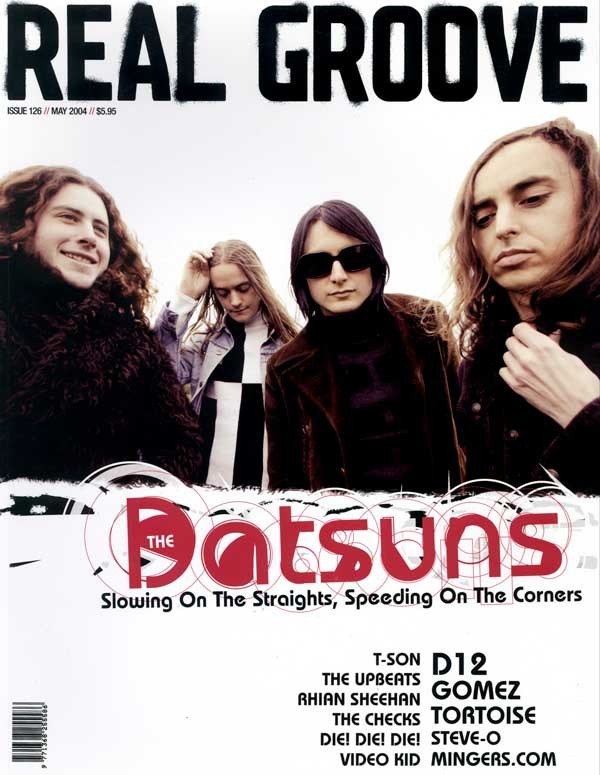 Maximum SXSW
The Datsuns and the D4 were buzz bands for South By Southwest (SXSW) – bands everyone wanted to see. The Datsuns were even one of the bands featured on the cover of the SXSW January promo mail-out. The annual SXSW conference took place 12 to 16 March and 1,100 acts were showcased. Although not in attendance, I recall that every American friend I knew was raving about the SXSW performances by The Datsuns and The D4.
In USA Rolling Stone magazine (17 April 2003), senior writer and long-time fan of Australian and New Zealand music, David Fricke wrote: "The Datsuns … have another seventies on the brain: Thin Lizzy, AC/DC (the Bon Scott edition) and early Motorhead. It's ancient text, but on this night The Datsuns recited it with maximum sincerity. Bassist Dolf bawled himself hoarse, his eyes bugged out of his head for emphasis. While guitarists Christian and Phil ran through the whole manual of axe-hero poses. The Datsuns play rock & roll as old as the hills, but they do it like they discovered it yesterday."
Melinda Newman wrote about "the acts I enjoyed seeing the most" in USA industry bible Billboard: "The Datsuns: This band delivers a full-frontal that clears the sinuses. Lead singer Dolf Datsun could develop into a world-class singer with a howl worthy of the early days of Roger Daltrey. For once the hype is not a disappointment. Before a packed audience of several hundred people, the Datsuns delivered the kind of rock 'n' roll that made it impossible to concentrate on anything but the music. Thank God."
In a brief report on SXSW, half of Chris Riemenschneider's story in the LA Times (17 March 2003) was about the 2Ds: "But many of the acts that generated the most buzz … came from outside the country – starting with New Zealand garage-rock groups the D4 and the Datsuns. Each played a raw, unpolished style in the vein of the White Stripes and Strokes, but their music's added urgency and grit seemed well suited for SXSW, where sweat, egos and booze traditionally mix during the fast-paced affair, which ended Sunday."
The NME was at SXSW and with their typical "love 'em and leave 'em" manner they had nothing nice to say about The Datsuns or The D4. But when 1,100 bands play an event, just getting a put-down is an achievement. The D4 set was described as "passable" and The Datsuns garnered "well, erm, once you've seen them once …" (NME 29 March 2003)
When praise was heaped on The Datsuns in the pages of NME ­– from day one, the band were very weary of the fickle and fashion-conscious music media – speaking of the subject to journalists and committing it to tape. Christian Livingstone told Real Groove (November 2006): "There is an inevitable backlash because of the hype. It is ironic that none of the English press realised we wrote 'You Build Me Up To Bring Me Down' on the first album about that exact thing. We were aware that the carpet could be pulled by the music press at anytime."
Reflecting on SXSW, NZ Music Industry Commission Executive Director Cath Andersen told this writer, "The Datsuns are a done deal there. It is a foregone conclusion that they are going to be big. They had over 1,500 people at their show."
A few weeks before SXSW, expat Brent Hansen (CEO MTV Europe) was in Auckland as a guest of British Council of NZ, speaking at the 2003 Resonate Seminar (26 to 28 February). He warned against New Zealanders thinking they can turn up in London and that things will just happen for them. He said, "You cannot expect to succeed on major foreign media, unless you immerse yourself in that market. Pitching from the outside, it will be very, very difficult to get in. The Datsuns and D4 scenario is what you should look for. Going to a market and attempting to be a part of that market."
When Brent Hansen was shown The Datsuns' 'Super Gyration' video at Resonate, he commented: "I think these guys are great. Retro but palatable and refreshing for our MTV2 guys. They came out of nowhere. I like it a lot."
After SXSW many of the New Zealand acts also visited Toronto. Playing Lee's Palace were Goodshirt (24 March), The Datsuns (27 March) and D4 (1 April). Evermore also showcased at Horseshoe Tavern (25 March).
Four NZ Music Awards
The NZ Music Awards took place on 30 April 30 2003. "We were on tour in Australia," recalls Dolf. "That was our one day off in months. We were on the other side of Australia. They said, 'you have to come'. We could read between the lines." The Datsuns made it to Auckland for a 13-hour stopover to collect some awards booty. They won four awards: Best Group, Best Album, Breakthrough Artist and Outstanding International Achievement.
The Datsuns played on the Jimmy Kimmel TV late night chat show on 2 June 2003 in Hollywood.
In NME (14 June 2003) Lars Ulrich was asked what contemporary acts get his "sap rising"? First he declares his fan boy status for The White Stripes, then says: "I also love the Datsuns – they showed up on my radar about a year ago." Ulrich noted that he'd tried to take The Datsuns out on tour with Metallica but "schedule-wise it hasn't worked out yet."
On Saturday 12 July 2003, The Datsuns played the "T In The Park" Festival (Scotland's biggest Birthday Party) in the King Tut's Tent, billed directly under The Flaming Lips and Tricky.
Passing through New York mid-July, the band played the Village Voice indie style Siren Music Festival at Coney Island with Modest Mouse, Hot Hot Heat and Sweden's Sahara Hotnights.
--