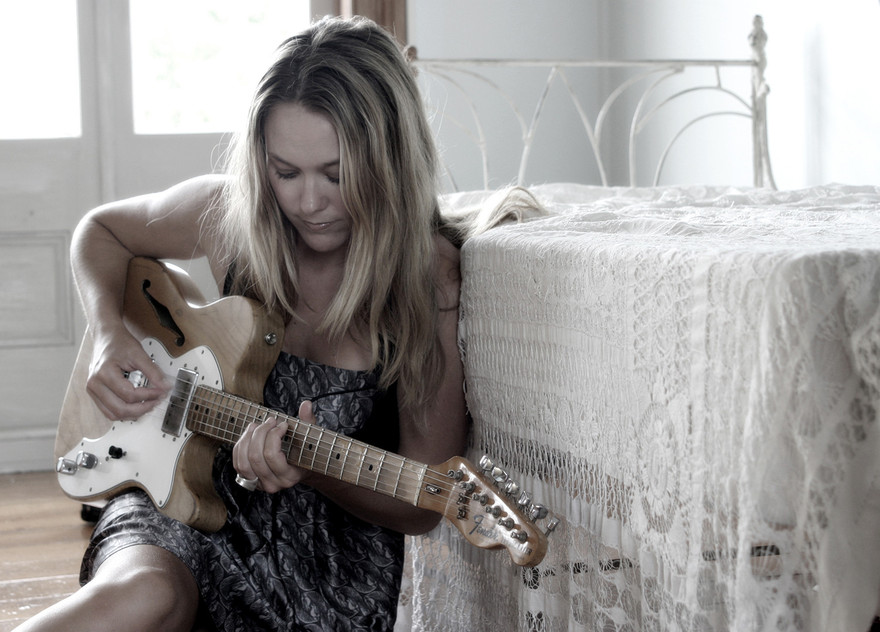 Body and Soul – Jenny Morris
For my 11th birthday, my parents gave me a blue Sony Walkman and my best friend gave me a copy of Jenny Morris's newly released album of Body and Soul. The title track was the soundtrack to my many solo contemplative walks around New Plymouth where I planned a musical future as a songwriter. Jenny Morris, being Kiwi and female, was the ultimate role model for my younger self. I worked out the guitar parts for Body and Soul and practiced for hours on my own in my room but was never confident enough to perform it in front of others.
Missing Presumed Drowned – Straitjacket Fits
Same Walkman but a few years later, I was walking around town as a brooding teenager planning my escape from small-town New Zealand to the soundtrack of Straitjacket Fits. Shayne Carter's guitar playing has always interested me as he is innovative and uncliched. I was never a fan of the power-chord driven grunge rock my 90s peers were captivated by and I was bombarded by Led Zeppelin guitar riffs in the school music room (I've since grown an appreciation for both). Straitjacket Fits seemed truly original and appealed to my desire to carve out new paths. Defining and emotive, I have sung along with 'Missing Presumed Drowned' at loud volumes, but as I have never seen a lyric sheet, I'm certain I've got most of the words wrong.
AFFCO – Skeptics
A fierce vegan at age 14, I couldn't actually watch the video for this song because it made me so queasy. I grew up in the heart of a dairy region and I felt angry about the mistreatment of animals and the impact of farming on our environment. I felt validated by this track knowing that others were on my wavelength. Overdriven bass, mechanical loops and mildly hysterical vocals add a heightened urgency to the production that (I can only imagine) perfectly sums up the ambience of an abattoir.
Hunnybee – Unknown Mortal Orchestra
What I love most is that 'Hunnybee' makes me want to play the guitar, makes me want to sit for hours just playing the same riff over and over. The distorted, haunting piano and sanguine bass give way to breathy vocals. Perfectly executed, restrained playing adds a naïve intimacy to the song. Light and dark layers combine in this track to make the character of a literally bittersweet pop song.
Drum/Sing (pt3) – From Scratch
My aunt was a friend of Phil Dadson and gave us this album for Christmas one year. While listening to the record I would study the cover imagery that featured a photograph of the large PVC pipes-turned instrument. The fact that industrial materials could be repurposed as an instrument seemed like crazed alchemy. The great revelation I took from all this was that music didn't have to be restricted to tradition. Sonically Drums/Sing is compelling, the pipes have their own intrinsic electronic slap delay that is both melodic and percussive, while the bell-like sustain of the xylophone is melodic and haunting.
Without a Doubt – Che Fu
In the late 90s, I moved from Dunedin to Auckland. I had been in Dunedin writing songs by an electric bar heater for the most part of a year so the album 2b S.Pacific was the ultimate antidote to the dark, introspective music of the south. 'Without a Doubt' made it to No.1. Here was a song in the New Zealand mainstream that was directly addressing what was happening in New Zealand, and it was exciting. Che Fu opened a door for New Zealand artists attempting to get airplay but he challenged us to be honest while doing so.
Blindman's Bend – Dave Dobbyn
Entirely hypnotic, 'Blindman's Bend' brings Bethells Valley, Te Henga to life – in song form. I stayed in Bethells Valley, West Auckland, on and off for a decade, pulled back year after year by the potent, otherworldly character of the dense bush valley and wetlands. The moment you turn onto the narrow winding road that leads to the coast, the static of Auckland City is silenced by lush native bush. 'Blindman's Bend' evokes the sense of being in that valley through lyric and music, with the skill of a master songwriter. I've been privileged to play the song with Dave Dobbyn as a member of his band for a number of years and each time find something new and engaging.
Richard – Nadia Reid
This song lures you in by cleverly telling a familiar story, one of love lost or love unrequited, but with the craft of a seasoned poet Nadia makes me I feel like I know Richard – that I am the 'I' in her song. Chords play over, lyrics repeat, and inside that repetition, we familiarise deeper. The band production is an echo of something from decades past, nostalgic and comfortable. Nadia sings with a gentle authority, it's reassuring, it feels like she has been here writing and singing songs for eternity.
Citric Acid – Chris Knox
From the creepy, clicky mouth percussion, to the opening lines "There's something unusual that's oozing from your side I wonder should I suck it just to see?" this infectious and beguiling song with dark and sinister undertones is unexpectedly wonderful. The whole Croaker album was on high rotation during my teens. With lyrics that appealed to my misunderstood, angry tendencies ('Panic!') alongside beautiful catchy, melodic singalongs ('Lapse'). This album filled me with a desire to own a 4-track recorder so I could learn the art of building a song from nothing.
Let's Go Fishing – The Mots/Jol Mulholland
Jol Mulholland is one of my favourite musical collaborators of all time. I don't know a more fluent guitarist, highlighted by the effortless and natural, uncontrived but familiar playing on 'Let's Go Fishing'. The song lyrics are instantly nostalgic and throw reckless abandon in the face of grim life routine with an optimistic mantra, "let's go fishing, let's go dancing, let's keep singing." Jol probably played and recorded most of the parts himself so all the elements fit together seamlessly.
--
Songwriter/ singer/ guitarist Victoria Girling-Butcher has worked alongside New Zealand musicians from Brooke Fraser to Dave Dobbyn. She has released several critically acclaimed albums with Lucid 3 and as a solo artist, and has mentored young musicians from Pātea to Paris.