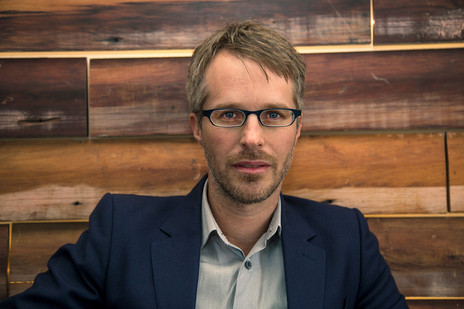 After completing his degree in composition from the University of Auckland, Godfrey De Grut received a RIANZ Jazz Album of the Year award for 1997's 'Came a Weird Way' with his band the New LoungeHead (sic) and also won the BFM inaugural Best Keyboardist award in 1998. Following extensive touring as lead alto saxophone with The Rodger Fox Big Band he joined and recorded music with Che Fu, co-writing the 2002 APRA Silver Scroll winning song, 'Misty Frequencies'. Godfrey lectures in popular music studies at the University of Auckland and contributes a regular column for New Zealand Musician called "X-factory".
Cheryl Moana Marie – John Rowles
For some reason the 'Cheryl Moana Marie' chorus in particular hits me hard in the musical solar plexus, every time I hear it. I hum it to myself regularly, probably weekly at least.
The song, released in 1970, is basically straight-out country with a loping swing beat and an "easy on the ear" primary chord backbone supporting one of the most soaring melodies you're likely to hear north of the '70s. The textures are all classic '60s, lush and rounded.
Expansive is a word that comes to mind when describing the giant leap that defines the eponymous title in the chorus. It's big and bold and evokes the grandeur usually reserved for an opera or a Stephen Sondheim musical.
The way John Rowles invariably lays back on the beat at the end of the phrase really sells the line for me, at that point he's basically in a rhythmic no man's land and the audience is willingly forced to hang on every syllable as any expectation of vocal rigidity falls by the wayside.
Not sure if you've ever noticed, but this song is all chorus. There is only one verse!
I See Red – Split Enz
This manic number from 1978 was probably the first New Zealand song I remember hearing as a lad. I distinctly remember my parents playing it on our record player and inviting me to dance to it constantly. 'I See Red' is etched in my brain because – while it is simple in its repetitive vocal hook – it has encouraged repeat listening all through my musical journey because of the fearless complexity in melodic phrasing and note choice, let alone the insane keyboarding of Eddie Rayner and sheer wild exuberance of Split Enz from start to finish.
It seems the song aims to explore a more unorthodox approach to standard arrangement techniques, like playing high bass guitar to double the vocals at verses and elevating avant-garde techniques during the bold discordant clumping of descending piano strikes at the start of the furiously angular keyboard solo.
I have performed it in multiple settings and also arranged it for large ensemble. To really strive for the heightened excitement of the original you really should start it fast (173bpm) and gradually speed up to a ludicrously fast 190bpm by the end of the song.
Rikki Morris – Nobody Else
When I first heard 'Nobody Else' back in 1988 I assumed that – like the Tex Pistol hit 'The Game of Love' the previous year – it was another '60s classic reworked with Simmons drums and DX-7s.
No mere Kiwi could compose such a monumental melody, thought 11-year-old Godfrey. Now I know Rikki Morris did 25 years ago, and 40-year-old Godfrey still thinks there is no better New Zealand song than this one.
It certainly helps that the lyrics are pure gold: "There's nobody else in my life", followed by the disarmingly Kiwi understatement "Nobody else comes within a country mile". The protagonist isn't talking about the whole world and everyone in it, just who matters most in his immediate geographic surroundings. Frank, honest and all the more believable and personal because of it.
If you can couple those heartfelt lyrics with a commanding melody breaching the octave divide with authority (not as gigantic as the 'Cheryl Moana Marie' major ninth ... but still awesome) by utilising bold leaps of 4ths, 5ths and 6ths, you've had a good day at the office. And it has an awesome sax solo!
Urbanism – Matt Penman
Young aspiring jazz musicians in Auckland would jump at every opportunity to watch the (slightly older) "Young Lions" Matt Penman (bass), Greg Touhey (guitar), Jason Jones (saxophone) and Tony Hopkins, elder statesman of the drums. As a way to raise money for studying overseas they recorded an album of their original compositions. It was proper jazz, no overdubs, full takes, and an irrepressible exuberance/cocksureness provided the main musical ingredients throughout.
Urbanism is both the title and opening track of that inspiringly honest and raw album from 1994. It's based on a playful bass-led riff juggling a four-note semiquaver motif outlining a series of perfect 4ths/5ths. There's a steady driving quarter-note side-stick drum pulse that lays context for the pitched instrument's pointed interjections. It all seems to be building up to some breakout bebop explosion but hipness prevails and the team plays it cool till the end.
Last Night – Nathan Haines
The very first thing you hear on Nathan Haines's groundbreaking 1995 debut album Shift Left is so confident in its spare simplicity it can't help but draw you in, wondering what is going to happen next. 'Last Night' combines rock-steady drum patterns (courtesy of Micky Ututonga) with harmonically opaque hard-synced tremolo Rhodes (Kevin Field). Impeccably layered vinyl scratching (by Manuel Bundy) is the next gear change up, alongside Richard Hammond's sly bass lines shifting the context of the preceding harmony and skewering what had been major chords for more colourful suspensions. Rhythmically the listener is tricked into hearing more urgency in the band's syncopations by a confounding tremolo displacement in the Rhodes. The sax doesn't even enter the scene till three minutes in. Judiciously controlled lines flow from Nathan's tenor in an unnervingly restrained manner. It wasn't the usual jazz I had heard, it seemed primarily focused with creating an ensemble groove rather than having each instrumentalist simply taking turns trying to outdo one another while improvising. The vinyl scratching probably dates the sound of this record but hey, I regard it as absolutely timeless.
The Spice Islands – Goldenhorse
It's still bizarre to me how Goldenhorse opens this song, released as part of their 2002 debut album Riverhead, with an ominous 6/8 distorted guitar riff (complete with what sounds like ancient war drums) before successfully propelling the listener so securely into its antithesis, a completely uplifting shift to acoustic guitar and tambourine. Byrds-esque, this second introduction sets the tone for Kirsten Morrell's golden vocal phrasing, coordinated expertly with wide arcs of a shimmering string section. Inevitably, in typical Goldenhorse fashion, the musical tables are turned again with an abrupt shift back to the earlier harmonic minor guitar "riffage" (harmonised like any pungent heavy metal song should aspire to). Hearing this song made me rethink musical boundaries, and I came to the conclusion that Goldenhorse had realised that there really shouldn't be any. Though the song is wild on so many musical levels, like all Goldenhorse recordings it never loses touch with the craft and design of a good pop song. It never over-reaches into musical spectacle or pastiche, rather it is perfectly analytical and calculating in its intent.
Get Some Sleep – Bic Runga
Everyone had been waiting years to hear what new music Bic Runga was going to deliver after the success of her 1997 debut album Drive.
'Get Some Sleep', released in 2002, was everything I could have dreamed of experiencing, and more. The song itself is a dreamy reflection on enforced momentum, the stanzas run on intentionally, capturing glimpses of that autonomous rambling that exhaustion often fosters. Yet the tale isn't all glum, there's a weary capitulation, even a sly wink to the listener that all this running around is actually worth it, a once in a lifetime experience you can't deny. Overall, I feel the performance owes its brilliance to a timelessly wholesome production aesthetic. Laconic lead vocals front a never too busy, never too mundane loping bass line. Reverb-drenched CSN backing vocals and acoustic guitar strums remain easily tethered above the best LA folk-pop drums money could buy, and the necessary tambourines are balanced at all times with just enough biting chime and active rhythm. Detractors claimed "easy listening" but this album was worth waiting for and remains my favorite Bic Runga composition to this day, basically because of its attention to perfection at every level.
The Spirit Racing The Mind – Hollie Smith and Mara TK
I'd heard Hollie Smith in a great many different ensembles performing a wide range of songs over the years but it wasn't until I heard 'The Spirit Racing The Mind' in 2011 that I thought she'd found a perfect vehicle for her passionate and distinctive storytelling gifts. Hollie can easily convey a lot of emotional information into a single sung vowel, but here the obvious vocal payoffs are more artfully communicated, biding their time while supported by the brilliantly spliced organic sound bites of Mara TK's production sensibilities. The listener is folded up into a seemingly upside down world where glitches and drum loops morph into melodies while Hollie's yearning vocals often switch up into the underlying rhythmic groove. Both act together seamlessly to propel the story forward, never overplay the poignancy card but instead remain slightly aloof, never dramatic, just very focused on building a cohesive sound world. I had this CD in my car on constant repeat for a month trying to figure out how they put it all together.
Multi-Love – Unknown Mortal Orchestra
'Multi-Love' (2015) is a mind-blowingly perfect construction from UMO that deservedly won the 50th Annual APRA Silver Scroll Award (of which my wife and I were fortunate to artistic direct). As a song it spans multiple layers of musical and lyrical (narrative) tension pushing and pulling the listener through a veritable Willy Wonka factory of sonic sweetness. I immediately gravitated towards how exciting it was for UMO to intentionally thwart a straightforward definition of a conventional rock groove. The opening six beat harmonic rhythm, which when coupled by a very UMO trait of stressing unimportant syllables, sets up a degree of tension, eerily reinforced by the developing storyline, fragmented though it is. As a listener, this tension drives me forward in each stanza until the release at a final perfect cadence leading into a more obvious common time groove. Perfect crafting. That the underlying saga of a doomed ménage à trois has been so candidly (and artfully) woven into what is ostensibly a funky 3:30 pop tune belies the song's true nature as a bittersweet and deeply cautionary modern fable, rendered beautifully in song.
One Question – Yoko-Zuna and Laughton Kora
I popped my head in on some students rehearsing at University of Auckland one afternoon in 2016 because what I'd heard through the wall outside didn't sound like my pop students or the jazz students with whom we share our music school with. Turns out it was the jazzers embracing their inner desire to be pop stars.
The band Yoko-Zuna create joyful hybrids, never satisfied with any particular status quo they blend and twist everything into a powerful, beat-driven kaleidoscope of jazz-usion chords and rocky punched-up vocals. Here, they gave a bed of music to Laughton Kora (of the Kora brothers) to write a hook over and (it must have been a good day in the office because) they eventually recorded what became my favourite track of 2016. It first hooks you in with a bouncy synth bass phrased in the irregular time signature of 7/4 but by the time the beat is established we are somehow in common (dance) time, though the band plays off the obvious security of 4/4 and delivers some staggeringly audacious semiquaver syncopation by displacing obvious down beats to "more inspired" points within the phrase. Laughton's rock vocals stack seamlessly on top, effortlessly soaring over the rhythmic fracas in the rhythm section below.
Godfrey De Grut tells RNZ's Jessie Mulligan how to write a pop song