Long before Dragon's Paul Hewson wrote some of Australia's biggest pop anthems of the late 1970s, he was a teenage songwriter in a band that sprang from the Mormon Church to the Auckland nightclub scene, without reaching its full potential.
Armed with a cocky self-assurance, a sarcastic sense of humour and a flamboyant dress sense, the charismatic pianist then wrote songs for a band of New Zealand pop veterans before meeting and joining Dragon on the very eve of their move across the Tasman.
Early steps
Paul Richard Hewson was born on October 25, 1952, the second son of Jack and Dorothy Hewson, of 7 Mitchell Street, Blockhouse Bay. The family joined the Church of Jesus Christ of Latter-day Saints, commonly referred to as the Mormon Church, in 1956 before adopting two baby girls.
Like big brother John before him, 11-year-old Paul attended classical piano lessons with the elderly Mrs Potter for about a year but gave it up because it was "too restrictive". However, his first foray on the stage was as part of a comedy duo with his best mate Kevin Walden.
The pair had been practically inseparable since being brought together by Blockhouse Bay School teacher Mr Clague, who had noticed the two boys languishing near the bottom of his standard two class and told them if their work improved they could spend every school afternoon making models and art.
It was an offer they couldn't refuse and they soon rose to the top of the class and had the room plastered with art. Theirs was a friendship based on healthy rivalry in any pursuit, be it juggling, Indian arm wrestling, ping-pong, chess, cross-country running or rugby league – Paul was a forward and Kevin a five-eighth in Blockhouse Bay Rugby League Club junior teams.
The boys came up with a comedy act for a Blockhouse Bay Intermediate School talent quest. As they readied themselves to take the stage, Mr Ball asked what the name of the act was. "We haven't got a name," the boys chimed. "Well, you look like a couple of peanuts. We'll call you The Peanuts."
They won top prize and were in high demand, given to impromptu performances around the school and at local kindergartens, primary schools and old people's homes. The pressure was on to repeat the feat in their second year at intermediate, which they did.
It wasn't long before Paul took the instrument, tuned it, copied the fingering and had it humming.
When he was 11, it was discovered that Paul had been born with a prominent curvature of the thoracic spine, or scoliosis, a hereditary condition. No medication was prescribed and the doctor felt it was slight enough to not cause any future grief.
By the time the Hewson brothers hit double figures they were beginning to question the teachings of the Mormon Church. By their very attendance they had been conferred the Aaronic priesthood, a natural progression for boys their age, but were more interested in the church social scene – the Mutual Improvement Association.
John Hewson got a guitar for his 13th birthday and took it straight to the church hall to grab some tips from the Williams sisters and their brother Rangi, who played guitars and ukuleles and sang in harmony. John struggled with the new chords and it wasn't long before Paul took the instrument, tuned it, copied the fingering and had it humming.
After school Paul would turn up in his Lynfield College uniform at the Sam Harvey Animations studio in Mountain Road to watch Dick Frizzell at work. While Frizzell was creating TV commercials for the likes of Tip-Top, Paul would work on his own cartoons and animation.
By 1966, it was music that had the Hewson brothers captivated. When Paneta Semu turned up at the church hall with a guitar it was decided the boys should form a band. Paul was the most proficient so he would be the guitar player, John would play the bass, Paneta would give the drums a go and Rangi Williams would play the organ and sing.
Enter The Gargoyles
An Ekosonic organ, amps, drums and other equipment were purchased by the ever-supportive Jack and Dorothy Hewson and the newly christened Gargoyles, a name conjured up by Paul, began rehearsing at the Croydon Road chapel – until neighbours complained about the noise and they switched to the Hewson home in Mitchell Street.
With a repertoire of La De Da's, Cream and Spencer Davis Group numbers, The Gargoyles started playing at church dances, where they were encouraged to turn the volume down and the lights up. But they broke out, even getting as far south as Taupo on one occasion.
A shared love of Bob Dylan and Tom Rush had Paul and Paneta taking their guitars to the Poles Apart Folk Club in Newmarket or the Titirangi Folk Club, but Paneta's limitations as a drummer brought about his demise in the band. But not before another church member, David Pou, had come on board as lead guitarist and Paul had renamed the group The Marble Arch.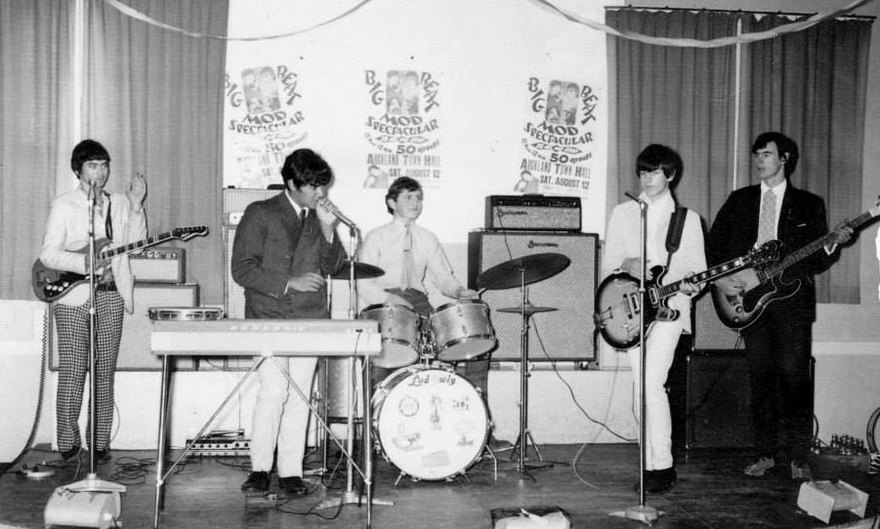 Courtney Chapman and the experienced and confident Peter Grattan, fresh from Whangarei, had brief stints on the drums but the band folded when Grattan quit and Paul was courted by Henderson band The Plague. The Plague wanted him on organ but Paul told them he would only join if his brother could come along on bass, so they promptly sacked their bass guitarist.
All the trimmings of being in a pop band were starting to clash with the expectations of the Mormon Church.
No sooner had Paul joined and he renamed The Plague to The Marble Arch. It was this line-up of the Hewsons, guitarist Rob Maginley, singer Martin Round and drummer Ken Thomas that booked in for a half-hour recording session at Eldred Stebbing's basement studio, cutting Jimi Hendrix's 'Purple Haze' and The Young Rascals' 'I Ain't Gonna Eat Out My Heart Anymore' and 'Baby, Let's Wait'.
The new Marble Arch began picking up spots at The Galaxie, The Platterack and the Bo Peep (where manager Dave Henderson told a 14-year-old Paul Hewson not to wear his Lynfield College jumper to gigs), but Martin Round was swiftly dispatched to make way for the return of the soulful Rangi Williams.
All the trimmings of being in a pop band were starting to clash with the expectations of the Mormon Church. When the bishops and elders suggested the Hewson boys get their hair cut, their father pointed out the picture on the wall of a long-haired Jesus Christ and the hair remained.
Paul did his best to adhere to his faith but John was beginning to waver. After one particular gig, he tried to encourage his brother to come with him to a girl's place for a few drinks. Paul refused and caught the bus home.
By the age of 15 Paul Hewson was serious about writing songs. His father took him to a friend who had a reel-to-reel tape recorder and a microphone. Paul sat down and rattled off at least 10 of his own songs, accompanying himself on piano for the likes of 'Had To Climb a Mountain' and 'My Danny Boy', and finger-picking his guitar for 'Cathy' and 'The Ballad of John Mays'.
None of his songs were yet appropriate for The Marble Arch, who, with the versatile Rangi Williams, were now mixing Hendrix and The Doors with Otis Redding and Wilson Pickett. For the 1967 Battle of the Bands at the Auckland Town Hall, Paul faded into the background on rhythm guitar as Rangi ripped out a note perfect vocal and organ solo on Procol Harum's 'A Whiter Shade of Pale'.
For John Hewson, life in a pop band was never a long-term prospect. His days of labouring over a bass part only to have Paul swan in and show him how to play it properly in minutes were numbered. He'd seen enough of the nightclub scene – the exploitation of young female fans and its burgeoning drug culture – to know it wasn't for him.
When he bowed out, The Marble Arch was put on hold. Guitarist Rob Maginley and drummer Ken Thomas ended up in a band called The Dream with bass guitarist Chris "Noddy" Dawson. The Dream played at The Bo Peep and The Galaxie but never had a committed singer until they enticed Rangi and Paul back and renamed themselves The Marble Arch and then simply The Arch.
Seven nights a week
The Arch were after someone who could "drum really fast" and recruited Ray Archer after an audition at the Hewson home. He had been blown away by The Marble Arch at the previous Battle of the Bands and was surprised to find Rangi was not the regular organist.
This was the line-up that began making waves on the Auckland scene – Paul Hewson wailing away on an Ekosonic, Rob Maginley with that warm overdrive guitar sound just like Cream, Rangi Williams equally as adept at Otis Redding or a power ballad like The Turtles' 'Elenore', and the tight bottom end of Noddy Dawson and Ray Archer.
They began working six nights a week at the likes of The Galaxie and The Bo Peep but were unable to play the Sunday showcase at the former because of Paul and Rangi's Mormon faith and its forbidding of non-church activities on that day, not to mention drugs and alcohol or even coffee and tea.
Paul finally relented, Rangi followed, and The Arch began working seven nights. Paul discovered alcohol but was against any kind of drugs, and he lost his virginity to a stripper he met at The Bo Peep. The young lady ended any thought of a lasting relationship when she discovered he was only 15.
Sometimes after gigs, Paul would meet up with other musicians, often above The Montmartre, and play the songs he was writing.
The band moved to The Forum in Takapuna where Ross Foster started booking them out of town in Otorohanga, Rotorua and Rawene, often with Happen Inn TV star Dick Roberts or Larry Casey as guest singer. Foster was the driver/road manager and the brunt of the boys' practical jokes, which on one trip included setting his hair alight while he was driving. They eventually got sacked from The Forum for drinking onstage.
Sometimes after gigs, Paul would meet up with other musicians, often above The Montmartre, and play the songs he was writing. He had books of songs and would pull bits out and start playing, trying different tempos and riffs and bouncing ideas off whoever was there.
In March 1969, Paul returned to Eldred Stebbing's basement studio with a more confident Arch, this time laying down The Turtles' 'Elenore', Deep Purple's take on 'Kentucky Woman' and Otis Redding's 'Your One and Only Man' and 'I've Been Loving You Too Long'. Stebbing was impressed and wanted to record a single.
For Paul there would be no insipid remake of the latest overseas hit, he was determined both sides would be his. When the band next entered Stebbing's basement it was with Paul's 'Sit By Your Window' – a song in the vein of The Left Banke's 'Walk Away Renee' – and 'Dear Madeleine', which Paul himself sung. But the recordings were unfinished.
By now a Ray Manzarek and The Doors fan, Paul was rapt when The Arch got a run of gigs at the interval of the Doors 1970 movie Feast of Friends at a cinema in Remuera. They got to watch the movie 11 times, but Paul was disdainful of Jim Morrison's drug-fuelled antics.
Paul's father built a wooden frame for his Ekosonic organ, which made it look like a Hammond, and a faux Leslie speaker unit that would sometimes keep whirring after Paul had turned it off. He'd have to leap up and whack it with his fist to stop it.
After a well-received Doors-heavy set at the Redwood 70 festival in Swanson, The Arch were getting more and more work, including spots at Aubrey's and The Oriental, but when Ray Archer decided to quit, the band called it a day.
Paul met blues guitarist Henry Jackson, late of Killing Floor, who was awed by the considerable sheaf of songs Paul had written. The pair began rehearsing a horns-driven band with Killing Floor vocalist Alan Hunter but when he took off quite early on, Paul decided he needed to make some money and returned to … The Arch.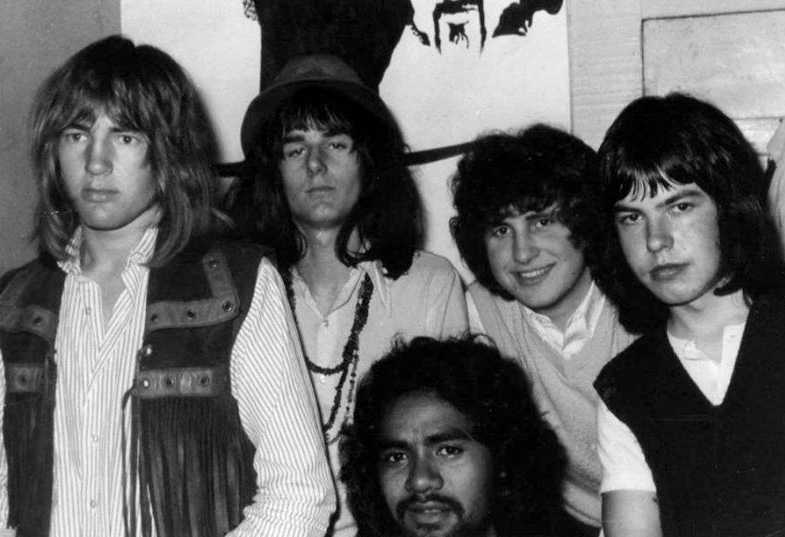 Soon after The Arch had folded, former Marble Arch drummer Peter Grattan, who had been recording with guitar superstar Peter Posa, phoned Noddy Dawson and suggested the two of them, Rangi Williams and Rob Maginley resurrect The Arch. Their hope was that Paul Hewson would rejoin. He did.
Grattan, a former stock controller at Pye/RCA/MCA Records, also had the ear of Eldred Stebbing. He convinced Stebbing to finish the recordings from a year previous, and 100 copies of the string-laden 'Sit By Your Window' b/w 'Dear Madeleine' were released on Zodiac, although The Arch never again performed the songs.
Though he'd reunited the band and had their single released, a lucrative offer to join Peter Posa in Australia was too good to refuse and Grattan was off again. Rangi Williams became their singing drummer for a time.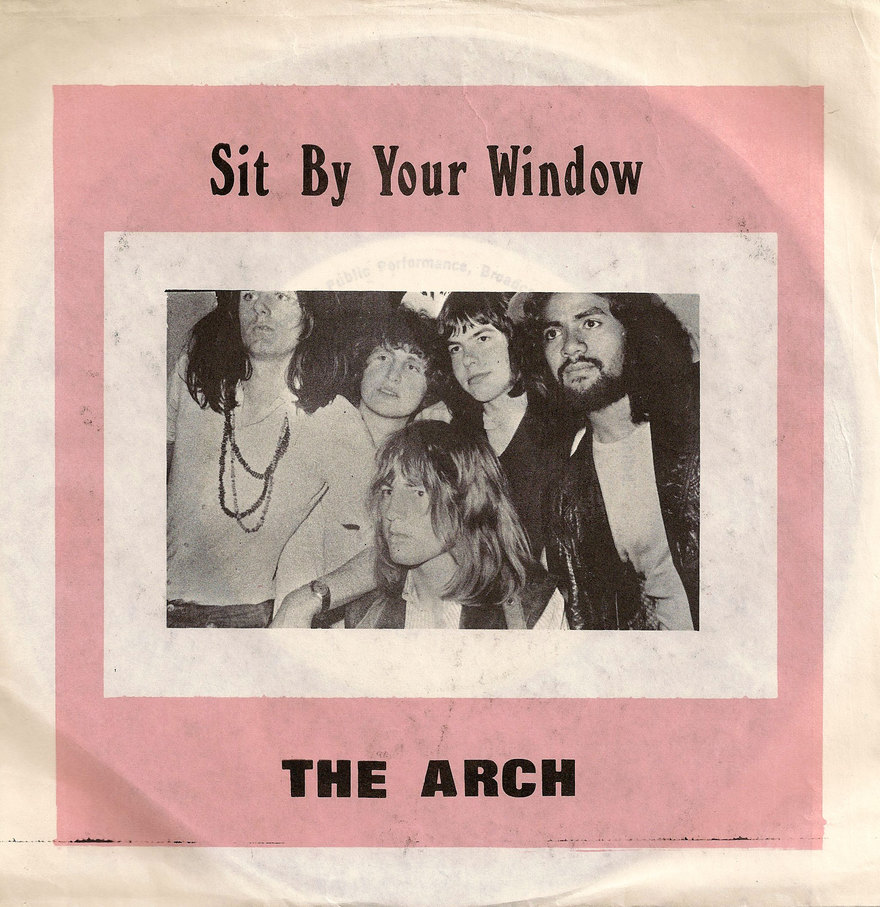 Freedom Express
Early in 1971, The Arch renamed themselves Freedom Express to coincide with a residency at Aubrey's. Dennis Ryan had a stint on the drums before Rob Noad took over.
Rangi approached Pye A&R man Rhys Walker with a view to recording a Freedom Express single. Although Walker found Paul quite disparaging about the establishment – Walker and Pye included – and thought his attitude and sullen behaviour would be a hindrance to any success, he was taken with Rangi's singing and thought the band had something.
Despite Paul's insistence he only wanted to put out original music, they recorded Little Richard's 'Freedom Blues' b/w 'Troubles', written by Paul and Rangi and influenced by Nina Simone. Walker produced the tracks, which were released on RCA, as was Pye's wont with local product.
By now Paul Hewson had turned his back on the Mormon faith and was drinking alcohol or sometimes cough mixture, smoking marijuana and meeting girls. When asked why he had left the teachings of the Church behind, he would joke that he'd "seen the light". One Sunday afternoon most of the band turned up to play at Aubrey's, tripping on LSD.
Paul's long hair was still getting him in trouble. One night during a break at Aubrey's, he wandered outside to Federal Street for some air where someone took offence to his appearance and punched him in the face. Rob Maginley and Rangi Williams chased the assailant off and when Paul reappeared on stage he proudly displayed the blood on his face and shirt like a badge, making no attempt to clean himself up.
He was now heavily into The Band and had even passed over his Ekosonic organ for a Lowrey like Garth Hudson's.
In truth, Paul was growing tired of the current pop music expected at Aubrey's and wanted to play something more interesting. He was now heavily into The Band and had even passed over his Ekosonic organ for a Lowrey like Garth Hudson's. Paul was well known for saying, "I'd die on the cross for Garth Hudson."
When Dennis Ryan had a stint with Freedom Express, Paul struck up a friendship with the drummer and his younger half-brother guitarist Grant Ryan. The three shared the same musical tastes and for a time Paul and Grant thought they had found the secret to life in Harold Waldwin Percival's book Thinking and Destiny.
Cinnamon House
It came as no surprise when Paul left Freedom Express to form a new band with the Ryans and bass guitarist Greg Dineen. Naming themselves Cinnamon House (originally Synanon House after the drug rehab centre in Santa Monica) they worked up a repertoire of The Band, Vanilla Fudge, Rhinoceros and Buddy Miles, with everyone but Dennis sharing the vocal duties.
They played at The Tabla and did some spots at Aubrey's but ended up solely at Molly Hatchett's because Paul's Lowrey organ was too heavy to move between gigs. Greg Dineen didn't last long and was replaced by Noddy Dawson from Freedom Express. It took about two months for him to see Cinnamon House was going nowhere and he returned to Freedom Express.
Cinnamon House just petered out, but a new influence had entered Paul's life in the form of an eccentric 20-something jazz bassist called Denny Boreham. Grant Ryan was living in the downstairs flat of a big house in London Street, St Mary's Bay – owned by Molly Hatchett's club owner Don Lylian – when one day he heard some very loud Frank Zappa emanating from the storey above, the home of Lylian's ex-wife Jocelyn.
When Grant was invited up he was introduced to Denny and started gushing about the Hot Rats LP on the turntable. "Man, he's just playing the pentatonic scale," Denny replied before explaining the theory behind each track as the record played on.
Grant introduced Paul to Denny and the pair would visit Denny's home together or individually and talk for hours about different chord voicings, harmonies and the correct grammar of music. Denny played them Charlie Parker and Miles Davis while the boys turned him onto James Brown.
The songs Paul was writing impressed Denny and he would often suggest ways to embellish the chords. Paul would play his newest composition and Denny would fire back, "Look, even cavemen could express themselves. That's good, but if you use these augmented chords it would sound better."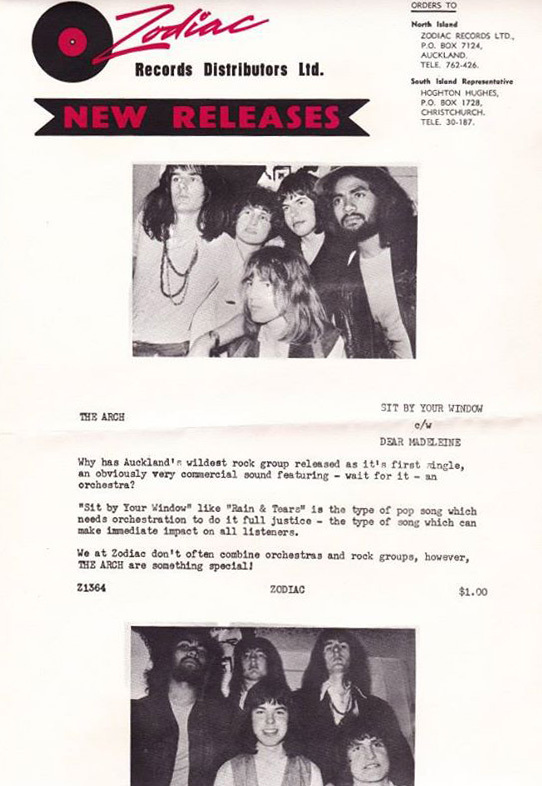 After Denny swapped his double bass for a Fender Precision, they pulled in Dennis Ryan and a singer in the Joe Cocker vein by the name of Paul Hartland and started rehearsing, although nothing came of it. Hartland, Dennis Ryan and bass guitarist Paul Woolright had all been in The Entry, a contemporary band of The Marble Arch.
One on the way
Big changes were in store for Paul Hewson at the end of 1971 when he started going out with Angelique van den Berg. They had known each other since they were children at the Mormon Church and their families would go on picnics or congregate around the Hewsons' TV – the first in Mitchell Street in 1961.
Paul and Angelique would innocently listen to Doors and Bee Gees records at the Hewson home and it wasn't until she started going out with art student Martin Ball that Paul decided he was interested in her. The pair got together and it wasn't long before Angelique fell pregnant.
Her parents were horrified and, as was the common reaction of the time, demanded they get married. So on March 13, 1972, at a registry office in Queen Street, Paul Hewson and Angelique van den Berg were wed before enjoying a celebratory drink at The Occidental and catching the bus to the van den Bergs' for chicken pie.
Newly married and with a baby on the way, Paul needed some cash coming in and asked to rejoin Freedom Express, who had remained as a four piece. Noddy Dawson was all for it but Rob Maginley and Rangi Williams had become estranged from their old mate and voted against bringing him back in.
What further incensed Paul was that shortly afterwards, Rangi sacked Noddy and added Billy Williams on bass, who brought along keyboards player Paddy Gibbons. This version of Freedom Express ended up moving to Christchurch before disbanding.
When Rob Maginley arrived back in Auckland he formed a new Freedom Express with Paul Hartland on vocals, Dennis Ryan on drums and Greg Dineen on bass. They shared a residency at Levi's Saloon with a prog rock band called Dragon before inviting Paul Hewson to return for a residency at The Do-Re-Mi.
Paul and Angelique got a little place in St Lukes, Auckland, and in August, 1972, Angelique gave birth to a son, Daniel. Paul Hartland got Paul a job sewing possum skins at the furrier company John West & Co in Emily Place. Whenever Paul dragged his guitar out at lunchtime, the boss would wander by, "You're flogging a dead horse. You'll never amount to nothing."
That turned out to be true in the case of Freedom Express, which collapsed the following year when Rob Maginley fell foul of the law and went to prison. For Paul it meant finding another musical outlet fast and he knew just where to look.
Cruise Lane
Former Underdogs singer Murray Grindlay and one-time Layabout Mike Wilson were working as a duo at Embers while writing jingles by day. Word was out that they were putting a band together and Paul came calling. "I can play, man. I can really play," he cajoled the pair. After a couple of jam sessions it was evident he could and he was in. His rendition of Bob Dylan's 'Oxford Town' on an old Yamaha guitar was enough for Murray.
They resurrected the Cruise Lane name – a band that had seen many members pass through over just a couple of years, including Murray and Mike – and rounded out the line-up with former La De Da's drummer Brett Neilsen and guitarist Red McKelvie, who was just back from Australia where he had recorded an album with The Flying Circus and singles under his own name.
Almost immediately, Cruise Lane started inserting Paul Hewson's Band-like songs into their JJ Cale and Jerry Jeff Walker-heavy repertoire. They demoed three of them – 'Just Like the Bible Said', 'Life Has Just Begun' and 'That Rock'n'Roll' – at Stebbings with former Invader and Meteor Dave Russell producing.
The two men came at Murray and Mike, one of them wearing the end of Mike's Fender Precision in the face.
But before a single could be completed, the band screeched to a halt after a fight with two drunken gang members at their De Bretts Hotel residency. The two men wanted "one more song" after the band had finished for the night and wouldn't take no for an answer. Paul, Red and Brett ducked for cover while the two men came at Murray and Mike, one of them wearing the end of Mike's Fender Precision in the face.
Eventually the bouncers intervened and shepherded the men away, but one of them grabbed a shot glass and hurled it, collecting Murray just below the left eye. The next day, with stitches in his cheek, Murray made a decision he wouldn't play in "those places" anymore and he'd go it alone in the jingles world.
With Red McKelvie and Brett Neilsen also jumping ship and Mike Wilson scrambling to keep some form of Cruise Lane afloat, for a time Dave Russell and 1960s pop star Shane Hales contemplated adding Paul to their soon-to-be-touring Wrangler Roadshow band. Despite one appearance with him at a Buck-a-Head concert, a fifth member was a luxury they couldn't afford.
Meanwhile, Mike had managed to hold on to the De Bretts gig with a new Cruise Lane line-up fronted by another former member Kaye Wolfgramm (now Kaye Wilson), her guitarist husband Steve Wilson, drummer Paul Dunningham (later of Mi-Sex) and Tony "Eddie" Rayner on keyboards.
When Eddie Rayner left to join an arty originals band called Split Enz in March 1974, he did so with the words of Mike Wilson ringing in his ears – "Are you sure you know what you're doing? This is a pretty good gig." Mike gave Paul Hewson a ring and he returned to the fold, bringing in his old mate Dennis Ryan on drums.
This Cruise Lane was vastly different from the Grindlay version, playing covers of Chaka Khan, Steely Dan and Earth, Wind & Fire and even occasionally gigging out of town, including at the Waikato University where Paul's application of eyeliner raised the eyebrows of his older bandleader.
The band again entered Stebbings, recording Paul's 'Goodnight Good Life' and 'Good Guys Never Die', but the tracks brought no record company interest. Paul and Mike were having more luck in the jingles market, writing, among others, an Andrews Sisters-style swing song for a local butcher shop. Paul was also getting session work with Murray Grindlay.
One night Dragon guitarist Ray Goodwin dropped in to catch his mate Steve Wilson's Cruise Lane. Steve had done some gigs with Ray in a band called OK Dinghy, a precursor to Dragon, and for a time lived with Dragon's Todd and Marc Hunter at Mandrax Mansion, in Herne Bay (Mandrax Mansion was also home to Hello Sailor).
Ray was impressed with Paul Hewson's piano playing and the two men swapped phone numbers. Ray's interest was twofold – on one hand Dragon were planning to cross the Tasman and might want to add a keyboard player, on the other Ray had frustrations with Dragon and had fantasised about staying in Auckland and starting his own band.
The men jammed at the Hewsons' low-rent Greenlane villa – Paul's hooky, simple structures far removed from the trippy Grateful Dead-style jamming Ray was familiar with – and Ray could relate with Paul easier than the strained relationship with the Hunter brothers in Dragon. They vowed to stay in touch.
When Angelique fell pregnant and Cruise Lane moved to a low-paying three-nights-a-week residency at Gatsby's nightclub, singing drummer Jim Ford invited Paul to join his new band Dallas for a six-nights-a-week residency at Takanini's Thoroughbred Tavern. Goodbye, Cruise Lane.
From Dallas to Dragon
Ford, a mainstay of the Dallas Four, had brought together a group of seasoned musicians to perform the hits of the day and a pile of rockers from the last 10 years. There was Neil Edwards on bass, Mo Dawson on vocals, John Kristian on guitar, rounded out by Ford and Paul.
When Dragon left New Zealand days later it was with the understanding that they would send for Paul when they were settled.
The pub had a reputation for violence, usually between local Māori and the men from the Ardmore military base, but the band soon had the ringleaders sorted out and would get them stoned outside during the breaks. Paul taught the rest of the band and even some of the locals to play chess.
Ray Goodwin stayed true to his word and invited Paul to Dragon's farewell show at the Auckland Town Hall in May 1975. A pot bust and the impending court case had made up Ray's mind for him and he was now committed to taking the band to Australia.
With the departure of keyboardist Ivan Thompson five months earlier, Dragon were in transition from the prog rock outfit that had recorded two albums to a more concise rock unit. Their repertoire of the time saw a sprinkling of originals amongst covers of the likes of 'The Jean Genie', 'Sweet Jane', 'Dixie Chicken' and 'Sweet Home Alabama'.
By this time, Todd and Marc Hunter had become aware of Paul and his songwriting ability through their ex-flatmate Steve Wilson, but it wasn't until the Town Hall gig that Ray introduced Paul to the Hunters, Dragon's second guitarist Robert Taylor and drummer Neil Storey.
They asked Paul if he was keen to join the band and even had some photos taken with him backstage in anticipation. When Dragon left New Zealand days later it was with the understanding that they would send for Paul when they were settled, although his mind wasn't entirely made up.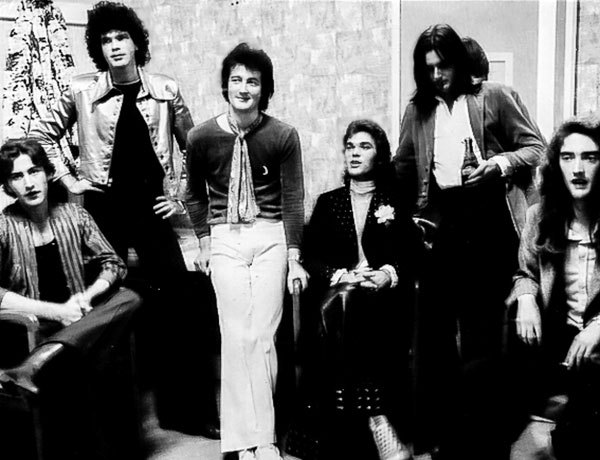 He continued working with Dallas until around six weeks later a telegram arrived from Ray Goodwin along the lines of "Fame and fortune awaits." Intending for his heavily pregnant wife and almost three-year-old son to join him after the new baby's birth, Paul Hewson headed for Sydney in July 1975 to try his luck with Dragon.