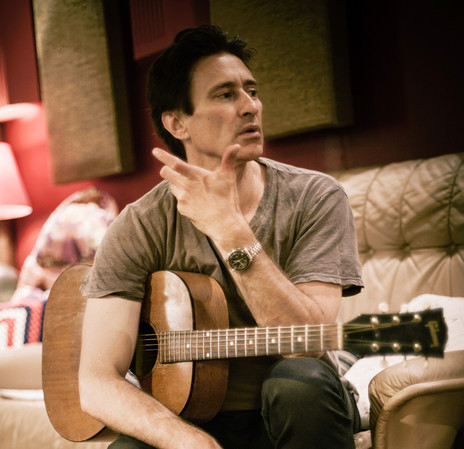 The train has had a long and storied history in American blues and rock'n'roll – and while we haven't got a train song as iconic as Junior Parker's 'Mystery Train' or Woody Guthrie's 'This Train Is Bound For Glory', many of us can hum Peter Cape's 'Taumarunui on the Main Trunk Line' – a tale of unrequited love between an ordinary bloke and a "sheila" who works behind the counter at Taumarunui's station cafe.
Our train songs are more oblique: train travel isn't in our blood (though someone like Red McKelvie might argue about that). Today riding the Western Line into the city doesn't feel especially meaningful (although I did try my hand writing about it – 'Train On Fire' – written on board a train stuck on the tracks while an actual train was burning near Britomart).
Anyway, here they are – in no particular order – tag on, sit back and enjoy.
--
Tennessee Train
Greg Johnson
What better way to start off a playlist of New Zealand train songs than with a track that begins with a train whistle, even if it is from Tennessee. Greg Johnson is now based in Los Angeles but this train startles him out of "a dream of home". He imagines the tracks reach across oceans – "over windy beaches and rugby fields" – the moody melancholy nicely supplemented by Greg's trumpet (I always thought Greg an underrated Chet Baker-style trumpeter). The song broadens out to become a reflection on life on the road: a late night/early morning weepie that anyone from Memphis to Masterton can relate to.
The Last Time I Saw Maryanne
SJD
Although this isn't about trains per se, there is a verse which takes place in a train station and it has one of the best opening verses ever: "Just pretend you are/ everything you think you are/ beautiful or ugly/ a swan or a shooting car" – with the sort of melodic fluency and sophistication few can match. SJD – aka Sean Donnelly – sketches in just enough detail to enable the listener to draw their own conclusions. I see a miniature love story, a train station goodbye seared into the memory: the last sighting of a woman you love who has already half-forgotten you.
Last Train
Donna Dean
This is from a solo acoustic EP from 1999 and shows that Donna has always had a sharp eye for tragic domestic situations: little wonder No Depression called it "Americana music of the highest quality".
"The bed smells like whiskey, but I still climb right in" she sings – and one can't help but sense that this is autobiographical – after seeing the 2017 documentary on her life The Sound of her Guitar which examines her difficult childhood and battle with alcohol. Donna went on to much more sophisticated arrangements on later albums – even recording with the Amazing Rhythm Aces in Nashville – but her songs are still powerfully grounded in her own experience.
Fast Train
The Warratahs
This 2018 single from our most successful country rock band The Warratahs takes the rollicking rhythm of an old diesel and sets it to a tune of unrequited love: "We might wake up one morning/ face down in reality" – warns Barry Saunders in that distinctive drawl, seemingly resigned to the situation he's trying to change – "wish I could find me a fast train/ to your heart/ to your door". You hear echoes of some of Johnny Cash's early sides in the relentless, driving rhythm section.
Western Line
Aly Cook
This is more your standard country train track, co-written with Alan Jansson and inspired after Aly left a friend in Double Bay and rode to the Blue Mountains. It also features backing vocals from both Graham Brazier (to whom Aly dedicates the song) and Brendan Dugan: the first and last time those two iconic voices were heard on the same track. The train is bringing Aly home and the tune chugs merrily along, thanks to some busy fiddle playing and Aly's clear relief at getting out of the city.
Ghost Train
Graham Brazier
And speaking of Graham, here's a late spoken-word gem from the rock legend, whose troubled public image belied a thoughtful and erudite man who loved books and poetry as much as he did rock'n'roll. I'd visit him in his mother's book shop in Balmoral where he was always ready with a book or movie recommendation ("Greg, you've got to watch Calvary") and a song or two – he kept an acoustic under the counter.
Graham was a big fan of the Beats and this has some of the boozy swagger of a Kerouac reading – a tasty slide phrase in place of the Beats' hipster jazz.
"We don't want to be contemporary/ or contemporarily clever/ for this ghost train it rides forever … / the tickets are clipped/ I guess you know/ by none other than Edgar Allan Poe".
Off the Rails
The Bads
Coincidentally Off the Rails is also the name of Marcus Lush's rather brilliant doco about New Zealand trains, but this swooping epic from their 2005 album Earth From Space sees Dianne Swann singing about someone who's upbraiding themselves for a wayward life: "I went off the rails/ yeah I put myself in jail/ enough is enough is enough".
Luckily literal derailments are relatively rare here, but this will speak to anyone who has strayed across the line in their personal lives for whatever reason.
The Bads – Dianne with her partner Brett Adams – went on to explore a more alt-country feel on later albums, while their latest, Losing Heroes, has a big Bowie influence.
Road Train
Headless Chickens
The Chooks – as fans affectionately called the Headless Chickens – were among the most exciting rock bands of the 90s. Chris Matthews sounded like no other front man, but their real secret might've just been the rhythm section of the late Grant Fell and drummer Bevan Sweeney.
"It's later than you think" – sings Chris, and it's hard to tell if his return home from the road is cause for celebration or concern.
Theirs was a distinctly Auckland sound, so different from their Dunedin-based label mates, hard-edged and relentless – even the sweet tones of Fiona McDonald can't disguise this music's dark heart. And this is one of their finest moments.
Ridin' On Trains
Red McKelvie
A celebration of the men who worked on trains, and a song that like the classic American train songs, celebrates the magic of escape.
And there's some lovely detail here – Red McKelvie sees some ex-railroad guys working the kids' train in Oamaru – "you can see it in their eyes/ they used to work on trains/ everyday/ working on trains/ J class/ K class/ running on steam/ dreaming their lives away".
Best known as an in-demand session guitarist throughout Australasia from the 60s to recently – he played on Tami Neilson's Dynamite – this 2007 album was the first under his own name.
I was lucky to get Red to play on a track of mine once. He set up his pedal steel, listened to the track once, nodded and lay down a note perfect track and went home without saying a word – hopefully to write more songs like this.
Slow Train Creek
Holly Arrowsmith
American-born Holly Arrowsmith was raised, appropriately enough, in Arrowtown – and her moody, pastoral songs (think early '70s Van Morrison) have gained a growing fan base here over the last few years. The train reference here involves nothing more than a slow running creek – indeed the urban world of railways and stations seems a million miles away. Still, it's a beguiling sound even if the song's quick to point out "All is not well in this world we're living in/ but everything's alright up here in the mountains".
The Night Train Back to Waiuku
Murray Grindlay
"55 dollars a week digging holes for trees for the Auckland Council," sings Murray Grindlay. Trouble is, the wages barely pay his rent nor do they keep him in alcohol. The solution? Buy a third-class ticket to Waiuku and return to Daddy's farm. Auckland City – at least working on the Council – it's just "too tough". Then there's the fact that city slickers "chill him to the bone".
Grindlay once fronted '60s rockers The Underdogs among others, then carved out a very lucrative career in advertising and film and TV work. This is from the Sleeping Dogs soundtrack and also demonstrates that Grindlay can yodel with the best of them.
--
Auckland-based musician Greg Fleming's 2012 album Edge of the City contained his song 'Train on Fire'; his band was then called The Trains. In 2017 Greg Fleming and the Working Poor released Working Poor Country.