There's a beautiful photo by Nigel Yates of Jay Clarkson taken in 1999 where she is sitting on a swing looking up towards the sky. The shot is taken in mid-winter – the trees are bare, and the light is low. The look on her face is wonderous, as if she has seen something extraordinary. It's a photograph that sums up her music.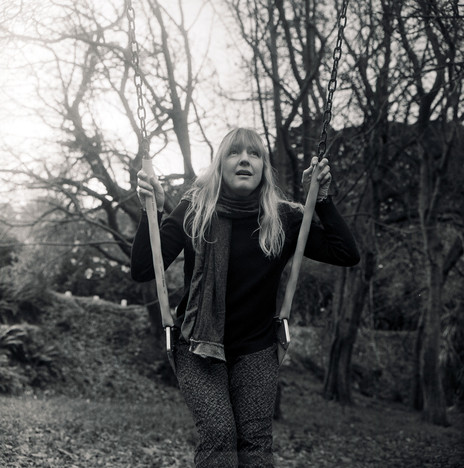 Following on from her 2007 album Over The Mountain with Johannes Contag and the accompanying tour, Clarkson stepped back from touring for three years. She had enjoyed touring with a group, and decided to take a break from solo performance. Gigs took a backseat, something she confirmed in a 2021 press release, noting she "had a bit of a lost patch ... musically speaking" until 2011 when she started working on songs for her next solo album. (In the meantime Clarkson and her son Sam appeared on the Chris Knox tribute album Stroke [Merge, 2009] covering the Tall Dwarfs song 'I've Left Memories Behind'.)
Poetry and fiction writing dominated Clarkson's time during this period, taking her to overseas festivals in New York, and Phantom Billstickers displayed her poems on large format posters both here and overseas. Clarkson's fiction was featured in Café Reader, Deep South, and Landfall, Aotearoa New Zealand's premier literary journal.
Although she often writes lyrics and poetry closely together, Clarkson considers them different processes. "I mostly begin composing a song by coming up with a series of guitar chords I like, and if I feel these could be a bed for a verse or chorus I play it over quite a few times, just enjoying it really, but then as it becomes ingrained, words, usually a phrase, pop into my head, words that sit nicely in the little guitar-chord structure."
It's then she decides if the song is about something specific, or if it needs to "unfold purely based on the sound of words that chime in."
With her poetry there is no initially established rhythm, but it emerges around the third line, and "contents-wise a poem is definitely about what I want to say. The subject is what makes me sit down and begin."
Sometimes the process for writing poetry and lyrics mesh and she admits a poem or two have become song lyrics. "'Fly On The Wall' for example, became a song for the Misericord album. And I have read lyrics as poems – 'This Clown' from my solo album Kindle has worked well."
In 2015 Clarkson returned to her music with the album Spur, released by Austrian label Zelle Records (which specialises in music from New Zealand). Spur was recorded between 2010 and 2013, written while she was back in Timaru caring for her parents, and features cover art by Kathryn Madill. The album is an eight-song set centred around her vocals and acoustic guitar, and highlights Clarkson's fingerpicking style, but drums, backing vocals, electric guitar and sparse string arrangements also featured.
She had written "a bunch of new songs" and wanted to record four of them in particular, seeing a story after grouping them together. While electric guitar (an instrument she loves) had been her primary instrument for a long time, she took an acoustic guitar with her to Timaru, figuring "I would write the other songs in my free time. I didn't have much of this so when I sat down in my little room and picked up my guitar the first chord or twiddle I did tended to be the start of a song," she recalls.
Clarkson says she is a "fairly fast composer" and could write much of the material during her breaks. As the press release for the album detailed, Spur tells a story over eight songs of "two souls seeking fresh beginnings; old fears cast aside; life taking unexpected turns".
The process was a new approach for her. "I never had a theme before, in fact I had been somewhat cynical of such albums! It made for a new approach to writing the lyrics, of course. A different challenge. I enjoyed it. When you're writing a song and you're on a roll there's nothing better!"
Spur was seen as a welcome return by Clarkson – in reviewing the album for The Sampler on RNZ, Nick Bollinger noted how Spur brought to mind something "specifically Southland about these songs. Just listening to them, you can feel the frost in the air and on the ground under your feet. The lay of the land seems to speak to the mood of the characters, and yet Clarkson never tips over into gothic caricature; there's warmth here too … a feeling of hopefulness, of possibility."
Tim Gruar at 13th Floor echoed the compliment, appreciating the simplicity of the album and Clarkson's "simple, clean poetry; her aged, experienced vocals and especially her sparse, simple arrangements." William Dart also supported the album, noting on his RNZ Concert programme New Horizons that the songs of Spur "seem deeply personal, with … musical twists and turns to sustain them." Dart was especially impressed with Clarkson's voice, saying she "manages to give the songs soul, and yet keep a certain distance."
Clarkson played shows to support Spur, including one at the Grainstore Gallery in Oamaru with John White from Mëstar on guitar.
Following Spur, Clarkson spoke and performed at the WORD Christchurch festival in 2016 as part of the Flying Nun 35th anniversary celebration In Love With These Times with Graeme Downes, Bruce Russell, and Hollie Fullbrook (Tiny Ruins).
Also in 2016, Clarkson and friend Robert Scott (The Bats, The Clean) flew to Glasgow to perform six shows, including a show at the Celtic Connections Music Festival, part of the "Sister Cities: Tartan Ties" collaboration between artists from Dunedin and Edinburgh. The project highlighted songwriters and performers from both countries, combining the artists and performing two or three songs each before everyone collaborated together on a few songs. The first show celebrated poet Robbie Burns' birthday, which Clarkson calls "a great night! Robert Scott and myself were the New Zealand contingent. We played second guitar and sang harmonies on one another's songs. We'd just got off the plane from New Zealand – jet lag can make you a bit punchdrunk so we more or less turned into a comedy duo!"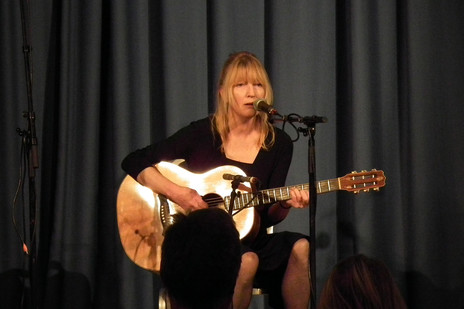 They performed shows in Edinburgh and Glasgow, which Clarkson enjoyed. "I really liked the humour and approachableness of the locals in both cities and, aside from one who decided to drop out after a couple of gigs, we musicians all got on well."
For the final day of the festival the group rearranged the set, each selecting one of their own songs and collaborating with the others on this. They managed to rehearse a couple of times, and went out on stage together. "We felt really good as to what we had come up with and it was a satisfying note to finish the wee tour on. It was a large audience, and though most had been there all afternoon to see a wide and wonderful variety of performers from around the globe, they were still full of enthusiasm."
By 2017, Clarkson was involved with an unexpected live project: her 1989 band Breathing Cage reformed for live shows. The band's guitarist Greg Malcolm initially called Clarkson; it was his birthday and he was hosting an event at Audio Foundation in Auckland. He asked if she would join him to do a Breathing Cage set as a duo, which she agreed to, telling Nick Bollinger at RNZ "we both really enjoyed it and … it was 'hey, why don't we get the whole band to do it at some point?'"
The full Breathing Cage line-up – Clarkson, Malcolm, Gary Sullivan, and Michael Kime – reformed for gigs in 2017, including a show at Blue Smoke in Christchurch (the show was filmed, with two songs available on YouTube). Revisiting their album Misericord (Tall Poppy, 1989), now with some distance, was a better experience for Clarkson: "I feel better about Misericord the album now than I did for quite some years. Most of the songs I can enjoy now whereas for a while there it just seemed overproduced."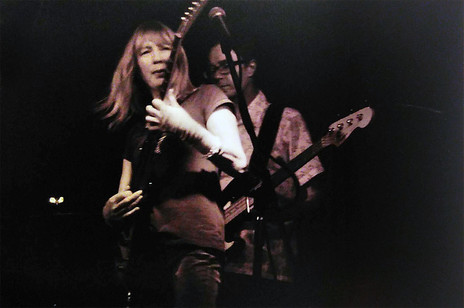 This was a transitional time for Clarkson. She had been happy with Spur, but missed being part of a band and was questioning if she would be part of one again. The answer came from a challenge to write a new song. The challenger was David Glynn, a friend from Waikouaiti, 30 minutes north of Dunedin where she lives. She took up the task and wrote 'Wakey Wakey World'. Thinking it would sound good with a band, she formed The Containers with Alan Haig (guitars), Glynn on bass (later replaced by Tenzin Mullen in 2021), and Mike Dooley (drums), recording the song in 2019 along with B-side 'Tangled Up and Bleeding.' Initially "a casual and possibly one-off thing, to record a song I had just written" the band carried on as they enjoyed playing together. The single was released on 7" lathe-cut disc through Independent Woman Records in 2021, and made available digitally through Bandcamp.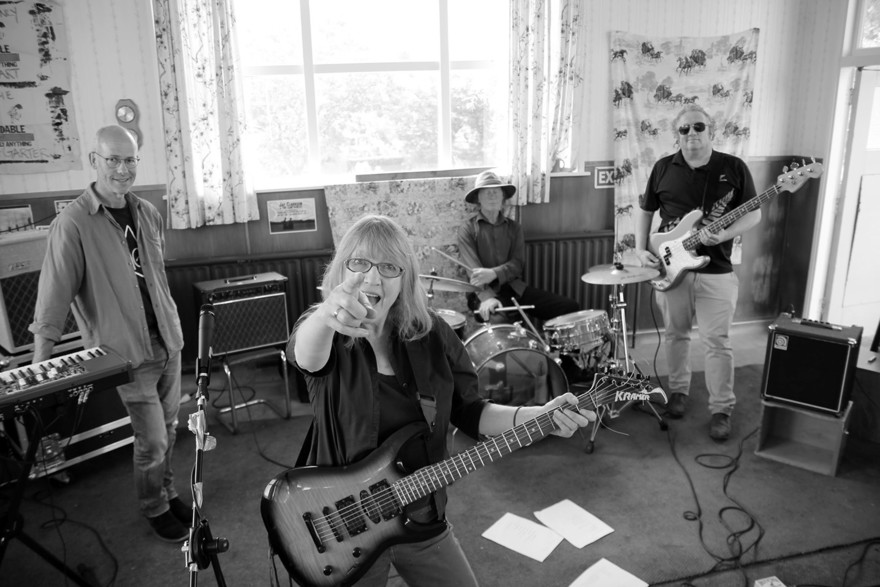 Clarkson has written new material with the band, as "if I'm playing regularly with a band" – which usually gets together every Saturday – "I start composing for that line-up. Playing frequently gets the creative juices flowing." Clarkson and The Containers have been performing live since the start, opening for The Bats in 2018, and playing as part of festival shows and headlining shows in 2021 and 2022, including the 2022 ZelleFest in Port Chalmers, the Needles and Plastic: Flying Nun Records 1981-88 book launch in Dunedin, and the Manaia Native Habitat Birdsong Festival in November 2022.
Various gig cancellations, including The Others Way festival, meant the band's March 2023 show at Whammy Bar was their debut performance in Auckland. There is an album coming too, on vinyl and digital formats. "We've recorded an album worth of material," Clarkson says. "We've titled it Falling Through. What with Covid and all, it has taken some time, but we're very close to final mixing now." A new vinyl single – 'Children of the Rule' backed with B-side 'Waikouaiti' – is forthcoming on Leather Jacket Records. Clarkson is also looking at writing a new solo album, this time returning to her first instrument, the acoustic guitar.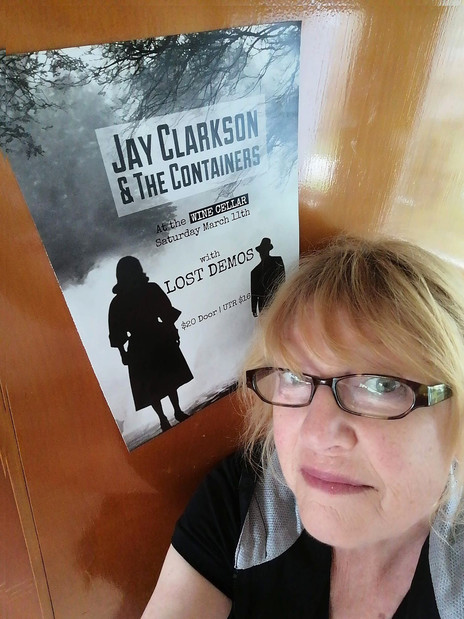 While working away with The Containers, in 2021 Clarkson reissued her 1999 album Kindle (originally on Arclife Records) on Rose Hobart Records with a limited edition of 300 LPs. Australian writer Jon Dale contacted Clarkson about reissuing the album. "He thought Kindle … was a special album and was interested in doing a vinyl reissue. It took two or three years to all fall into place but he persevered and it came out in 2021 on Rose Hobart, a label with an eclectic stable of global artists. Rough Trade was involved in distribution in the UK."
Contemporary reviews of Kindle were glowing, and Graham Reid, coming to the album for the first time, noted "in contemporary company it not only stands up, but – in its clarity of vision and coherence – stands apart."
In a tangential move, Clarkson wrote 'Rise and Shine' in 2020 for the Music From Tomorrow Morning compilation – a digital album by Songbroker Publishing artists as part of the Project Sunrise Te Whitinga o te Rā initiative, creating a "new body of musical expression from one of the first countries in the world to see the dawning of a new day." Each artist had 14 days to write and record their track, and the brief was for artists to consider "how it feels to be lucky enough to live in the first place in the world to feel the warmth of the 'new light.'"
Clarkson's 'Rise and Shine' is beautiful. Performed on acoustic guitar and bird whistles, with Clarkson's hushed vocals appearing two thirds of the way through, the song evokes dawn, and the beauty of the sounds at that time of the day. 'Rise and Shine' was composed on nylon acoustic guitar, and based on a "gentle" two chord pattern.
"I went along to the studio with these in mind and the various enhancements you hear took shape there. The dawning of the day at the Hawkesbury Lagoon in Waikouaiti came to mind … I wanted to capture the stillness, and then for it to placidly head towards more movement for the birds and creatures and we humans thinking about coffee. Alan Haig and myself spent a couple of afternoons on it."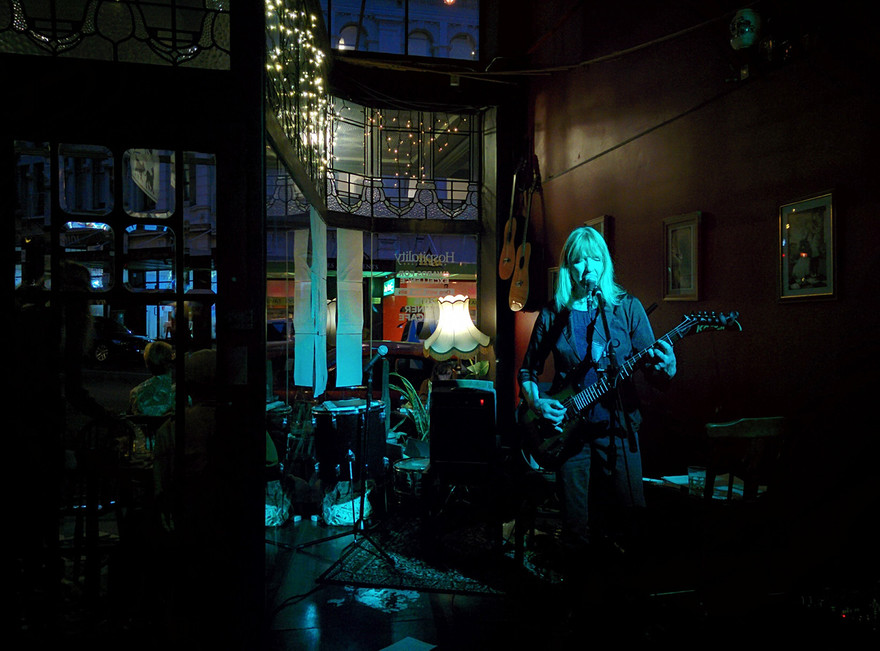 Clarkson's two bird whistles, a Sri Lankan whistle given to her by her granddaughter, and another from a cornflakes packet, created a unique sound, with the latter whistle a touchstone for Clarkson and her father. "We shared digs for the last three years of his life and said plastic birdie arrived there and was kept on the kitchen window ledge … when Dad and I were cooking our respective lunches together, as we did every day, he would often say 'perhaps our little birdie will sing today,'" she recalls. "I had tried blowing through its whistle-shaped beak but with no results. It was not until after Dad had flown away that my daughter-in-law … suggested it would perhaps sing if filled with water. And it did. That was quite a moment."
Clarkson has been involved with reforming The Playthings (Clarkson, Paul Kean, Janine Sandercock, and Dave Toland), who have reissued their recordings on a self-titled 12" EP and minidisc on Christchurch label Leather Jacket Records, in association with Pinacolada Records. A cassette version was released in the US on Floating Mill Records.
The five-track EP is a compilation "made up of the two singles we self-released in 81 and 82 respectively," Clarkson explains. "Paul Kean organised the pressings of these singles and put them out under the label of PlayMusic. The fifth track, a previously unreleased recording done at Arnie Van Bussell's studio called 'Grits', has … rootin' tootin' great double lead guitars break from [original guitarist] Nicky Carter and myself, and both Paul and I thought it a must to add to the Playthings EP."
The Playthings – with special guests Mark Wilson and Alec Bathgate – played a reunion show at Space Academy in Christchurch in May 2023.
The response to both the Breathing Cage and The Playthings reformations has been positive, and Clarkson reckons "punters from the past came out of the woodwork, plus younger people wanting to get experience of the early Flying Nun musicians." The two Breathing Cage shows were successful, and she was happy "everyone was on form and I loved doing the songs we chose to do."
As for The Playthings, the experience was very special. "The Playthings had not played for 40-plus years! And aside from Paul Kean and myself, who are ongoingly in touch, there had not been much personal connection in that time, so it was pretty darn profound … and a lot of hard work! But I'm sure the way was smoothed by the fact that all [living] members of both Breathing Cage and Playthings have never stopped performing regularly in various other bands. I'm sure it helped immensely in making it straightforward to rekindle the spark."
In May 2023, Clarkson, along with Matthew Bannister (Sneaky Feelings), Kath Webster (Look Blue Go Purple), and Justin Harwood (The Chills), took part in a panel discussion with Nick Bollinger at the Auckland Writer's Festival about their lives as musicians.
As well as preparing the new, forthcoming Containers recordings, Jay Clarkson is working on her memoir.