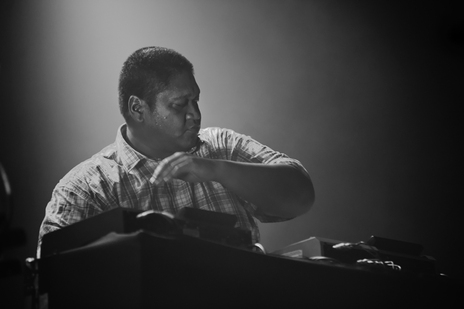 First published in Pulp magazine, 2002, and republished with the author's permission.
--
They've been described as Wellington's answer to the big band. They play luscious rhythms dripping with soul, delivered with untouchable style and grace. A fusion band of the highest calibre, their improvisational performances and original tunes rope in the influences of dub, electronica, jazz and soul.
The live debut for Fat Freddy's Drop was at the New Jazz Transplant, during the 2000 Wellington Jazz Festival. While the band's line-up was quite fluid for a while, over the last six months it has settled into a six-piece complement comprising two horns, electric guitar, keys, vocals, and beats. In 2001 they were invited back to the Wellington Jazz Festival, and they have also performed on the same bills as roots luminaries like The Mad Professor.
"There's something about it," says founding member and programmer DJ Mu (AKA Chris Faiumu). "In a club setting, where you're used to hearing DJs, it's got the driving rhythms of dance music – but it's got live musicians playing over the top. It's just a bit more special than hearing a DJ in a club."
What makes Fat Freddy's Drop different from the rest? There's a healthy scene out there for followers of soul/jazz hybrids, as members of the group know only too well. For Fat Freddy's Drop is a supergroup of sorts. On horns, for example, are Toby Laing and Warren Maxwell. Laing plays trumpet in many different Wellington bands, ranging from jazz ensembles to reggae/dub outfit The Black Seeds – although according to Mu, his favourite project is Fat Freddy's. Maxwell's main project is Trinity Roots. He is the founder of that act, fronting on vocals and guitar, and plays saxophone for FFD.
A Fat Freddy's Drop gig is a special occasion and at times, a near religious experience.
Mu himself is a long established DJ. He's also a well-respected producer and a key figure in the Wellington music scene. Mu started off Fat Freddy's Drop along with vocalist Dallas Tamaira, just the two of them at first. They recorded a track for Radio Active's 10th anniversary CD and ended up totally immersed in the sound. They started doing a lot of gigs, using a sampler to produce the drums and bass. It all started working so they added Iain Gordon from Ebb on keys and guitarist Tehi Mana Kerr – a classically trained player who was performing mainly rock.
A Fat Freddy's Drop gig is a special occasion and at times, a near religious experience. Look around the room and you'll see mouths open and onlookers staring in wide-eyed awe. Mu starts off with a bare groove, and then it builds and builds – there are breakdowns – the only thing that remains constant is the tempo, keeping the listener transfixed as they take their time to use the spaces, slowly unwinding the tension of the room and massaging the audience with soothing grooves.
While there is no band leader as such, the grooves performed by Mu on the sampler provide an initial hook and the key inspiration for each tune.
"We pretty much always lock in to the sampler, which is running the drums and also the bass," says Mu. "There's usually some sample or hook that we start with, then get rid of about halfway through and from there it's just straight improv. The average length for a track at a gig is 20 minutes to half an hour – for one track. That gives me an opportunity to work out what's probably going to work energy-wise and vibe-wise. We don't have a set list – I just throw and they don't know what's coming next. I've done a lot of similar stuff using sparse beats on turntables with musicians. But this is essentially original music, we're not using someone else's beats off a record. We're actually writing these grooves and taking them in live."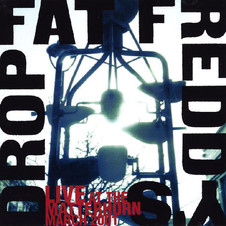 With a whole lot of influences going into the mix, Fat Freddy's Drop are crossing all the boundaries and ending up with something really quite cohesive, though Mu is quick to point out that it's all fairly unrehearsed and that they're "just blagging it really".
He explains further, "I write the rhythm tracks and the grooves that we all jam on, but when we take it out live – well we don't rehearse at all. I'm just lucky in the sense that everyone on stage is a pretty flash musician, especially on the improv tip. We sometimes have pretty modern and freaky drum patterns happening – but what's happening on stage is quite organic. It's just a different medium – a slightly different format of playing live music and there's not many people who do it like that. So that's why people may think it's a wee bit fresh – but I mean, if you have your eyes closed and listen to it ... there's some good energy there, but it's not something totally new and different."
"The whole Fat Freddy's thing is that we don't rehearse and we come together and it's a good release for everybody."
Mu stresses that they're all pretty good mates and that's part of the vibe: "It's the way we approach the whole band. Everyone's got other projects – and some of those projects for each individual are quite serious ones, but the whole Fat Freddy's thing is that we don't rehearse and we come together and it's a good release for everybody. That just seems to somehow come out on stage. I can't remember a bad gig really."
Their plan is to record a full-length studio album early in the new year. "We put out a live recording [Live at the Matterhorn]. Normally the mix off the desk isn't very good but in this case the gig was tight, the recording was tight. So I mastered it at home and released it with a view to just getting it out there to hopefully get more gigs, but also to bank some money so that we can do a recording. It will still definitely be that improv sort of attitude where we go into the studio and play all at the same time, but multi-tracked and edited down to a really good length.
The four-track Live at the Matterhorn has sold in enough numbers for Fat Freddy's Drop to start planning the big jump into a studio. Though Mu does point out that he wishes he'd written the track durations on the EP – the four tracks clock in at 72 minutes, so there's plenty of grooves for your dollar. Mu is sure that many fans have wrongly presumed it to be a much shorter listen.
Fat Freddy's Drop are well established in Wellington and it's clear to Mu that the vibe is also building in Auckland. Based on recent gigs, including their searing performance at the Mad Professor's show, the phone has been running hot with people asking them to come back. It's got that part-time attitude, he says, and that's what they don't want to lose. "The thing is to keep the attitude that this is just a good, fun band and if something comes out of it ... well, just to enjoy it really."
--
Fat Freddy's Drop - Live at the Matterhorn (2001)
Making Music – Fat Freddy's Drop (2005) – produced and directed by Arthur Baysting