Student radio stations in New Zealand are volunteer-driven community stations managed by a handful of paid staff and operating on a modest budget. So, it is perhaps surprising that in 1976, the founder of Victoria University of Wellington's student station was an entrepreneurial commerce student intrigued by the possibilities of New Zealand's changing broadcast landscape.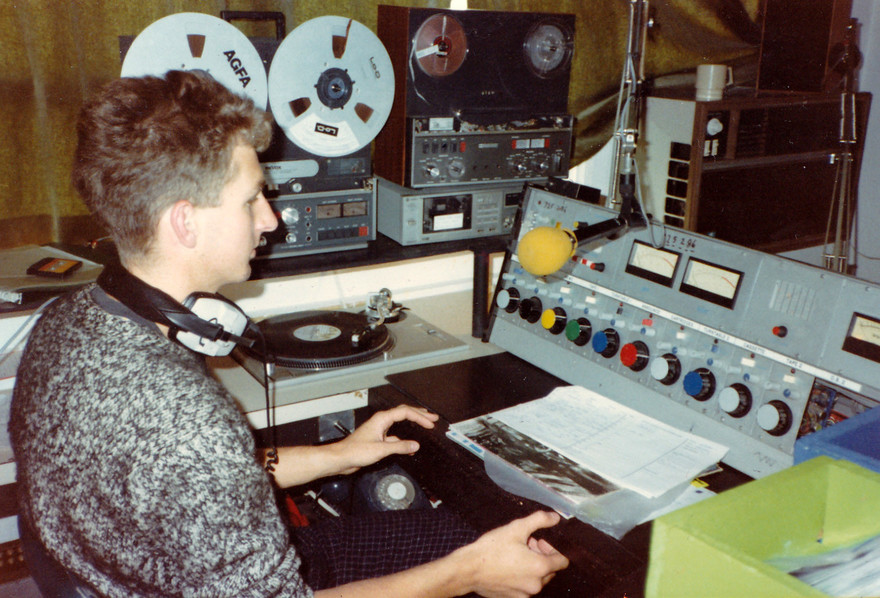 Gary Lewis formed the Victoria University Radio Club midway through 1976, and by early 1977 Radio Active 2XA was legally broadcasting from the university's student union building. Establishing and operating the station would provide a blueprint for Lewis' later endeavours.
The club's first planning meeting was held on July 6, 1976. In attendance were Gary Lewis, Ron Bellman, Mike Stretton, John Futter, Kingi Morgan, and Roy Torlesse. Lewis and Bellman would be first and second in charge of the station. Stretton and Futter would build the first transmitter. Morgan would later broadcast under the alias Trashy Mouth Jones. Torlesse would stick around for a very long time.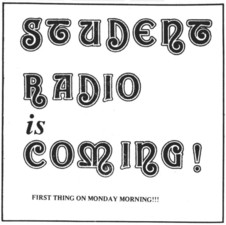 Lewis was quick to publicly rally for the station and the ethos behind it. In a July issue of campus magazine Salient he wrote, "Are you helpless in a wasteland of AM pop? What do you do when left with the 'choice' of listening to aborted foetus talkback on Radio Windy or the top 20 teeny-bopper juke box noise of 2ZM over and over again? There are alternatives and the possibilities are infinite, but tightly controlled by political bodies and government departments. Pretty soon students will realise what they have been missing, and a relatively cheap operation will bring pleasure to you all … "
Broadcasting and studio equipment were priorities. The first studio desk was made of timber and looked suspiciously like a repurposed dining table. A hole was cut in the middle for the wires to feed through. Aluminium panels were then attached to house eight audio channels, while all the circuit boards were hand built.
Martin Fowler remembers, "You had to be careful where you put your legs under the desk because there were bits of circuit board hanging from the wires that were floating around, and you could take the station off air with your knee ... bits of equipment would just turn up. Things would have various stamps on them from various government departments … all decommissioned, of course."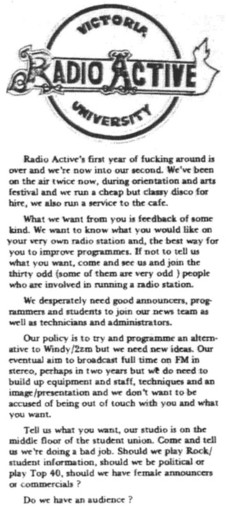 With the studio desk built, the station needed a transmitter. Thankfully, Stretton was a NZ Post Office engineer and Futter a physics student. Stretton oversaw the building of the station's first transmitter, assisted by Futter and others from the physics department. Capable of a modest output of 100 watts (Radio Windy's output was 5000w at the time), the transmitter was stuffed into the roof cavity of the Student Union building, with the aerial run along the side of the building. The initial transmissions were a success, and Radio Active began broadcasting on the 1500 AM frequency (call sign 2XA). Later, signal strength improved significantly when it was learned that broadcast aerials should be oriented vertically rather than horizontally.
Though the station ran a series of test broadcasts through the union café PA late in 1976, the station's first actual radio transmissions were during Orientation week in 1977.
Continued access to the airwaves was by no means a given. It was an era when state influence and control over broadcasting in New Zealand had begun to wane, and the newly reformed Broadcasting Tribunal was charged with both granting warrants to the rising number of private stations as well as monitoring warrant-holders' broadcasts. Applying for each warrant – which allowed broadcast for a limited number of days and hours – was a byzantine process. A 20-30 page application form had to be submitted at least two months in advance of each desired broadcast period. The application process might then be objected to by one of the fully licensed Wellington radio stations.
One example occurred in 1984, when an application to extend both the hours and the duration of the current warrant was met with strong opposition from 2ZM manager Peter Don. The station was five percent down in their mid-year audience poll and reportedly saw Active as the culprit. Curiously, manager of full-time private station Radio Windy (and later to be More FM impresario) Doug Gold supported the application, labelling student radio an important training ground for radio talent. The warrant was granted.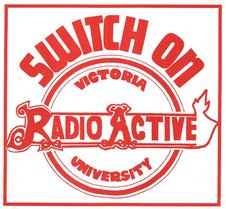 When a warrant was granted, there were strict caveats. In 1979, station manager David Campbell stated, "We are allowed to play music, but not music other stations play. We are also not allowed to discuss anything political. We are not allowed to broadcast any news except for that which relates to students on campus."
He further observed, "The steep rise in the cost of power and milk of late affects students, but they'll have to go elsewhere for comment about this."
In the previous year, the station had been granted full access to the NZPA news service. Under the terms of the current warrant this was strictly forbidden. Warrants granted in 1981 stipulated there was to be no broadcast of any religious, political, trade union, or other controversial matter.
The station was deftly negotiating with both a newly formed government authority grappling with how to control the messenger, and a state-owned radio station grappling with a now evolving radio landscape. Perhaps the fuse was lit with 2ZM on August 16, 1977, when, as the state broadcaster dutifully waited for a scheduled news broadcast, Radio Active broke the news to Wellington that Elvis Presley had died.
The fate of the King notwithstanding, over the initial years the station was broadcasting on limited warrants during orientation and capping weeks, as well as during holidays. Gradually, the length of time the station was allowed on air increased. In 1979 the station broadcast for just six weeks of the year for just a few hours each day. By 1985 Active was essentially full-time, on-air Monday to Sunday for 18 hours a day (7am to 1am), February through to December.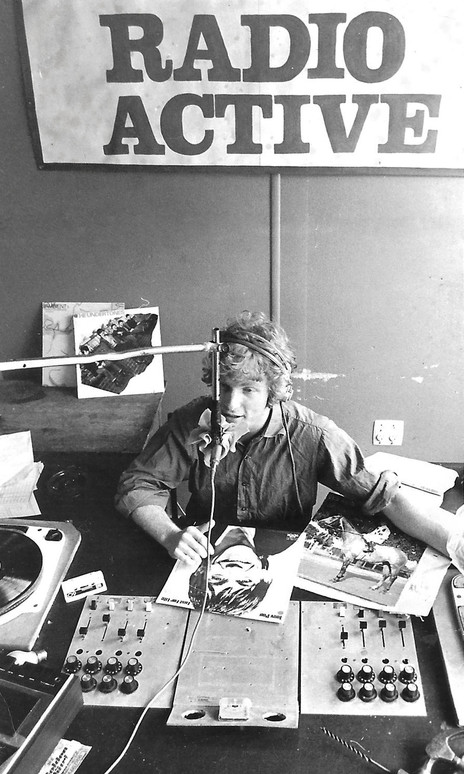 When Lewis, Bellman, and Campbell finished their degrees they set up summer-only station Radio Taupo. This proved a successful endeavour and facilitated their next venture, Ohakune's Ski FM. The Ski FM Network is now New Zealand's largest independent radio group. Former station manager Fowler reflects, "They were real pioneers, entrepreneurs who pushed up against the system and found great success. They'd set up Active as a business prototype, so it wasn't about things like the student activism of the era. It wasn't even about music."
The years that followed saw the station developing a greater sense of identity and purpose, and successive staff developed broader plans and goals. Throughout the 1970s and 1980s a new station manager and programme director were elected each year, and successive leadership advanced, reformed, and pioneered during these early years. As Andy Mitchell (programme director from 1998-2000) would later observe, "Active has always changed for the best when change has been a constant."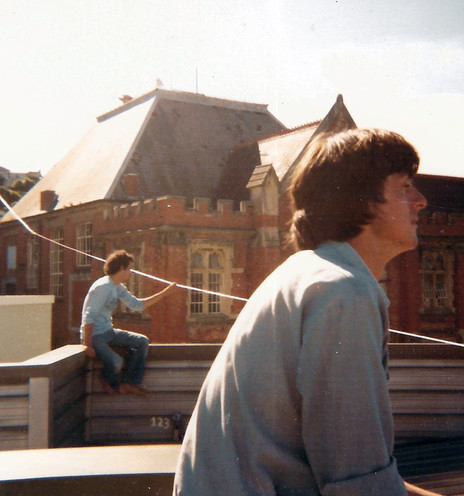 When Fowler became station manager in 1980, the station had already grown from a small club to an organisation of around 100 volunteers and staff. Earlier broadcasts of the likes of 10cc and other venerable radio chestnuts were being replaced by the punk and new wave of the era, eagerly supplied by record companies that were unable to get new music played elsewhere. The station was also benefitting from a more powerful transmitter, a decommissioned Post Office navigation system. Swapped for a goat (requested by the previous owner as a lawn maintenance measure), the unit was the size of a telephone box and radiated enough power that "it was not a healthy thing to be near".
Fowler was station manager for two years, and during his tenure there were significant developments. He worked with the president of the Victoria University of Wellington Students' Association (VUWSA) to include Active in the organisation. The station would now receive ongoing financial support via receiving a portion of the then compulsory student levy. In 1981 the station was allowed to sell advertising, further increasing revenue and the potential for growth. A Listener article from the time hinted at some delicate spin. "Radio Active has a commercial licence but commercial content will be very low-key. It will not detract from the programme." The sales rep hired had been a very successful vacuum cleaner salesman before returning to study.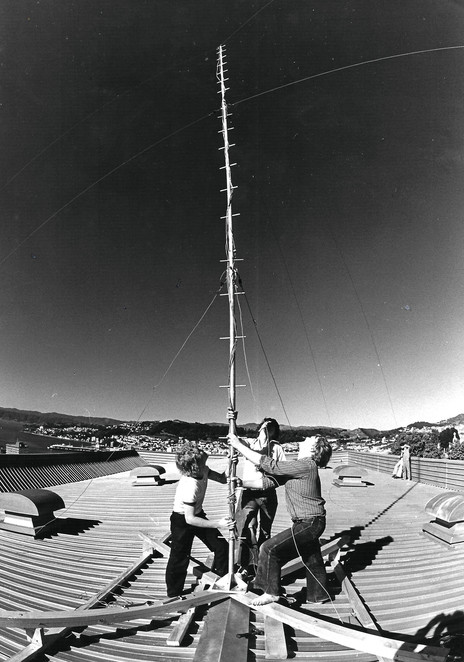 The station also began promoting concerts both at the university Union Hall and in the central city. Active successfully presented Dr Feelgood at the State Opera House and shows from Tom Waits and XTC in the years that followed. This was part of Fowler's plans to increase the visibility of the station outside of the campus grounds. He also negotiated with the New Zealand Students Arts Council to include student radio stations at their annual conference. The first New Zealand Student Radio Conference was held in Wellington in 1981. Fowler recalls, "bFM turned up like rock stars, while Radio U held an earnest flame with winklepickers and English accents. Radio Massey looked like Young Farmer Award contestants."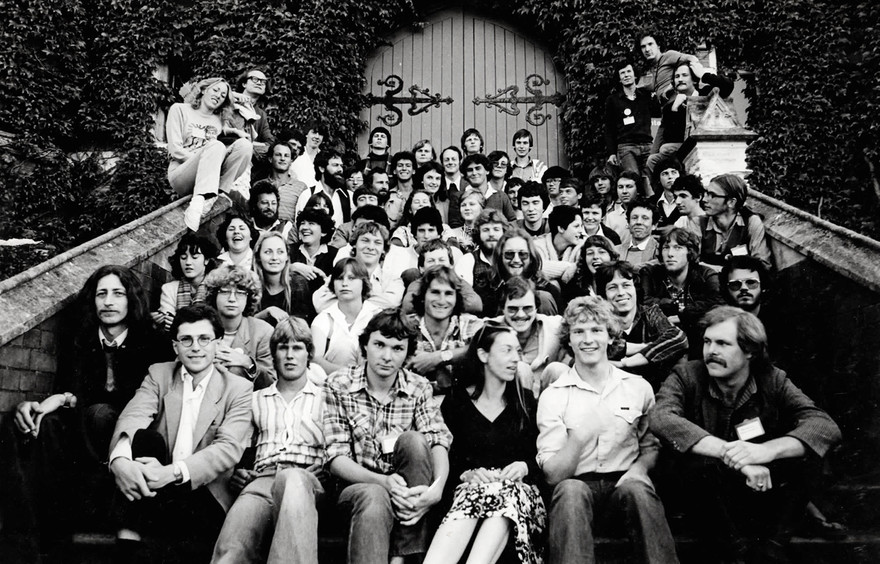 In 1981 the Broadcasting Tribunal held public hearings to canvass how FM radio might be introduced to New Zealand, and what stations should be granted the first licenses and frequencies. Fowler represented all the student stations at the hearings, arguing that student radio was a progressive broadcast outlet for music, and thus most suited for the higher fidelity frequency. He followed up the presentation with an application for an FM licence. Later that year Radio Active 2XA AM began preparations to become Radio Active 89FM, having been granted New Zealand's first FM radio licence.
While the 1981 VUWSA executive were supportive of Active, the growing popularity and visibility of the station off-campus would raise questions about the relationship in years to come. Future association executives would argue that the station did not serve the student body, and that student membership fees should no longer support it. Though it could be argued that successive executive members had broader issues with the station (and the longhairs who frequented it), it is unlikely that those who performed the Dance of the Flaming A**holes advertised in Salient as part of the year's O-Week pub crawl also tuned into Active for the Brian Eno special scheduled later that evening.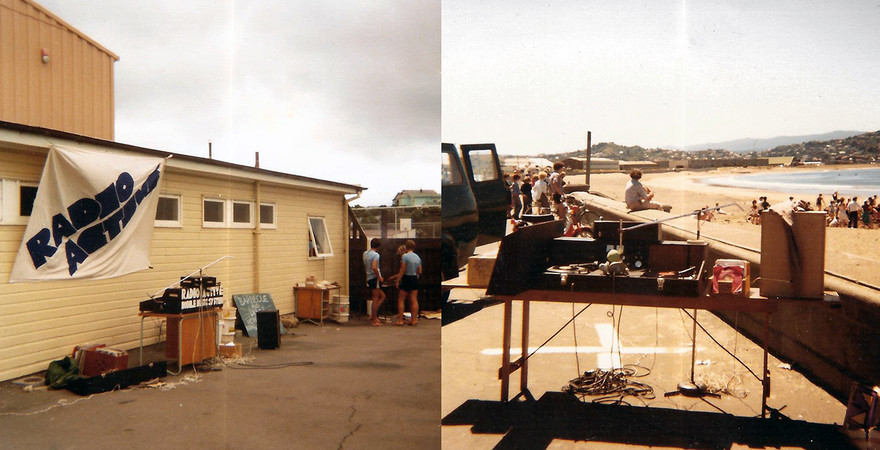 With the new transmitter built and a steel mast installed on top of the Student Union Building, Radio Active 89FM's inaugural broadcast was on 22 February 1982. This marked a year of what the Evening Post called "FM Firsts" for the station, the other being the outside broadcast of the Blam Blam Blam/Newmatics/Naked Spots Dance orientation show in the Student Union building. The show was New Zealand's first outside broadcast in FM stereo, and the station followed up with OBs of The Fall, The Birthday Party, Hunters & Collectors, and New Order (the first ever live recording of the band, who were working on 'Blue Monday' at the time).
An "FM First" not reported on was the station manager for 1982. Ros Roberts – who in 1979 was the first woman to broadcast on Radio Active – was now also the first woman to run the station. Despite overseeing a year of continued innovations, successes, and growth at the station, Roberts had to deal with the ire of the incumbent VUWSA executive. Following Salient reporting on the station purchasing an "expensive" tape deck from Germany, the association publicly claimed, "No one in Active's administration knows about broadcasting, or the financial management of radio stations." Roberts, who as it happened did know a bit about broadcasting, used the station as a tool to broadcast repeated retorts to the claims in the weeks that followed.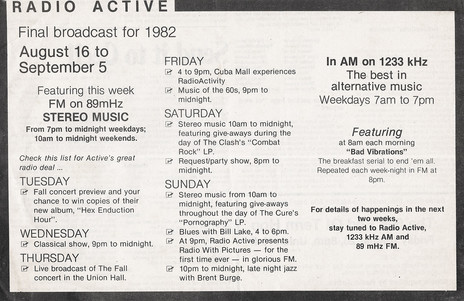 In 1983 New Zealand's first hip hop show began airing on the station. One of Mark Cubey's pioneering initiatives, Uncut Funk introduced Wellington to a brand new sound. Later renamed The Wednesday Night Jam, the show is now New Zealand's longest running hip hop show. That same year, Herbs' 'French Letter' and Toots and The Maytals' 'Beautiful Woman' were playlisted on Active, but 2ZM and Radio Windy would not play either. This was despite 'French Letter' being the best-selling single in Auckland, and 'Beautiful Woman' eventually spending five weeks in the national Singles Chart at No.1. Asked for comment, a Radio Windy spokesperson explained that the songs did not conform to "Windy's extensively researched target audience" who were "white collar" and "adult". A few years later a recent arrival from the UK, Danny Lemon, made enquiries with 2ZM about starting a reggae show and was told "that music is for people from Porirua".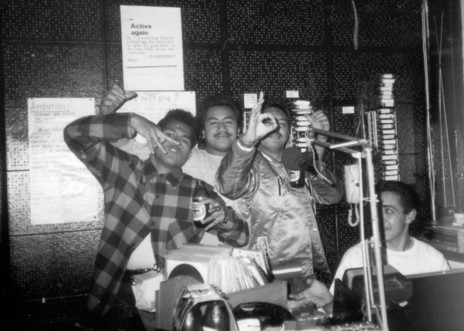 The following year Salient ran a story about the future taking up residence on campus. The two-column piece waxed lyrical about a VUWSA purchase under the headline "WOW, WE BOUGHT A COMPUTER!" 1984 also marked the first year Active contributed a weekly column to the magazine. In it, station personnel reached out to the student body seeking feedback on the station and the services it was providing, as well as canvassing for more volunteers. Below a PSA about Darryl R of the Leatherworks Reggae Hour coming up on a possession charge, assistant news editor Fiona asked, "What do you think of the news service? Jim thinks it is pretty cosmic. Should there be more student news? Domestic? International? Boring? Or should it just be plain ridiculous? If you want to give an opinion, or even better help us, call in and see me or Jim the news editor."
The columns, both directly and indirectly, posed some existential questions. First, with $25K of the station's now $73K annual revenue coming from the student levy (at nearly $4 per student), how could Active best serve and represent the student body? Second, in columns that canvassed the different styles of music being played, how do you please all of the students all of the time? Finally – and more broadly – who was Radio Active actually for, students or otherwise? The columns also dealt with the more practical, asking students "Can we please borrow your imported gems for our chronically lacking new release show?"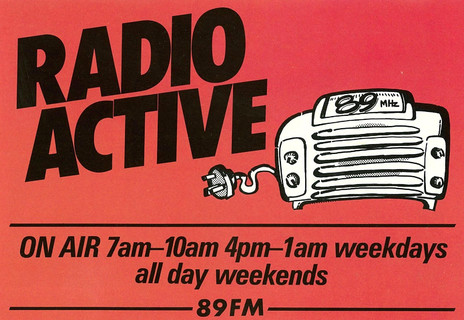 In 1985 the station was turned over to the Māori Language Board for Māori Language Week. Stuart Birch, station co-manager at the time, recalls, "years later I heard Piripi Walker in a documentary identifying that week as one of the key initiatives that got Māori radio off the ground in Aotearoa. I was really proud we helped with that". Later in the year the New Zealand Association of Student Broadcasters was established, leading to the release of the first local student radio compilation, Weird Culture Weird Custom (1986).
The shift to near full-time broadcasting in 1985 significantly changed public perception of Active as "just a part time station", also spurring further development and growth. Up until this point station imaging, advertisements, and the like were produced in the broadcast studio when the station was off-air, an arrangement that was no longer practical. A purpose-built production studio was built, replete with an eight-track recorder, Yamaha REV-7, and a vocal booth. The new production studio produced some of the world's first advertisements for a new technology called EFTPOS, while in the on-air studio the long-serving Garrard turntables were replaced with Technics SL-1200s.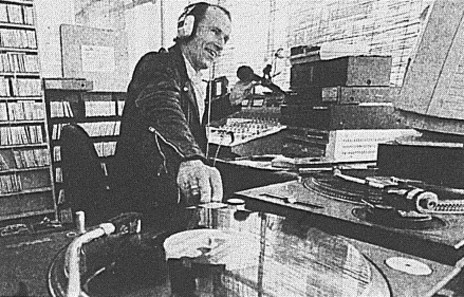 This era saw the emergence of two shows on Radio Active that still broadcast today. Roy's Time Machine (7-10am Saturdays) originates from longest-serving station DJ Roy Torlesse committing to Saturday mornings in 1985. Torlesse remembers, "Up until then if you wanted a show, you'd write your name down the morning of. There was no programming of announcers, except for the specialist shows. Permanent slots coincided with the increase in broadcast hours, and I was given 10am Saturday … mainly because I could be relied on to show up. Greg Cotmore did the early morning show until 1995, but he got sick of being a snow plough and left. That's when I started doing the seven AM show." Asked to elaborate on the winter service vehicle as metaphor, Torlesse explains, "Coming in after Friday nights and clearing rubbish and god knows what else. Occasional bodies. That sort of thing."
The year after Torlesse committed to a life of snow-ploughing, The Session began on Active. Miles Buckingham recalls, "The stone-cold cool Pete May was fresh back from London, and him and his slightly scary surfie mate Andy [Miers] had the best records in the station." May suggests it was his destiny: "I met [then station manager] Charles Mabbett in a record store and got chatting via the music I was buying. A week later I was playing it on the radio!" Committed to "turning on audiences to all manner of electronic music" (a far more esoteric proposition in 1986 than today), both show and hosts still broadcast from 9 to 11pm Thursdays.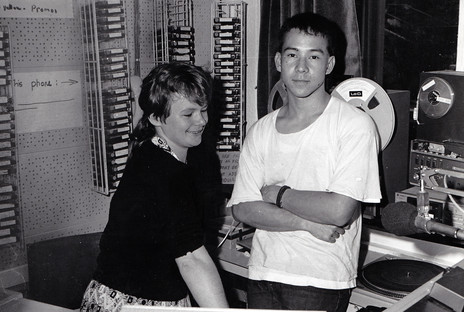 In a 1986 interview in Salient, programme manager Jon Lusk described the station's approach to music and programming as "planned anarchy, innovation, and inventiveness". He also explained how playlists were administered using a flip card system, lamenting that "some off-their-face hosts flip the wrong way and end up doing the last person's show backwards".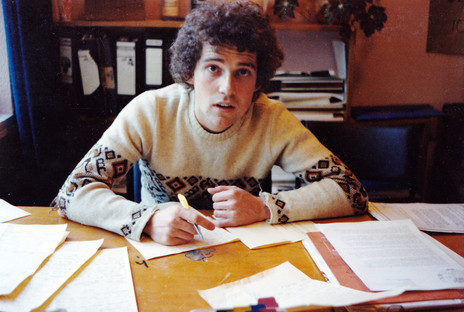 Meanwhile, a more clear-headed John Futter was busy coordinating installing the new transmitter and aerial he had built. The station had been given permission by some friendly contacts at the New Zealand Post Office to site the broadcast equipment on Tinakori Hill [now Te Ahumairangi Hill]. The aerial was designed with three directional lobes to increase broadcast range across Wellington's challenging topography. One lobe beamed to the centre of the city, another to the south, and the third set its sight on the Hutt Valley. Transmission improved immensely and Futter no longer had to endure "nerve-wracking clambering onto the roof of the Union Building in force eight gales".
Though future birthday milestones were celebrated based on the first broadcast in 1977, in 1986 Active celebrated its 10th birthday (based on the date the radio club first met). Hosted by The Electric Ballroom, the celebration featured Otis Mace and The Psychic Pet Healers, Crawbilly Creeps, and Wild Poppies. The station also produced a 10-part audio documentary (one episode for each year) titled Look Back in Anger. That year hand-written signs in the studio read "play more reggae" and "please play at least two non-playlist New Zealand songs an hour". This was an era when broader radio industry playlists comprised of just one to two-percent New Zealand artists, and – perhaps even more unbelievably – Radio Active suffered from a reggae deficiency.
--