These photographs capture some notable moments in the history of the Dawn Raid label over the decade following their first release in 2000. They are from New Zealand hip hop magazine Back2Basics, with the kind permission of the Rip It Up Archives.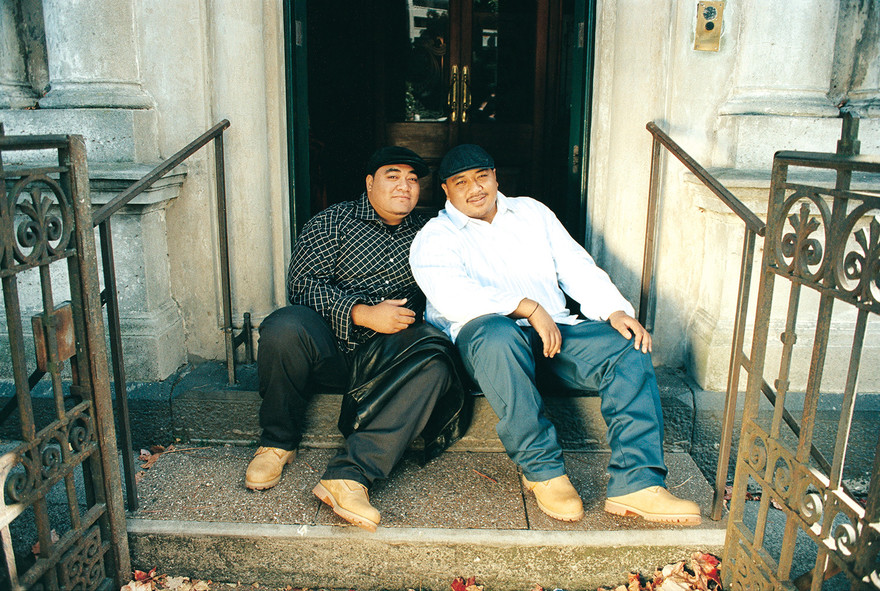 The brothers from Adeaze – Feagaigafou Nainz Tupa'i and Logovi'i Viiz Tupa'i – were first spotted by Brotha D performing at the Smokefree Rockquest in 1997 and this led to them having two tracks on the first Dawn Raid album, Southside Story (2000). They were also the first act on the label to make a serious impact on the charts with their first three singles entering the Top 10, including their song with Aaradhna 'Getting Stronger' (which went to No.1 and sold platinum). Their album Always and Forever reached No.1 and won Adeaze best Pacific group at the 2005 Pacific Music Awards.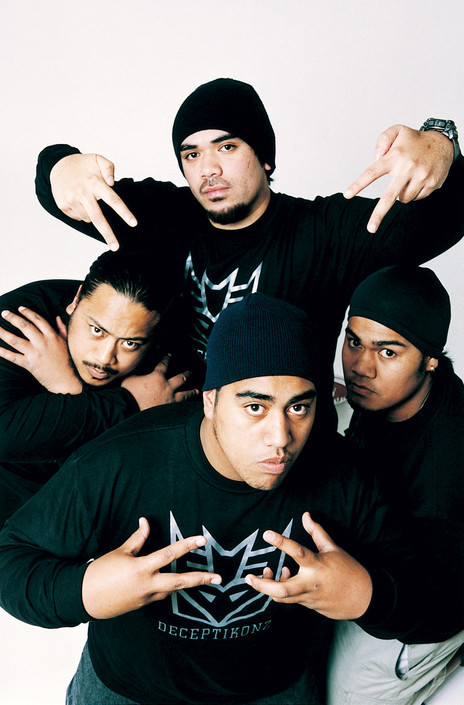 An early promo shot of the Deceptikonz from 2002 – Mareko, Savage, Devolo, and Alphrisk. Their connection with Dawn Raid came through Savage's cousin, whose group K.A.O.S. were already signed to the label. The Deceptikonz made their debut on Dawn Raid's second release, Southside Story II (2002), with two tracks. Mareko produced the beats for both of them and featured on 'Connect' with Scribe, which is one of the only tracks produced by DJ Sir-Vere.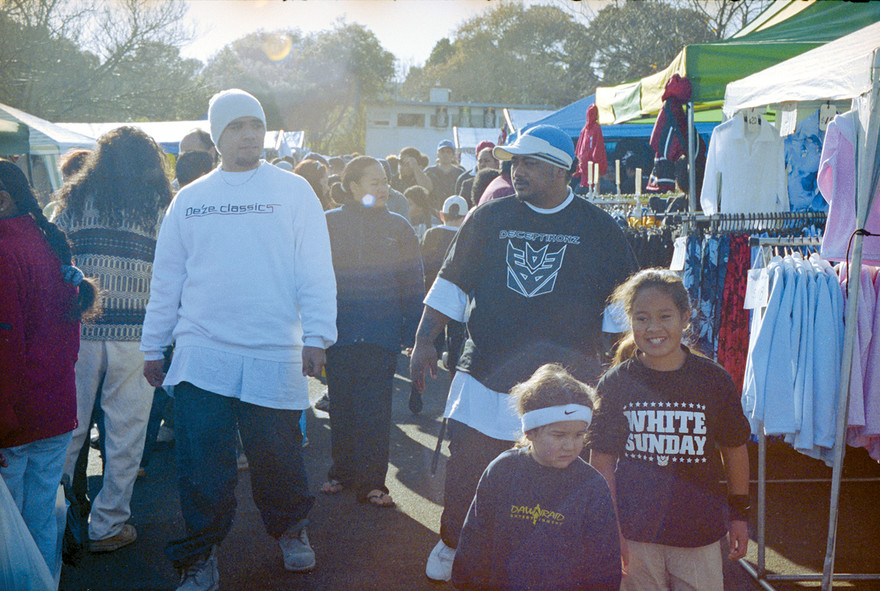 Mareko and Savage from Deceptikonz checking out the stalls at Ōtara Markets. Dawn Raid raised capital for their first releases by selling T-shirts at the markets and they also became an important promotional tool. For example, the White Sunday shirt worn by the child in this picture was printed specifically for the release of Mareko's debut album of this name. The music video for his first solo single, 'Mareko Here To Stay', showed dozens of the Dawn Raid crew and their friends decked out in the shirt, so there was no question what the album title was.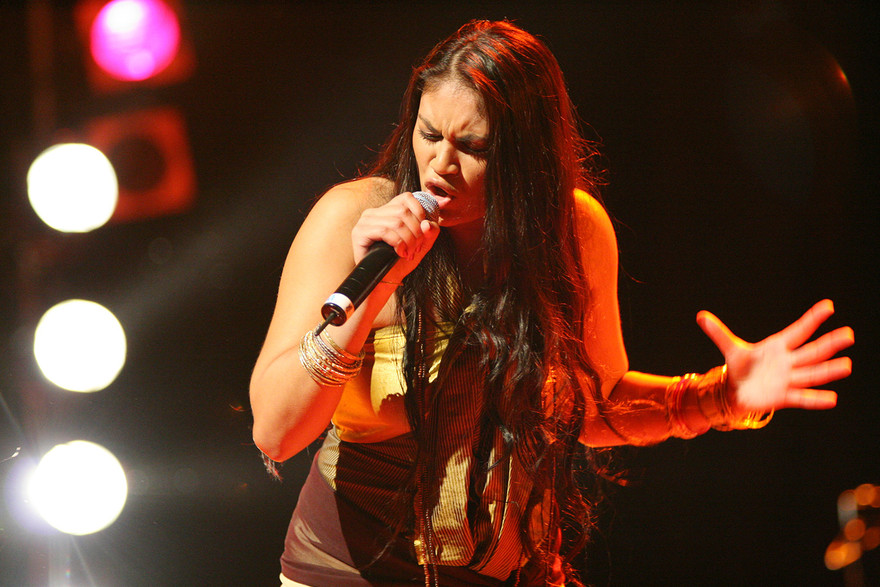 Aaradhna photographed on-stage at the 2006 Pacific Music Awards (PMAs). The following year she returned to take out the Best Pacific Female Artist Award. This was the beginning of a run of awards for her – she won two categories at the 2016 NZ Music Awards and that same year won six awards at the PMAs (ironically, the only award she was nominated for, but lost, was Peoples' Choice Best Pacific Artist Award, which went to her fellow Dawn Raid artist, Swiss). However, she gave away her 2016 award for Best Urban/Hip-Hop Artist to SWIDT because – as she told the Stuff news website – she believed she'd "been placed in this category, because I'm brown" rather fitting the category. Her statement led to changes in the award categories. She later became a Grammy Award nominee, when a song she wrote (and sang on) by US-based Samoan reggae singer J Boog was included on his album Wash House Ting, which was nominated for best reggae album.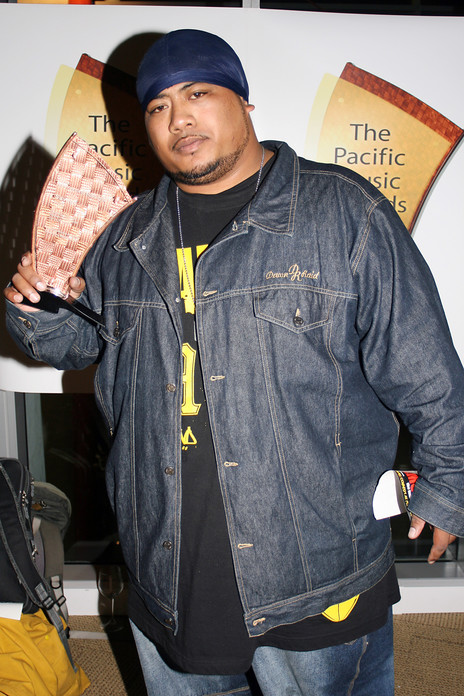 In 2006, Savage won "Best Pacific Song" at the Pacific Music Awards for his single 'Swing!'. It spent five weeks at No.1 in New Zealand and also dipped into the Australian Top 40. A few years later, it gained a new lease of life in the US after being featured in the film Knocked Up. It eventually moved over two million units.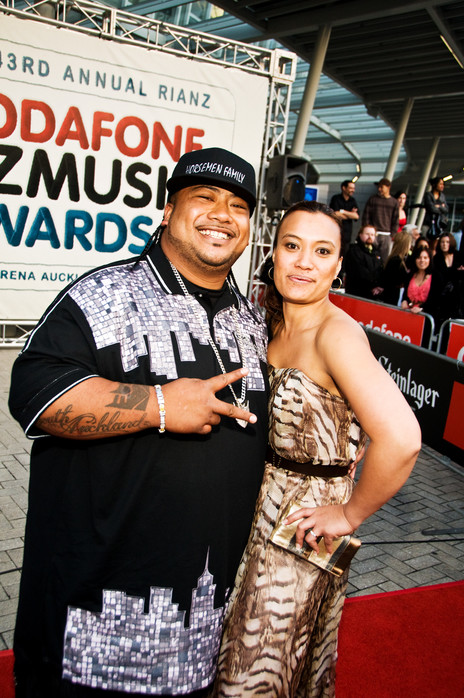 Savage won the international achievement award (alongside Flight of the Conchords), which was acknowledgement of the remarkable success of 'Swing!'. A 2013 remix of the song by Australian Joel Fletcher later gave Savage's career a new lease of life within the dance music scene across the ditch. That remix now has over seven million streams. He went on to work with another Australian producer, Timmy Trumpet, to create 'Freaks' which has over 400 million. During these years, Savage did end up leaving Dawn Raid and signing with Ministry of Sound (Australia). His amazing international achievements were later recognised by a Special Recognition Award at the PMAs in 2016.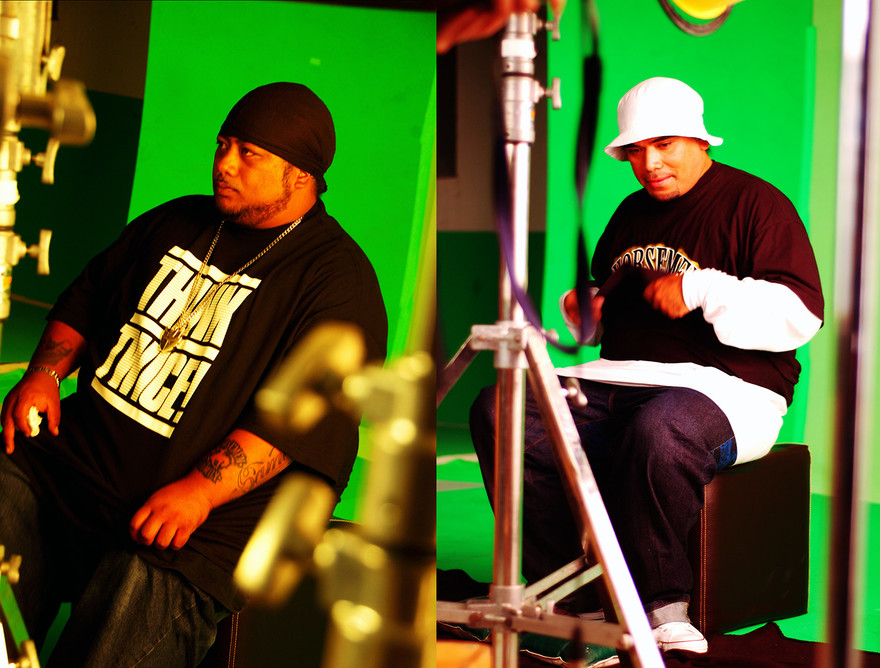 The 'Think Twice!' single and its video were put together by Sir-Vere in 2008 with the aim of discouraging at-risk youth from rushing forward into committing a crime. The track featured Dawn Raid acts Mareko and Savage alongside other stars such as Scribe, PNC, P-Money, and Che Fu.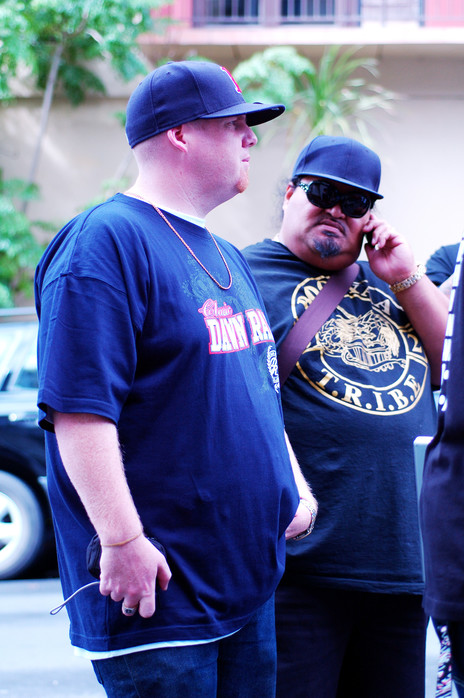 The logo for Booyaa T.R.I.B.E. on Brotha D's T-shirt refers to the LA-Samoan hip hop act who, when they started back in the 90s, were a big inspiration to Polynesian artists worldwide . A member from the group later appeared on some of Dawn Raid releases. Ganxsta Ridd guested on Savage's track 'Knock A Hater Out' and also on a remix of 'Moonshine' that appeared on the album Dawn Raid Family: Element of Surprise (2007).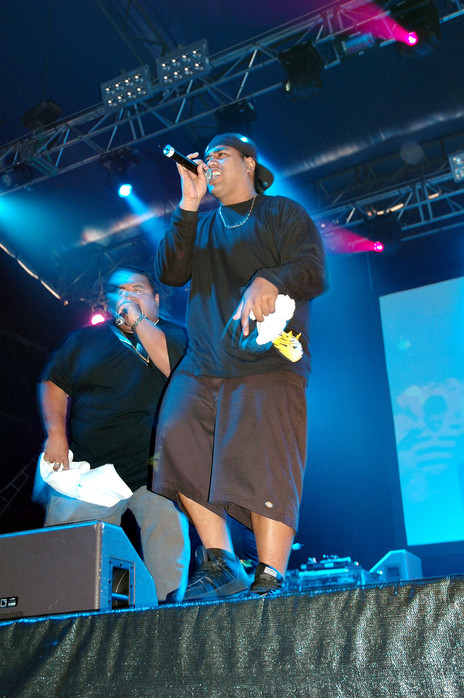 Alphrisk performing in 2006 with Brotha D backing him. He would later change his MC name to Frisko and release a single with Aaradhna, 'Money (Makes The World Go Around)'. The song hit No.15 in 2009.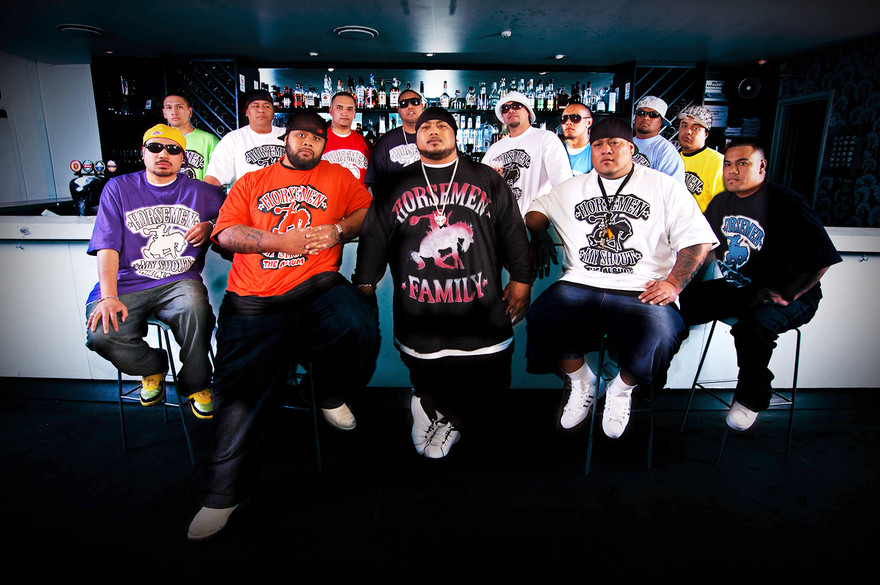 This is a promo shot for the album My Shout: The Album (2008) which was credited to the Horsemen Family and released by Horsemen Records. This label was set up by the Deceptikonz and the name came from a slang term they'd made up – being "horsed" was a reference to being drunk. Alongside Deceptikonz, this photo also shows some newer acts – From Tha Stablez, MCMRZE, LyRic' and DJ Shady1. This project showed Dawn Raid's openness to allowing their acts to pursue their own aspirations beyond the label when required.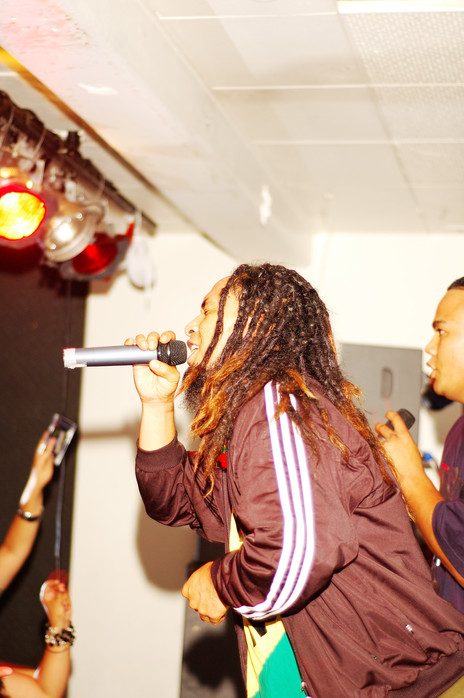 Brotha D first discovered Sweet & Irie at a family day concert in West Auckland. They'd already made a buzz with their self-produced single 'Ban The Burn', opposing the use of crystal meth. Brotha D was so impressed he got them to play alongside him on a track, 'Take It Out South', for the album Villijah Nation, Vol 1: Element of Surprise (2007), which was credited to Brotha D and the Dawn Raid Family. Sweet & Irie then combined with Devolo (rapping) and Mareko (as beatmaker) to create the single 'Feels Like Magic' for the Horsemen Family album which reached No.8. Dawn Raid were impressed and ended up releasing two albums by Sweet & Irie.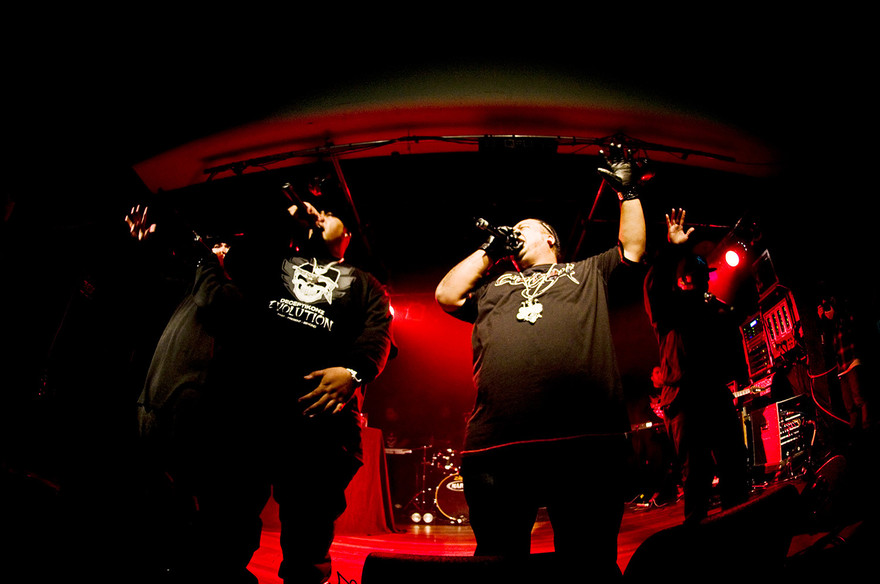 Mareko, Frisko (aka Alphrisk), Savage, and Devolo are pictured at the launch of the final Deceptikonz album, Evolution: Past, Present, Beyond (2010). They celebrated with a packed show at the Studio in Auckland on 10 July 2010, with an impressive line-up which included P-Money, David Dallas, Home Brew and the Usual Suspects. The album had 11 new tracks and a compilation of all the group's biggest hits (both as a group and as solo artists). It reached No.26.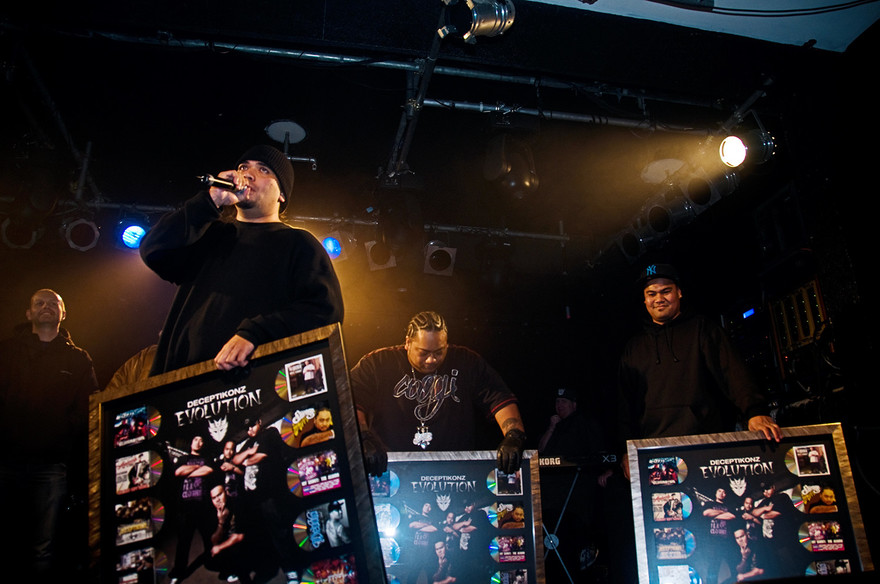 At the Evolution launch, Mareko, Savage, and Devolo are holding up a framed collection of the albums they had released through Dawn Raid up to that point, collectively and as solo artists. Over half their albums went into the Top 40 and – at the time – the group members had featured on 15 Top 40 singles (Savage would have many more, here and overseas). One of the most left-field feature slots was when Devolo appeared on the Pussycat Dolls single 'Bottle Pop'. The original version featured Snoop Dogg, but their label (Interscope) wanted a local rapper to redo the verse before it was released in New Zealand. Devolo was chosen and the resulting single went to No.17 here.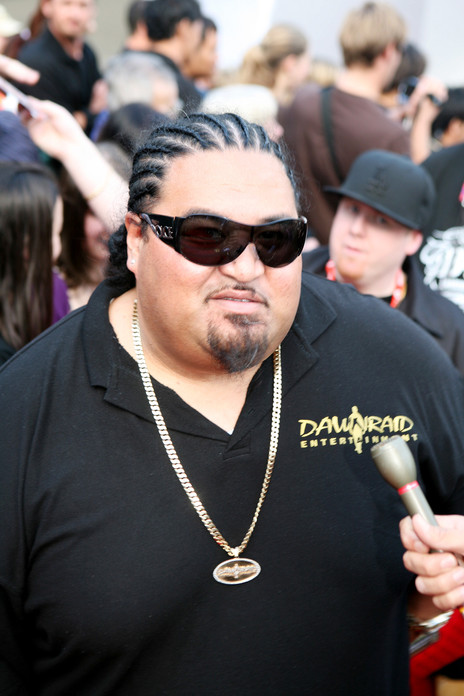 Before he started Dawn Raid, Brotha D had been a member of Lost Tribe who released music as part of Phil Fuemana's Urban Pacifika ensemble of acts. Back in 2003, Fuemana recalled how he first met Danny:
"I met Danny because he pumped the gas into my car every day. In my hood, I was already considered a producer. Danny just said, 'Hey man, I love what you did with Proud.' So I invited him along: 'Hey do you wanna come to this thing, I'm trying to set up this new record company for us.' And he said, 'Yeah I'll come along.' … meeting Danny changed my life, basically, he saved me. Me and that dude are tight. I love him like a brother. I knew when I first met him that he was special. Look at Dawn Raid now, that's Danny all the way … Now I read an article in Real Groove magazine and Andy mentions me. I remember it was Andy's job carrying the bags – he was just this white guy, who was Danny's mate. Now he's one of the leading hip hop innovators for our country. That's what inspiration is and now he's inspired heaps of people too."
--
Many of the images above were taken by Raymond Sagapolutele.
Read the history of Dawn Raid Entertainment here.