His was a maverick voice, older, wiser and darker, and his music and words had a knowing beyond many in that fertile time. There, eternal truths could be glimpsed.
When Bill Direen's legendary first group, Vacuum, played Christchurch's influential Mollet Street venue, it was with the city's initial wave of punk bands. Punk amped him, as it did many of the free minds that fell between the 1960s and the new way of the late 1970s, by affirming the path he was already on.
Direen found plenty of common ground with Christchurch's post-punks and their independent spirit, DIY instincts and desire for complete creative control.
Direen found plenty of common ground with Christchurch's post-punks and their independent spirit, DIY instincts and desire for complete creative control. But he remained distinctive. Small run publications and theatre were never far away.
Music and poems surrounded Bill Direen as he grew up. He remembers sixties pop, Beethoven, the "very musical and mysterious" Latin Mass, and The Underdogs at Palmerston North Opera House. Direen was the youngest of five and all his brothers and sisters were heavily into music.
After time in Palmerston North and Wellington, Direen was in Christchurch for secondary school at Catholic college St Bede's, where he studied the sciences, but preferred plays and musicals. It was a dilemma that unsettled him as he drifted from studying medicine at university to a job in a particleboard factory.
Direen was playing a set of American and British folk and depression-era blues. Singing traditional tunes with a social message, he added a few of his own songs while performing at the Christchurch Folk Club. He was soon to record his first original.
"Reid Snell arranged for me to write a song and record it at Orly Productions on acoustic guitar to sell Superwheat bread in 1975," says Direen. "I was still playing at the folk club. Superwheat was on the radio in Christchurch for nearly two years.
Peter Stapleton, soon to be a key member of Vacuum, noticed the song, especially the second line, which was not the usual sort of bread-song lyric.
"My friend Tom Scully lived near Peter and introduced us at the end of 1976. Peter spent nearly every last penny he earned on imports and his record collection was inspirational. I had bought an electric guitar, a Marinucci, and was starting to see the beauty and possibilities of playing in a band. Peter had already begun to play with Steve Cogle, a friend of his from Xavier College. Peter's drum kit was set up in his sleepout at his parents' place. Another thing we had in common. I lived in a sleepout too. Peter, Steve and I were also of Irish ethnic origin."
As Vacuum, Direen, Stapleton and Cogle began rehearsing and exploring Direen's growing catalogue of originals alongside their own compositions and some obscure covers.
"We were all inspired by the earlier bands such as The Velvet Underground and the psychedelic pop groups before the arrival of punk and new wave," says Direen.
Following a year on the West Coast with a family to feed and shelter, in 1977 Direen left for Wellington and a Radio New Zealand announcing course. He received a visit from Peter and Steven.
"They sent me a card: WE HAVE THE BODY," he says. "The body was the nickname of a new organist. His name was Peter Fryer. As Vacuum we played at the New Zealand Student Arts Festival [Wellington's Victoria University, August 1977]. Suburban Reptiles and The Scavengers played downstairs to big crowds. That was where a drumstick flew into the audience and someone was hurt, which made the crap headlines in the reactionary dailies. Peter Fryer was in the band on keyboards at that time. We probably played 'Accident' at the end because someone pulled the plug on us."
"The diversity of culture in his new home in the capital had always appealed."
The next stop was Radio New Zealand station 2ZE in Blenheim, where Direen presented as DJ Bill Diamond. 'Blenheim Song No. 28' was recorded there and released on Twenty Solid Krypton Hits (the tape) in 1983. Direen is credited as Billy Caxton And His Pamphleteers.
While in Blenheim, Tom Scully visited him. At night the pair listened to Radio Hauraki maverick DJ Barry Jenkin and a Sydney station, Double J. Vacuum visited for a practice. There was a new excitement in the air. Punk rock.
Bill Direen: "I remember Tom saying as we walked to Peter's sleepout (in Christchurch) one evening – it must have been 1977 – December – he felt that the seventies had finally arrived. Something at last that could identify the seventies as the sixties had been identified. Tom was always hoping for great changes. And I was also amazed at the music that then started happening, but we were kind of on our own path as well. I had had a musical education. The punk revolution occurred while I was in Wellington discovering cabaret and electronic music. Douglas Lilburn opened my ears to 1950s magnetic tape pioneers and to everyday sounds like cicada-song."
In Christchurch an all ages rock club with a liberal booking policy opened in Mollet Street market in late 1977. Vacuum performed there with The Doomed and The Vandals on December 18, 1977. They were back again on February 12, 1978 with The Doomed, The Vandals and Johnny Velox and The Vauxhalls – the best of the city's punk and new wave crop.
Dick Driver was singer for The Doomed. "[Vacuum] were a primeval headspace band," he says. "Real streetwise people, whereas we were suburban types. They had a real intensity to them and played without any desire to connect with the audience."
Vacuum's first recording session was at Orly Productions in Christchurch in 1978. "We must have recorded six or seven songs," says Direen. "The engineer was Reid Snell. The recordings have been lost. One of the songs was 'Girl at Night'. Another was 'Thought I Knew You'. I'm pretty sure we recorded 'Better Off Dead' and I think we did 'Native Waiter' as well."
They recorded again the following July, this time at Robbins Recording Studios with Keith Robbins, capturing Bill Direen's Velvets-stung rocker, 'Love In The Retail Trade', the frantic 'Remember Breaking Up', and 'Inquest', a restless cactus vision of a song. The latter song's bent narrative was published by Grant McDonagh in his Wellington anarchist/ situationist zine, Kat In The City 3 in 1979. Bill had already had the words to another of his songs, 'Dirty and Disgusting', published in Extension in 1976.
With Direen back in Christchurch by 1979, Vacuum finally began to play out with some regularity.
With Direen back in Christchurch by 1979, Vacuum finally began to play out with some regularity. They were at seedy port tavern The British in Lyttelton in May and at the Suburbs Hall in Hoon Hay the next month. In July, they joined The Doomed at the Foresters' Hall, and in September, the group partnered with Nameless at Dux de Lux and The Androidss at The Gladstone. Vacuum returned to The British and debuted at new music club Rock City in Tuam Street in October.
Frustrated that their songs weren't getting heard, Stephen Cogle and Peter Stapleton formed The Victor Dimisch Band with guitarist Tony O'Grady and organist/ guitarist Allen Meek.
Direen formed a new Vacuum line-up with Allen Meek, Jon Segovia on bass, and Peter Stapleton followed by Malcolm Grant on drums. In 1980, they performed before Toy Love at The Brevet Club in February, and The Vauxhalls and The Whizz Kids at Christchurch's Hillsborough in March. Supports for Pop Mechanix, Vapour And The Trails and The Vauxhalls at the Gladstone in April and The Features at The Imperial in May followed.
Four Direen songs were recorded in 1979 and 1980 for 20 Solid Krypton Hits, a mock compilation put together by Campbell McLay and released in 1982. As Max Kwitz, Direen recorded 'Surprise', a gossamer thin ballad. Mining similar terrain was 'All The Rest,' recorded by Crowd Scenes, which was Direen with McLay on bass and Willy Dobinson on drums. He then became Cherry Smash for the first recording of 'Red Sky', a menacing group adaptation of The Accent's British 1960s nugget, 'Red Sky At Night'. Darker still was 'Caligula,' credited to Ritual Sex.
On finishing his English degree at Canterbury University, Direen returned to Wellington to work at the Phoenix Theatre and form a group called Six Impossible Things with bassist Ivan Rogers.
"Ivan and I met in 1980 in Wellington. I'm a bit hazy about it all, but Grant McDonagh was there and so was Steve Braunias, Tom Scully, Jude Jerome and others. We played some good shows, one in Porirua at a 21st."
With Malcolm Grant drumming, Six Impossible Things recorded four tracks in Wellington's Sausage Studios with Robbie Duncan for a 7-inch EP. They included three of Direen's most enduring songs, the infectious lyrical rocker 'Dirty and Disgusting', the terse 'Moderation' and the epic 'Alien', a surreal tale of a boy with "eyes blasted like a bullet hole" over stalking instrumentation that underlines the otherworldly lyrics. The resulting EP was released in late 1980 in a small run.
Direen was back in Christchurch in August 1981, playing before The Clean and Mainly Spaniards at The Gladstone. He'd hooked up again with keyboard player Allen Meek and Malcolm Grant. As Soloman's Ball, Meek and Direen recorded the tortured 'Son Of Cronos' and the elegant horizon-gazing pop song, 'America'. The EP is rounded out with 'Dead Heat' and the spooked 'Strange Nights'. Soloman's Ball was released in 1981 in a small run and again the following year with a different picture sleeve.
1982 was no ordinary year in the weird and wonderful world of Bill Direen. He played live as Bilder Bergers, AM Express, The Builders, Bill Direen and Friends, Urbs, Max Kwitz and Soluble Fish, supported The Fall in Wellington and Auckland, released Schwimmen In Der See, High Thirties Piano and reissued Soloman's Ball. If that wasn't already enough, Direen recorded his brilliant first album, Beatin Hearts, in Auckland in August 1982, as well as the best part of what would be his next album, Split Seconds.
In 1982 Direen played live as Bilder Bergers, AM Express, The Builders, Bill Direen and Friends, Urbs, Max Kwitz and Soluble Fish.
Direen's songbook was full to bursting. He'd practised lots, but played comparatively little. Now with the city's venues open to new sounds in the post-punk era, he had a stage, and in emerging indie, Flying Nun Records, a label, or at the very least, a spur (he'd already been releasing his own music).
As Die Bilder, Direen, Malcolm Grant and Allen Meek created Schwimmen In Der See, a four song 7-inch EP released by Flying Nun. On it, Direen finally captured 'Girl At Night', a song that speaks of a little girl's dreams, and a woman "one hand down, resting on her trouser leg," who, "saunters along looking like a ten buck bed." Driven by Direen's haunting vocals and sublime rock guitar and a heartbeat bass, 'Thought I Knew You' swells, surges, screams and subsides, leaving only a half-grasped sliver of a song. The eight-minute 'Russian Rug' is a full-blown mini-opera of strange French poetry, decadent guitar, doubled tracked vocals and psychotic Direen mumblings. A video was made for 'Russian Rug'.
"Schwimmen was me and Allen, with Malcolm, that's it, with lots of fun at the mixing desk. The samples on 'Russian Rug' were from National Radio of Bruce Mason, Sharon Crosbie and the mass in Polish at St Mary of the Angels, broadcast every Christmas Day back then."
High Thirties Piano was an even more puzzling release. Very little info was included. Housed in an intriguing blue sleeve with a screen print of a black piano player with a huge cigar in his mouth, it's a collection of live Builders tracks from the same core group as Schwimmen ... and includes the first recorded appearances of a number of Direen gems such as 'Magazine', 'Kicks', 'Bedrock Bay', 'Outer Date World', 'Payline' and 'Avenue'.
He spent a lot of time onstage at the Star and Garter in mid-1982. He had a new trio, Urbs with Malcolm Grant drumming and Campbell McLay on bass, who played there in early July and entered the Star and Garter Battle Of The Bands. The first heat found them on the same stage as Mainly Spaniards and The Terraces, two of the better groups in the city that year. Urbs fought through to the semi-finals on July 23 and made the final the following day, which they won. The prize was studio time and the best studios were in Auckland. In mid-August, Urbs headed north, stopping off en route in Wellington to play Cosgroves and support The Fall at Victoria University with Riot 111 and Naked Spots Dance. The next day Urbs headed to Auckland for two shows at Mainstreet with The Fall.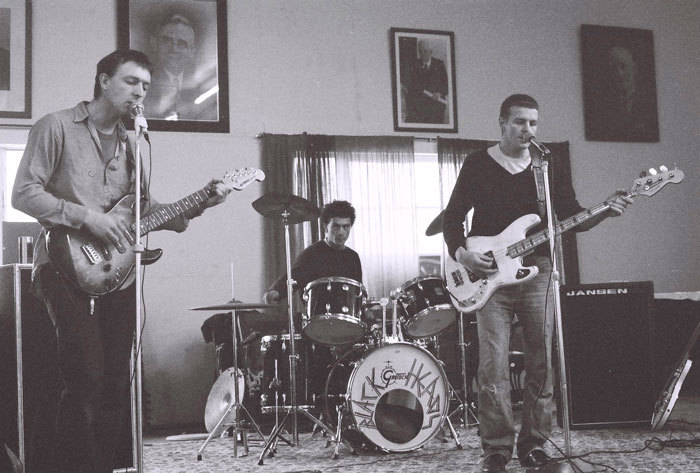 Urbs saw out August in Auckland with The Bombers at the Windsor Castle and Coloured Pencils at the Reverb Room while recording 19 Direen songs at Progressive Studios and in Chris Knox's living room. Seventeen of which make up Bill Direen's first "solo" album, Beatin Hearts, released in August 1983.
At home in Christchurch, Direen continued his interest in small run publishing with Prototype Publications. Two Prototype booklets appeared, Twenty Four One and Slices of Man, containing Direen's poems, short stories and lyrics. Twenty Four One has the words to many of Direen's available records together with the still unreleased 'Inquest'. The lyrics are thick with imagery, dark joy and strange half moods.
"The lyrics aren't supposed to be read as poems," Bill Direen remembered in 2006. "They are strictly for the songs, but I hope they make sense if you read them as song lyrics. That's why I have published them. It's not because I think they should be read as poems."
1983 brought Above Ground, a band of new musicians with Stuart Page drumming, Maryrose Wilkinson playing bass and Jean Brown on keyboards. In early April, they were one of the many new acts at the Punakaiki Festival on the South Island's West Coast together with The Stones, Look Blue Go Purple, Children's Hour, Nocturnal Projections, Mainly Spaniards, Sneaky Feelings, Naked Spots Dance, First Fifteen, Blue Meanies and They Were Expendable.
"Stu had his teeth kicked in at that festival and after we found a dentist who took some bits out of his gums, he insisted on playing," says Direen. "It was incredible when I think of it after all he had been through. Some ruffians let his tent down in the mud and then did him over. So my memories of that festival are blood coloured.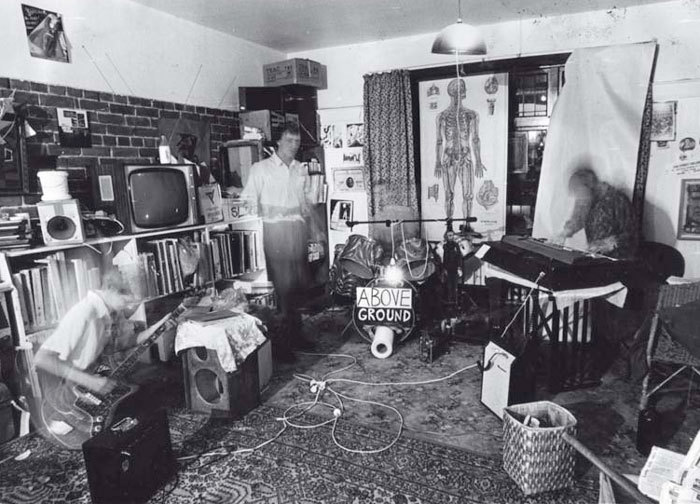 "Stu was and is an exceptional drummer. It is in his bones the way writing is for me. Maryrose picked up the bass later. I think she wanted to get into some doing of music after organising some concerts, including, bringing out The Clash. Jean Brown didn't play again after Above Ground."
Above Ground recorded their festival set, which included 'Black Doors', '1,000,000 Hearts', 'Grey Goose' and 'Saturdays' on the Gone Aiwi tape, released mid-year on the Prototype Publications imprint. Stu Page created a screen print cover for the tape and a small booklet with lyrics and line-up. Joining the Punakaiki recordings were 'Green Afternoon', 'Spooky Nightmares', 'Coalman', 'Dreams Of Rats' and 'Johnny Devlin's Shoes', recorded live at UCSA Capping. 'Flat Feet', 'Magpies', 'Sunday News' and 'Unclean' were added from a living room session in mid-April.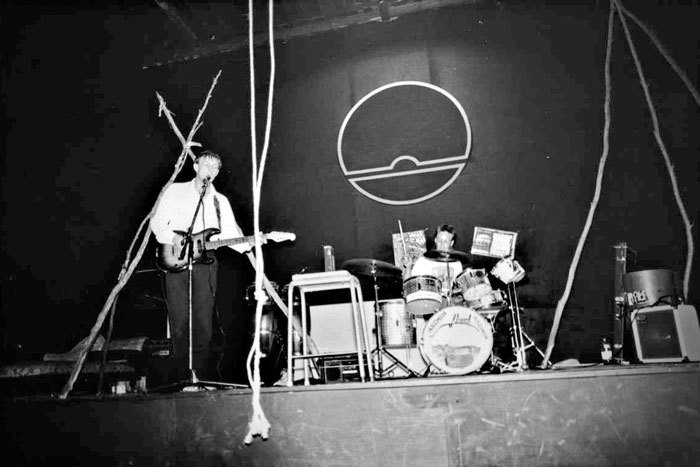 In June, Above Ground were in Dunedin at The Empire with The Cartlidge Family (Shayne Carter and Peter Gutteridge), but ultimately it was to be a short lived project that never really achieved what it could have.
"Money troubles caused our split. We never had enough of it and were typically poorly managed (not really managed at all). It just happened like that. We played a lot. We listened to a lot of Can and just about everything else and jammed with Peter Gutteridge at the time, but never saw him again."
Flying Nun finally released Beatin Hearts in August 1983. It was, and is, a masterpiece.
Flying Nun finally released Beatin Hearts in August 1983. It was, and is, a masterpiece and remains one of the most compelling albums in the New Zealand rock and roll canon. The record opens with '1,000,000 Hearts'. Tom Scully's words described a Mayan human sacrifice, on which Bill used two voices, one shrill and frantic, the other calm and full. The first from a participant in the ritual while the second stands there watching. Priest and killer.
The Builders revisited 'Dirty and Disgusting', 'Moderation', 'Alien', 'Kicks', 'Magazine', 'Outer Date World' and 'Avenue' from earlier Direen records on Beatin Hearts.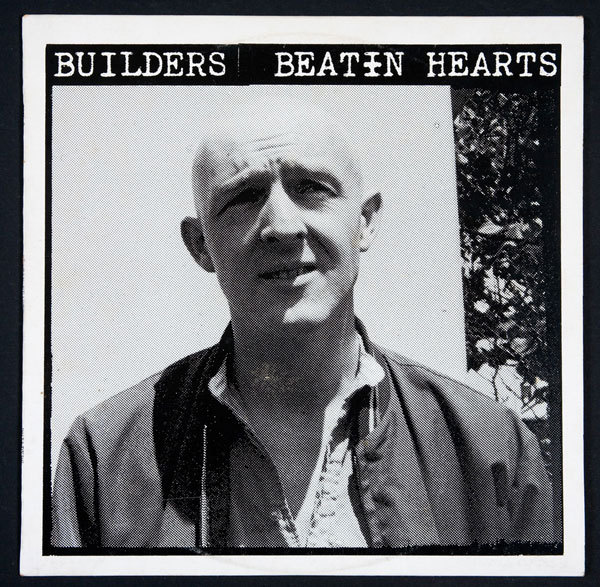 "The thing is that bands play the same songs hundreds, perhaps thousands of time. We just happened to play them quite differently and at the time, the different versions seemed different enough to warrant releasing them. A luxury I suppose. But Stu's drumming was totally different from Malcolm Grant's and Maryrose's bass was a far cry from Campbell's."
The new versions all have their charms and differences, but the velvety rockers, in particular, benefit from the fuller sound that Campbell McLay's bass brings. The bass often carries a fair bit of the melody as well.
'Alien' is as otherworldly as its name implies and was recorded in Chris Knox's living room with Bill singing and playing guitar and bass, Knox on organ and Mike Dooley drumming.
With 'Dirty and Disgusting', the heartbeat leaps and the feet are not far behind. This is Bill at his most accessible, observing everyday life with a wry eye. 'Magazine' lives there too. It's almost sweet, but a little too manic for that with a dark undertow lurking beneath the everyday scene.
'Accident' closes side one with a gnawing, nagging, see sawing avant-rock wail-out, akin to The Velvet Underground's 'White Light/White Heat'. The words are another Direen dissection, this time of the bloody aftermath of a terrible accident.
'Wanganui With A White Face' wheezes its clattered harmonica and tambourine-on-a-snare way underneath the vocal's knowing eye. Bill plays drums, harmonica, guitar and bass on this. He adapts another New Zealand poet, Christchurch's Denis Glover, for 'Magpies' and gets right inside the epic. His voice and guitar weaves in and out of the beautifully paced rhythm.
Talking to radio in the early 1990s, Bill would think Beatin Hearts "more of an album than any of the other things I've released. It was all recorded in one session. When the songs were first recorded, Knox and Doug Hood put together an order that just didn't work. The way one song followed another didn't make sense." With some reshuffling the optimum mix was soon found.
As always, theatre was never far away. Bill Direen had a solo track on Soluble Fish Ensemble's 1983 EP, Dance Of Death, called 'Papa Kurl', a harrowing lament about child abuse that builds and builds.
In November 1983, Bill Direen and his wife Carol Woodward performed at The Empire Tavern in Dunedin with Doublehappys. In March 1984, they produced a four song 7-inch EP of Boris Vian songs, Feast of Frogs, for Prototype Publications. The songs are translations of Vian's French songs, which are satires about the French scene-making society of the 1950s.
"The songs were recorded at my home on the TEAC 3340S. Boris Vian? Why? Because I had a cassette of his songs and was interested in French and Jean Brown was a dab hand with the French too. We also recorded Maryrose singing one of my songs, 'Night Opens Up', and that song appears on a Builders album [C0NCH3]. We have her singing 'Hurt Me Johnny' on Feast of Frogs."
The next release, Live At The Gladstone, arrived in mid 1984. Direen recorded the live performance in March and released it as a tape on his Prototype Publications imprint. He placed a small classified ad in Rip It Up to let people know. Like many of his early fans, I'd scan the small print in the music press, scare up some money, post it away and wait. An act of faith never betrayed. Bill sold all his records that way.
My friends and I played the new tape to Grant McDonagh, who turned up at the flat one early winter morning in a purple leather jacket and black helmet. Grant said he was a friend of Bill's from Christchurch where they'd lived in an anarchist commune and that The Builders' monumental 'Inquest' was about him tripping on cactus.
Grant had seen the review of our fanzine Ha Ha Ha in Rip It Up, sensed we were like-minds, jumped on his motorbike and crossed the river from Melville, where he worked at a burger bar by night and potted with his mother by day. His second visit was to drop off a tape of Six Impossible Things and a visitor, a pottery hoon in an AC/DC tee shirt. A typical night-time burger bar customer.
When that tape plays now, I hear him in the sonorous, eerie strum of 'Friend' with its superior vocal to the Beatin Hearts version; and in the laidback 'Love In The Retail Trade'.
In early November, we got a postcard from Bill saying he'd be in Hamilton to play the Left Bank Theatre, en route to Auckland. The show started badly when the jack on his electric guitar broke. No replacement at hand, Direen played acoustic for the entire set, dipping back in that rich songbook to car crash drama 'Accident' and beyond. Pictures of the show would later appear on the cover of C0NCH3, his third album.
Bill was crashing at our rental in Silverdale on the city's rural edge. I guided him back there and we talked into the early hours drinking tequila.
Everyone I knew had Split Seconds by then. We were amazed that Bill had this many great tracks still unreleased after the landmark Beatin Hearts album and string of brilliant EPs.
Despite its cobbled together nature, Split Seconds was a more cohesive album than its predecessor.
Despite its cobbled together nature, Split Seconds was a more cohesive album than its predecessor. It's a rock album with spooked words and organ driven rockers offset by dark dense ballads. On it you finally get to hear Vacuum, with Stapleton and Cogle playing on 'Love In The Retail Trade'.
There's another Velvets rocker in 'Baby Come Back' from The Builders' Nightshift studio sessions in February 1982. A second session there produced versions of 'Girl At Night' and 'Avenue' and three brilliant troubled Direen songs, 'Skulls', 'Crossword' and 'Circle Of Blood'. 'The Spell', recorded in 1984 with Alec Bathgate on TEAC at the Blue Ladder Theatre rehearsal space, comes from the same headspace. There's a lot of that Robert Johnson at the Devil's crossroads feel in those four songs, his words full of voodoo mumble and threat, as unsettling as they are compelling.
Rounding out the album are yet more re-recordings of Direen gems' 'Girl At Night', 'Avenue', 'Surprise' and 'Caligula' (as 'Darling'), which was recorded using the organ at State Trinity Church, Christchurch, in 1984. 'All The Rest', 'Surprise' and 'Blenheim Song No. 28' are the Krypton Hits versions.
At year's end, Bill could be seen on national television explaining the Blue Ladder Theatre and performing 'Bride Of The Wheel'. Still in creative flux, still writing and acting and making music. It had been a hectic few years, notable for the sheer breadth of projects he'd mostly instigated.
"It was an undisciplined time and I was playing with plenty of people. [We were] not very good at organising ourselves and never had enough money to pay for basic costs so I think that is really why the bands didn't last. Look at the line-ups that did last. The Bats, The Chills and Chris Knox were all supremely good at getting paid for a start, and at getting their promotional stuff out. I was always pretty useless at that, but perhaps I like to grow in the shade like ferns and some plants."
-
Part two of this extended profile is here.