When I sat down to write this account about the modern era of Hamilton recording studios the first obstacle I encountered was the lack of chronicled information. Despite the fact that for a time the studios in question were vital to the various musical scenes in operation throughout the city and the focus of some intense creative activity, so much of the wider story had been lost to memory.
It was a labyrinthine puzzle but the stories emerged, revealing a tale of studios rising, falling and being gutted to create new studios in new locations. It is a story of passion, innovation and self-taught engineers struggling to maintain a professional recording industry in a small but rapidly growing city looking for a creative identity.
These days Hamilton boasts a serious number of recording studios, led by The Porch, a facility that can be counted among the nation's best, but this wasn't always the case. While Hamilton and the wider Waikato region had a couple of small production facilities and the odd 4-track home recording studio prior to the 1980s, if any bands or musicians required something more from their recordings, off to Auckland they went and the welcome was not always as warm as it might have been.
Stories abound of grumpy engineers who drew the short straw and got the "Hamilton band". It was during one of these experiences with an engineer and some derogatory comments about Hamilton music at a well known Auckland sound recording facility that budding sound engineer Zed Brookes (there with his band Step Chant Unit putting the final touches on their soon-to-be hit single 'Painting Pictures') decided that he was going to create a decent recording studio in Hamilton and bypass the less than satisfactory attitudes of Auckland.
At the time the band's drummer, Neville Sergent, was working behind the counter of a Hamilton branch of a Tandys Record store, a chain that that proliferated across the Waikato, Bay of Plenty, Coromandel and King Country. The chain owner was musician, songwriter and performer Neil Nooyen, who was thinking about building a recording studio where he could work on his own music. Sergent introduced Brookes and Nooyen. In Nooyen, Brookes found the capital he needed and in Brookes, Nooyen found the skills and enthusiasm required to make his dream happen.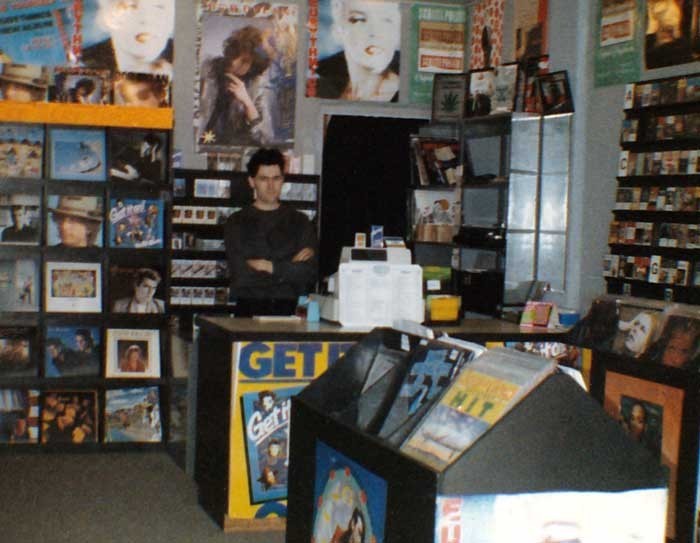 Tandys Recording Studio
The barn on Nooyen's lifestyle block, just off Morrinsville Road at the edge of the Hamilton suburb of Hillcrest, proved to be suitable and in 1985 Brookes set to work designing and building. The result was a warm and inviting studio space at the end of a gravel driveway about three minutes off the main road. The studio began very simply, just Brookes and his Tascam 4-track cassette Portastudio before upgrading to a 4-track analogue system sourced from new partner Rex Wade's Pirongia based Studio. The partnership between Nooyen, Brookes and Wade lasted less than a year before Wade left to set up the Tramway Road Studio. By this stage the demand for Tandys' services were enough to convince Nooyen to invest some serious money. The result was a 16-track facility.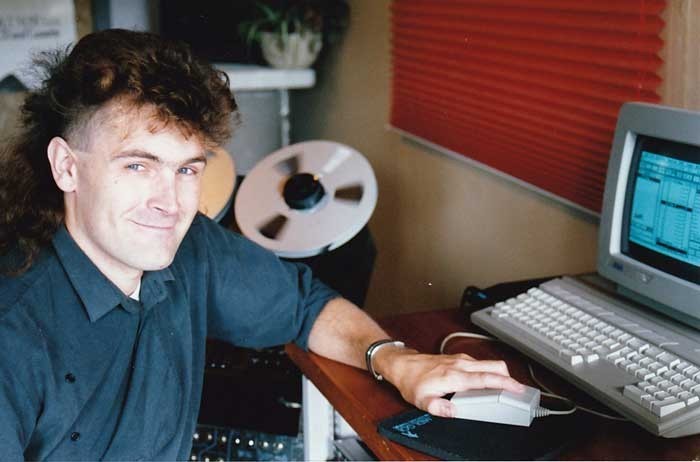 Belying its bucolic facade, Tandys was a hive of activity that often ran 24/7 trying to keep up with the demands of a hungry musical community. While Brookes initially carried the bulk of the workload he quietly built up a team of young enthusiasts to assist. Dennis Marsh had learned the basics of sound live mixing working behind the console for his brother Phil's band, legendary Morrinsville-based rock covers band Bad Jelly. Between gigs Dennis spent his time at Aerial Railway, a basic 16-track analogue facility set on a commune just north of Coromandel, expanding his craft under the supervision of studio creator Johnny Irons. When Dennis heard there was a new studio open for business just down the road from his home in Morrinsville, he turned up and offered his services.
Brookes: "Dennis was a good foil to everything. He could be annoying (when he felt strongly about a recording he would argue his point until he got his way) but every so often totally nailed it. He was a bit of a hippie really, a free spirit who came and went as the winds blew him."
Dennis was killed on his way home to Raglan after mixing a live gig in downtown Hamilton when the car he was driving hit a horse that had escaped onto Te Rapa Straight on the city's northern boundary.
Marcus Pope, a young and talented intern, met a similar fate while helping Brookes to move house. After dropping some boxes off he got into his car, ran off the road and was killed instantly. Brookes: "Nowadays he'd probably be identified as 'on the spectrum' but he was a good kid and loved audio. I think about him all the time."
Brookes met both Scott Newth and Grant Brodie when they came to Tandys to record with their respective bands. Both demonstrated a talent and enthusiasm for the mixing desk and "just stayed on, learning as they worked". Brookes: "I met Scott Newth when he came in with his synth pop band Love and Violence and got on really well with him. He managed Tandys studio for a time in the later years, then we worked together at the Zoo studios. We tag-teamed it on heaps of projects, we knew each other's production style well and could offer slightly different flavours to client's projects. Scott ended up pursuing the indie thing and I went more commercial."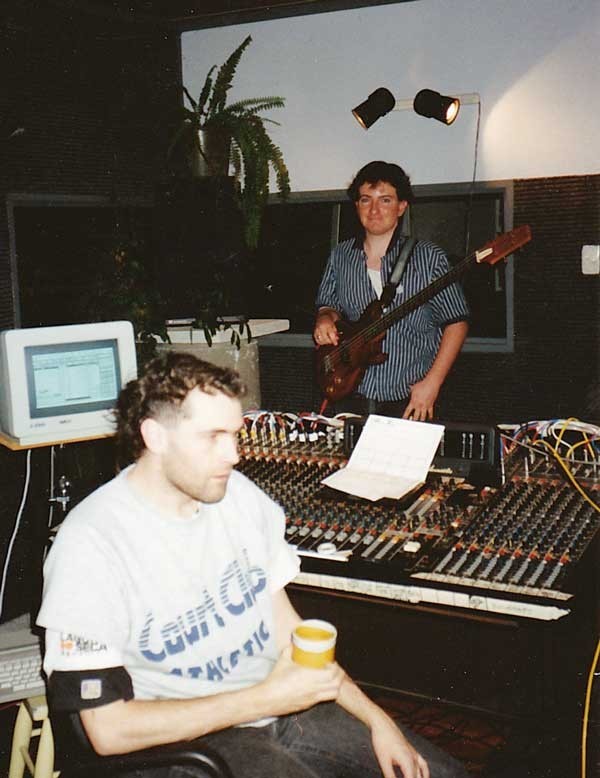 Scott Newth became the sixth member of The Datsuns, recording much of the band's early work and running their live mixes, a job he still does today. Grant Brodie (Grok, Inspector Moog, Dribbly Cat Attraction) graduated from Tandys and went to work at The Rock 93FM's production studio in downtown Hamilton. When the station was purchased from founder Grant Hislop, Brodie stayed on with new owners MediaWorks, and now manages the media group's Auckland based production studio, a role he has maintained for over 20 years.
In 1993 Brookes left Tandys to set up The Zoo Studio in central Hamilton. Scott Newth took over the running of Tandys for a brief time before handing it over to local sound enthusiast Dave Whitehead who ran the studio until it closed in 1997. Nooyen had been expanding his chain of record stores at around the same time the Internet driven digital music revolution was gaining momentum. After opening a superstore store in central Wellington, he found himself precariously overextended and the studio was sold to raise funds. Not long after, the Tandys chain of record stores (named after the iconic American record store) shut up shop for good.
Dave Whitehead, who had been dabbling with film sound, went to Wellington and started White Noise, a film sound production company. Over the last 20 years he has worked on over 60 film and TV projects including The Hobbit and Lord of the Rings trilogies, Tin Tin, District 9, Snow Piercer and Elysium.
As for Tandys, the equipment was purchased by University of Waikato student radio station Contact FM, where it was grafted onto The Fridge, the station's production studio.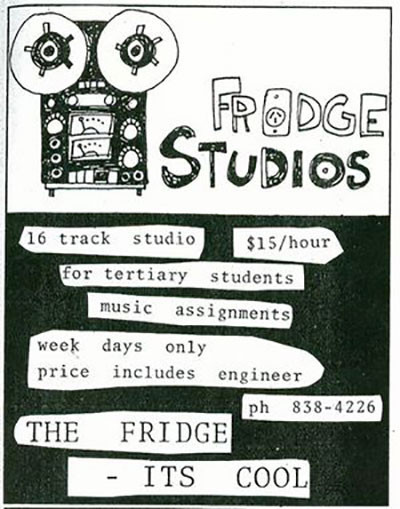 Originally the studio ran off Brookes' 4-track Tascam Portastudio and his effects units and synthesisers, then upgrading to Rex Wade's Tascam 8-track reel-to-reel and Tascam mixer and a custom-built patch bay with JBL monitors before upgrading to Fostex 16-track. A client (a debt collector) sold the studio a Studiomaster 8-buss console he had repossessed from a Rotorua studio and was storing under his bed.
Brookes: "We got it for a good price and later expanded it with another eight channels to get 24. We bought a Roland MC-500 MkII sequencer for our MIDI stuff (everything was entered in numbers), eventually upgrading to an Atari computer with Creator and a Unitor adaptor for striping time code to tape. I remember I even wrote code for it to work out room modes. We bought an Akai S900 sampler and got the trigger input option for triggering drum samples. That thing was worth its weight in gold. We bought one of the first Sony DAT machines, you had to add an extra fifteen percent reverb to your mixes as the rest would just vanish off the DAT."
Tandys Recording Studio released the very first Hamilton CD in 1990, a compilation album of songs by various Hamilton musicians and bands called Just Teasing.
Tim Armstrong - 'Guilty' (1991, filmed inside Tandys Studio)
The Fridge Recording Studio
The Fridge, so named because the studio was set inside an old industrial fridge complete with fridge doors and no windows, was formerly the radio station's production studio. With the arrival of state of the art gear from Tandys it became the recording venue of choice for the city's thriving alternative music scene and operated in its first incarnation until 1998.
The Student Union funded Contact FM was one of the victims of the "ideological war of attrition" being waged by the right-wing Libertarian political group "Student Choice" against the Student Union's compulsory funding model that subsidised operations such as Contact. Between 1996 and 1998 Contact struggled to survive. Broke and spiritually spent, the station shut its doors on 17 June 1998. The Fridge went into hiatus until being revived in 2009 when Contact FM was re-established on 88.1FM, a low power frequency signal. With local sound engineer Dan Howard at the helm, The Fridge ran for several more years until finally shutting its industrial grade doors for good in 2014. Hamilton compilation CD The Fridge was recorded in the studio and released in 1995.
Dick Dynamite and The Doppelgangers - 'Deviant' (2011, from Live At The Fridge)
Musicare Recording Studio and Peak Records 1989-1994
Around the same time Tandys was breathing new life into the Waikato music scene out on Morrinsville Road, another sound revolution was underway at the other end of the city on Sandwich Road, just off Te Rapa Straight, the city's northern gateway.
This story begins and ends with self-taught Christchurch sound engineer Lawrence Arps, who found his way to Hamilton via repeat visits as the guitarist with covers bands Shady and Trooper. While in town, the bands would hire live rigs from Claudelands based Musicare Sound. When Lawrence decided to move to Hamilton and took up with local cover acts Ragged Edges and The Break, he got to know the crew at Musicare Sound well enough for them to recognise that he not only had an interest in sound, but was a "pretty capable" technician. Between 1981 and 1987 Lawrence was kept busy doing live sound on Musicare rigs for various local (Midge Marsden, Knightshade) and touring acts at iconic city venues like the Hillcrest Tavern and the Lady Hamilton nightclub. Using the live rigs, Lawrence also did some informal recordings at various locations around the city including a session with songwriter Mike Farrell who was demoing the songs that ended up on Midge Marsden's career defining Burning Rain album.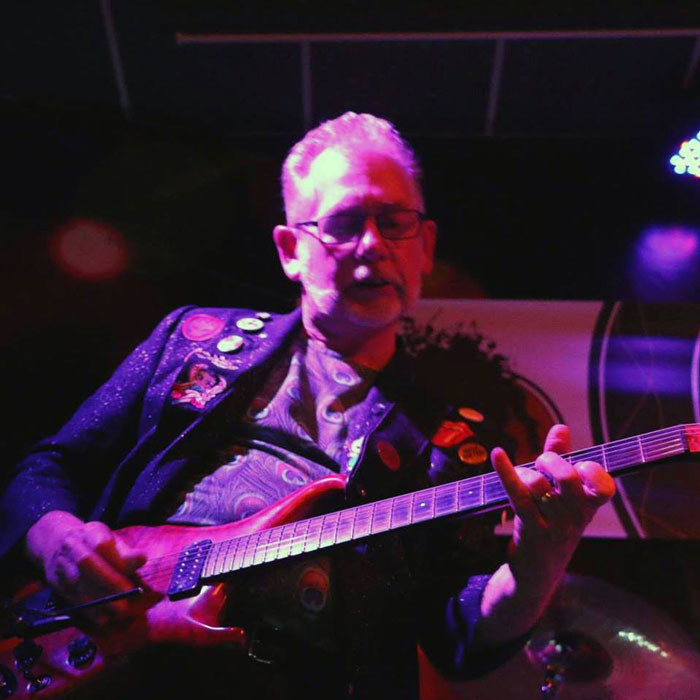 In 1987 Lawrence left Musicare temporarily to work full time at Home Run, a 16-track analogue facility in a factory space at the top of Sandwich Road (where it meets Te Rapa Straight). While Home Run's bread and butter work was producing jingles for local radio, it did take on a few bands from time to time.
Arps: "As I became more proficient with the recording process I produced an album for The Wetbacks which led to Knightshade, who I was mixing live. They asked me to produce their first two EPs."
Home Run, struggling to stay solvent, went out of business in late 1989 and was bought by Neil Reynolds, owner of Musicare Sound, who moved his operation from Claudelands to the Sandwich Road studio where it remains. Arps found himself back where he had started.
Arps: "Over several years we recorded many songs, albums, jingles, audio books, and soundtracks. Notable recordings include the 8Forty8 album Edge of Time, the Politicians album Test Pattern, Joy Adams' 'Come Home Baby Darling' single (1990 NZCMA country song of the year) and Craig Pollock's (Knightshade) solo album Just Looking (All released via Musicare's label Peak Records). After doing some recordings for the Wintec Māori Performing Arts Department I ended up doing the Ahorangi Genesis album (a Broadway style Māori language musical) and five albums of Kohanga Reo resources, as well as several other Māori language albums. Around this time I also helped mix Acoustic Spirit, an album by Dave Maybee and Peter Skandera." Acoustic Spirit was nominated for a NZ music award in 1994.
Lawrence left Musicare in 1994 and the studio, without its driving force and unable to compete with the new Zoo Studio facility in central Hamilton, was mothballed, the gear incorporated into Musicare's core business of "sound rigs for hire".
Arps went on to teach audio engineering at Tai Poutini Polytechnic where he rewrote the certificate course, and helped to rewrite the diploma and live sound courses. "I moved into management in 2000 and oversaw the establishment of MAINZ Christchurch, designing the floor plan for the Polytechnic's first recording studio. Through these years I also ran a trust helping young musicians prepare for the Smokefree Rockquest and now I'm in Wellington where I am employed as deputy Chief Executive at Whitireia New Zealand". Arps still plays guitar and is currently producing an album for his band MochaChocoLatte.
Musicare's equipment has continued to put to good use with Dave Maybee and Jason Horner recording Joy Adams' award-winning country music album Higher Ground (featuring artists such as John Hore Grenell, the Trenwiths, Liam Ryan from The Narcs and Ritchie Pickett). Jason also recorded The Nerve's Gobby album (1997) and assisted Dave Maybee with the Coalrangers' 2003 album The Harbour Light Sessions (recorded in Lyttelton with the Musicare studio on location). The studio remains a popular production and demoing facility now based in the Hamilton suburb of Pukete.
Politicians - 'Energy' (1985)
8Forty8 - 'Don't Turn Your Back' (1993)
Joy Adams - 'Come Home Baby Darling' (1990)
The Zoo Recording Studio 1992-97
The Zoo studios, at 564 Victoria Street in Hamilton, started off as the Rock 93FM production studio, recording advertisements, station imaging and occasionally some artists, the first being Morrinsville based country rocker Ritchie Pickett. Grant Hislop, owner and founder of The Rock, had more ambitious plans for the production studio, envisaging a "state of the art" recording facility where he would record local bands for a label called Hark, whose mission statement was to nurture the untapped talent abounding in regions like the Waikato.
It was when local band Blackjack approached Hislop seeking airplay with their Zed Brookes-produced album Deal, (recorded at Tandys in 1991) that Hislop realised he might have found the right person to help him get his studio idea off the ground. After several meetings, Brookes agreed to leave Tandys and go to work for Hislop full time. At 564 Victoria St Brookes set to work on his most ambitious project yet, building and designing a state of the art digital recording studio, one destined to match the best that Auckland had to offer.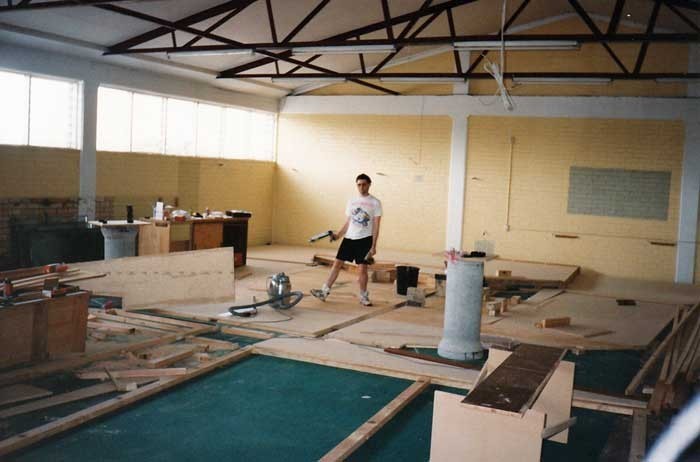 Blackjack's bass player Scott Davies was the manager of Hamilton Demolition (an iconic fixture of the cities DIY scene) and through him Brookes was able to source most of the required building material including the soundproof glass for a fraction of the cost of new materials.
Brookes describes the construction process: "It was a bit of a community effort. Sooz Brown (Three Men Missing, Silken Blue) sewed the entire inner fabric lining for the studio as one single piece and other local musicians with particular skills in design and carpentry pitched in as required at mate's rates in effect creating a 'million dollar studio' on a very low budget."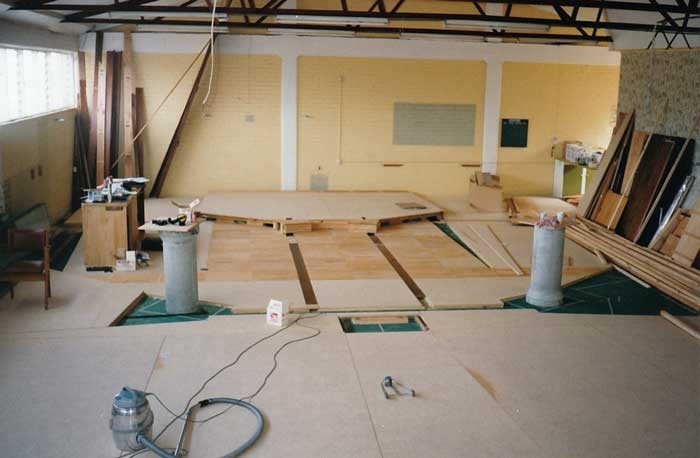 Brookes: "When I came on board, the Rock production studio was running off a stupidly heavy TAC Scorpion desk wired up backwards, the result was that the studio's Shure SM57 microphones were acting as little speakers. When we rebuilt the studio, we were looking for consoles that had some sort of automation, so for a while we had a Soundtrac's Solo console. Then we moved up to an Amek "Big" console imported from the UK. This cost about $80,000 and Grant Hislop had to sell his shares in the Rock and The Edge to pay for it. It had computerised recall and automation like a low-budget SSL.
After removing the old console and rewiring every single insert jack 'the other way around' the import company forgot we needed it pronto and eventually, after stressed-out phone calls, they sent a guy down with the console on a trailer. To make matters worse after the first power-up the console's power supply caught fire, so we had to put the old console back in, and rewire everything until we could get a replacement power supply from England about ten days later. This was pre-internet, so updates involved dialing-up the manufacturer's computer on the phone.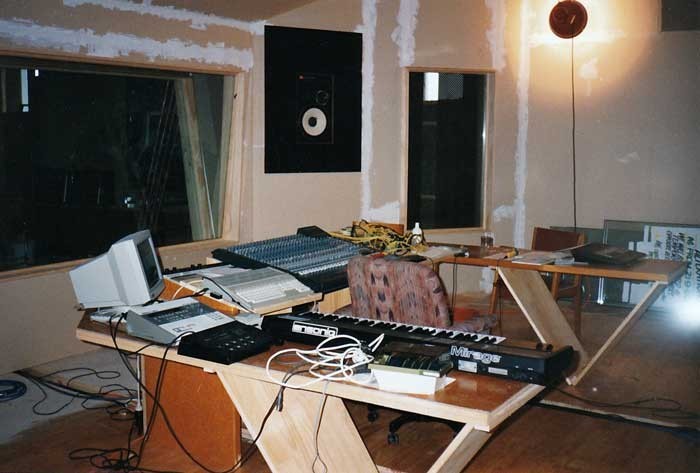 Initially big soffit-mounted JBL monitors were our main speaker system, and later on some Tannoy concentric monitors were added. Early recordings were on multi-track analogue tape, but eventually we bought some modular Alesis digital tape decks ("Blackface" ADATs), revolutionary technology that eventually required every single component inside them be replaced. Mix automation went from an Atari with eMagic Notator controlling the console mutes to a PC with the Amek's proprietary Supertrue software controlling VCAs, mutes and MIDI triggers. The MIDI was a bit erratic to say the least. Our first hard drive died after two days. We also had some samplers – an Akai S1000 (which was awesome), and a really primitive (but kind of cool) Ensoniq Mirage."
The Zoo officially opened on 19 April 1993 with The Mutton Birds performing live to air in the studio via The Rock in a show dubbed The Electric Kitchen, a couple of weeks later the studio hosted another Electric Kitchen, this time featuring The Greg Johnson Set. (Later Electric Kitchen Sessions included performances by Emulsifier and Dead Flowers.)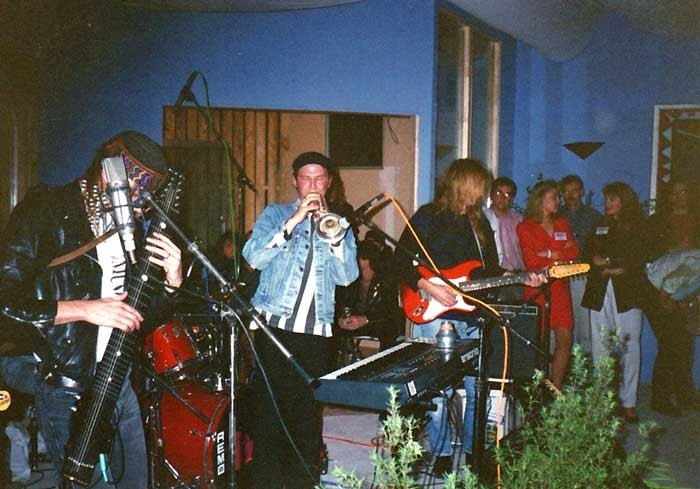 Properly baptised, The Zoo was open for business. Nelson band The Exploding Poppies (winners of the 1992 Smokefree Rockquest) were the first band to use the studio, and the resulting song made it onto a NZ On Air Kiwi Hit Disc, a sign that everyone at The Zoo took as a positive omen for the future.
Brookes managed the studio for a while, but with Hislop's label Hark Records gaining momentum and increasing demands from his growing network of regional radio stations for in-house production, new staff were hired to assist. Dean Leary (8Forty8/Hoola Troupe) and Darren McLean were hired to manage the day-to-day operations with Scott Newth, Grant Brodie, Dave Lowndes and Dave Whitehead acting as assistant engineers to Brookes. With the city lacking any formal training facilities for sound engineers, Dave Lowndes later established The Zoo School Of Audio Engineering.
Despite the fact that the studio was operating 24/7, it was struggling financially and without the income from The Rock and The Edge, (Hislop had sold his shares in the popular radio stations to finance The Zoo), Hislop debunked to Wellington to take up a radio management position in order to earn some money and keep his dream alive. But without his enthusiasm, vision and drive at hand, the studio started losing clients and with mounting debts was forced to close in 1997.
Later that year Wintec (Waikato Polytechnic) purchased the studio's assets for their fledging School of Audio Engineering and contracted Brookes to install the equipment and supervise the initial courses. It proved to be a good fit and Brookes stayed on for a number of years teaching sound engineering and songwriting.
Inchworm - 'Come Out Come Out' (1995)
King Biscuit - 'Crazy Dreams' (1994)
Fat Mannequin - 'Room and Spine' (1997)
Wintec School of Audio Engineering
Besides acting as an educational facility, Wintec's studio was available to hire and helped fill a gap in a city still desperately short of quality recording facilities. The Datsuns recorded their first single, 'Super Gyration' there in 2000 and Katchafire recorded their 2003 debut album, Revival. Other notable local artists to use the facility were Psyclops, Scooter, Moofish, Tweeter and Leithe.
Brookes was also kept busy mastering numerous media projects that included Auckland band The Weather's (helmed by Matthew Bannister, former member of iconic Flying Nun band Sneaky Feelings), Aroha Ave, produced by Ed Cake Brookes also mastered Bannister's solo album Moth there.
With Wintec's considerable financial resources at hand, Brookes added an early version of Pro Tools (V3) to the studio and acquired a 16-track 2" Studer tape recorder that was renowned for a curious fault, the transporter often failing to stop when instructed to do so. The school purchased one of the first CD burners, a very unreliable Studer that cost $18,000, the blank CDs fed to it costing $30 each.
Brookes eventually left Wintec to take up a position at MAINZ in Auckland and since then, the studio has continued to expand in scope. As well as serving the thriving School of Audio Engineering it is used in numerous capacities by Wintec's broad Media Department.
The dreams of the Tandys, Musicare, Home Run, The Fridge, The Zoo and numerous other smaller enterprises might have ended in an unsatisfactory manner for those involved, but their legacy lives on in a large catalogue of diverse recordings which mark a coming of age for the Hamilton music scene.
Once isolated and somewhat insecure about its ambitions, Hamilton music as it stands today thrives, footing it with the best the nation has to offer in genres as diverse as jazz, rock, metal, opera, rap, hip hop, pop and everything experimental. On shaky foundations, great things have been built.
The Datsuns - 'Super Gyration' (2000)
Katchafire - 'Giddy Up' (2003)