Music photography not only crystalises a moment in the history of a band's development, it captures a sense of time and place in relation to their fans. When done well, music photography captures an inherent message or emotion that can underpin a whole scene, while also connecting to people's humanity.
Dr Karen Ford spent the 1980s capturing the bands, fans and venues of Hamilton. She describes the scene as "on fire – it was exciting! As punters we were spoilt for choice – you could hear live music every day of the week during sone of that period. Bands played both covers and recorded originals and both musicians and crew could make a modest living."
Having arrived in Hamilton from the United Kingdom as a child in the 1960s, she was first introduced to photography by her parents and grandfather. She joined the Photography Club at Fairfield College, where she began shooting school events. Eventually, Ford began photographing the local music scene. "I don't actually recall a 'first' gig, but I typically photographed by invitation from a band member, promoter, venue or group such as the local musos' club. I shot from the dancefloor, primarily in monochrome, capturing backstage and post gig action when circumstances allowed."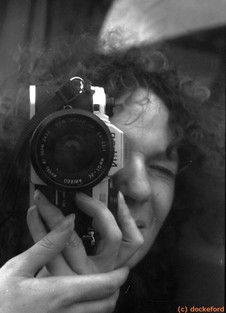 The live music scene in Hamilton during the 1980s was booming, with venues such as the Hillcrest and Framptons being on the national circuit for bands. There were many other places local bands could play, and good support from radio stations and the public. On this page are a selection of Ford's photos of musicians and venues, which show the liveliness of the local scene, the commitment of the musicians – as well as the 80s fashions and décor.
See more of Ford's work at Knightshade – a photo album. If you can identify any unnamed musicians on this page, please email editor@audioculture.co.nz
Could you tell us about your background, and how these photos came about?
I grew up in Hamilton after my family emigrated from the UK in the late 1960s. During the 80s, I spent a short but intensive period as a photographer capturing the exploits of musicians and crew as they "rocked the Tron".
At the end of that decade, I started working in the education sector which led to a return to England in 1995 to study for a PhD, and a career in higher education. My negatives, contact prints and related paraphernalia were put into storage along with what was left of my "old skool" gear.
Thirty years on, I am now settled in Sheffield [UK], the City of Steel, and revisiting the images from my archive after finally getting around to investing in a professional negative scanner and photo processing software. This was prompted by an invitation from Phil Walsh, stalwart and cultural custodian of the Waikato music scene, to exhibit my work at his Waikato Rocker's Reunion concert for the Hamilton Gardens Festival in February 2020.
What was it that initially attracted you to photography?
My dad, mum and grandfather were all keen amateurs, so my sister and me grew up with family life documented in monochrome prints, Kodachrome and 8mm cine reels. My dad bought a Pentax Spotmatic SLR, duty free at Heathrow when we emigrated, which would have been a significant investment back then. Mum was content with a happy snappy which she deployed at every opportunity, often to the consternation of others. I guess I wanted to have a go at being on the other side of the camera, and was eventually allowed to use Mum's Kodak 126 instamatic before acquiring my own for my birthday or Christmas.
I started using 135mm monochrome film in the 6th form at Fairfield College. I joined the school photography club established by Mr Meldrum who had somehow managed to provide us with a new darkroom. Dad loaned me his Spotmatic to cover school events, and I still have the school magazine in which those photos were published. I found working in monochrome aesthetically pleasing and really enjoyed having full control of the creative process from shoot to final print. There is something magical about seeing the images appear on the paper under the safelight. I was hooked.
How would you describe Hamilton and the Hamilton music scene in the 1980s?
On fire! The scene was exciting, dynamic, and as punters we were spoilt for choice – you could literally hear live music every night of the week during some of that period. There were numerous venues and groups; bands played covers and recorded originals; both musicians and crew could make a modest living. I don't think the scene has reached those dizzy heights since – well that's my impression as an outside observer, occasional visitor.
"The scene was exciting, dynamic, and as punters we were spoilt for choice."
There was never any brief. So I sought to strike a balance between shooting the kind of images I thought band members and crew would like (ie, instruments/kit fully intact, playing together, with the crowd, etc) and those I wanted to capture – authentic "in situ" portraits of people in their habitat, doing their thing. Authenticity is not always flattering, and that was pointed out to me on occasion by some of those I photographed; however, those images were often, and still are among my favourites. I also have "new" favourites that were overlooked first time around but now have meaning for me due to their personal or cultural significance.
Once I started working through my archive, scanning and processing negs, I began to realise what a culture treasure trove of memories it contained. The breadth and depth of musical talent, the skilled, patient and dedicated crew, as well as the egos and sticky carpets! Some of those who feature have remained active in the Waikato scene and beyond, others have moved on to other pursuits and sadly, some are no longer with us.
Many of those I captured, back in the day, got to re-visit and reflect on those glory days at the recent [2020] Waikato Rocker's Reunion concert, with some taking the stage once again for one night only with the support of those who are still going strong. It was a remarkable evening of performances and opportunities to reflect on times good (and not so), experience the comradery again and heal old wounds. I was invited out of retirement to photograph the event, albeit using the monochrome setting, snapping away on my modest mobile phone front and back stage – it felt surprisingly similar to old times.
--
Photos and comments by Karen Ford; additional remarks by Phil Walsh.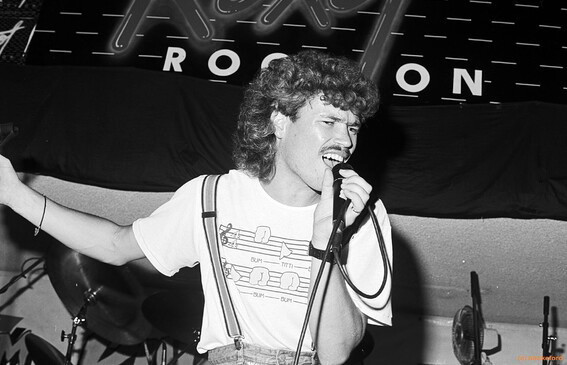 An unidentified singer, performing after a rained-off Lake concert, 1988. Karen: "I took a fair few of the vocalist due to that T-shirt and the hair! I remember going to this venue for my 5th and 6th form school balls, I had no clue I would end up photographing there 10 years later!" Phil: "The Venue was at the north end of the Hamilton CBD,and went through various owners and names: LJ Ballroom, The Woolshed, Roxof, Metropole, Faces."
Gold Bar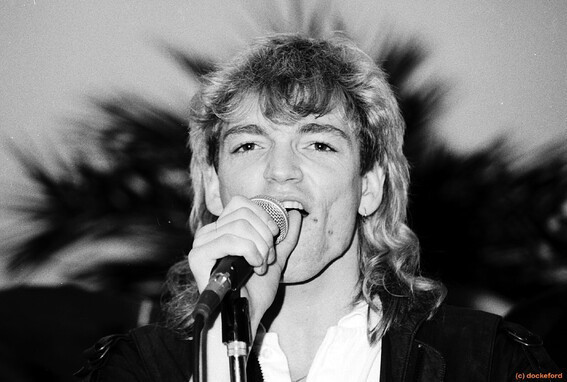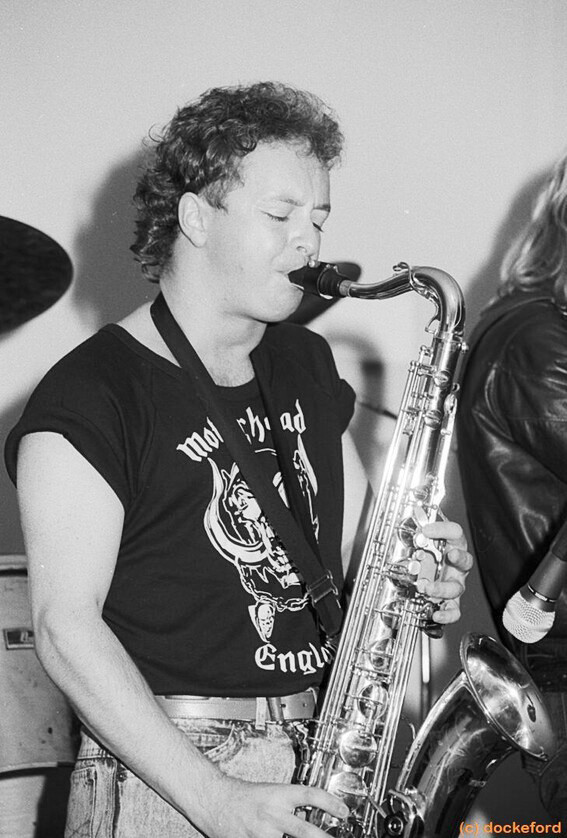 Two musicians at the Gold Bar, a small bar attached to Roxof/Metropole which used to host Sunday jam sessions; the singer is Nick Black, the saxophonist is unidentified. Karen: The Gold Bar was one of those venues I remember for the challenges it presented – unhelpful lighting with a tight stage in a tight space that made decent whole group shots a nonstarter. A zoom lens and tight framing got me by mostly, with judicious cropping in the darkroom which still left extraneous bits of any neighbouring musician – like in the second shot.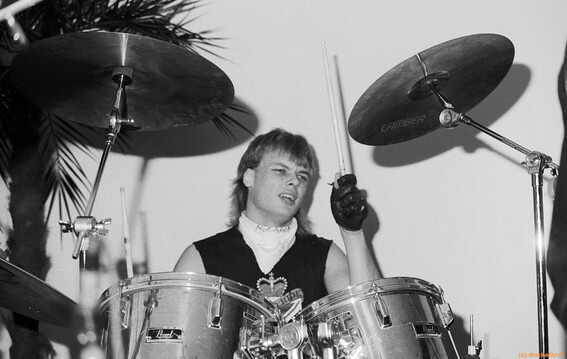 Mark Logan of Night Attack. Karen: Less-than-ideal lighting sometimes brings benefits which work well in monochrome such as the shadow halo in the above portrait.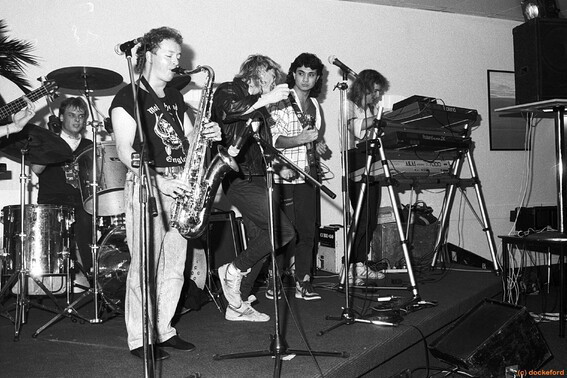 An early iteration of Night Attack. Nick Black is on vocals, Sebastian Lloyd guitar, Daz Ingram on keyboards, and Mark Logan on drums. The saxophonist is unidentified. Later versions of the band featured Kristen Hapi on drums and Daryn Karaitiana on bass. Karen: "This might have been the first time I photographed Night Attack, they knew how to give an audience a good time."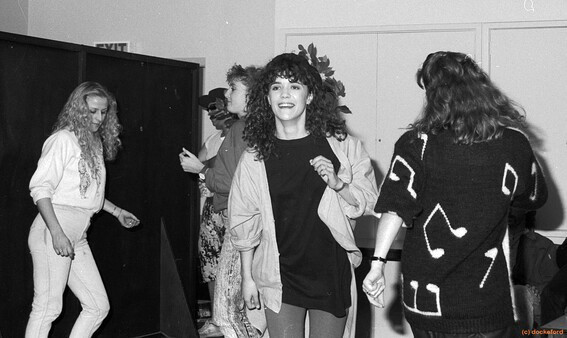 A Sunday jam at the Gold Bar. Dancing in the centre is Emma Mathews, sister of Big Rock guitarist, Peter Mathews, wife to be of Kevin Lambarth, the other Big Rock guitarist.
Karen: "Capturing the dancers and audience always feels awkward in a venue like this where there is no way to be less conspicuous with large camera and flash gun. I used to make myself take these by way of documenting the event. This one does that – the 80s – the best decade of hair."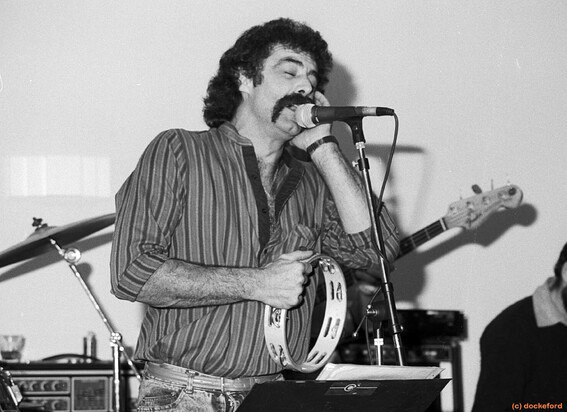 Velvet Bulldozer vocalist Doug Barker. Phil: "Velvet Bulldozer were (and still are) old school blues who were popular around the "gang/club" circuit in the 80s and 90s. They reformed in 2016 for a charity gig and have been gigging again ever since. The band also included Murray Coombes on guitar, Herbie Mason on keyboards, Kevin Smith on Drums and Peter Bell (RIP) on bass (he was replaced by Phil Walsh shortly after this photo)." Karen: "Doug has a distinctive posture when he performs, which this early shot demonstrates. Velvet Bulldozer have the dubious honour of being the only band I have ever done a promotional shoot for – that was very early on. [Years later] they were also the first group I shot digitally when I decided to see what I could capture at a live gig using my modest Honor 9 phone, on monochrome at the Nottingham Castle, Morrinsville in October 2018.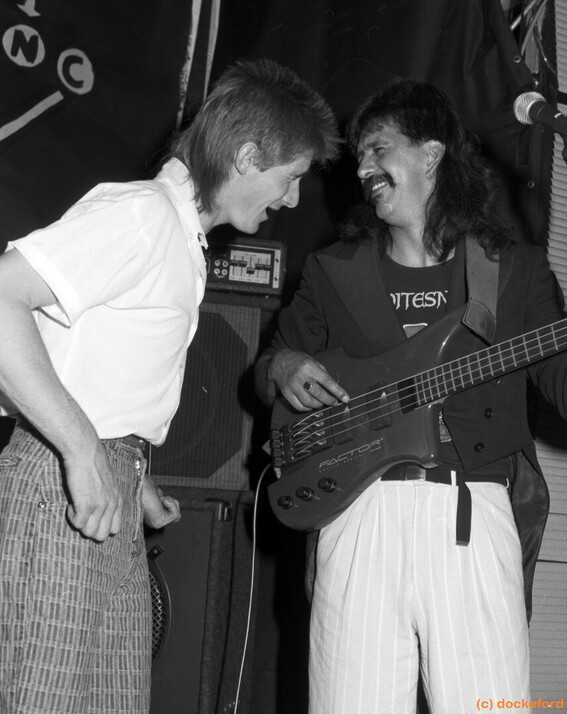 At Shakes nightclub,formerly known as Lady Hamilton, Ian Jefferies (guitarist and vocalist with The Bronx) and bassist Lance Healy. Karen: "A favourite shot taken at one of Hamilton's most popular venues in the 80s. Before the residencies era when it became Shakes, playing at the Lady H was a big deal for bands – if you got to play there on a regular basis you had 'made it' so to speak.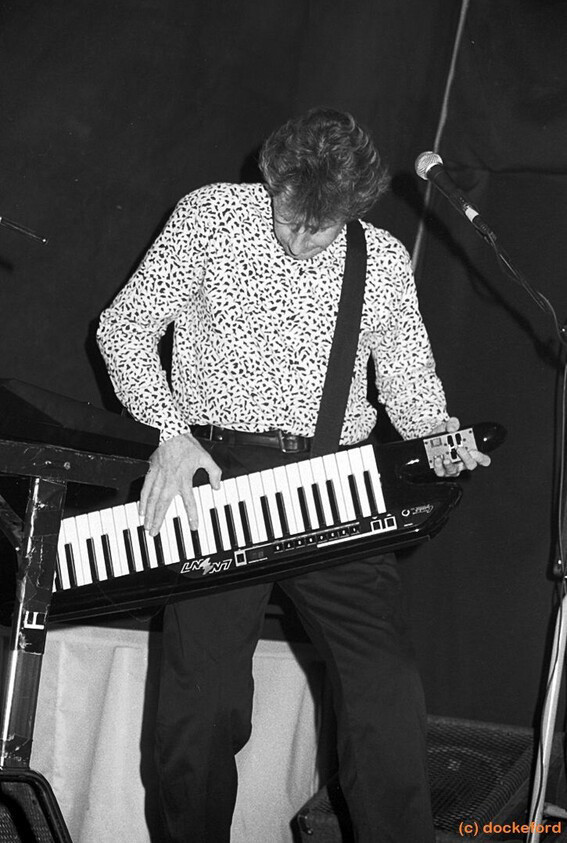 Liam Ryan, keyboardist with the Midge Marsden band and The Narcs. Karen: "This was the only time I recall capturing Liam with a keytar."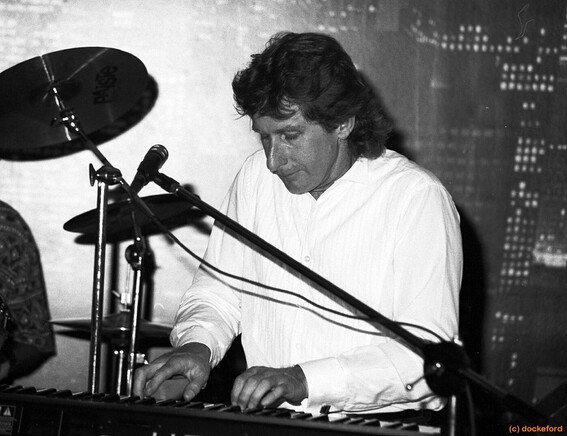 Karen: A more conventional shot of Liam. He appears with a range of musicians in several of the Head, Hands & Feet gigs I photographed.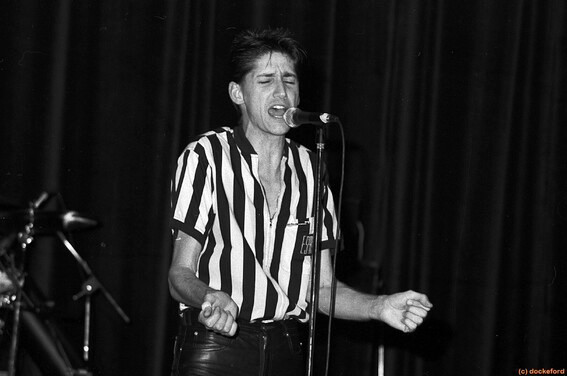 Phil: From an underage show at the Founders Theatre, featuring two bands, Moroccan Mould and China Blue. This is the lead singer for Moroccan Mould, but I can't remember his name. Karen: Moroccan Mould also had a keyboard player called Karen, I think this iteration was called I Spy. They wrote a song called 'Not Tonight Josephine' which I really liked ... the camera loved this man.
Zaks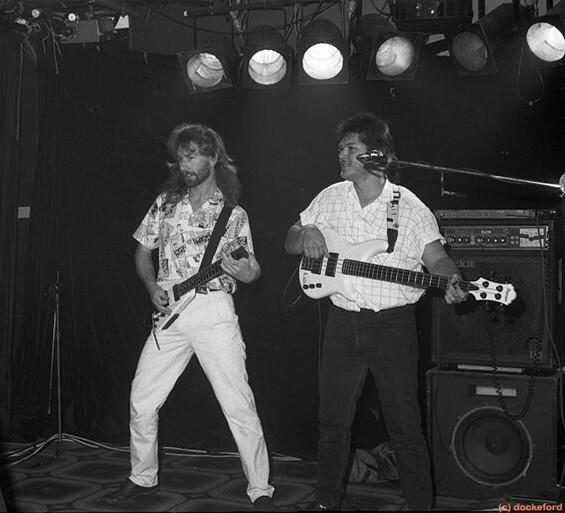 The Beat Boys at Zaks. Phil: Lawrence Arps (ex The Break) on guitar, and Mike Pukerau on bass. The band included Woody Dean on keyboards and vocals, and Andrew Brilliant (ex Made In Britain) on drums. Karen: Lawrence was in several bands over the short period I was photographing gigs, and this was, and still is, his signature stance.

China Blue's farewell at Zaks (L-R): Mark Connolly guitar and vocals, Leigh Harpur vocals, Tony Hitchcock drums, and Phil Walsh bass. Karen: I knew most of the members of China Blue, and photographed a number of gigs during their time together. They were regulars at Zaks and built up a substantive following. These were taken at China Blue's final gig which attracted a massive crowd and broke the attendance record at Zaks. This one had it all – balloons, streamers and canned string.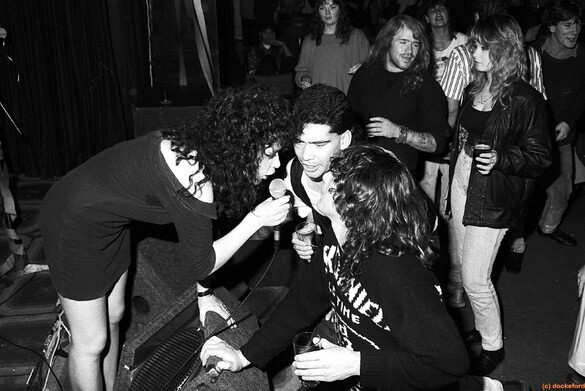 Karen: Leigh sings with the crowd while a young Paul and Lisa Martin (from the Devilskin family) take to the dance floor.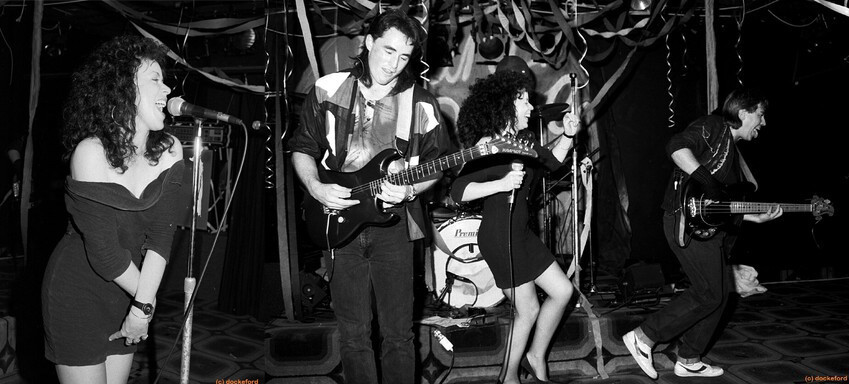 Karen: Doing the Timewarp, a crowd favourite.
Stonehenge at a Radio With Pictures special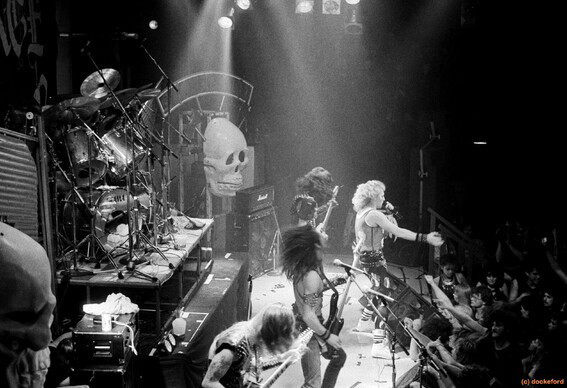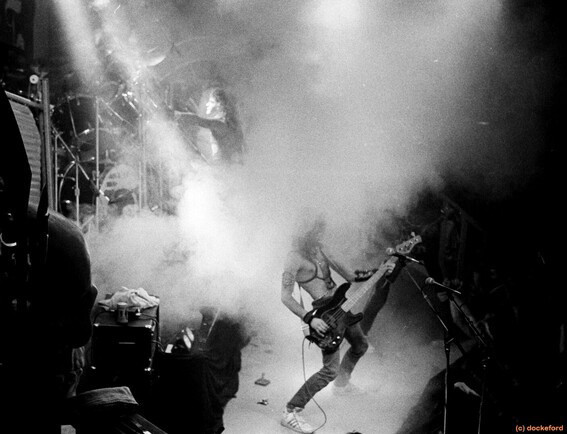 From a Radio with Pictures "live special" starring Stonehenge and Knightshade. Karen: These were overlooked at the time – like the Knightshade photos from the same gig – due to photographer ego. These were taken from the public balcony using slightly higher speed film pushed in processing which, on reflection, captured the atmosphere by enhancing the smoke, lights, hair and pyrotechnics of this high energy performance.
The Exchange Muso Club nights
Phil: Hamilton has always had, and still has, a wealth of musician clubs, for jazz, blues, acoustic and other genres. These photos below are from the Head, Hands & Feet nights at The Exchange Tavern. Karen: The Exchange had previously been The Keg restaurant I think, and was another challenging venue from photographer's perspective: a bit like the Gold Room except with the added fun of furniture to perform behind or in my case to shoot over. It was a bar during the day and not really set up for bands, but that didn't seem to matter – it didn't stifle the musicianship nor enthusiasm.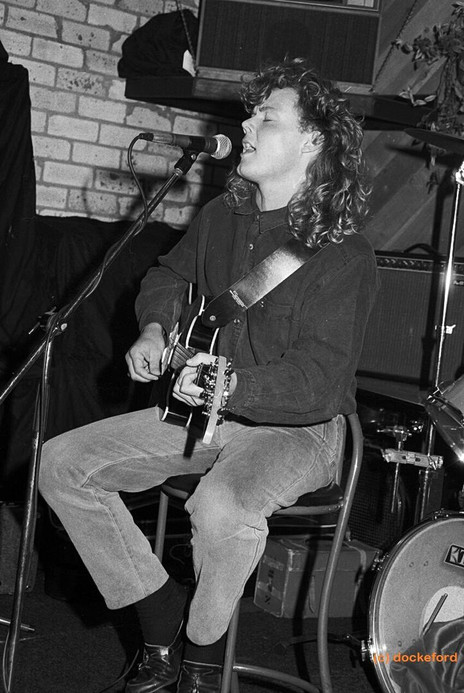 Darryl Monteith (Joe 90, Whisperscream). Karen: Darryl had been in a number of groups before these two, but Whisperscream had a loyal following and played regularly at several venues. They entered the Zaks Battle of the Bands in 1990 and won the following year I think.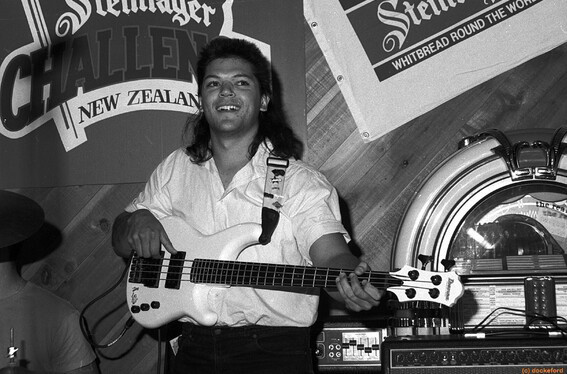 Mike Pukerau (Beat Boys).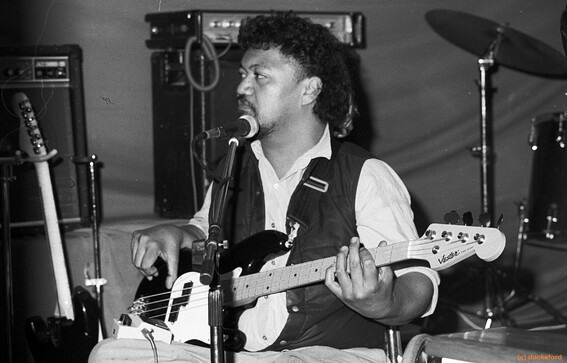 Moses Hiakita (Whisperscream).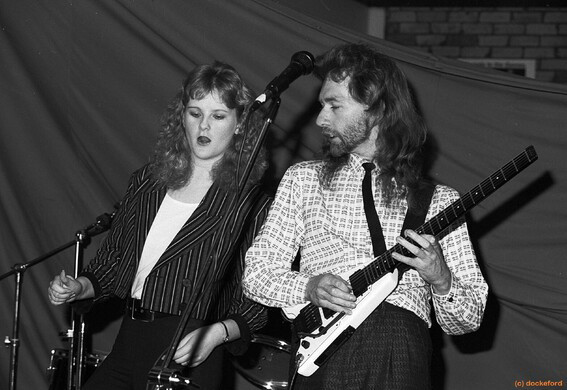 Corralin Steel (The Politicians), and Lawrence Arps (LA Dream, The Break).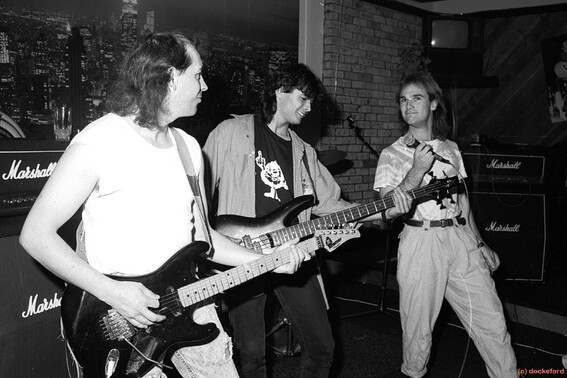 Chris Morrison (Beagle Boys), guitar; Dan (surname unknown), bass, Martin Clist (Fury), vocals.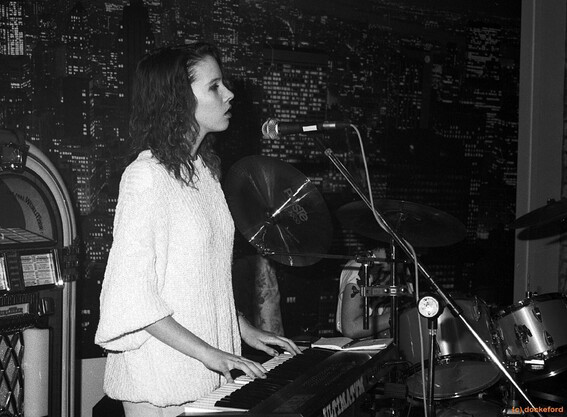 Neither Karen or Phil can identify this keyboardist and singer. Karen: I don't have many photographs of women performing – it was a male dominated sport during this period.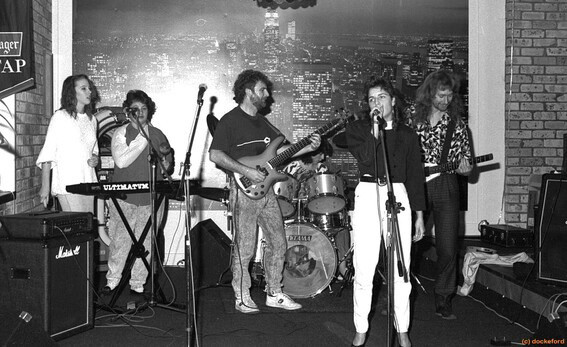 Denis Newby (of The Bronx) bass, Lawrence Arps, guitar. The others are unidentified.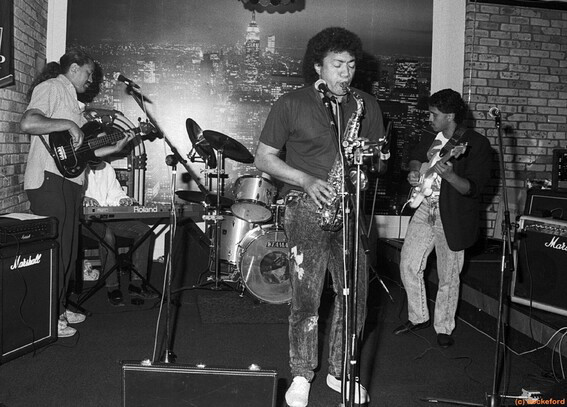 Gilly Guy on saxophone. The other musicians are unidentified.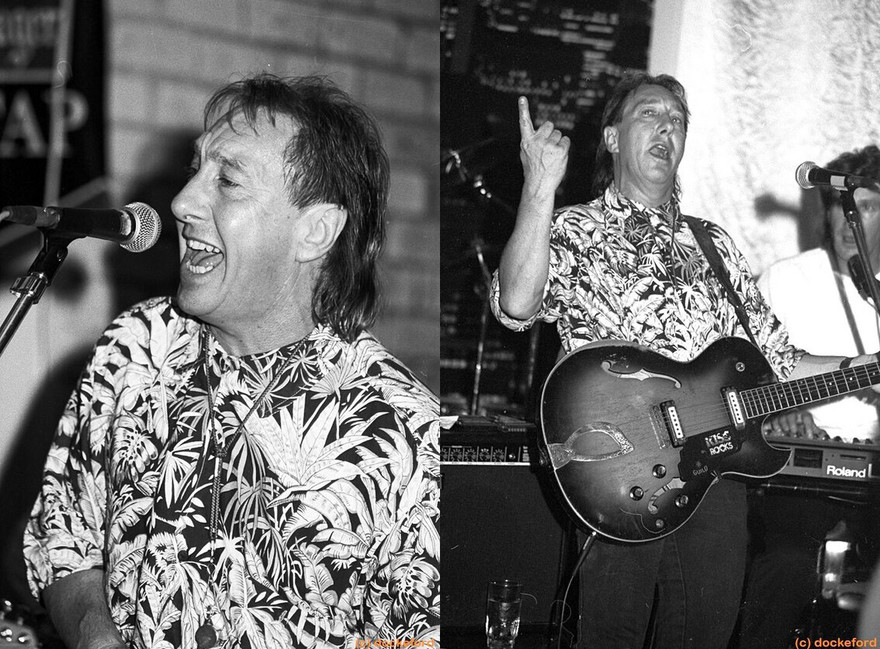 Midge Marsden at a Head, Hands & Feet night. Karen: These are among the only images I have of Midge, even though he attracted a loyal crowd whenever he played during this period, and I recall he and his group performed quite regularly, but not at the venues I frequented.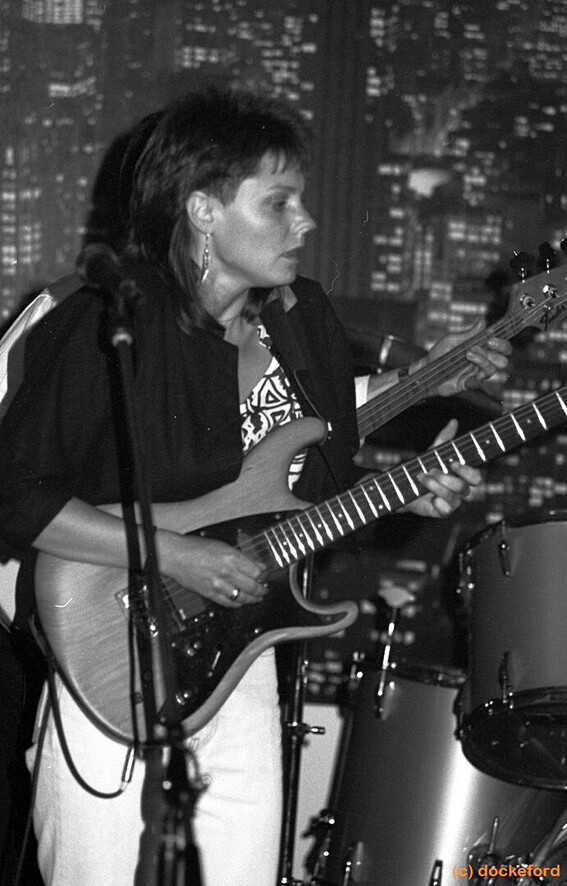 Lynn Campbell, who also performed often as part of Midge Marsden's band.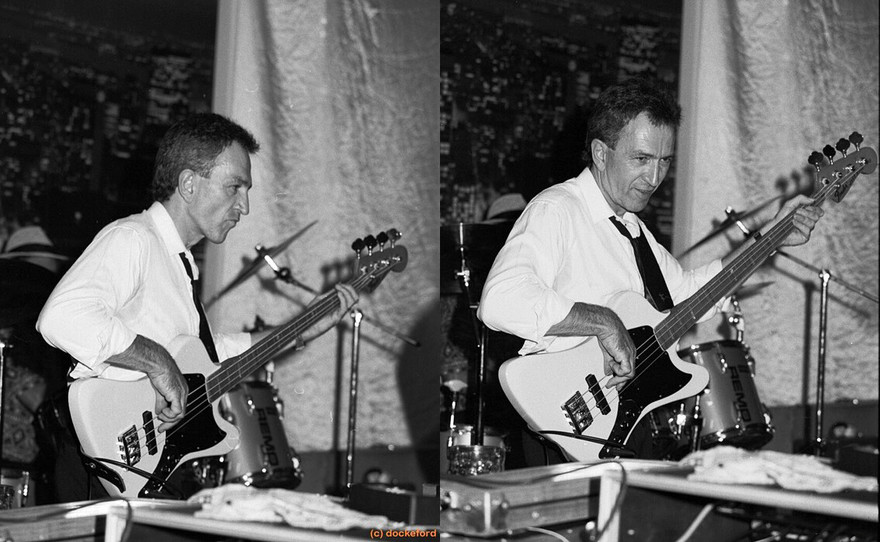 The legendary Waikato bassist Sid Limbert. Karen: Always interesting to photograph – he was rather understated but interesting to observe from my perspective – note the "obstacles" in the foreground – one of those photographic challenges I have referred to!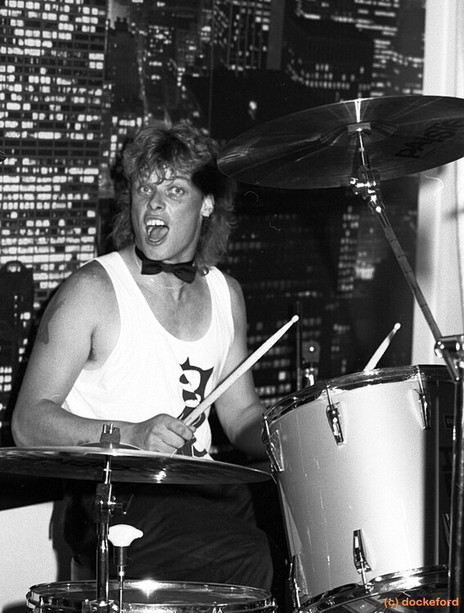 Mark Logan, drummer of Night Attack.
Zaks
Karen: A considerable number of my images were from nights at Zaks, which hosted various events and had bands every weekend. It was relatively spacious and had a solid crowd of regulars – there was always something happening there. The posters on the walls give a flavour of the bands that were popular in Hamilton and beyond during that period. They also held a Battle of the Bands which attracted a range of bands many from the Waikato and some from further afield.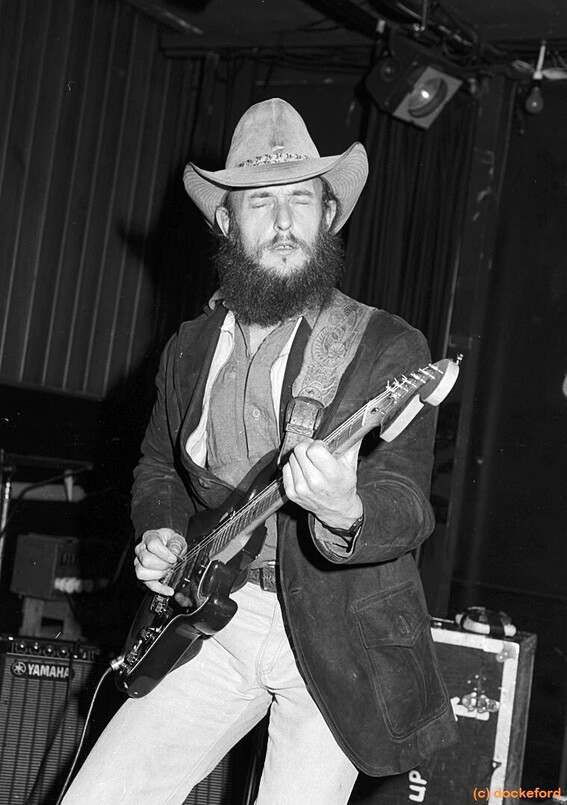 Dave Maybee, stalwart of the Waikato scene in the 70s and 80s. Karen: One of my favourite images and still in my portfolio – I am guessing he still has that distinctive hat. I also have images of him crewing at the outdoor festival I documented for Musicare, the local the sound hire company.
Gurus at Student Union
Musicians' nights were regularly held at Gurus, part of the Student Union building at Waikato University. Karen: The university had a number of rooms in the student union building, which I recall was constructed in the early 80s. The rooms were named via a poll and this one – and the larger Wailing Bongo – was used for gigs featuring bands from the Waikato and beyond. I went to a few when I was a student there, before I was a photographer.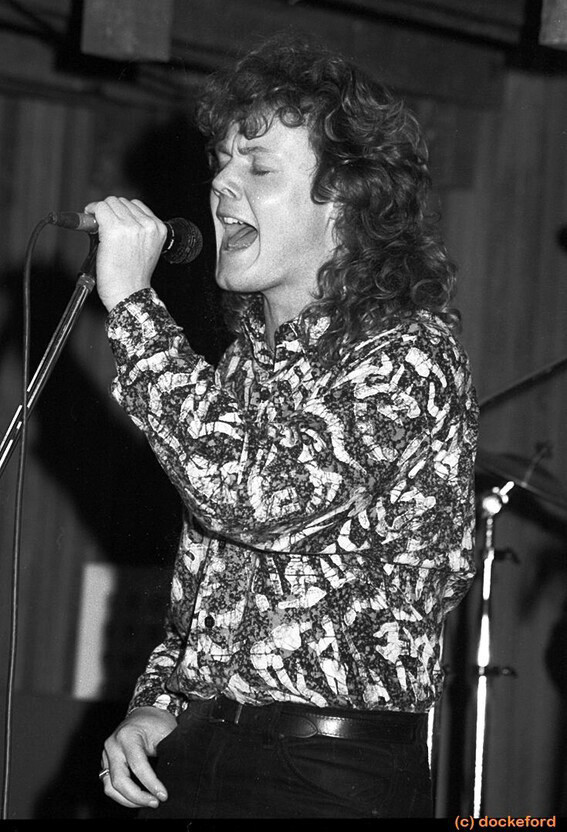 Darryl Monteith (Joe 90, Whisperscream).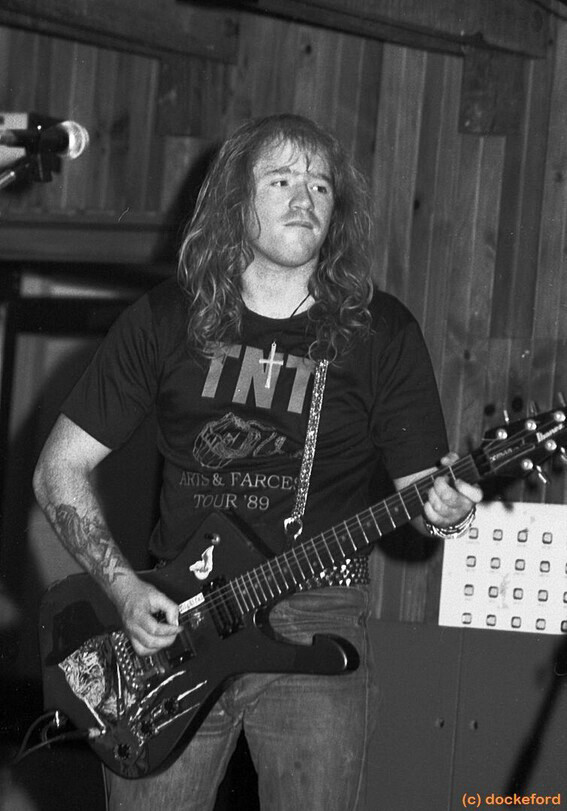 Paul Martin (Fury, Knightshade, World War 4, Devilskin). Karen: Paul Martin is still doing it, and in style. He has to be one of the most hardworking, talented and kindest individuals to hail from the Tron.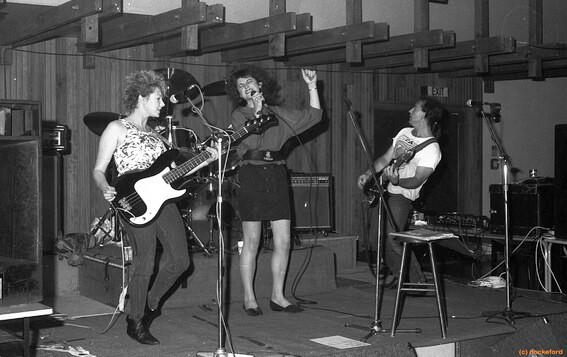 Karen: Three Men Missing (who usually had a drummer). From left: Sooz Brown, Rhonda, and Chris (Fish) Johnstone. Rhonda and Chris later married.
Hamilton Battle of the Bands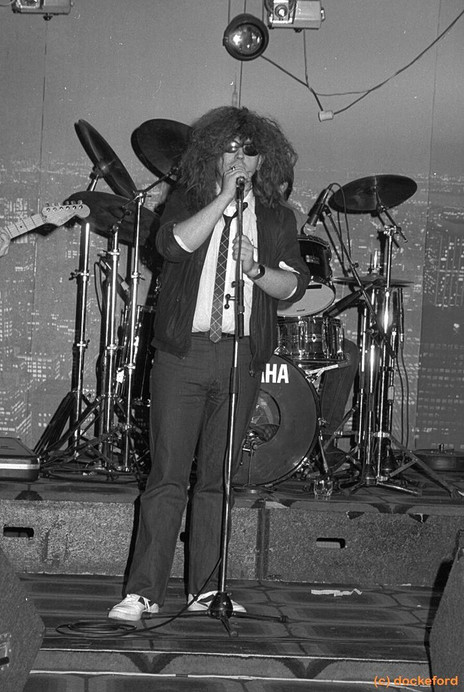 Karen: I was also head of the judging panel which involved wrangling the guest judges each week and taking photos in between. I am pretty sure Phil Walsh compered this as he did many events, including Head, Hands & Feet nights at Zaks and at other venues. He wasn't keen on the camera but here he is as Phil MC.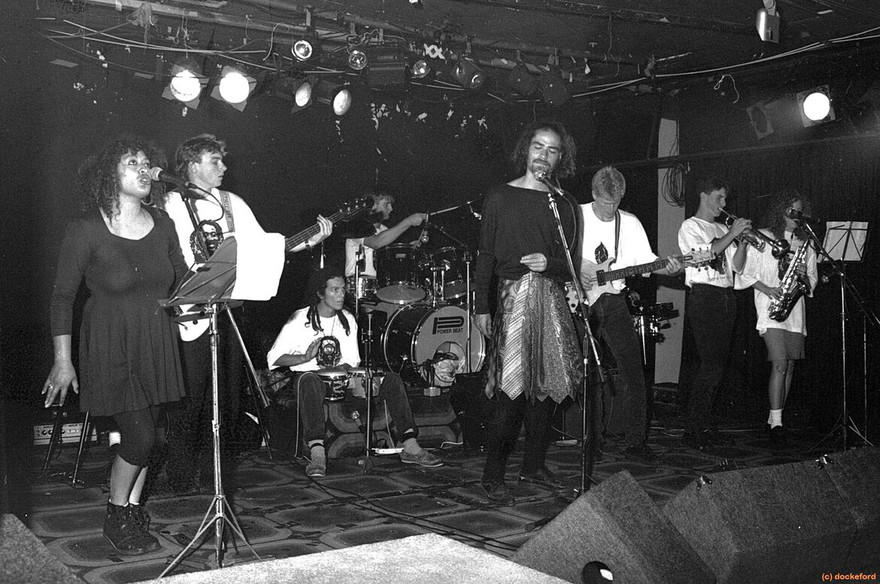 Karen: I recall this was the largest and most diverse group in the competition. They apparently went through several names changes: Dry Riser, D Riser & Boil Up. I only recognise the bongo player, who worked on the University of Waikato student magazine Nexus, and later went on to become a Green Party MP.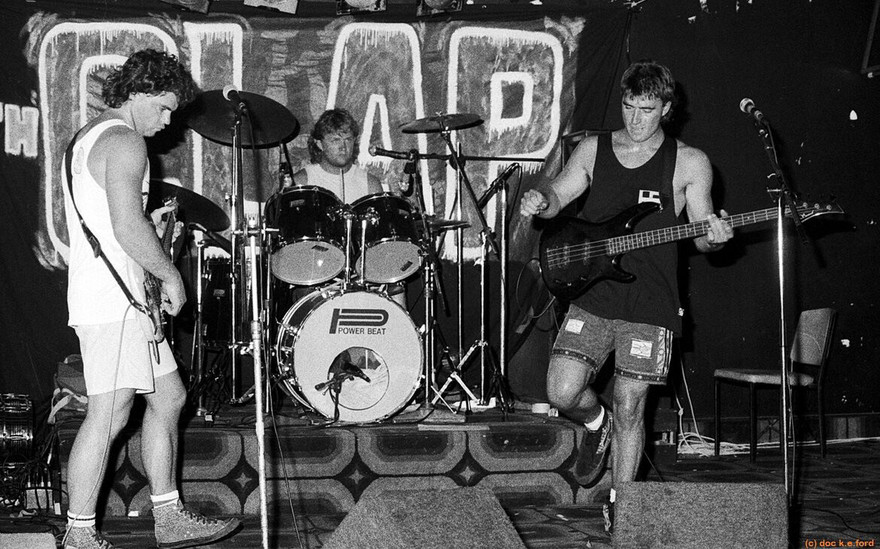 Karen: From Raglan I think – The Clap. They were quite raw and punk and rather good. I don't think I ever came across another punk band in that period.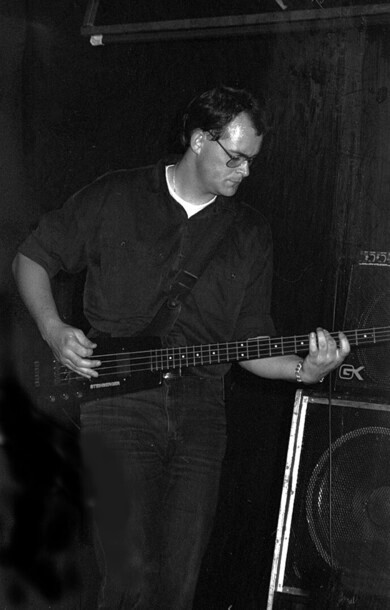 Karen: This is Dean from RTQ (Rock the Quota) with his lovely Steinberger bass: these were new back then.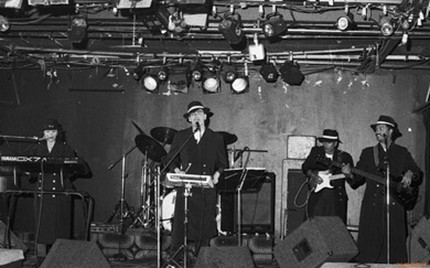 Karen: Private Eye from Rotorua, a very tight outfit. I think they had a residency at the Tudor Towers.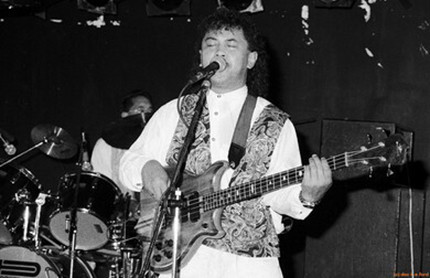 Karen: Aaron Nonoa, one of the Nonoa brothers. Though I don't recall the name of this band, he and his siblings had a band called Bronze Spirit who had a residency at Uncle Sam's nightclub in the days before I photographed.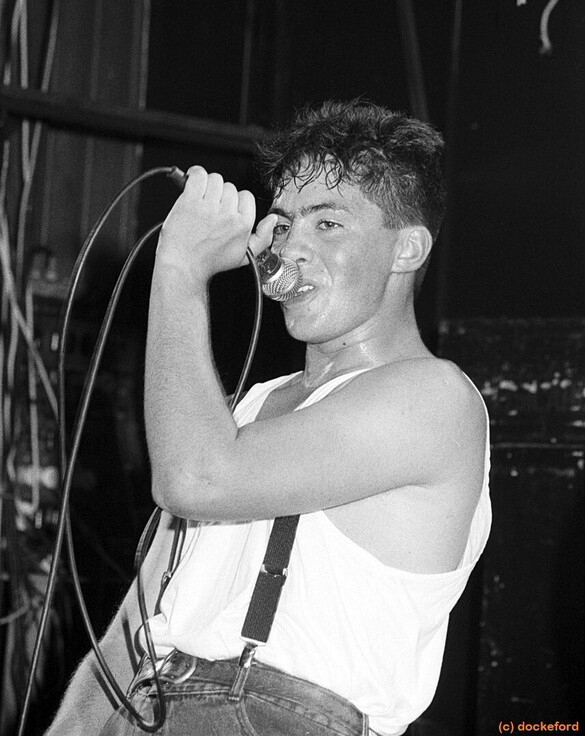 Karen: This band was among the youngest performers – their vocalist was memorable because he wasn't camera shy.
Top of the River
Karen: This venue was often used for weddings, which I photographed. Head, Hands & Feet musicians club used it for their nights for a while, which is where these were taken.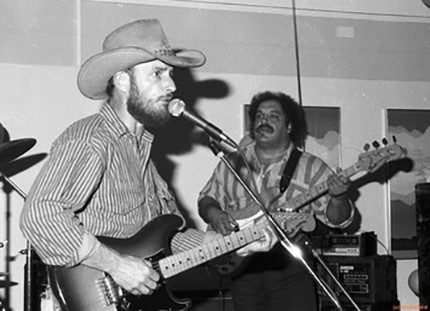 Karen: Dave Maybee and Tony Crichton.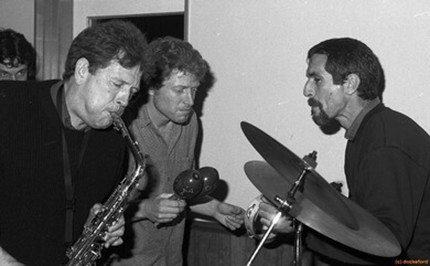 Ross Casci and Bruce Dennis; the man on the right is unidentified.
Musicare and The Great Outdoors
Karen: This gig was held on a farm somewhere in the Waikato and billed as a Hootenanny. Musicare provided the sound equipment and burgers; their first and last foray into catering I suspect. The stage was created on the back of a rather large truck. We arrived in the early afternoon to just the truck in the middle of field which was transformed into a stage with full rig over the next couple of hours. Musicare hired catering equipment and turned their hands to burger production to feed the crowd. I buttered burger buns as part of the production line in between periods of shooting the action!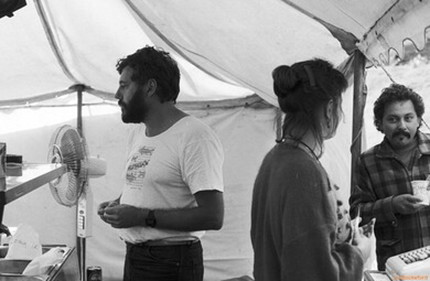 Inside the catering tent. At left is original Dragon drummer Neil Reynolds, who owned Musicare from 1975 to 2006.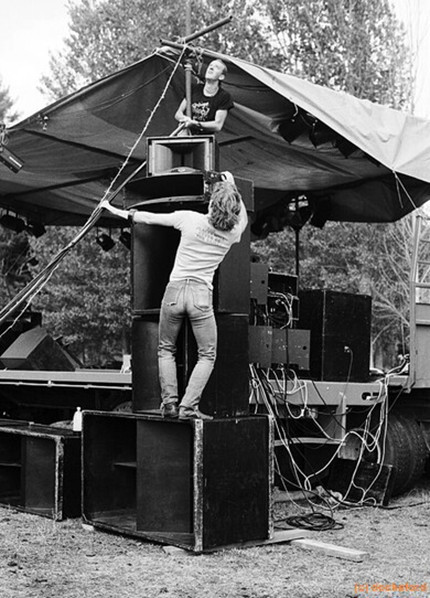 Lawrence and Thomas set up.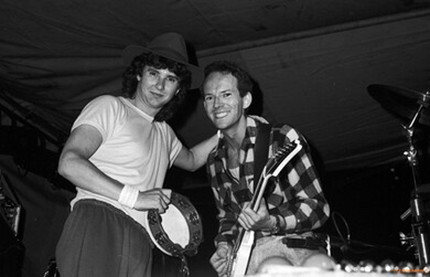 Karen: Paul van Waring and Peter Gosney of the Politicians (Peter was also DJ at 89.8 Kiwi FM).
The Tu Mauriora Festival of Song at Te Rapa Racecourse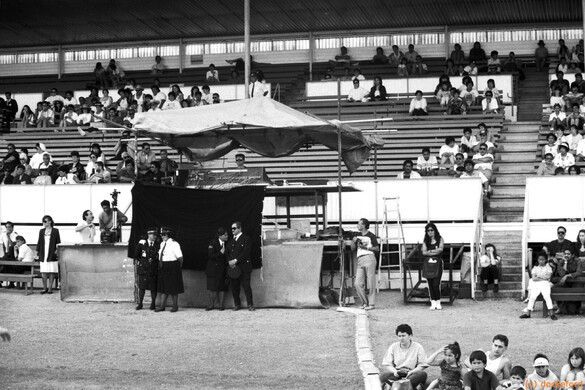 In December 1988 the Tu Mauriora Festival of Song took place at Te Rapa Racecourse, featuring Ardijah, Peter Morgan and many other acts. Karen Ford was the official photographer, with an all-access pass to capture the action. Above is a photo from early in the day, taken from the stage. For more photos from the event, see her photo essay.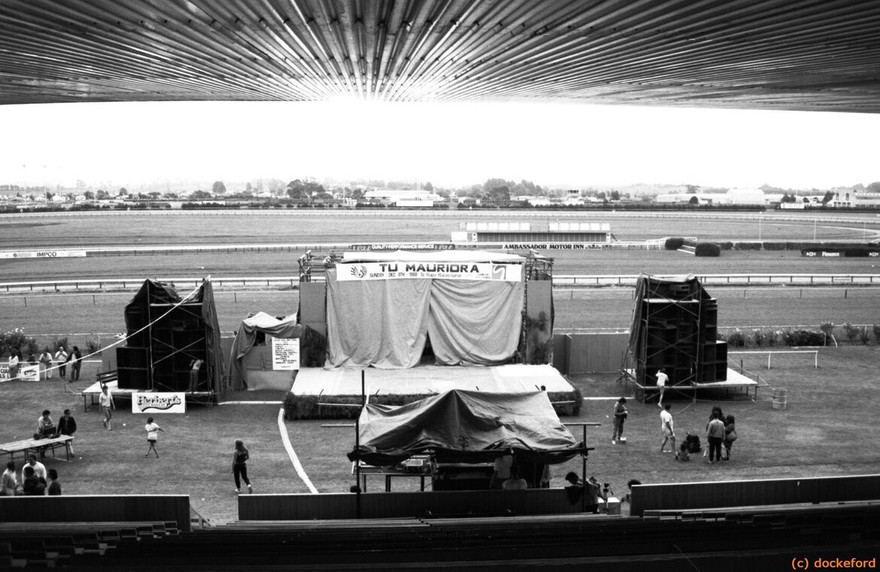 From the grandstand: the curtain is about to rise.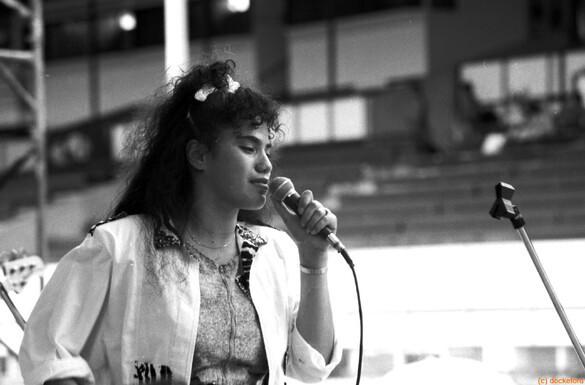 Betty-Anne Monga of Ardijah.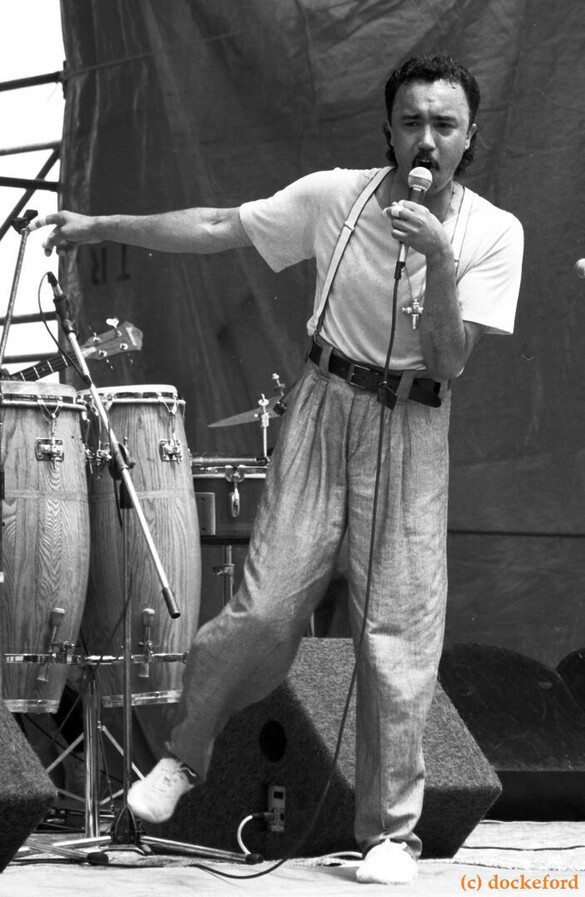 Peter Morgan
Other musicians from the period, in various venues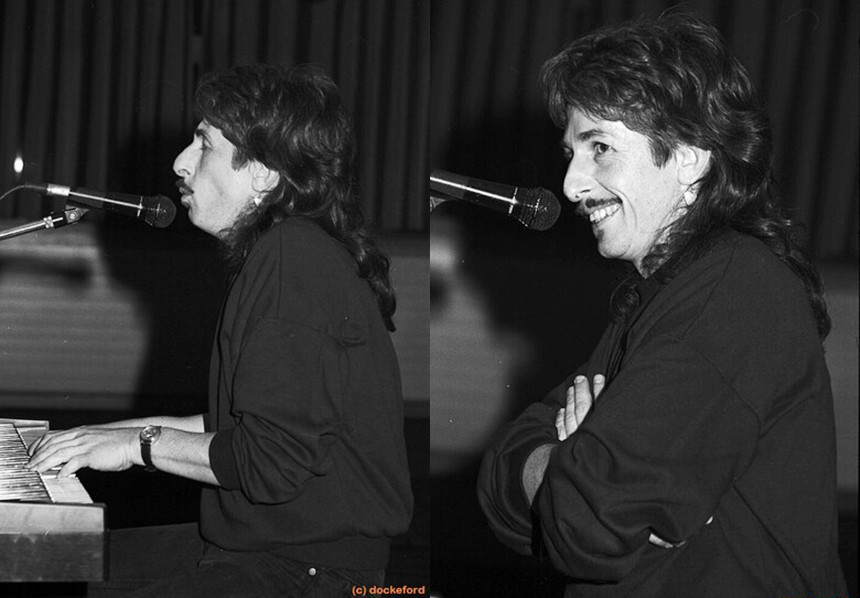 Ritchie Pickett. Karen: Of the few images I have of Ritchie, the second of these is my favourite. I remember taking them because he was a little rude about me getting up his nose with camera and flash at the end of the set. When I reiterated this recently to someone who knew him, they reckoned he must have been having an off night!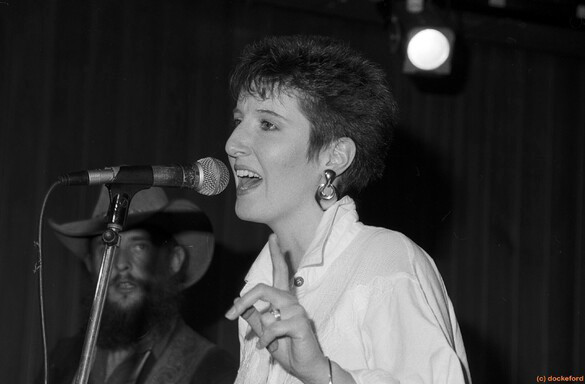 Celine Toner, seen here at a Heads, Hands & Feet gig, also performed with her sister Lynne as The Toner Sisters.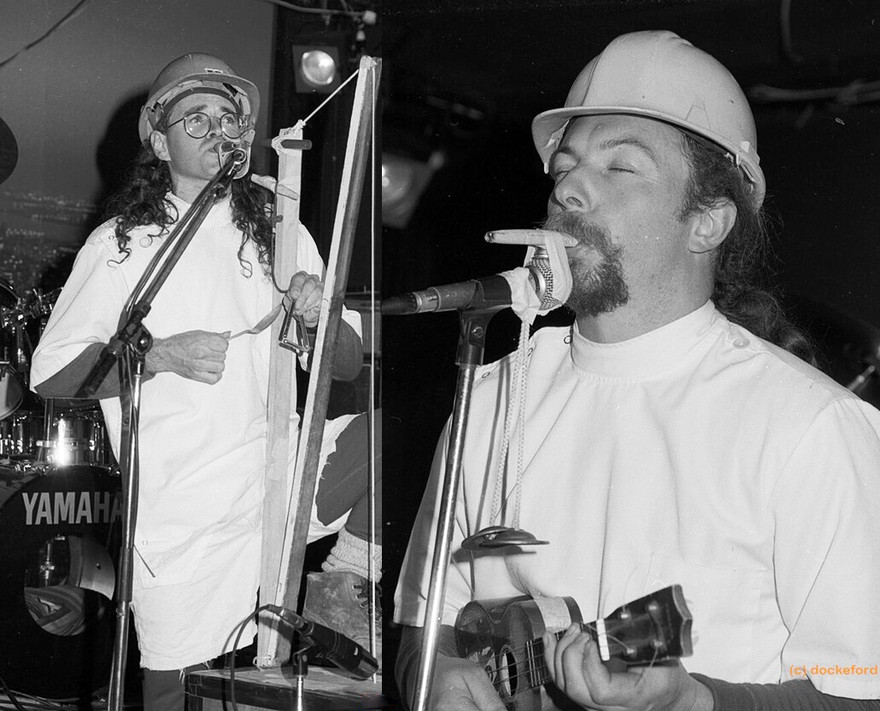 Karen: Jim and Graham from the Big Muffin Serious Band, a Hamilton institution still going strong.
--
Where are Knightshade? Here.
For hundreds more Hamilton music photos by Karen Ford, go to the webpage at Rockin' the Tron – https://www.doublebass.net.nz/doc-k-e-ford/
All photographs copyright © dockeford – Karen Ford