Allied International was originally set up in 1959 as Top Rank Records. The founding partners were Auckland promoter and owner of Prestige Records, Phil Warren (who owned 50%), New Zealand cinema chain and venue owner Kerridge-Odeon, and the massive UK Rank Organisation (who jointly owned 50%). Kerridge bought out Rank within a few months of the launch.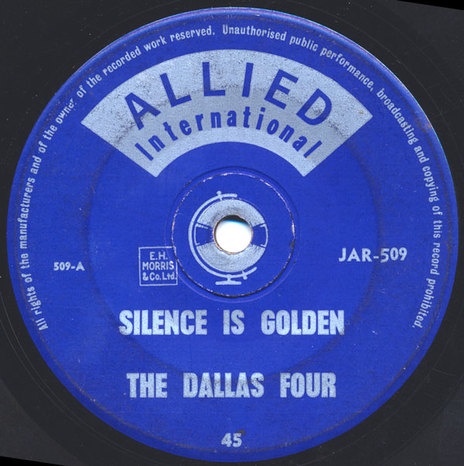 The owners aspired to create a major label in an era when there were few in New Zealand. After six months, having bought out his partner Bruce Henderson, Warren folded his Prestige label (Johnny Devlin) into the group, including all its many licensed offshore labels, although Prestige kept its own identity until 1961.
Warner Brothers, one of their most lucrative licensed labels, did not like being distributed by a company named "Top Rank" as Warner Brothers competed against Rank in the UK. This forced a name change to Allied International in early 1960.
After some internal disagreements over priorities and his increasing focus on touring artists and clubs, in 1961 Warren sold his share of the company to G.A. Wooller & Co. Ltd, the owner of Pye Records in NZ and New Zealand distributor of Festival Records and RCA. Warren retained the Johnny Devlin catalogue.
Allied International then became part of a combined Festival/Pye/Allied International combine until 1966 when Festival went its own way, with Kerridge launching it as a standalone company late that year. Ironically, Phil Warren then inked a deal for his newly signed acts with the now stand-alone Festival Records, via his James Productions company (itself a partnership with saxophonist/producer Jimmy Sloggett).
Managed by Wooller's Fred Noad, Allied International released both offshore and local artists, with important records by The Bluestars (including 'Social End Product'), The Brew ('Bengal Tiger'), Hi-Revving Tongues, Four Fours and The Gremlins among the label's more than 180 single releases.
For all that though, the label's local A&R policy was at best sporadic, with few albums and little in the way of artist development, acts tending to leave for better pastures after a few releases.
By 1968, Wooller was the sole proprietor. He then folded the Allied International label into Pye and local repertoire was released on the Pye label, overseen by A&R head Fred Noad who remained a key player at both Allied International and Pye until the mid-1970s.
The last notable gasp for Allied International as a label brand was in 1970 with the release of the legendary Stoned Guitar album from The Human Instinct on a briefly renamed AIR label – followed a few months later by Wasting Our Time, the second album from The Underdogs – after which the label ceased to exist.
However, the Allied International Records Limited company continued as the parent of the Pye label and the new Family Records label (notable for John Hanlon) until it was sold to PolyGram in 1975, with PolyGram taking over the Allied International offices at 110 Mount Eden Road in Auckland. The catalogue is now owned by Universal.