The history of music charts in New Zealand goes back to the late 1940s. It's a convoluted story explained at the AudioCulture page New Zealand Charts – the Genesis. Early charts were assembled by regional radio stations, record stores or magazines for their own use: they were popularity charts, not sales charts. "Although not perfect," says chart historian Warwick Freeman, "this did give a fairly accurate guide to New Zealand's favourite songs." For nine years from 1966, a chart appeared in the NZ Listener, compiled from readers sending in a voting form. It was not until May 1975 that a national sales chart appeared, based on a survey of sales. This evolved into the current Official New Zealand Music Chart, compiled by RadioScope for Recorded Music NZ, from sales and streaming (their "hot" charts also factor in radio airplay).
So to get an idea of New Zealand's record charts in the 1960s we are reliant on the dedicated research of Dean Scapolo and Warwick Freeman. Their books, The Complete New Zealand Music Charts 1966-2006 (Scapolo, 2007), and New Zealand Top 20 Singles Of The Sixties (Freeman, 2016), were used to compile this list. Based on combinations of radio station charts from around the country for the early half of the decade, the Hi-Fi Club, and Listener readers votes from March 1966, plus other sources, it was reassuring to see the exact same tracks in both books as being credited with reaching No.1 (Red Hewitt's 1960 hit pre-dates Scapolo's book). This list of No.1 hits by New Zealanders is presented with a caveat that it reflects the interpretation of many sources by two chart specialists.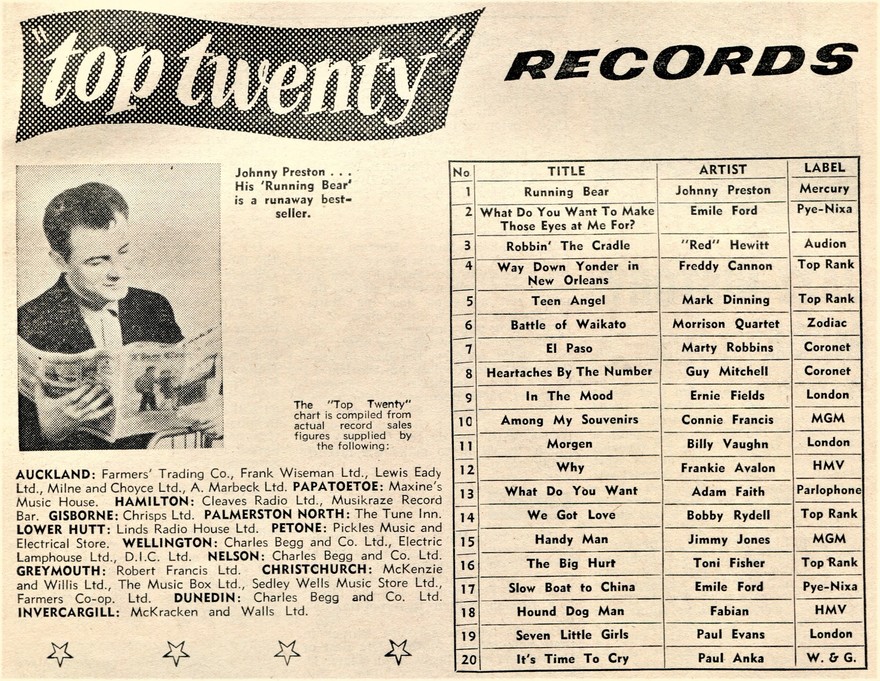 Red Hewitt And The Buccaneers – Robbin' The Cradle (1960)
Although Red Hewitt was somewhat in the shadow of local superstar Johnny Devlin, he was nonetheless a huge live draw in Auckland, and with this track a major vinyl shifter as well. The first New Zealand artist single to top the charts in the 1960s was also a very big seller, spending up to five weeks in the various charts consulted by Freeman and Scapolo. Recording for the tiny Audion label, Hewitt sings in a convincing American-style rock'n'roll voice, and the Buccaneers provide simple backing. The song is all about "teen love", a common theme of early rock'n'roll lyricists. The singer laments to his girlfriend that he's forced to split as 'they say I'm robbin' the cradle".
While the decade got off to this winning start it wasn't until 1967 that the next single by a New Zealand artist hit the No.1 spot. Those earning the close-but-no-cigar award – peaking at No.2 in the interim – included The Keil Isles' 'Made To Be Loved' (1960), Dinah Lee's 'Don't You Know Yockomo' (1964), and The Gremlins' 'The Coming Generation' (1966). But, as the old saying goes, you wait ages for a bus, then three come at once.
La De Da's – Hey! Baby (1967)
1967 marked a major turning point from whence New Zealand artists hit the top of the charts at regular intervals for the next 50 years. Ironically it was a cover of a song from 1961 that broke the drought, and an unlikely one at that. What had been a relatively innocuous hit for writer Bruce Channel was given a light garage sheen by rockers the La De Da's for Zodiac Records and still sounds fantastic today. In 2001, Austrian DJ Otzi dumbed the track right down to the basics, scoring a massive world-wide hit that is regularly played at sports events.
Mr. Lee Grant – Opportunity (1967)
Television, and C'mon in particular, played a big part in the renaissance of New Zealand artists on the charts. Like the La De Da's, Mr Lee Grant was a regular performer on the show. With a three-year career still in first gear, the show revved him up to top speed, his first two HMV singles both making No.1. Fashionably dressed by manager Diane Cadwallader, with a mid-60s Beatles haircut to match, Mr Lee looked every bit the cool pop star for 1967. Seemingly overnight Grant became the object of teen frenzy with local girls. Grant's label HMV had originally targetted flipside 'Spicks and Specks'. The Bee Gees' version put paid to that as it raced up the charts, forcing a change of focus to 'Opportunity', a cover of an obscure Walter Jackson soul song from 1965. Grant knocked a full 30 seconds off the original by speeding up the chorus and turning it from a soulful croon to an up-tempo pop track. Producer Nick Karavias gave it the full big-band treatment and embellished the track with a woodwind motif giving it a jaunty, almost toytown vibe. With Radio Hauraki, teen magazines, and now the NZBC backing him, Grant's next single couldn't fail ...
Mr. Lee Grant – Thanks To You (1967)
… and it didn't, duly hitting No.1 in August and staying there for three weeks. An over the top ballad in the style of British heartthrobs Tom Jones and Engelbert Humperdinck, 'Thanks To You' spent three weeks atop the chart. It confirmed Mr Lee as the biggest pop star New Zealand had seen since the heady days of Johnny Devlin 10 years earlier. Overwrought, oversung and overplayed on radio, it meant that in the most momentous of years in popular music history, New Zealand somewhat echoed the UK, where Melody Maker famously designated 1967 "The Year Of Engelbert".
Mr Lee Grant – Why Or Where Or When (1968)
With next single 'Movin Away' stalling at No.2 in December 1967 (held off by The Royal Guardsmen's 'Snoopy's Christmas'), Mr. Lee made No.1 a third and final time in March 1968 with his version of English singer Vince Hill's track 'Why Or Where Or When'. Spending two weeks in the No.2 spot, this lightweight, strictly MOR mid-tempo track is a typical formulaic pop hit of the era. In a testament to their skills, HMV's producers and arrangers had succeeded in turning three tracks – whose originals had had little impact on the charts in their countries of origin – into chart toppers for Mr Lee in New Zealand.
Simple Image – Spinning, Spinning, Spinning (1968)
HMVs A&R pop pickers continued their strong run, this time pairing Wellington band Simple Image with sunshine pop track 'Spinning, Spinning, Spinning', a minor hit for US group The Ballroom. Only their second single, 'Spinning, Spinning, Spinning' was a canny choice that took advantage of Simple Image's three-vocalist lineup. A pretty faithful cover of the original, producer Howard Gable added a little phasing to the chorus to give a slight psychedelic vibe. Healthy airplay ensued. Considering the competition, topping the chart was a remarkable achievement. Ousting the Small Faces 'Lazy Sunday' from the No.1 spot, 'Spinning, Spinning, Spinning' held onto top spot for two weeks in July before being knocked off in turn by The Rolling Stones 'Jumpin' Jack Flash'.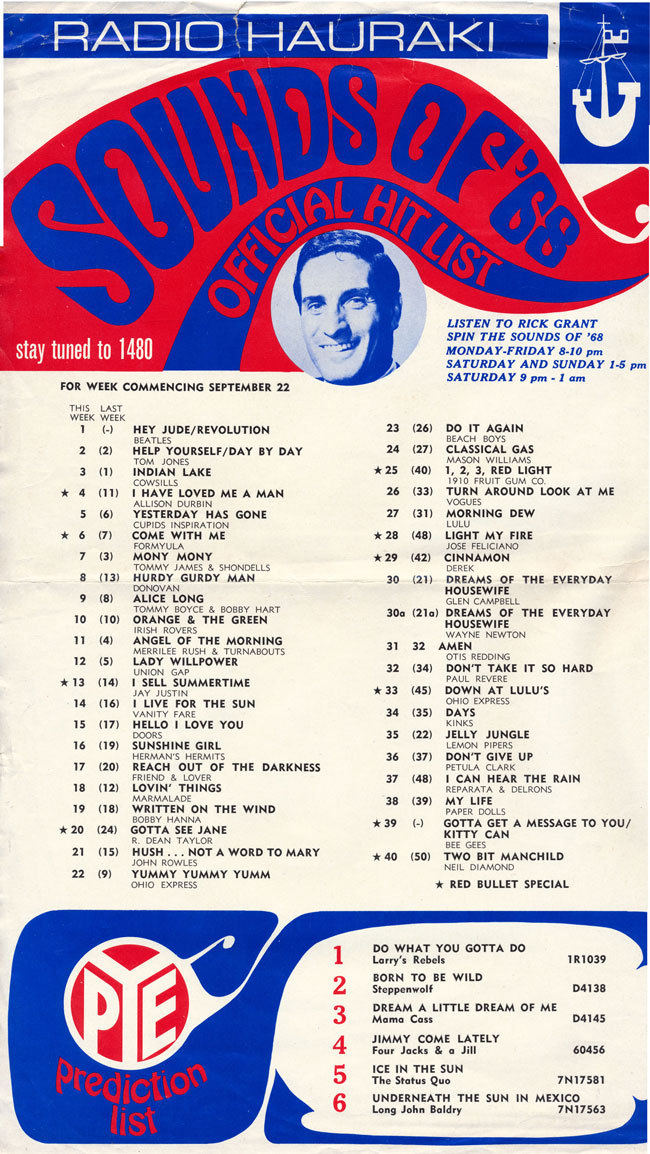 Allison Durbin – I Have Loved Me A Man (1968)
By now HMV New Zealand was on a major roll with hit singles. As Allison Durbin's track reached No.1, both The Avengers' 'Love Hate Revenge' and The Fourmyula's 'Come With Me' were simultaneously in the Top Five. Durbin had released a string of singles for Zodiac and Impact but had failed to trouble the charts. Tweaked by Howard Gable from an original recording made at Mascot Studios in Auckland, Durbin's debut for HMV was a bona-fide smash. A huge orchestral ballad brilliantly executed by both singer and backing musicians, Durbin's version demonstrably improved on the original, by American singer Morgana King. Topping the chart for two weeks in September, 'I Have Loved Me A Man' was only ousted from No.1 by the Beatles' global juggernaut, 'Hey Jude'.
The Rebels – My Son John (1969)
The prolific Larry's Rebels scored a run of six terrific Top Ten hits from 'Painter Man' in May '67 through to 'Mo'reen' in February '69. This tied with the La De Da's as New Zealand most consistent hitmaking group of the 60s. The run of hits included that rarity in the '60s, a track actually written by a New Zealander, in Roger Skinner's 'Let's Think Of Something (although many of the group's other singles featured tracks written by singer Larry Morris and lead guitarist John Williams). It was rather bittersweet for Larry, then, that no sooner had he left the group to pursue a solo career than the remaining Rebels, with new singer Glyn Mason, hit the top spot with their very first release. A cover of a track by little known UK band The Onyx, 'My Son John' was a straight-up chorus-verse-chorus pop hit, clocking in at just 2'15" in length.
John Rowles – M'Lady (1969)
John Rowles had made headline news in New Zealand when his track 'If I Only Had Time' hit No.3 on the UK charts in May 1968. Going one better in New Zealand, where 'Time' hit the No.2 spot, it was a year later that the singer from Kawerau finally topped the New Zealand charts. Propelled by a much-publicised return visit home by Rowles, 'M'Lady' actually knocked 'My Son John' down to No.2, providing a rare instance of consecutive No.1 hits by Kiwi artists. Written by prolific Canadian songwriter Steve Karliski, and recorded in England with Mike Leander (arranger of The Beatles' 'She's Leaving Home'), mariachi trumpets blast the up-tempo ballad into life. Rowles then gives it the full-throated lung busting treatment.
Shane – Saint Paul (1969)
As No.1 singles go this was the biggest New Zealand hit of the decade, spending a whopping six weeks in the top spot. Another artist to benefit from exposure on C'mon, this was Shane's second single for HMV. Clocking in at a lengthy (for radio anyway) four minutes plus, this was a tour de force by producer Peter Dawkins. 'Saint Paul' was written by an American, Terry Knight, who later had great success as manager of Grand Funk Railroad. Knight was also a record producer who had met the subject of the song, Paul McCartney, in 1968. Some journalists cited this song as contributing to the "Paul is dead" rumours that surfaced in 1969. According to Wikipedia, "The cryptic lyrics of the song are generally thought to allude to Knight's failed relationship with McCartney and his apparent belief that the Beatles would soon break up. The lyrics do not refer to death but were interpreted by some fans as containing clues. The ending repeats the phrase 'Hey Paul' in an arrangement that sounds similar to the Beatles' song 'Hey Jude'." Excerpts from several other Beatles' songs including 'Strawberry Fields Forever', 'A Day In The Life' and 'Lucy In The Sky With Diamonds' are "borrowed" (but not sampled). Shane's version easily out-performed the original, which failed to register on the Billboard Hot 100.
Hi-Revving Tongues – Rain And Tears (1969)
Zodiac popped up again with the final New Zealand No.1 of the decade, recorded by Auckland's Hi-Revving Tongues. Rain And Tears' was a cover of Greek band Aphrodite's Child, whose ranks included Demis Roussos on vocals and Vangelis on keyboards. The tune lifted freely from Canon In D by 17th century German composer Pachelbel. With Chris Parfitt taking the Roussos role this, as with so many New Zealand cover versions of the 60s, stuck pretty closely to the original, though knocking nearly a minute off time-wise. Stebbing's clearly spared no expense in the recording with sweeping strings carrying the track.