Jon Stevens – Montego Bay (1980)
This cover of a US one-hit wonder – the fantastically named Bobby Bloom – came hot on the heels of Jon Stevens' first No.1, his Tom Jones-esque ode to a femme fatale named (what a surprise!) 'Jezebel'. Stevens blazed his way into the 1980s and into New Zealand living rooms with a one-two pop punch, and became Upper Hutt's biggest pop export. 'Montego Bay' stayed top of the chart for two weeks in early 1980, meaning Stevens had a combined No.1 residency of seven weeks in total. The three-note bass intro starts the summer party jam. The band grooves out in obligatory Hawaiian shirts (Stevens sticks to an all-green combo) and they are definitely playing live at TVNZ's Avalon studio, as at certain points the balsa wood palm trees look in danger of toppling over.
Split Enz – I Got You (1980)
This golden Kiwi No.1 hit creeps up on you until that undeniable chorus hits. It put a real rocket under the band, topping the charts in Australia and New Zealand and introducing Split Enz to an American pop audience. It was proof Neil Finn could write radio catnip, and cemented his place in his brother's band. The video was conceived by the band's percussionist and resident artistic all-rounder Noel Crombie, and showcases Neil's boyish face. It's a little bit German Expressionist, a little bit ventriloquist puppet's revenge. Great eyebrow pencil action. It succeeds in being both friendly and creepy, a shining example of "dread pop".
Deane Waretini – The Bridge (1981)
Perhaps the only music video ever made that showcases the Valve Tower turret in Karori, Wellington. This 1981 hit was written by Te Arawa elder George Tait for his cousin Deane Waretini to perform, and the melody line draws from Italian Nini Rosso's 1965 song 'Il Silenzio'. The lyrics touch on Māori/Pākehā relations as symbolised by the "bridge" ( the newly constructed Mangere Bridge). The TVNZ video keeps things simple: Waretini is resplendent in earth tones and his sunglasses are kind of undercover policeman – but so was a lot of 1980s eyewear. 'The Bridge' broke new ground as the first New Zealand No.1 pop hit to be sung in te reo, and it became the first of a series of chart-topping pop songs in this countdown featuring the Māori language.
The Swingers – Counting The Beat (1981)
Butting heads with 'I Got You' for the Best Dread Pop Song Ever, here come The Swingers, another gift from the Split Enz family. The song is a favourite with Australasian businesses; Countdown, K Mart and L&P used it to flog their wares, and the fact its charms still hold after those workouts is pretty impressive. It hit No.1 in Australia first (March 1981) and in New Zealand it went back and forth between No.1 and No.2 for nine weeks that May. The video is a succession of simple ideas: the metronome guitar, the band foot-tapping and head swinging, singer-guitarist Phil Judd's woozy, slow motion walk through a moonlit doorway, and cut out numbers that actually "count the beat". According to Judd, the crowd of revellers who join in at the end were in the final stages of a "surprise, drunken evening" (can't have been too drunk: they all remembered their instruments). In 2015 'Counting the Beat' was finally awarded the APRA Silver Scroll it should have won in 1981, the year the award was skipped for murky reasons.
The Screaming Meemees – See Me Go (1981)
The Screaming Meemees originated on Auckland's North Shore, a band of ex-Catholic school boys from Rosmini College. They were a hot live ticket, and part of an energetic post-punk scene that included bands such as the Newmatics. 'See Me Go' entered the charts at No.1 in August 1981 – the first New Zealand act to do so – on the back of the single's pre-sales and something to do with botched delivery times. Isn't the past romantic? 'See Me Go' has a garagey, ska feel and the video was a rushed affair: winning the No.1 slot meant a speedy trip to Avalon Studios and someone in their circle raiding props cupboards for masks and fake roses. It begins with the band "ghost-walking" into what might be the same creepy house Split Enz used for 'I Got You', and the mood could be described as "casually gothic". The Meemees are at their "peak hair" moment: it's important to capture that for posterity.
Howard Morrison – How Great Thou Art (Whakaaria Mai) (1981)
A bit of the church enters the pop charts, and for the second time te reo takes it to No.1. Howard Morrison performed this popular hymn, mixing te reo and English at the St James Theatre in 1981 for the Royal Variety Performance, and Morrison gives the "rooollllling thunder" some special Elvis love. At the time Morrison had been away from the music business for several years, while he worked on Māori youth development, but this single's success – five weeks at No.1 – led to the commissioning of a Howard Morrison television special, which screened in 1982. The video is a reminder of the fusty Royal Variety show format, with a sweeping curtain backdrop and the performer's two audiences: the black tie and pearls crowd, and the main event, the Queen and Prince Philip, Duke of Edinburgh. Morrison's white sports coat, chocolate-brown shirt and pink carnation seem a blast from the past even by early 80s standards. His great friend Billy T. James had fun with this classic track at his famous 1990 comeback show, delivering the lyrics intently into a hand mirror.
Prince Tui Teka – E Ipo (1982)
Enter the ultimate showman. Prince Tui Teka honed his skills as an entertainer as part of the Māori Volcanics showband, touring internationally through the 1960s before going it solo. Like 'The Bridge', 'E Ipo' draws its melody from another song, in this case an Indonesian love song New Zealand soldiers introduced to Teka during a tour of Singapore. Ngoi Pēwhairangi helped Teka re-write it in Māori, and he dedicated it to his future wife (and Pēwhairangi's niece), Missy. The video was shot in the Mandalay nightclub in Newmarket, a time-capsule from another era when nightclubs were cosy and smoky and suits never creased. Teka is joined onstage and in full voice by the cultural group Te Rōpū Manutaki, as well as Missy and Pēwhairangi (cradling the gold disc throughout). It's like crashing a particularly warm and talented family party. The best part is when Teka attempts to deliver the spoken word section "oh my darling" etc, with a serious game face on, but Missy's having none of that and they dissolve into laughter.
Dave and the Dynamos – Life Begins At 40 (1983)
There's always one, isn't there? Written at a time when declaring "but 40 is like, the new 30!" would have got you laughed out of the record shop. Forty was 40 in the early 80s, aerobics was still in its infancy and people thought the Rolling Stones should probably call it quits before their audiences died of embarrassment. "Dave" is Dave Luther, formerly of Hogsnort Rupert, the folk-pop outfit who delivered New Zealand's biggest selling single of 1970, 'Pretty Girl' (featuring quite a cool harmonica and a bad Somerset accent). There was definitely something going on in Australasia that month: at the same time 'Life Begins at 40' hit No.1, a performer called "Austen Tayshus" (I get it!) had a hit with a spoken-word record called 'Australiana', stringing together every possible Aussie cliché into a shaggy dog story. For whatever reason, September 1983 was the Month of the Novelty Hit. 'Life Begins At 40' follows the misadventures of a chap who can't stop "rocking to the beat" even though his back "is killin'". The video boasts a large cast following the lyrics. They literally act out the lyrics. It's a lost art form. It's enthusiastic. Shot at the ever-reliable Avalon television studios.
Pātea Māori Club – Poi E (1984)
For the fourth time in four years, Te Reo makes it to No.1. 'Poi E' continues to be rediscovered by a new generation of Kiwis, thanks in part to Taika Waititi bringing Michael Jackson moves to the finale in his 2010 hit movie Boy, and to the 2016 documentary Poi E: The Story of Our Song, directed by Tearepa Kahi. The Jackson nod was tied into Waititi's script, but in 1984 – when Michael Jackson's Thriller reigned – 'Poi E' managed to outsell it at home. Written by Dalvanius Prime and Ngoi Pēwhairangi (see 'E Ipo' above), its purpose was to uplift young Māori, and it came to life in Pātea, a town that was determined to regain its pride. The recording mixes traditional cultural sounds and art forms with street beats and break dancing, a true home-grown hit. Straight away it means business: opening with bird song, then a lone female voice rallies us in te reo, still an electrifying opening years later. The video is a diary of a Pātea Māori Club road trip, starting and ending in Pātea. Diana Wichtel, reviewing the Poi E documentary, called Dalvanius a "singer, an entertainer, an all-round cultural agitator" and it's still wonderful to see him in the video, pulling off the best pūkana ever out a car window. He almost eclipses the breakout celebrity of 1984 – Jo, the Fanta-haired break dancer, cutting shapes atop the waka carving in Pātea's main street – almost, but not quite.
Peking Man – Room that Echoes (1985)
I don't know if Margaret Urlich trained as a dancer, but she sure pulls some coordinated moves in this little slice of two-dimensional wizardry (by today's standards, a series of Word 98 screen settings). This was Peking Man's most successful single ('Lift your Head Up High' and 'Good Luck To You' were two other offerings from their 1986 album). Peking Man included a brother/sister core, with Margaret and brother Pat sharing vocal duties. The Urlichs were part of an Auckland musical dynasty, with cousin Peter fronting Th' Dudes. Margaret and her siblings started singing and playing together as kids, performing sets down at the local mall to pull in some extra money. Even as a silhouette, Margaret is one stylish woman: it was her and Annie Lennox championing the crop amid a sea of mid-80s perms. 'Room That Echoes' stayed at No.1 for two weeks, and the band cleaned up at the 1986 New Zealand Music Awards. They left the music scene on a high, but for Margaret this was just the start of a successful solo career.
All of Us – Sailing Away (1986)
This was No.1 for nine weeks in 1986. Nine weeks. That's nearly one trimester of pregnancy. It was the longest residency at No.1 for a New Zealand single until 2009. In the mid-80s 'Do They Know It's Christmas?' and 'We Are The World' showed that Pop Stars Cared. New Zealand, on the other hand, had boat races to win. It's a wonderful historical document, a Who's Who of mid-80s Kiwi pop culture swaying together at a marae, urging us to "get in behind" the KZ7 1987 America's Cup campaign (spoiler alert: we didn't win). It's cheesy for sure, contrived and kind of awkward (Barry Crump sort of sings. He could have just stood there, but his country called). Dave Dobbyn, Billy T. James, Tim Finn, Annie Crummer, Satellite Spies ('Destiny In Motion' anyone?) and a chorus of sports figures and journalists, kids and aunties. There's Grizz Wyllie – Grizz is in a chorus! The tune starts with 'Pōkarekare Ana' then "takes it away".
Dave Dobbyn and Herbs – Slice of Heaven (1986)
Dave Dobbyn was the beloved everyman figure of the 1980s. 'Loyal' connected with something deep in the Kiwi bloke psyche and was the kind of song you'd hear pissed Kiwis sing on the Tube. It's … deep. That song, along with this earlier 1986 hit, could maybe share unofficial national anthem status. 'Slice Of Heaven' featured in the score for the film adaptation of Footrot Flats, Murray Ball's long-running cartoon strip, and its success crossed the Tasman. It held No.1 for eight weeks in New Zealand – almost knocking 'Sailing Away' off its perch – and four weeks in Australia, helped along hugely in both countries by the fact that the Footrot Flats promo ran before that Australian mega-hit Crocodile Dundee. Dobbyn wanted to evoke a Pacific choir feel and enlisted Herbs to help. The unaccompanied a capella that starts it all off and Tama Lundon's falsetto refrain really make this song; without them it might have been nice enough, but nothing "wow". The video combines snippets of the animated film with Herbs and Dobbyn at Marmalade Studios in Wellington; Dobbyn is kitted out as a jovial conductor while Herbs keep it all a tad more down-home.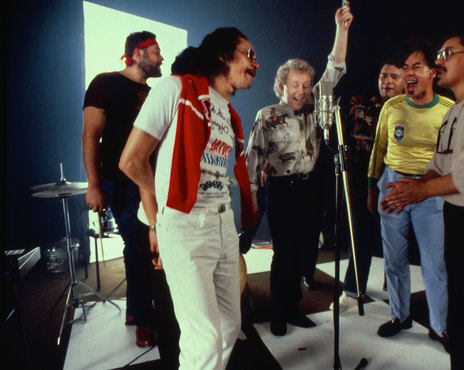 Crowded House – Don't Dream It's Over (1987)
This was a worldwide smash. The success of this song and the first Crowded House album saw Neil Finn and the band become international stars, a step Split Enz never quite made. It hit No.1 in New Zealand, but only for a week (radio airplay was late in coming). That stint at the top doesn't reflect the song's international impact: No.1 in Canada, No.2 in the States and charting in the Top 15 across Europe. The video was nominated for Best Group Video at the 1987 MTV awards. The song has become a staple of MOR radio stations across the world, and in 2017 another generation of performers (Miley Cyrus and Ariana Grande) covered it at the memorial concert after the Manchester bombing. The tone is yearning and warm, and the lyrics are evasive: don't dream what is over? Childhood? Split Enz? It's a sort of paean to the humdrum of an everyday life, a sense of elusive possibilities. Finn describes the overall mood as "feeling lost, but urging myself on". "In the paper today/ tales of war and of waste/ but you turn right over to the TV page". The video is filled with vintage notes, a sort of post-war childhood remembered. Finn, Nick Seymour, and the late, great Paul Hester progress through different themed rooms (you could get all Jungian here) and potter about, but Hester's ironing skills are real.
Tex Pistol – The Game of Love (1987)
Former Dude Ian Morris chose Tex Pistol as a new persona and delivered a hit with this energetic synth remake of Wayne Fontana and the Mindbenders' 1965 hit song. Morris had already released a track, 'The Ballad of Buckskin Bob', under the Pistol name but knew he had hit paydirt when he revisited this "good, simple" song. There's no mucking around: we're walloped with drum pads from the start, and Morris mixes some early rock guitar with a deep throated "love ... love". Morris enters the video clip with a Travolta-style strut, while delivering the (rather high camp) ode to the alpha male: "the purpose of a man is to / love a whoa-man". The colour palette is tight: it's black, white and a red guitar against the shimmer of wet concrete, confirming the talent of its (then) teenage director, Paul Middleditch. The wonderfully named Callie Blood (backing vocal) keeps the "red" theme alive and delivers some air-horn. 'The Game of Love' grabbed No.1 for just one week.
Holidaymakers – Sweet Lovers (1988)
In June 1988 summery sounds pierced the winter gloom and made everyone smile. Holidaymakers –what a name. Six weeks in the top spot, best video of 1988 and single of the year. They came together in Wellington, all from various soul bands and were signed to Trevor Reekie's Pagan label. This Bill Withers cover was their first single; the song they would be forever remembered for. Tinkling Caribbean drums sweep us into a story of first love. Vocalists Mara Finau and Peter Marshall are authentically sweet, bringing warmth to the song's hesitant, then joyous, declarations of love and faithfulness. I nursed a crush on Marshall: that bit when they touch heads! The video just screams "Wellington" doesn't it? A group of groovy folk casually wearing retro styles, jamming together on a beautifully lit stage: it's like Fane Flaws walked into Midnight Espresso and said "You free? I've got a shoot in five, wear what you've got on". Flaws gives each band member the chance to shine but special mention must be made of Pati Umaga who just oozes cool. Runner up? The percussionist in the Fez.
Tex Pistol and Rikki Morris – Nobody Else (1988)
The Morris clan rides again. Rikki Morris wrote and sung this original ballad, brother Ian "Tex" produced. The video keeps to the same black, white and red palette of 'The Game of Love', getting all pre-White Stripes on it, but the rain machine is gone. Paul Middleditch returns to the director's seat, Ian plays red guitar and Rikki keeps it simple and heartfelt. The childrens' choir is a tad Telethon, and those walloping electric drums that dominated 'The Game of Love' haven't gone anywhere, but those were the times. The finger-clicking bridge takes the song from leisurely and considered to a rousing "Wembley!" finale, and Middleditch's use of back-to-back Morris brother profiles adds a Lennon-McCartney note. It made No.1 for one week, but stayed in the New Zealand charts for 16.
When The Cat's Away – Melting Pot (1988)
And the fifth Kiwi cover version to hit No.1 in the 80s is brought to you by … New Zealand's own Spice Girls. We were always ahead of the curve. When The Cat's Away were (more accurately) a supergroup comprised of Debbie Harwood, Margaret Urlich, Annie Crummer, Kim Willoughby and Dianne Swann. After bonding at the 1985 New Zealand Music Awards, they decided to join forces. Swann has said the impetus was to "have fun and sing a bunch of songs we liked," and that the band's success was unexpected. The TVNZ documentary following their hugely successful tours back up Swann's quote: here was a group of women who genuinely loved music, liked each other and gave the audience as good a time as they were having. As for this song … British band Blue Mink first recorded it in 1969, and as a plea for racial harmony, its literal approach makes for some clanger lyrics: "what if we just melted everyone together so we'd see no difference? Let's investigate!" Whatever shortcomings the song has (to my ears) the Cats inject style into the whole affair. The video keeps it loose and fun, and is a prime resource for anyone wondering what the cool girls were wearing in the late 80s. It's still great to see a group of women just doing what they want, and damn the torpedoes. That feeling was key to their success. Pretending to play a brass instrument is a recurring theme in this decade's countdown (see 'Game of Love').
Margaret Urlich – Escaping (1989)
When The Cat's Away was always a side-project, especially for Margaret Urlich, whose solo career was about to hit a new level. 'Escaping' is a smooth, slick, soul style number that screams (or calmly announces?) "Adult Contemporary". Gone are the japes and interesting headwear of the Cats, hello Melbourne café and tortured moments. It's a relief when she sings "let me loose/ set me free under cover" – and it's Margaret the dancer again, pulling those familiar 'Room that Echoes' moves. It's a very produced sound, but Margaret's voice survives the layers and works its range. No one wore a mustard-coloured, cropped and fringed bolero jacket better. 'Escaping' stayed at No.1 for three weeks in New Zealand, and started to get serious airplay in Australia – where Urlich is based – making it into the Top 20. Her debut album, Safety in Numbers, was well named: it eventually reached triple platinum status.
--
Gabe McDonnell is a playwright, actor, TV and fiction writer. She is also one of the creative forces behind Wellington's Real Hot Bitches dance troupe, which celebrates in lycra the music of the 1980s.