"They said, 'Are you up for Ozzfest'? The head of V2 in the States, Andy Gershon, was thinking, 'you guys are really into the 70s thing, the hard rock thing, the garage rock thing … it's gonna fly in the mid-west, cos they've probably been brought up on Motorhead, Cheap Trick'." Dolf recalls. "We said, 'nah, those guys are all in their forties now'."
The Datsuns joined Ozzfest in the USA, starting from 20 July, for five gigs, opening the main stage, in the afternoon, prior to the tour headliners: Disturbed, Marilyn Manson, Korn and Ozzy Osbourne. The often office-bound manager Tom Dalton also headed for the USA for talks with V2 North America and to see the Ozzfest gigs. The Datsuns were not a perfect fit for the festival.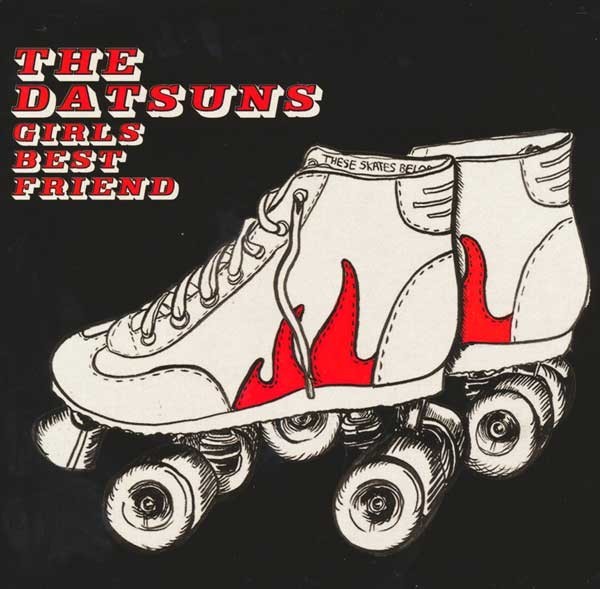 "We were the first on and all the seats at the front were VIP – more expensive and those people don't arrive until the evening – you are playing to about 5,000 people but they're about 300 metres away," recalls Dolf, who told Rolling Stone, "We are the most faggy band at Ozzfest. Us nancyboys got asked to do it. We've had some really interesting suggestions for T-shirts to sell at Ozzfest — 'The Most Hated Band At Ozzfest' and on the back 'THE DATSUNS'."
The band enjoyed playing sideshows in Toronto, Newport and Washington DC more than the mid-West, trailer park Ozzfest gigs.
Although The Datsuns and Metallica appeared at the 2003 "Carling Weekend" Leeds and Reading festivals, they played on different days. However, they did play one gig together that month, in Germany. The Datsuns played Reading Friday 22 August and Leeds Saturday 23 August, billed directly under Linkin Park, Blink 182, Jay-Z and Staind.
In 2003 The Datsuns also played festivals in Japan (Summer Sonic Festival), Denmark (Roskilde), Austria, France and two in Germany. The final gig of the band's 18-month world tour was August 31 at The Lowlands Festival in Holland and Dolf celebrated the occasion by smashing his bass guitar into oblivion. The band had played over 250 dates during their global assault.
In September the single 'MF From Hell' was released. It charted in the UK for one week at No.55 (6 September 2003).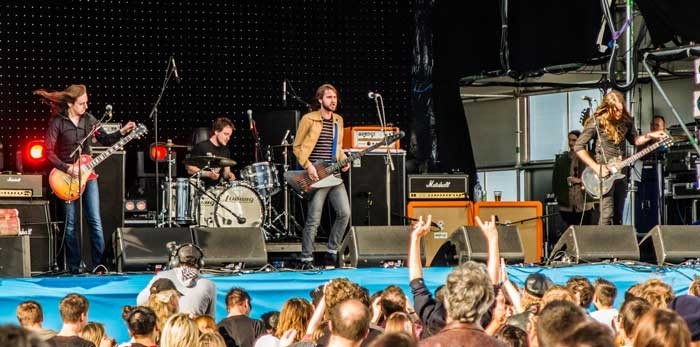 John Paul Jones
The Datsuns then took a month off before a New Zealand tour in October. Prior to taking a break they were in talks with both Bob Ezrin and John Paul Jones about producing their second album. The album was recorded Jacob's Studio, in a farmhouse in Surrey, 50 minutes by train from London's Waterloo Station.
"On the second record V2 talked us into the John Paul Jones thing," Dolf told AudioCulture. "We thought 'that'll be fun' and it was. I thought he would have pushed us a little bit harder. Maybe that's the problem with that record. We made it after eighteen months of touring. Maybe we should have gone 'let's stop touring and just write'."
The collaboration was an arranged marriage. John Paul Jones told Iain Sharp of Sunday Star Times (9 November 2003). "The boys and I were set up by our record company. It was done in a nice way and I am not complaining, but we were definitely set up. The story I heard was The Datsuns were very keen to be recorded by me. Meanwhile they were told that I was desperate to record them. But it's all worked out for the best. I think they're a terrific band."
In January 2004 Dolf told the NZ Herald: "It would be easy to be intimidated by someone like John Paul Jones but he's not an intimidating fellow at all. You can be, 'Oh God, I just screwed up in front of this guy' but after a day with him we just felt at ease."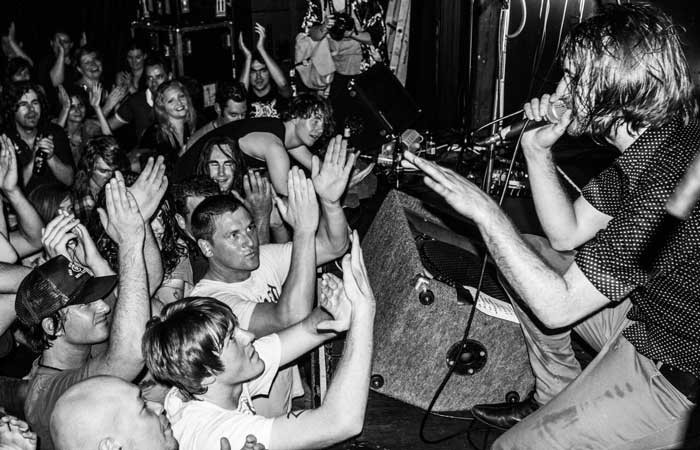 "We were sitting down watching MTV after dinner and a day of recording," recalls Phil. "The live version of 'Stairway to Heaven' comes on, so you obviously turn it up and pay attention, then to look over and be sitting next to John Paul Jones, is a moment I'll never forget."
"One time in rehearsals for Outta Sight Outta Mind, I got behind the drums, and he picked up the bass and started playing 'Dazed and Confused', I played along thinking 'sweet, jam!' – when I realised what and who I was playing along with I had to stop – that was enough for me. I proceeded to ask if he wanted a cup of tea and I walked out to make it for him.
"Anything else Mr John Paul Jones, or is it just Mr Jones? Mr Paul Jones? Can I just call you JPJ? Would you like a biscuit with your tea? I was a bit of a fumbling idiot and remember telling myself to not think about it too much – because it was too much for me – reflect on it in twenty years I thought."
Dolf's star struck moment was not in a recording studio: "I was introduced to Patti Smith at a party once. I smiled politely and promptly got out of her way."
Big Day Out, Lollapalooza Booked
In January 2004 the group played the Big Day Out in Australia and Auckland, and did sideshows in Australia with the headliners, Metallica.
When The Datsuns did a Big Day Out sideshow at the Kings Arms in Auckland, other bands there from the tour included members of The Strokes and Kings of Leon. Dolf modestly said, "Sideshows, that was the usual thing to do on the BDO, as everyone gets bored on days off." He recalled The Strokes singer Julian Casablancas greeting him and their bass player "wiped an entire table of empties onto the floor, shattering glass everywhere." There were so many weird characters on that particular BDO year, it made for an entertaining few weeks."
The band then returned to their London base to put finishing touches on their new album, shot a video for 'Blacken My Thumb', recorded B-sides for singles and started a gruelling press schedule that included flying to Japan and Italy just for interviews. "We're kinda busy, but we're not even doing any shows, so it's kinda stupid," Dolf told Real Groove magazine.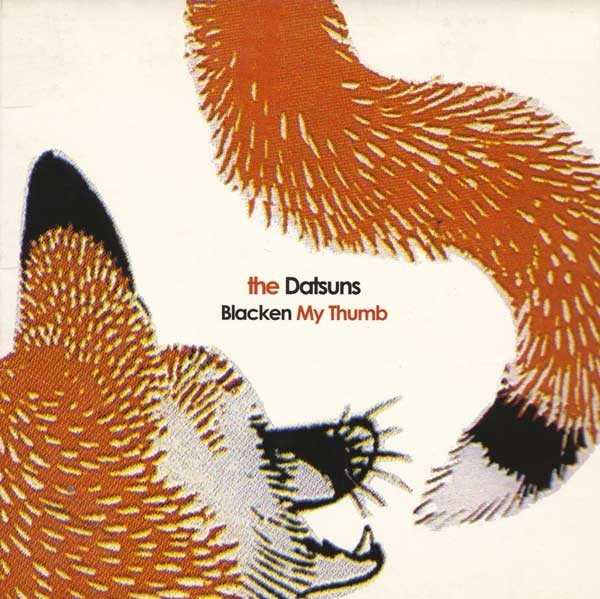 In the United Kingdom, in the new millennium, the vinyl single remained in vogue for rock acts, partly to due to the muso romance with vinyl and largely due to the record company's desire to hype sales charts. For example, a vinyl-loving label like Domino Records has in the past issued a 7-inch, a 10-inch, a 12-inch, two CD singles (or a DVD/video single) of an Arctic Monkeys single, so if one fan purchases all five formats to get the exclusive B-sides, that fan has five times the impact on the single's sales chart position.
The Datsuns have been hopelessly addicted to vinyl from day one.
The Datsuns have been hopelessly addicted to vinyl from day one. They even got an iconic 70s-style gatefold cover with the vinyl pressing of their first and second albums and there were two 7-inch singles off the second album: 'Blacken My Thumb' and 'Girls Best Friend'. The need to come up with exclusive B-sides for the singles put further pressure on The Datsuns' songwriting.
"We wanted everything that came out to have a cool B-side," said Dolf. "So potentially you have album with ten songs and you do three singles, each with three formats that need three different B-sides, you need twenty songs total for every album and you're giving ten of them away. The record company would sell the singles for £1 and lose money on them."
To coincide with the May release of their second album Outta Sight Outta Mind, the band's third John Peel Session was broadcast on 27 May 2004. The live recording was made when the band played the ICA Club in London. The Datsuns went on the road again – Europe (May, June), UK (August), Australia (August), New Zealand (September), Japan (September), one show in Los Angeles and then back to Europe (October).
In June the single 'Blacken My Thumb' was released. It charted in the UK for two weeks: first week at No.48 (12 June 2004), second week at No.82. The album Outta Sight Outta Mind charted in the UK for one week at No.58. In New Zealand the album charted at No.7.
In 2004 The Datsuns wanted to focus their attention on building their audience in the USA. They signed on for the Lollapalooza tour that started 14 July and concluded 25 August. But mid-June, the tour was cancelled due to poor ticket sales. The line-up included Morrissey, Sonic Youth and The Flaming Lips. "I am in utter disbelief that a concert of this stature, with the most exciting line-up I've seen in years did not galvanize ticket sales," co-founder Marc Geiger told Rolling Stone magazine (22 June 2004).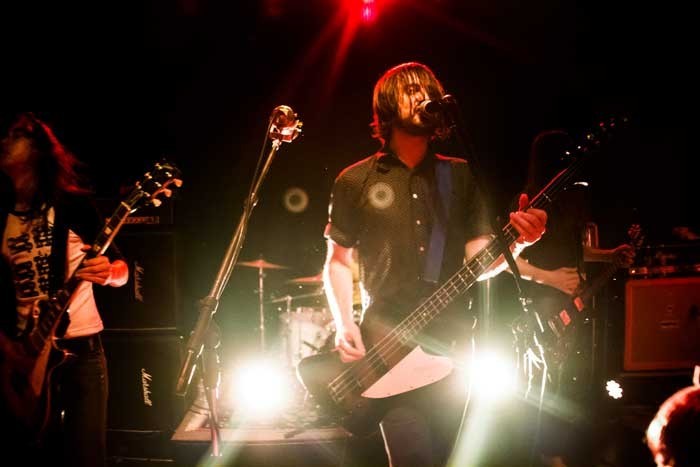 "We were supposed to do Lollapalooza and we blocked out that whole summer for it," said Dolf. "That was the year they canned it. That was on the second record. You need to book this shit four or five months ahead, at least. We thought, 'I suppose we'll book a club tour somewhere', but it was all last minute. It sucked!"
When Spin magazine (6 August 2004) asked Dolf, "What are you listening to right now?" – he replied "A to D in my record collection." The interviewer asked, "You travel with them?" – he replied, "No! I've had some time off because of this Lollapalooza debacle."
In October the single 'Girls Best Friend' was released. It charted in the UK for one week at No.71 (23 October 2004).
In early November they headed for the USA to do three dates opening for Velvet Revolver, followed by 15 concerts with The Pixies. "Going out with the Pixies in 2004 was pretty amazing," said Dolf. "We played short sets, ate amazing catering and got to see their show every night. Not a bad way to spend a few weeks."
On days off The Datsuns headlined their own club gigs and they also played with The Donnas at Webster Hall, New York, 1 December 2004. Later that month they played New York in a line-up that included The Pogues, TV On The Radio and Mission to Burma.
Bus Blues
When this writer was in North America in 2003, many alternative or student music writers were branding The Datsuns and The D4 as corporate hypes that had jumped on the "garage" bandwagon – quite contrary to the "industry vibe" of the SXSW Music Festival that valued their raw authenticity. This snub by some alt media was due to their labels V2 and Hollywood (owned by Disney) being viewed as majors – although they were both indies in the greater scheme of things – but they were not Sub Pop or Matador style indies. The alternative web site Pitchfork wrote reviews of both bands that need not be reprinted. The D4 came off worst as many Pitchfork writers had a prior religious commitment to older Flying Nun tunesmiths/deities. One Pitchfork writer, reviewing The D4, questioned whether Flying Nun still knew the difference between good and evil.
The truth of the matter is neither The Datsuns or The D4 were new to the prevailing "garage" sound/genre. They had done their time, touring in small vans downunder. Both bands had a near to 10 year commitment to their sound while North American bands that had discovered the sound 10 weeks ago or 10 months ago were viewed as authentic because the alt-community had seen them touring in a small van, lugging their gear into venues etc.
"On one of the tours of America we had a massive bus," recalls Dolf. "The record company said this much is going into tour support, so we thought if we are going to spend the next three years on the road, let's get a bus. We can't drive ten hours a day in a van, with each other. In some places the bus would be bigger than the venue. That was mildly embarrassing. You'd park it around the corner. We have some pretty good bus stories, the bus breaks down in 110 degree heat in Arizona or the toilet leaked and Matt's suitcase was literally filled with piss."
In January 2005, The Datsuns once again played with Velvet Revolver on their 11-date UK tour. The tour started with two nights at London's Hammersmith Apollo (10, 11 January) and concluded at the same venue 22 and 23 January.
V2 Shakey
The Datsuns' recording deals with V2 on both sides of the Atlantic were looking shaky by 2005, as V2 were good at spending money but were never profitable. In 2005, V2 North America (a separate company) was sold to Sheridan Square Entertainment. Branson would exit the music business the following year, in May 2006, with his bankers Stanley Morgan taking over the ownership of the London-based V2.
In May 2006 The Datsuns released the 10-inch EP 'Stuck Here For Days'. The Datsuns recorded their final album for V2 at Monnow Valley Residential Recording Studio in Rockfield, Wales where US producer Andrew Scheps had shipped his 64-channel Neve 8068 desk from Los Angeles. "I don't recall Monnow Valley having any specific vintage equipment we wanted to use," said Dolf. "Just a good room, desk and a functioning and well maintained tape machine, which has been a hard thing to find for years now. I think the location, well away from London, and probably the price would have been the biggest draw cards for us."
The recording was produced by the band and engineered by Nick Abbott. Smoke & Mirrors was released October 2006 and appeared on V2 in Europe and Japan and Cooking Vinyl in North America. The group released the 7-inch single 'System Overload' from the album.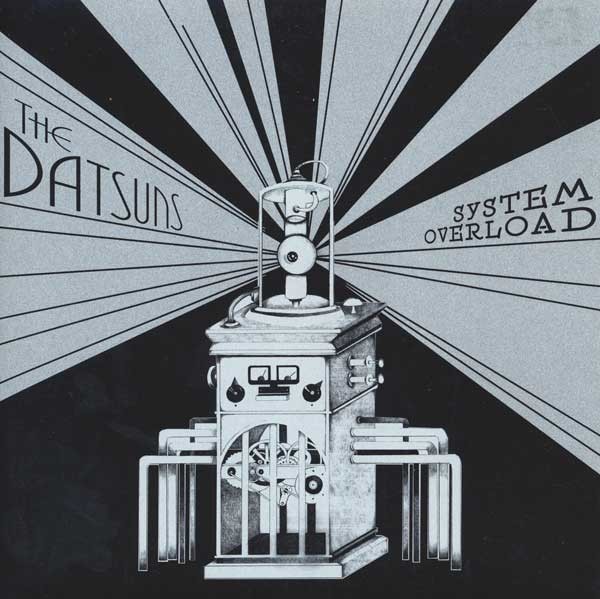 The band did an 11-date UK tour starting in Manchester 25 October and ending in London 7 November. They released, for the tour, a download single, 'Waiting For Your Time To Come', bundled with a new track, 'Pity Pity Please', and a cover of T-Rex's 'Life's A Gas'. The Datsuns then headed to the USA to tour with the Hellacopters.
Gütersloh to Gothenburg
Some truths remain the same in the music business – one is that all heavy rockers go home to mum's place for Xmas dinner. So if both Shihad and The Datsuns are both in New Zealand for Xmas roast lamb every year – why not tour them together over the summer break. Promoter Peter Campbell put a summer tour together with Shihad, The Datsuns, I Am Giant and Cairo Knife Fight to play the usual Xmas to New Year haunts.
The V2 label continued to trade in 2007, but in August of that year, the owners, bankers Morgan and Stanley, sold the label to Universal who dismissed 95% of the staff and effectively closed V2 down. Music Week (29 October 2006) reported that the London-based V2 had a total turnover of £367m in 2006 and generated losses of £259m.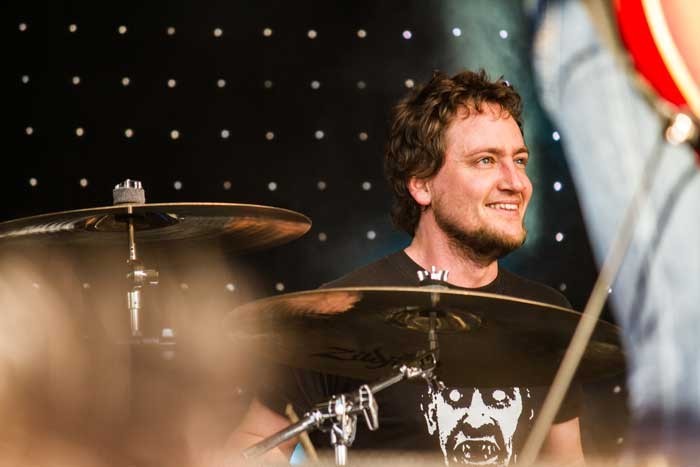 After working live downunder, The Datsuns made the move in 2007, from London to Germany. They lived in a house next to their rehearsal studio for six months and wrote their new album, Headstunts.
"We lived in a small city called Gütersloh, near Münster," said Dolf. "We made a friend who lived there with his own studio, full of amazing vintage German gear, plus he had an adjoining rehearsal space. Accommodation was cheap and we could easily get to the odd festival during the summer, so it made sense at the time. We drove ourselves pretty stir crazy however and we ended up recording in Gothenburg in Sweden in the end."
They recorded at Svenska Grammofon Studion (SGS) in Gothenburg, Sweden. The Hives had also recorded at SGS. The studio is known for its collection of classic analogue gear including the "Queen" Neve console, installed in 2003. This desk had recorded artists including The Rolling Stones, Miles Davis and Led Zeppelin. For purists, the studio offers an entirely analogue recording path and equipment spanning the different eras of audio recording.
"We knew of the studio through the band Soundtrack Of Our Lives, the bass player Kalle is the owner," recalls Dolf. "The Neve I'm pretty sure was used for at least one AC/DC record, David Bowie, yada yada yada. It sounds fantastic in there and while they have a lot of beautiful old gear the place feels a lot more lived in and homely than a professional studio usually does. Kalle basically lets the musicians have run of the place and there are often big parties right in the live and control room. One nice memory I have is of mixing there over the New Year, 2007-2008 and going to a party on a boat. The band Silverbullit played and they opened the show with Snapper's 'Buddy'."
"In Gothenberg in the winter, if you're not outside between the hours of 1pm and 4pm you won't see the sun at all," recalls Phil. "I like the sun!"
In October 2008, the band released their fourth album Headstunts (an anagram of The Datsuns) – their first recordings with new drummer Ben Cole. The band licensed the album to the Cooking Vinyl label for Europe, North America and Japan. They continued their infatuation with vinyl and released the 7-inch single 'Human Error'. Dolf described the new album as, "a lot more pop than anything else we've done – but it still sounds heavy." (Billboard 11 October 2008)
In October, The Datsuns played on some of the Scandinavian dates of the final Hellacopters – including Oslo (Norway), Borlange (Sweden) and Lund (Sweden). The Datsuns then headed for the South Pacific to help shift units of the new album.
Headstunts Downunder
The Datsuns have always disliked and managed to avoid that 70s rock star icon, the stretch limo, with three exceptions. "Once an American record label tried to impress us, court us and the 2003 NZ Music Awards when we were met at the airport," recalls Dolf. "We were in Australia playing the Meredith Music Festival (12-18 December 2008). We were told, 'We'll have a backline out there waiting for you, just bring your guitars, we'll pick you up in a limo'. We said, 'We don't want a limo, we want a van. There's six people and eight guitars, pedals etc'. They sent a limo. How uncomfortable with six people and guitars on a long drive. There was a large traffic jam and we had to travel on the other side of the road with people honking at us and shouting 'fuck you!' And some guy banging on the window saying, 'Is that fuckin' Scribe in there?' People just hating us because you're in a limo, 'you must think you're better than everybody else'."
The Datsuns played the Big Day Auckland, Friday 16 January 2009. In February the band did an 11-gig UK tour.
After touring to promote Headstunts the band headed in different directions: Christian to London, Dolf to Stockholm (where he's lived since May 2008), Phil to Auckland and Ben to Wellington.
In London, Christian started up his own FX pedal company, Magnetic Effects. Dolf joined Imperial State Electric, a more power-pop group formed by Nicke Andersson of The Hellacopters. Nicke and Dolf built their own recording studio, Gutterview Recorders in Stockholm.
In Rolling Stone magazine (10 December 2009), Lars Ulrich of Metallica was one of the musicians Rolling Stone asked to list in order of importance their "25 Best Albums of the Decade" – the first decade of the 21st century. The Datsuns' debut album scored the No.24 position on Ulrich's list.
Death Rattle Boogie
Work on their fifth album, Death Rattle Boogie, commenced at Gutterview Studio, Stockholm in January 2011, with Nicke Andersson of the Hellacopters at the controls. They recorded most of the album, prior to a four-gig UK tour in August. In September Christian and Dolf headed for New Zealand, where they cut further material at Roundhead Studios.
In 2012 The Datsuns played their first Homegrown Festival on Wellington's waterfront (20 February) and they did six other gigs, finishing with a free Music in Parks concert in Auckland on 27 February.
Death Rattle Boogie was released in October 2012. In the album biography, Dolf explained the role of Gutterview Studio, as he "tried to become friends with recording." He learnt to value "trying different things in the studio that you can't do live, and dissecting records that I really love and working out, 'How did they do that?' Things sound a little weirder and wilder, instead of just setting up and pressing record."
Late 2012, An Australian tour started 12 December in Brisbane and ended 21 December in Melbourne. The tour included Festival of the Sun, Port Macquarie
 on Saturday 15 December 2012.
MIA
In 2013, guitarist Phil Somervell became a dad and had to miss some Datsuns gigs in Europe. "My first daughter was born in May 2013," said Phil. "Not long after that there was talk of a few shows in June and July but because it wasn't a full tour I had to make a call on whether it was worth doing and at the time I couldn't justify leaving the little one."
Dolf explained the three-show solution: "A good friend of ours from the UK, Steve Lowe (Tokyo Dragons, Sabretooth Tiger Band, The Sweat), filled in for him. He's a great guitar player who we've been friends with for years and years. He's also crewed for us a bunch times so it felt like he was already in the family."
Phil was on board for the nine-city New Zealand tour that started 29 August in Whangarei and concluded 14 September in Dunedin.
Touring in Europe has produced some excellent poster art for the band, showcased on their website. "For a lot of shows the venue will come up with something themselves," said Dolf. "Especially if they have a relationship with a great local artist, Club Vera in Groningen in the Netherlands for instance always have great posters and will usually sell a limited run at the show. Sometimes we will pay someone to design something for a whole tour."
Deep Sleep-Over at Roundhead
In January 2014, The Datsuns continued their world tour of Neve recording consoles, by recording the album Deep Sleep in 10 days at Roundhead Studios in Auckland. "We're all conscious of the fact that we don't live so close to one another," says Dolf. "If we're together, we're going to make records. While in Auckland recording the group also performed a free Music in Parks concert at Three Kings Park.
The experience of recording is getting more fulfilling for Dolf: "It's always a battle in the studio, realising ideas that are in your head and making them come to life on tape. Not just with sounds but with my voice in particular. So, I really enjoyed the last few albums we have made, because I've become more at ease with the process and more confident that I'm getting closer to what's in my head."
Following the 6 October 2014 UK release of their album Deep Sleep, The Datsuns played six UK dates from 7 October 7 to 1 November. The band then did 18 European gigs including Stockholm, Copenhagen, Berlin, Hamburg, Amsterdam, Paris and Dresden. The tour ended in Reims on 22 November. From 4 to 13 December they did eight gigs in Australia followed by pre-Xmas concerts in New Zealand. The album charted at No.26 in New Zealand.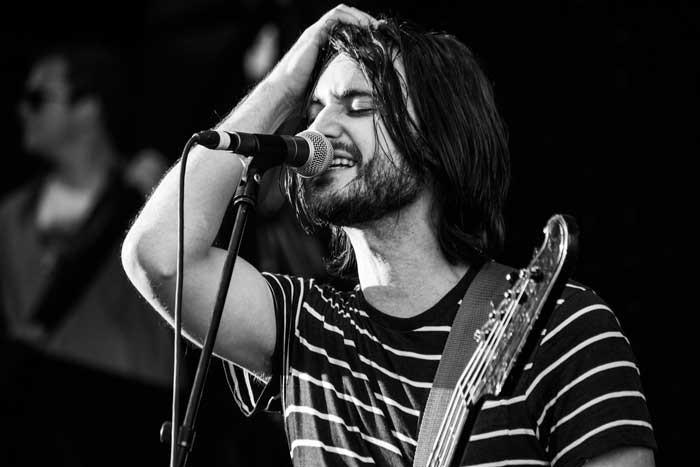 Japan
On 2 April 2016 The Datsuns played their second Homegrown Festival in Wellington. Earlier in the week the band played two gigs in Japan with Dolf's other rock and roll incarnation, Sweden's finest, Imperial State Electric: 29 March in Osaka and 30 March in Shibuya. Rather than have a night off in Auckland on 1 April, the band played the Kings Arms.
They visited Japan for the sixth time. Their first trip was in January 2003, a mainly promotional trip when they played Astro Hall, Tokyo. They returned twice that year, for an April tour and to play the Summer Sonic Festival in August.
Manager Tom Dalton said in 2003: "Japan is crazy. They love the band. The Japanese are so organised. You come off the plane and you don't have to do anything. They transport you, feed you etc. Japan is the first time the band experienced fans waiting around their hotel room. We've even sold a limited edition CD EP there, Harmonic Generator."
"Japan is different in the way the evenings run," said Phil. "The shows are quite early, like 7.30pm to 8pm so you're all done by 9.30pm to 10pm and you then all go out for dinner and of course, sake! By 1am you're super satisfied and ready for a night's sleep. The other thing that's different at the Japanese shows is the politeness of the audience. In between songs after clapping and cheering, the audience is quiet. They pay so much attention to what is going on on-stage that the whole room goes silent. Somewhat off putting if you're not expecting it."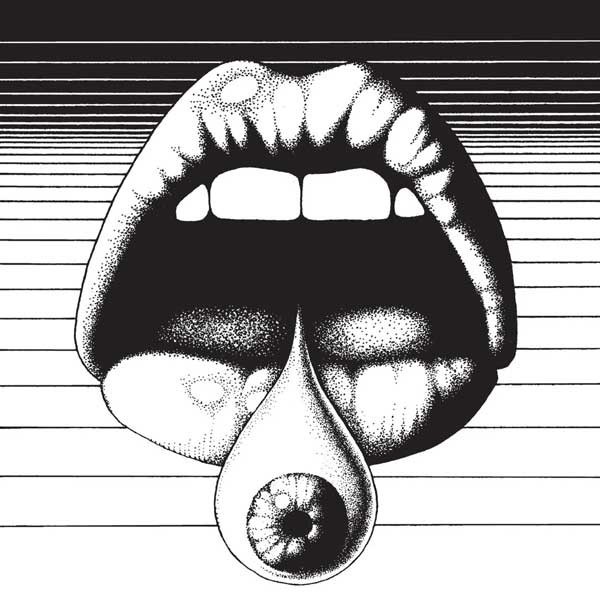 The band also toured Japan in 2004 and 2013. When playing there with Imperial State Electric in March 2016, they looked for songs that both bands could perform as an encore and they came up with Creedence Clearwater's 'Fortunate Son'. "We enjoyed playing it so much we played it at the [Kings Arms]," said Phil. "I'm not sure everybody got it, but we did."
The band is still managed by Tom Dalton, who has been Auckland-based since 2008. "We're very involved, he's the conduit," said Dolf who makes it clear that he is not the liaison person between the manager and the band. "When you're the frontman in a band, everybody thinks it's your baby. This band's like a four-way dictatorship. Everybody's got their own camp and wants to push it 'in this way'. They say that a compromise is a situation where nobody is happy. That is kind of how it is with the band. We recognise that it is part of the strength too. The band is still going and we've made six records.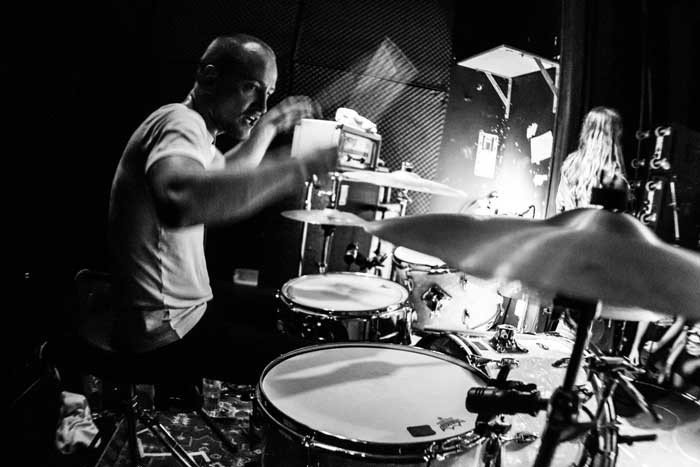 When the Datsuns were all in New Zealand they recorded again in Roundhead Studios. "We spent a couple of weeks rehearsing in Hamilton," said Phil. "We refined ideas that both we had and hadn't talked about in cyberspace. What resulted, was the guts of eight to ten new ideas that we recorded at Roundhead, to be finished off when we can find the time."
--