Corben Simpson got his first taste of the limelight aged 11 years when variety act Lou and Simon, performing at the Manurewa Intermediate school assembly, asked for a volunteer to join them on stage. The pre-pubescent Simpson sang 'Old McDonald's Farm' and was bitten by the showbiz bug.
Simpson began playing guitar at aged 14. He played bass in his first group, The Plague, which formed in 1966. They "practised madly for one year, played in public twice, got depressed and split," according to an interview in the 8'Oclock on 14 March 1970.
On leaving school he began working as an apprentice electrician in Station Road, Penrose but struggled with the cost of upgrading his amplifier and guitar to the level needed for playing professionally. A couple of short sharp electric shocks and the lure of additional band work when 10 o'clock closing was introduced convinced him to quit his day job.
"That may explain a few things about me. Some people say I'm a bit weird after having 60,000 volts passing through me a couple of times."
In early 1967 he moved to Rotorua and ironically joined another unit called The Plague. "It must have had something to do with the rebellious music we were playing at the time … The Rolling Stones, Kinks and Pretty Things." The drummer was Barry Colman, who went on to be the owner and publisher of weekly business publication National Business Review and art investor. Ian Bandy was on guitar and vocals.
He also began working with keyboard player Murray Hancox in Dizzy Feelings, where he played rhythm guitar and sang harmonies before graduating to lead vocals.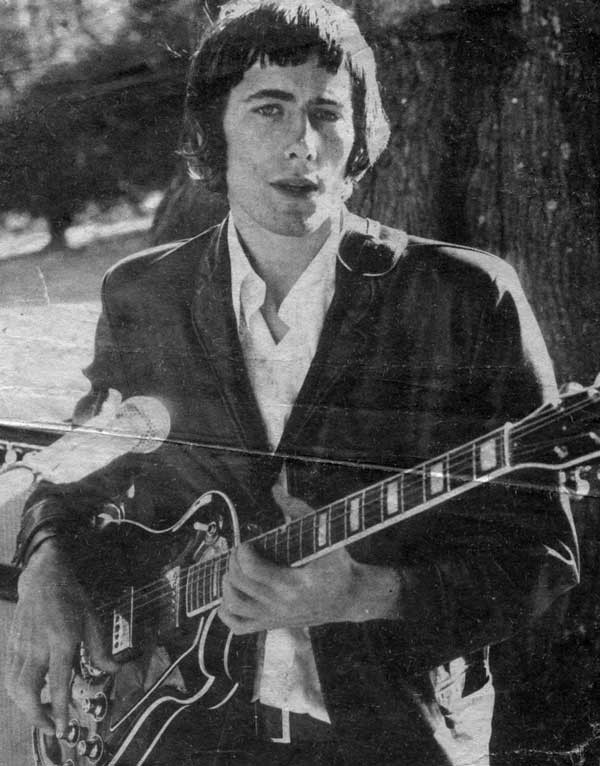 Sons and Lovers
In early 1968 he moved to Tauranga, forming the four-piece group Sons and Lovers, opting to play bass and sing alongside Alan Moon (keyboards), Ally Mathews (drums) and Denny Price (vocals). The group were in strong demand in Auckland and in Hamilton and went on to become first equal with Shriek Machine in the Waikato-Bay of Plenty Battle of the Bands.
During a gig in Hamilton Simpson was asked to drive a young woman, Barbara Vail, to the venue for a friend who was on a blind date. The friend didn't turn up, which was just as well. He immediately took a shine to her.
Travelling back and forth to be with his new girlfriend was taking its toll so he quit Sons and Lovers and moved to Hamilton to be with her. He played bass in a hotel band at the Hillcrest Tavern, backing guest artists and stepping up for a few solo spots of his own.
On Sundays he would set up his own sound system, including a very early electronic drum machine, to play The Happenings at the edge of Hamilton's Lake Rotoroa, organised by Larry Abbott, drummer in The Movement.
On observing one of his performances, local newspaper The Gazette wrote (7 April 1970):
"Corben Simpson employs no gimmicks or eye-catching stunts. Audiences wherever he plays stare enrapt, almost hypnotised, wrapped up in the heart and soul of the sad sensitive music of this tall, dark, lonely figure on stage. His varied and extensive repertoire includes several of his own songs ... there is an intriguing and fascinating depth to his character."
The paper sounded almost poetic in its support of the performer but on rifling through archived material on his life it seemed to be a direct quote from a press release prepared by Simpson's own publicist Robyn Tucker.
Simpson was looking to expand his musical horizons and after playing at a birthday party for The Movement bassist Tony Littlejohn, he was asked to join the band, which included guitarist Don Bedgegood and Abbot on rhythm guitar and vocals.
The band were playing much harder edged material than the ballads and vocal harmony based material Simpson was used to and it was a welcome change to be playing Zeppelin, Hendrix and Clapton. Soon Littlejohn stepped back from lead vocals and Simpson took the helm.
The Movement went to win the Waikato Battle of the Bands and came third in the national finals in Auckland. Concurrently Simpson's solo career was taking off as was his relationship with Barbara so the band often had to perform without him.

Royal command performance
It was during one of his solo performances at the lakeside Happenings in Hamilton that Simpson was spotted by a talent scout and invited to play the Redwood 70 Pop Festival at Redwood Park in Swanson, West Auckland. The compere forgot his name, introducing him as "a guy from Hamilton". He was only supposed to play for a few minutes but the audience was so entranced they kept him on stage for nearly an hour.
TV host and singer Max Cryer was so impressed he booked the young performer for guest spots at Auckland nightclubs and then he was asked to join the line-up for a Royal command performance with the cream of New Zealand artists at the SuperPop70 show on 28 February at Western Springs, attended by Prince Charles and Princess Anne. His career as a solo performer was on a roll that included appearances on TV show Happen Inn.
On 26 September 1970 Simpson married his sweetheart Barbara and the following day they moved to Rotorua where he rejoined keyboard player Murray Hancox in his band, now renamed Captain Fogpocket. Meanwhile, The Movement, eager to capitalise on their recent success in the Battle of the Bands, asked Simpson to rejoin and move with them to Wellington where they filled up their calendar, including a residency at Lucifer's nightclub.
He began looking for a record deal. Most of the established labels didn't want to know but he managed to convince the owner of the small Sonic Studios that he and his band had something special. They signed for their first single, 'Everybody Knows'.
Before it was pressed, the band was told they were legally required to change their name to avoid confusion with an American band of the same name. In the heat of the moment, The Movement became Littlejohn.
Meanwhile lead guitarist Don Bedgegood had headed back to Waikato followed shortly after by drummer Larry Abbott, who quit after playing on the first recording. That left Simpson and Tony Littlejohn stranded with live performances and recording sessions booked and work about to begin on a solo album for the Strange label.
Strange owner Edd Morris assured them he would sort out some players. "We were setting up for the sessions and this old guy turns up with a rickety drum kit and starts playing all jazzy. I said that's not how I wanted the songs to sound, but he just said 'Shut up and listen'. So I pulled my head in a bit and realised it wasn't that bad," says Simpson.
That drummer was Bruno Lawrence, who also helped Simpson and Littlejohn with their commitments at Lucifer's nightclub, where they continued to pull the crowds as a trio.
Coveted Silver Scroll
Simpson was strongly influenced by The Four Tops, Baby Huey, Peggy Lee and Joao Gilberto (who wrote 'The Girl From Ipanema'). Local acts The La De Da's, The Underdogs and Le Frame were also influences, along with Wellington jazz piano player Ronnie Smith, who "forced me to listen to jazz properly".
His next single on Sonic featured Simpson's first songwriting attempt, 'Have You Heard A Man Cry', written in Rotorua in 1970 during a traumatic split with Barbara during their engagement. He played it to Ronnie Smith, who was impressed and wrote out the music charts. The recording and the written music was submitted to APRA for its annual awards. The song reached the top 20 nationally, was placed 13th in Wellington and he was over the moon when he learned it had won the coveted 1971 APRA Silver Scroll Award.
He told NZ Listener, "I don't think I could have wished for a better form of recognition. It's purely an acknowledgement of musical ability … and this gives me more confidence."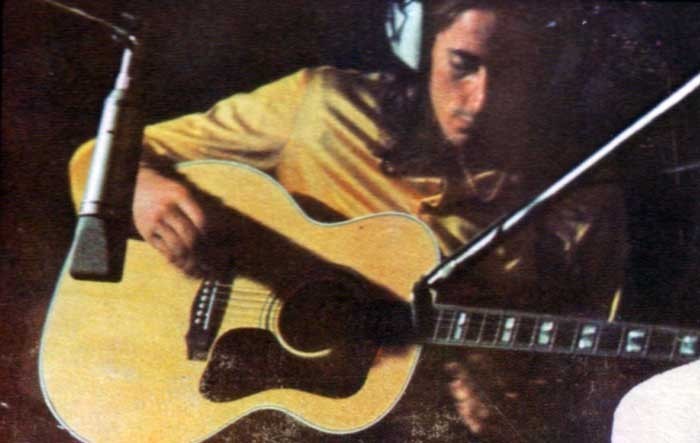 With Simpson's growing popularity, trendy fashion house His Lordships began outfitting him in all the latest gear: dress trousers, top hats and Carnaby St type shirts and jackets. That didn't go down too well with fellow band members Bruno Lawrence and Tony Littlejohn, who preferred the more relaxed jeans look, but the punters loved it and began emulating the singer's attire.
Meanwhile, Simpson's old band Sons and Lovers, having had some success in Wellington, were in the process of splitting up. Now the Littlejohn trio expanded to five players with the addition of keyboard player Alan Moon and lead guitarist Kemp Tuirirangi.
The fact they were now in possession of a temperamental, big red 1948 Leyland Tiger bus, formerly the property of the Wellington City Council, was, of course, an added bonus.
With a fresh line-up, it was back into the studio to complete the Littlejohn album, a mix of hard out rock and roll, social satire and ballads, including Simpson compositions 'Why Did You Leave Me' and the single 'Have You Heard A Man Cry'.
Alan Moon (Hammond organ) also joined Littlejohn and Lawrence for Simpson's easier listening debut solo album, with Mike Le Petit on piano and Desna Sisarich on backing vocals.
The album included covers of Van Morrison's 'Moondance' and 'Crazy Love'. The track listing also featured Rod McKuen's 'Jean', Goffin-King's 'Up On The Roof', the classic Gershwin crooner 'Summertime', the Mungo Jerry hit 'In the Summertime' and a Simpson original, 'Mystery Lady'. The cover was designed by another up and coming talent, artist Dick Frizzell.
Two singles were released on Edd Morris's Strange label in 1971,' Moondance' b/w 'Up On The Roof' followed by 'In The Summertime' b/w 'Jean'. However, the self-titled album and the Littlejohn release on Polydor didn't hit the streets until early 1972, when they were largely overshadowed by more colourful career directions.
BLERTA is coming
On completion of their recording sessions, the hot new Littlejohn band began exploring what might come next.
Bruno Lawrence, already a well-known actor, roped in a group of friends he'd been working with, including trumpeter Geoff Murphy and his Acme Sausage Company filmmaking and lighting crew. Jazz players from the Wellington Musicians Club, including teenage singer Beverley Morrison (aka Beaver), also caught the vision.
And so BLERTA was born along with an anarchic plan to take the red bus and an entourage of minstrels, actors and filmmakers and their families on a long performing holiday through middle New Zealand.
There are a number of stories about how the name came about but Simpson insists his version is correct. "About ten of us were just sitting around and talking when ideas about a name were tossed around, I said what about BLERTA … I just blurted it out."
Soon the others were chiming in to give some meaning to this strange word, when photographer Helen Whiteford suggested it could stand for: Bruno Lawrence's Electric Revelation and Travelling Apparition. And so it was.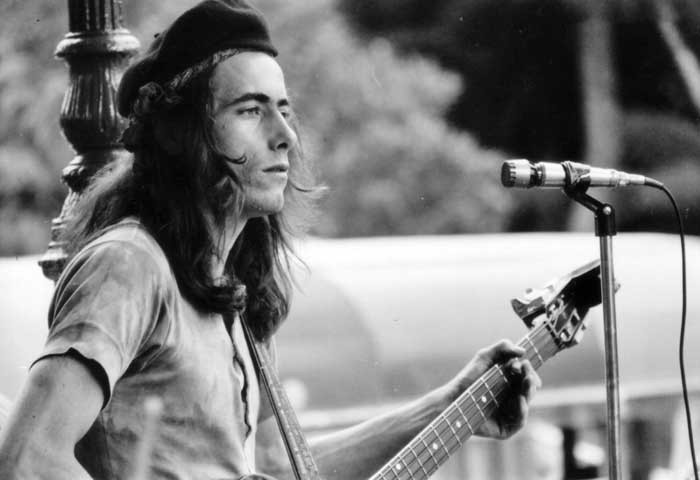 The troupe began loosely rehearsing a series of theatrical and musical extravaganzas that would forever change and challenge the film, television, music and performing arts industries in New Zealand.
In an attempt to counter the fear of drug-crazed hippies when the BLERTA bus came to town, kid-friendly shows were created, often based around nursery rhymes.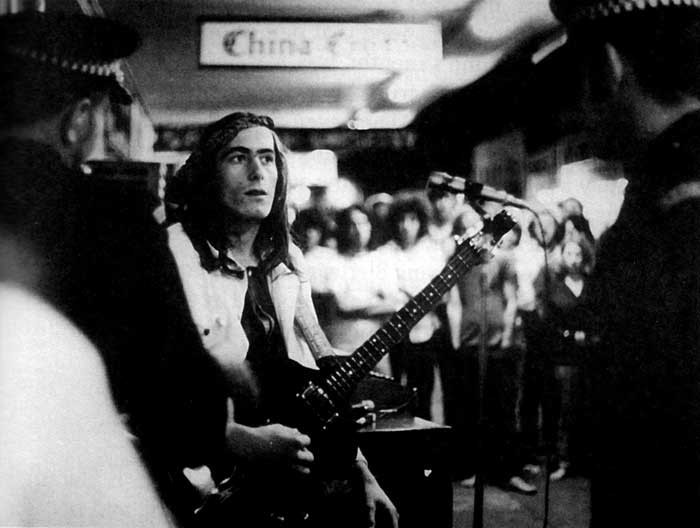 Classic New Zealand anthem
'Dance Around The World' was born when Geoff Murphy, a school teacher, handed Simpson some handwritten lyrics, later discovered to have been lifted from a Margaret Mahy children's story. The original version was 18 minutes long and played live while a massive colourful dragon, built by the BLERTA crew, wove around the audience.
At the end of the South Island tour, EMI producer Peter Dawkins agreed to record a number of BLERTA songs, including 'Dance All Around the World', with cultured narration from actor Bill Stalker. It was drastically trimmed to three minutes for commercial release and to everyone's surprise reached No.13 on the pop charts, drawing even larger audiences to BLERTA shows.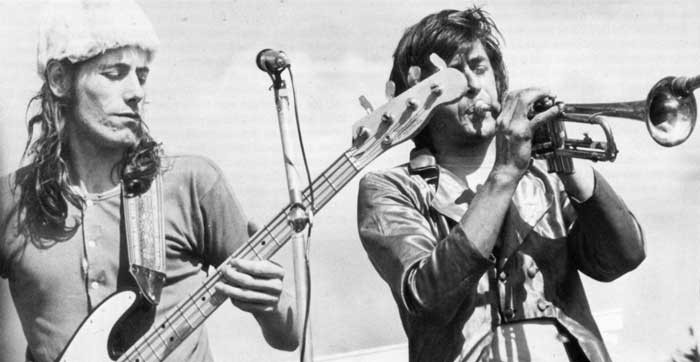 Simpson's on-stage presence, his songwriting skills and entrepreneurial efforts were very much a part of the BLERTA energy. In Wellington he pulled together a deal with radio station 2ZM to bring Australian recording artist Russell Morris ('The Real Thing', 'Rachael') into the country for a concert with the Bulldogs All Star Goodtime Band, 40 Watt Banana, Nash Chase, Desna Sisarich, Steve Gilpin, Anna Leah and BLERTA at St James Theatre in Wellington.
Strange Records had continued to push Simpson's solo career, releasing the single 'Sailing', written by Danny Kortchmar of Carole King's backing band Jo Mama, late in 1971. The follow up was 'The Sky Is Falling', another Kortchmar composition in 1972, then Van Morrison's 'Caravan' with the Simpson original 'Mystery Lady' on the B-side.
The songs gained strong airplay but no serious chart action. They were, however, a reminder of Simpson's considerable vocal talent which kept him in demand as a headlining solo performer in-between his performances with BLERTA.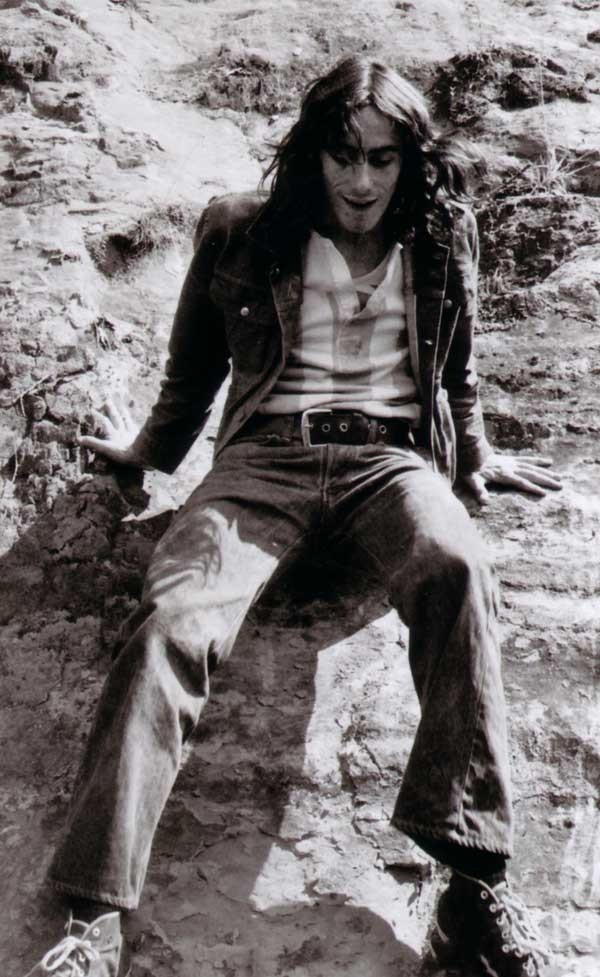 --
Read The Corben Simpson story part 2 here