Many people spend their high school years trying to keep up with their social life and struggling with school work, rather than achieving anything in the outside world. The acts below not only managed to kick off their music careers, they had a hit before the last school bell rang out.
For this list I've included any young, successful act that had at least one member still enrolled in school. I've also been lenient in what is considered a hit since local music charts weren't standardised until the mid-70s. The early entries are hits in terms of large sales, heavy radio/television play or high placements on regional charts.
Ronnie Sundin
If you want to be a hitmaker by high school it pays to start young. Ronnie Sundin began playing ukulele from 12 years old and soon moved on to starting his own skiffle group, The Barnyarders, with his brother Bill. Legendary bandleader Bill Sevesi happened to live across the road and was impressed to see the young band were willing to practise for eight hours in a row, although he did advise Sundin to rest his voice.
Sevesi is now remembered for his Hawaiian/Polynesian music, but he also had a rock'n'roll band called Will Jess and his Jesters. New Zealand already had its own Elvis, Johnny Devlin, but now the age of the teen idol had arrived and Sundin seemed like he'd be the perfect addition to Sevesi's live shows – a young and wholesome entertainer with a soft, smooth voice.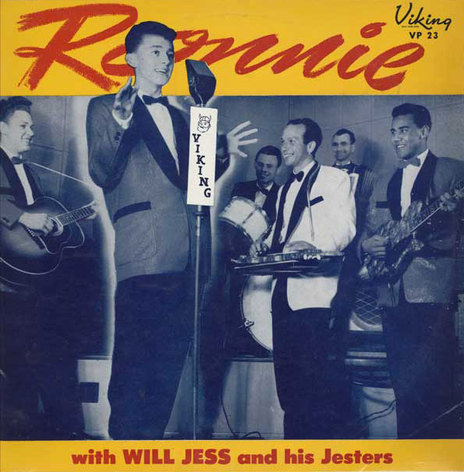 At one show at the Auckland Town Hall, Sundin sang 'Waltzing Matilda' and the sight of such a youthful singer set off rapturous applause from the audience. Among those watching was Ron Dalton from Viking Records, who quickly arranged to get him into a recording studio. 'Waltzing Matilda' became the B-side of the single, while the main cut was a cover version of 'Sea of Love', cannily chosen before the original (by Louisiana singer and songwriter Phil Phillips, if you're asking) became a hit overseas.
In September 1959, Sundin was about to sit School Certificate (the Year 11 end-of-year exam) and his first 7" was already in stores. It would go on to sell 15,000 copies within the space of four months. In January of the following year, Sundin played in front of 20,000 people as part of the Showtime Spectacular at Western Springs, headlined by the Howard Morrison Quartet. He would have a run of popular singles and sold-out shows before leaving music behind a few years later. Ronnie Sundin died in May 2021.
Julie Nelson
Marion Nelson was already singing regularly at private events by the time she started high school in Gisborne. Local couple Mike and Anna Burton saw her performing at Kaiti Hall and asked her parents if they could manage her. They suggested her artist name should be "Julie" and she began her professional career under this moniker.
In the meantime, another Gisborne resident, Bob Edwards, noticed the popularity of Christmas songs and decided to write his own. He came from the folk tradition so worked on the lyrics first then had these put to music by composer Neil Roberts. Once they had the song, 'Sticky Beak', all they needed was someone to sing it and Nelson came to their attention because of her regular gigging around the central and lower North Island.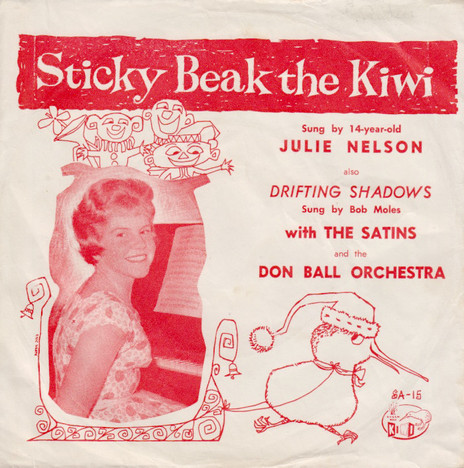 Nelson was 14 when she entered the studio in 1962 with the Don Bell Orchestra and vocal group The Satins. The song told the story of a kiwi who offers to lead Santa's sleigh through the Southern Hemisphere; having such a young singer on the track added to its sweet charm and it became a radio staple in the festive season for many decades afterward. She recorded a few more singles and was in demand as a performer but Nelson hated the pressure of being a star at such a young age and abandoned her career by 1964.
The Chicks
The Chicks recorded their debut album when lead vocalist Sue was 14 years old and her sister Judy was 16. This wasn't their first studio experience; they recorded a couple of demos in 1960 with their neighbour, Kevin Borich (The La De Da's). However, their break came when they met guitarist Peter Posa at a neighbour's house; he agreed to give them an autograph in exchange for hearing them sing.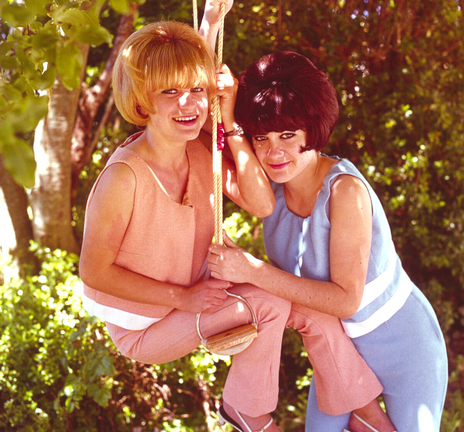 Posa was floored by the sisters' natural harmonising, as was another guest, Ron Dalton from Viking, who knew he'd found two more young stars to follow in Ronnie Sundin's footsteps. The pair went into the studio with Mike Perjanik, whose regular commands to "get those chicks to the microphone" led to their name. The original plan had been to record a few songs as potential singles, but the sessions went so well that they moved on to recording an album.
There were still no national charts, but on the Auckland countdown their first single 'Heart of Stone' went to No.12 and follow-up 'The Hucklebuck' reached No.1. They made their first television appearance on Beatside on 15 June 1965, and in August, Sue took two weeks off school to go on their first national tour supporting Sandie Shaw, The Pretty Things, Eden Kane, and Wayne Fontana. As soon as Sue turned 15, she quit school to pursue music full time.
They had more hits and were regulars on TV show C'mon, and a long solo career for Sue, aka Suzanne. The most surprising thing is how long her career in the music industry has lasted for someone who started so young. In 2021, using her married name Suzanne Lynch, she is still performing, often with her regular trio The Lady Killers featuring Tina Cross and Jackie Clarke.
Shona Laing
To the public, it seemed as if Shona Laing's big breakthrough was appearing on the television talent show New Faces in 1972, where she placed as runner-up. However, John McCready from Phonogram was shown her audition tape by the show's producer Chris Bourne and he signed her before she even appeared on screen.
In February 1973, her song '1905' went to No.4 on the NZ Singles Chart. The single was eventually certified gold, along with her debut album, which produced two further Top 20 hits. This led to a high-profile support slot with US singer Lobo; she met up with him again when she represented New Zealand at the Tokyo Song Festival.
These achievements all took place while Laing was still finishing seventh form (Year 13) at Hutt Valley High School. The video below is a clip from Newsview and includes interviews with her classmates about her success, as well as footage from her Wellington Town Hall performance supporting Lobo. It's a wonderful snapshot of an artist who was just beginning a long career in music.
David Curtis
David Curtis was another artist who was signed to a record label before the public were even aware of him. His parents had arranged for him to put a few songs down on tape for them and his grandparents. However, his guitar teacher Jim Baker gave the demo to one of the sound engineers at HMV, who passed it on to Bruce Ward, the label's singles and albums coordinator.
The 13-year-old Curtis was duly auditioned by the label, leading to him recording a single ('Wheel of Fortune') with one of the country's best producers, Alan Galbraith. Not long after, he was in the middle of a school day when a TVNZ wrangler came to pick him up. He performed a mimed version of his track for the New Faces television show.
'Wheel of Fortune' went to No.5, which made Curtis the youngest person to ever place a song in the NZ Top 20. It sold over 17,000 records which netted him a few thousand dollars. He later told RNZ: "For a 13-year-old boy, it sure beat a paper run!" He released two further albums and co-wrote the No.3 hit 'Take Your Leave' with his mother. However, the changes to his voice over this time led him to quit pop music; instead he began a long career in musical theatre and cabaret.
Supergroove
During the late 1970s and 80s, there were changes to the music scene that made it less likely that a high schooler could feasibly make it onto the charts. Changes to the alcohol laws meant that the live music scene now revolved around licensed venues. There was less emphasis on all-ages variety shows (whether live or broadcast) and record labels gradually moved away from putting out local acts who were simply covering overseas hits. The days of plucking teenagers off the schoolyard and shuffling them into the recording studio were over.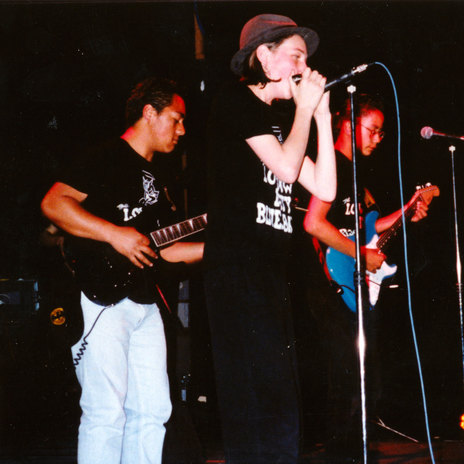 Bands still started at high school, but record labels usually waited until they had a track record behind them before putting in the sizable investment that was required to pay for time in a recording studio. With this in mind, it is remarkable that Auckland group Supergroove managed to achieve so much at such a young age.
They certainly started early. Singer Karl Steven was just 13 years old when he brought together the core members to form the Lowdown Dirty Blues Band. They had trouble getting a show at their neighbourhood venue The Gluepot but Java Jive Café around the corner was more accommodating. They then switched to funk and changed their name to Supergroove.
While the band had largely finished with high school by the time of their first single in 1992, at least two members were still enrolled: saxophonist Nick Atkinson was in his final year and key songwriter-bassist Joe Lonie had quit and returned to complete a few subjects. Karl Steven's first job out of high school was as a sound engineer and their manager, Stuart Broughton, convinced BMG to fund a single.
'Here Comes The Supergroove' hit the charts in August and reached No.21, kicking off a run of hits and a No.1 album. Their age meant they were sympathetic to young fans and many of their tours catered for all ages shows in addition to licensed venues. The hard work they put in at such a young age is truly remarkable.
Betchadupa
Liam Finn grew up around the music of his father Neil Finn and uncle Tim Finn (of Crowded House, Split Enz and solo career fame), but he was also inspired by a Supergroove show at the Powerstation show which was split so that it was all-ages downstairs and licensed upstairs. Seeing a band who were only a few years older than him made it clear that age was no barrier.
At 16 years old, Finn formed his first serious band, Betchadupa (originally called "Lazy Boy"), along with Matt Eccles, the son of music promoter and Space Waltz/ Citizen Band/ Angels drummer Brent Eccles. They brought in two school friends, Joe Bramley and Chris Garland, then started working hard to build a following via live shows.
Their family connections undoubtedly sped up their ability to find a label to sign with – Flying Nun – and a place to record, but it would've been all for nought if they didn't have decent songs. Fortunately, their 2000 self-titled debut EP produced the catchy number 'Empty Head' which became one of the five finalists for the APRA Silver Scroll Award and helped to break their EP into the Top 50.
They were already well on their way by the time they finished high school; soon they would have another hit EP and two albums under their belts. Liam Finn went on to start a successful solo career and in 2020 joined Crowded House, while Eccles joined Belgian band Das Pop, who had many hits in their homeland.
Lorde
The story of Lorde's arrival at such a young age is usually told in terms of her prodigious talent being too obvious to deny. However, her success at such a young age was also made possible by the rise of digital technology. If she had arrived prior to the 2000s, it would have been a great financial risk for her label to send her to multiple producers across the city while she found her "sound" ­– studio costs would've been far too expensive. As it was, she did writing/recording sessions with at least four other producers/songwriters before meeting Joel Little and creating her breakthrough Love Club EP with him – during three weeks of her school summer holidays.
The process of releasing the EP was also far faster than in the CD/vinyl age. Initially it was put up for free on Soundcloud, before becoming so successful that a paid version was released on iTunes. It hit No.1 in New Zealand in March 2013 and by October had taken the top spot in the US. At the time, she was still in year 12 at Takapuna Grammar and managed to complete that year before finally deciding to focus solely on her music career.
Alien Weaponry
The two brothers at the heart of Alien Weaponry, Henry and Lewis de Jong, found it easy to start early because their house was full of instruments their father had accumulated over decades of being a musician and producer. Niel de Jong was in indie bands Ebony Sye and Voodoo Love in the late-80s/early-90s, and continued with other production work, so he helped the boys out when he could as live sound engineer and manager.
The brothers started the band when Henry was 10 and Lewis was eight, but the core trio only came together a few years later with the addition of bassist Ethan Trembath. Starting early meant they were able to compete in Smokefreerockquest four times in a row, initially making the regional finals before going on to win both the event and Smokefree Pacifica Beats in 2016, becoming the only band to ever receive both awards.
By their mid-teens, they were in the studio with Shihad's Tom Larkin at Roundhead Studios recording their debut album Tū (2018) for US label, Napalm Records. It hit No.5 in New Zealand, and they embarked on an extensive US and European tour that included the Wacken Festival in Germany. There was only one problem: they had to find a fill-in bass player (Bobby Oblak) for the final run of shows in the US because Trembath wanted to come back to complete his school exams!
Jawsh 685
The potential of very young acts to have hits in the digital age was exemplified by the rise of Jawsh 685 in 2020. He recorded a "siren" beat on his home computer, trying to capture the spirit of tracks he'd heard blasting out of the siren speakers on cars and bikes in his neighbourhood. He also injected the bouncy, upbeat style of the island music he'd grown up on, with Samoan, Cook Island, and Tahitian heritage (his birth name is Joshua Christian Nanai).
The resulting track 'Laxed (Siren Beat)' went viral on TikTok before being nabbed by Jason Derulo for his own track 'Savage Love'. Initially, this was done without permission but fortunately an arrangement was soon made to clear the rights officially and Jawsh 685 was listed alongside Derulo on the track. The single was No.1 in the US, UK, NZ, and over a dozen other countries.
Jawsh 685 was still attending Manurewa High School at the time and made sure he got his classmates on the music video. He took a bunch of them with him when he performed the song at the 2020 Aotearoa Music Awards, where he took out the awards for Tohu Tutuki o te Ao (Recorded Music NZ International Achievement) and Te Kaituhura Puoro Toa o te Tau (Breakthrough Artist of the Year).