The recent return of the "long lost" guitar that graced the cover of the era-defining AK79 album had the AudioCulture boffins abuzz about other unusual or interesting New Zealand guitars with their own stories.
Emails and instant messages were exchanged listing contenders for a "10 hero guitars" piece and it quickly transpired we could think of a good two or three times that. So it landed in my lap to whittle down the candidates for an introductory 10.
Being the inspiration for the article, and with the 40th anniversary reissue of AK79 taking place in late 2019, the Burns Flyte captured mid-strum by photographer Anthony Phelps was a shoo-in, but each of these guitars has a tale to tell. As the song says, "Every scratch on this guitar tells a story…"
Tama Renata's Savage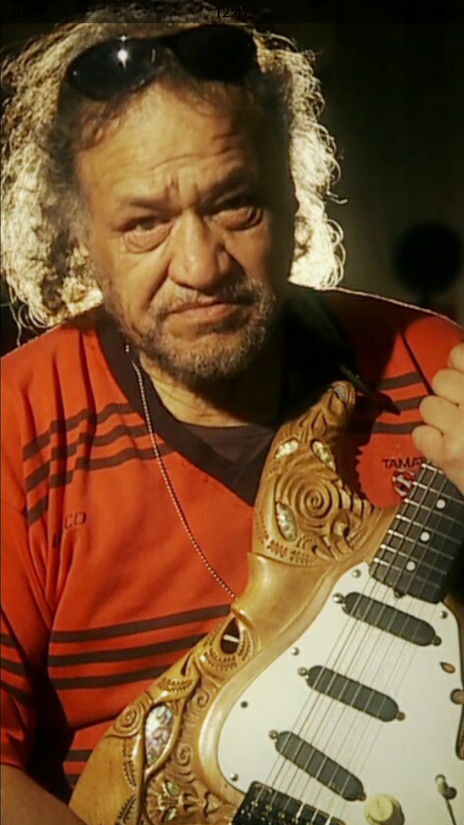 Is there a more iconic New Zealand instrument than the electric guitar played by Tama Renata in the 'Theme From Once Were Warriors' video clip? The guitar was carved for Renata by Alan "Little Scruff" Ralph after the musician had immortalised his brother Peter "Scruff" Ralph in 'Scruff', the closing track of his 1989 album Workshop.
The body featured nine taniwha and was inlaid with pāua shell and shark teeth. The name "Savage" was carved in the headstock and the Fender Stratocaster-based guitar sported a modified pickguard to accommodate the design. Savage was used consistently by Renata until his death in November 2018.
When the guitar and other equipment was stolen from Renata's home studio and ended up at a gang headquarters, the gang president took one look at Savage and exclaimed, "You stupid idiot, you've stolen Tama Renata's guitar! Go and return it!"
Renata's daughter Phoenix believed the guitar was a sacred piece and, like a pounamu, belonged with its rightful owner. "You'd have to be either pretty stupid or pretty brave to take on the curse of nine taniwha," she said.
Dean Martelli's Burns Flyte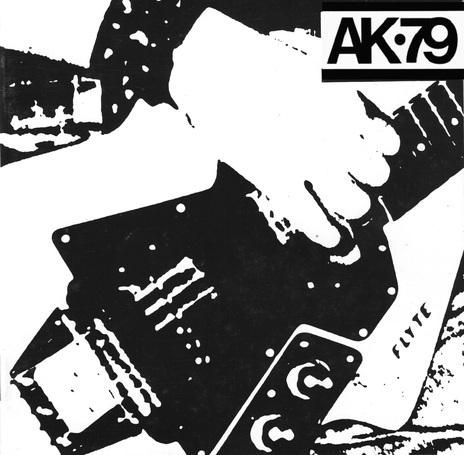 For the longest time, former Terrorways guitarist Dean Martelli had no idea what had become of the Burns Flyte he played, which was featured on the Terence Hogan-designed cover of the New Zealand punk compilation AK79. He always assumed he traded it in for another guitar.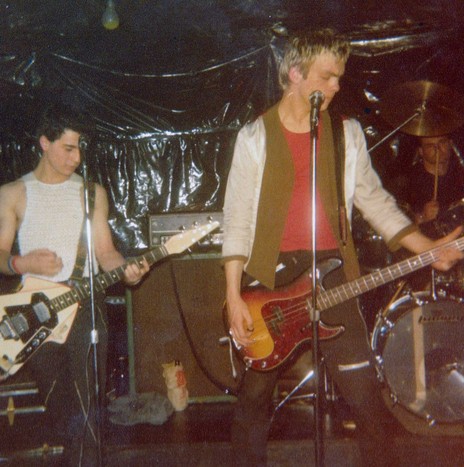 But in mid-2019 he discovered it had been sitting in its original case in a cupboard in West Auckland. It turned out Martelli had sold the Flyte to raise money for an airfare to the UK. The instrument has since returned to his possession after a crowd-funding campaign raised $6,000 to buy it back.
Martelli first purchased it in 1978 having seen photos of glam-rockers Marc Bolan and Slade playing the Concorde-inspired instrument. It was off-white in colour with pink trim and fitted with twin Mach One Humbuster humbuckers, with unique pentagonal metal covers and the Burns Dynamic Tension bridge assembly.
After its 2019 homecoming, Martelli intended doing work on its neck and paintwork and playing it again as well as making it available for "New Zealand music history events and exhibitions".
Bill Sevesi's homemade twin-neck electric steel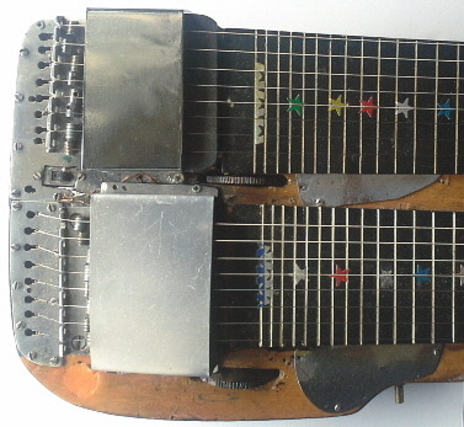 Hawaiian steel-guitar pioneer Bill Sevesi built his twin-neck steel in the late 1930s from a piece of wood found in the mud at a Morningside timber yard. He had gone there in search of a well-seasoned piece but was told he was out of luck because timber left the premises the week after it arrived.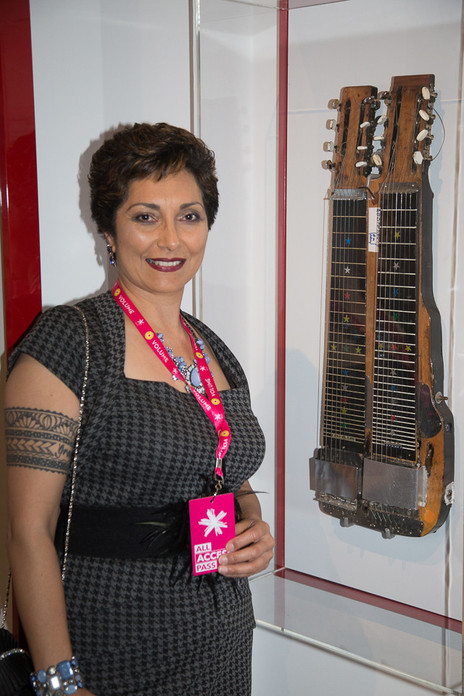 However, the yard worker poked around in the mud with a stick and dug out a 12-foot-long slab – one of many that had been laid years before to stop trucks getting bogged. He told Sevesi it would be well-seasoned by now before hosing it off, cutting it down and sending him home with it, telling him to return a month later and he would cut it to whatever shape Sevesi desired.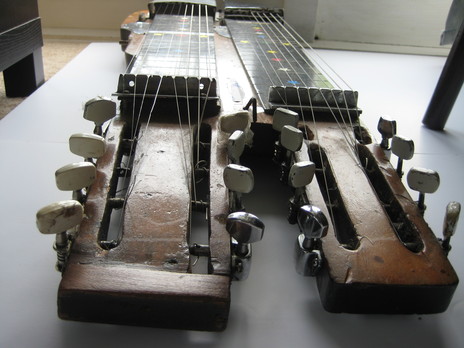 He had made his first guitar out of old tin cans while working in an Auckland radio factory, but had only seen photographs in books and magazines of the Hawaiian steel guitars he had become fascinated with. It was these images of Dick and Lani McIntire and Felix Mendelssohn that established the shape Sevesi chose. After a second cut-down at the timber yard, he added strings and a magnetic pick-up, which was eventually replaced with pick-ups by his Texan friend Ernie Coker.
Rudy Spemann's homemade Reindeer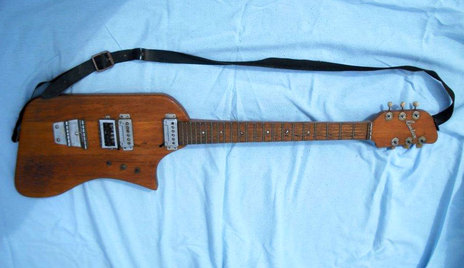 This guitar was born out of necessity when Rudy & The Crystals formed in the late 1950s. There were three guitar players in the band, but only two guitars and no money to buy another.
Bandleader Rudy Spemann acquired a 4x2 guitar-length of rimu railing and fashioned a neck-through design. The only tools he had were a hand plane, a handsaw, a spokeshave and some sandpaper. He shaved down a section of oak wood and glued it on as the fretboard. "It took a bloody long time," Spemann, now 85, remembered.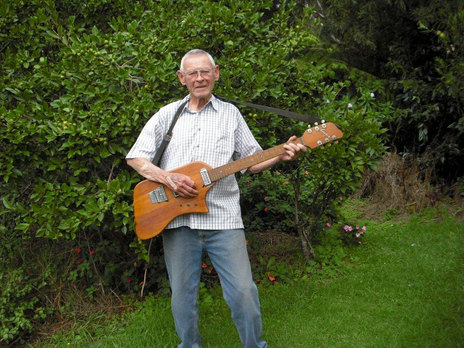 Next, he bought a roll of fret wire from a music shop and painstakingly tapped it into recesses in the oak. "They had to be exact, otherwise there would be bum notes everywhere!" He then inlaid seashells in the fretboard.
For the shape of the body, Spemann got two pieces of 6x2 rimu and dowelled and glued them onto the existing length. He marked out a shape and cut it with a handsaw and a chisel before buying machine heads and magnetic pick-ups and picking his sometime bandmate Bill Sevesi's brains to help with wiring and switches.
Named the Reindeer for the obvious festive connection to Rudy, the guitar was used for many years by Spemann's younger brother Hugo and featured on singles and EPs by Lew Pryme, The Sheratons, Ken Lemon and Vince Callaher. "We got some good sounds from that guitar," Spemann chuckled.
Mike Chunn's Madill bass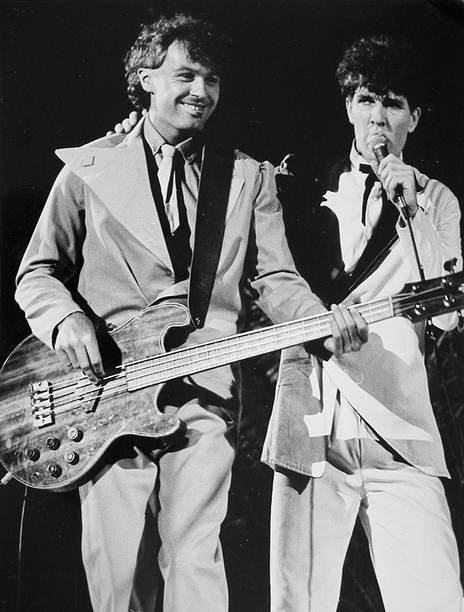 According to founding Split Enz bassist Mike Chunn, the talk about Peter Madill "was all go" after the Dunedin instrument maker arrived in Auckland in 1973. Singer-songwriter Lindsay Marks and Waves guitarist Graeme Gash both played Madill guitars.
"In early 1975 I had a Gibson Les Paul Triumph bass, but it was heavy and didn't have the deep tones I was after," Chunn recalled. "So during the Mental Notes tour I met with Peter and asked him if he could make me a bass."
Madill made the guitar out of mahogany with a rosewood neck, but left the rest to Chunn's specs: a 32"-scale (halfway between a Precision and a Mustang), the same fretboard width as a Mustang and imported Precision pick-ups and Schaller machine heads. The pick-ups were too wide for the neck, so were placed on an angle.
A quirky addition was a fuzz box constructed by Enz drummer and electronics wizard Paul Crowther and installed by Madill. The controls consisted of a volume knob, a tone knob and three fuzz sound controls.
"The heavy mahogany gave it great sustain," Chunn said. "I still have the bass. I'm looking at it right now. It's a dear friend!"
Julia Deans' Fender Coronado II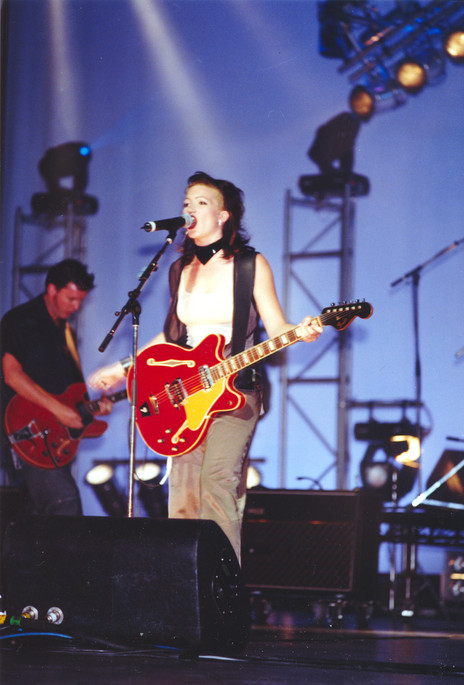 It was a case of love at first sight when Julia Deans first clapped eyes on the big red Fender Coronado II hollow body that she has owned for more than 20 years. She was at a dinner party with members of Wellington Celt-country band The Hobnail Boots.
"Their guitarist Rob Joass said he had a guitar that would interest me," Deans remembered. "He opened the case and my heart was just in my mouth. My boyfriend at the time told me to try it on and I just loved it."
A month or so later when The Hobnail Boots were raising cash to travel to Canada, Joass sold the guitar to Deans. It's been her main instrument since, through Fur Patrol's rise in New Zealand and hard slog in Australia as well as her subsequent solo career.
"It's really nice to play; such a beautiful, clear tone. It can be a bit screechy at high volumes sometimes, but it almost has the resonance of a piano. And I've got little hands, so the neck is nice and slim. "
To have it cope better with Fur Patrol's arduous travel schedule, the original floating bridge was replaced with a Gibson fixed bridge, at the Guitar Emporium in Melbourne.
Ian Morris's Fender Texocaster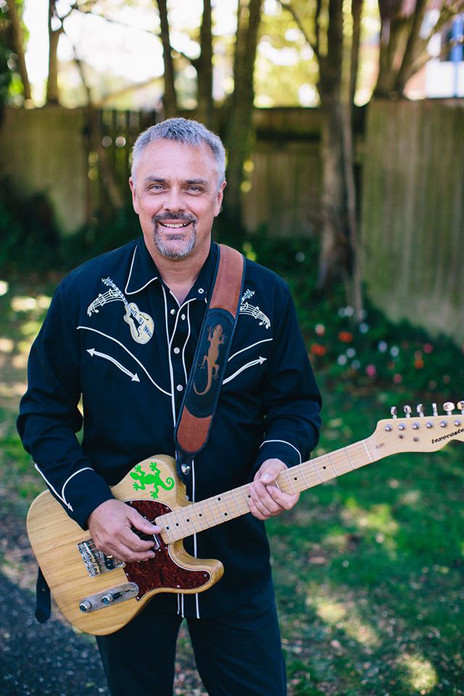 Moving to Napier in 2005, Ian Morris was part of a collective that resurrected the city's legendary Cabana venue in early 2008. That year he and Ian Bates, another of the group, built two Fender Telecasters from scratch; one of them was the Texocaster.
While buying land for a realignment of State Highway 35 following a slip outside of Ruatoria, Bates bought three large slabs of ash from a Māori landowner. The timber came from trees planted in the 1860s that had become a hazard and had to be cut down in the 1980s. The landowner had quarter-sawed them and left them to dry for 30 years.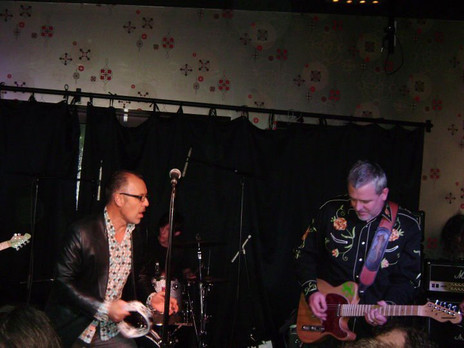 The ash was routed out by Morris's sound-engineer protégé James Rochester and Morris used three or four different Tele necks before finding his preference. The Fender-sourced hardware was aged with a special concoction made in Morris's kitchen. The iguana sticker was his business logo.
After his death in 2010, the Texocaster was gifted to Morris's younger brother Rikki who suggested it may well be taken as a spare on Th' Dudes tour in 2020 for which he is filling in for Ian.
Bill Ward's homemade FOMI Twin Neck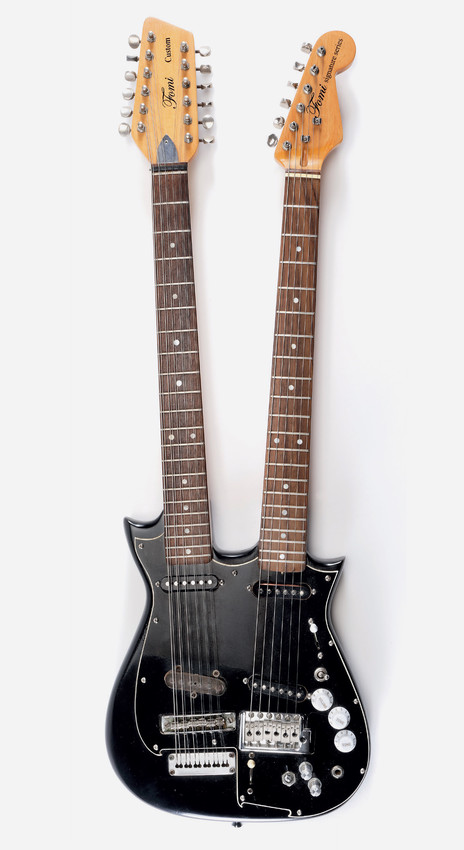 The interruption of swapping mid-set between his 1964 Stratocaster and Rickenbacker 12-string electric in the UK in the 1960s was the spark behind Human Instinct guitarist Bill Ward building his own double-neck guitar.
He had tried out "clumsy and heavy" Danelectro and Gibson double necks in London but – having built a couple of solid bodies before the band left New Zealand – figured he'd make his own.
"I cannibalised the Strat, was able to get a Vox 12-string neck, an extra Tele pick-up and some switches from Denmark Street [London]," Ward said. "I found a cabinetmaker, got a piece of mahogany for the body, and away I went." He splayed the necks in order to fit the guitar into the original Strat case.
About three months later and having made "one hell of a mess" in the hallway of his flat, Ward debuted it at a gig without the safety of a spare. "It worked fine from day one and I still use it from time to time."
As for the FOMI name on the headstocks, it's Ward's brand name – Figment Of My Imagination.
Mareea Paterson's 1978 Fender Jazz bass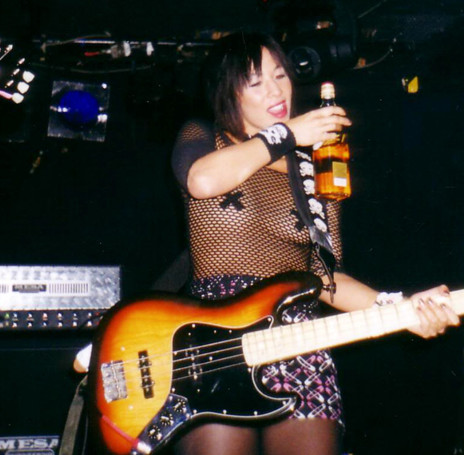 In-demand session bassist Mareea Paterson thought she had ruined her Fender Jazz when the lacquer had an adverse reaction to her cleaning it with meths. Luckily she was pointed in the direction of Auckland-based American guitar repairer Zell Tate.
Before moving to New Zealand, Tate had worked as a contractor for Fender, taking care of refretting, refinishing, custom set-ups and modifications, basically a precursor to the Fender Custom Shop that was founded in the 1980s. It turned out he had most likely worked on Paterson's Jazz when it was manufactured.
"He restored it and loved being reunited with it," Paterson said. "It was a trial bass made from one whole piece of furniture ash. They soon realised this was way too heavy for anyone to hold, so they made them into three-part composite. I'm sure it's why my back is so buggered!"
Bought in Sydney in the late 1990s, the Fender Jazz has been played in front of hundreds of thousands of people all around the world as Paterson's number one instrument, as well as on Tim Finn and Gramsci recordings and Dave Dobbyn and Veruca Salt demos.
Paul Martin's Dean Rhapsody 12-string bass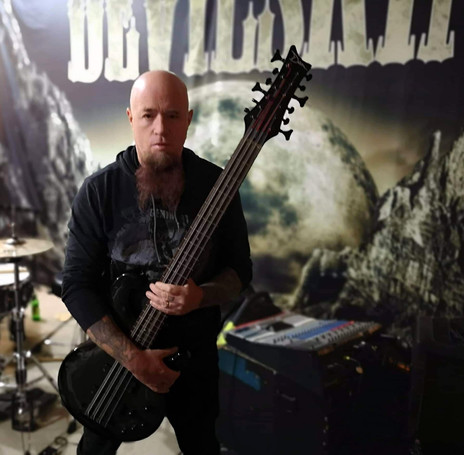 A 12-string bass guitar was far from the mind of young Paul Martin when he was invited to join Knightshade as second guitarist in the early 1980s, but he'd grown up unwittingly hearing the instrument through his record collection.
"I grew up listening to Cheap Trick, so Tom Petersson's tone had a big effect on me," Martin told AudioCulture. "As did JJ Burnel from the Stranglers, Entwistle, John Paul Jones, Joey DeMaio and Geezer. But having that massive [Petersson] sound – that was at once cello, guitar, bass and piano rolled into one – was something magic."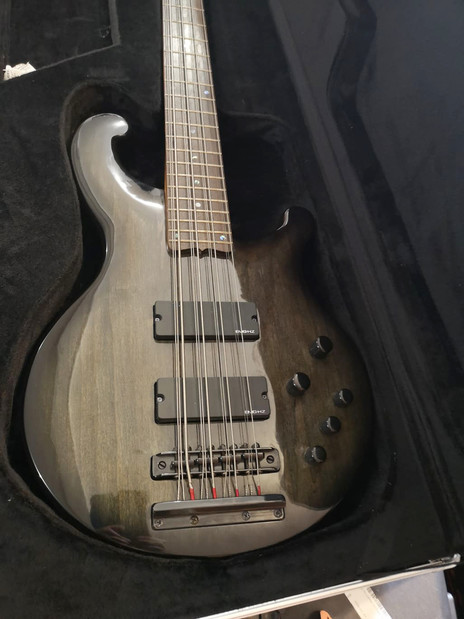 Bass guitarist in Hamilton metal band Devilskin, Martin acquired the Dean Rhapsody early in 2019 from Ross Porter, who imported it in 2011. "Ross was scaling down his fleet due to hand issues," Martin said. "I also have issues with hands, so it's not the ideal instrument for me, but it's a lot of fun." It features on the new Devilskin album, due in 2020.
The Rhapsody is not the type of instrument you'd take down to the blues jam at the local. The body is sculpted mahogany with a maple top, 34"-scale maple and walnut neck, and pau ferro fretboard. The 12 strings are strung as four groups of three octaves.
--
Read: Ten New Zealand-made guitars
Read: Ten New Zealand-made guitar amps