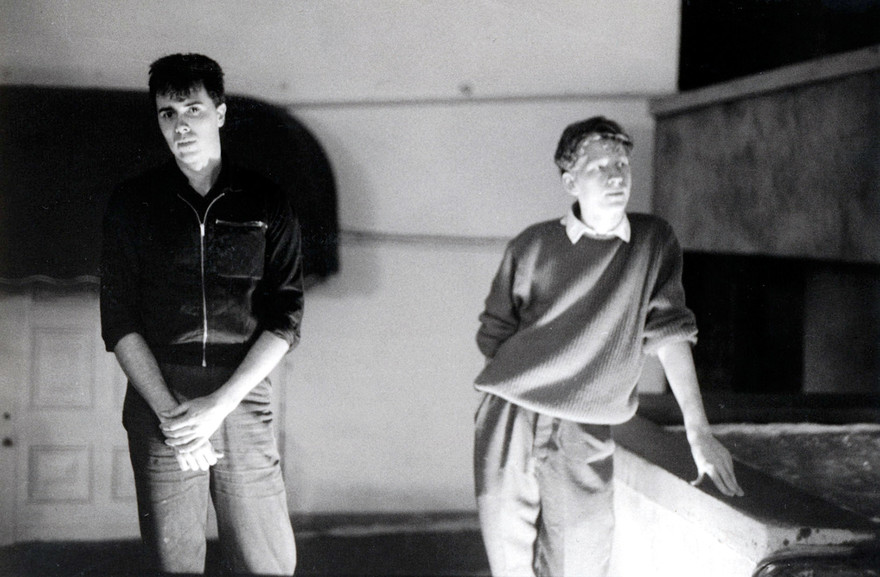 Contemporary global clubland came rather quickly to Auckland. At the start of the 1980s, inner-city kids in the UK headed back onto the dancefloors with many of the same punters who a year or two earlier had been pogoing in halls and clubs to punk. They were now dressing up to dance to the new fusion of post-punk, Brit-funk, reggae, electronica and US club sounds, especially from New York, Philly and Chicago, the latter of which had evolved into a grittier boogie sound after being forced back underground by the backlash against disco. Add to that the no-wave movement as championed by Brian Eno on his compilation of the same name and you often had an inspired, intoxicating brew.
There was something of a coming together of races too, as white and Black kids in the big cities converged socially and creatively on the dancefloors. They were exciting times – the kids were dressed to kill and the music matched that creatively, all documented by brand new street magazines like ID and The Face.
Enter Mark Phillips and Peter Urlich, two Auckland lads around town. After his band, Th' Dudes, split in April 1980, a dispirited Urlich followed his then-girlfriend Maryanne Allen to the UK where he immersed himself in the new scene while working as a roadie for the likes of The Cure. Returning to New Zealand in 1981, he hooked up with Phillips, who was the assistant editor of Rip It Up magazine and a vocal fan of the new wave of danceable records from the UK and US.
The pair decided to open a club playing that style of music and attracting kids who just wanted to dance. A Certain Bar opened in an upstairs bar on the corner of Wellesley and Albert Streets in early 1982 and the future of Auckland clubbing arrived. The large in-club ACB logo was repurposed from the giant ABC letters the local record company had created for a window display for the UK band of the same name.
Initially, most of the playlists at ACB and the sequence of hipster clubs that followed it in the 1980s – Quays, Zanzibar, Six Month Club, The Brat, Mantrap, The Asylum and The Playground (I was involved in several of those) – was sourced from offshore releases. ACB played the likes of The Newmatics, Screaming Meemees, Penknife Glides, Diehards and Katango. As the scene evolved, local underground dancefloor-targeted indie pop arrived, and much of it was great.
Here are 10 New Zealand records that pulled us onto Auckland dancefloors in the 1980s.
1. Ballare – Dancin' (Propeller, 1983)
Ballare was centred around Aucklanders Eric Roulston and Jon Cooper, working with Maria Majsa and Janine Gray, and this track was only on the Propeller compilation of new bands, We'll Do Our Best, released in May 1983. Many of the generation who began to populate ACB benefited from the more adventurous release policies of labels such as Virgin and Festival locally, and the breakdown of restrictive import licensing regulations, which almost overnight filled the bins with quirky electronica, among many other genres. Student radio and then the charts quickly filled with releases from Gary Numan, Heaven 17, Thomas Leer, New Order and Cabaret Voltaire, and this song fitted perfectly. A Propeller EP was planned but never arrived so we are left with these infectious few minutes, clearly influenced as much by Chic and Slave as the early UK electronic bands. Eric Roulston went on to Plans For A Building and over the next decade Jon Cooper became one of the most important studio figures in Auckland.
2. Car Crash Set – Outsider (Reaction, 1983)
Which track by Car Crash Set to choose? The most important electronic act to come out of Auckland in the 1980s, possibly New Zealand, and one of the most important Auckland bands of the decade, full stop. Nigel Russell was in The Spelling Mistakes and then went across to the synth dark side with the equally great Danse Macabre. When that band split late in October 1982, he teamed up with Dave Bulog from Stranger Upstairs. They lifted their band name from a lyric ("Welcome to the car crash set") found on a 45 by The Normal (aka Mute's Daniel Miller). 'Outsider' came from CCS's debut 12" Two Songs, issued in June 1983. With a simple, almost hypnotic robotic rhythm and Nigel's dream-like vocals, it was an instant floor-filler at Quays, the new club in Quay Street run by Gary Rodent, ex-Alms For Children, where Mark Phillips had moved as a DJ in the same month. Nobody had made a record that sounded like Car Crash Set in Auckland before.
3. Snap – Sidewalk City (Mushroom NZ, 1984)
Aotearoa's first electro record, Snap was a studio-only group who recorded this, their only release, in early 1984, in downtime at Harlequin. Ignored by the possibly confused mainstream (even Rip It Up didn't review it) it quickly found a home on the dancefloor at Zanzibar, the next Urlich/Phillips club, this time in Fort Street. The creation of Graeme Gash (ex-Waves), Harlequin engineers Lee Connolly and Paul Streekstra, and keyboard experimentalist Tom Ludvigson, it featured vocals from ex-Bongo Phil Steele, Annie Crummer and Jay Bula (Jay Foulkes) and was pushed along by a mighty slap-bass, courtesy of Max Stowers, mixed up front. It was released into a city that seemed to have breakdancers on every corner; the video featured the Auckland crew The Megazoids.
4. The Body Electric – Imagination (Jayrem, 1984)
Wellington's The Body Electric had a massive nationwide hit with 'Pulsing' in 1983 but were very unhappy with the album they recorded at Marmalade, so they moved north to Auckland and, at the invitation of owner Doug Rogers, started work on a new album at the state of the art Harlequin Studios in Albert Street. While they worked on the long player and in need of a new single, Rogers offered to remix the earlier album's opening track. The result was 'Imagination'. Issued in May 1984 as part of a double 12" package and as a standalone 45, it was a substantial improvement and quickly found its way onto Radio B and, again, the Zanzibar playlist.
5. IQU – Witchcraft (Jayrem, 1985)
Before Ardijah came IQU. Both Betty-Anne (then known as Betty) and Ryan Monga feature strongly on this infectious track which starts like the bastard offspring of Kraftwerk's 'Trans Europe Express' before Ryan's bassline takes it somewhere else, perhaps closer to Cleopatra's nightclub in Panmure than Cologne. Betty's vocals are intertwined with Steinski-styled voice samples, giving it a contemporary sheen. Recorded in Auckland's Echo Park Studio (owned by Larry Killip) with Paul Crowther as producer, IQU was centred around keyboardist and programmer Jon Lowther, drummer Robert Mayo, guitarist David Meech and synth-boffin Andrew Lamont. They soon added engineer and programmer Jon Cooper and the Mongas, whom Jon remembers discovering when they were playing at Trillo's in the Downtown centre. This was their only single but apparently it found enough club play in both Tokyo and LA for local shops in both cities to stock it, courtesy of Jayrem exports. It's amazing how many of these mid-1980s club hits were on either the Jayrem or Pagan label.
6. Step Chant Unit – The Game (Jayrem, 1985)
Another on Jayrem, this time from Hamilton, which was hardly a nerve centre of cutting-edge dancefloor action at the time – but this was terrific. Zed Brookes, Sue Toms, Neville Sergent and Brian Brighting's first release in 1983 was a cassette-only EP and it didn't exactly set the world on fire. But out of the blue in March 1985 came this 12" which not only pulled feet onto dancefloors in the Big Smoke, it charted because of local and student radio support, topping the Radio B Top 5. It was, at least on the dancefloor, all about this B-side track ('Painting Pictures' was the A-side), built on an insistent, almost punky synth riff that seemed to reference Iggy's 'NightClubbing', albeit on some sort of speed. Produced by Stuart Pearce, whose name pops up several times on these tracks.
7. The Rapture – Cry For You Only / Prey For Tomorrow (Pagan, 1986)
The first of three killer singles on this list from Trevor Reekie and Sheryl Morris' Pagan label, all from 1986. Peter Solomon was the bassist with Sheerlux in their final days and then Techtones, with whom he recorded a series of well-remembered power-pop singles and the more experimental TT23 album before they split in late 1981. Peter then played with a few Auckland pop bands before this single arrived unexpectedly under the nome-de-disc of The Rapture. Angular electronic pop, created at Last Laugh Studios in Vulcan Lane by Peter with ex-Ballare's ubiquitous Jon Cooper as programmer and co-producer, it didn't come close to troubling the charts or radio playlists. But both sides found favour at The Brat and became part of the inner-city soundtrack that year. Only released on 12" single, it's rather hard to find now and somewhat expensive when you do. Sadly, it was the only single from The Rapture and Peter's last recorded appearance. A great, great, lost single.
8. Ardijah – Give Me Your Number (Pagan, 1986)
Ardijah changed everything. Before Betty-Anne, Ryan, Simon and Tony released 'Give Me Your Number', the records being made in Auckland that were targeted towards the city's dancefloors drew their influences largely from the European and American synth-heavy electronic and electro sounds which dominated many of the clubs in the Northern Hemisphere. Ryan Monga understood that sound – he'd played with Car Crash Set, and Ardijah was a regular city-side band as well as a big South Auckland club act – and he added contemporary gritty US funk to the mix as well as a Polynesian sensibility and sensuality captured in Betty-Anne's glorious voice. 'Give Me Your Number' was an instant crossover – everyone loved it and the rules were never quite the same. Pasifika had arrived, communities came together on the dancefloors, young Polynesian DJs like Sene Atafu arrived and over the next decade, records identifiably made by New Zealanders filled dancefloors in Aotearoa, particularly in inner-city Auckland.
9. Obscure Desire – Obscure Desire (Pagan, 1986)
The record everybody danced to, everybody loved, but sadly almost nobody bought. Giselle Trezevant, Andrew Waldegrave and Grant Mitchell all worked at the Obscure Desire hairdressing salon owned by Andrew Waldegrave and Megan Douglas (daughter of politician Roger Douglas), on the corner of Albert and Victoria Streets. They were club kids – faces in the then-current hipology – and they decided to make a record. Impressed by his work with Car Crash Set, they contacted Trevor Reekie and asked him to produce and release it on Pagan. Andrew paid for the Paul Streekstra-engineered midnight-to-dawn sessions at Harlequin, and a seven-track EP (four of the tracks were various mixes of the title track) was the result. It could be argued that the real result was a substantial, almost instant club hit as the record found a ready audience among the trio's friends. They both requested the song over and over and danced to it until they moved on to the next record of the moment. Ironically, in the years since, 'Obscure Desire' by Obscure Desire has become one of the most desired obscure New Zealand records of its decade, last selling for around $600 on Discogs.com.
10. The Chills – I Love My Leather Jacket (Flying Nun, 1986)
Which just goes to prove how open-minded the Queen City's dancefloors were in an era when in even the hippest clubs, the best DJs knew that they needed to dig deep and play eclectically. Roger Perry was the very best of the best, the kid behind the decks at The Brat, The Playground, The Asylum and even Club Mirage that literally every other DJ in the city aspired to be. He first cut his chops at Russell Crowe's all-ages The Venue in Symonds St and had skills and – far more importantly – instincts that were unmatched. Other DJs stood around the booth reverentially as he mixed, selected and broke tunes. There was rarely a moment in the last half of the 80s when the NZ Top 40 didn't feature at least one song that he'd turned into a hit. Roger loved this record and decided the Dunedin band's beat anthem was going to be a clubland hit – and he made it so at The Asylum. In the midst of a house or hip-hop set, he would kill the current disc without warning and drop this in cold. It went nuts. Just one reason why DJ Sir-Vere name-checked him as the very best of the best in his 2023 YouTube guide to Auckland clubs.
A bonus for 11 ...
11. The Screaming Meemees – Stars In My Eyes (Propeller, 1983)
The North Shore band's final single was covered perfectly in Michael Hollywood's list of Ten Wellington Club Bangers but deserves a mention here as the Auckland local-band crossover point between ska-influenced post-punk and the clubs. Instinctive magpies who often wore their influences openly, 'Stars In My Eyes' saw bassist Peter Van Der Fluit's love for the likes of The Brothers Johnson effortlessly meet the thoughtful UK indie pop being released by the likes of Orange Juice and Teardrops Explode. As such it filled dancefloors citywide, especially in the extended club mix, which was New Zealand's first.