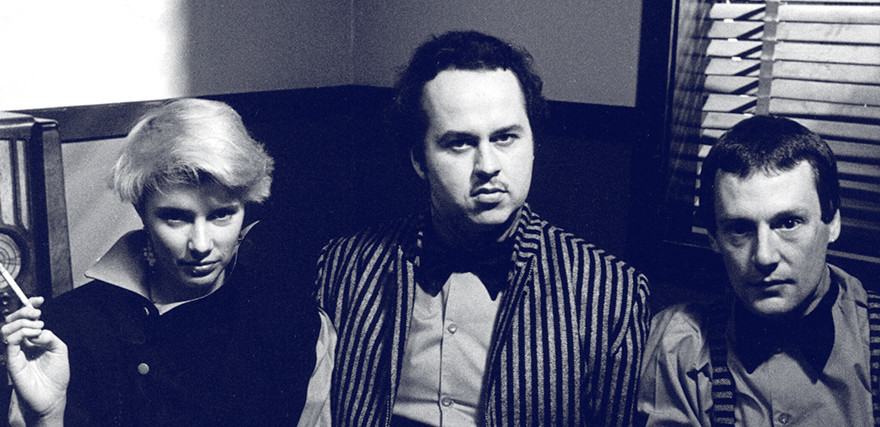 Ah, Wellington nightclubs in the 1980s. Big hair, shoulder pads, mirror balls, strobe lighting, chrome, dry ice, and many other things besides. If you don't recall any of that, then where the bloody hell were ya? Musically, it was mostly about local DJs racing to source the freshest 12-inch imports from overseas, but that doesn't mean we didn't have our own locally produced club bangers – even if the vast majority of them veered heavily toward the mainstream. For a companion piece to the site's Wellington nightclubs in the 1980s article, AudioCulture asked me to list 10 local dancefloor favourites. Here they are, in chronological order.
Split Enz – I Got You (1980)
Can you really have a list of 80s Aotearoa club bangers without including this one? What a golden period Split Enz enjoyed across the early part of the decade as the band morphed from theatrical proggy weirdos into zeitgeist-riding custodians of local "new wave". A period which coincided with the start of my own underage thrill-seeking excursions into the bright lights of the night. And what a thrill it was whenever 'I Got You' roared into life. Granted, it wasn't in every DJ's crate, but this was a danceable new wave power-pop hybrid which spoke to us in a Te Awamutu-flecked accent. Its success overseas meant we embraced it all the more.
Screaming Meemees – Stars In My Eyes (1982)
You'd have probably wanted the 12-inch for this non-album single. There's a little bit of everything on 'Stars In My Eyes' and the Meemees always struck me as a band so full of ideas it became impossible for them to get it all down on black magic plastic. On 'Stars' it feels like they've thrown everything up against the wall and simply gone with what ultimately stuck: chaotic brass breaks, bass solos, and bonkers guitar. Contrary to the band's wider edgy punk aesthetic, this one was all about dancefloor mayhem. And its coup-de-grâce moment for this post-pubescent nightclub-frequenting teenager was the line "I sit here waiting, but she never comes, never comes" … (woe is me).
Body Electric – Pulsing (1982)
By 1982, after a few years of skirting around the periphery of our local charts, synthpop from the UK (mostly) had started to gain serious traction here in Aotearoa – not only on our pop charts, but also on local dancefloors. There was a futuristic vibe to much of it, and something a little otherworldly or sci-fi about it. There was a sense that machines were on the cusp of infiltrating or taking over every aspect of our lives. The Body Electric's 'Pulsing' seemed to capture the moment perfectly … "rhythm and feedback, noise, and electrodes, electrodes!, pulsing to metal music" … this was music created by "machines" and it was responsible for some of the most cringe-worthy robotic dance moves ever seen inside Wellington nightclubs, that year, the following year … and for some years beyond.
Car Crash Set – Imagination (1983)
If Body Electric had paved the way, then the much underrated and all-too short-lived Car Crash Set took things to another level entirely. Enjoying a consistent run of really strong electro-driven singles and EP releases across the first half of the decade, Car Crash Set ensured that any novelty element to local synthpop was, by 1983, long since confined to the dustbin of history. The genre was now firmly embedded in the psyche of mainstream pop consumers and dancefloor dwellers alike. 'Imagination' is my own pick from that series of releases but, in truth, I could have selected almost anything from the band's discography, or anything from band member Nigel Russell's (earlier) Danse Macabre incarnation.
Coconut Rough – Sierra Leone (1983)
As someone who still attends Wellington's foremost 80s retro night Atomic with more regularity than might be considered healthy, I can wholeheartedly confirm that Coconut Rough's 'Sierra Leone' has lost none of its floor-filling lustre. Forty years on. Every. Damn. Time. I think it must be something to do with the nostalgia-inducing urgency of the track's simple but compelling synth intro, or something intangible within Andrew Snoid's exceptional vocal delivery. Whatever it is, it feels timeless, and all of those hooks still work today every bit as much as they did back in 1983 (indulge me) … "and you know I'll come running to you" …
IQU feat. Betty Anne Monga – Witchcraft (1984)
Did I really see Ardijah perform live on a massive barge located a little offshore at Wellington's Oriental Bay sometime in the late 80s? I'm pretty sure I did. If I didn't, that's one hell of a trick for my mind to be playing at this advanced age. I wouldn't rule anything out. IQU wasn't Ardijah, but it may as well have been, because Betty Anne and Ryan Monga's presence on 'Witchcraft' is unmistakable trademark funky Ardijah, with a little bit of New York-lite electro added for good measure. Marginal Era's Paul Agar is somewhere there in the vocal mix, but when I listen to this again all these years later, all I can think about is what a copycat that Prince guy turned out to be. And what about that Rob Muldoon sample?
Peking Man – Room That Echoes (1985)
What an incredible talent Margaret Urlich was. An artist who went on to achieve so much during her sadly all too brief time with us. 'Room That Echoes' was essentially right at the start of her journey, alongside brother Pat. By the middle of the decade it was all about new technology-enhanced visuals, vibrant colours, and no small amount of gloss. A mercurial energy and an imagery that Peking Man managed to capture with some nonchalance. So popular for a few weeks in 1985 that it topped the national singles chart.
Netherworld Dancing Toys – For Today (1985)
I wasn't sure I wanted to go down the 'For Today' route. Not with all the subsequent saturation overkill the track has received in more recent times. Damn you, sports stadium jocks and corporate advertising execs. But I have included it, because the Netherworld Dancing Toys provided one of more memorable nightclub "live gig" experiences I had across the entire decade. It was in Palmerston North, circa 1985, at a cabaret venue dressed in nightclub threads, called Fez (aka the Southern Cross). 'For Today', pre-infamy, was NDT's big hit and when performed live it was a pure banger in every sense. All that brass, and the divine gift that was Annie Crummer's vocal. The "dancefloor" was a heaving throng of bodies, and I was up the front. There may have even been DM's, trench coats, and sweat involved. Included here also because it would be remiss of me not to include something from Dunedin.
Holidaymakers – Sweet Lovers (1988)
Not one for the "cool kids" of the era but I had to include this on account of the recall I have of being at Clares nightclub on the night news filtered through that Holidaymakers, a local (Wellington) band, had just won seven gongs (count 'em) at the New Zealand Music Awards. It seemed like a big deal, and it was. Naturally we raised a drunken glass or two in their honour. It was 1988, and 'Sweet Lovers' was the nation's best-selling single of the year, holding firm at No.1 on the local charts for six weeks. In many respects the tune was a precursor to the Pacific-flavoured street-soul which would go on to further evolve in Auckland across much of the following decade. Of course, only the cool kids knew it was a reimagined Bill Withers tune, but nobody really cared much about that, because it truly sounded like "us".
Jam This Record! – Jam This Record! (1988)
An important yet still relatively rudimentary cut'n'paste sampling creation made by a one-off "supergroup" production team which included Alan Jansson (Steroids, Body Electric, OMC), David Bulog (Car Crash Set), James Pinker (The Features, many others), and Simon Grigg (label guru, industry man of many hats). Initially 'Jam This Record!' was issued as a white label only sampler, before Propeller committed to a run of 500 copies, plus that peculiar beastie then known as a cassingle. Admittedly, Wellington nightclub outings for this track were probably quite scarce, but stylistically it mirrored exactly what was happening elsewhere – see Marrs, S Express, Bomb the Bass et al – and it laid down a marker for the high-beats-per-minute direction dancefloors both here and overseas were headed in the decade that followed.