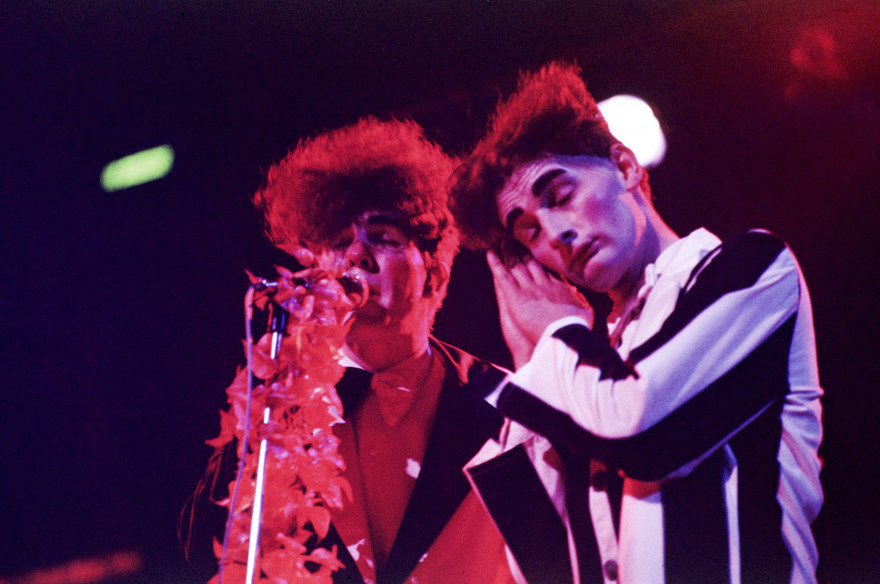 Auckland photographer Bruce Jarvis had recently returned from his OE when he attended Split Enz's first headlining concert at the Auckland Town Hall on 9 July 1975. Jarvis had travelled to London by boat, saw gigs there such as David Bowie's last Ziggy Stardust show (without a camera), and Pink Floyd performing songs from their new LP Dark Side of the Moon. After a couple of years, he came back to New Zealand, travelling overland.
When he left in 1973, Split Enz was still Split Ends. Two years later they were established as New Zealand's biggest local drawcard, and critics were falling over themselves to describe their theatricality.
Jarvis remembers that Auckland acoustic act Waves performed in the first half. "They were really good, Waves, but they were cruisey, sitting down. Then the Enz came on, and it was quite a step up. It was really Tim Finn, with his hair and his voice – just out there. Tim put everything into it. They were all dressed up in their costumes, with makeup, lipstick, eye shadow – just great from my point of view.
"I shot a couple of rolls of black and white, and half a roll of colour trannies. It's never easy under those circumstances, that lighting. I was downstairs, upstairs, shooting from the side of the stage, from the floor. As a press photographer I was always moving round, looking for the best angle."
Jarvis's Enz images can be viewed online at the Auckland Libraries Heritage site Kura – along with a couple of thousand of other photographs he took at Auckland concerts in the 70s and early 80s. (Just put "Bruce Jarvis" in the search window, top right.)
In 2023 Tim Finn was delighted to see Jarvis's photos of the gig had been added to the Auckland Library website. "We're wearing the Black and Whites, which were always my favorite set of costumes," he told Trevor Reekie for AudioCulture. "There's an intensity about it, because basically, it's 75 photos of one concert. So he documented a particular time and moment of Split Enz, rather than being a whole lot of shots out there taken on different nights, for different albums. This is focusing in on one, one-and-a-half hour performance at the Town Hall. They're really beautiful photos."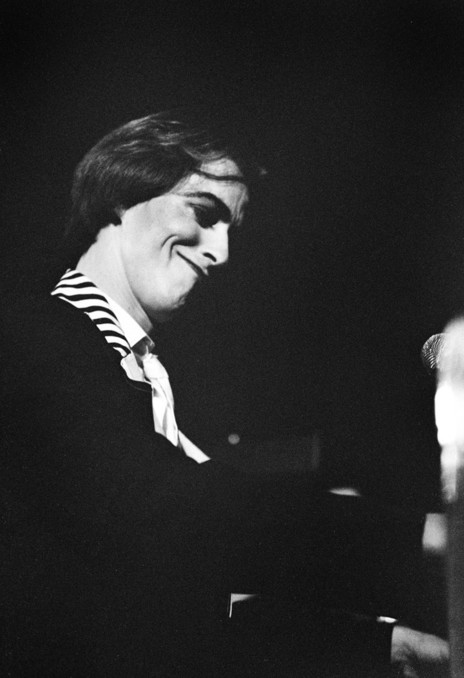 Mike Chunn recalled this concert in the photo book Live: Gigs that Rocked New Zealand, which Jarvis published in 2010 with Josh Easby. "This was a watershed for Split Enz – two nights at the Auckland Town Hall after returning from a short tour of Australia," wrote Chunn.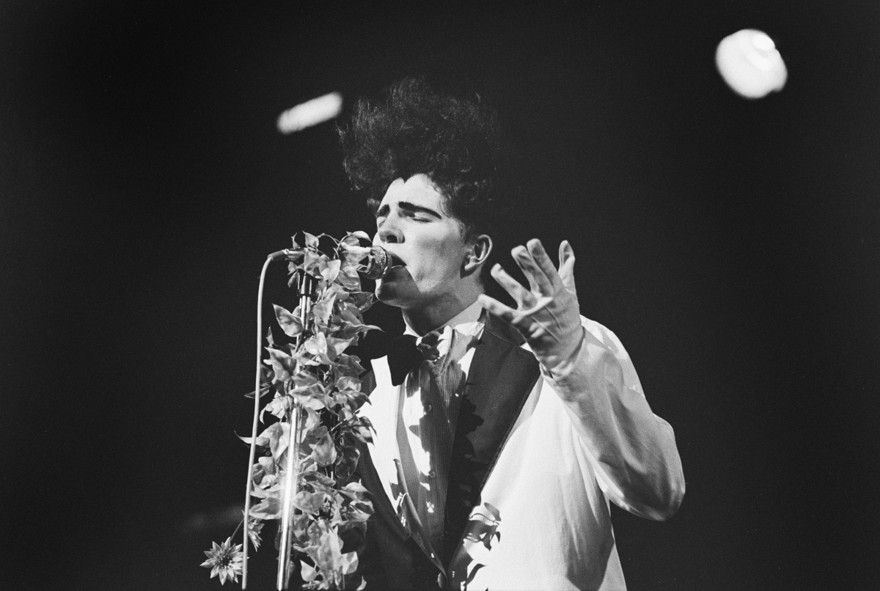 "We had popped off to Sydney in March for a three-week 'band swap' with an outfit called Hush. It was arranged by our manager Barry Coburn with their manager, whose name I've never known. Hush came and went from New Zealand.
"We went to Australia and couldn't afford to return, so we stayed. It paid off, as we quickly scored a deal with Mushroom Records and recorded an album which, when Tim told me would be called Mental Notes, made me think 'Ah! What a great name for an album!' (That's an aside).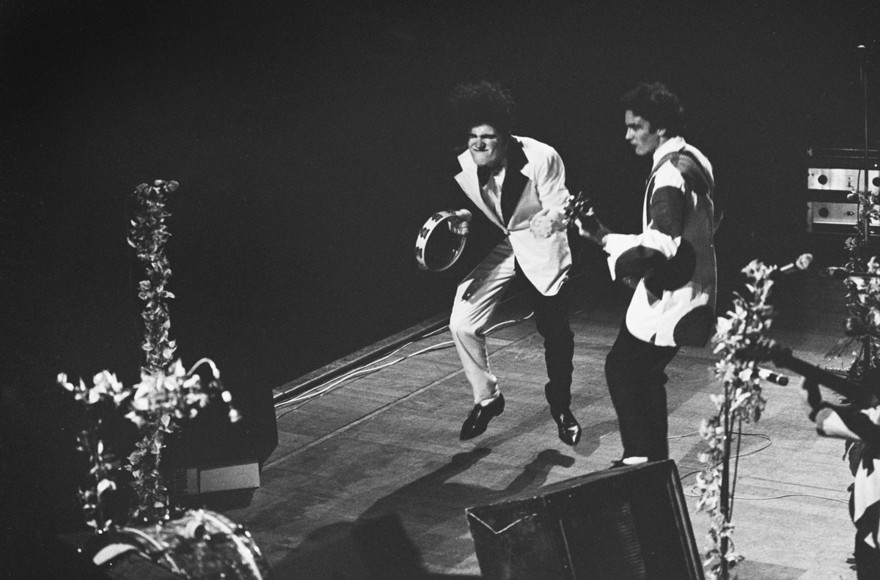 "In the years leading up to our Aussie trip, Split Enz had built its reputation on concerts. We'd never been on radio. We ventured onto talent quests on television but the masses were more bemused than enthralled. And so it was with a sense of confidence that we returned to tour New Zealand on the release of Mental Notes.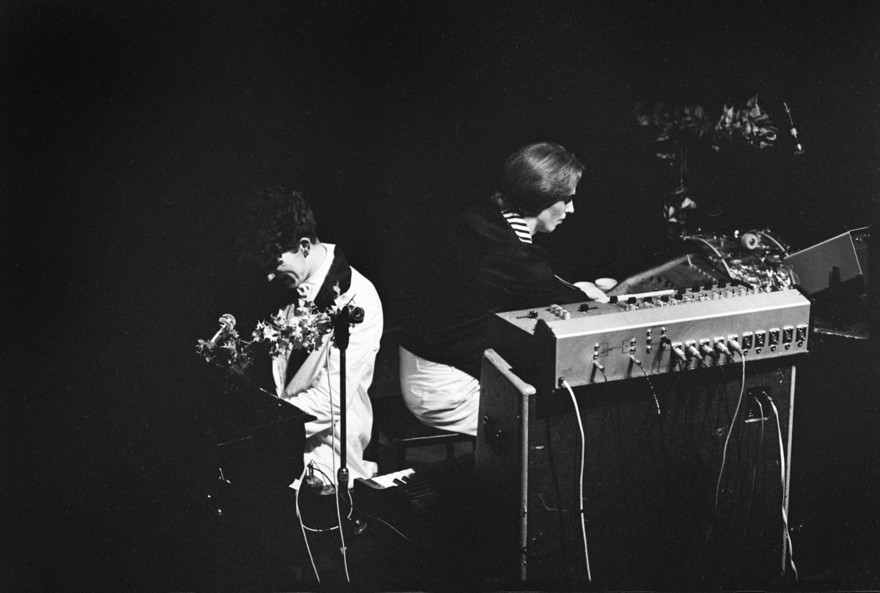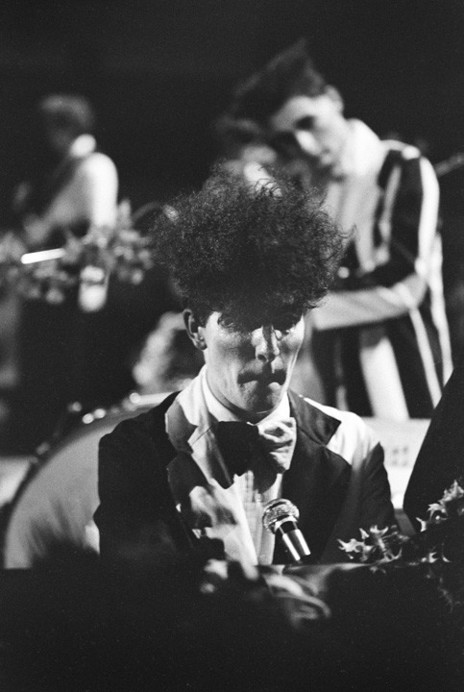 "In keeping with most things à la Split Enz, the album didn't come out till well after the tour. And when Barry Coburn announced two concerts at the Auckland Town Hall, many of my friends and acquaintances expressed dismay at our gambling on such a large venue at such a high ticket price.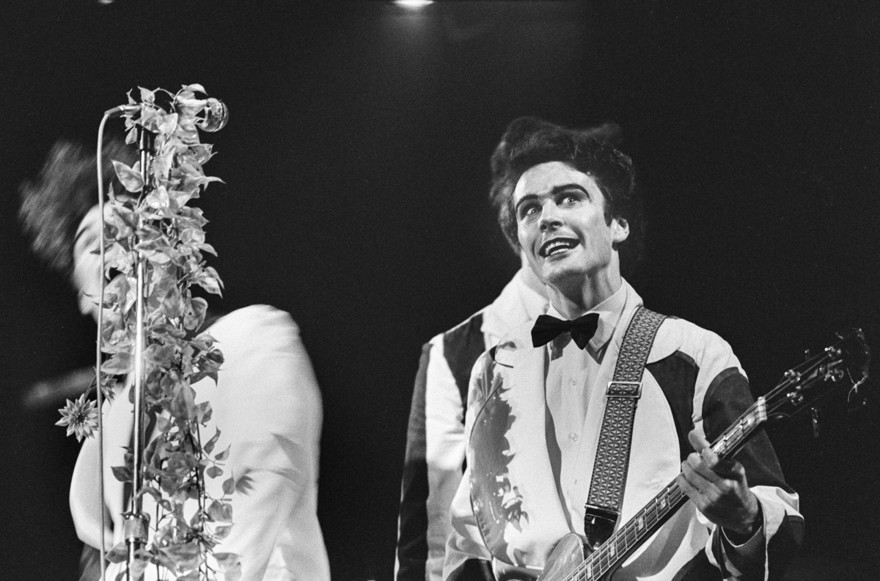 "What was the ticket price? I know exactly what it was. I have a poster of that show on my toilet wall right here at home. It was $2.70.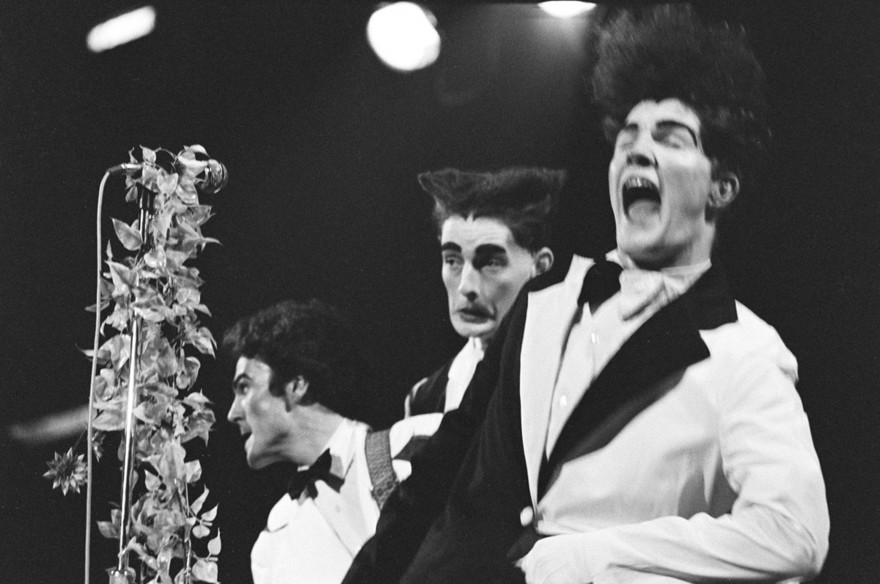 "Both concerts were sold out. We wore the Black and Whites. We moved and leaped and dived. We had a collective sense of massive achievement hardened by the relentless live work we'd been doing in Australia. And we had new songs. We always had new songs.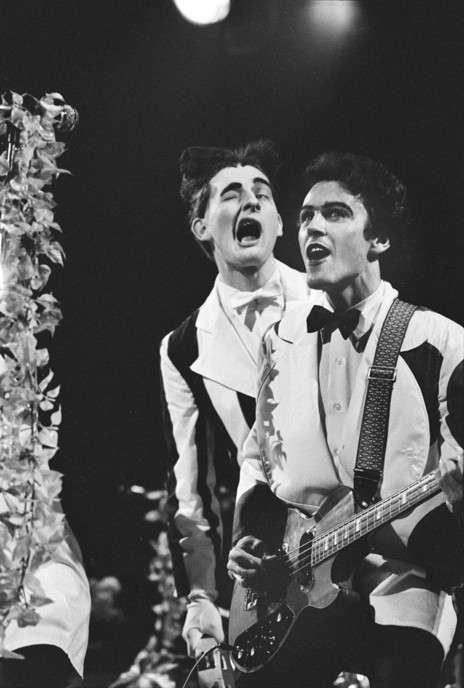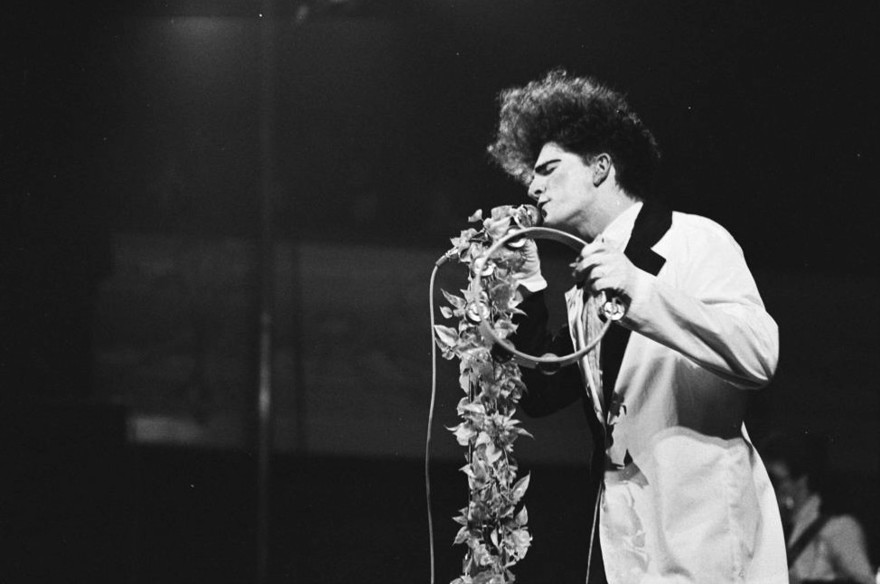 "There is magic in the moment when a band, without talking too much about it, knows it has cut through. On July 9, 1975 in the Auckland Town Hall – on the same wooden floor that John, Paul, George and Ringo had played their stuff 11 years before – we cut through."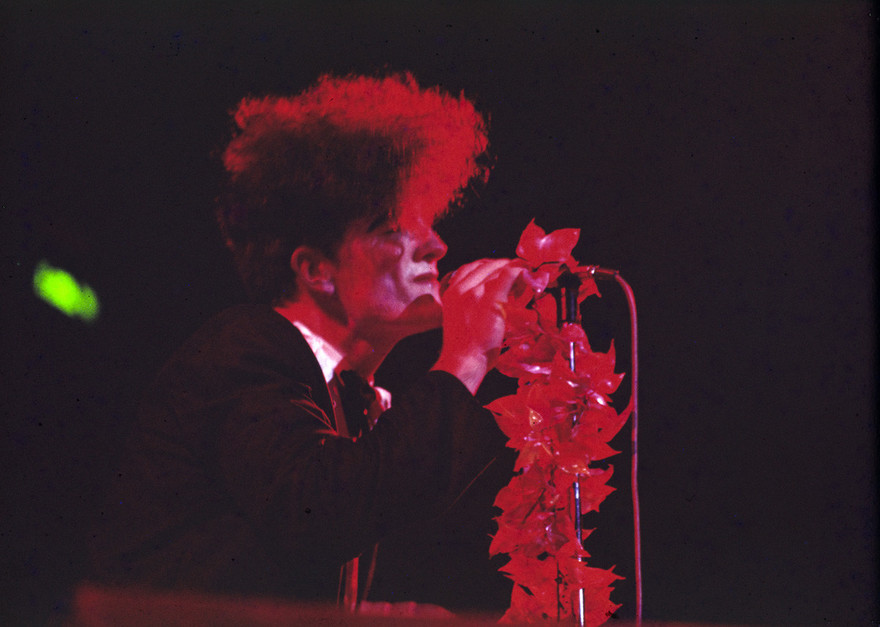 The complete collection of Bruce Jarvis's photos from this concert can be seen at the Auckland Libraries Heritage Collection site Kura.
--
John McNeill of The Press reviewed a Christchurch concert during this July 1975 tour, which took place a week earlier.
Split Enz – going far on a little madness
Only two shows I have seen would be fairly compared with the sensational concert Split Enz, an Auckland rock group, gave in Christchurch last Saturday.
One was Petrushka, the other Marat/Sade. Both shows placed heavy emphasis, on visual effect.
The Enz group appeared to draw from both with the clown costumes, frizzy hair, white faces, and rouged cheeks of the dolls, an impression heightened when Tim Finn, the star of the show and lead vocalist, slumped like a lifeless doll at the end of each number.
From the play of madness and murder Enz seem to take the bizarre antics of the asylum inmates as a ghastly, ghostly, ghoulish group.
It would be forgiveable to mistake these characters on stage as refugees from a lunatic asylum. Their actions are demented as their costumes are colourful, but when the music starts, then this ceases to be just another pub band, more than a unit back from a successful tour of the Sydney League Clubs. Split Enz is better than that, much better.
Comparisons are inevitable, the hooks on which writers try to describe sounds with words by drawing on the reader's experience. To fill some space take Yes, King Crimson, The Beatles, Elton John, Alex Harvey, The Mothers, The Goons. There must be others. In the music I heard themes from the classics, the Labour Party's winning title 'It's Time For a Change,' the blues, vaudeville, electrica-coustic boogie, a snatch of jazz, and a little rock'n'roll.
Publicity material tells me I missed lyrics "conjuring up nightmare visions, obsessions with madness and the macabre, woven out cliches, sinister phrases." It is a pity the sound system did not win the battle with the theatre's acoustics. Choreography there was too, and Tim and Noel Crombie (percussion) would have been great pitted against that master of movement to music – Gary Glitter.
Split Enz was formed about three years ago in Auckland, but the present members have been working together for just under a year. Finn and Philip Judd (guitar and vocals) are responsible for most of the original material which the group then shapes up for performance.
In New Zealand, Split Enz have performed mainly at concerts, carefully prepared and often incorporating some dozen or so willing friends and many stage props to add to the theatrics of the act.
Doubts were expressed that the group would be able to perform in more mundane surroundings such as pubs and dances. But Split Enz' first stay in Australia proved that this band is as versatile as it is inventive. Reactions to their performances, with or without costumes, makeup, sets and extras at concerts, pubs, dances or on television, have been overwhelmingly favourable.
Split Enz have been the support band for Roxy Music, Leo Sayer and Skyhooks at major venues in Australia. Members of these disparate groups have praised Split Enz. In fact, Phil Manzanera of Roxy Music expressed interest in producing their next album.
This proof of their ability to impress diverse audiences under diverse conditions leaves no doubt that their music is to be appreciated on record. For while the visual aspects of Split Enz enhance and complement their music, the essence of their talent, their ingenuity and their appeal lies within the music itself.
Their first album, Mental Notes, was recorded at Festival Studios, Sydney, for the Mushroom label, during their first visit to Australia. It consists entirely of their original material with production by Dave Russell, the group's touring manager, with the cover being designed by Philip Judd.
--
From The Press, Christchurch, 3 July 1975, courtesy of Papers Past; republished under CC licence BY-NC-SA 3.0 NZ.