The Cyclones, Sounds of Four, Soundproof, Milkshake, Snatch
After becoming a key member of The Pictones, The Flares Show Band and The Big Three, bass player and singer Trevor Harrison helped to found some of Palmerston North's most resilient pub bands.
Following his time in The Flares and The Big Three, drummer Maurice Greer poached members of The Cavaliers including Dave Hurley and Doug Rowe to form The Saints, while former Flares saxophonist Johnny McCormick joined top Palmerston North unit The Cyclones.
The Cyclones formed in 1962 with brothers Mike and Bernie Findlay on bass, and guitar and piano respectively, and Paddy Beach on drums. Bogdan Kominowski (later known as Mr. Lee Grant) was initially on vocals until he went solo.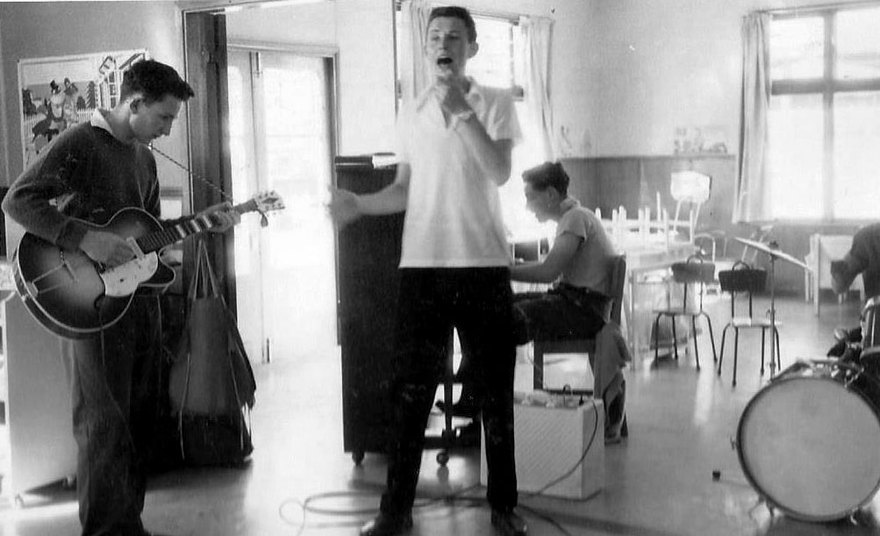 Mark Tournquist from Auckland joined on lead guitar and was replaced by Robbie Waite from Hawke's Bay; Mike Griffin from Hamilton was on rhythm guitar. The Cyclones were soon amping to burst out of Palmerston North and stir things up in the capital city.
Before getting the call up from the Findlay brothers Griffin was based in Hamilton. His first high school band morphed into successful recording outfit The Mods and he then joined The Fenders, filling in on rhythm guitar.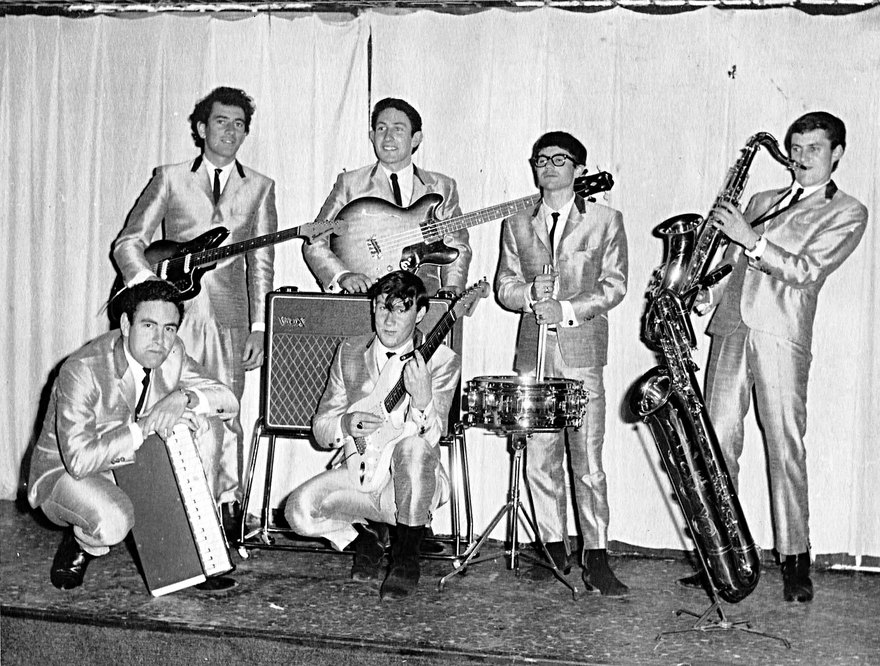 Griffin swapped to lead guitar in The Cyclones for a time before the band changed its name to Sounds Unlimited in 1965 and relocated to Wellington, where they were soon working five nights a week.
When bass player Mike Findlay became ill he was replaced by Don Clarkson from Christchurch (Peter Nelson & the Castaways) then Reno Tehei took over on lead guitar. After 12 months in Wellington Griffin returned to Palmerston North and Alan Galbraith took over on lead vocals.
Sounds Unlimited recorded 10 singles and finally scored a hit with a cover of 'Tar And Cement'. The band headed to the UK in 1966 at the height of the British Beat explosion. When they returned in mid 1967 they were no longer the well-groomed pop band people remembered. They were hyped up and under the influence of Hendrix, Cream and The Yardbirds and soon described as the loudest band in the land. McCormick had electrified his saxophone by plugging in microphones and putting it through an echo box, wah-wah pedals and octave dividers.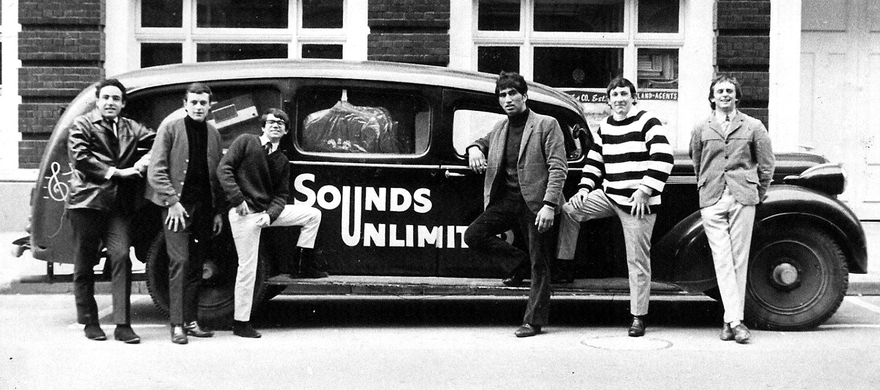 "There was nothing like that in New Zealand – it sounded like I was playing three at once. The audience just looked on in bewilderment. No one was playing the kind of material we had. Hardly anyone had heard Hendrix and Reno was doing it extremely well," says McCormick.
It was all a bit too much for teen heartthrob Alan Galbraith who soon dropped out, leaving the vocals to Tehei. Then McCormick, keen for a brassier, more jazz influenced change, was asked to join Malcolm Hayman's Quincy Conserve, remaining with them for most of their albums.
Sounds of Four
In the early 1970s bass player and vocalist Trevor Harrison created The Sounds of Four with Shadows fanatic John de Wiele on lead guitar, Ian Farmer on rhythm (later Fred Neil from Hawke's Bay's Rockets) and old Cavaleros bandmate Johnny Oliver now playing drums.
"I went to the manager at the Awapuni Hotel to see if we could play there but he took a bit of convincing. 'Oh, I don't know how bands in pubs would go ... I've never really heard of that before'."
Sounds of Four effectively pioneered live performances in lounge bars in the Manawatu and the Awapuni Hotel was to become a major venue pioneering a growing local band circuit.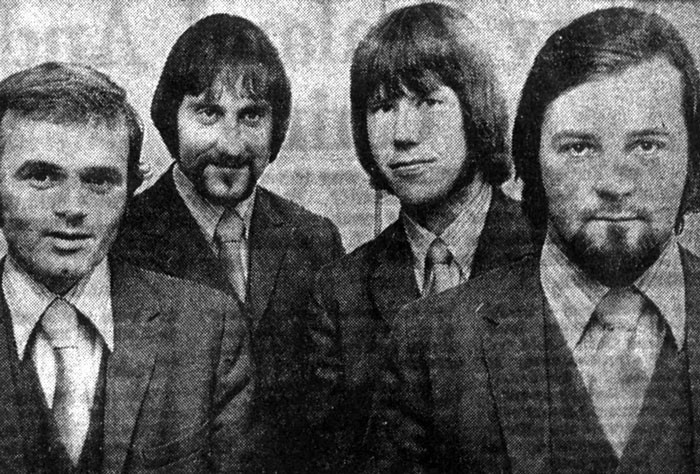 The band was off to a good start with their version of 'Ghost Riders In The Sky', which aired in the finals of new TV show Studio One. They later moved their residency to the Viking Bar of the Fitzherbert Hotel and in 1969 Harrison added former Cyclones players Mike Griffin on rhythm guitar and Mark Tournquist on lead guitar.
Soundproof merger
Tournquist was replaced in 1972 by Mike Miers on keyboards, previously with 100 Proof, the resident band at the Southern Cross Cabaret. 100 Proof featured Tony Bauke on guitar and Chris Nelson on drums, who was replaced by Wayne "Soupbones" Simpson. On bass was Graham James, from mid-60s band The Itch (formerly Three's A Crowd) which featured Gary Powell on guitar, Paul Hunt on drums and later his brother Gary Hunt on guitar and vocals. The Itch supported many top local acts, played around the North Island and were regulars at Frank Greer's Rickie's nightclub.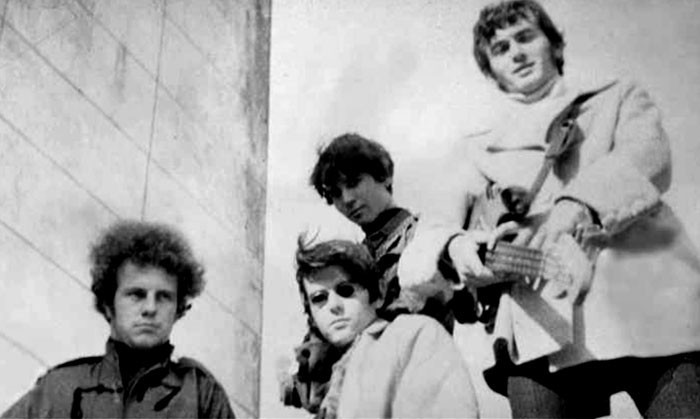 Sounds of Four were looking to up their game to funkier sounds so it made sense to bring James and Simpson from 100 Proof on board to join their old bandmate Miers. Band leader Harrison moved to lead vocals and as they could clearly no longer be called Sounds of Four, they became Soundproof, one of the country's hardest working, most enduring lounge bar outfits. They played every night of the week and Saturday afternoons. In late 1972 Harrison moved on to accept a gig in Auckland.
Mike Miers says he began playing "professionally" at the age of 10 with his younger brother Kevin on drums and older brother John on piano. His first guitar was a Jansen and by the time he was 12, he had a 1958 Fender Stratocaster. "It would be priceless if I still had it." His 2016 guitar is a 1962 Stratocaster.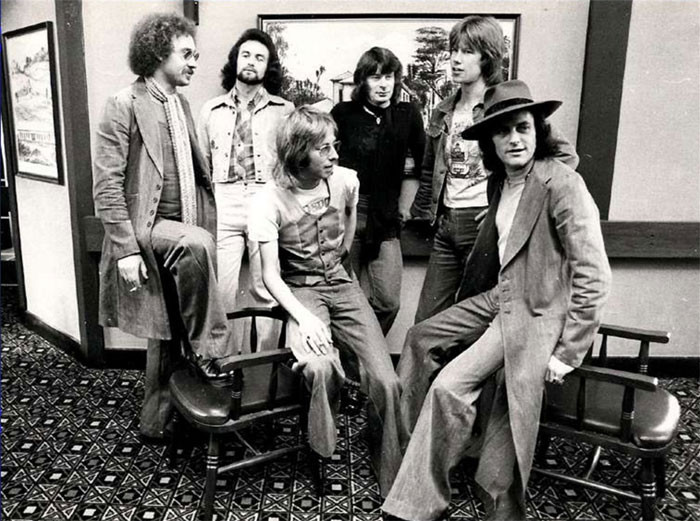 Miers played guitar in high school band Kontagious in 1965 and two years later formed The Angelic Hymn with Graham James on bass and Murray (Lee) Taylor on vocals (ex-Grim Ltd).
The band recruited two horn players, Trevor Prout (ex-The Flares) on trumpet and Larry Ward on tenor sax. Soundproof's first single for Terence O'Neill-Joyce's Ode Records was 'My Babe' with '6345789' on the flip side.
Quincy brass section
Fresh from Quincy Conserve and a spell with The Rodger Fox Big Band, Johnny McCormick replaced Larry Ward on saxophone around 1975 and when Prout moved on he was replaced by Barry Brown-Sharpe, giving Soundproof the old Quincy Conserve brass section.
Soundproof went through a series of keyboard players, including Jamie Tait-Jamieson, Colin Carter, Paul Middlebrook, Alan Smith and Steve Wildbore. Mike Booth joined on trumpet for a time, as did Rodger Fox on trombone. Canadian Bryan Waddell filled in as drummer for a season and so did Grant Houston, Kenny Williams and Phil Knipe.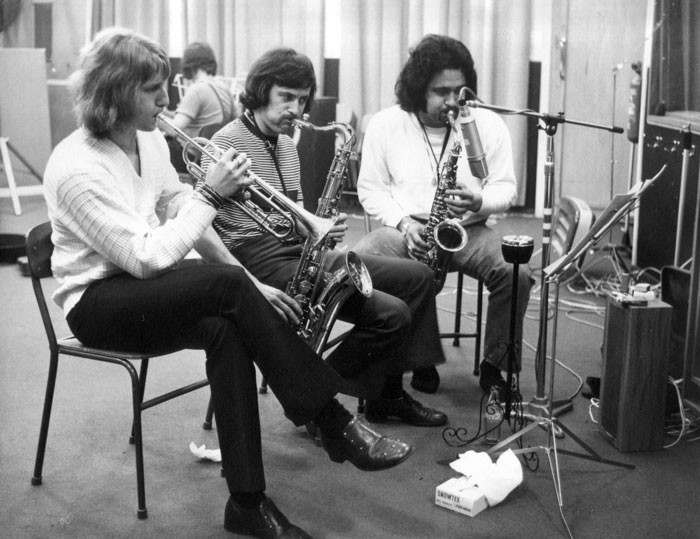 Soundproof entertained locals for eight years with covers of retro and modern day hits from Blood, Sweat and Tears and Santana through to disco, funk and heavier rock sounds. The band continued to take on residencies at Palmerston North hotels including the Awapuni and became SP2 (Soundproof 2) in 1983 with Miers rejoining on keyboard for a residency at the Cloverlea.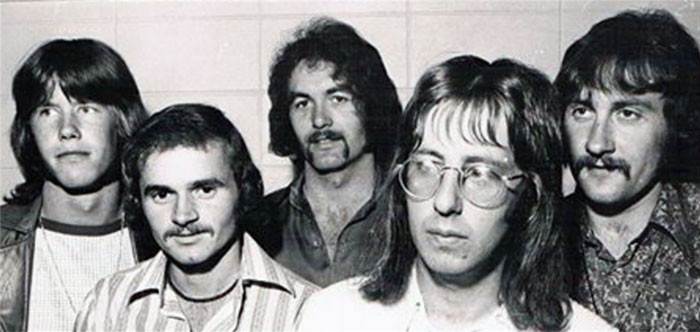 Harrison's Auckland band
Trevor Harrison left Soundproof in 1972, accepting an invitation to form a group for the new Tainui Tavern in Auckland. The invitation came from former Fitzherbert Hotel boss Jock Ruddock, who was now managing the new pub.
Initially singer Richard Wilde (Wilkinson) was to join Harrison along with other Palmerston North musicians but when it came to the crunch, he was on his own. Ruddock then informed him he'd arranged a backing band: bassist Billy Kristian, drummer Jimmy Hill and keyboard player Mike Walker, fresh from Tommy Adderley's Headband.
"We didn't really have a name. Billy Kristian said 'Alley Oop ... that'll do', but mostly we were just the Tainui Tavern Band even though we also played at Tommy Adderley's clubs Granny's and Grandpa's and Nick Villard's Embers club."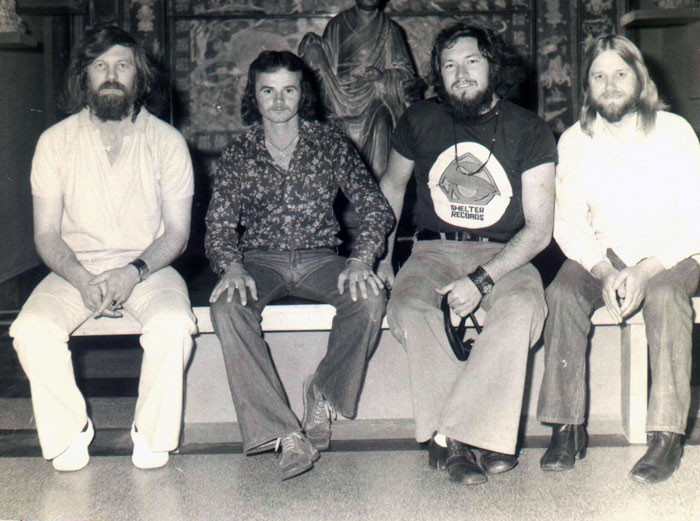 Harrison remained with them for about 14 months, playing every night of the week, delivering a range of Top 40 covers but constantly being challenged by the musical diversions of his "amazing" musicians. "They used to change up the songs all the time. They were so into dope I never quite knew what they were going to come up with. I'd ask what's the song and they'd have to reassure me that it was 'Feelin' Alright', they were just jamming into it ... I like a set format and to follow the rules."
The band often said they wanted to add a guitarist and when it appeared that their friend, singer-guitarist Chris Thompson, might be asked to join, Harrison felt his time was up and headed back to Palmerston North.
Touchwood at Majestic
On returning to his home town he joined old friend and guitarist Mark Tournquist at the Longburn Freezing Works to earn a living while the two put together Touchwood, which played at the Majestic Hotel.
Touchwood, featuring John Dixon (and later Graham James) on bass and Earl Pollard on drums, played classy covers – until the venue closed in 1990 (it was demolished to make way for K-Mart). The band shifted to residencies at the Fitzherbert with Peter Kellington on drums (later Ted Frickleton and then Nihat Orerel, who had been in top rock units in Turkey), Neil Thomas (ex Unit 3) and Mike Russell on guitar. When Harrison moved on, the group morphed into Raw Silk.
Guitarist and vocalist Mike Griffin says Palmerston North bands never faced any real challenges from the breweries touring circuit, "mainly because the local punters were probably the most supportive in the country and more often than not, always hung in with their own."
He says the residencies paid well, and it wasn't a problem attracting out of town musicians when replacement players were needed for groups like Soundproof.
Griffin agrees that disco had a marked effect on the live music scene. "The breweries concluded they could get away with paying a lot less. I have to admit I tried doing the DJ gig for a while (Diamond Jim the DJ) and enjoyed playing the soul-funk dance tracks but I missed the camaraderie of being in a band and soon got bored witless and narrowly escaped becoming an alcoholic."
He says salvation came through the offer to join Raw Silk at the Fitzherbert Motor Inn. Griffin replaced Mike Russell on guitar and Kenny Williams took over the drum seat from Orerel. They played a strong mix of rock standards and then shifted venues to the Albert Hotel where they became Ruff Diamonds.
Concurrently Trevor Harrison had a Monday night gig at the Lion Tavern, later moving to the Awapuni Hotel, where he joined old bandmate Griffin and McCormick playing old time rock and roll. Griffin had already named the band Alley Oop, unaware that was the moniker Harrison's Auckland group had adopted.
Garth Young was on piano initially and Miers was in for a spell until he was replaced by Simon Page from Flight X-7 on keyboards. Harrison played bass until Graham James took over with a variety of drummers completing the rhythm section. "You never knew who was going to turn up, it often ended up like a jam session and we had that gig for some time," says Harrison.
Alley Oop was so successful on Monday nights that the head barman at the Awapuni Hotel asked Harrison to form a group for Thursday, Friday and Saturday nights.
Milkshake shakes it up
For the next band, Milkshake, Harrison pulled together lead guitarist Lionel Sheridan and former Dillinger mainstays Wira Cole on rhythm, Charlie Taipana on drums and Brian McGrath on bass, with McCormick on sax.
"For the first few weeks there were only about twenty people and I said if it carries on I won't be doing this. Then all of a sudden we had 1,000 people, it was packed to the walls."
Neil Thomas stepped up on lead guitar, the role he had in Raw Silk and then Rough Diamonds. When Sheridan returned a year or so later the band was still pulling the crowds and now had two lead guitarists. Thomas found the band's repertoire "a real slow-up for me, as the whole thing was old-time rock and roll". But he liked playing with Johnny McCormick, and felt that Sheridan "enjoyed dealing with me as my style was a bit heavier."
Milkshake was playing retro rock: The Doors, The Kinks, Midnight Oil ... the dancefloor was always packed. "I'd never seen anything like it," said Harrison, "... we could have stayed there forever."
The band was known for its gimmicks. Harrison rode a British motorcycle onto the stage and grabbed the microphone, so people generally thought it was part of the show. "That was the end of it. We pulled out while we were still on top."
The Johnny Carson Trio, featuring the eccentric Carson on keyboards and vocals, Bill Pink on drums and Nick Anderson on bass with comperé and entertainment manager Jo Baker, was a late night staple for many years at the Steeple private bar, upstairs at the Fitzherbert Hotel. Guest artists included Mahia Blackmore from Bulls and percussionist and singer Arnold Tihema, who formed their own duo after a few guest spots with Soundproof. But the main attraction for a couple of years was cabaret and jazz singer Jacqui Fitzgerald, who was living in Palmerston North in the mid to late 1970s.
Stoneflower blooms
In late 1974 former Soundproof keyboardist Mike Miers pulled together Stoneflower with Fitzgerald singing jazz-funk and jazz rock. The band featured Dave Boston from Hawke's Bay on guitar, Graeme Sate on bass and Mina Motu on drums.
"It was a very different band. We were playing material that very few bands would touch … Rufus ... funky and complex progressive sounds …even Mahavishnu Orchestra. We made a point of getting together for a meal before our gigs to get that community spirit happening. It was really something special," says Fitzgerald.
The band was resident at the Albert Hotel but also gigged around the lower North Island, including two weeks in New Plymouth.
Fitzgerald later became a regular on Auckland jazz scene, working with standards and a smattering of Joni Mitchell covers, and recording The Masquerade Is Over, named Jazz Album of the Year in 1985.
Around 1978 Miers replaced Colin Carter in Trek, playing keyboards and guitar with bassist Alan Currie for a residency at the Red Coach Bar of the Majestic Hotel. At the time Lionel Sheridan was on lead guitar and Dennis Yannet on drums.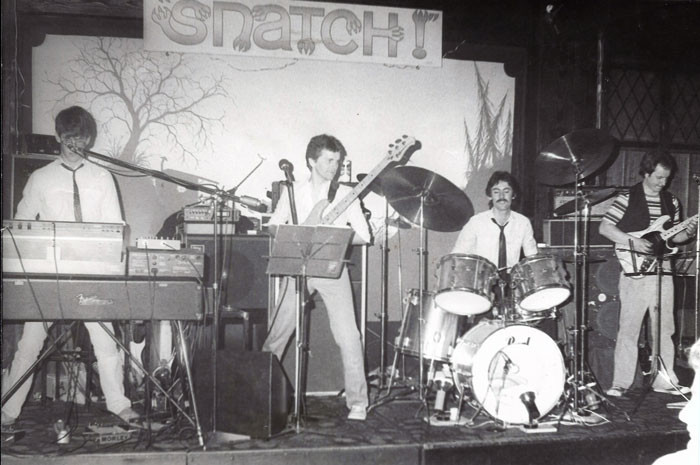 A fascination with the emerging new wave sound saw a change in line-up and name. They became Snatch with bass player Currie and Miers, adding drummer Paul Vile (and later on drums, Don Stevenson and Nihat Orerel) and former Dillinger guitarist Kevin Downing.
The band kept the Majestic residency going then migrated to the Cloverlea hotel. They recorded an EP, Eye Contact, for WEA in 1982 with sound engineer Dave Hurley at Mandrill Studios. Old friend Jacqui Fitzgerald joined them on backing vocals. Meanwhile, at the Albert, guitarist Neil Thomas's band Last Orders drew good houses for a few years.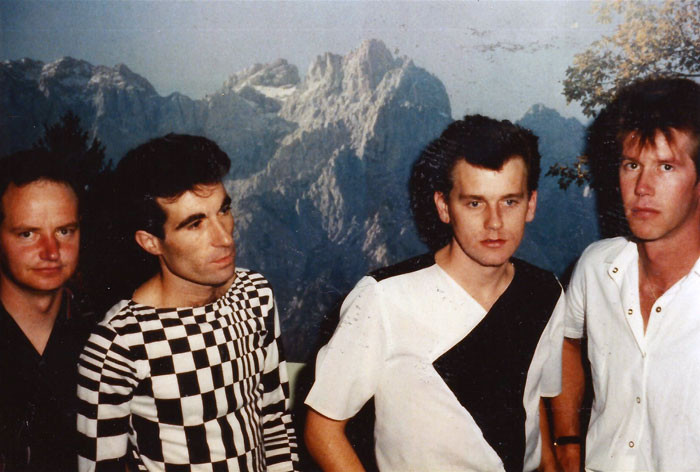 Concurrently McCormick (saxophone, flute) pulled together a tasty jazz unit, Sugar, with Kevin Downing on guitars, Ted Tait-Jamieson on acoustic bass, Nihat Orerel on percussion and David Voss on alto and soprano saxophone. They played early week gigs at the Commercial and the Majestic hotels.
After all these years
Downing had been with Soft Spirit on guitar alongside former Soundproof keyboardist Jamie Tait-Jamieson, Alfie Kereama on guitar, Graeme Sate on bass, Gav Collinge who alternated between bass and guitar and singer Mahia Blackmore, who had been with Elk and Billy TK's Powerhouse.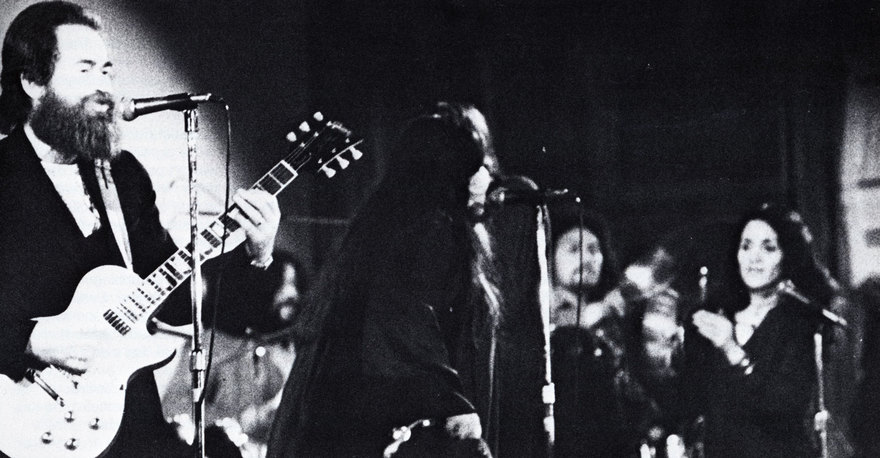 Downing remains one of Palmerston North's top guitar tutors. His 101 Lab Band is essentially a guitar ensemble, part of his guitar school giving students a hands-on taste of performing at a higher level than regular pub-style gigs, mainly playing jazz and blues styles. The band has been operational since 1987 and worked with a number of top US guitarists and local and international vocalists. Like McCormick, Downing regularly plays with top local and international artists.
Mike Miers formed Revival Corporation with himself on keys, guitar and programming with old bandmates Graham James and Mike Griffin, with Dave Wishnowsky on vocals. They appeared as main support act at the Mission Estate Winery concert in Hawke's Bay in 2008 and in 2009 (ahead of Sting).
Miers plays keyboards, guitar and "sound production" in duo Tom the Band alongside vocalist, percussionist and "visual production" person Wishnowsky.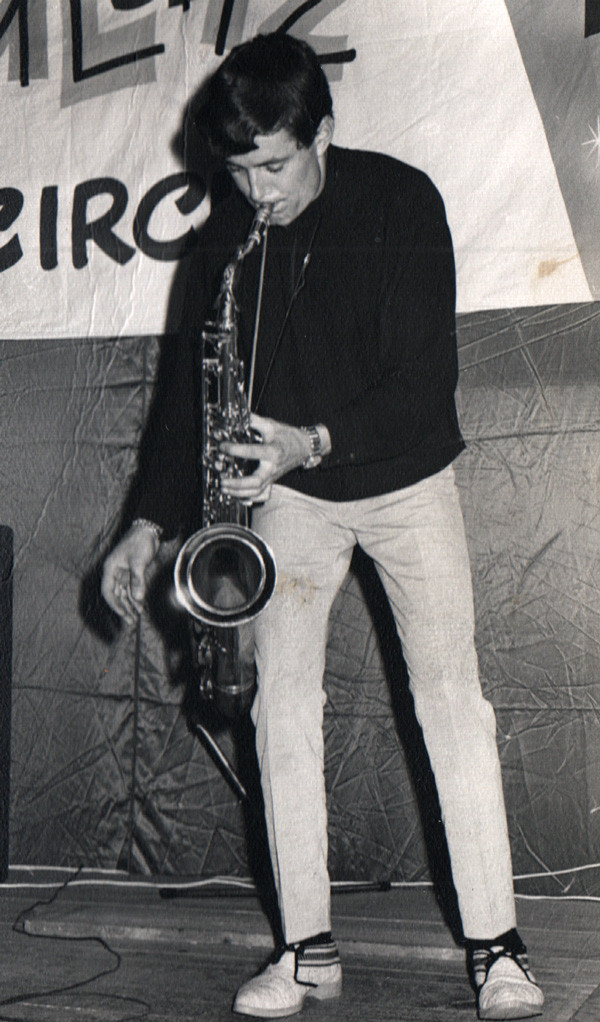 Johnny McCormick, a veteran of The Flares, The Cyclones (Sounds Unlimited), Quincy Conserve, the earliest Rodger Fox Big Band and conductor and founding member of the Manawatu Jazz Club Big Band, was awarded the New Zealand Order of Merit for services to music, specifically jazz, in 2008.
Mike Griffin has never been long without a band and is still performing regularly in three piece covers band Xpress with former Soundproof and SP2 sidekick bassist Graham James, and different vocalists. "Yep am still playing alongside my brother in arms, Jamie ... pretty much on and off for forty-four years and enjoying every moment of our musical collaboration."
And more than half a century after he first began playing with his school mates on a tea chest bass, and at 72 years of age, in 2016 Trevor Harrison is still performing occasional gigs with long-time musician friends.
Read Palmerston North pioneering pub players - part 1 - here