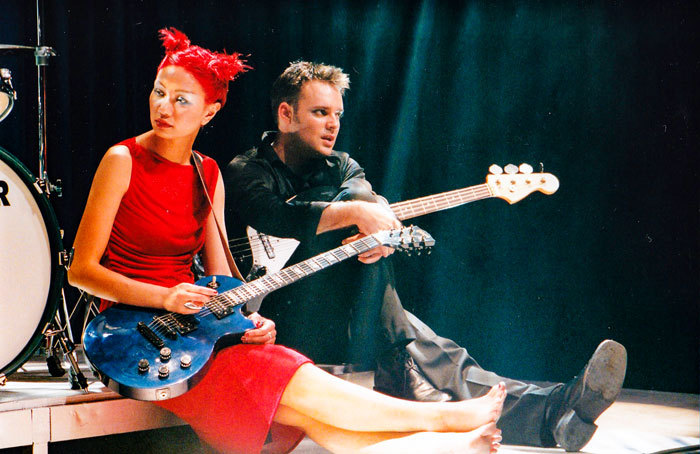 Music and fashion always have a push-pull relationship with one another. In the 1980s, a glimmer sheen was cast over modern pop music through an increased use of digital instruments (MIDI keyboards, drum machines) and studio technology (gated snares, digital effects). Fashion also moved in a more fabricated direction, with big hair, bold colours, and padded shoulders.
The reaction in the 90s was to move in the opposite direction. Rock music went back to basics through the emergence of grunge, while hip hop became heavier and dance music more extreme (with the vocals increasingly pushed back in favour of long instrumental passages). The fashion moved in a similar direction, with streetwear becoming the look du jour.
Yet, while the fashion may have seemed on the surface as if it was less distinctive than in the decades that preceded it, the influence of overseas currents still spread across our music scene and it isn't too hard to find some telling images that show musicians were just as attached to the look of the time as they had ever been.
From glam rock to grunge
There was of course some bleed from one decade to the next. The US hair metal scene arrived here in the late 80s, with five bands for five dollars shows at the Powerstation and the emergence of bands such as Bad Boy Lollipop, Whisky'n'Lace, and Push Push. The long hair, make-up for guys, and ripped jeans continued into the early 90s due to the phenomenal success of Guns'n'Roses, though Axl et al gradually toned down their look. The fashion of rock changed again with the arrival of grunge.
Take Push Push for example. Here's lead singer Mikey Havoc in the band's early days: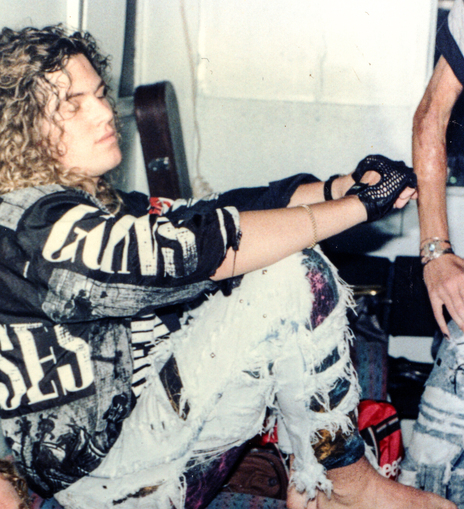 Yet by the time of their album in 1991, Push Push had a more 90s look – a Nirvana T-shirt, bandana, pants by Virus (a hot label at the time), wristbands, and Doc Martens boots (decorated here by Havoc himself).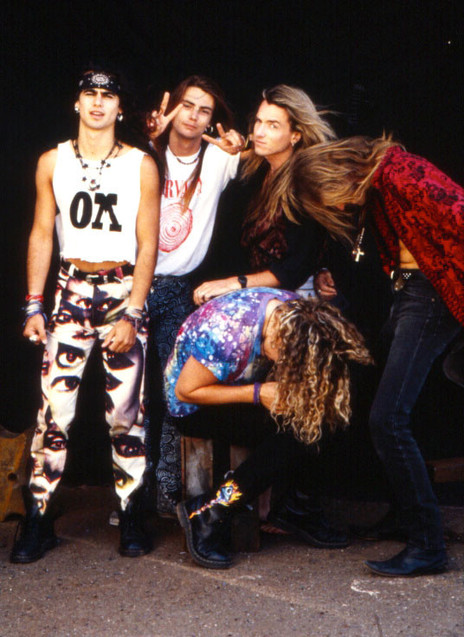 However the most representative item of grunge clothing was undoubtedly the checked shirt.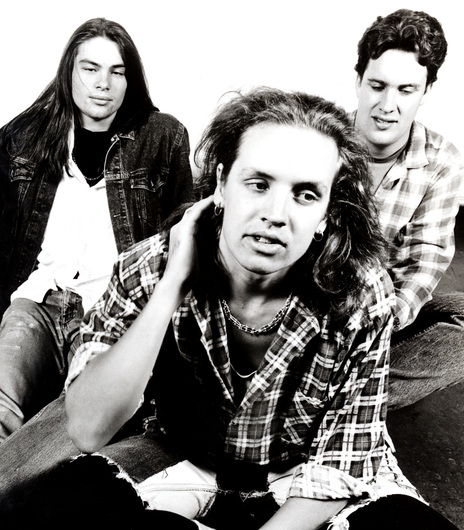 Long shorts or short longs?
There was also a change in the style of pants worn by guys. The influence of skater culture had made shorts more popular, rather than the jeans-in-any-weather look of rock stars up to this point. But look at this next photo of Pumpkinhead and tell me – is the lead singer wearing trousers or shorts?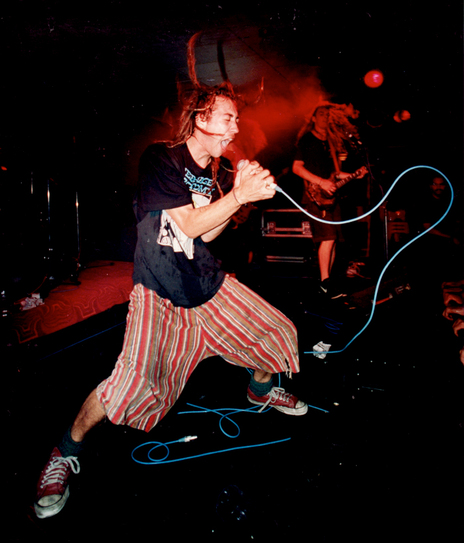 Yes, the time of ¾ pants had also arrived. This coincided with the popularity of cargo pants/shorts. Originally a form of military wear, cargo pants were adopted by reggae artists such as Bob Marley and rappers like Tupac and made their way into the broader music scene.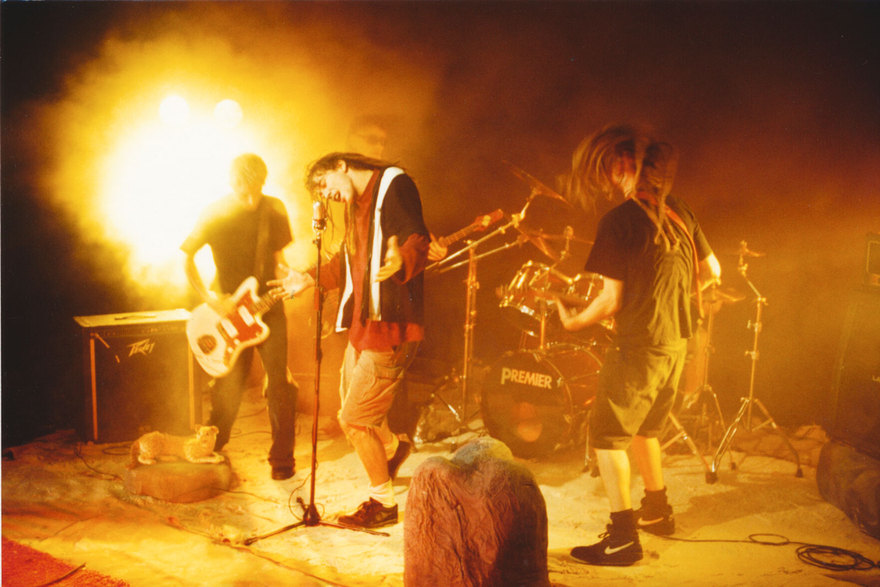 Gotta be a loose fit
A confluence of influences came together to make the 90s the baggiest era. Firstly there was the Madchester scene in the UK, exemplified by The Happy Mondays' 1990 single, 'Loose Fit'. Then came grunge with its similarly oversized jeans and lumberjack shirts. Meanwhile hip hop was also moving in this direction via gangsta rap, with trousers so loose they threatened to slide off.
Rappers and DJs began wearing jackets that were thick enough for a New York winter and which were long enough to cover half their thigh. Though it's also worth noting the ripped jeans and Timberland boots, which were very much of their time too.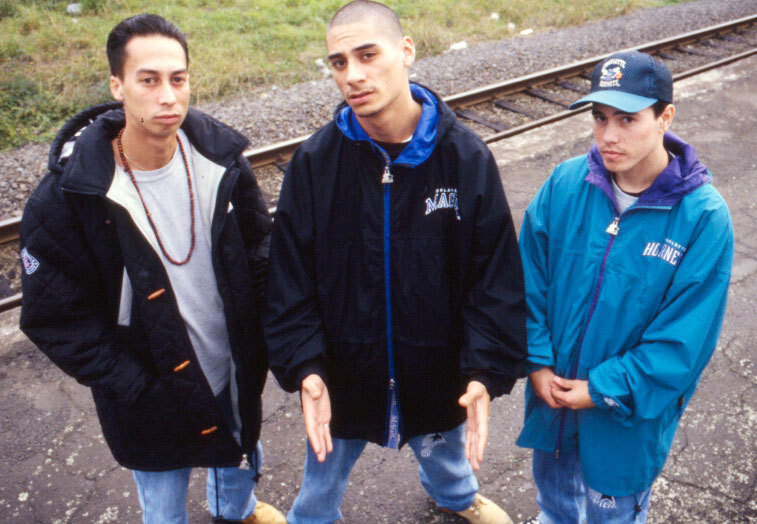 Trousers became so shapeless that it was hard to prove that rappers/R'n'B singers even had knees.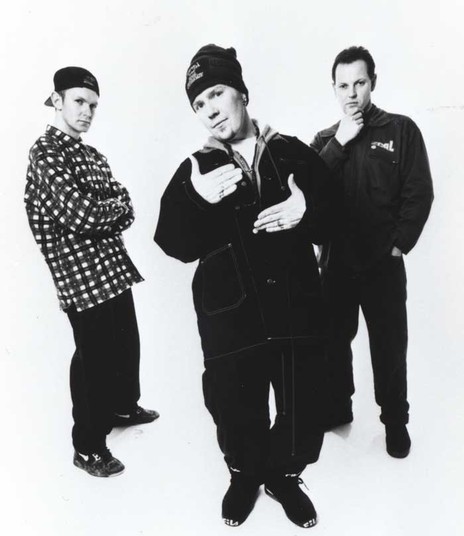 As in the above photo, the caps started being worn backwards more than forwards. In other cases, rappers wore baseball caps with tiny rims, like those worn by bicycle racers. Also a sign of the times are the preppie cardigan worn below by K.O.S. (at the front), the over-the-eyes ringlets of Tha Feelstyle at the back (à la PM Dawn), or the round spectacles worn by both of them.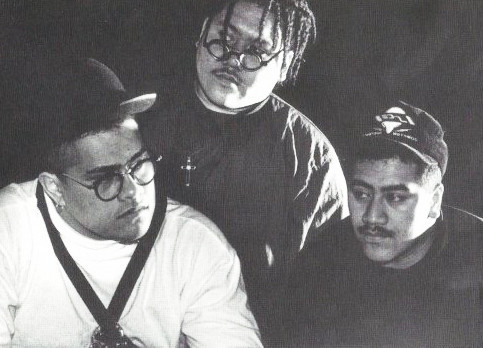 Women's wear in hip hop was more varied, but could be equally bulky at times. Teremoana Rapley also looks to be wearing her hair in multiple topknots, inspired perhaps by the bantu knots of Scary Spice (etc) or the similar hairdo often worn by Björk. The style is seen more clearly below in Teremoana's video for 'Four Women'.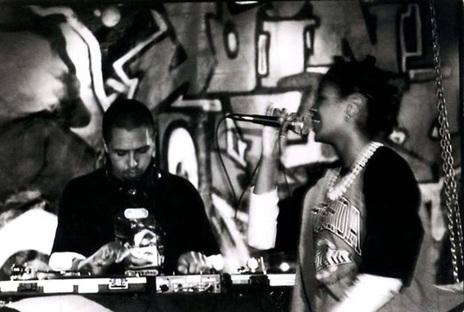 The above photo also brings us to the topic of layering. Suddenly musicians seemed to be convinced that it made perfect sense to wear long-sleeved shirts under short-sleeved shorts.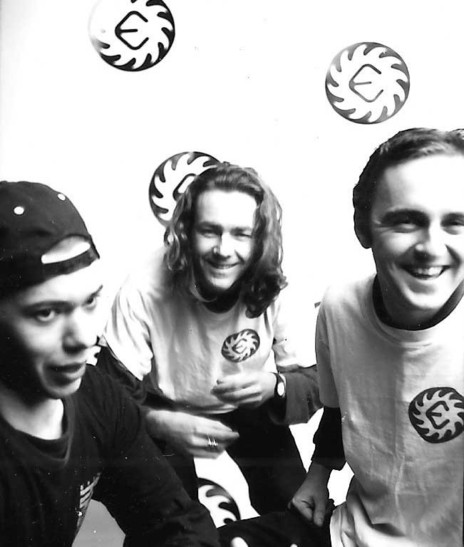 The impulse to layer up might've also explained the brief resurgence of dungarees. In the next photo, of the Headless Chickens, it may seem as if Fiona McDonald is just dressed to match the farm setting though her overalls were also very in vogue, as was her pixie haircut.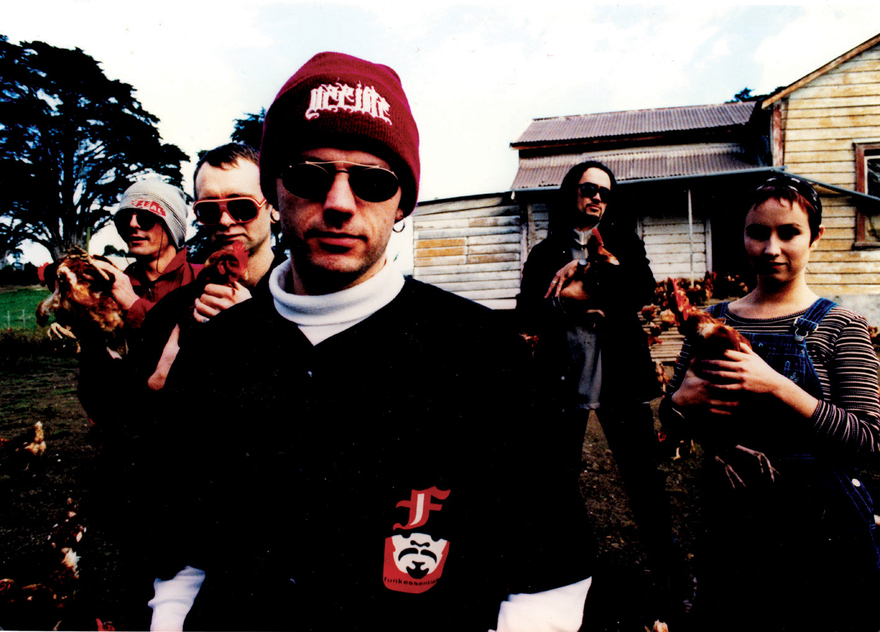 Frocks 'n' Docs
Doc Martens boots grew in popularity throughout the 80s, both in the UK and all points south. However they received another burst of popularity in the 90s when they began to break into the US market in a serious way. In Aotearoa, female musicians often paired them with an op-shop/comfortable skirts/dresses to create another distinctive look of the era: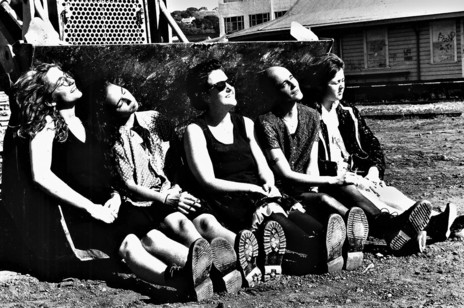 It often didn't matter if the boots were actually Doc Martens brand, and in this next photo we can see ankle-high boots in combination with two other popular clothing items – a retro velvet dress and a satin dress/skirt worn as outerwear.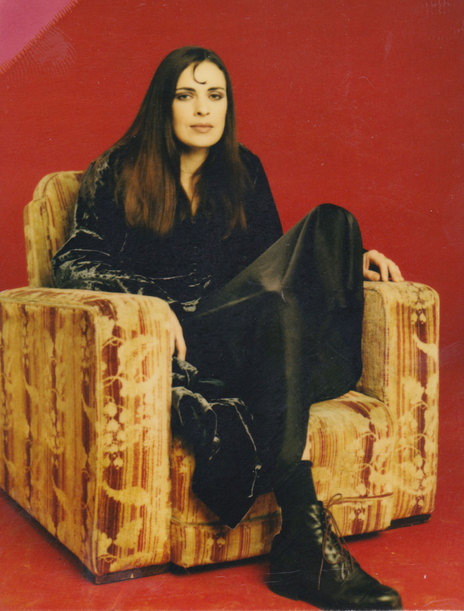 Another popular approach was wearing a dress or skirt over the top of trousers.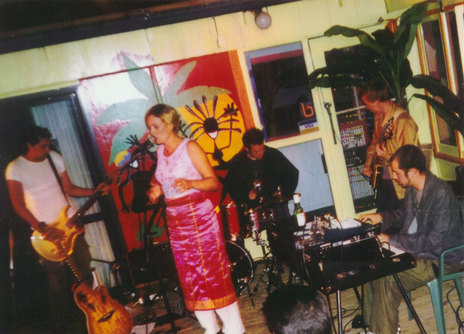 Accessories
The streetwear vibe of 90s style meant that accessorising was often a bit more subtle, especially down here in Aotearoa. Nonetheless we can find a few styles coming through. For example, in hip hop the latest thing was big hoop earrings.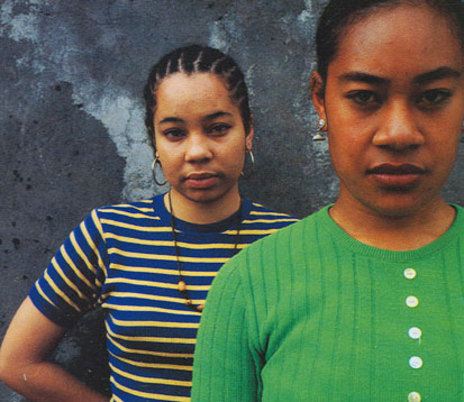 Bucket hats were already an indie/hip hop staple, but the company Kangol made them even more popular in the 90s and also helped push other oversized styles of berets and flat hats. In this pic, Zane Lowe (front) wears a Kangol-brand shiny cap, while Rob Salmon (right) wears one of the other oversized hats typical of the era.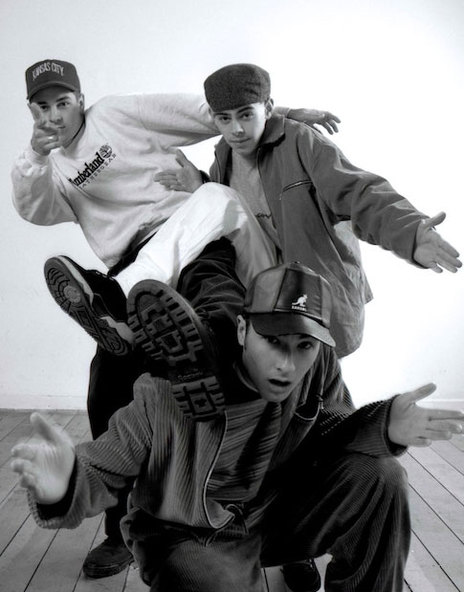 A trend that came and went more quickly was the sudden popularity of chokers.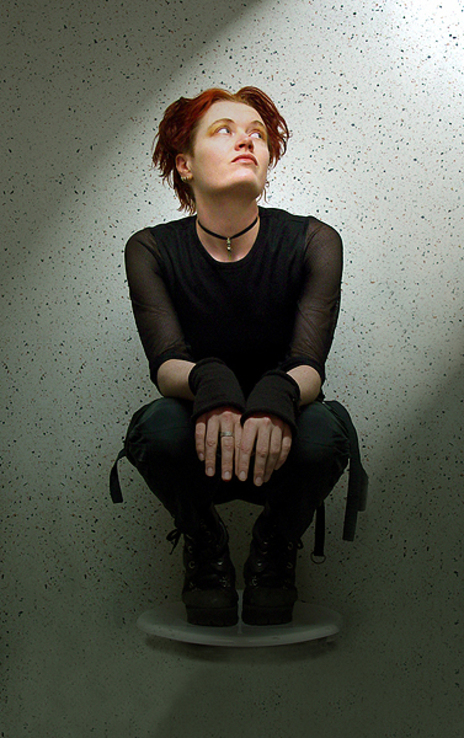 Bic Runga wore an even more unique style of choker to the NZ Music Awards. Armband jewellery was also popular, though once again her particular piece is unusual in its intricacy.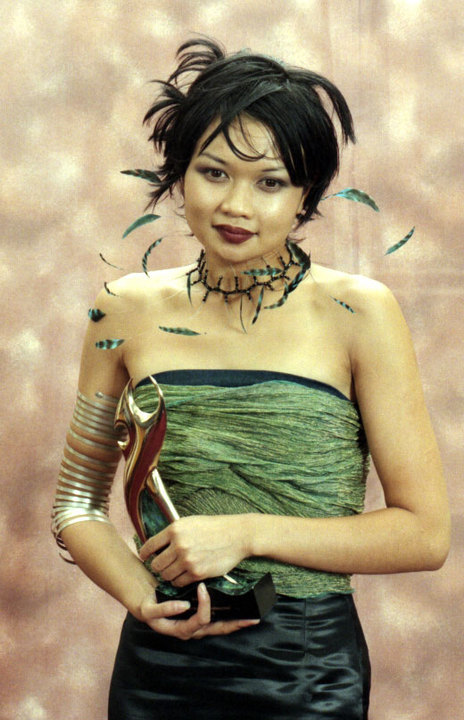 Many musicians also added to their look by having facial piercings – whether eyebrows, lips, or noses. In the music video below, the bassist of Zed has one just below his upper lip, while the female actor has one in her nose. The haircuts are also notable – such as the peroxide hair of the singer and dreads-with-beads look of the female lead – and we'll get further into this topic next.
Haircuts
80s haircuts were more outrageous than those in the 90s – in fact, we already have a whole piece on the former. Nonetheless there are still some standouts, especially when it came to how far musicians took the undercut look, often shaving the sides of their heads just short of creating mohawks.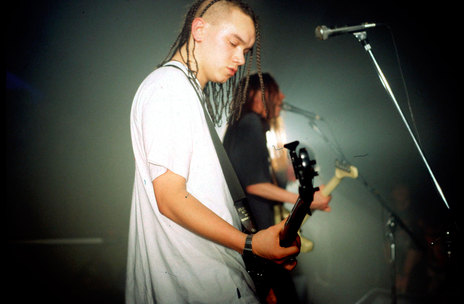 A more complicated piece of barbering can be seen in the haircut top right in this next photo: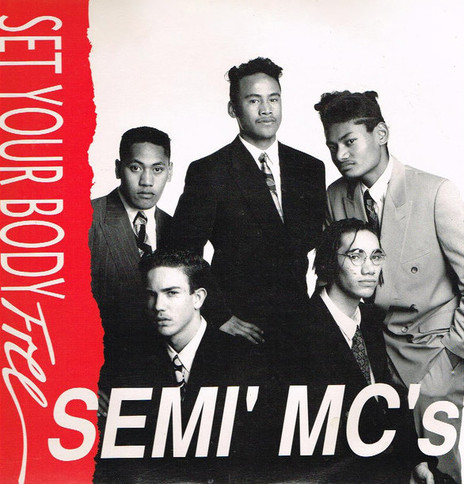 The use of shavers was also apparent on men's chins after the goatee beard became a popular look, both via the influence of grunge musicians (Chris Cornell, Eddie Vedder, and Kurt Cobain) and rappers (Method Man, Snoop Dogg etc).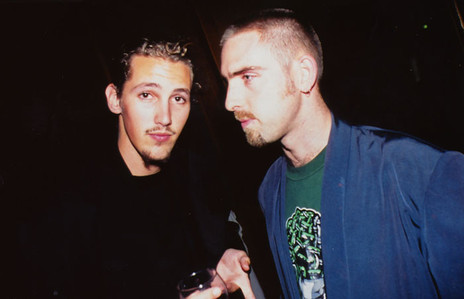 As the 90s continued, the haircuts became short and spiky, even for female musicians. Also on show in the photo below are a bunch of other 90s staples: baggy sports pants, a midriff top, a backwards baseball cap, and wristbands/armbands galore.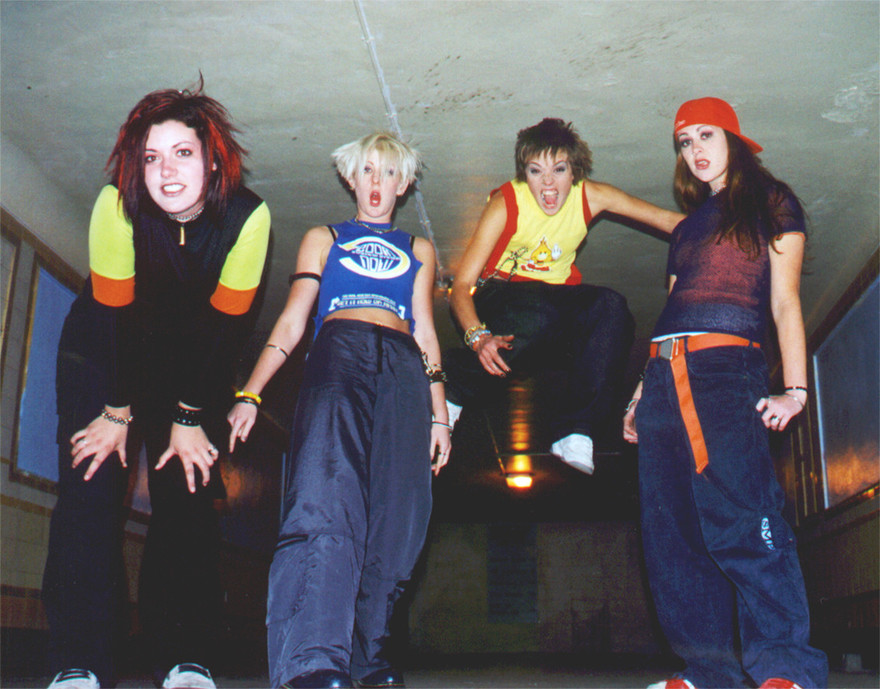 Not only was dyed hair and spiky hair becoming more bold, you also got the odd person who went "full 90s" with just the peaks of their hair dyed into "frosted tips" as worn by drummer Andrew Maclaren (front) in this next photo of Stellar*. Boh also looks very of-the-time in a crop top with a piercing in her belly button.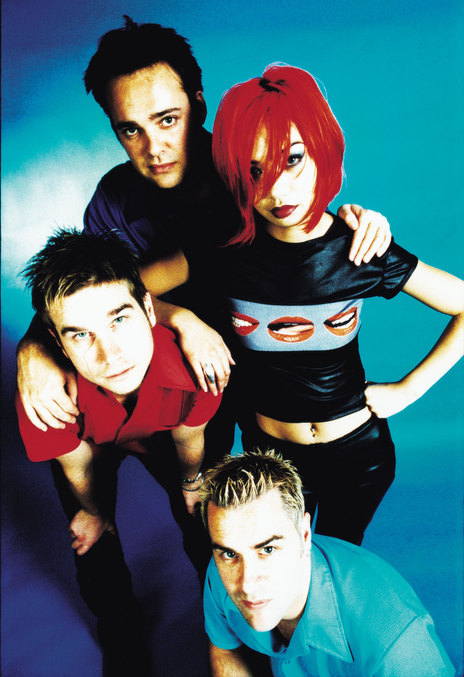 The Tip of the Iceberg
Of course, we've just covered a few of the trends here today. There were plenty more labels that could be mentioned (Starter, Champion, Dickies, Carhartt, Bug Jeans) and styles that could be referenced (bodysuits with high-waisted jeans, bike-shorts, giant platform sneakers, big plastic jewellery). And there's the whole Cyberdog-inspired rave-wear that crept into the dance scene, with its ultra-shiny colourful pants and shirts.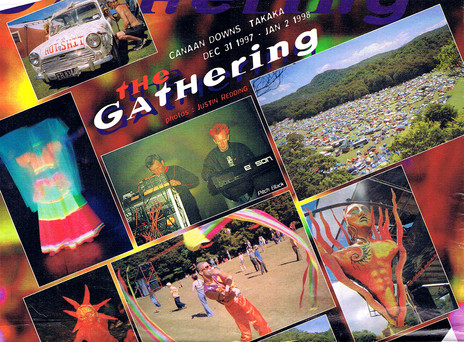 To finish, let's play some 90s style bingo. Watch the 1993 video of 'No Flint No Flame' by Urban Disturbance below and tick off the following:
Checked shirts
Layering
Backwards flat cap
Extra large shorts
Baggy jeans
Hoop earrings
Challenge two is to watch 'Cold' by Deep Obsession (1999) and pick out:
Hoop earrings
Crop top
Choker
Shiny cyberdog-esque pants and shirts
Bonus points; metallic blue eyeshadow!
--