Why did you switch from guitar to bass in Street of Flowers and The Newtones?
The bass was always my favourite instrument, but Scott was loads better than me at playing it, so I got the guitar job by default. Street of Flowers was a chance to play bass away from The Vauxhalls. The Newtones was a hangover from that. I just kept my job as the bassist and singer, and Tony had to learn the guitar.
Why did you form a group with Tony Peake, a self confessed "non-musician"?
I had known Tony for a long time when the Street of Flowers was being formed and I knew a drummer named Brent Johnson. I suggested Brent to Tony who had recently quit pub punk cover band, The Aliens, to go out on his own. Tony recruited John Perrone as guitarist and I volunteered my services as bass player.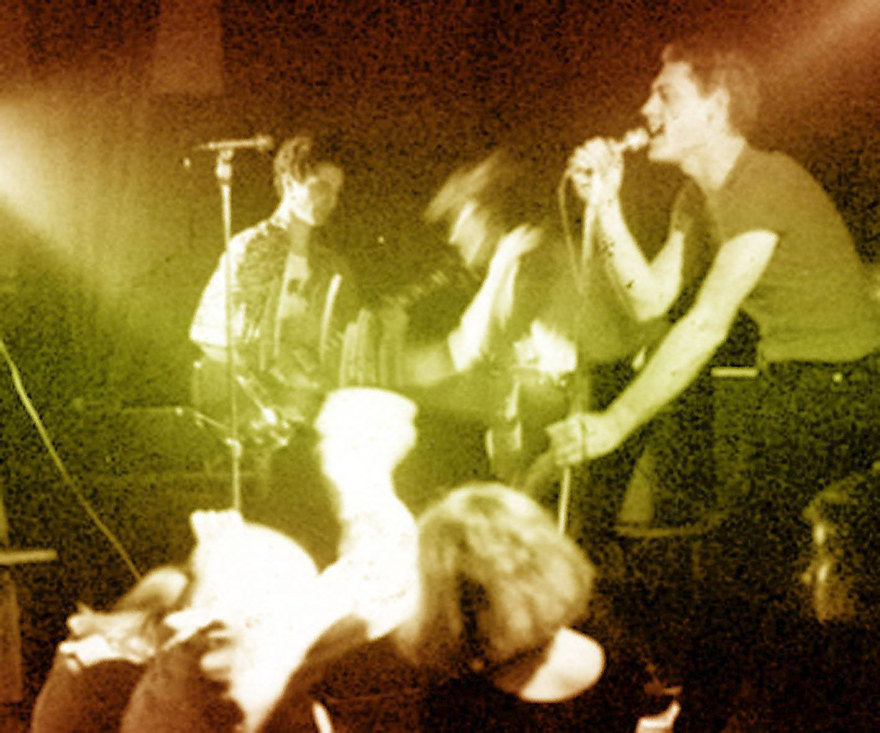 Tony wasn't that great at the guitar, but he was an amazing focal point for the band. He sang really well and had this unexplainable charisma. He was called the "Doyen of Christchurch Punk Rock" once in an article by Rob White. He was always surrounded by his followers.
Street of Flowers just petered out after a while. I was playing in The Vauxhalls all the time and Brent got really sick with glandular fever. Tony phoned me up one day and said he was forming a new group called The Planes and did I want to play bass?
I rehearsed with them in Tony's lounge for a few weeks. Graeme Van Der Colk was the drummer and he was incredible. He was a few years younger than us and played with so much energy he would finish a typical rehearsal surrounded by wood chips from his frayed drum sticks.
The Planes didn't really gel as a group, but one night Tony and I saw The Features supported by Wellington's Steroids at the Hillsborough and it suddenly occurred to me that we didn't need a strong guitar-based sound. Tony had heaps of great ideas and Graeme was a fantastic drummer. We had the building blocks of a great group! I always maintain that musical ability is irrelevant as long as the musicians gel together. That, to me, is far more constructive than a bunch of blokes seeing how many notes they can play to the bar.
Our first rehearsals at Tony's house in Queens Ave were really exciting and very loud. Almost immediately we came up with The Newtones theme (an instrumental) that we always started our early shows with. Things happened very quickly for The Newtones as there was a lot of attention focused on us, probably because of who we were and what we had done previously.
Tony introduced us to Fred Kramer, who was an exceptional soundman and into Cabaret Voltaire and Throbbing Gristle. He would add treatments to our guitars and voices, and play treated tapes through the mix as part of the music.
Fred was the fourth Newtone. He played the mixing desk. We played support to The Swingers at the Hillsborough tavern, a few weeks after we formed. The week after that (August 1980) we were supporting XTC at the Town Hall. It all happened very fast.
Can you describe a night playing at The Gladstone, a regular Newtones haunt?
We usually drew a big crowd and would always have an interesting support band. One week we had our artists in residence, Robin (Neate) and Brian (Macmillan) put a mad film together, with two simultaneous screens showing stuff like car crash tests while the other film had a Black and White Minstrels thing on it.
Two nice ladies called Laura and Rose were booking the pub and we were being managed very professionally by Christine Neate, who got us really good money for the time.
We would all go over to Laura and Rose's house every six months and work out which weekends we wanted. It was so easy compared to our struggles with The Vauxhalls in the Seventies.
After Martin Archbold joined we evolved into a much looser funkier band. We would rehearse a new song at Tony's and go over it maybe twice. Then we would try it out in front of the Gladstone crowd with little regard for form, and just follow whoever did something interesting.
We were always experimenting and most of our set was highly improvised. We could play the same songs a different way every night. Our sound guy Fred Kramer was still adding his tapes to the mix, but we had a more straightforward sound than our psychedelic beginnings.
We played our set of originals, and usually included covers of Dylan's 'Ballad of a Thin Man', Sonny and Cher's 'The Beat Goes On', Alternative TV's 'Splitting in Two' and The Classic IV's 'Spooky'.
The crowd was made up of all sorts of people including Tony's followers from the Bookshop, the curious, lots of students from our University gigs and friends from other local bands.
We also had the advantage of student radio, which was very supportive of local groups and regularly playlisted our singles. Loads of people listened to the University radio as the commercial stations just totally missed the boat. Radio U would hype up our shows at the Gladstone and the varsity, so we usually played to a pretty full house.
Who was influencing you musically in The Newtones?
The band was a very eclectic meeting of the minds. Tony and I wrote songs at completely different ends of the musical universe. Tony loved reggae and lots of obscure things like Ralph Records signing Yello. He introduced me to stuff I may never have come across. His job at the University Bookshop record counter was an essential ingredient in the band's make up.
We both liked (early) Public Image and The Cure a lot. Fred Kramer was Mr Industrial, always dressing in black, and Graeme liked Motorhead and Wire amongst other things. Just before Graeme left Tony and I were heavily getting into UK funk stuff like The Gang of Four, The Pop Group, and The Au Pairs. That Rough Trade Records sound. We were also into the psychedelic funk of Norman Whitfield like The Temptations' Cloud Nine and Masterpiece LPs.
When Martin Archbold (The Vauxhalls drummer) joined the band we were suddenly able to play this sort of music, or rather, our version of it as Martin could pick up beats in a couple of listens.
What can you remember of The Newtones' week at the Shoreline in Dunedin in November 1980?
I think this was the only time The Newtones played outside Christchurch. We played two nights to an almost empty bar and for some reason packed them in on the last night. I think it was a big student crowd who had heard about the gig through word of mouth. The pub management made us play a matinee show on Saturday afternoon and only one guy turned up! The guy who ran the motel where we were staying tried to cheer us up by telling us the Shoreline hadn't had a good crowd since Mother Goose played there in the Seventies.
What are your thoughts on the first Newtones EP, 'My World'/ 'Incidentally Dreaming' and the two compilation tracks 'New Way' and 'All Around The World'?
The Christchurch music scene really started to come into its own in the 1980s, mainly due to the efforts of Arnie Van Bussell and his home-made recording studio. Before that we recorded 'New Way' and 'Drive You to Tears' in an afternoon at Robbins Recording Studios for inclusion on Propeller Records' Class of '81 LP.
Graeme Van der Colk (our drummer) completely got the shits with all the overdubs and hung out by the van, while Tony threw in whispers and white noise over the bass riff of 'New Way'. 'Tears' was an uptempo pop song and quite straight forward in comparison. This song wasn't ever released, but we mimed both the songs for TVNZ show Shazam!.
The first EP happened really fast. We went in Arnold's studio and quickly achieved what we wanted, even though it was only an 8-track studio. We recorded four songs, and had lots of fun even though it was our first experience with overdubbing, and putting down the vocals was kind of embarrassing when all other instrumental tracks are switched off, and the rest of the band are laughing hysterically at you from the control room.
We mixed the songs down with help from Mr. Van Bussell and Fred Kramer, but Tony sneaked back to Arnold's later, and remixed 'Paint the Town Red'. Graeme was furious as he felt his drums were now too far back in the mix. I remember spending a few hours calming him down before we played a gig at the Teacher's Training College.
'Santa Anna' was an instrumental I wrote at rehearsal. 'Christchurch Part 2' was one of Tony's best songs, but was lyrically cut down by Graeme and I as it was just too long. 'China' was a throw back to the Street of Flowers days, a tough and spiky punk song.
The single charted and we were invited down to Dunedin to make a video for 'Paint the Town Red,' which was all scripted out when we got there. It was absolutely pointless as it had nothing to do with the lyric in the song. Tony had to climb out of a rubbish tip in one scene dressed as a tramp!
Robin Neate who did all the band's artwork produced a pretty cool cover which was a piss take of the "White Album" cover, and we issued it in seven different colour sleeves. Our second single 'My World' was my attempt to follow Phil Spector's pattern for the ultimate pop 45. I worked out the timings for the intro and the old verse chorus verse chorus thing. I thought it came out bloody well, especially Tony's guitar break, which was recorded on Arnie Van Bussell's twelve string double neck guitar. Arnie also did the backing vocal. The bass sound was a bit wobbly due to over flanging. I still like this song a lot.
Graeme quit after we finished the A side and the 'Incidentally Dreaming' side was recorded live one Saturday morning by Tony and I. Tony added the backwards guitar overdub later. The single's release was delayed and the record was lost in the Christmas release schedule. Later we tried to get funding from the Arts Council to put a film and mini album project together, but were knocked back.
Do copies of the My World and Incidentally Dreaming films still exist?
Robin Neate and Brian Macmillan filmed these clips on Super 8 cameras and I only saw them once. I don't think they ever got shown on TV. They were quite psychedelic with super bright colours and very trippy imagery. We climbed in trees in the Botanic Gardens, and Tony drew a huge heart on the beach in one scene.