Matthew Goody's 2022 book Needles and Plastic is a history of Flying Nun Records told through its record releases from 1981-1988. This excerpt covers the background and reaction to Look Blue Go Purple's 1985 EP Bewitched (LBGP 001)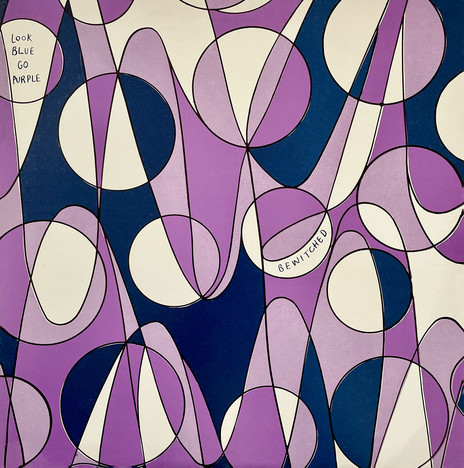 Adulation of the Velvet Underground was so deeply ingrained in the DNA of the Dunedin scene that it even played a hand in bringing some groups together, like Look Blue Go Purple. LBGP started to come together in 1982 when Kathy Griffin – soon to be Kathy Bull, and now known as Francisca Griffin – returned to New Zealand after two years in Calgary, Canada. (Griffin was born in Canada, and grew up there, but spent her high-school years living in Dunedin before returning to Canada for two years.)
In February 1983 they debuted as Look Blue Go Purple.
Back in Dunedin, Griffin met her future husband Martyn Bull and formed The Permanent Tourists with Martyn and Norma O'Malley. One of their first gigs was at a small, seedy club called The Pitz, alongside The Neanics, which featured Lesley Paris, Denise Roughan, Rachel Phillipps (Martin's sister), and Jane Dodd. Roughan and Paris watched The Permanent Tourists open the show and were surprised to hear that the Velvets' 'After Hours' was part of their set, a song The Neanics planned to also play. While a bit miffed at getting part of their set hijacked, Roughan and Paris quickly struck up a friendship with Griffin and O'Malley, and discussed playing together. O'Malley recruited fellow university student Kath Webster to play guitar, and in February 1983, they debuted as Look Blue Go Purple.
The name came out of brainstorming sessions instigated by Griffin. After spending time in Calgary's violent punk scene, she wanted her new group to be grounded in positivity. She dived into a thesaurus looking for inspiration, reading ideas to her bandmates. When she read out some antonyms for positivity, including "look blue", then "go purple", the other four jumped on the phrase and Look Blue Go Purple was born.
Fluidity and amateurish experimentation defined everything about Look Blue Go Purple's early days. Everything from their name to defined roles in the band was in flux. A feature in the Otago Daily Times on 27 April 1983 was headlined "Experimental, All Girl Band". It called them a band with "an experimental outlook", where they appeared under some memorable dole-avoiding pseudonyms: Maxine Berlin (O'Malley), Virginia Stirling (Bull), Lime Slyme (Webster), Polly Montgomery (Roughan), and Zena Neanic (Paris).
O'Malley told the paper that there were no set instrument or vocal assignments. "We can all do two or three different things," she said. "It's very democratic, there's no leader." Over a brief period in the winter of 83, LBGP changed their name to the Tunnel Wives, inspired by a post-apocalyptic dream of Griffin's.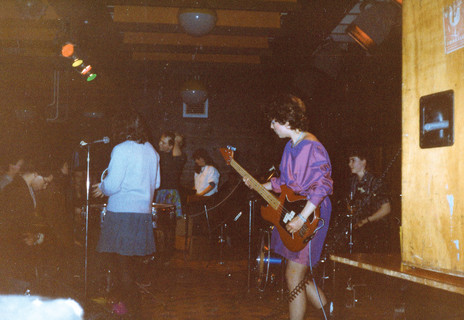 Little of this early, messy version of LBGP was ever documented. Only recordings of 'I've Been to Ena's' and 'Labour Pains' from a mid-August 83 Christchurch show appeared on the Every Secret Thing compilation Songs From The Lowland. But through 1984 and into 85, with time in the practice room and regular gigs, LBGP's sound settled (along with the instrument duties), and they started turning out some concise, melodic pop songs. Although certainly influenced by 60s touchstones like their Dunedin contemporaries, and UK post-punk like the Raincoats, LBGP's harmonised vocals (from Roughan, Webster and O'Malley) blended with hypnotic keyboard, drums, guitars and frequently flute, to produce an often other-worldly feel that stood apart. Critics heard the improvements, too. When the band swung through Christchurch in 85, Tony Green wrote in The Press that "LBGP were fairly scratchy early in their career, but they are now a very tight, entertaining pop band, with a lyrical slant well worth a listen" ("A Long Flying Nun Week-end", 4 April 1985). In Rip It Up Russell Brown voiced a similar opinion: "Sidestepping, swerving round and occasionally falling flat on their faces over technical hitches, they played another set of bewilderingly varied, spirited and idiosyncratic songs. Five women you should bloody well listen to" ("Collection, Consideration, Confusion", March 1985).
The topic of being five women in a Dunedin band was inescapable.
And from the outset, the topic of being five women in a Dunedin band was inescapable. Whether it was nudges about politics, feminism or just the fact of being women, comments and questions came from the press without fail. A Rip It Up review of their sloppy appearance at the Punakaiki Valley Festival in April 83 set the early tone: "Five girls played silly, disjointed pop" (Michael Woodnorth, April 1983). A June 1984 write-up in Critic called them "annoyingly coy at first … [though] their femininity itself means they occupy an original niche". With every Flying Nun band up against complaints about supposed unprofessionalism, Look Blue Go Purple had to undergo further scrutiny as female musicians with a supposed underlying agenda. "There are no heavy messages," Kathy Bull emphasised to Alastair Agnew in the ODT. "We're not like the Gurlz and we're not like the Freudian Slips" ("Purple Patch for Look Blue", 20 February 1985). A feature on the band in the Listener by Fiona Rae – printed in conjunction with the release of the first EP – even included the cringe-worthy headline, not written by Rae, "Women Make Music Too" (28 September 1985). Yet no one in the band ever got their back up about the implied bias in many of the questions. They preferred to emphasise that they were part of Dunedin's music community.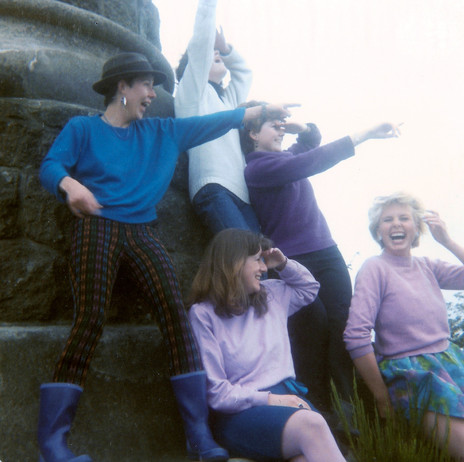 Serious consideration from labels was also a problem in the band's early days. Roger Shepherd was friendly with the band, but LBGP felt Flying Nun did not take them seriously even as they built a solid collection of songs. Yet by the start of 1985, Shepherd was eventually won over, and he agreed to release an EP, which then allowed LGBP to apply for a $750 QEII Arts Council grant to fund studio time.
In February 85, Flying Nun placed LBGP on a national university orientation tour alongside The Chills, The Verlaines, The Bats and Able Tasmans. Despite not even having a record to promote, Look Blue Go Purple was the only group to play every date of the tour. Sandwiched in among the university shows were two days to record in Auckland at the start of March. While most Nun bands recorded at an Auckland studio like The Lab or Progressive, LBGP's inaugural session was done in an empty office space using The Lab's equipment, on loan from Bill Lattimer. "We were very relaxed. Most of it is first takes," Kathy Bull told Richard Langston, founder of Garage. "It was two days of long hours but because we are such good friends we knew how far we could push each other and that helped." (Garage 3, 1985)
With tourmate Terry Moore behind the dials, the band cut four tracks in total. Fast-paced opener 'Safety In Crosswords' built around Norma O'Malley's keyboard line and offered up a clever look at miscommunication between lovers. "It's about doing crosswords being more fun than having a love affair," Kath Webster told Fiona Rae. "It's light-hearted, but not really!" Following it was 'Circumspect Penelope', a song that reflected Webster's university studies in classics. "It's the story of Odysseus and Penelope," she continued. "She was expected to wait for Odysseus for 20 years and she wove all that time, saying she'd never marry while her weaving was unfinished. She undid it at night though." On the flip side were 'Vain Hopes' and closer 'As Does The Sun', tunes that paired O'Malley's flute with skilled vocal harmonies and jangly guitars to create a ghostly vibe. Titled Bewitched, the whole thing was wrapped up in two nights for just $1000.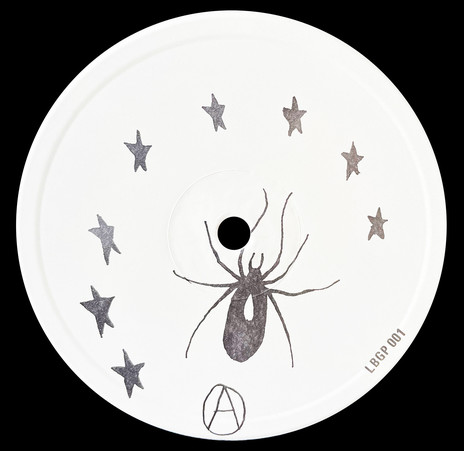 Back in Dunedin months later, LBGP hosted a masked party at The Oriental on 30 May alongside The Puddle and The Weeds. Australian photographer Pat O'Neill (who had worked with INXS and Midnight Oil) filmed their performance for the 'Circumspect Penelope' video, which interspersed the live footage with shots of the band driving down the coastline. It aired on Radio With Pictures months later, just before the release of Bewitched. Despite Norma O'Malley moving to Wellington in June, the band still managed to book brief tours and keep up appearances through the winter before the EP's release in September 85.
When it came time to whip up a cover, the Doublehappys' John Collie stepped in to help reproduce a bright purple pattern taken from a dress of Denise Roughan's. The back cover featured hand-drawn liner notes and lyrics that had to be subsequently amended with an amusing insert. A single-sided comic was added to tell the story of how the track order was decided, which evidently involved Terry Moore misplacing the band's instructions on his way to Wellington to supervise the cutting at the pressing plant. Comics, screwed-up track lists, it fit perfectly with a Flying Nun release.
Flying Nun released Bewitched in September 1985. For a debut EP by a band only just making a name for itself outside of Dunedin, it did quite well. After debuting at No.30 on the singles chart at the start of the month, the EP climbed to No.21 the following week. With only 750 copies pressed, supply was tapped out in about 10 days. It was a considerable time before Flying Nun arranged a repress and in the meantime, Bewitched slid down the charts. Look Blue Go Purple were miffed, believing Flying Nun had underestimated their appeal.
A chance at the top 10 had probably been missed, but Bewitched still won over critics and fans alike. In Garage 4, Alastair Agnew was caught in its spell: "[Bewitched] drifts, wafts and gently ensnares without having to hand its heart on its sleeve. There is more spell-weaving and mystery in many a touch of the guitar, hum of the keyboards or whirl of the flute on this EP than many a would-be bewitcher could manage on 12 tracks of post-concept album nonsense."
Richard Langston was even more effusive in the ODT in July 1985, declaring LBGP to be on the brink of being the next big thing out of Dunedin: "[Bewitched] has the snap, the sass and the playing that underlines the fact that this band has a BIG FUTURE. They are set up to Chill-ify the country. Indeed, you can take it as page 89 of the Dunedin music gospel that the band has the content and style to score success in similar audience areas as The Chills."
The next Chills was probably overly ambitious for a band with one record to their name. The quality of the EP certainly put them in line for consideration as the next marketable Dunedin act, but neither the band nor Flying Nun seemed focused on going down that road. Everyone in LBGP had either day jobs or university commitments. Nevertheless, with Bewitched Look Blue Go Purple had shown they were far from five "silly girls". They were very much a part of the best sounds coming out of Dunedin. Even prominent American magazine Spin thought so. In a glowing review in its October 1986 issue, writer Andrea 'Enthal called Bewitched "shimmeringly angelic and couched in folk, loaded with melody and harmony and all those other sweet and familiar aspects that make pop-infused rock an ear magnet."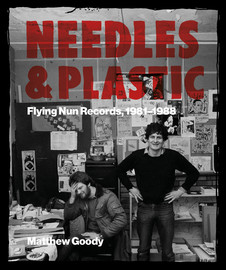 An excerpt from Needles and Plastic: Flying Nun Records, 1981–1988, by Matthew Goody, Auckland University Press, released 10 November 2022. Published with permission of AUP. All images are from Needles and Plastic.