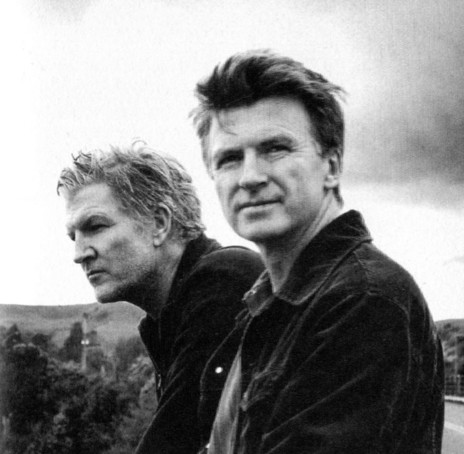 AUCKLAND, August 2004 – What is it about the Finns and the Masons? The last time the Listener featured the brothers on the cover, they were performing at a favourite venue: a Masonic hall in Melbourne. Now, they have bought one as their nerve centre in Auckland. Finn World Headquarters is situated in Newton, a neglected area of the inner-city, halfway between Neil and Tim Finn's homes. Drive to one and you pass by the university café where Split Enz had its first gig; drive to the other and you are near Mt Pleasant Rd, name-checked in 'Weather With You', the most famous song the brothers have written together.
The three-storey concrete building has been painted Kelly green and is perfect for making mischief. Up the sweeping, granite stairs a grand piano sits in the ballroom, Dave Dobbyn doodles in his own studio and Mike Chunn plots the musical nourishment of the nation's youth. The porn shop on the site has vanished, and in its place is Sharondelier, the magical chandelier workshop of Neil's wife, Sharon.
Just prior to the brothers' departure on a six-week tour of the United States, Finn HQ is buzzing. Sharon Finn is twisting gold wire for her baroque creations while Neil's PA is shuffling passports, photos and application forms for working visas in the US. Beneath cathedral windows, the brothers give an audience to the press. The conversation is a typical mix of subtle salesmanship and good humour. Dozens of interviews will follow around the world, as the brothers cheerfully embark on what Neil once called "the descent into hell": a promotional tour.
Neil once remarked to me that New Zealand's music writers were a hardy crew: the same names appear with each new album. But if he experiences déjà vu when talking up the new Finn brothers' album, then certain music writers may feel they have covered this particular story before.
It isn't that the album Everyone Is Here is a follow-up to Finn, which the brothers recorded 10 years ago. Finn was made quickly and cheaply, almost as a hobby. It wasn't a big seller, but wasn't expected to be. Some of the songs still don't feel finished – a Neil Finn song that rhymes "tune" with "June" is one in which the melody has received more attention – but that is part of its charm. An entertaining frolic, Finn became a cult favourite, particularly among musicians. With its lo-fi sound and unfussy songs, it was the musical equivalent of organic fruit: misshapen but tasty.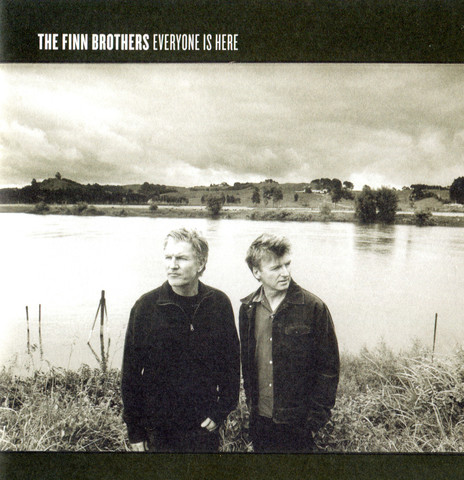 No, Everyone Is Here induces flashbacks of Crowded House's Woodface, the biggest album of the Finns' career. Not in its sound, but in its gestation. Woodface had a tortuous birth: it was recorded in five studios and two countries. Crowded House's bass player was temporarily sacked and, by the time the two-year recording saga was over, the band had recruited another member: Tim Finn.
At the time, cynics perceived that Tim needed a gig, and Neil was returning the favour he had received as a teenager in 1977 when he was offered a spot in Split Enz. The reality was that Tim helped his younger brother through a creative crisis. Neil had songwriter's block for Crowded House, just after some after-hours writing sessions with Tim had been remarkably fertile. Among the many songs that appeared were 'Weather With You', 'It's Only Natural' and 'Four Seasons in One Day'. The solution to the band's dilemma – Crowded House got the songs and Tim came with them – worked on disc if not on stage.
Everyone Is Here had similar labour pains. It was recorded twice, once in upstate New York with famed David Bowie producer Tony Visconti, then again six months later in Los Angeles with Crowded House stalwart Mitchell Froom (the man who gave 'Don't Dream It's Over' its whiter-shade-of-pale organ solo).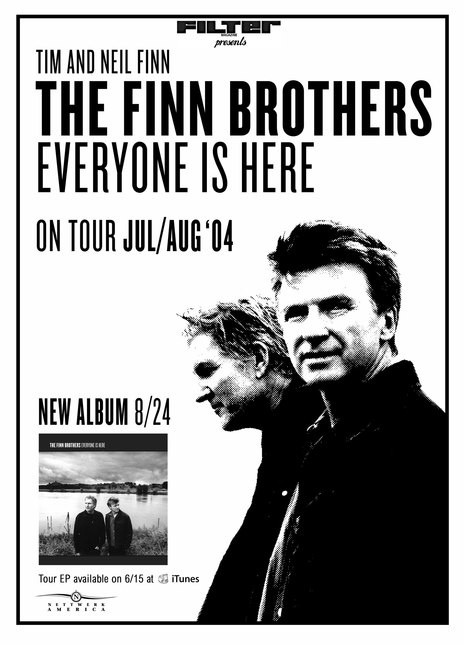 In May last year, the Finns treated their dedicated fans to an in-concert unveiling of their new songs. In this small town of a country, where the brothers seem like part of an extended family, it is often not realised how large their hardcore fan-base is. Since being launched 24 years ago as Frenz of the Enz, their fan club now has a paid-up international membership of 14,000. When the Finns perform, it's not unusual for fans to fly from the US to attend and do the Finn Karaoke.
Over four nights, the brothers rehearsed in public which songs worked and which didn't. The concerts were for fan club members only, in Tabac, the tiny Auckland cocktail bar that Neil and Sharon have ended up owning, almost by accident. Neil put my name on the door, with a request: please don't describe the songs on the Internet. Without the usual record business hangers-on to chatter over the music, it was an intense experience being sardined with 200 earnest fans all trying to digest and memorise 90 minutes of new music.
The songs were artier than the acoustic strumalongs that are part of our national soundscape. But two more typical songs stood out, both poignant reflections on the brothers' relationship. "Disembodied Voices" went back to their early home in Teasdale St, Te Awamutu: "Talking with my brother when the lights went out, down the hallway 40 years ago/ What became much harder was so easy. Opening up and letting go …"
And 'A Life Between Us' also evoked a Waikato boyhood: "In so many ways, I'm the same as you. So many things are left unsaid … and we stare at each other/ like the banks of a river. And we can't get any closer."
By definition, nostalgia suggests sentimentality – and homesickness – and it's usually a barrier to moving forward. But like the Everlys, the Bee Gees, the Louvin brothers and countless sibling acts before them, Tim and Neil Finn will always be drawn together to test the chemical reaction of their harmonies.
On stage with them was a rhythm section of two New Zealand friends and musical veterans. Before he joined Midnight Oil, Bones Hillman had been a contender to become Crowded House's bass player. And since The Mutton Birds split, Ross Burge has been drumming for Tim Finn, among others.
It was a quartet with character, so all boded well when they ventured last July to upstate New York to record the album. Tony Visconti, producer of David Bowie's Heroes and the more recent Reality, seemed an apt choice: Bowie had been a favourite of Neil in his teens. Visconti was enthused, and said so on his website after viewing a run-through of the songs in a private webcast between the Finns' Auckland studio and Visconti in New York: "There was never a question of not recording them, the Finns' reputation is sterling for excellent songwriting and creamy vocals, so this 'audition' was a token formality, icing on the cake."
With their families, the musicians lived on-site while recording up in the mountains at the Allaire studios. Three weeks of recording turned into four, "because it was going so well", and new songs kept coming. More sessions followed, including some in London with Visconti to add some lush string arrangements and mix the album. Last October, Visconti reported all that remained was for the 16 songs to be culled to 12, and he was happy to leave that decision to Neil and Tim.
An intended release date of February came and went, and it was a surprise to hear in April that the Visconti album had been scrapped and virtually completely re-recorded. Sessions stretched all the way into this year, most taking place in Los Angeles with a variety of well-known American musicians and the meticulous, idiosyncratic Mitchell Froom, who crafted Woodface into a sonic artwork.
So: what happened? Finding an answer is a reminder of what keen cricketers the Finns were as boys. You started off making the album in New York with Visconti … "Well, we did some work there," Neil blocks. Tim goes for a quick pair: "We cut quite a few things, but we didn't end up using much … So it was an ill-fated … no, not ill-fated because we did get something good out of it. But in terms of getting a whole album, it just didn't happen. It was a first step, really."
Neil smiles, and lowers his guard: "It was a great place to hang out and do demos."
Tim: "It didn't quite gel." Neil: "We got to the end of it and thought, we'd put so much work into it and it's sounding really good, but it's not quite right. We couldn't put our finger on it, but it was worthy of further investigation. And as we [continued working], we actually started kicking some goals and thinking, yeah, this is much better. So we cast our mind over all the songs again and came at them fresh."
Tim rises to the spin with flair: "If you don't feel that it's right, you should go on. Sometimes it's hard because there are budgetary considerations. Not everyone can just afford to go off and cut another record [Neil gives a wry laugh], but luckily we could, so we did! But it was markedly better, it wasn't just a wank, it was worth it."
Burge and Hillman are still in the pavilion – they are now recording with Dave Dobbyn – so I emailed Visconti. His reply arrived in moments:
Hi Chris
I really don't have much to say about working with the Finns. I made, what I believe to be, a really fine album with them. It was finished and mastered, all at great expense. The brothers loved it and sent emails stating their total approval. Then something strange happened.
They fired their rhythm section and re-recorded the entire album with another producer. I haven't heard the results yet and it comes as a complete surprise to me that you say my strings are on a song. So, really, I have nothing to add to this mystery.
All the best, Tony
The Visconti/Finn album can now join Mojo magazine's list of lost albums, alongside Dylan's original Blood on the Tracks and Brian Wilson's Smile. Most are better as myths than reality; Neil's son Liam made a blunt aside to Rip It Up about the brothers' album: "[It's] not to say the first version wasn't good, but the new version ****s all over the first."
After the Visconti sessions, the head of the Finns' English record company EMI had described the album as a potential Woodface II. Tony Wadsworth was one of the people responsible for making Woodface a massive hit in Britain after it had flopped in the US. A suave Northerner, he is a rarity in the contemporary music business, not just a survivor of many corporate purges but also an ex-musician. With Woodface, the lesson the English company learnt was not to give up: keep recording, spend a bit more and you might hit the jackpot.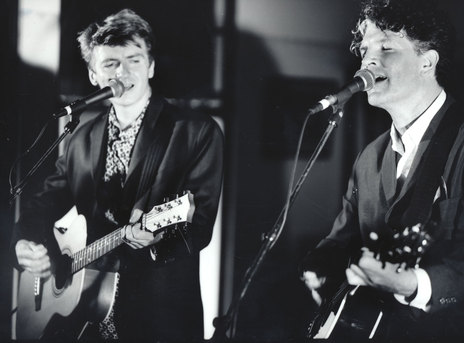 Neil describes EMI subsidiary Parlophone as "the most artist-friendly record company you can imagine, but they have their economic realities and so do I. I'm signed to them, and my last record didn't sell very well. It would be great for all of us if we had some success from it. But we don't want to be flippant or wilful about it – 'Hell, let's just put the record out!' It's good to be responsible about the way you're spending money. With this record we've probably spent more than we intended to. Like Tim says, we're lucky: we had a chance to go a bit further.
"Generally speaking, people who push that little bit further get there. It's the same in any endeavour, really. People are rewarded for doggedness and determination."
This earnestness is familiar; it epitomises his approach. (With characteristic Zen Buddhist turn-of-phrase Tim says, "'Leave no stone unturned' became the mantra of this album.") Many musicians affect an attitude that this is art, man, and actually wanting a hit is for the suits or someone crass. I have heard Neil reason that being hip is all very well, but surely a writer wants to reach as many people as possible. I recall him saying, "I've got nothing against pop music that wants to be popular."
"That was the original definition of it," he responds. "Now it means different things to different people." He lets Tim finish: "Sometimes people say, how do you describe your music? – and I always want to say 'pop music'. But it's a dirty word now to a lot of people."
The strength of Everyone Is Here is – surprise – in the songwriting. Try whistling this? There are more tunes that can be whistled than on any Finn album since Woodface. It doesn't have the production fairy dust of that album, as Froom has controlled his tendency to stamp his signature on his clients' music. Also conventional is the rhythm section that, putting parochialism aside, doesn't have the personality of the original combo of friends. But this may give it more mainstream appeal on AOR stations (ie, pop radio for adults).
'Disembodied Voices' is the album's classic: modest, moving, a true collaboration and the Finns at their most personal. 'Nothing Wrong With You' is pop at its purest – and its most traditional. Its uplifting spirit gathers momentum slowly and then just soars. Built, ironically, on a string arrangement by Visconti and the Finns, it is a reminder of the orchestrated, tuxedoed British pop that existed parallel to the Beatles (and featured on ZB rather than ZM). "It's a homage to that kind of record making," says Neil. Most of all, it recalls the Bee Gees before they discovered disco: when they warbled about going back to Massachusetts and starting a joke that had the whole world crying.
Tim beams. Some of his earliest public performances were at beachside talent quests in Mt Maunganui singing 'Spicks and Specks'. And in the large string section is his old friend Miles Golding, an original Split Enz member who left early to become a leading London classical violinist. The brothers start to reflect on the Bee Gees, masters of sibling harmony and never guilty of being hip. "They were a big part of our early musical development, the first few albums," says Neil. "But what happens when you get in a band is you become pretty snobby about things, and the mid-period Bee Gees would have been rejected. It's only now that I look back, even at Saturday Night Fever, and say these are outstanding songs. Full credit."
Some may remember that at the time of the Bee Gees' chest-hair disasters, the Enz looked like parrots. But mention of the Gibbs inspires Neil to get philosophical about pop: "As you get older, you appreciate what sounds simple or like a sell-out is actually highly skilled and quite emotional and really directly for the people. That's my feeling about music now. To take nothing away from people who are avant-garde, state of the art, or clever – [pop has to] connect with the people. If people can pick up a guitar and play my songs at parties then to me that is the ultimate compliment. It doesn't always happen, but that's what I'm always aiming for."
Neil has been living back in New Zealand for 10 years now, and Tim came home with his young family in 1998. Their return gave the music community a sense of validation that has since been confirmed by the current, genuine boom in local pop (recently there were 14 New Zealand albums in the Top 40). The Finns quickly became involved, continuing to think globally while acting locally. Goldenhorse, Emma Paki, Bic Runga and Bressa Creeting Cake are just a few who have benefited from the presence of New Zealand pop's elder statesmen; Tim has worked with playwright Toa Fraser and Back of the Y.
"There are two contrary things for me, though, being back in New Zealand," says Neil. "One is a desire to put my head down and not be noticed at all. That's part of the motivation of coming back, rather than to be part of the music industry. I can be in a different frame of mind here, and not constantly reminded of that career stuff. But on the other hand, you want to get involved in what's going on locally and contribute.
"But finding the right way to do it is hard, because this isn't a country that takes advice very easily if somebody appears to be coming in from overseas. Witness Sam Neill's good-intentioned piece in the Sunday paper and the vitriolic letters he copped later. New Zealand's a funny place. When I was going hard on the youth radio network idea – which I still believe would have been a very popular thing for youth culture – people were surprisingly resistant to the idea, and probably to the fact that I was pushing it. So it's a bit confusing, it can be good to keep your head down."
Meanwhile, the Finns are off overseas, singing songs from Everyone Is Here, talking the talk, meeting and greeting. Being accompanied by their families makes all the difference. Before they return for the New Zealand leg of the tour in mid-November, "We're going everywhere," says Tim. "Three times around the world between now and Christmas."
On stage, they shrug off their solemnity and concentrate on humour and harmonies. They share flickering home movies from the Te Awamutu days and tell stories with which many New Zealanders are already familiar: the adult parties at which the boys were dragged out to sing 'Jamaican Farewell', father Richard's favourite jazz records alternating with piano items from mother Mary and others, Sister Raymond teaching Tim how to play swing. Each show is like a woolshed singalong, and to this day Neil swears that's his idea of a great night out. "We made our own fun in Te Awamutu," he recently told US public radio. "On Friday nights we'd dress up and go and play on the nearest big town's sole escalator.
"It only went up."
--
The Finn brothers were filmed performing songs from Everyone is Here in concert at the Michael Fowler Centre, Wellington, on November 15 and 16, 2004.
This article first appeared in the NZ Listener in August 2004 as 'Band of Brothers', and is republished here with permission of the author.