Dragon's early days: a photo essay
By Murray Cammick
I first recall Dragon as one of the bands that played in the Albert Park band rotunda in the mid-1970s. Original rock music was a hard sell back in the day and Dragon worked hard to break through. They recorded two albums in New Zealand, Universal Radio (1974) and Scented Gardens For The Blind (1975), before crossing the Tasman where they recorded a series of popular hits with fellow expat, producer Peter Dawkins.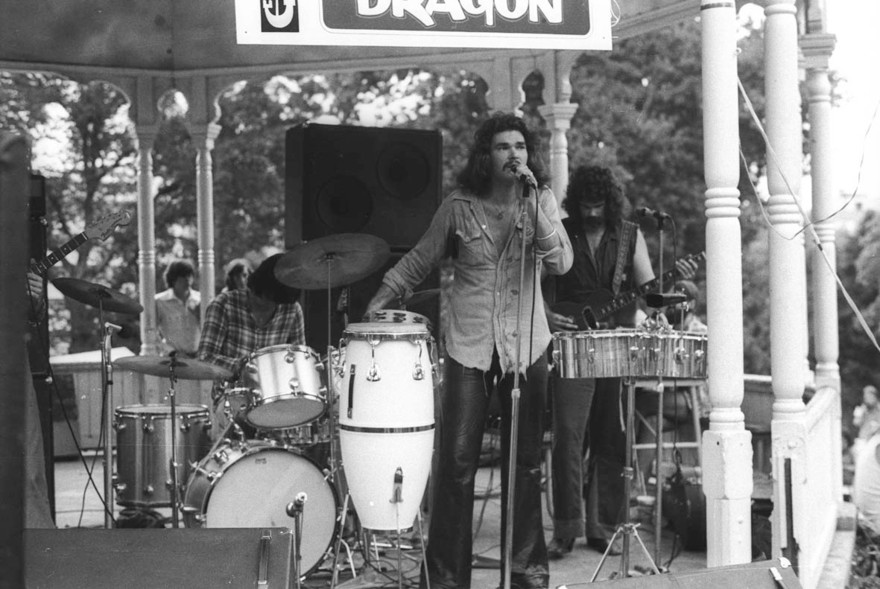 In 1974 Dragon's Marc Hunter approached Elam Art School's photography department about getting some photos done and I was suggested, but maybe I was a bit green at the time and I recall taking some uninspired photos against a desert style mural adjacent to a used car yard. I wasn't used again. I was living at home at the time, so Mum was my receptionist. She thought Todd Hunter was a very nice, polite young man. She was right.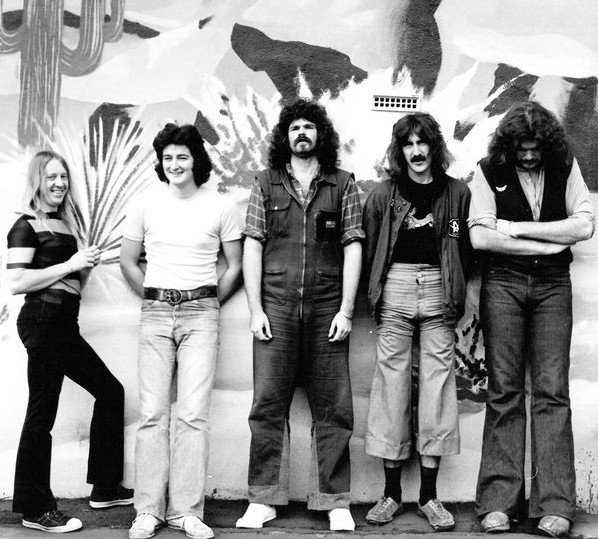 When I went to see Osibisa at the Auckland Town Hall in 1974, it was a bonus to get Dragon as the opening act. The ticket I had was in the choir seats behind the stage, an unusual vantage point. I enjoyed both bands but the music magazine of the day, Hot Licks, was not impressed with Dragon. In the July 1974 review, Graham Donlon wrote: "Local band, Dragon, had the unenviable task of opening the evening's entertainment. Sounding at times like Yes, Wishbone, J S Bach and even The Shadows they failed to generate much excitement with their over-complex music. A little too derivative perhaps? While talking to a friend in the interval I was asked by an acquaintance; 'What did ya think o' that heap of shit?' My sentiments exactly. Sorry boys!"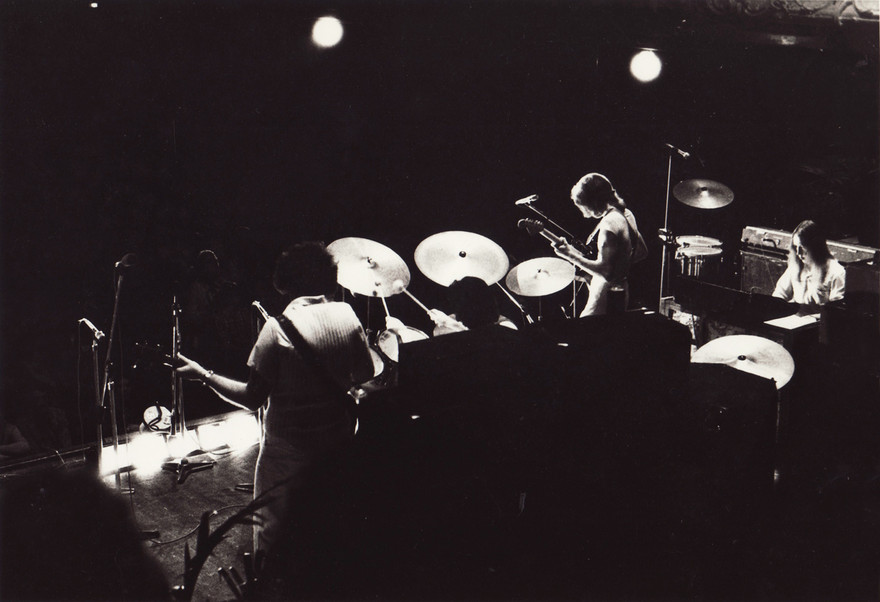 One of the stranger photos I took was a bedraggled looking Dragon doing a semi-acoustic show in the Auckland University Student Association's quad. Free lunchtime entertainment was common in the days of compulsory student union membership. In the background the Maidment Theatre (1976-2016) is being built, and now it has gone.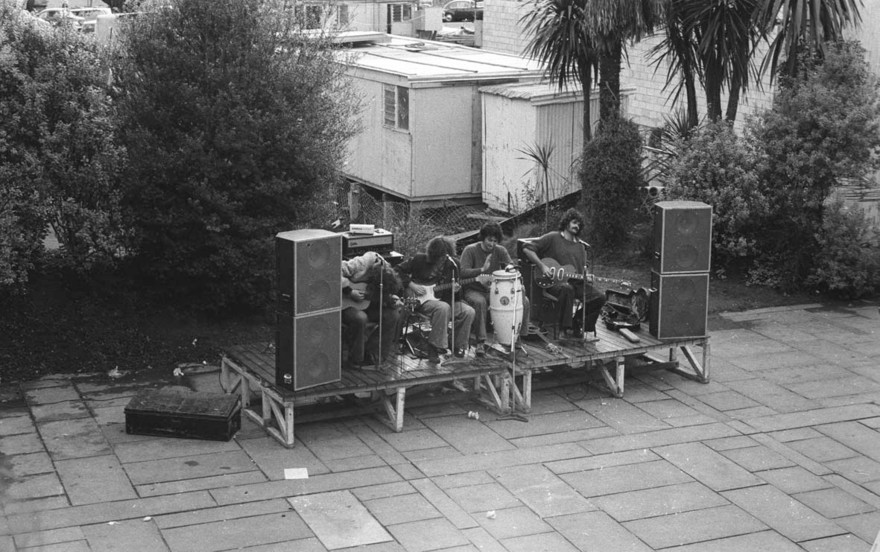 Student unions had elected committee members, including a prestigious "Social Controller" who was there to enhance the "social" life of the students. One daft idea one elected class clown had, was to stage a concert at Western Springs with Dragon headlining. It was a disaster as very few people turned up to pay to see a band they had seen for free in Albert Park. Photos from the day suggest Marc was happy to have played Western Springs.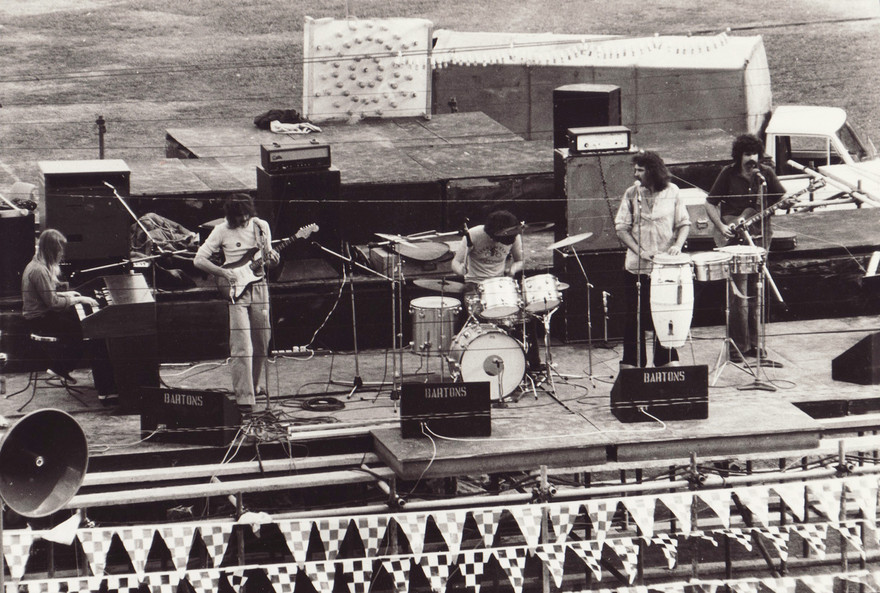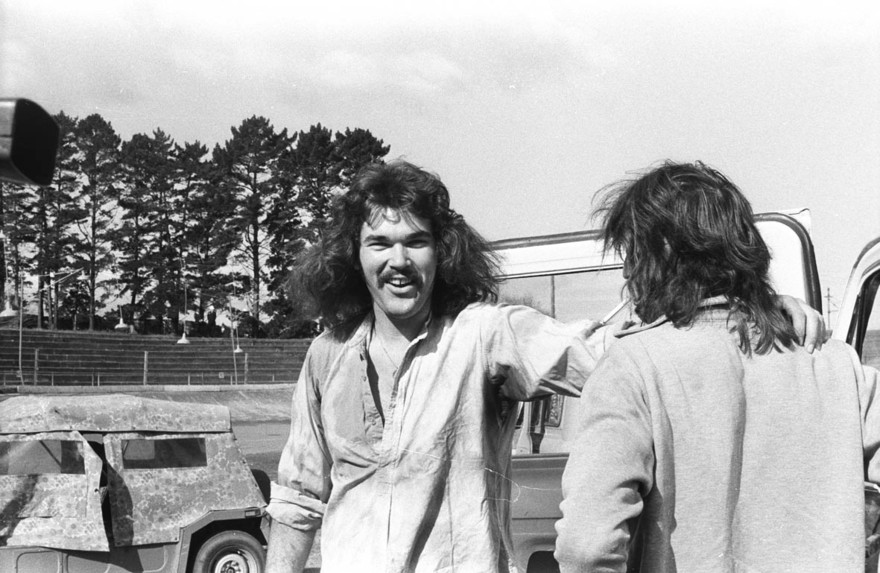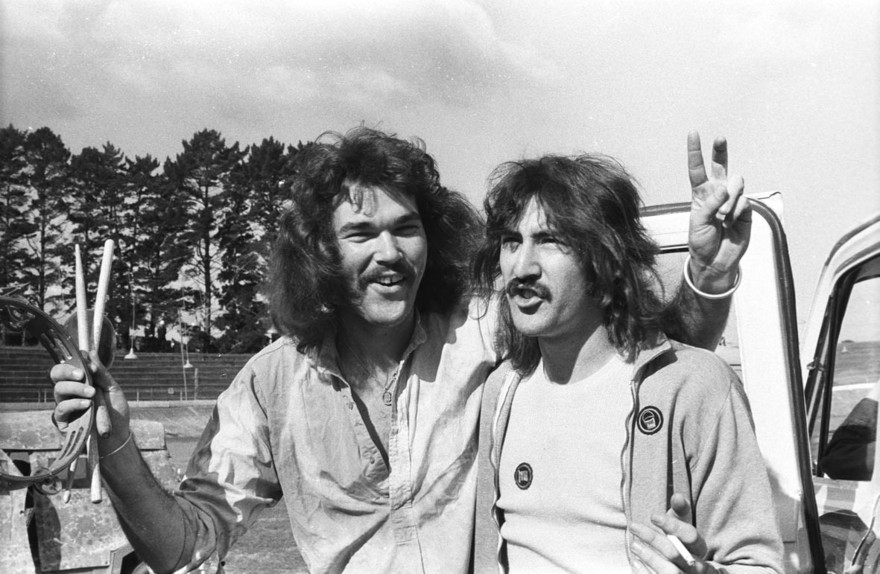 After two hit albums, Sunshine and Running Free, the former prog-rockers Dragon returned to New Zealand in January 1978 to headline the Great Western Music Festival in Oratia, West Auckland. Other bands that played were Hello Sailor, Citizen Band, Rockinghorse and Midge Marsden's Country Flyers. Dragon performed their pop hits to puzzled concert-goers. The band's success in Australia had not translated into airplay in New Zealand.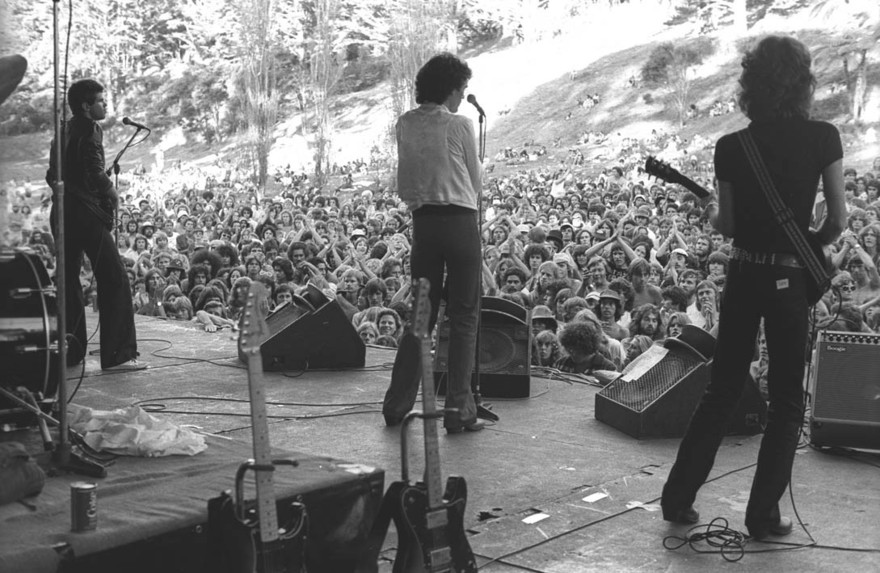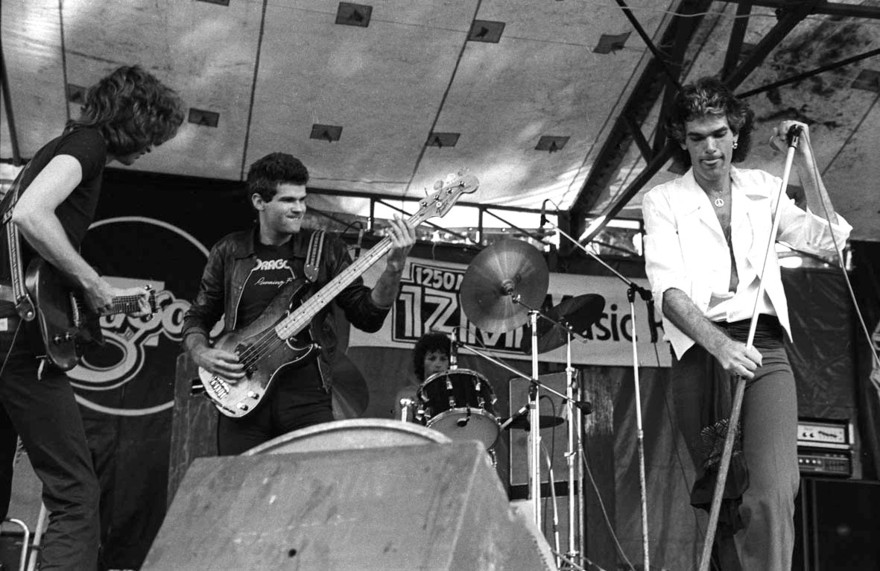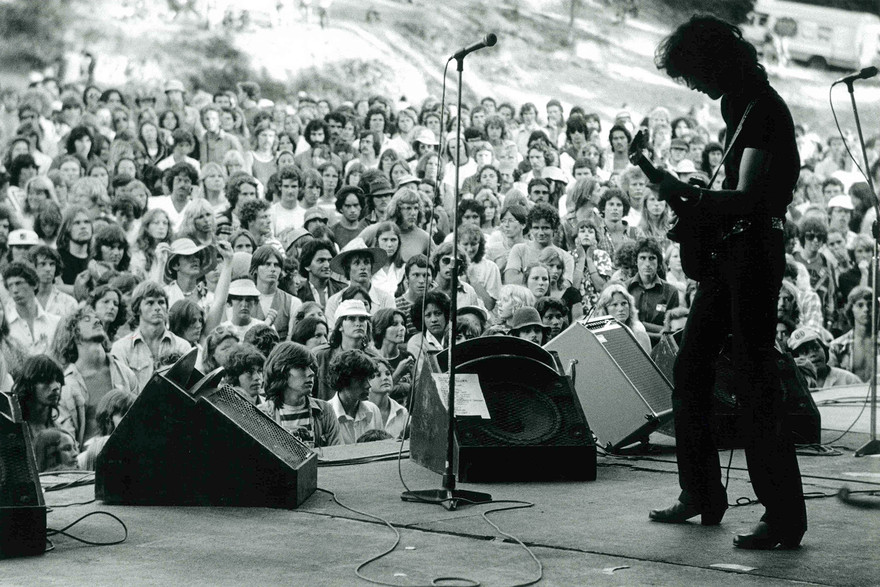 Rip It Up magazine called Hello Sailor "the chief crowd pleasers" on the day, as punters were more familiar with their repertoire. 'April Sun In Cuba' was yet to break big in New Zealand and Dragon did not get the hero's welcome they may have expected. The final photo is of Marc Hunter and Graham Brazier, former flatmates from the notorious Herne Bay villa known as Mandrax Mansion. Harry Lyon recently noted that they thought they were sophisticated drinking German Blue Nun bubbly. Marc Hunter is holding a bottle in the photo.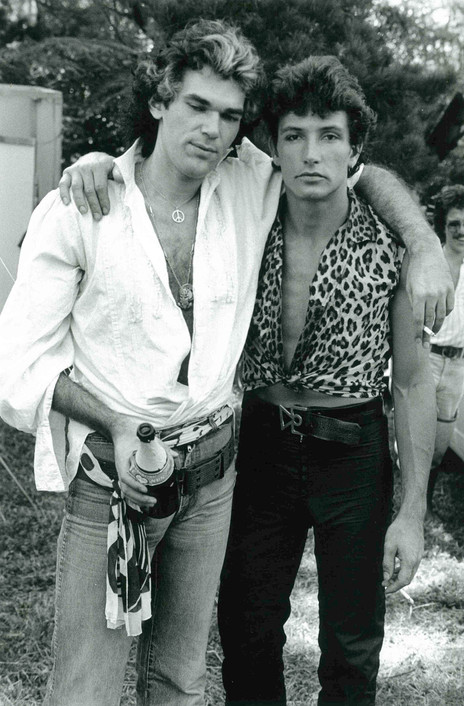 In the February 1978 Rip It Up magazine Marc Hunter explained his new philosophy: "Now it's a laugh. We enjoy it. Before it was serious. It was ooh, ooh man … I hit a wrong note, I'll cut my throat. Now we just get pissed and play."
--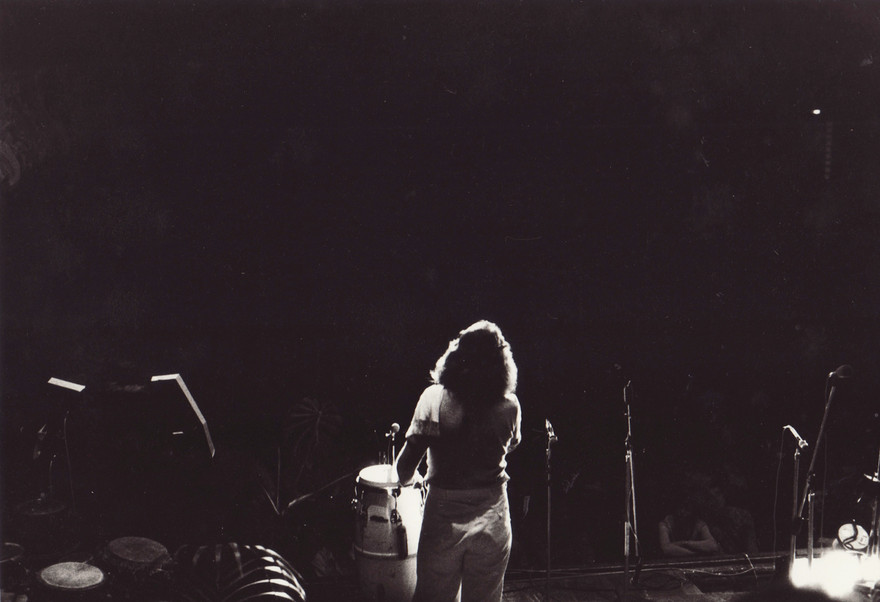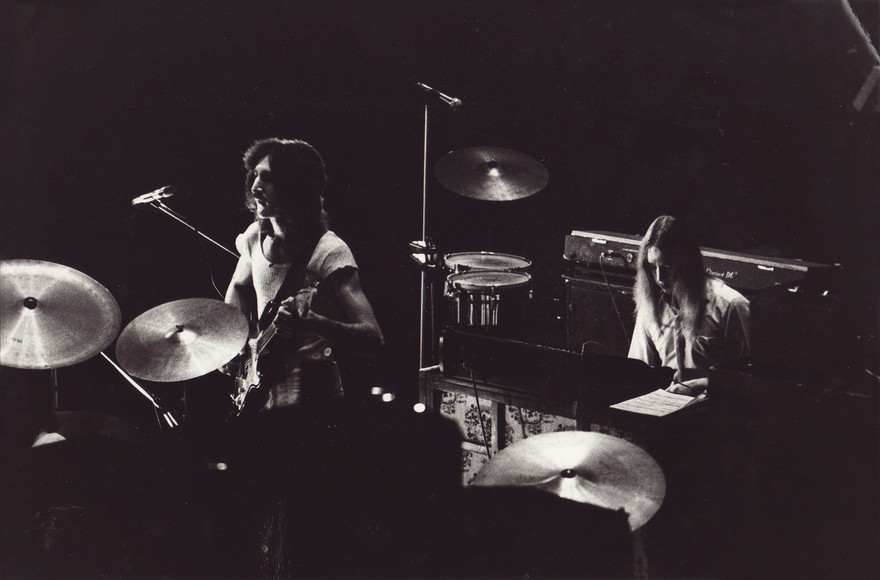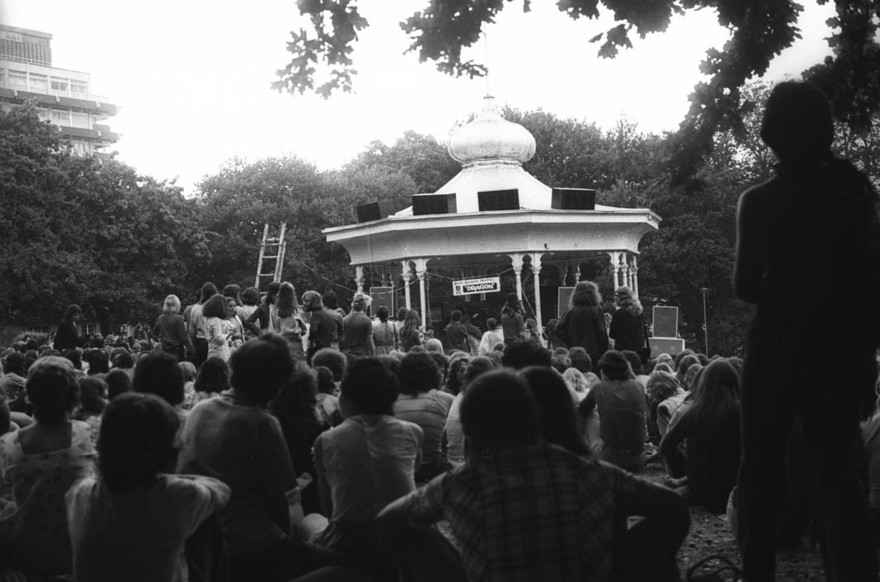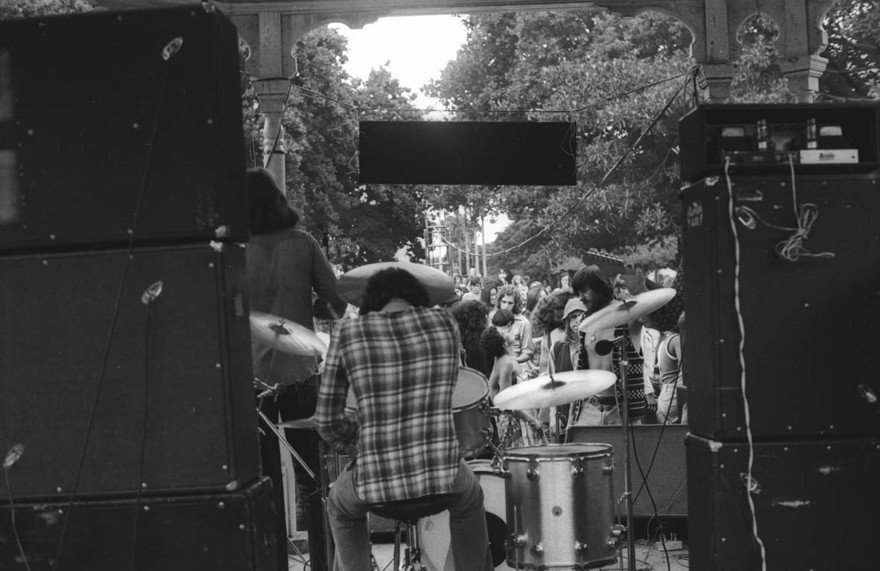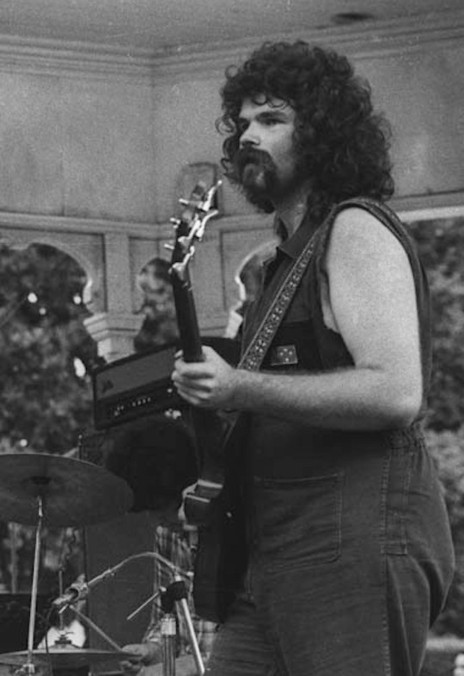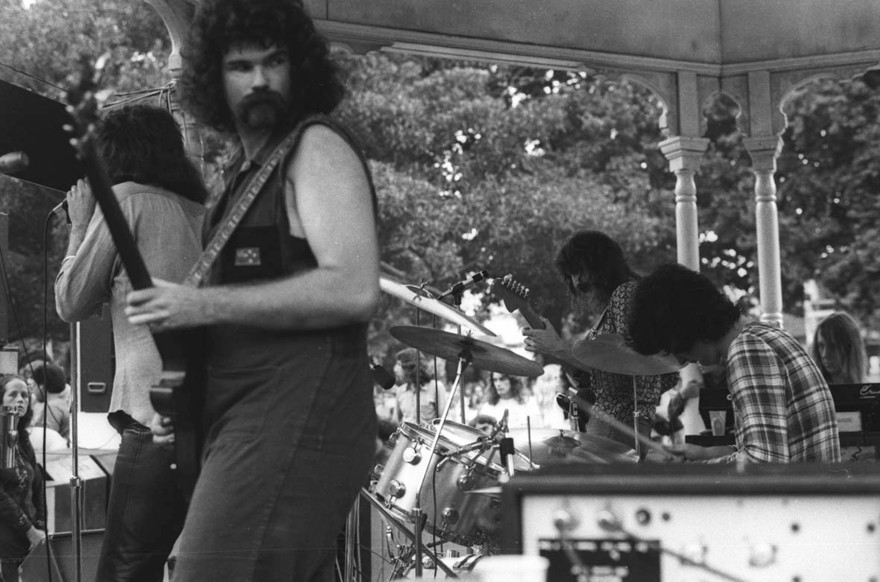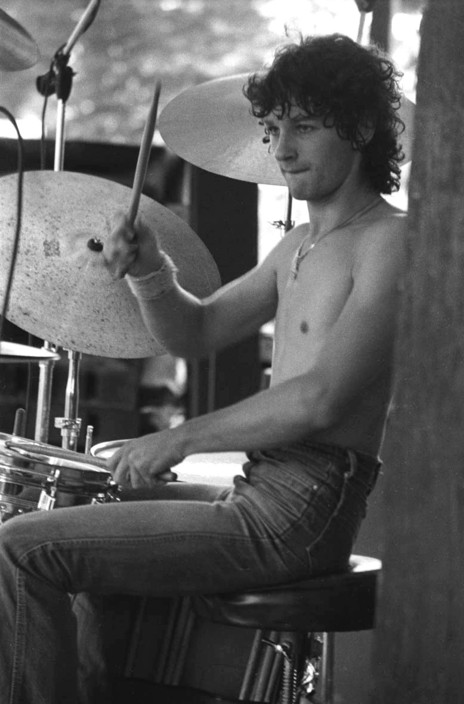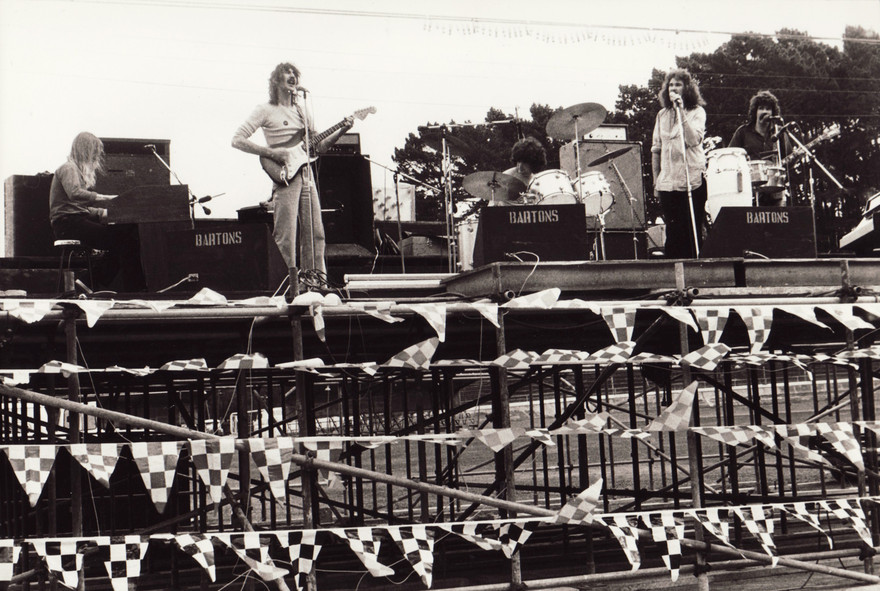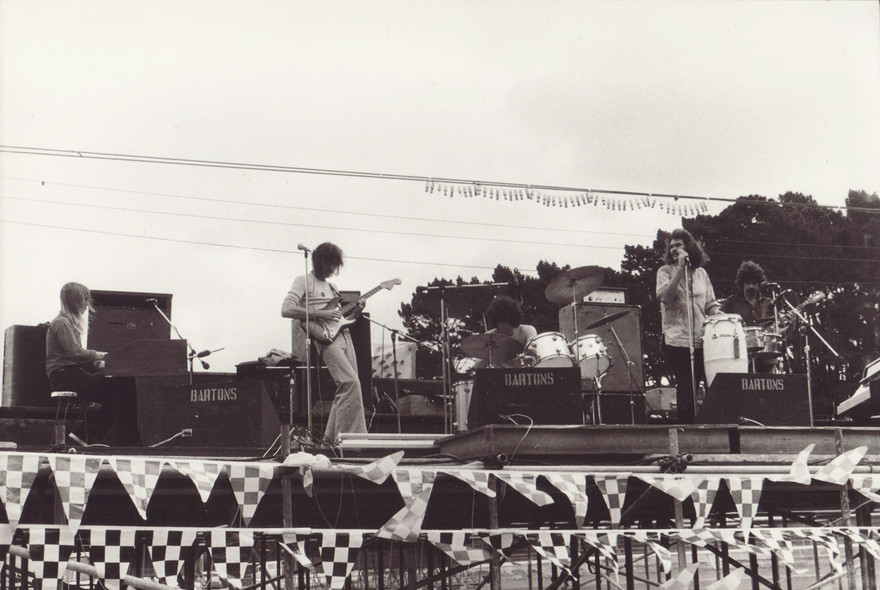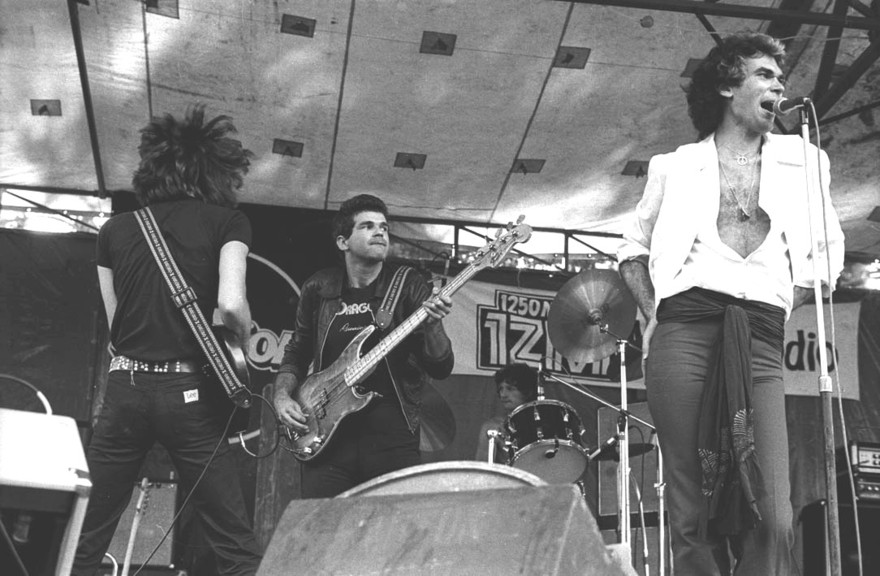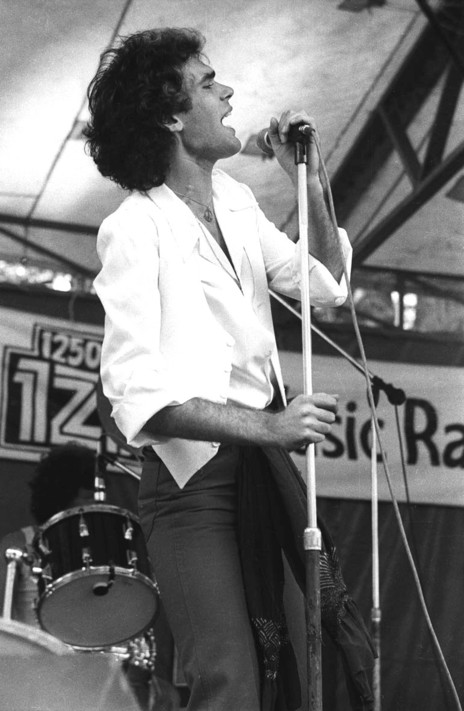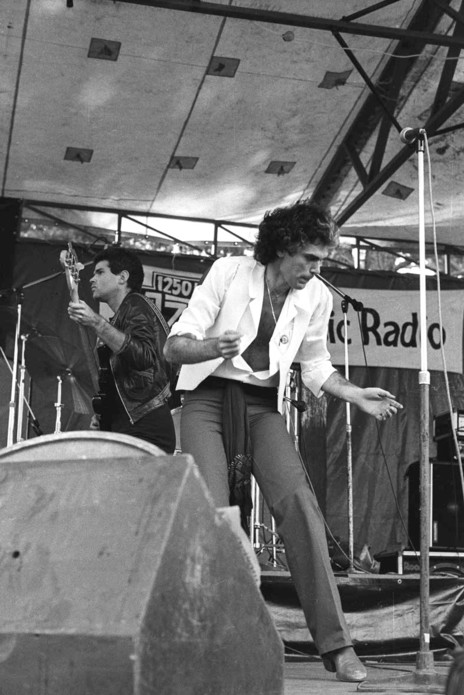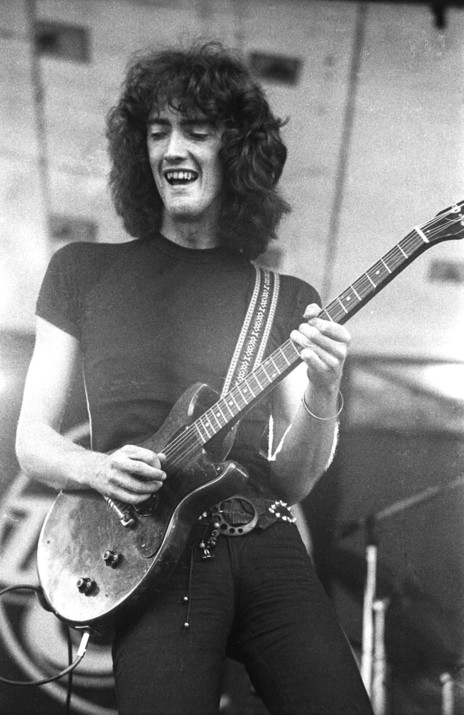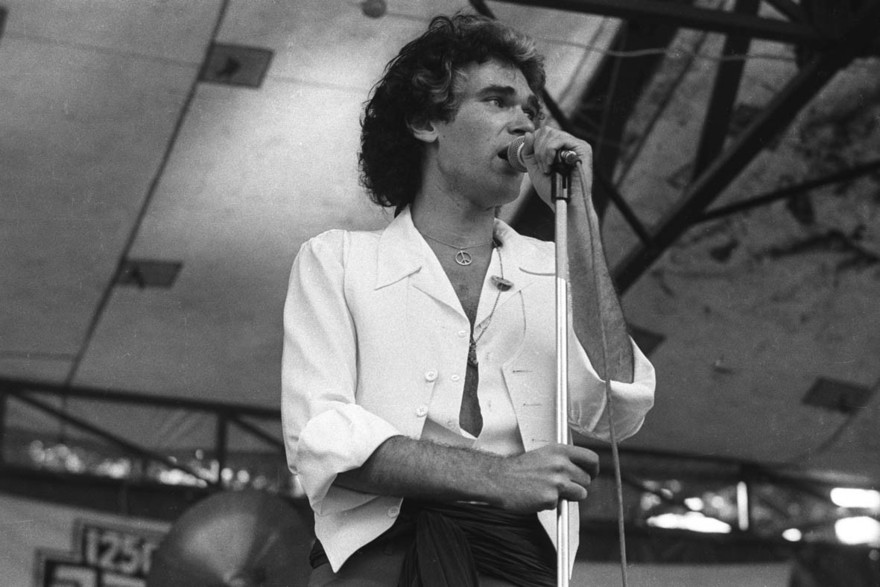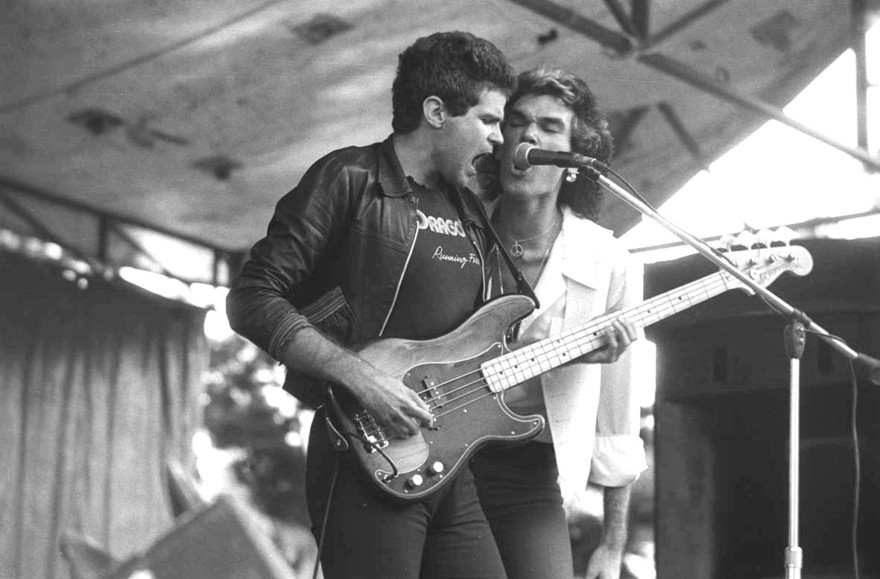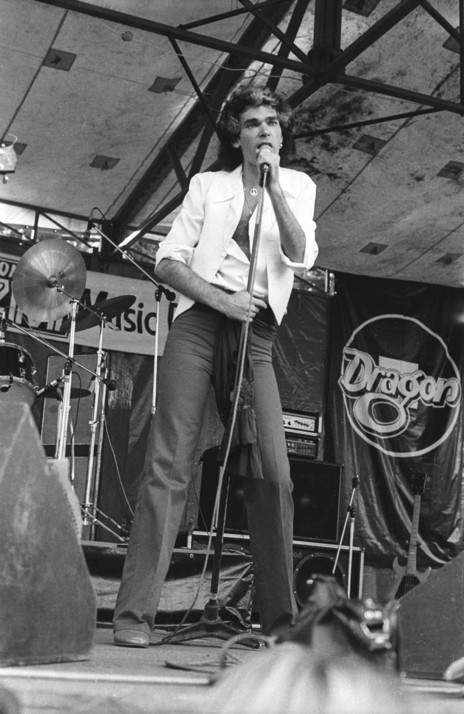 Dragon – the Beat of the Street
Alastair Dougal, Rip It Up, February 1978
When Dragon played the Great Western Music Festival, while the bulk of the crowd was yelling out for their latest single, 'April Sun in Cuba', one old fart with a long memory called out for 'Weetbix'. That request caused much laughter on stage and the next day vocalist Marc Hunter remarked, "My God, what a fossil," when I reminded him of the interjection.
His reaction serves to underline the massive changes Dragon have undergone since they left New Zealand three or more years ago. Then they were a somewhat turgid "progressive" band playing original material interspersed with more commercial songs. Two albums and constant work got them nowhere fast here so they split for the Big Apple – Australia.
They were instantly disillusioned. As Marc Hunter explains, "We went there thinking we were a terrific band with all that long-winded crappy stuff with 20-minute lead guitar breaks. We thought we'll teach these swine … we'd heard the stuff they were playing over there and thought it was terrible. I mean it was pop music." At those words Marc puts on an exaggerated grimace. "We thought ooh … ooh," he says with mock disgust, "pop music. But we learnt."
Just what did you learn?
"We learnt how to pack it into three minutes" lanky guitarist Robert Taylor explains.
"We learnt how to pack it into three minutes," lanky guitarist Robert Taylor explains. "Before we left we thought it was some sort of crime to be commercial. It was impure. Now we're just a pop band," Marc says. "I mean when we left New Zealand we actually thought playing music was an end in itself. Oh, wow, far out … playing music." Marc fakes a spaced-out expression.
"But after you've done that for five years and you're still carrying your own instruments, you start to think maybe there's something else."
But the change in musical style was not just an adjustment to commercial realities. "We were starving in a stinking flat in Paddington and it became obvious that the music we were playing and our situation were completely at odds. The life we were living was incredibly hard and day to day," Marc explains, "so the music got chopped down into terser statements."
Robert adds: "The whole thing gets very economical. Is this a good song? Can we do it on stage?"
Marc: "We didn't attempt to change. The environment forced changes on us. Once we changed we found that at least for the moment it suits us."
There's no doubt that their first Australian album, Sunshine, did reflect their circumstances. Urban anxiety in 4/4 time. And lots of catchy hooklines to deliver it. But even after they'd recorded it, they had to bring its obvious strengths to the notice of the great Australian public.
"That album sold because we went out and sold it. We went out and played as many venues as possible, anywhere. Even now we do spots in Leagues Clubs, pubs and clubs. We're working all the time to broaden our audience. To keep in front of the people and put bums on seats.
"As a result, when our new album Running Free came out, it went platinum in five weeks as a backlash from doing all that work." What's more, all that exposure and a consistent ability to come through with the musical goods has landed them numerous awards from the Oz music papers: best new band, best album and so on.
Constant work has one other benefit, Robert points out. "It's good practice for America where we'll have to do the same thing over again." Their contract with American label Portrait guarantees them a crack at the Stateside market but their strategy is unclear at this stage, though a support tour around America seems the most likely plan.
But with Dragon's matter-of-fact attitude, they're not worried. Marc: "Now it's a laugh. We enjoy it. Before it was serious. It was ooh, ooh man … I hit a wrong note, I'll cut my throat. Now we just get pissed and play."
And Robert adds, laughing, "And let everyone else worry about us."
--
As well as Dragon, The Great Western Music Festival featured The Country Flyers, Rockinghorse, Citizen Band, Living Force, and Hello Sailor. Rip It Up's review by Bruce Belsham concluded:
And so to Dragon. Three-and-a-half years in Australia have suffused Dragon with confidence, given Marc Hunter greater singing competence and the ability to handle an audience. The younger Hunter has become very much a focal point, teasing the crowd with his drawled pseudo-theatrical patter, dominating the hit singles with some fine and well defined vocal work, dancing with eye-catching flexibility. Dragon's performance was, one feels, well tempered to their Australian market, opening with the strongest and best-known material from Sunshine and winding up with some hard and fast played boogie. There was evidence here that Dragon have the polish and do very nicely for themselves indeed.
So, staying just long enough to observe Living Force playing more crisply than is usual and with their habitual enthusiasm, we left, like most of the crowd, to nurse our ringing ears, our tired limbs and our sunburn.