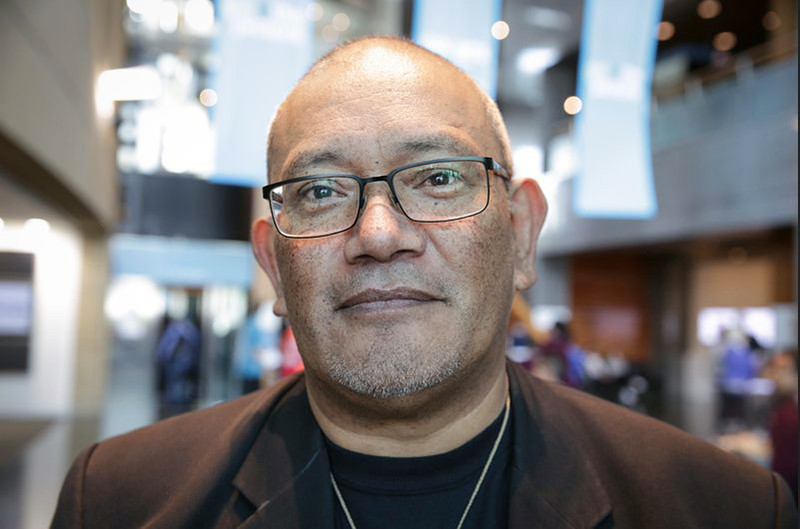 I unashamedly proclaim my aroha for our fair country Aotearoa and have done so for as long as I can remember. This extends to all areas of endeavour including waiata. As a snotty-nosed little kid, I insisted to my brothers that New Zealand music was as good as or better than anything from overseas. '1905' by Shona Laing was the song I used to support my argument. I loved the use of the phrase "time", her vocal and the arrangement. All of which I believed was world class. My advocacy of New Zealand music was, at least initially, an exercise in futility. Sadly my big brothers never came around to my way of thinking. Hei aha (never mind), my belief in our musical whānau is undiminished and the hand that holds the torch will never tire.

French Letter – Herbs
Although it's not in te reo, as a proud musical activist I couldn't leave out the brilliant 'French Letter' by Herbs, who are rightfully touted as the pioneers of the kaupapa or politically conscious music movement in Aotearoa. As a first-year university student I attended a Herbs concert and was inspired to start my own band, focused on issues of Māori identity. Penned and sung by Toni Fonoti, 'French Letter' sums up our coming of age as a nation. The era in which we became a nation in our own right. Brave enough to assert our national identity and strong enough to disagree with the big players, including the US. The French may have a beautiful language but that didn't give them or any other nation the right to test nuclear devices in the Pacific and endanger our Pasifika whānau. 'French Letter' is much more than just a catchy song.

E Ipo – Prince Tui Teka
The so-called Māori renaissance of the 1980s was kicked off by the incomparable Prince Tui Teka with the beautiful 'E Ipo'. Simply translated as 'My Darling', it was notable because it was the second te reo No.1 ever, written by the legendary te reo Māori composer Ngoingoi Pewhairangi, and produced by the legendary Dalvanius Prime. 'E Ipo' soared to No.1 without any commercial radio airplay and won the equivalent of the Tui Award for Song of the Year in 1981! For people born before 2000, it's like having no video, Facebook or Instagram page and still winning a Grammy Award. Prince Tui Teka was the total package – a te reo speaker, musically talented, hilariously funny with an innate ability to draw it all into one package and blow an audience away. Moe mai rā e te rangatira.
Kia Ū – Hinewehi Mohi
Hinewehi Mohi is better known for her work with Oceania and songs such as Whakaawe. My favourite of hers is however 'Kia Ū'. Composed by the late Doctor Hone Kaa and guitarist Jay Dee of Ardijah fame, 'Kia Ū' is evocative, elegant and excellent. I was the manager at Radio Ngāti Porou when it was released and would have been more than content to fill the playlist with multiple plays of 'Kia Ū', so struck was I by the sheer gorgeousness of that waiata. The video was directed by New Zealand screen legend Niki Caro who went on to direct the movie classic Whale Rider.

A E I O U – Moana and the Moahunters
I remember engaging in several debates with other members of the whānau about the appropriateness of the bilingual lyrics of 'A E I O U' by another indigenous diva Moana Maniapoto. Some of the brothers and sisters thought the song should have been totally in te reo Māori. However I was of a different mind back then and thought the waiata was a clever and accessible way to promote te reo and get your groove on. Funky, fun and impactful, 'A E I O U' turned out to be a dancefloor favourite. It was Moana at the peak of her powers supported by Mina Ripia and Teremoana Rapley, both of whom by the way went on to achieve musical greatness in their own right.
Kua Mākona – Moana
Arranged by Ardijah, produced by the legendary Dalvanius and also sung by Moana, Kua Mākona is another musical moment I couldn't ignore. This was Moana's first single, composed by Ngamaru Raerino and produced by Dalvanius to support moderation in alcohol consumption. As a committed teetotaller, the waiata resonated in a different way: I loved the vocals. Just as 'E Ipo' became a party favourite before it, so did 'Kua Mākona'. It seemed every guitar party I attended at the time would include a number of renditions of the song complete with their own unique take on the chords. With Betty Anne and Ryan of Ardijah, plus Dalvanius and Moana in the mix, it was probably always going to be a hit – but those vocals are exceptional.
Parihaka – Tim Finn & Herbs
One of the most special waiata about Māori issues was composed and performed by a Pākehā. Tim Finn to be specific and 'Parihaka' was his song. The fact that our fair country invented and first used non-violent resistance is something we should all be proud of. It started with the Taranaki prophets Te Whiti-o-Rongomai and Tohu Kakahi in the mid-1800s and was used by Gandhi in India almost a century later. As a composer I was both jealous and amazed when I first heard the song and those incredible lyrics. How could a Pākehā write with such a deep understanding of something so close to Māori hearts? Well he did and I'll close this moment with the final verse,
"They gather still, the clouds of Taranaki, His children's children wearing the white plume
So take me for the sins of these sad islands, The wave still breaks on the rock of Rouhotu
And when you taste the salt that's on your pudding, And when you taste the sugar in your soup, Think of Te Whiti, he'll never be defeated..."
Maimoatia – Pūkana and Whānau
I thought it appropriate to at least include one waiata from our recent history and given it is Māori Language Week, and I'm in the business of language revitalisation, it had to be 'Maimoatia' by Pūkana and Whānau. There is no shortage of exceptional voices in the group lead by the incomparable Pere Wihongi with Katerama Pou, Tawaroa Kawana and some of the finest singers in the land. Dave Dobbyn spoke of being blown away by this lot when he recorded the te reo version of his 'Welcome Home', 'Nau Mai Rā'. With lyrics such as "Nōu te reo, nōku te reo, te hononga ki ō tātou tīpuna" "The language belongs to you, the language belongs to me, the connection with our ancestors", Maimoatia reflects the message that te reo is for all New Zealanders. By the way, it went straight to No.1 in the iTunes chart in Aotearoa in July 2016 unseating none other than Justin Timberlake from the top spot. And to cement its status as a Kiwi Music Classic it has amassed 2,657,075 YouTube views at the time of writing. (2023 update: this is now 4 million views.)
Poi E – Pātea Māori Club
There however can be no greater te reo song than 'Poi E' in Māori Language Week or at any other time. The song that brought to national attention the plight of Pātea, a small Taranaki township, still brings a smile to the face of most New Zealanders and gets them rocking at rugby games. It is the waiata of all waiata Māori and arguably one of the greatest pop songs in the history of New Zealand music. It's no accident that the name Dalvanius has appeared in previous sections of this article, he was the Quincy Jones of Māori music. An incredible singer, musician and producer,with a razor sharp wit, Dalvanius was a huge loss to te ao Māori and Aotearoa when he passed in 2002. In partnership with the legendary te reo composer Ngoingoi Pewhairangi and the Pātea Māori Club, he has provided Aotearoa with a waiata for the ages.
Aotearoa (God Defend New Zealand) – Hinewehi Mohi
My final and most important moment in Māori music is dedicated to Hinewehi Mohi. According to recent interviews she was blissfully unaware that her rendition of the national anthem – in te reo Māori only – at a rugby test match in England in 1999 would unleash a torrent of controversy in New Zealand. I have to admit that I, too, was surprised but remember punching the air when she stopped after the Māori verse of the anthem, thinking it had the support of the rugby union. The ensuing vitriol was at the very least upsetting but it was Hinewehi who bore the brunt of it all. For someone who is so humble and just plain lovely, it can't have been easy. However it's this type of response that leads to change. Prior to this event most non-Māori New Zealanders mumbled their way through the Māori lyrics, unleashing their full national pride through the English part of the song. I'd like to think that most New Zealanders like to do the right thing and it seemed to me that all of our people then took it upon themselves to learn and sing the Māori lyrics, almost saying to Hinewehi, "Sorry and thank you."
Teara.govt.nz - Hinewehi Mohi sings God Defend New Zealand in te reo
--
Ngahiwi Apanui (Ngāti Porou, Ngāti Hine and Te Whānau a-Apanui, Ngāti Kahungunu, Tūhoe) first came to prominence as a founder, singer and songwriter of the Wellington reggae band Aotearoa; in the 2000s he released several solo albums in te reo on Jayrem. A former manager of Ngāti Porou radio in Ruatoria, he is now tumuaki – chief executive – of Te Taura Whiri I Te Reo Māori, the Māori Language Commission.