F-Star Records was a little known label based in Gisborne in the mid-1980s. It was centred around a small handful of local musicians, most of whom rarely played outside of the East Coast of the North Island. In just under three years the label managed to release six records, including Wasp Factory's brilliant 'Steel Blue Skies'. But as fast as the label and those behind it sprung up, F-Star was gone, and has been largely forgotten since.
The Far East in the 1980s
Although more geographically isolated than most, Gisborne in the 1980s was not unlike other smaller provincial cities across the country at the time, with limited outlets, venues and promotion for original music. For those living in Gisborne, local record stores provided a valuable source of musical education. They were often staffed by local musicians, some of whom would be important figures in the F-Star story, including the musical brains behind most of label's recorded output, Martin Kirk. Grant McDougall remembers:
"At this time Gisborne was blessed with, by provincial New Zealand standards, two surprisingly good record shops: Vibes and Guy And Dunsmore ... It (Vibes) was run by Tony Murdoch. Guy And Dunsmore had a sports shop in the front and the music shop in the back. You had to walk past fishing rods and rugby balls to pick up the latest copy of Rip It Up, it was just odd. But both shops were staffed by people that really had their fingers on the pulse. I was young, impressionable and a sitting duck to have my tastes moulded ..."
McDougall and his friends became known as the "little brothers and sisters to the staff" at Vibes and Guy And Dunsmore. Some (including McDougall) were inspired enough by events in their home town to produce their own fanzines and cover what was going on, including The Captain's Fanzine and Out Here.
In the 1980s Gisborne's music scene was dominated by local covers bands and due to its relative isolation, less commercial acts would rarely play there. But the city had a small, burgeoning live scene centred around venues like the Silver Lair and the Albion Hotel's River Bar.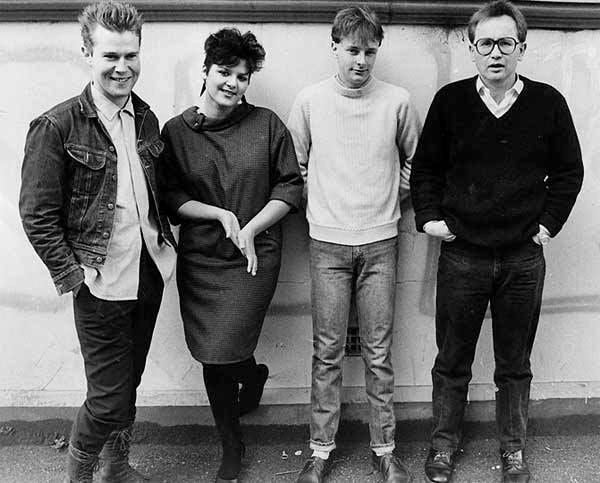 Marching Orders
One of the few local acts that rose to any national attention, if only briefly, in the early 1980s was the synth-pop band Marching Orders, which is strangely where the roots of F-Star lie. If they have a claim to fame it belonged to their teenage female singer at the time, Jackie Clarke, who would later join When The Cat's Been Spayed, and go on to singing TV celebrity status, particularly in the 1990 onwards. Also in the band were a young Martin Kirk (vocals, guitar, percussion and synthesiser), Tony Murdoch (percussion) and Russell Braithwaite (synthesiser).
In 1983, Marching Orders were part of TVNZ's Shazam! Battle of the Bands. Reviewing the second Auckland final of the Battle of the Bands in July 1983, Russell Brown, a fan of the group at the time, in Rip It Up:
"Marching Orders are a dance band in a very nice way. They combined synthesisers, percussion, bits of guitar and rather good vocals from Jackie Clarke into something snappy. The songs were good too. My favourites of the night."
Although they didn't win the final, their performance impressed Brown. Reviewing the final in September 1983 in Rip It Up:
"Perhaps what did Marching Orders most credit was the fact that they escaped the boundaries of rock. In a contest aimed at teenagers, they were the act that could have worked outside a pub. Not startlingly original but different enough. Singer Jackie Clarke's breathless chat did a good job of filling in the long between-song gaps that plague electronic bands. There's room for improvement and her voice is often still too airy, but at their best they were truly bubbly. This was the only band that really made me stand up and tap my feet."
A live album of the Battle of the Bands finalists was released soon after. Marching Orders featured on the album with two songs 'Games We Play' and 'Talk Talk'. The band's contributions provided two of the few highlights for reviewers of the largely dross and uninspiring line-up. A review of the album in Rip It Up:
"Let's begin on a bright note. The two tracks from Gisborne's Marching Orders are enjoyable without being absolutely sparkling, but it sounds like fun. They will no doubt improve as they have personality in abundance and youth on their side, and the craziest percussionist you'll ever see."
Following the Battle of the Bands, Flying Nun Records released the Marching Orders 12" 'The Dancer' in 1983. The unusual association with Flying Nun seems to have come from Doug Hood (the label's sound engineer) knowing one of the members of the band. It was Marching Order's first and sole release, and at very best it is a lightweight, commercial synth-pop tune with an assortment of percussion backing Clarke's high pitched vocals. It failed to capture the band's variety and live appeal. Although the B-side 'Games We Play' is better, the release was totally out of step with everything on the Flying Nun roster to that point and justifiably sunk without a trace.
Reviewing 'The Dancer' charitably in May 1984, Brown in Rip It Up:
"This song stands out live but they've played it just a bit slow in the studio – you feel like giving the turntable a helping hand. Jackie Clarke's voice gets a bit thin in places too, and her bubbling personality – an integral part of the band's appeal – naturally doesn't come across on plastic. 'Games We Play' is the better for being faster. A fun, if lightweight record with a most accomplished production."
After their brief flirt with national stardom, Marching Orders disbanded soon after the release of 'The Dancer'.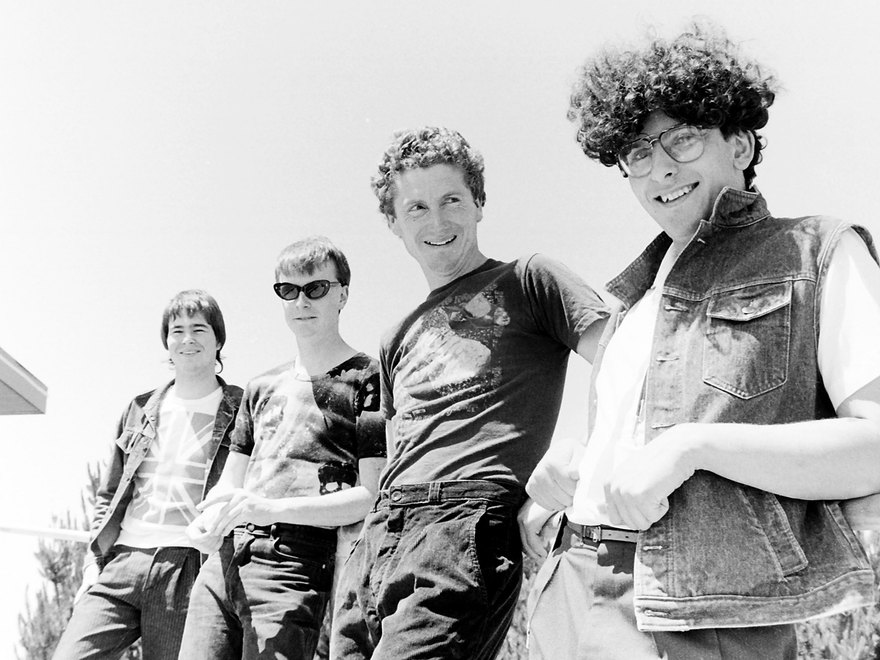 The F-Stars
Back in Gisborne, Martin Kirk began hanging out with Simon Vita, a Marching Orders hanger-on, one-time lyricist and general musical taste-maker. Looking for a new project after playing in a punk covers band together, Kirk and Vita formed the Flaming Stars in 1984, initially with Steve Simpson (formerly of the Small Faces loving local band, the Planets on bass) and Ross Revington (drums).
The Flaming Stars were described as "devastating" live and they won the local Battle of the Bands in 1984.
Driven by a dislike of covers bands, the Flaming Stars couldn't have been more different from Marching Orders. Gone was the synth-pop. In its place and under Vita's influence the band had its own garage rock psychobilly sound taking cues from the Gun Club and the Cramps. The band practised in rooms above the old Gisborne Cosmopolitan Club library in Childers Road, dubbed "Lennon's Tomb". The space became a makeshift 4-track studio.
The Flaming Stars were described as "devastating" live and they won the local Battle of the Bands in 1984. The Gisborne Herald in 1984 described their winning performance:
"The Flaming Stars … simply blazed on stage, displaying the art of passion playing. Their stage antics were off-the-wall eccentricity combined with a great sense of fun. On this point alone they stood out above most bands ..."
Reviewed supporting The Chills at the DB Gisborne, Simon Baker described the band in Out Here in 1985:
"The Flaming Stars play rock music – they trade in the far side of the grave groovieness, which is not to pigeon-hole them. They're a set of stand-out originals – 'Black Widow', 'Factory Floor', 'Neutron Bomb', 'Phoenix', 'Smack In The Jellymeat' – which alternate between trash aesthetics and heightened social conscience. The bass/drums remind me of the Buzzcocks, Martin plays a Rickenbacker and Simon is a charismatic front man."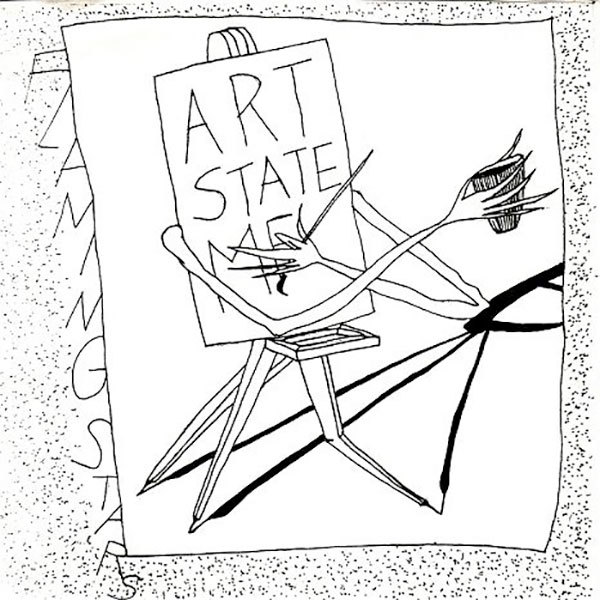 Apart from an abortive trip to Palmerston North for the Massey University Battle of the Bands in March 1985 where their van broke down on the way back home, they largely played in and around Gisborne.
Toward the end of their short existence, the Flaming Stars recorded at the Capture studio in Gisborne. F-Star Records was formed by Vita and Kirk with $500 each to release what was recorded, but it soon became a vehicle to release other local bands.
Martin Kirk explained in the Gisborne Herald in 2007:
"Being in Gisborne, we didn't have access to record companies like bands in bigger cities. We thought the only way we could release anything was to do it ourselves … We just made it up as we went along … we didn't have anything as cumbersome or pretentious as a business plan … We were just happy to put out a release for anyone prepared to put the effort into writing and recording."
Released in 1986, the Flaming Star's 'Art Statement' single was the band and label's first release. By this time, the band was Vita (vocals), Kirk (guitar), Mark Revington (Ross's brother on bass) and Jason Fawcett (drums). Despite its "arty" intent, the A-side has a well formed garage rock swagger book-ended by an unhinged guitar freak-out. Paul McKessar in Rip It Up:
"... There's not much "art" here, but the rock and roll is barely constrained – they only just manage to hold it all together, and that's the way I like it!"
McKessar was less enamoured by the B-side, describing it as "derivative cowboy shit". On the other hand, McDougall described in Alley-Oop, "… a classic B-side in 'Wise Up' and 'The Buck Stops Here'. Two slices of the greatest psychobilly to have been released in New Zealand ..."
In reality the flip side lies somewhere in the middle, as McKessar may have had a point with 'The Buck Stops Here' (a country piss-take), but 'Wise Up' (a fast rockabilly number) is much better and every bit as frantic as the A-side.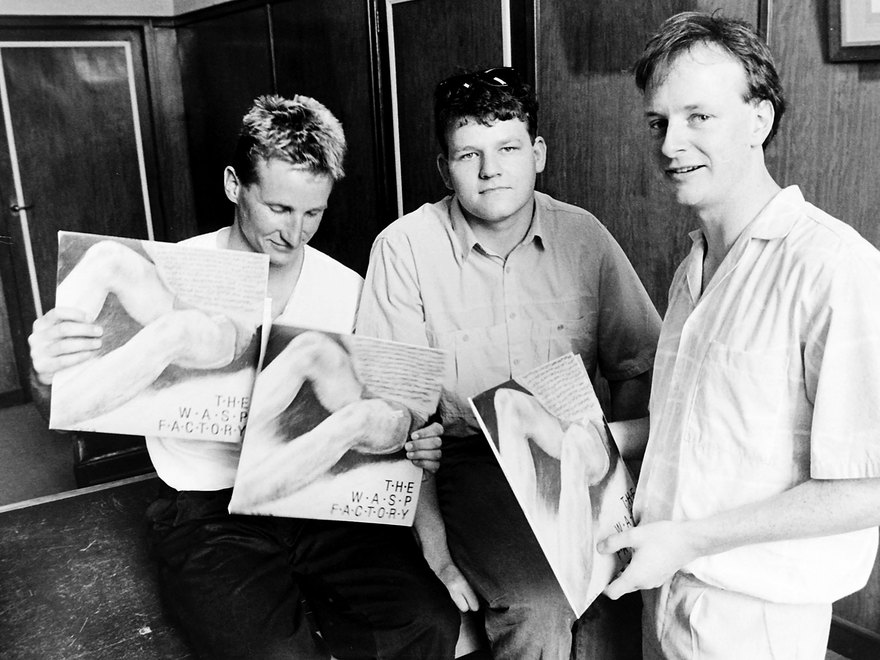 The Wasp Factory
By the time 'Art Statement' was released, Martin Kirk was beginning to move on musically. He had put together the Definite Maybees with his then partner (and now wife). The band's one and only recording, 'A Million Tears' is a lovely slice of 60s influenced garage pop and was available on a Capture studio compilation at the time. Wanting to take over vocal duties, Kirk formed Wasp Factory with former Flaming Stars Mark Revington and Jason Fawcett. Martin Kirk describing the difference between the two bands in the Gisborne Herald in 2007:
"The Flaming Stars were the rawest band I was ever in – and possibly the most satisfying … Simon's voice was quite unique and his lyrics were always very inspiring. With the (Husker Du-influenced) Wasp Factory on the other hand we were trying be slicker. We wrote more melodic material, but still kept it musically very simple."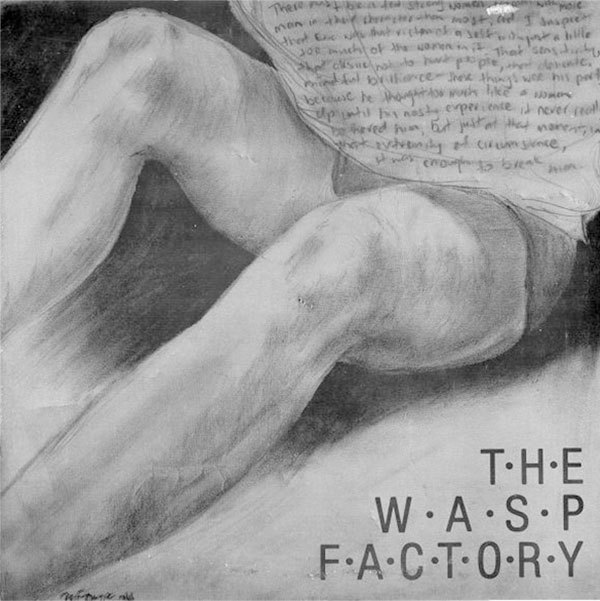 Although not necessarily slicker than the Flaming Stars, Wasp Factory were a more focused and productive unit. Their sound was different too. The garage rockabilly was replaced with a harder more lo-fi melodic, and at times more driving, guitar sound not too far removed from Flying Nun acts of the time.
F-Star's second and only full length release was a self-titled album by Wasp Factory in late 1986, recorded at Lennon's Tomb. The album has plenty of highlights, including the Buzzcocks power punk of 'TV Scream' (complete with the "oooo-oooo-oooo" backing vocals), the upbeat pop of 'Age Away' and 'Work' and the sing-a-long-hoe-down 'Australia'. But overall it's a fairly uneven affair. Although confused about whose album it was, this was picked up by McKessar in Rip It Up:
"The major influence here sounds like the Cure et al, but they do what they do in a very competent fashion. 'Eric's Song' is a bit silly, taken from the book of the name of the band. 'TV Scream' is a song that highlights this album's downfall – a good idea that could've made use of a much better recording. It ends up masked by its own drone, a fate shared by 'I Won't Be There' and side two's 'Watch Your Back' and 'Work'. The potential of these pop pretenders is really only hinted at here."
Similar points were raised, particularly about the production, by Ken Double reviewing the album in The NZ Listener:
"... Heady comparisons aside, Wasp Factory have enough nous to tap to perfect a beautiful Alex Chilton rip-off called 'Dream' (natch) and then end it in what else but some nightmare guitar just in case you may have been dropping off. And I'd give anything to hear great riff songs like 'I Won't Be There' and 'Watch Your Back' (good title) have some decent production bestowed upon them. They may trade on too much filler, a sound that's too murky and vocals that are mixed way too low, but this band understand noise and the human condition in a way that good rock 'n' roll bands should. And they don't wear shades ..."
Picking up where Double left off in appreciation of the Chilton influence, the album's seemingly more wayward moments were recast in slightly more favourable light by Bruce Russell in a Flying Nun podcast on New Zealand minor independent labels of the 1980s. Of the album, Russell commented:
The EP included the band and label's crowning glory, 'Steel Blue Skies'.
"They (The Wasp Factory) did an album which was in my opinion fairly poor, but did contain the best ever pastiche/tribute/rip-off of Big Star's 3rd album. I can't even remember what the song was called – it was quite long, and it was just a phenomenal total nailing of Kangaroo and Holocaust. It had the whole vibe down-pat."
The Wasp Factory's second release was the Hick Hate EP in 1987, mostly recorded at Capture studios. The EP included the band and label's crowning glory, 'Steel Blue Skies'. The song is a lo-fi anthem, driven into submission by a searing shit storm guitar riff that sounds like it's played on 100 of the crappiest acoustic guitars they could find overlaid with an appropriately snotty sounding lyric. The EP's other songs are no slouches either. The slower 'Hick Hate', nasty guitar squall of 'Maximum Moist' and live from the River Bar intense re-working of Marching Orders' 'Games We Play' demonstrated the range and diversity of the band. The EP also drew on the band's live strengths. According to McDougall:
"The Wasp Factory were an incredibly exciting band, especially. I'd sneak in under-age to see them blow away some crap covers band at the Albion River Bar ... I was utterly gleeful when my step-sister scornfully said 'this isn't music, it's just noise!' as the burst of feedback that opened up side 2 of the Wasp Factory's Hick-Hate EP roared across the family lounge."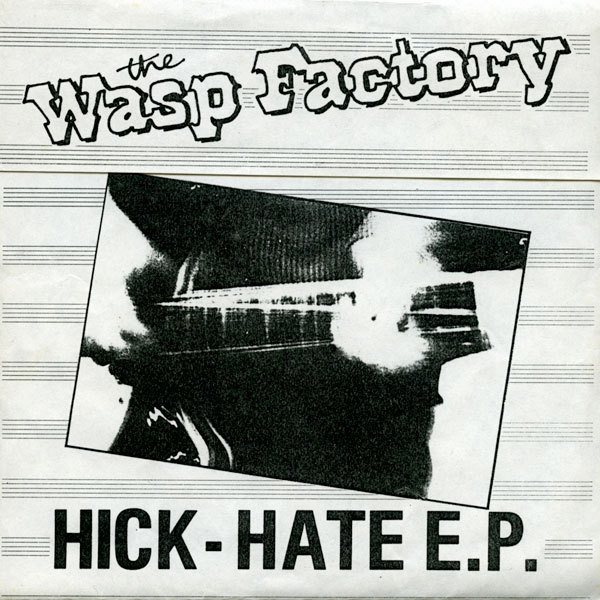 Much has been made of 'Steel Blue Skies' and all of it well deserved. Russell described the song as the 'ultimate rock ballad'. McKessar in Rip It Up:
"'Steel Blue Skies' is the anthemic guitar wall opener to the Wasp Factory's second record. 'Hick Hate' and 'Maximum Moist' – despite that song's feedback overkill beginning and promise to career off most wild-like – I like less. However 'Games We Play' recorded live at the River Bar, Gisborne, serves notice of the Wasp Factory's live prowess – a daunting prospect, heavy with added Toyah-shrieks from Jackie Clarke."
There was similar praise for the EP in a review in Alley-Oop:
"That great rock n roll should flourish in Dunedin is, on the face of it, quite improbable. Even more so implausible is that it should also spring up in Gisborne. To these ears the one truly GREAT F-Star record and indeed the best NZ 7" by far of 1987 is the Hick-Hate EP…'Kicking off with the anthemic (in the best sense) 'Steel Blue Skies', you are immediately struck by the HUGE guitar sound, the band hits like a truck and then the beautifully timed riff shops in and whacks the top off your head."
Soon after Hick Hate was released, Wasp Factory parted ways as Martin Kirk and Jason Fawcett left Gisborne – Kirk for the UK and Fawcett for Auckland. They played their final shows at the River Bar in February 1987. McDougall reviewed the final show in The Captain's Fanzine:
"...'Eric's Song', 'Age Away', 'Steel Blue Skies', 'Australia', 'Work', '12XU', 'TV Scream', 'I Won't Be There', 'Maximum Moist', 'Games We Play'... the list is endless of songs that were just sublime ... the last song that the Wasp Factory performed was a cover of Peter and The Test Tube Babies 'Elvis Is Dead'. Martin got Steve Simpson up on stage to play guitar, Martin played drums and Jason left his drum seat to sing. Mark hung in there on bass. And then something happened. Something that Gisborne has only seen once and in the foreseeable future will never see the likes of again – there was a stage invasion ..."
During the same week Wasp Factory made their final recording with Simon Vita (also heading to the UK at the time) on vocals. The recording was released in April 1987 on a Capture studio compilation, as 'Electric Bo' by 'Vita and the Wasp Factory'.
In a final flurry of activity before both Kirk and Vita left for the UK, the next two F-Star releases – the Not To Be Taken Away EP and a split single with Simon Vita and Mike Dwyer – were put out soon after Hick Hate and within weeks of each other.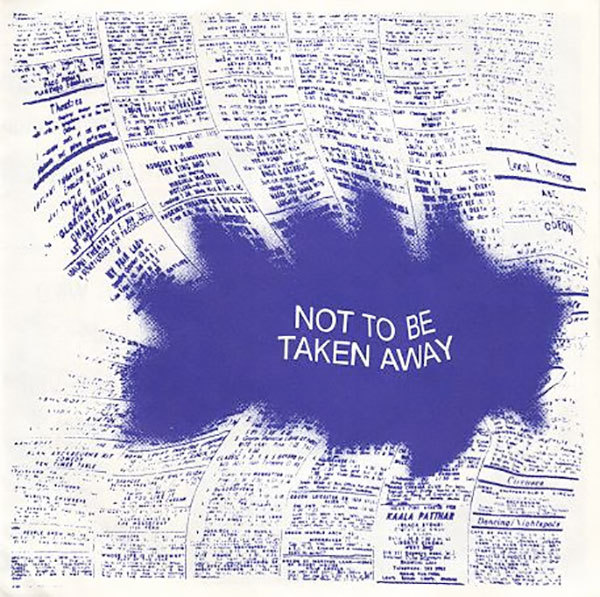 Double Gisborne
Not To Be Taken Away was a four song EP featuring one song each by Steve Simpson (former Flaming Star backed by the Wasp Factory) and The Planets and two songs by 20" Rude. Although different personnel were involved, Steve Simpson (vocals and guitar) and Andrew Schollum (vocals) wrote all the songs between them and were involved in all the bands recorded on the EP. Steve Simpson's solo effort and the Planets provide the highlights with their 60s jangle and garage rock sound, while 20" Rude sound at best, typical of the time. McKessar in Rip It Up:
"'Something's Got To Give' opens very Byrdsy, and Steve Simpson gets a sympathetic backing from the Wasp Factory on the best song here. A few of the same gang make up 20" Rude, who recorded two more of Steve's songs, 'Stranger Than Fiction' and 'Jokers Wild'. The recording's a bit far back, spoiling particularly the otherwise good 'Stranger …'. Another mutation of the same elements recorded the last track 'Last Forever' as the Planets. Standing out all through the record are the vocals – Steve Simpson and Andrew Schollum alternating throughout."
McDougall described the EP in Alley-Oop:
"The Not To Be Taken Away EP is to Gisborne what the Dunedin Double EP is to Dunedin – various acts demonstrating the excellent music coming out of their turf. The opener, Steve Simpson's 'Something's Got to Give' backed by the Wasp Factory, is a wonderful acoustic 60's pop song of dynamic proportions. Simpson was Flaming Stars bassist before leaving to join 20" Rude who existed for about a year. The reformed to contribute 'Stronger than Fiction' and 'Jokers Wild', two excellent Jam influenced post-punk songs. The last song on the EP is 'Last Forever' by the Planets, a teenage pop-punk band that existed in Gisborne in the early 80's."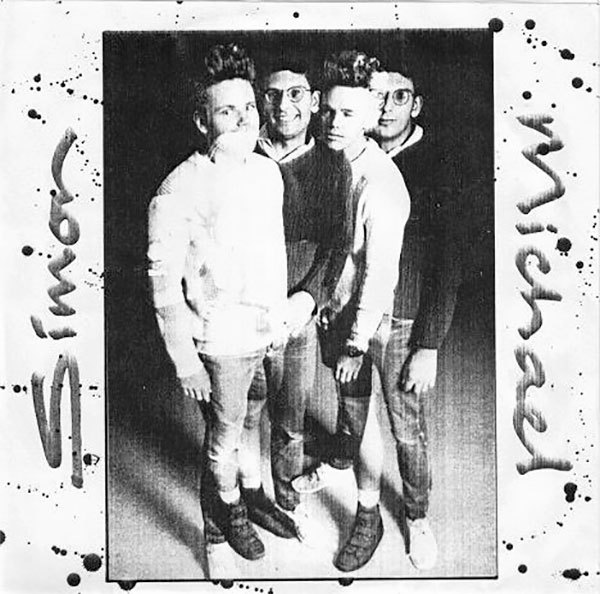 Simon Vita and Mike Dwyer
On their split single, Simon Vita and Mike Dwyer were backed by Martin Kirk (guitar) and Ross Revington (bass). 'Rites of Spring' by Vita (an old Flaming Stars song) is a frenetic mostly acoustic affair while 'Rubber Necking' by Dwyer (an Elvis song from the 1969 film 'Change of Habit') despite the drum machine has its own 1950s rock and roll shtick. Mike Dwyer explained the attraction to the song in the Gisborne Herald in 2007:
"I was going through that whole tortured young man phase – listening to a bit of Elvis, watching a lot of Andy Warhol films, doing that whole outsider thing…So doing the song sort of made sense, especially as it was totally groovy."
Reviewing the split single, McKessar in Rip It Up:
"Two interesting side projects from the prolific Wasp Factory gang. Both work over fairly similar territory, with 'Rites of Spring' being just as "rubbery" as the catchy but inane 'Rubber Necking', which isn't quite enough to work well, whereas Martin Kirk gets to provide a lot more instrumentation on the other side, and Ross Revington lets his double bass go 'boing!' "
McDougall describing the split single in Alley-Oop:
"Vita's 'Rites of Spring' is an old Flaming Stars song that is re-worked to sound massive. It starts off as a quiet acoustic guitar piece and when Simon's vocals reach their scowling best a cataclysmic noise flip-out occurs. We all know Elvis was extremely cool before he became a major shareholder in McDonalds but nonetheless 'Rubberneckin' would have to be one of his more banal songs. That's before Michael took a hack-saw to it and rearranged it into the punchy excellent bit of pop that it should be, stripping it down raw and just using guitar, double bass and a drum machine."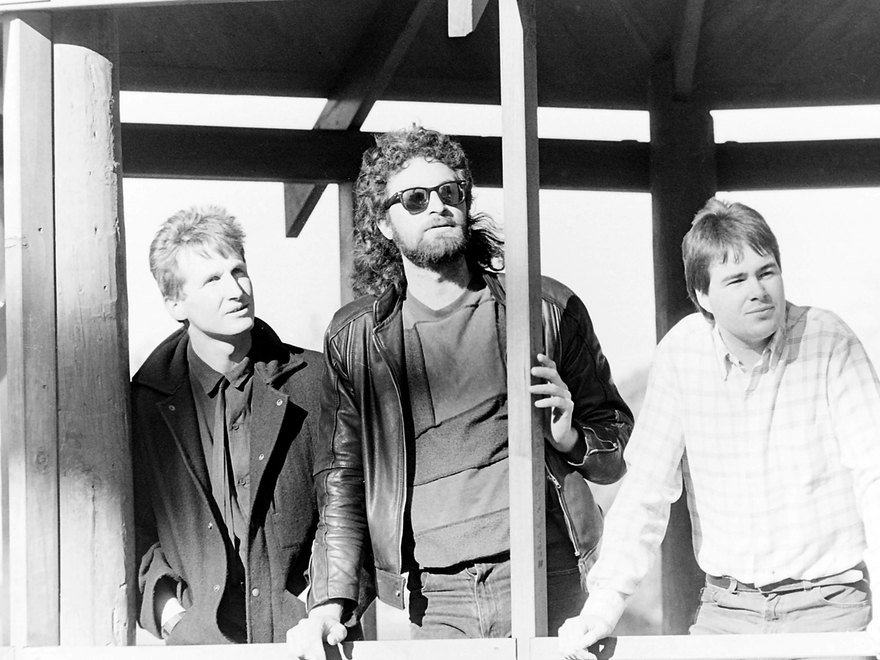 The Big Fix
After Martin Kirk and Simon Vita left for the UK, Mark Revington and Steve Simpson took over the label for its final release, by the Big Fix. The Big Fix were Steve Simpson (guitar and vocals) and Mark Revington (bass) alongside Bruce Cameron (drums). Unreleased demos at the time, reveal a tight power pop band with potentially wider commercial appeal. Making it beyond Gisborne, the band was relatively well travelled compared to their label mates. Mark Revington in the Gisborne Herald in 2007:
"I remember going to places like Auckland, Hawkes Bay, Taranaki and Wellington with the Big Fix and musicians there were always amazed to hear about the crowds we used to get at the River Bar. It was heaps of fun."
The final F-Star release was a double A-side Big Fix single, 'All I'm Saying Is'/'Happy Again'. 'All I'm Saying Is' is a catchy, guitar driven pop song with a lyric that doesn't make very clear all that's being said, which is presumably the point. Despite the relatively flat vocal, 'Happy Again' packs far more punch and is a classic power pop song. If 'Steel Blue Skies' was the label's crowning glory 'Happy Again' isn't far behind. Reviewing the single in Rip It Up in April 1988, Chris Bourke:
"Like a hardcore Sneaky's, this has a grungy garage sound but good melody and insolent vocal. 'Happy Again' shows more Toy Love influence, it's a '77 thrash that gets tiresome."
McDougall on the single in Alley-Oop:
"Live the Big Fix are a splicing of pop melody and scorching noise. That is most of the time, except for when Steve gets out his acoustic and traces his 60s influences in songs such as 'All I'm Saying Is', from their just released single. The other song on the single is the wonderful 'Happy Again' which, in contrast to the quieter approach of 'All I'm Saying Is', is a frenetic blur of noise pop song. As debut singles go it is as exciting and essential as any other put out by an alternative band on an 'indie' in New Zealand."
The Aftermath
As the members of the Big Fix parted ways and with the original founders of F-Star no longer in the country, the label quietly faded away.
As the members of the Big Fix parted ways and with the original founders of F-Star no longer in the country, the label quietly faded away. But it wasn't forgotten entirely at the time. In 1989, 'Steel Blue Skies' and 'All I'm Saying Is' provided the few highlights for reviewers of Pagan Records' varied Positive Vibrations compilation. McKessar in Rip It Up:
"… The handful of standouts on Positive Vibrations are easy to pick. Top of the tree come Gisborne's Wasp Factory and Big Fix with 'Steel Blue Skies' and 'All I'm Saying Is'. Essentially grunge au garage, but both previously released on & by the F-Star label. Still if you don't own 'em, you gotta get this …"
Also reviewing the album, Richard Langston in Alley-Oop:
"Pagan Records have done us a big favour with the release of this 13-band compilation because it contains the song that made Gisborne famous – 'Steel Blue Skies' by The Wasp Factory. This song was previously only available on the rarer-than-chook-teeth Hick Hate EP of 1987, and the people who've got it keep it in a very secure place while others stare through their windows trying to figure out how to flog it. That good. 'Steel Blue' is the only reason I'd buy this compilation ..."
Unaware of the interest or reception at the time, Martin Kirk and Simon Vita along with Mike Dwyer formed the more electronic influenced Mad Power while in the UK. Although they practised a lot they only played live once as the reality of finding and organising gigs in London proved too difficult. Eventually, Simon Vita (now an editor) and Mike Dwyer (a casting agent) returned to New Zealand while Martin Kirk (a business analyst) stayed in the UK where he and his wife still live.
Releasing six great records in under three years "without losing money and without compromise" would be a success for any label. That it happened in provincial isolation in the mid-1980s was a triumph.