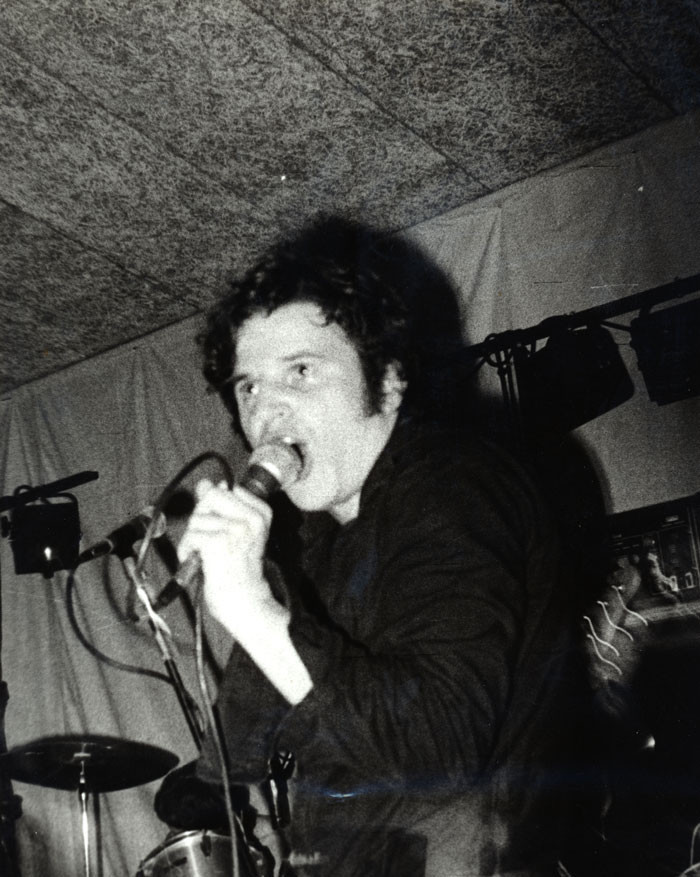 The eardrums pound with the sheer power of it all. When Toy Love play, pal, the energy is relentless. The songs are rarely over three minutes long and the gaps in between rarely last 30 seconds. Just one after another after another, all delivered with the roar of a DC10.
But nobody is gonna ground these buggers. And you'd better believe that, kiddo.
When Toy Love are playing, that turns out to be quite an afternoon.
Saturday Afternoon at the Windsor Castle. When Toy Love are playing, that turns out to be quite an afternoon. All of their hardcore fans are there, of course, as well as every New Wave fan in town. The Windsor has become the place to go on a Saturday afternoon; today it's packed to capacity. Movement of any sort is difficult.
They seem to manage on the dancefloor though. And what a spectacle that is. The pogo-ing punks go crashing into one another, leaping as high as possible into the air before landing amid a mass of limbs. It would appear that some of the more exuberant dancers have the express purpose of disrupting everybody else's movement. Here and there we see a little shadow boxing, a little arse kicking. Whenever someone scores a direct hit they bounce the hell out of it, sending a dozen people stumbling in their wake, before retribution can be meted out.
Now these aren't isolated or occasional cases – this happens continuously.
Another Toy Love [song] slams to a halt. Silence. The eye of the hurricane. Toy Love play loud, very loud. Every member of the band plays at full throttle, there's no attempt to balance the sound. The effect is quite exhilarating, infectious.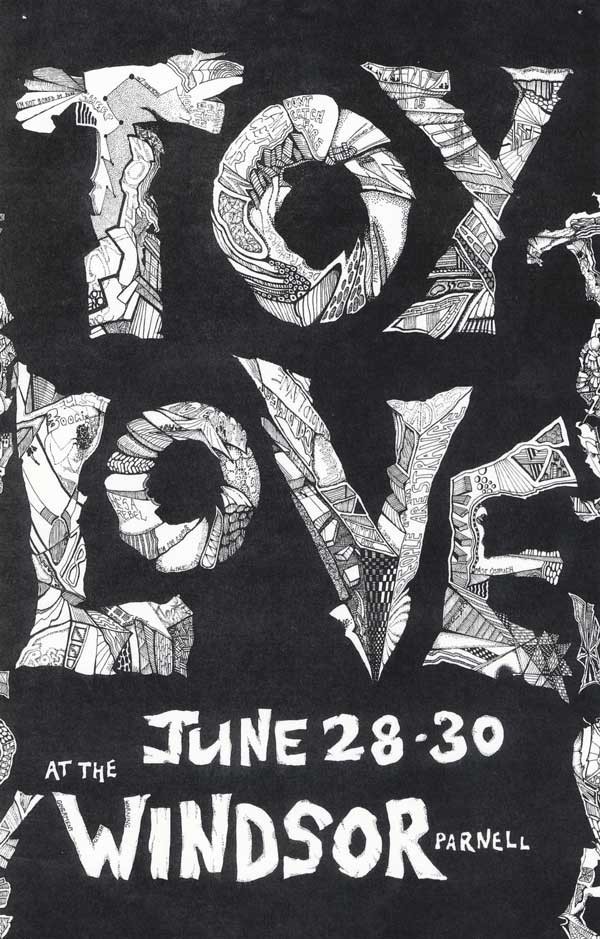 In the back, drummer Mike Dooley and bassist Paul Kean drive the band on like a locomotive. Guitarist Alec Bathgate just motors through each number, occasionally stepping up front for a concise solo; Jane Walker, on keyboards, sits emotionless plonking rapid-fire. It's a strange band, a strange sound.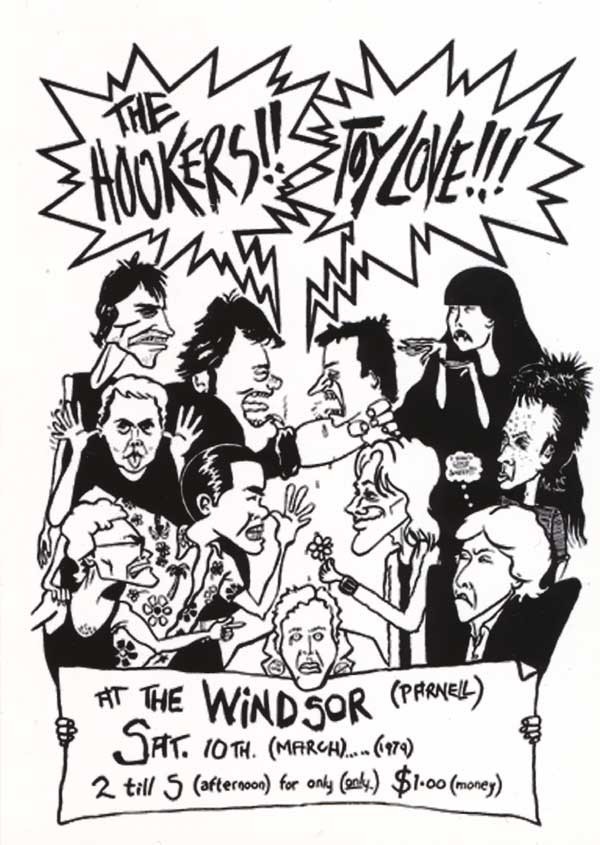 Critics have said that although their energy throughout is nothing short of remarkable, their repertoire appears to be the same throughout, each song rushed through as if there is no tomorrow. And upon first hearing, you may find that to be true. But catch the band a few times and, yes, there is a distinct semblance to melody on each of the compositions. And if you can decipher the lyrics, you'll find that Chris Knox can churn out a fine turn of phrase:
His teeth as he smiles are white and glistening
He don't know the name of the song he's whistling
He says what he likes cos nobody's listening
He's a mod and he's a rebel
Gets so high cos he knows he'll never find his level.
The words are perfect for the music. Delivered in his typically frantic fashion, Knox is obviously well in touch with his audience's attitudes and stance. In less than 12 months Chris Knox has endeared himself to the Auckland punks. He encourages the audience to participate as much as possible with the music, handing his mike to the crowd to help out on a chorus, jumping onto the dance floor and even up onto front-row tables to deliver his maniacal message. Knox continually heads right out there to The Edge, stepping back at just the right moment.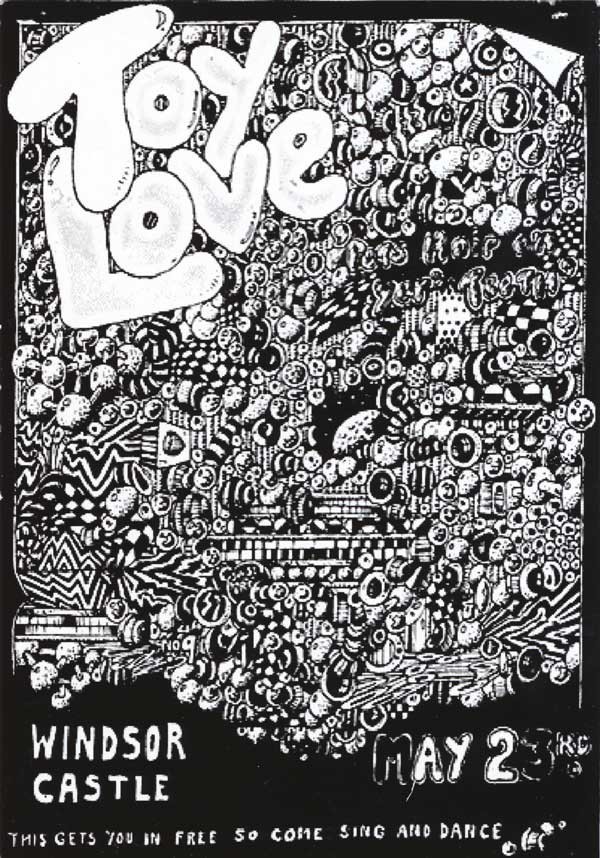 On one Windsor Saturday arvo gig, while table-hopping up the middle of the room delivering the band's tour-de-force, 'Frogs', a frenzied song concerning a nightmare Chris experienced, he was pulled down and almost strangled by some crazy hippie calling him the devil. It was close. Then there was the audience demand back in those pre-Toy Love days when, as lead singer of The Enemy, Knox was expected to cut up his arms a little, à la Iggy Pop.
When The Enemy (Knox, Bathgate, Dooley, and bassist Mick Dawson) arrived in Auckland last September, they already had a reputation as the band from the South Island. Based in Dunedin, they'd impressed rock fans in Invercargill and Christchurch. Their North Island arrival, many believed, would soon see them up there with The Scavengers and the Suburban Reptiles at the forefront of the New Zealand punk scene. Their first northern gig, at the Auckland University café with the Scavs and Sheerlux, saw the band – with Knox cutting a bizarre figure with his Mohawk hairstyle – win over the new audience. The Enemy had arrived and impressed. Regular gigs at the punk palace, Zwines, followed.
Within a matter of weeks, however, the band were set back when bassist Dawson returned to Dunedin. Not to worry, though, who should move in but Phil Judd, late of the Split Enz and the Reptiles.
With the demise of the Suburban Reptiles, and The Scavengers (now Marching Girls) over in Melbourne, Toy Love became the obvious favourites for the Auckland punk crowd.
Inevitably, Judd didn't last long with the band. Again luck dealt the band a good hand when almost immediately, Paul Kean and Jane Walker, late of Christchurch's Haemorrhoids, were recruited. Toy Love was born.
With the demise of the Suburban Reptiles, and The Scavengers (now Marching Girls) over in Melbourne, Toy Love became the obvious favourites for the Auckland punk crowd. That's if there still is such a thing as punk. If indeed there ever was. What am I saying? How else would you describe these louts on the dance floor? Some poor luckless bastard has had the misfortune to slip to the ground and now there are about a dozen of the buggers all piling in on top.
Toy Love, meanwhile, are into their last set. They're really firing now. A fan climbs up on stage and sort of dances. Sort of. There's a vacant look in his eye. He stays there through a song and a half before suddenly coming to life and diving straight into the dancing crowd. All good fun.
A minute later Vacant's back again with a jug of beer in his hand. Again he just stands there, shuffling a bit now and then. Dunno what he's up to but nobody seems to mind, certainly not the band. They're raging.
I don't feel any pain
Cos the doctor took three-quarters of my brain.
And I'm banging me head against rubber walls
And it doesn't hurt at all
I don't know where I'm gong to.
Like most bands, Toy Love keep their stronger songs for the final bracket. With Chris handling the lyrics, the rest of the band share the music honours. The few covers the band still perform include a pretty weird cross-section – from Shocking Blue to The Doors, The Troggs to The 1910 Bubblegum Company. Mind you, you've never heard 'Yummy, Yummy, Yummy' played like this.
The band was belting out one of its stronger songs, 'Squeeze' …
The guilt you feel you're feeling
As the skin is slowly peeling
Off your back
With tender loving care
Oh yeah
Oh yeah
Oh yeah
... yeah, Vacant decided against the jug of beer that he clutched. And Chris, well Chris got pretty wet, although he hardly seemed to notice the intrusion. After that things got pretty weird.
It's only natural that more beer should be flung. It was the glasses that had me concerned. Particularly the one that came from about 10 metres back and hit Chris on the forehead. Now I felt that. Chris, though, later dismissed the incident: "That's just, you know, his way of being affectionate." Oh yeah?
Toy Love close, as usual, with 'Frogs' – which, this time around, saw Knox cover his head with silver foil (on other occasions he's used tape, completely covering his head along with the mike, a weird, albeit effective, exercise).
How far Toy Love can go is debatable. But they're making a start. A single, 'Rebel'/'Squeeze' has just been released by WEA, and in September 'Frogs' is to be released on an American compilation album (Waves 2) released by Greg Shaw's Bomb Records.
I visited the band shortly before they took off on their North Island tour and we talked about the strange breed of fans that Toy Love attracts.
"They identify with us," Paul says. I mention the glass-throwing incident. "Oh that's nothing," Chris says, unbuttoning his shirt to reveal a large cross gouged on his chest. "On Saturday night one of our fans demanded that I cut myself. I didn't so he did. It's alright. I had complete trust in him. He's a really nice guy. It was just his way of …" Yeah, being affectionate.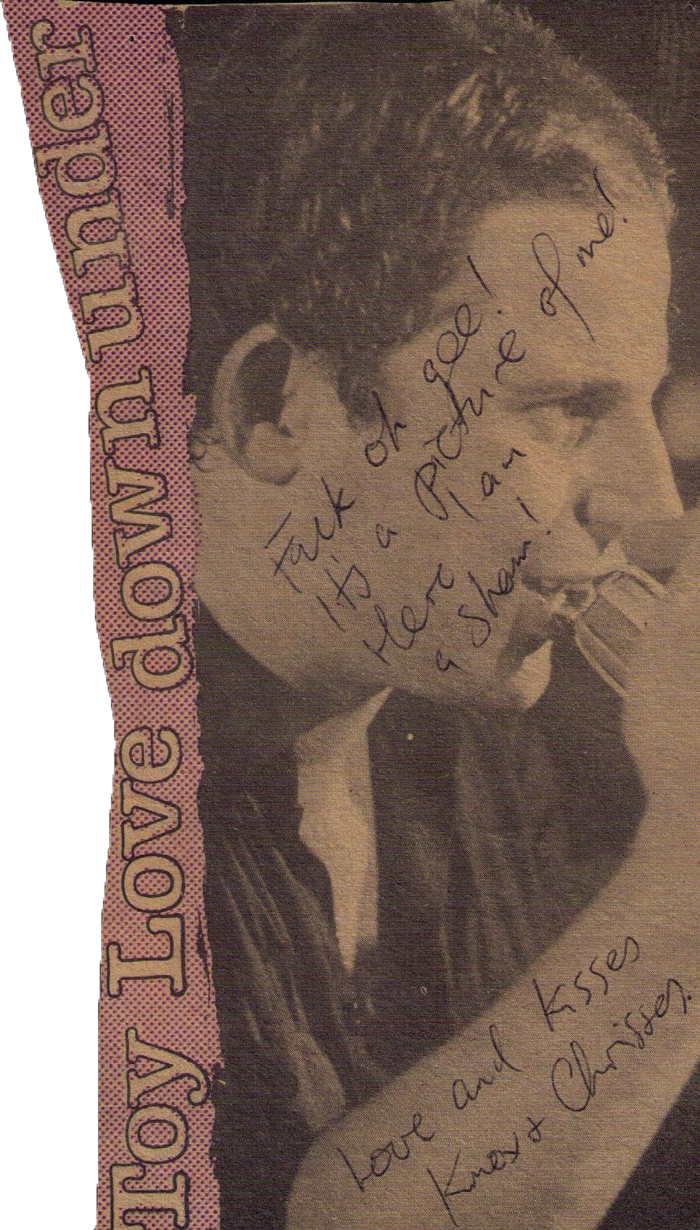 -
This first appeared in Rock Express #5, 1979
© John Dix, used by permission