Introduction
Tommy Adderley left England a merchant seaman, and arrived in New Zealand a singer. He was just 19, and had already been at sea for four years. In England, everyone was listening to Tommy Steele and Elvis, but it was the skiffle of Lonnie Donegan that made it possible to take part yourself. He formed a shipboard group called the Hound Dogs, and each time they visited Wellington, Tommy and his friends would go to local clubs and say, "We're the band from the Dominion Monarch" and get a gig. The club would get a band, a crowd full of seaman, and women attracted by their sharp suits, shoes and slicked hair.
In 1959 Wellington became like Tommy's second home: he got a girlfriend and encouragement for his singing. Once he jumped ship to settle there, people started telling him about the Pines. This cabaret on the south coast was wind-blown, with a view from the Kaikouras to the Wellington heads. In the days of early closing, and no late-night licensing, the Pines was just far enough out of town for patrons to enjoy a few drinks, a meal, and a band, with little likelihood of the police turning up.
"The Pines was the Copacabana, it was the Sands of Wellington, it was Ronnie Scott's!" Tommy told Roger Watkins in his 1992 oral history interview. He went to see the proprietor, Pat McCashin, who said "What I need is a cleaner." If Tommy wanted to clean during the day, and sing at night, he'd give him eight quid a day. "That went on for three gloriously happy years."
This article is an excerpt from Christine Mintrom's biography, Tommy Adderley (1940-1993): the Man and His Contributions to Pop, Jazz, and Rock Music in New Zealand, published in 2003 by iUniverse. It covers Tommy's Wellington period, where he swept floors and cleaned toilets at the Pines, then put on a fancy suit and stepped on the bandstand to sing jazz, rock and roll and show tunes with Wellington's top club band, led by pianist Garth Young. The photos are from Young's collection, and a young drummer can be spotted among the musicians: David Charles (Bruno) Lawrence.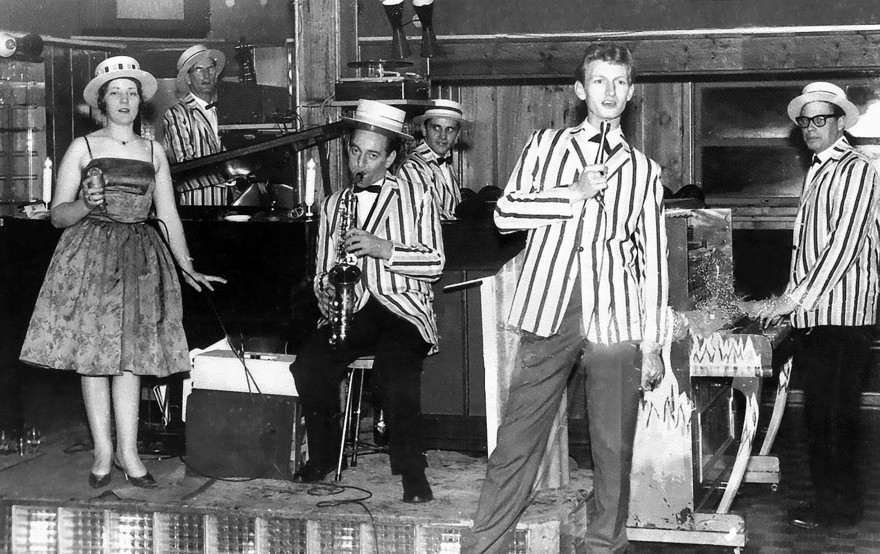 Tommy at the Pines
Even now, people still remember the Pines for its wonderful food and its sophistication. It was run by Pat and Amy McCashin. Pat cooked for everyone, and liked to chat with the crowd, who were frequently Wellington notables. Tommy often described Pat and Amy as being like parents to him, and talked about how Pat, after getting changed out of his chef's clothes, took Tommy circulating among the patrons: "This is my singer. Anything you want to hear, he'll sing for you."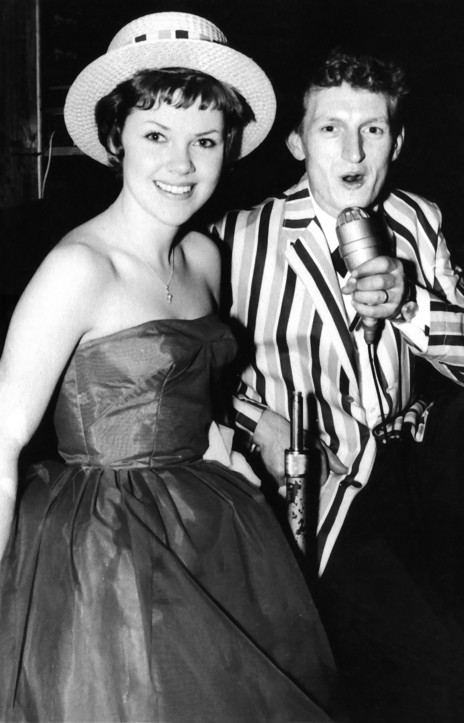 At the Pines, Tommy continued to work with popular piano player Garth Young and his trio. Garth was the first person to introduce Tommy to the notion of arrangements. While working this residency Tommy really learned about audiences: that important relationship between the singer and the audience. As noted by US writer Michael Bane, a singer's job is to provide a service, get people to enjoy themselves, and forget their troubles. For this service he receives rewards for some basic human needs, like food and a fair share of sex, and a small amount of money.
During 1963 Bruno Lawrence joined Garth as drummer with the trio. Bruno and Tommy had much in common: both English-born, both great jazz lovers, lovers of fun and a similar age. Little wonder they became lifelong friends.
These were still the days when the pubs closed at 6pm. Regardless, the Pines was always considered the venue to go to for after-show parties for visiting artists and those with them. Tommy described it as famous at the time, quite notorious, in fact. With Houghton Bay being so far out of the city – situated high above Wellington's isolated and wild south coast, between Lyall and Island Bays – he said the authorities virtually gave the place carte blanche treatment. He acknowledged Pat had a good understanding with the local cops. If the cops did pop in, Pat cooked for them.
The Pines of course was unlicensed, as were all nightclubs in those days. That did not mean there was no alcohol around. Tommy recalled people brought their own booze, like Cold Duck, the cheap bubbly which was so popular then. The clientele often stayed well after midnight, grogging on. At times there was the odd person rendered too drunk to drive home. They'd stay back, and would be given breakfast, by Pat, before they departed next morning.
By day Tommy worked setting up the cabaret and keeping it maintained. Fri­day and Saturday nights he sang. During the ball season he worked more days during the week preparing private functions, and sang Wednesday nights. Then on Sundays, he and his wife Colleen did the cleaning. Colleen: "We – I used to clean it. I used to do all the dishes. He used to mop the floor in the toilets. He used to have to do that. Sick everywhere. Revolting. But what can you do when you're buying a car and other things? We worked very hard in those days."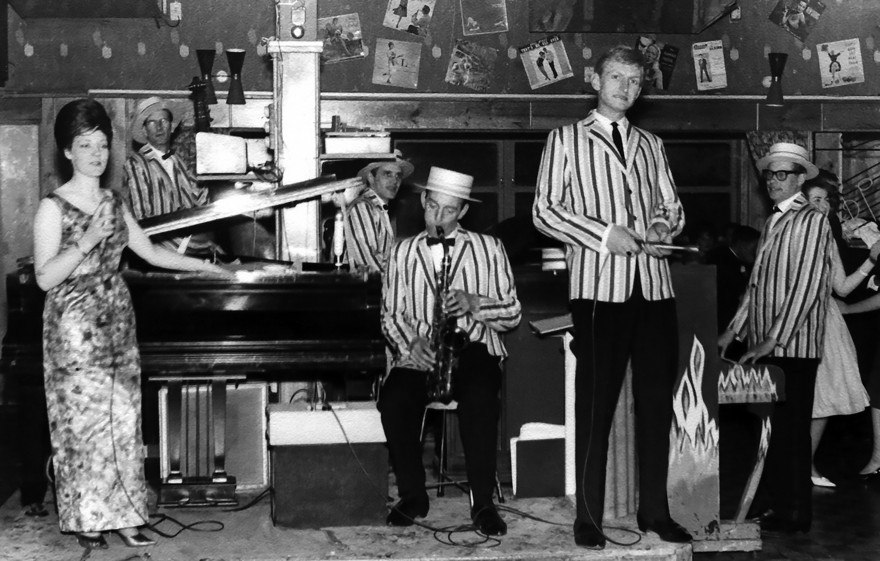 The residency at the Pines lasted for three years; years Tommy remembered as being wonderfully happy. He met Mike Walker, almost certainly New Zealand's finest resident jazz pianist, at the Pines, when Mike's group – based at Auckland's Montmartre club – swapped work locations for a week. The musicians weren't paid by the substitute venue, they just literally went to work somewhere else for that week and were paid normally.
Music was Tommy's biggest love. Colleen noted that everything else came sec­ond, even his wife. He was a perfectionist. He sang all day and put all his energy into music. He spent lots of time in rehearsal and lots of time learning new songs. He idolised Mel Torme over these years, and Sinatra, of course.
His other steady job was at Casa Fontana at the jazz workshops on Sunday nights, again working with Garth Young. Casa Fontana was an attractive, spa­cious coffee lounge in Featherston Street; it was one of Wellington's popular locations of the late 1950s and early 60s. Often referred to as a basement venue, it was really only partly below ground level. Colleen has fond memories of the place. "It had a nice atmosphere, and a nice group of people. Often you found the same people going there every week. And it really was a lovely coffee bar. It made something to do in those days for a night out on a Sunday when everything else was shut." Casa Fontana was another venue where Tommy sang and Colleen worked.
Tommy worked with Jack Claridge in the radio programme Clar­idge by Candlelight, singing with a big band led by the well-known musician, and regular broadcaster, Don Richardson. Claridge by Candlelight was a show performed at NZBC's radio studio: in Saturday nights the show went out live-to-air for 15 minutes. Tommy sang the introduction, then several songs with the band. He also worked on radio with the Wellington Jazz Orchestra, singing Sinatra songs.
Max Merritt and Mike Perjanik both observed, with some degree of mirth, that recording in those years was primitive, though innovative. The process involved laying down a backing track and adding the vocals. Mike: "You had to play a lot better in those days, and get it right from the word go. There was no patching it up later."
Alex Jennings formed the Lexian label and was one of many people who went to the Pines to hear Tommy sing. Lexian pressed Tommy's first recordings. As was common then, Tommy just had an agreement with Lexian, not a contract. Contracts were rare.
The album Tommy was released on RCA, in conjunction with Lexian. Tommy described it as a "cheapie", and it was. Most of the tracks used licensed overseas backing tapes. The sound was called "Dynagroove", a simu­lated stereo sound: the closest you could get in New Zealand to stereo in the early 1960s. The back­ing for '18 Yellow Roses' came complete with a guitar glitch, which was not picked up until Toni Williams used the same backing track some years later.
The album cover featured Tommy in a shiny silver mauve suit, on top of Wellington's Mt Victoria. The photo chosen was one of 12, shot in two loca­tions by photographers Don and Beatrice Peat. The others were taken in a schoolyard. Some of these were of Tommy on a jungle gym and in one he was up a tree.
Commercial radio during the early and mid-1960s had improved a little from its dreary status of the 1950s. Most local stations had their own pop and rock and roll pro­grammes, like local hit parades. The ZB network in Wellington had the Sunset Show, which went to air each weekday evening. Tommy's first single, 'Knee Deep in the Blues' b/w 'Write Me a Letter' was released on Lexian, 15 March 1963. It received lots of airplay in Wellington, from deejays such as Justin du Fresne, who hosted the Sunset Show. This was the era when, as Tommy's disc showed, you could have a hit that was big in Palmerston North, or Whanganui, but nowhere else.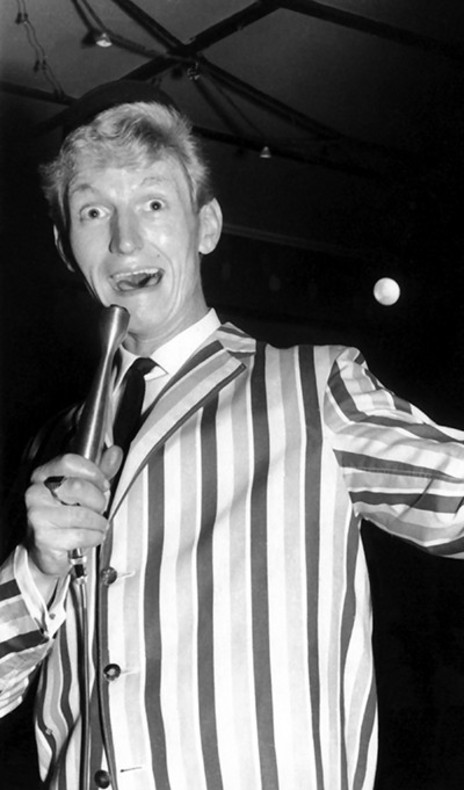 Tommy released several other songs on the Lexian label during 1963: 'Comin' Home Baby' b/w 'The Girl in the Wood'; 'Enjoy It' b/w 'Dance the Blue Beat'; and 'A Kiss From My Love' b/w 'Love Will Come to You'.
'A Kiss From My Love' and 'Love Will Come to You' were both written by Garth Young and Alex Jennings. With his orchestra and chorus, Garth provided the backing for these two songs. Some of these early singles featured Bruno on drums. My copies of some of these singles are still in the original packets, still showing the price I paid for each of them: 4/6.
When Tommy talked about the 'Enjoy It'/'Dance The Blue Beat' single in his 1992 oral history interview with Roger Watkins, he sounded excited — he sang the words. He explained that blue beat was big in the UK in the early 1960s, and described the single as essentially being the same track on both sides, but with party sounds added to the B-side. (This single came complete with his then-current nickname, Lord Farnsworth, bracketed on the record label, and it named the backing singers as The Blue Beats.)
Around the same time, Tommy also contributed four songs to a Lexian compilation album, New Zealand Hit Paraders. His tracks were: 'Comin' Home Baby', 'Write Me a Letter', 'Knee Deep in the Blues', and 'The Girl in the Wood'. Tommy felt he was slotting in to a comfort zone in Wellington. Encouraged to consider his future by Garth Young, Tommy believed that to be a full-time singer in New Zealand he needed to be based in Auckland. He began to go to Auckland from time to time. He then shifted to Auckland and started singing regularly at the Montmartre, with Mike Walker, further consolidating their lifelong friend­ship. Colleen moved to Auckland six months later.
--