Wellington's club scene in the last half of the 1960s was a closed one, controlled by two key promoters, Tom McDonald and his Universal Booking Agency, and Ken Cooper, who was loosely affiliated with Auckland's Phil Warren. Both promoters booked venues and managed bands.
Among the key venues controlled by the pair were Ali Baba's (at 171 Cuba Street – at the time of writing it is The San Francisco Bathhouse), booked by McDonald, and The Place in Willis Street, booked by Cooper. Both venues flowed with the times and in the 1967-69 period that was psychedelia. To compete with new places like The Psychedelic Id in Majoribanks Street, The Place was "flowered up" and to go with the look they printed a poster. Only limited numbers were printed, and thus it has been rarely seen over the years as only a few survived. AudioCulture has the story.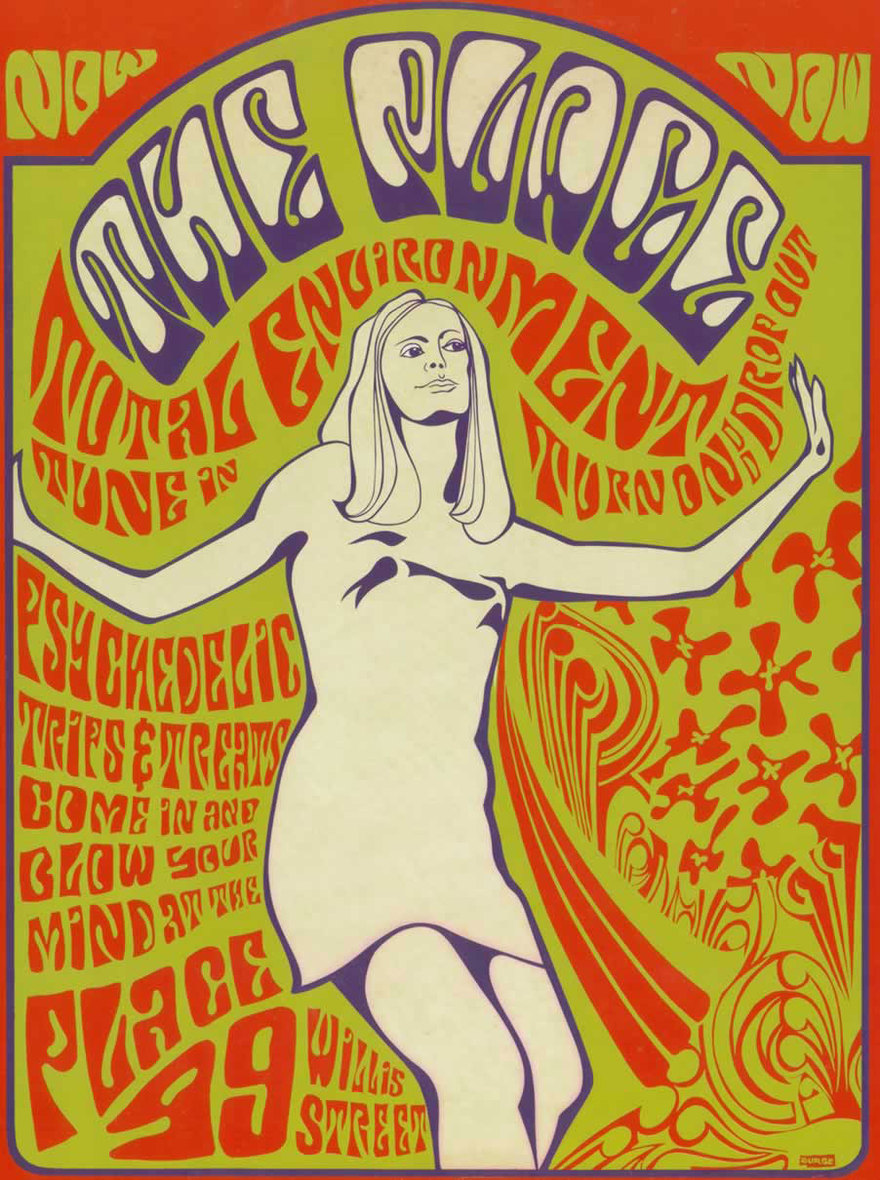 During the late 1960s The Place, at 49 Willis Street, was Wellington's hot dance venue.
And then psychedelia arrived, straight from San Francisco.
I was a copywriter at a Wellington advertising agency and had created record covers for local bands under HMV producer Nick Karavias. Ken Cooper was one of the guys running The Place and he asked me if I could do a psychedelic makeover of it to bring it up to date. With a tip of the hat to San Francisco's amazing Fillmore stadium posters, I developed this poster, got one of our agency artists to make it happen, and got a print run done.
Some of the artists joined me in painting a huge psychedelic mural on one of The Place walls. We did a head-and-shoulders of a Byrds-like figure with square-shaped dark glasses and surrounded him with alternating fluorescent red and green lines running the length of the wall.
I also used a small film camera to shoot flower power "everything is beautiful" sequences, including zoo animals and close-ups of dandelions. The resulting film was to run in a continuous loop at The Place, projecting blissful images over the dancers.
Finally, we wired up pulsing lights to be operated by a lever under the drummer's foot pedal.
We had a 50% success rate. The poster looks great and likewise did the wall mural. On the other hand, the film loop soon gave up the ghost.
I took some friends there on the opening night. Suddenly, in the middle of the jam-packed action the fuses blew, plunging the place into darkness. Time for a quick exit.
A few days later I examined the sturdy light controller we'd placed under the drummer's pedal. The power of his foot action had bent it in two.
Ken Cooper seemed happy though.