It was 1967, the Summer of Love, LSD and Sergeant Pepper's Lonely Hearts Club Band. For the Fourth Form at Onslow College in Wellington, it was the year of Jimi Hendrix.
Up on a hill above drab Johnsonville, we obsessed about three songs: 'Hey Joe', 'Purple Haze' and 'The Wind Cries Mary'. We rated the crashing, chaotic Who, but out behind the prefabs, over du Maurier cigarettes, iced Buzz Bars and gulps of Fanta, we solemnly declared Jimi's musical genius.
Weekends that year were predictable: we lived to strut our "mod" fashions (floral shirts with tab collars, white bellbottoms and blue sneakers) into venues like The Place on Willis Street, with its dimmed red lights and Formica tables with overflowing, stinking ashtrays. Warmed by hip flask sherry, we watched and scorned the tinny rock played by Beatle clones in suits and thin black ties, rarely bothering to dance.
Something changed that year. We'd all read in Time magazine of the peace, dope and free love "hippie" movement breaking out of San Francisco, what our local paper, the Evening Post, called "the strange revolt against square adult society." Fighting with parents for the right not to tidy our Hendrix-bedecked bedrooms and/or make our beds, we knew all about that.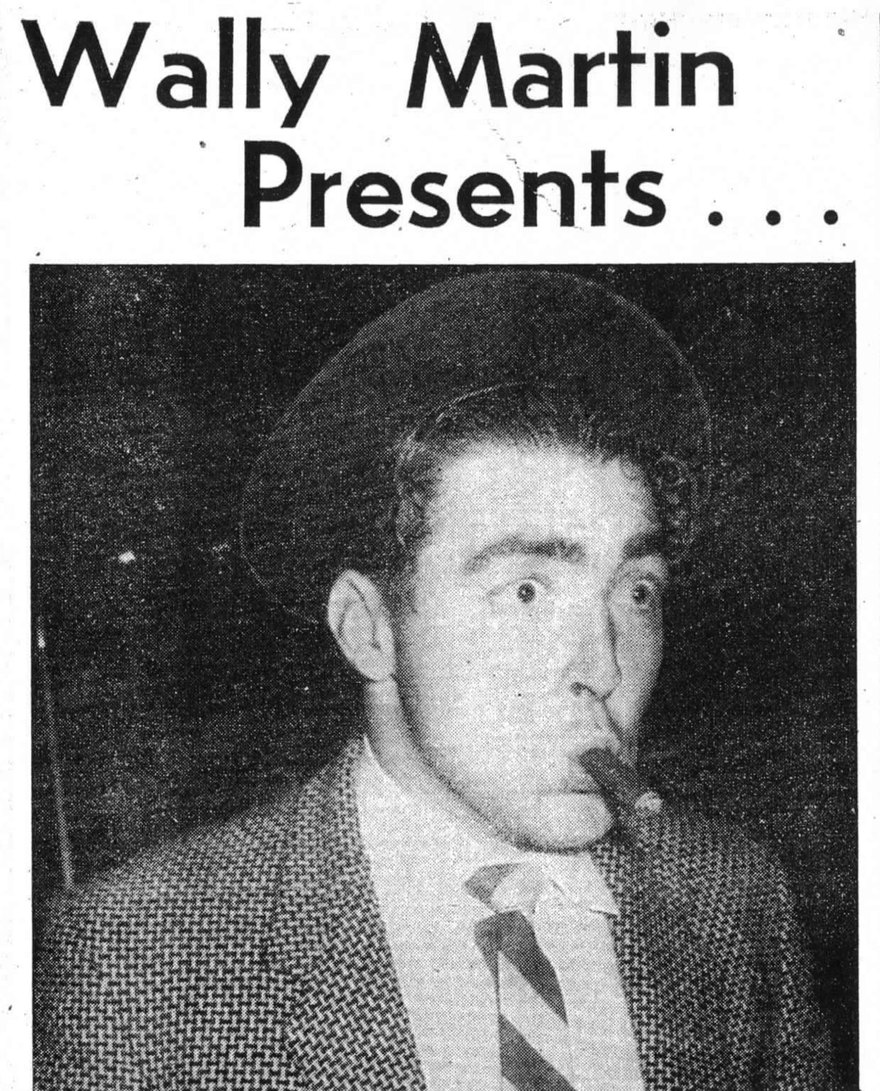 In September 1967, Auckland impresario Wally Martin (going by the unforgettable name of "William Crutchley") brought his unique version of hippie culture to the capital. His new club, Psychedelic Id, was located round the corner from Courtenay Place at the top of a rickety wooden staircase on Majoribanks Street, which runs to the foot of looming, green Mt Victoria.
Bill Crutchley quickly made rival clubs like The Place look tame. His display ads in the Evening Post entertainment pages billed the Id as "the Hippest! Happiest! Swingest! Craziest! scene in town." The hype didn't stop there: "All the 'in' people are at the 'Id' happening as Wellington has never happened before! Flower People! Swingers! Hippies!"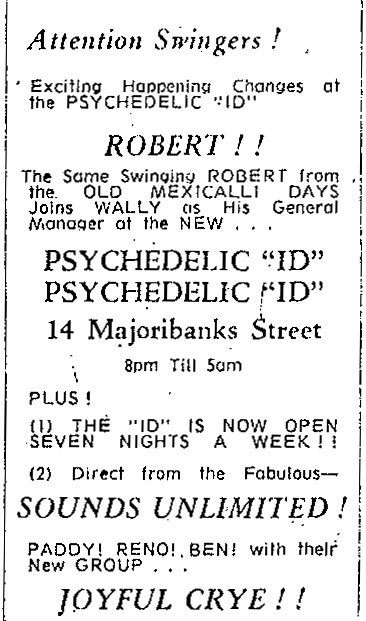 What attracted us fourth formers to Majoribanks Street were swirling rumours of the Id's new house band. Sounds Unlimited, one of the tinny Beatles copyists we despised, were just back from England with flash equipment, including a wah-wah pedal. Three breakaway members had formed themselves into a wild threesome named Joyful Crye, with a repertoire based exclusively on Hendrix. They'd even seen him play live in a London club, one joker reckoned.
An all-covers Hendrix band still represented an incredible cachet. The mid 1960s New Zealand pop scene was powered by covers, a time when "derivative" was not a dirty word, and the idea of local bands writing and playing their own material was close to unthinkable. Even recorded music in New Zealand circa 1966 was based on covers. There seemed no other way.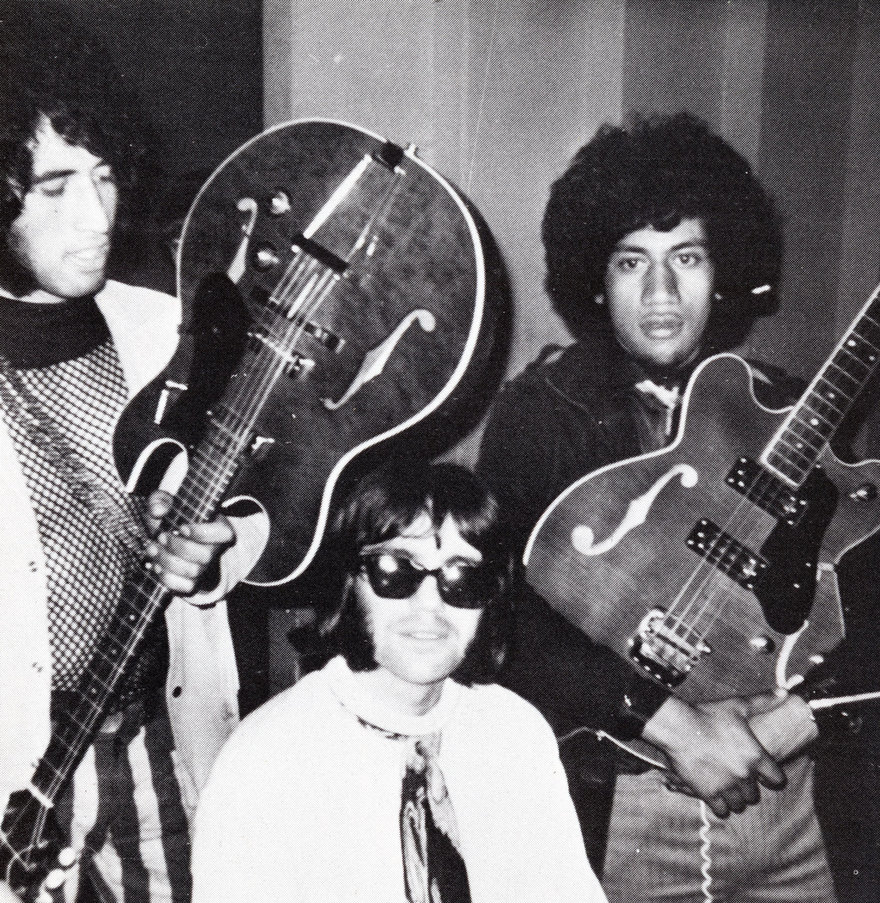 So there we were one Saturday night in October, climbing the stairs to the Id, with expectations of hippie chicks (hopefully available!) with flowers in their hair. But we were disappointed as we entered. The Id felt like every other grungy "nitespot" in town: a smoky room painted dark purple, throbbing lights and over dressed punters.
The sweaty, tightly packed crowd looked, like us, dedicated followers of Carnaby Street. The height of fashion that year was navy Nehru jackets from Keans ("for Jeans") festooned in gold braid, grandad's medals and army badges. I recognised an Onslow girl in an old Girl Guide uniform. That was a bit different.
Then BOOM!! From a tall stack of Marshall amplifiers, came the biggest, riskiest, blackest sound we'd ever heard. This was Joyful Crye – Reno Tehei, Ben Kaika and drummer Paddy Beach – all Afros, beads and tight leathers. Reno, in particular, caught our imagined Jimi in every way, down to playing guitar with his teeth, sunk to his knees, howling. We stood, lumps of raisin bread, as the deafening Crye tore the whole world apart. Dancing was out of the question.
It is far too long ago to remember the song list. 'Manic Depression'? 'Red House'? Neither can I recall much more about the atmospherics at the Id, other than the fact that "psycho-burgers" were advertised for sale at 35 cents a pop (quite a lot of money at the time!). Nor can I remember how often I went there. But when we saw those Psychedelic Id ads, stating "Attention Swingers!" we knew they were aimed at us.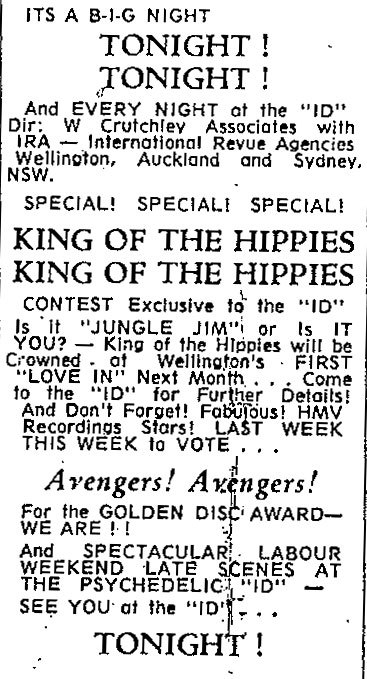 By November, the beloved Id seemed to be in decline. A chick called "Gypsie" ("beautiful, swinging and lovely") was now Joyful Crye's warm-up act. One weekend brought a "King of the Hippies" competition ("he will be crowned at Wellington's first 'LOVE IN' next month"). The final night came a week before Christmas 1967, as Wally Martin returned to Auckland.
Joyful Crye were already on the move. After gigs at the Oracle (off Manners St, later Lucifer's), the band was snapped up by a canny Melbourne promoter who offered them a residency with a steady wage. They were soon renamed Compulsion, though, according to John Dix, Reno's feverish stage presence shortened the band's life.
As the Id closed, another door opened. A national referendum in September saw two thirds of New Zealand voters support the end of 6pm closing of hotels. Later hours were introduced in the second week of October 1967. By 1968, a pub-driven musical revolution was underway.
Was the long anticipated dawn of more liberal drinking laws the reason why owner Wally Martin opened his Id in the first place? If so, he would have been dreaming. At a time when the breweries ruled the land, he'd never have got a licence.
It turns out that Martin was a Wellington-born promoter (and part-time magician) who, by 1959, aged only 24, was touring jazz and variety shows. William James Crutchley was in fact his real name. With an uncle a senior judge in Christchurch from 1961, Wally only operated his ventures in the North Island, and Dunedin.
In 1962, along with "King of the G-String" Rainton Hastie, he opened Auckland's Follies, the country's first strip club. He then sold out to Hastie.
Undeterred by the failure of his "hippie" nightclub in the watershed year of 1967, Martin zeroed in on the sexual revolution. In 1968, he appointed himself editor-in-chief of Censored, an "adult" tabloid taking on NZ Truth's market, and operating from a shop on Auckland's Dominion Road. Turnbull Library has a few rough (and extremely grubby) issues in its collection. Martin then dropped out of sight.
Close to half a century on, memories of the Id and its times linger. Painter and BLERTA musician Fane Flaws recently wrote a touching account of being turned away as a 16-year old, listening to Joyful Crye from the street below: "I knew in my soul I was missing something special, magical and important – my teenage suburban world was beginning to explode."