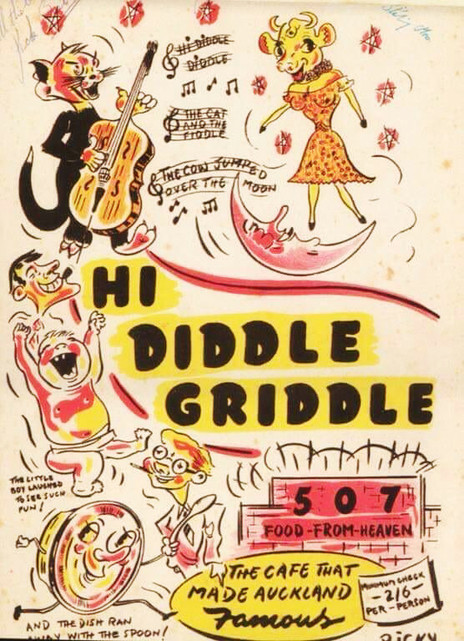 Situated at 507 ("food from heaven") Karangahape Road, the Hi Diddle Griddle was once considered Auckland's "plushest nightclub". Opened on 31 July 1953, it introduced an alternative for cosmopolitan adults: a restaurant with live music. The owner was a man-about-town named Jim Jennings, who had an obscure background: some thought he was an American expatriate, a South Pacific beachcomber who had "washed ashore" after the war.
Billy Farnell was certain he was from Tauranga, and he wasn't too far wrong. Writing to the Blue Smoke blog, Jennings's granddaughter Sally Warren reported he was a naturalised US citizen born in Thames, Bay of Plenty. "Otto Groen was the hard-working cook there. The Griddle actually opened July 31, 1953 and was in existence until 1959. Jim and Otto went on to open The Gourmet restaurant nearby in Auckland."
According to Perrin Rowland, a historian of New Zealand restaurants, Jennings "focused on injecting his own brand of fun and excitement into everything from the décor to the food to the service."
Jennings knew how to set up a room with class. His concept for the Griddle was based on ideas he brought back from the United States: red leatherette booths, dark wood panelling, steak, lobster, burgers and all kinds of chicken dishes on the menu. Otto Groen – one of New Zealand's hospitality pioneers – could be seen cooking in the window; Chicken Maryland made a change from colonial goose. Behind the stage was a black velvet mural of Polynesian maidens and a mythical Pacific, painted by Kristin Zambucka. Beside it was a large waterfall made from giant clam shells.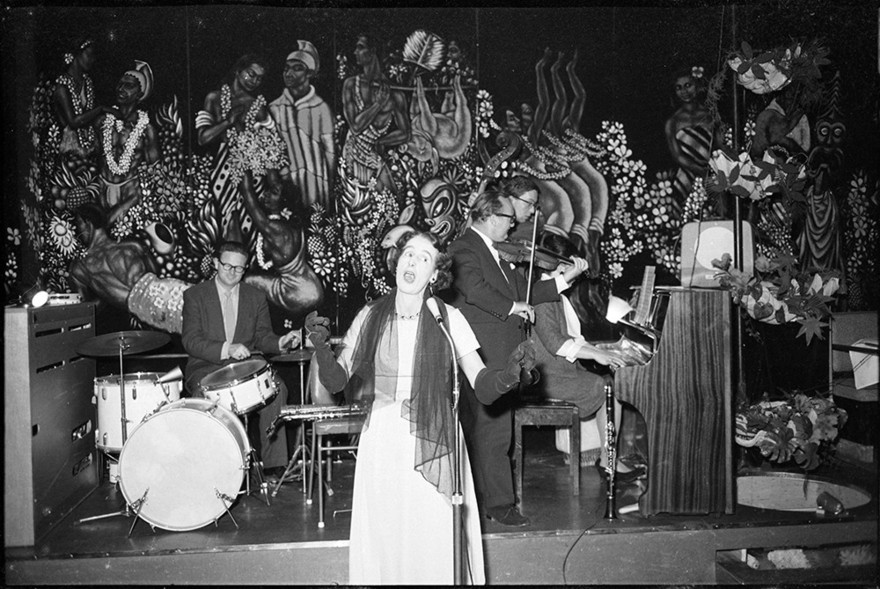 The Hi Diddle Griddle had a tiny stage that showcased small combos led by Lew Campbell or Crombie Murdoch. Pat McMinn and Kahu Pineaha occasionally did floor shows. It would open late, and close even later – sometimes 4am – and visiting musicians such as Nat King Cole might drop in. Late in the 1950s, Paul Lestre, a reed player and violinist from the East End of London, began a residency that led to the 1959 LP A Night at the Hi Diddle Griddle.
Released by Stebbing, the album featured Lestre's current band: pianist Lyall Laurent, bassist Bob Ofsoski and the city's leading jazz guitarist, Ray Gunter. In the early 60s Nancy Harrie replaced Laurent. The Hi Diddle Griddle inspired many other venues offering food garnished with music.
"I have to say, Paul Lestre and the Hi Diddle Griddle was über cool in the late 1950s," an anonymous correspondent wrote to the Blue Smoke blog. "As a 17-year-old I managed to outrage my father by frequenting this venue – the candles in the open brickwork – the 'after races' clientele on Saturday nights and the live music – such a far cry from the Formica-tabled steak and fish cafés that my father's generation knew. Paul Lestre (real name James Callan) became a life-long friend and his performances were always something to treasure."
Auckland showbiz columnist John Berry remembered meeting Howard Morrison there in 1958, early in their career. They talked not just about Morrison's future plans, but Māori land ownership. The niggly part was when the bill arrived. The Quartet had sung for their supper, they thought, performing a short bracket of songs at the request of owner Jim Jennings. But after enjoying their chicken-in-a-basket, Jennings presented them with a bill, which came to over £5. That's $244 in 2021 money: a cup of coffee was 1/3 ($3), the price of a meal in a greasy spoon across the road. The cheapest steak was 7/6 ($18). The Quartet was upset, wrote Berry, and their manager Benny Levin stepped in. "Benny, always resourceful, had a hurried conference with the management and arranged a small reduction."
A regular pianist at the Hi Diddle Griddle was Lyall Laurent, who played in Paul Lestre's group for the live recording at the venue, A Nite at the Hi Diddle Griddle. Laurent told Jim Sutton the album was recorded over two or three consecutive nights: "Eldred Stebbing was using a Telefunken recorder and open reels of seven and a half inches, and they selected appropriate tracks." The album opens with Jim Jennings introducing the group over its theme song, 'A Pretty Girl is Like a Melody'.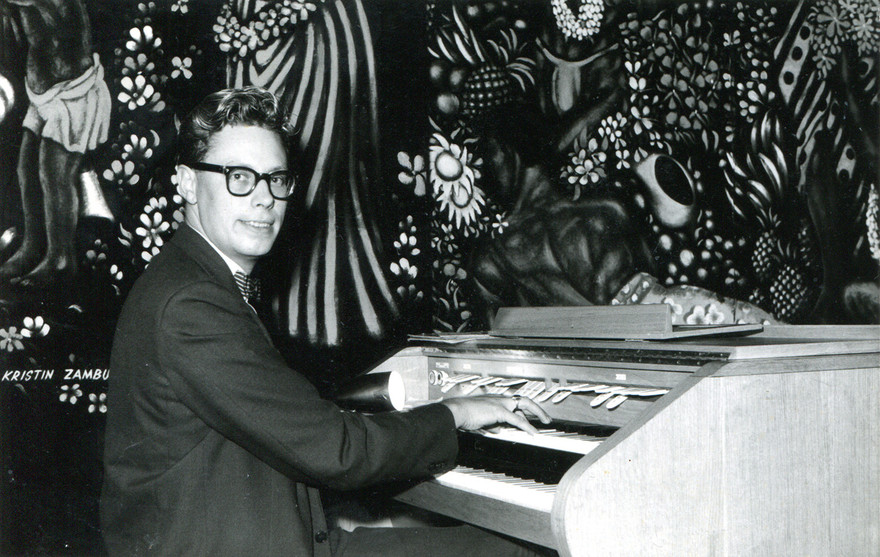 Garth Young took a busman's holiday from his regular gig at The Pines in Wellington to play piano at the Hi Diddle Griddle for a fortnight. Among his guests was female impersonator Noel McKay. In our 2015 interview he recalled: "We did a floor show there one night, and Noel had had a few drinks and he did all this quick changing you know, he was the first person to use Velcro fasteners in New Zealand, because he made all his own costumes. Anyway, on the little stage he was doing all his performances and he slipped and fell over and hit his wife Tess.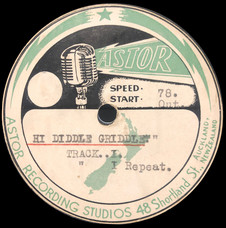 "It was quite a sophisticated little place … nicely set up, no booze, legally. But in those days there were two ships coming from the States regularly, to Auckland, the Mariposa and the Monterey. The crew, a lot of black crew, American crew, they came to port and of course, a dry city after six o'clock at night. Jim Jennings looked after them and then they could get their little half bottles of whatever so they could drink there. So it was very popular. Sometimes we'd get some of them who could really sing, to entertain. Good musicians. We had Paul Lestre, with Nancy Harrie some nights, Crombie Murdoch, myself … we just did standards."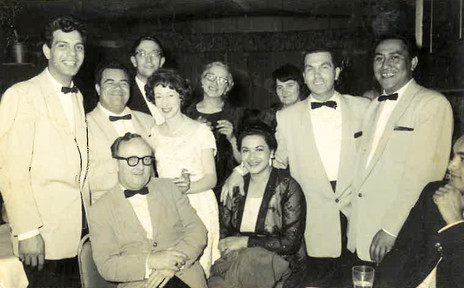 In the Māori current affairs magazine Te Ao Hou, in 1959 Berry described the Hi Diddle Griddle as Auckland's "plushest nightclub". The atmosphere was lit by candles, and the food was exotic. A young Māori at the piano led a chic trio: "Tourists, wealthy business men and sophisticated men-about-town looked up from their shrimp cocktails, their deep-fried chicken or their T-bone steaks as the three Māori weaved fascinating patterns of sound." The trio was top shelf: Lew Campbell on piano, his brother George Campbell on bass, and Mark Kahi on guitar.

Jennings was a shrewd businessman who knew that the future of the hospitality trade depended on changes to the draconian liquor licensing laws. Restaurant historian Perrin Rowland says that Jennings considered matching food with wine or spirits was part of "having a nice meal", and on the bottom of the 1959 Hi Diddle Griddle menu was his mission statement: "Let us hope that those of use who appreciate a fine wine with our meals can induce our government to do something about making this possible … after all, those who do not favour good wines need not partake, the food is still good."
When discussing the liquor situation at the Griddle, Eldred Stebbing was coy in our 2006 interview: "I think they had a sort of wine licence, put it that way. I think it was above board but I think they had trouble even getting that, but they eventually got it."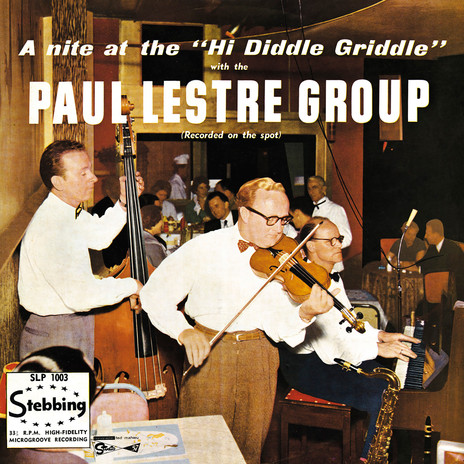 The album was "quite good, actually" said Stebbing, nearly 50 years after it was recorded. He could name all the players and the fact that it opened with an introduction by Jennings. "It was one of the very early nightclubs. Then came the El Matador, then downtown was the Trocadero, and the Colony with Bob Sell." All featured small combos, and the proprietors would suggest to Stebbing. "It would be good if I could get a record out of them. That's how a lot of it would all happen."
The year the Paul Lestre album came out, 1959, is often mentioned as the year the Hi Diddle Griddle closed. But it is still listed in the 1960 restaurant guide Around New Zealand in 80 Cups. "Without a doubt," wrote Rob McGregor, "this famous Auckland restaurant has, since it first opened its doors to the public in 1953, set a night-life fashion for the rest of its counterparts throughout the Dominion.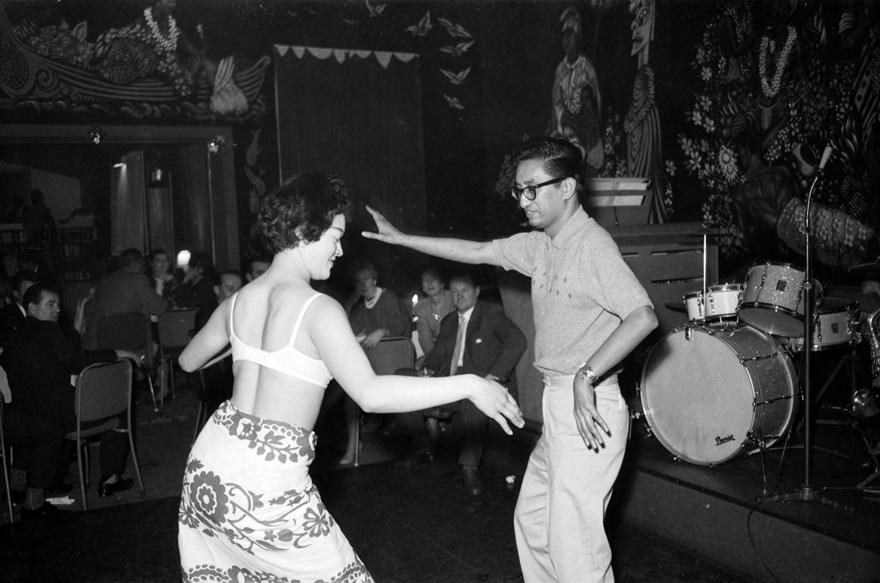 "With floor shows that resemble a who's who in the entertainment world, the 'Hi Diddle Griddle' is famous for its really 'Top 'O the Mark' cabaret presentation." Besides the Paul Lestre Group, McGregor mentions "well-known nightlife entertainers" such as pianist Nancy Harrie, piano accordionist Sylvio De Pra, and Leo Cassin, "who renders music you all like to hear, played on the imported Selmer electric organ which was specially installed for the patrons' pleasure."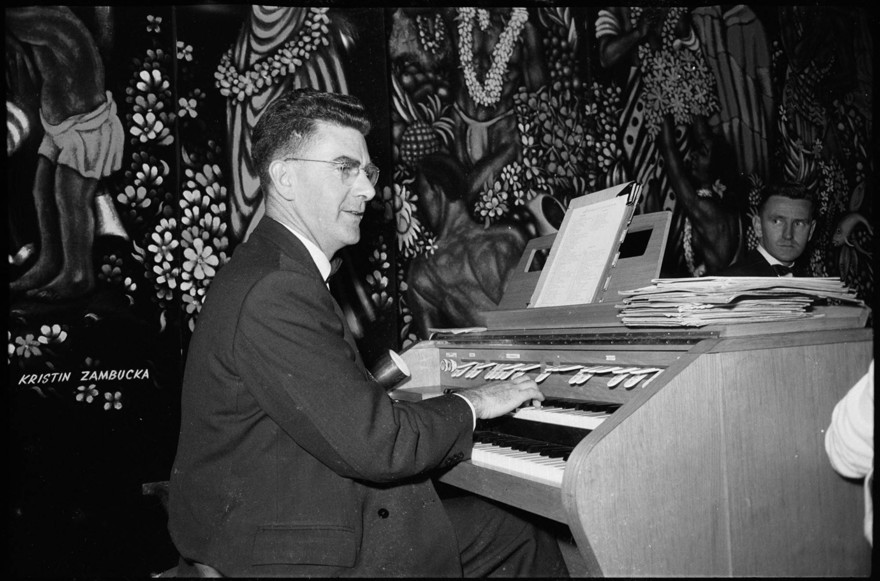 The Hi Diddle Griddle was so central to the Auckland nightlife scene that in 1959 Tony O'Reilly – the charismatic, red-headed try-scoring machine of the visiting Lions rugby team – was booked to entertain the patrons over two nights, playing music and telling jokes, two evenings before the final test against the All Blacks. (The Lions won, 9-6.)
The last set of countless photos taken by John Rykenberg at the Hi Diddle Griddle that survive in the Auckland Library Heritage Collection are dated 6 January 1962.
A selection of photographs of Hi Diddle Griddle patrons, taken by Rykenberg on 24 July 1960.