When his bandmates returned home after 18 months of touring and recording in the UK, former Four Fours and Human Instinct guitarist Dave Hartstone went on to design a sound system that revolutionised big stadium and outdoor concerts throughout the UK and US.
Hartstone seeded his sound hire business with the 200 watt Marshall PA, quad box stacks and amps that were mostly paid for by his fellow players and removed from the container at Southampton wharf before they were due to be shipped out to New Zealand.
He gradually added to that inventory until his company International Entertainers Services (IES) became one of the most innovative sound hire companies in the UK, supplying gear to top rock acts playing larger venues.
A new kind of sound system was needed and promoters, eager to cash in on larger audiences, got right behind the New Zealand entrepreneur.
"In the 60s and 70s I was right among the rock stars. Jeff Beck, Jimmy Page, the Davies brothers from The Kinks, Greg Lake and Keith Emerson from ELP, Pete Townshend, Paul McCartney, The Moodies, Jimi Hendrix. I knew them well and there was a good reason. I provided their sound," said Hartstone.
At the time groups couldn't get equipment capable of providing a quality sound for venues catering to more than 3,000 people. A new kind of sound system was needed and promoters, eager to cash in on larger audiences, got right behind the New Zealand entrepreneur.
To achieve that he needed to have a mixing console with at least 30 channels, a stereo electronic crossover, sufficiently powerful amplifiers to drive the system, speakers, horns, bass bins and "buck and boost" transformers to power it all.
Making out with MAVIS
At the heart of Hartstone's innovation was a modular three-way crossover system known as MAVIS (Music Augmentation Voice & Instrument System) driven by a Crown DC300s amplifier, which represented "a major leap forward for the sound business."
The system was completed within 18 months in time for the first Isle of Wight Festival where Jefferson Airplane, Arthur Brown, The Move, T. Rex, Fairport Convention and The Pretty Things performed before around 15,000 people.
"Our sound opened up the rock and roll business, which was dying because no one could make money through small 3,000 seat gigs any more. The expenses were too high and the profits too low. So we came along with a big sound system that could handle 75,000 people in quadraphonic so the big rock bands had something to work with. We made millions and so did they."
In support of their 1973 album Brain Salad Surgery, Emerson, Lake & Palmer embarked on Someone Get Me A Ladder, their largest ever world tour from which the live album Welcome Back My Friends To The Show That Never Ends was recorded (released in 1974).
Ahead of that tour, in agreement with guitarist and producer Greg Lake, Hartstone and his team worked up a quadrophonic system, involving almost 200 tons of equipment.
That system had to be transported to the larger festivals of the 77 dates on that tour of the US and 26 across Europe. It took 85 crew to assemble and with all the "quad pots on each channel" the band had to be rehearsed to ensure everything was working as it should.
Spectacular sound
The mixer was out in the crowd, often about 200 feet away, something few other sound companies had ever done. "Most of the groups we worked with were overwhelmed with the technology we had put together and crews had to be trained to use it. ELP were our dream group; they were cooperative and the sound was spectacular."
The mixer alone weighed half a ton with 30 channels out into a 24-track Ampex for recording shows live. "We had two of these machines. We recorded ELP live sometimes but Stewart Young was always at the mixer along with someone from the record company who removed the tapes."
Hartstone's main partner in achieving the pioneering breakthrough in sound technology was the late Bill Hough, who implemented his design ideas into circuitry. "Not only was he my head tech, he was my good friend. I trusted him. He was a brilliant man who knew Disney's technicians and had been head R&D man for ITT."
Without Hough, Hartstone says IES would have been a lesser company. "ELP wouldn't go on tour without him due to the complicated equipment they used."
The Who sound guru Bob Pridden, who had been with the band since 1966, was quoted in Sound On Sound magazine in March 2015 saying his favourite ever console was built by IES, whom the band used for all their PA needs.
"The company's head honcho Dave Hartstone came up with the innovative (albeit heavy-duty!) console and brought out their own mixer called a Mavis," explains Pridden.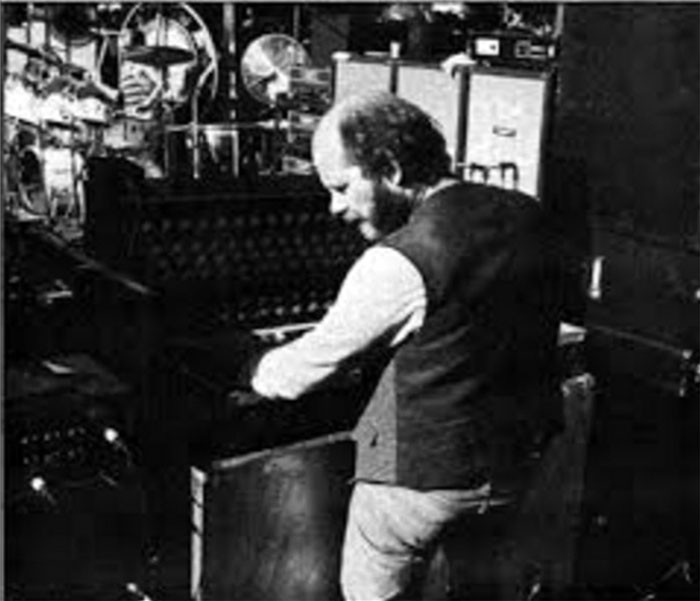 Humble beginnings
Just over a decade earlier Dave Hartstone, having been with The Templars in Auckland, was excited to be joining Tauranga's Four Fours on rhythm guitar.
Hartstone had served an apprenticeship as an engineer and marine welder before joining the Auckland Police then starting a chain of hairdressing salons with his wife Sally. By the time they moved to Tauranga the salon business had gone belly up. Hartstone was eager to see what the music business had to offer and was taken with the idea of The Four Fours going professional.
The band continued to pack out dances halls and their regular gig at drummer Trevor Spitz's Inferno coffee bar.
After a three-month trip to Australia, Hartstone, Spitz, second guitarist Bill Ward and bass player Frank Hay upgraded to better quality Jansen equipment and recorded and toured in support of their hit instrumental 'Theme From an Empty Coffee Lounge'.
Ward, who now had a 12-string Rickenbacker guitar, admits The Four Fours weren't great musicians but the addition of drummer Maurice Greer from The Saints just ahead of their planned UK trip brought new magic.
Hartstone was glad to have him on board. "Bill, Frank and I all agreed Maurice was a good replacement. Trevor could keep a beat, but Maurice had style, was a good singer and he stood up. He was also young and that made the band look young."
He and Greer got on well and often worked late into the night working out playlists and writing original material.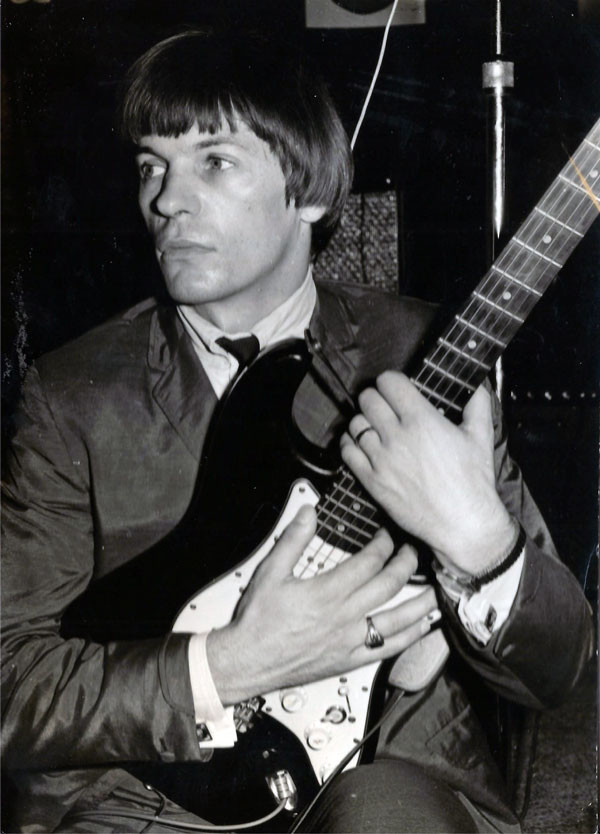 Mics on the guitars
Hartstone loved to experiment using his engineering and electrical skills. He devised an electric foot pedal for Greer's bass drum and began mounting gooseneck microphones on the horns of the guitars. Extra-long leads terminating in stereo plugs gave the band another on-stage gimmick well before radio mics were even thought of.
"We had 60-foot-long flying leads and could move anywhere. We would often let Maurice start the set on his own until we sauntered out from different parts of the stage. I built the slope-back stage monitor based on this idea," said Hartstone.
The Four Fours were among the highest paid bands in the country, mainly because they spent an average of 35 hours a week on stage.
The Four Fours were among the highest paid bands in the country, mainly because they spent an average of 35 hours a week on stage. They had a fan club with around 500 members and soon had six singles to their credit.
In March 1966, three and a half months before their departure, they were support act for The Rolling Stones and The Searchers with two shows in Wellington and one at the Civic Theatre in Auckland. They were proud as punch, dressed up in their silver suits playing versions of British rock covers and their own local hits.
The band had been offered a sharp reduction in fares to the UK if they played three times week on the ocean liner Fairsky. There was one final hurdle before they could board on 11 August 1966. A bailiff was waiting for Dave Hartstone at Customs clearance, demanding money for an outstanding debt.
Hartstone only had enough for his fare and basic living costs in England. There seemed no option, and Ward and Greer each loaned him £100. They boarded believing the debt would be covered as soon as they found fame and fortune in London.
The band changed their name to The Human Instinct on the trip over, and on arrival quickly updated their soft repertoire through endless rehearsals once they realised what they were up against.
When the gigs finally came the former Four Fours were almost broke and nearly starving. Booking agent Peter Newbolt put them on the circuit after an open audition at the and they began to pay their dues at working men's clubs and pubs in England, Scotland, Wales and all points between. Then the return bookings came.
Upgrading the equipment
The old Austin J2 had given up the ghost and been traded in for a second hand Transit van, which was also on its last legs; their Jansen duo boxes and Philips speakers weren't cutting it any longer. Owning gruntier equipment and a better wagon to cart their gear remained a distant dream until Newbolt insisted. "I've called Jim Marshall and he's expecting you in a couple of hours – go and pick up the amplifiers and speakers you want from his factory."
The boys couldn't believe what they'd just heard. "Did you see your new van down there?" In unison they rushed across to the window to see a Transit van, twice the size of any they'd had previously.
It was like all their birthdays had come at once. The only group they'd seen with anything like this was The Spencer Davis Group, who were at the height of their career.
The adrenaline was pumping again as The Human Instinct drove their new van up the M1 motorway to Jim Marshall Products in Bletchley. Cream, Hendrix and many other top bands of the time used Marshall. It had a different sound, was raw, but without high note distortion, says Hartsone.
Double stacks, four big tower speakers! That's what Steve Marriott and The Small Faces used. It would be a lot of money to pay back but a finance plan was worked out, with their agent confident the boys would "soon be stars".
There was still time to head back to Starlite Ballroom to try out the new equipment. The Troggs were just packing up after their rehearsals and the band had three hours to play with their new toys before that evening's dance.
"We set up quickly and when we did I felt pins and needles of excitement go right through me," said Hartstone. "Even our shittiest songs sounded great. Maurice and I looked at each other and I could tell he felt the same. This was the start. We were so potent. These amplifiers were going to save us."
Troggs and studio time
The news that The Human Instinct would be supporting The Troggs the following week further boosted their egos and the call from Philips Records, who'd booked time at Stanhope St Studios to put down their new material.
To complement the new equipment Greer bought himself a full set of Ludwig drums with timpani – one for each side at the front of the stage, and Ward cannibalised his Rickenbacker 12-string and Fender Stratocaster to build six-string and 12-string necks.
Hartstone wanted the band to have a more solid sound and thought playing his new six-string Dana bass like a guitar would add that dimension. Frank Hay stuck with his old bass, confident the new amp and quad boxes would give him all the bottom end he needed.
The work continued to roll in with gigs at working men's clubs in Birmingham, Huddersfield, Leeds and Manchester as well as nightclubs and teenage dances.
The naivety of being the new boys on the block had long gone, along with the straight old look. The Human Instinct were ready for anything, they'd been support act at most venues and now they were often getting top billing.
For the rougher gigs they could belt out harder experimental rock sounds. For the posh venues they had sensitive ballads and a growing repertoire of covers and originals.
They could quickly adopt a trendy look in the latest Carnaby St fashions, including the flower power pop star gear, floral shirts, felt hats, leather belts and bold buckles. For the heavier venues they'd wear jeans and T-shirts or singlets.
They even had their own roadie. Former Dark Ages and Rayders vocalist Clive Coulson became a friend of the band and for a few months helped them set up and break down their equipment as they moved from gig to gig.
Playing with their heroes
They were paying off their new equipment and at last had cash to spare. Often they would be booked to play at a college or a dance and be unaware of who was on the same billing.
They found themselves playing alongside many of their rock heroes: the Spencer Davis Group; Bluesology (with Long John Baldry on vocals and an 18-year old Reg Dwight [Elton John] on keyboards); Manfred Mann; Spooky Tooth; a young Peter Frampton; The Bonzo Dog Doo-Dah Band; The Small Faces; Roy Orbison and Cat Stevens.
A series of singles were released, often garnering positive reviews in the music press and achieving moderate sales. There were promotions for record releases and TV appearances, one of which focused on their innovative use of microphones on their instruments with long leads on their guitars.
At Crawley the BBC had 500 kids in the audience while bands played their hits. Although The Human Instinct's cover of The Byrds' 'Renaissance Fair' wasn't exactly a hit, it was getting some airplay.
For the show Hartstone was asked to explain the use of microphones on their guitars, which he claimed was part of an anti-feedback system he'd invented.
"The Beeb … needed proof of its authenticity … so we rushed Bill's guitar to the secrecy of the dressing room where we opened the back and placed a dummy circuit in it with many wires leading nowhere. The BBC was convinced so now we had to demonstrate it live," said Hartstone.
When the lights came on Hartstone spoke into the microphone and his voice boomed through the speakers. He then moved in front of the speakers, which would cause a normal microphone to howl. He then placed the mic on the horn of his guitar and faced it directly into the speakers and still nothing. Even his speech was loud and clear.
What they didn't know was there was a switch he could flick with his thumb. It was all a hoax. The show aired on BBC's Tomorrow's World twice.
"The idea of cutting the mics off while not in use, even for a few seconds, increased the sound system levels almost fifty percent and I used that when I began building sound systems a year later," says Hartstone.
The pressures of touring, ongoing personality clashes and forever hovering on the brink of stardom but never quite making the grade was getting to the band. While Ward and Hartstone had English passports the others would soon need to renew their work visas. Besides, Ward's wife had returned to New Zealand with their young son and was expecting a second child.
--
Read The Dave Hartstone story - part 2 - here
--
Sources:
Excerpts from Keith Newman's unpublished Rock from the Edge manuscript
Interview with Dave Hartstone and excerpts from his unpublished manuscript ELP Brain Salad Surgery
Sound On Sound, March 2015: 50-years with The Who