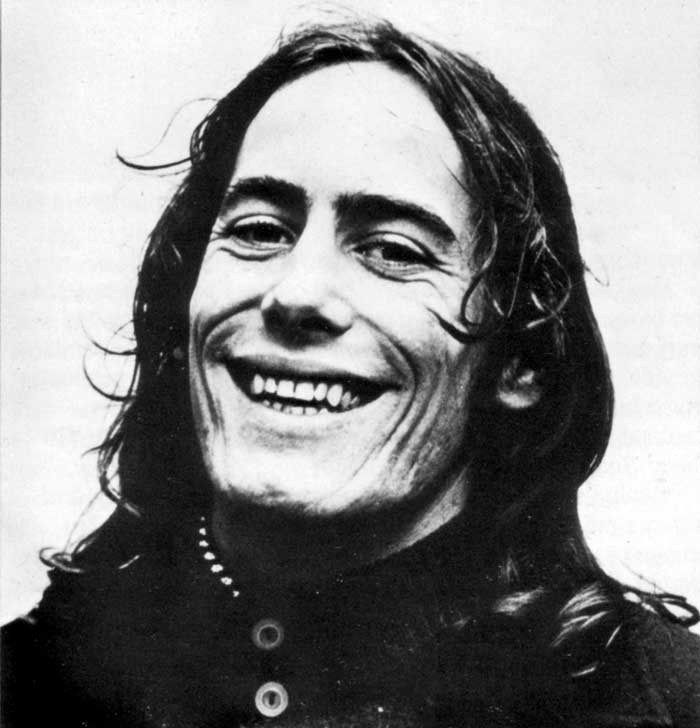 From mid-1972 BLERTA's New Zealand anthem 'Dance All Around The World' was getting strong airplay around the country, a second BLERTA single was in the making, and singer Corben Simpson's solo self-titled album and the Littlejohn album, both recorded nearly a year previously, were finally on the streets.
EMI wanted a follow-up single from BLERTA but were as perplexed as the radio stations with what was delivered. While BLERTA was playing in Taupo, Corben Simpson and Bruno Lawrence were at the local post office where they found unlikely inspiration for what may well be New Zealand's first rap song: a frenetic, comedic rant over a solid beat that was way ahead of its time.
"Bruno picked up a screwed up telegram from the floor and read it out: 'Sorry to tell you but Aunty Ada passed away yesterday'. He said we should make up a song about that, so he wrote some words and I wrote the music."
The single was released in June 1972. One radio DJ was heard back-announcing the track. "Well that was the new one from BLERTA … and I don't think we'll be playing that again." Simpson says the big beat of 'Aunty Ada' still makes him smile.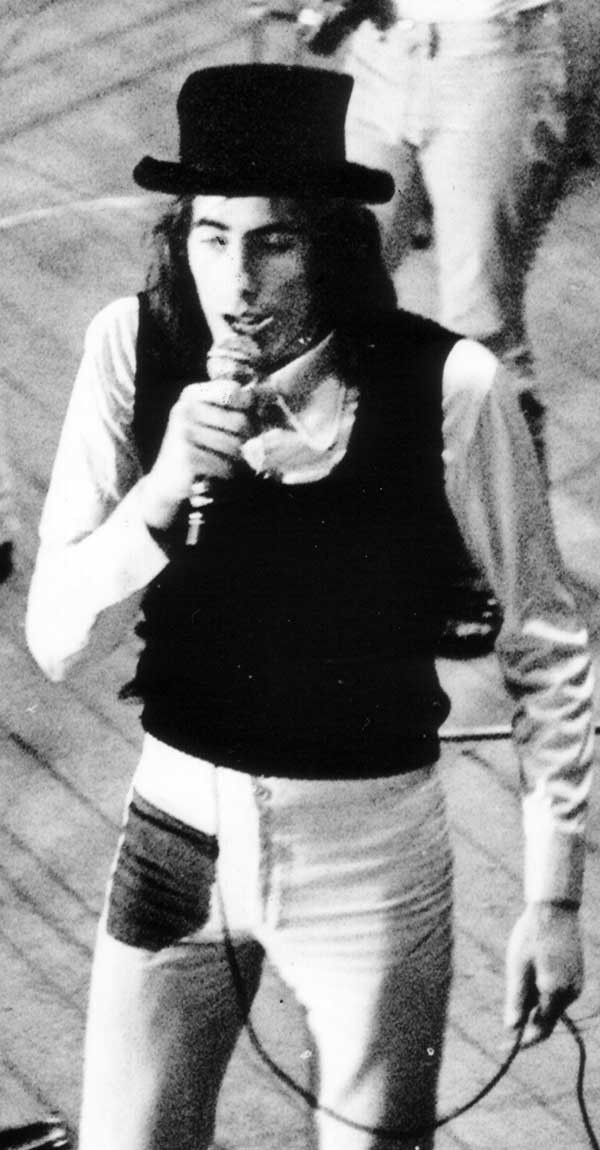 Fronting BLERTA whenever that ever-changing creative powerhouse was on the road and promoting his own performing and recording career gave the appearance that everything was on a roll for Simpson.
He was booked as the opening act for the Rock Circus travelling show, which played 12 centres around the country and featured Tommy Adderley's Headband, Ticket and Karma.
Arthur Baysting, writing for the NZ Listener on 14 August 1972, reported on one of the early concerts, part of a universities tour where Simpson began his set with The Beatles' 'Golden Slumbers' ahead of "a very physical interpretation" of The Doors' 'Light My Fire'.
"Corben finishes a number and explains he doesn't want to sing 'Dance Around The World' because it's on the radio all the time and he's getting sick of it. But he gets shouted down and sings the song changing it around a little from the recorded version.
"To finish he does his version of The Moody Blues 'Nights in White Satin' and the crowd loudly applauds him off. It's no small achievement because university audiences, particularly when they've paid a dollar to hear hard rock, are not usually the most sympathetic in the world."
In November 1972, 'Dance All Around The World', which had peaked at No.13 on the national charts, was a Loxene Golden Disc finalist. That same month EMI promoted a concert and a subsequent live recording featuring BLERTA, Quincy Conserve, Lutha and Desna Sisarich at James Hay Theatre in Christchurch. The album, featuring three BLERTA tracks, was released the following year.
Over time, Simpson's performances with BLERTA became increasingly theatrical. Not content to be the frontman for a set of songs, his antics were becoming stranger than those of his mentor Bruno Lawrence and at times manic. At Ziggy's nightclub in Wellington, he performed a "daring" tightrope illusion that saw him wearing diving flippers, climbing a ladder as if to walk a rope across the hall, then appearing victorious at the other side after the lights went out.
This might have had a childlike appeal, but when he lured the audience back into the hall at intermission with a 10-minute song about frogs with lyrics that were meant to be an anti-pollution message but mostly consisted of imitated frog noises, many stunned punters never bothered to come back.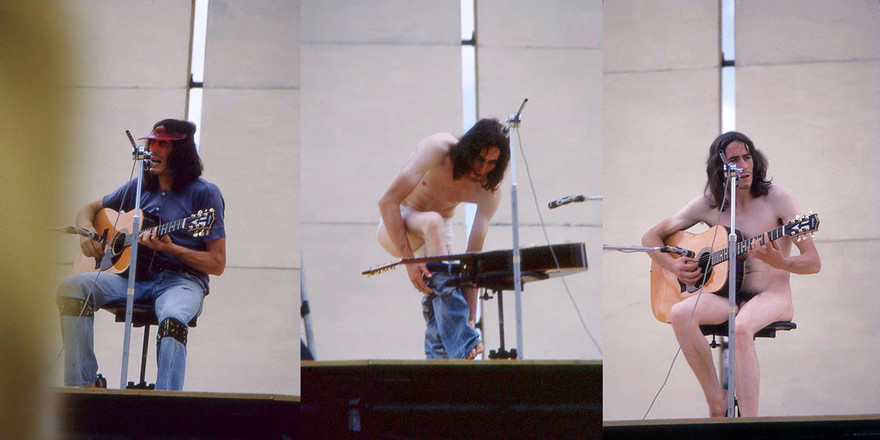 Heat of the moment
Simpson was booked as the opening act for New Zealand's first major outdoor rock concert at The Great Ngāruawāhia Music Festival in January 1973. He began his set in thick jeans and a long-sleeved shirt but was already sweltering in the 35-degree heat by the time he took to the stage.
His decision to take off his shirt triggered a relentless crowd chant to keep going until the bemused minstrel stood there bare-naked except for his big Guild F50 Navarre guitar. Hundreds among the 20,000-strong crowd reciprocated, throwing their clothes in the air in a spontaneous action that made headlines across the country. "My whole family was watching when it came on the TV news. They weren't too impressed."
Three months later he got a knock on the door and a summons to court. "The judge's daughter had seen it all, and he asked me 'how would you like it if your daughter had been there?' I got a $500 fine and it made me bitter actually."
Would he do anything differently if he could go back in time? "I wouldn't take my gear off that's for sure. I don't think it was a good move but thousands of people were calling for me to do it. While it launched me in a way and made me infamous, I think it affected my career. It wasn't really meant to be a publicity stunt."
After Ngāruawāhia, Simpson's outlook changed. "I started writing a lot of angry music. It made me see things differently. I'd never really thought about politics up until then but I started to get pretty politically motivated about issues like pollution."
Championing creativity
BLERTA, with a constantly changing line-up, had been invited to play a hippie festival in Nimbin, New South Wales. Simpson remained behind as he had his own bookings and recording commitments. He had been working on tracks for a second solo album when he changed record companies from Strange to EMI's Harvest label.
Craig Scott had just quit and they were looking to groom him as a pop singer who could record the latest cover songs. This resulted in heated arguments with producer Alan Galbraith as Simpson fought to include more original songs and deliver a more acoustic sound. In the end, a compromise was reached.
Get Up With The Sun featured Bruno Lawrence on drums, recent BLERTA converts Chaz Burke-Kennedy on lead guitar and Chris Seresin on electric keyboards plus Mike Le Petit on piano and Dick Andrews on saxophone. Simpson played bass, rhythm and acoustic guitars.
"I wrote a lot of songs on Get Up With The Sun sitting at home on my couch with my guitar, so I just loaded the couch into my van and backed it up to the EMI studio door. I got a couple of people to help me carry it in and used it for most of the sessions. I don't think they minded, it was a big studio."
The 1973 album featured the new single, an uplifting rhythmic Simpson original, 'Running To The Sea', based around a Patrick McKenna poem.
'Cuba Mall', a Latin flavoured instrumental written by Simpson and featuring Andrews on saxophone, was inspired by the Cuba Mall water buckets; the kinetic sculpture in central Wellington where he often busked at lunch times.
The album also featured some of the strangest sounds New Zealand had ever heard. There was a liberal dollop of jaw-harp, contemporary rock – typical of a BLERTA jam – and a track that has the dubious distinction of being the first time the f*** word, albeit veiled in one extremely long note, appeared on New Zealand vinyl.
Although the album was a mixed bag it reaffirmed Simpson as a unique vocal talent.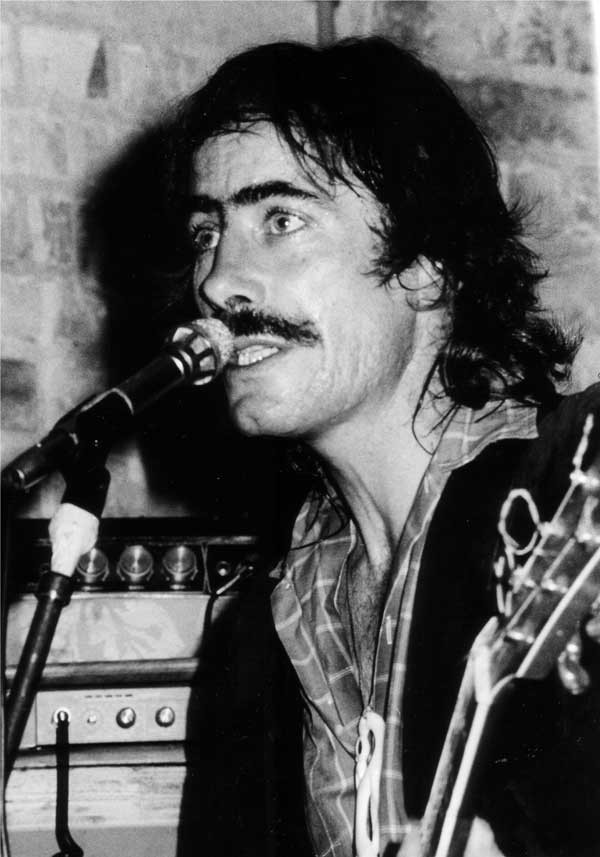 A human trumpet
Music critic, broadcaster, and musician Nick Bollinger chose 'Get Up With The Sun' as his favourite song for Best – A New Zealand Compendium in 2004, crediting Simpson as the first singer to give him goosebumps.
Bollinger compares Simpson to Van Morrison "but lighter and more supple, with a couple of extra octaves", and describes the album as a classic work that "still shocks and inspires".
"He would begin a song intensely, at what you assumed was the top of his range, then astonishingly soar upwards. Sometimes he would discard the lyrics and weave wordless, improvised melodies – a human trumpet …
"One night I saw him opening solo for Split Enz. He ordered the sound man to turn off the microphone, and his voice, unamplified, filled Wellington Opera House."
After sitting through a Corben Simpson solo concert to promote the new album at St James Theatre, visiting international artist Kenny Rogers went backstage after the gig and presented him with a set of three quality jaw harps.
'Have You Heard A Man Cry', the song that won Simpson the APRA Silver Scroll in 1971, was chosen again in 1975, this time as a Golden Scroll winner for being the best New Zealand composition of the past decade. As a result, Simpson was sent to Australia, chaperoned by rock and roll pioneer Ray Columbus, and asked to sing the composition with a 30-piece orchestra, just before Frank Sinatra took the stage. "I was thrown off a little with the arrangement which featured a major chord instead of major seventh … it sounded weird."
Then he missed the plane home and there were no extra seats in economy class for four days. Simpson took the opportunity to catch up with former Auckland saxophonist and drummer Joe Lane, the "king of bebop" who took him around the traps. A couple of years later he would return and join Lane for a short stint on bass in his band In Orbit. When Simpson finally caught a plane back to Wellington the only seat available was in first class. "I was treated like royalty," he says.
Despite the Ngāruawāhia incident opportunities continued to open up for Simpson through booking agent Stuart Macpherson who between 1973 and 1976 had him opening for Carmen McCrae, Roger Whittaker, and Mike Nesmith.
Monkey business
When guitarist and musical arranger Mike Nesmith toured in November 1975 he wasn't the Monkee Simpson had been expecting. His head was shaven, he wore a tie, and while the two goofed off a lot, Nesmith had a serious message, about freeing yourself up from the expectations of others.
"We toured down to Otago and then back to Auckland in a chauffeured limousine staying in the best hotels together. We hired a motorcycle and rode about the place and had a lot of fun. We became quite close," says Simpson.
Unfortunately after the Christchurch show, Corben went out and missed the plane to Wellington, where he was replaced on the tour.
Behind his vibrant and increasingly off the wall performances, Corben Simpson was struggling with growing anxiety. "People used to stare at me in the street and I started to feel really strange."
While he acknowledges that's the price of fame, he realised he could no longer have a quiet drink at a local bar. "It just drives you crazy so I decided I didn't want that anymore."
Simpson went bush for three years "to find some solitude and write music". Those with a keen eye might have spotted him playing rhythm guitar for Billy TK and Powerhouse in the late 70s for two national tours.
He also teamed up with Manawatu singer Mahia Blackmore for 14 years; the couple moved to Auckland in the late 1970s to work as a duo. Among their recordings was a version of Blackmore's song 'Little Tui' which appeared on the Pacific Messages album.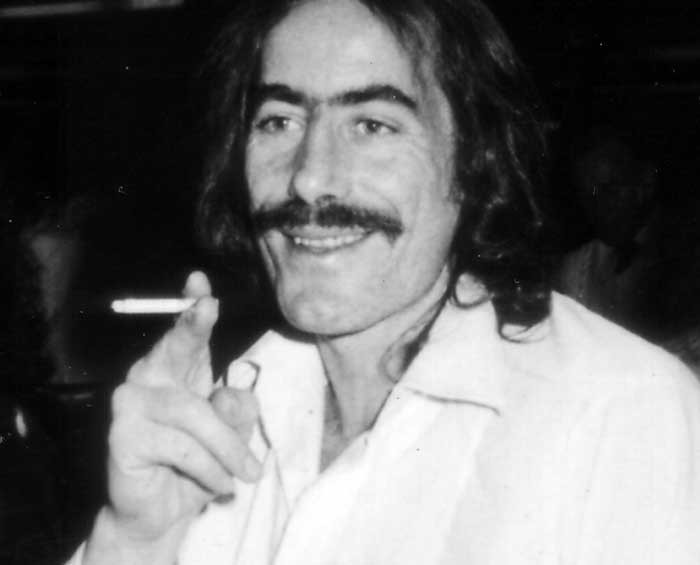 Out on the fringe
Simpson performed occasional gigs with Human Instinct singer and drummer Maurice Greer; as Tall Dark & Out Of It with long-time friend Sonny Day; the gypsy fair Housetrucker's Band; and various other outfits including the 10-piece City Bandits.
In 1985 under the guidance of Terence O'Neill-Joyce of Ode Records he went into Mandrill Studios in Parnell with his old friend Tony Littlejohn to re-record 'Have You Heard A Man Cry' with a tinge of reggae. He'd described it as "a broken arse, bleeding heart song" and wanted to change a few lyrics so he took a little more of the blame for the demise of his relationship with his ex-wife. He wasn't happy with the final mix, asking for the guitar to be louder. When that didn't happen he refused to support its release. Years later, on reviewing it again, he could better appreciate the production.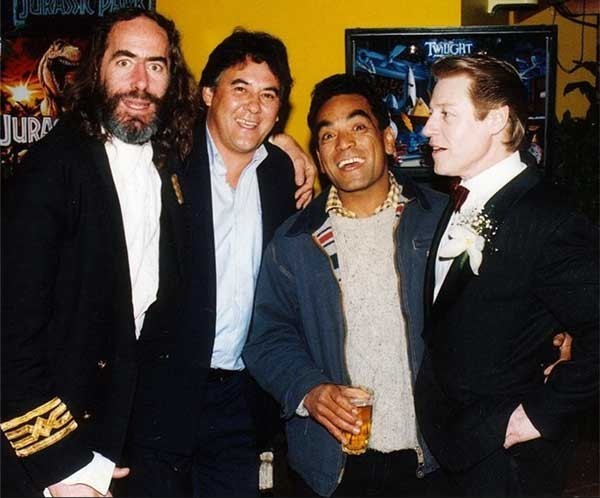 After long periods of silence Simpson would re-appear in various states of disarray at parties or musical events. Rock writer Colin Hogg reported a sighting at the Mountain Rock III festival, just outside of Palmerston North in 1994.
In an article in Metro magazine (March 1994) Hogg wrote:
"Out on the big stage Corben Simpson, New Zealand's Michael Stipe of two decades ago, in his cap and handlebar moustache looking like Captain Trip, is whirling for the umpteenth time into his big hit 'Dance All Around The World'. Amazing voice, difficult personality. He brings on Sonny Day for a slow (very) blues. They look like a pair of old lost prophets up there. Certainly the two of them have been operating at the lower end of the rock circuit for years at very low profit."
Dance comes full circle
In September 2007 double APRA award winner Simpson turned up at the annual APRA award ceremony with former BLERTA founding member and acclaimed filmmaker Geoff Murphy, to make an announcement. They had come to request that Margaret Mahy, the author of the children's book on which the song 'Dance All Around The World' was based, be added to the credits so she could receive performance and airplay royalties.
Things had come full circle. While Simpson had previously spoken to Mahy about BLERTA's use of her children's story, he'd felt an ethical responsibility to honour the grand dame of children's literature who had inspired the great New Zealand anthem that gave them their big break.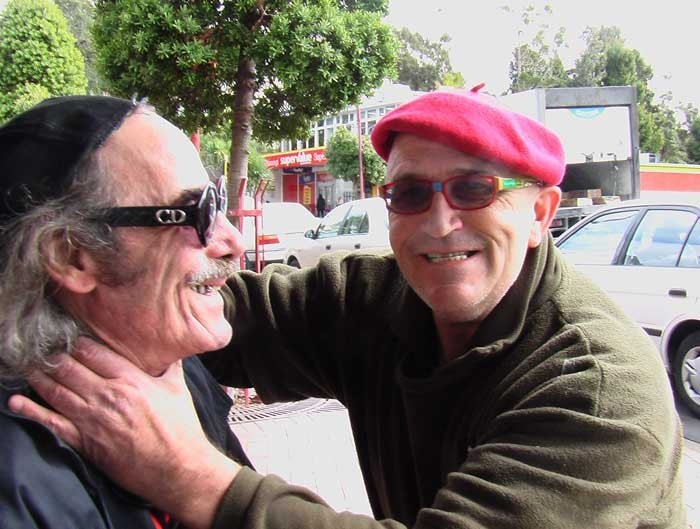 In 2016 Simpson maintains his semi-reclusive lifestyle, living on an orchard south of Waihi. Despite bouts of ill health, he continues to turn up at the most unexpected venues playing something old, something new but rarely anything blue. He still prefers to play music that makes people happy. Last news from the front was that he was working with old friend Maurice Greer recording some of the vast catalogue of Simpson originals that never made it to vinyl.
--
Read The Corben Simpson story part 1 here