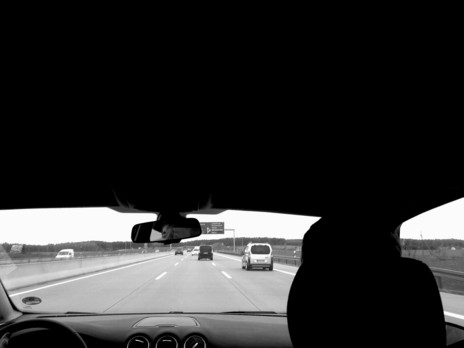 Bill Direen: A Memory of Others is a feature-length road documentary chosen to screen at the New Zealand International Film Festival in August 2017. Directed by Simon Ogston, who was responsible for documentaries on Philip Dadson and The Skeptics, it follows Direen on his 2016 national New Zealand tour, his first in over a decade. He reunites with friends and visits significant locations, tells stories, recites and performs his work.
In this piece for AudioCulture, Direen describes touring in Europe in 2013 with a late-model version of the Bilders. It is, he says, "A tale of one woman and five 'smelly, grumpy old men'."
The photographs are by Arno Loeffler. A journalist and photographer, Loeffler managed the 2013 Bilders tour. In 2014, he founded his own label, Zelle Records, to release music by New Zealand bands. The Vienna-based label has also released two albums of songs written by Dunedin and Scottish musicians, based on poems by Robert Burns.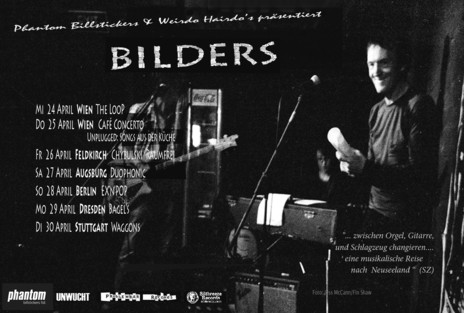 In 2013 I am in Europe playing with various people I meet along the way: French guitarist Nik le Killer, actress/dancer/cabaret singer France Hervé and, in Paris, New Zealand's Jonathan Crayford. But I have a hankering to get back to my roots, to get involved in one of those crazy, risky adventures so many of us used to undertake in the 1980s in New Zealand. A band tour.
It is a meeting of cultures. The band comprises three New Zealanders, a German, and an Austrian. Via the internet we beam music back and forth among musicians in different countries. The itinerary will be demanding: Paris-Stuttgart-Vienna-Feldkirch-Augsburg-Berlin-Dresden-Stuttgart. That makes well over 3000 kilometres. "Are you trying to kill yourselves?" says a good friend, concerned about the itinerary. We've booked a Ford Galaxy family bus. There will be just enough room for the band, minimal equipment, and our manager Arno Loeffler (Zelle Records).
We will be vegetarians, vegans and omnivores: "a band plays on its stomach". There seems to be some dissension in the ranks, with intimations of crankiness, and warnings about masculine body odours. A multiple-recipient email welcomed the female member of the group thus: "I'm glad you're joining us on this epic trip and aren't deterred by the prospect of spending so much time in relative confinement with a bunch of smelly, grumpy old men."
Male musicians see the need to bring soap. German and Austrian musicians overcome their boredom with autobahns. New Zealand musicians find the courage to drive on the right; and our violinist TThomthom Geigenschrey recovers from his lung infection. Louise Johns is bringing her own specialised bass chair. Drummer David Wukitsevits arranges for leave from his usual band Der Nino Aus Wien. Arno Loeffler will come along to drive when others are wounded, and to read extracts to live backing from my own Bilders' German tour diaries of 1994. Phantom Billstickers are giving us some sponsorship money to help us along.
Mark Williams, second guitar and vocals, arrives safely from New Zealand and catches up on lost sleep while I go to a concert at IRCAM, Paris, by musicians who will never know the rigors and the pleasures of touring. After returning home, I am amazed that Mark can sleep through a musical composition of clanging chains, performed by a fleet of tow-trucks removing cars from the street below. I'm sure our own music will all come together nicely. I feel we have already overcome the major and the minor. It is going to happen.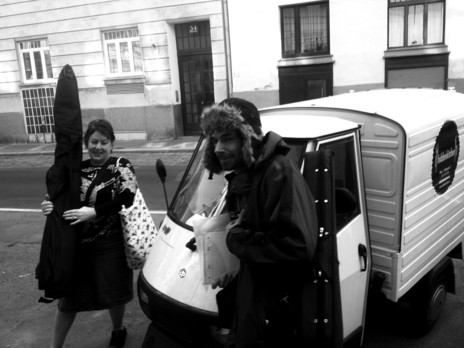 Mark and I drive from Stuttgart to Vienna at high-speed to make the first rehearsal. The German autobahn takes a little getting used to. We pull in to Vienna and amazingly we bang into Louise Johns (bass) on a street near the Danube. She is impossible to miss, carrying her electric stand-up bass. We hook up with the rest of the band and get down to some music.
Drummer David and manager Arno have hired us a padded bunker where we make a reality out of the riffs and moods we've worked out in virtual space. TThomthom Geigenschrey has brought his electric violin from his hometown of Berlin. He is a big fan of New Zealand music, and often accompanies its musicians when they are in Germany. We retreat to the home of Arno Loeffler, whose wee girl gives up her own bedroom so we can sleep there. A further rehearsal the following night and we are ready for our first gig at Vienna's Café Concerto with help from local denizen Eric Arn (Primordial Undermind).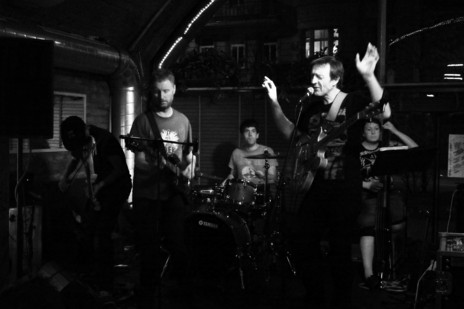 It's the first gig of the tour, and the audience can tell we are still working out some of the pieces. But they give us heaps of encouragement, and we are looking forward to tighter sets in the days to come. Accompanied by Can and other music on the car stereo, we drive from one end of Vienna to the other, to Feldkirch – a little town on the Swiss border – where we are greeted by a stockpot of delicious food. Feldkirch only has a couple of gigs a year so it is quite a big occasion. The place is packed and it is here that we play one of the best shows of the tour. The gig rides one of those perfect waves, and is topped by a spontaneous spoken word diatribe by a local. Afterwards, we drive via back roads – to avoid needless border control – into Switzerland, to stay with the family of the organisers.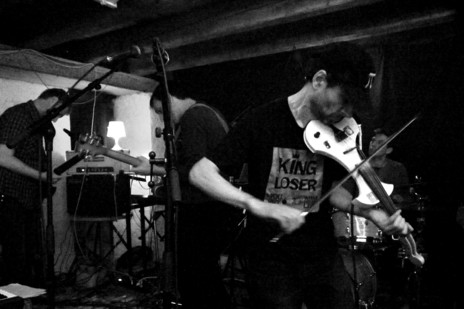 The landscape reminds me of New Zealand's Southern Alps, and nearly everyone is inspired to write postcards. We post them in a place where James Joyce once lived for a time, writing more than a postcard, and aim the Ford Galaxy through Liechtenstein and into Germany.
No one knows Augsburg well, but thanks to GPS we roll into Bertolt Brecht's birth city in good time. The venue will be ample (60-70 persons). It is the offices of Duophonic Mastering, who carefully remastered all the early Bilders/Builders/Bilderbergers 7" EPs from the early 1980s. Duophonic specialises in vinyl remastering, and in a few other things as well, such as live sound.
Peter Schlump from the label Unwucht welcomes us, and the sound goes from execrable to ideal. A good turnout helps the accounts enormously. Everyone is shoulder to shoulder, and the Augsburg audience, if they do not dance, is intensely attentive. The show is recorded on a vintage reel to reel recorder which might yield a record later on. A New Zealand specialist DJ keeps the hits coming into the early hours.
Courtesy of Unwucht, we are lodged in an overnighter hotel, which makes departure next morning a simple affair. After a huge German breakfast at Duophonic, we are on the road again.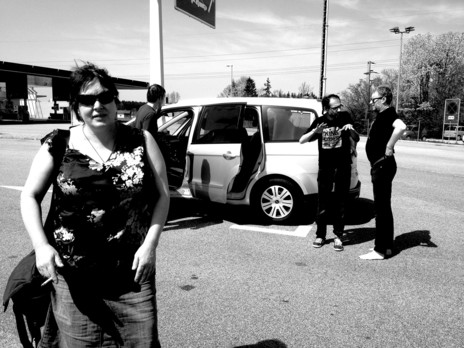 To get to Berlin we again needed to defeat time. We had to pick up equipment and meet with people who had offered to help us out. People like New Zealander Constantine (Dino) Karlis, formerly of HDU, the band once so highly praised by John Peel. We are ready to fire at the agreed hour but the soundman is late arriving at the legendary venue. After waiting outside for so long, three of the guys need to pee, only to discover Europe's least hygienic toilets inside the venue. The stench is unbearable—and I have met some unhygienic toilets in my day!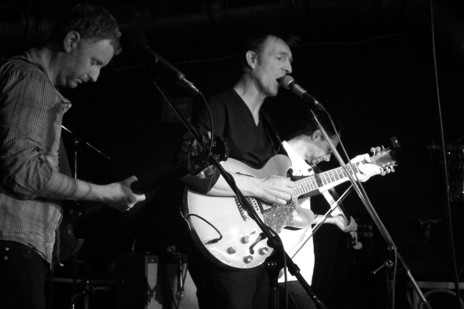 The gig was fine, according to the audience, though my on-stage sound was terrible and I am beginning to suffer the effects of too much driving, too much stress, too little sleep. After the gig we split up to stay in different places, and the following day I meet with my old friend Gunther Dietrich, now director of Photo Edition Berlin. That raises my spirits a lot, especially when he presents me with a good quality video of the night, which he had commissioned. Later on, I wander about the area I once lived in with David, and visit some of my former flatmates from the 1990s. They haven't changed one bit.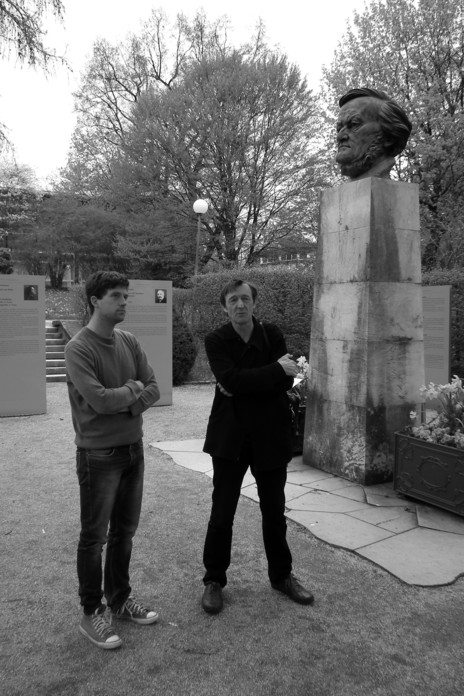 By this stage we are all weakened physically. TThomthom is afraid of a return of his lung infection and decides to stay in Berlin for the last leg of the tour. Louise heads back to Dresden, but the rest of us drive on for a gig organised by a legendary Stuttgart record shop. Between Berlin and Stuttgart we stop at Bayreuth and catch an exhibition about musicians murdered or deported during the Nazi era. Metal monoliths with the photos of the artists surround us, as we are surveyed by a larger-than-life sculpture of Richard Wagner.
The venue in Stuttgart is more than a good place for a party. Railway gauge in Germany is wider than in New Zealand. European gauge is 4 feet 8½ inches (versus New Zealand's 3 feet 6 inches), so an old wagon makes a good venue. But these are no ordinary wagons, and they are sitting, immovably, upon no ordinary railway tracks. These are the very wagons that deported thousands of Sinti, Roma and Jewish people from this city. The names of all the deported are inscribed upon a long wall at a memorial just a few metres from the collective offices. Sinti and Roma migrated to Germany in the 15th century. They are a subgroup of the nomadic Romani, of Central and Eastern Europe. In the concentration camps the Sinti wore a black triangle. The Roma people, and Romani in general were obliged to wear a brown triangle. The most famous Sinti, I suppose, would be Django Reinhardt.
The show in Stuttgart is the most spontaneous, and the most "rootsy" of the tour. It was a three-piece Bilders that gave birth to The Bilders 30 years ago, and this lineup brought out the garage spirit in all of us. Afterwards we chat with punters in various languages: English, German and French. We are all a whisker away from complete physical exhaustion, but we talk into the early hours before going our separate ways. Arno and David catch an early train in the morning.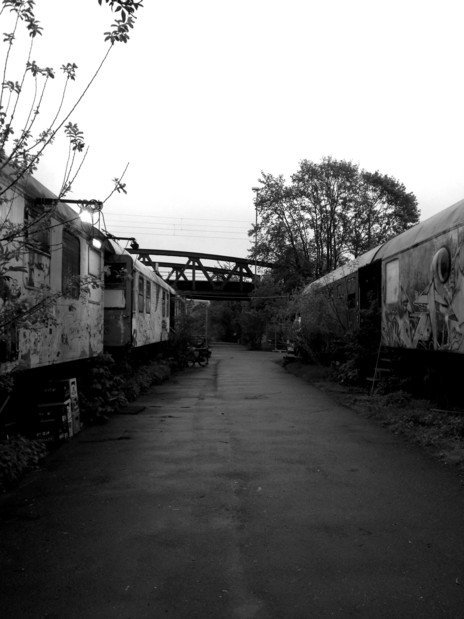 Just Mark and I are left in the car. We are about to return the Ford Galaxy to the car hire company when – FLASH – a speed camera catches us out. The ticket will arrive a few weeks later, and so will several more. The flash cameras had been nabbing us all along the way. The tour, like most tours, ends up in the red.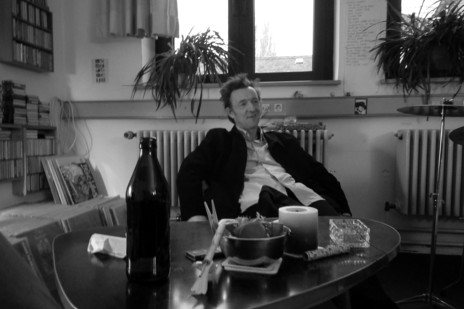 Playlist in the car
Clarinette [Dan Vallor] – complete works
Can – Tago Mago
This Heat – This Heat
Der Nino aus Wien – Bulbureal
Comus – First Utterance
Albert Ayler – New Grass
The Incredible String Band – The Hangman's Beautiful Daughter
Kevin Ayers – Shooting at the Moon
Link to Bill Direen & The Bilders's 2013 European Tour album