I moved to New Zealand nearly 20 years ago, an emissary of the US free improv/noise/drone/psych scene, barely aware of local music outside of my notable devotion to the New Zealand free improv/noise/drone/psych scene. I'd heard 'Pink Frost' from a friend at work, and owned CDs of the classic Human Instinct records, Chris Thompson's then-recently reissued self-titled psych folk debut, and the Chants R&B Stage Door Tapes on vinyl (autographed by Mike Rudd).
But here I was, auspiciously positioned in an established Auckland flat, co-au pair to an ex-Paeroa expat pal's elephantine collection of New Zealand vinyl – and two blocks from my good mates Stu and Andrew Schmidt. Listening on and on through jobless days and wide-eyed nights I learned heaps and fell in deep.
New Zealanders have produced a positively astonishing body of music, and we're regularly weaving new patterns in the raranga. Though our biggest exports are Flying Nun, free noise, Flight of the Conchords and festival faves like Fat Freddy's Drop, folks here make every other kind of music too – and often really quite well.
I didn't grow up here, with these songs soundtracking my youth for better or worse, nor witness some of our senior artists devaluing their talents through overexposure and regrettably glittery get-ups. When I take on these tracks, it's with a fresh head.
And that's an advantage, because with some of this stuff, as writer Martyn Pepperell has said, "too much context is a dangerous thing".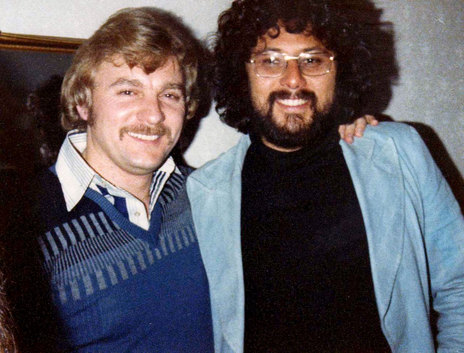 One recent research rabbit hole was assembling examples of domestic yacht rock – a fairly scathing label suggesting yuppies sporting captain's caps and sipping bubbly on some big-arsed boat – for a compilation called Whispering Waves. But yachting in Aotearoa, like golfing and receiving quality health care, isn't restricted to the rich pricks.
And likewise, the rock isn't glassy-eyed and vapid with a perfect white smirk. It's for all of us, from Mark Williams's Te Kopuru to The Inbetweens' Dunedin. These smooth 'n' lite sounds soothe and swaddle and deserve a second or third listen in these nervous times. Bic Runga told Sunday magazine in 2017 on the 20th anniversary of her debut album Drive, "I'm surprised that yacht rock isn't bigger. That should be our sound. I'd like to make a yacht rock album, if anyone has a boat I can borrow for research."
This raft of soft and sunny songs from 1975-1983 serves up a coupling of singer-songwriter and soul sensitivities, boogie chooglin', and mid-tempo disco and funk lubricity – all produced with second string Steely Dan sophistication. Sometimes there's saxophone or brass, maybe a string section, almost always an electric piano. Tune in to tight and dirty grooves, seriously cheesy sleaze, elegant arrangements, pastoral post-disco chill-outs, bouncy soul serenades and country funk ballads. Suck up the sensual sentimentality, luxuriate in the pricey production, and bob your noggin to the silken rhythms of New Zealand yacht rock.
--
1. Collision – Spend the Night (1978)
A satiny upbeat ballad from monster funkers Collision: smooth and sparkling synth pads, glittering e-piano, a hip-wriggling guitar riff and latin-jazz brass backed tender vocal harmonies about sex and dancing. What more do you need? The Collision whānau left Tokoroa and followed Dalvanius and the Fascinations to King's Cross in 1977, to live perhaps an archetypal funk lifestyle: in hock to the club Les Girls for their trans-Tasman airfares, the band lived above a brothel in the Cross, performing two sets nightly after Les Girls' midnight drag show: first with Dalvanius, then on until 4.30am. Recorded in Sydney in 1978, their sole, self-titled record featured a number of originals, plus a 70s Pasifikan update on the 1950s Ray Charles classic, 'What'd I Say'. After a year of dates in Sydney supporting The Commodores, Tina Turner, Isaac Hayes and more, Collision split up, reforming 40 years later for the 2018 Others Way festival.
2. Paul Schreuder – Fly Away (1983)
Definitely one of the yachtiest tracks on the list, Paul Schreuder sybaritically thirsts for sunny islands and sunsets, sand in his shoes and escaping – somewhat insensitively to 21st century ears – on a hijacked 747. Breezy and effervescent, with tasteful production and tasty lead guitar licks from Rockinghorse's Kevin Bayley and Clinton Brown, plus shimmering electric piano from Redeye's Bob Smith and backed by polymath drummer Ross Burge. Born in the Netherlands, Schreuder immigrated to New Zealand at the age of seven. His song 'You've Got Me Loving You' won the APRA Silver Scroll in 1980, and this track comes from follow-up album On My Own, recorded for Festival in 1983. Schreuder took a long break from music to complete his studies, and today works as a senior lecturer in addiction studies and a music therapist.
3. Tina Cross – Whispering Waves (1979)
Where Schreuder sings about strolling on the beach at sunset, Tina Cross's 'Whispering Waves' puts you right there: sibilant lyrics and cresting strings suggest peaceful waves lapping at the sandy land while Cross's sweet soprano conjures keening sea birds. A Giorgio Moroder/Peter Bellotte composition first recorded by Donna Summer on 1975's Love To Love You Baby, Cross creates a chaste silkiness distinct from Summer's hot-blooded restraint. Recorded for Cross's 1979 album You Can Do It, whose title track (which was included on the monumental 2017 New Zealand funk, soul and disco compilation Heed the Call!/Whakarongo, Ngā Tamariki!) was written and recorded by US singer-songwriter Evie Sands for her classic yacht rock album Suspended Animation. New Zealand singer-songwriter and soft-rocker Anna Leah also covered two songs by Sands on her Reborn LP.
4. Salty Dogg – I Like It (1977)
This song is so unstoppably yacht rock: the band is called Salty Dogg for chrissakes, suggesting either a crusty old sailor or a moustachioed post-coital stud. The album's cover shows a slightly seasick old hound draped over a dinghy's gunwales with a strangely static seagull overhead. An early-career dynamo from multi-talented keyboard player, synthesist and producer Mike Harvey, who on this one track alone plays pristine jazz piano, soft Rhodes, a filthy organ bass line and vast washes of atmospheric synth (though presumably not all at the same time). Guitarist Martin Winch – who also played on Tina Cross's song above – adds his unmistakable rhythm 'n' filigrees to this hot-buttered mix, though in this case slightly second fiddle to the sensational Harvey. Salty Dogg's album title track and single 'Love to Play and Sing' was nominated for a 1976 Silver Scroll.
5. Dennis O'Brien – Any Other Face In The Rain (1979)
Most Kiwi crate-diggers will know Dennis O'Brien as a lifelong secondhand record vendor, owner of Wellington's Slow Boat Records and brother to RNZ's Phil O'Brien Lesser known at home perhaps, are his own record-making days – though 10,000 Germans (and Decca Records) can't be wrong. Gifted the talented producer behind Gerry Rafferty's soft-rock colossus 'Baker Street', and backed by his hot band of seasoned session musicians, who'd played with Marvin Gaye and Nick Drake, Brian Eno and various ex-Beatles, O'Brien cut a track staggering in its soulfulness. Decked out with stirring saxophone, delicately crashing drums, understated e-piano and Minimoog, and slow-jammy bass, O'Brien imploringly warbles like a half-castrato Steven Cogle under heavy skies in this immaculate production.
6. Jon Stevens – Jezebel (1979)
Younger brother to Castaway and cabaret singer Frankie, Jon Stevens may well lay claim to the admiralty of Royal New Zealand Yacht Rock. This song and its follow up 'Montego Bay' are classics of the genre, and were consecutive No.1s on the charts. Bringing to mind a balmy, early sunset beach stroll, barefoot in skin-tight trousers, with gentle winds tousling his high-feathered hair do, Stevens straight-faced sings about his "sweet-scented, demented" temptress. Somewhat smuttily for 1979, the 18-year-old Stevens bewails how she "wooed me then screwed me" to a disco beat, with chorused guitar and keys, tight brass stabs and a soaring solo by (I can only imagine) a sweaty bare-chested saxophonist. Even with seasoned pros Steve Robinson (Tamburlaine) and Wayne Mason supporting, Stevens stumbled after Jezebel's success, with Australian achievement closely following.
7. Golden Harvest – Give A Little Love (1978)
How perfect are the album singles from Golden Harvest? This mid-tempo mid-album cut shows off the Kaukau brothers' levitating lead and chugging rhythm guitars, and magnetically minimalist bass and drums, suited to late-night closed-eyes hip-twitching and shoulder-swaying. Topped up with a glittery gossamer synth from 70s everyman Mike Harvey, and the mellow gloss of satin-clad singer Karl Gordon, their cheerfully classic album mingles Rick James disco with Hendrix hard rock and Isley Brothers soul. From a humbly determined start in small town Tūrangi, this perfect blend of styles led them to support heavy international heroes Bob Marley and the Wailers at Western Springs, various pop kings from the Bay City Rollers to the Electric Light Orchestra, and to headline Māori music festivals. Flying Nun's Bird Nest Roys were fans too, including an exultant live version of 'I Need Your Love' as a bonus track on their reissued discography.
8. The Inbetweens – Through and Thru (1976)
Dunedin's Rabbett brothers (Tony and Paul) formed the In-Betweens (aka Inbetweens, 'N Betweens) with school friends in their early teens, finding South Island success and gaining Rob Guest as vocalist to cut Simple Image-esque singles for the Impact label. Abandoning their bubblegum after a decimating shift to Sydney, guitarist Tony hooked up with half of the former Tramline and keyboardist Len Worthington – later to play the synth on Jon Stevens' 'Jezebel' – for an all-new Inbetweens with a swampier, smokier hard rock sound. Oh, that squinky Minimoog intro! – possibly the bounciest synth riff of the 70s. Plus, a ping-ponging string-muted wah-wah leads a funky chug-a-lug like a loping 'Otaki' by The Fourmyula or late-era La De Da's. A super-hot, deadly-rare record worthy of a revisit and physical re-release.
9. John Hanlon – Lazy Day (1975)
So laidback that the listener can veritably feel the hammock swing, to the sound of the güiro mimicking cicadas in the pōhutukawa, while sotto voce Hanlon warmly whispers to the listener, seducing them in for a swim and/or a glass of cold, sweet wine. Backed by so-subtle-it's-almost-not-there arrangement of Mike Harvey on the Rhodes, Phil Yule on the "crickets" and six- and 12-string acoustics, Hanlon gently clears the soot and the clangour of industry from our mind's eyes and ears to transport us to the bach. Sway along with the sea breeze through the spinifex, check that the chilly-bin's chocka, slip-slop-slap, and slide into the hazy dream of John Hanlon's 'Lazy Day'.
10. Steve McDonald – Universal Prime Force (1980)
Farthest out on the yacht-rock rigging, Steve McDonald's tartan career began at the age of 15 in the phaser-dazed Dizzy Limits, through witch-teasers Timberjack, mountain-rockers Taylor and lost-album-era Human Instinct. Fortified with a back-breaking bank of Elkas, Korgs, Oberheims and wind chimes, McDonald set off solo in the 70s pub circuit – a one-man band playing proggish, synthesised soul. This wholehearted track takes flight with McDonald simultaneously tickling the trumpeting lead, sizzling rhythm and majestic string synths while earnestly belting out about gratitude and grace; backed by drummer Billy Brown (Quincy Conserve) on both the kit and bubbly electronic fills. Following this album's release on Ode, McDonald recorded new age electronic music and explored his Scottish whakapapa through Celtic music, before combining the two styles into a millions-selling mixture.